U.S. Senate to consider same-sex marriage bill after August recess
Out U.S. Sen. Tammy Baldwin (D-Wis.), has been credited with taking the lead on the bill, She said the vote likely delayed till September

WASHINGTON – A vote in the U.S. Senate on legislation to codify same-sex marriage, following a surprise bipartisan approval in the U.S. House, now appears on track for consideration in September after lawmakers return from summer recess.
Questions emerged on when the Senate would take up the Respect for Marriage Act, which was advanced amid fears the U.S. Supreme Court would act to rescind same-sex marriage next after the decision overturning Roe v. Wade, after the House voted 267-157 in favor of the bill. Among the "yes" votes were 47 Republicans, a full one-fourth of the caucus, which triggered momentum for a Senate vote on the legislation.
Out U.S. Sen. Tammy Baldwin (D-Wis.), has been credited with taking the lead on the legislation. She said over the weekend on PBS Wisconsin the vote would likely be put off until September when lawmakers return from recess, and anticipated 10 Republicans may vote to join Democrats in ending a filibuster to advance the measure.
"There are five Republicans who have publicly stated that they will support the Respect for Marriage Act, and I have spoken with an additional — well, additional many, but five additional members have indicated they are leaning in support, but I think because of how crowded the calendar is for next week, which is our last week before the August recess, and in light of the fact that we can't have any absences, we need everybody there, and we have a few members with COVID, this is probably going to be a vote that occurs, what I would hope would be early September," Baldwin said.
Senate Majority Leader Charles Schumer (D-N.Y.) has expressed interest in bringing the legislation to the Senate floor, but an effort to push for a vote in the Senate last week was dropped as two senators — Lisa Murkowski (R-Alaska) and Joe Manchin (D-W.Va.) — were out with COVID and another, Sen. Patrick Leahy (D-Vt.), was recovering from a broken hip after a fall. Much of the oxygen in Congress is also now absorbed by the spending deal Schumer reached with Manchin, which provides for nearly $370 billion in climate investments.
David Stacy, government affairs director for the Human Rights Campaign, echoed in a statement to the Washington Blade the optimism about the bill and expectation the vote would be held in September.
"Given the exceptionally strong, bipartisan House vote and extensive conversations with and among senators from both parties, we agree with Sen. Baldwin's public statements that there is a realistic, viable path to secure the 60 votes needed in the U.S. Senate to ensure passage this year, likely after the August recess," Stacy said. "The U.S. Senate should have a vote on the legislation at the earliest opportunity."
House Democrats seek IRS review of SPLC listed hate-group's tax status
The Family Research Council has been designated an anti-LGBTQ+ hate group by the Southern Poverty Law Center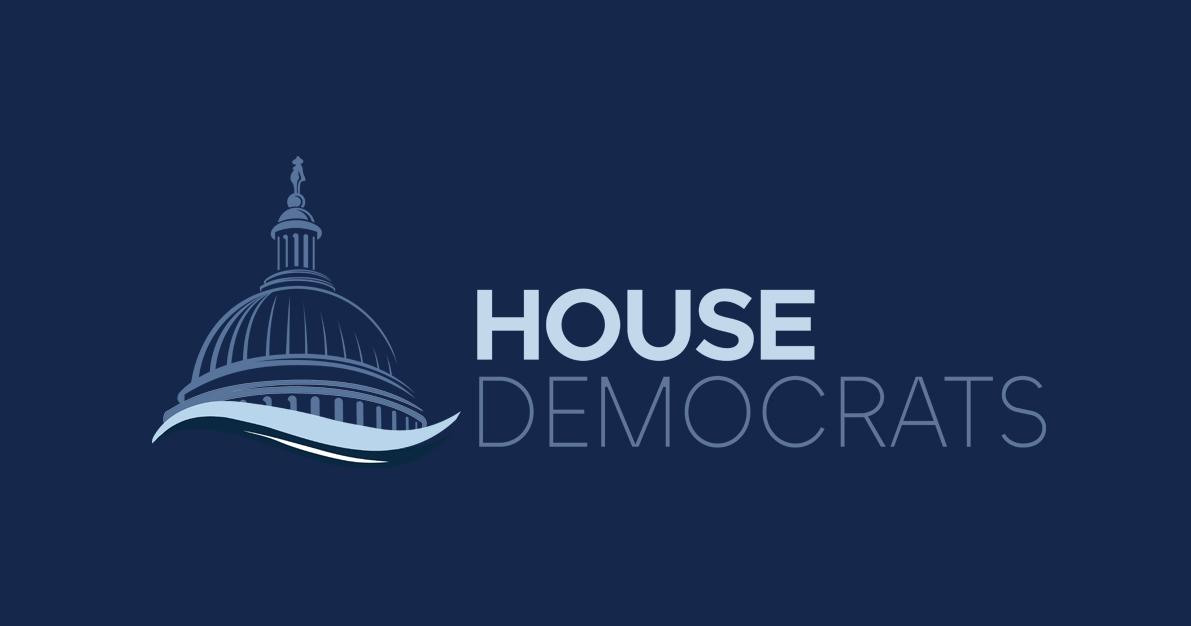 WASHINGTON – A group of House Democrats, in the wake of a report finding the Family Research Council has been granted a special tax status as an "association of churches," is calling on the Internal Revenue Service to investigate the prominent anti-LGBTQ organization's designation under the tax code.
The Family Research Council has been designated an anti-LGBTQ+ hate group by the Southern Poverty Law Center for its lies, propaganda, and activism against LGBTQ+ people in the United States and overseas.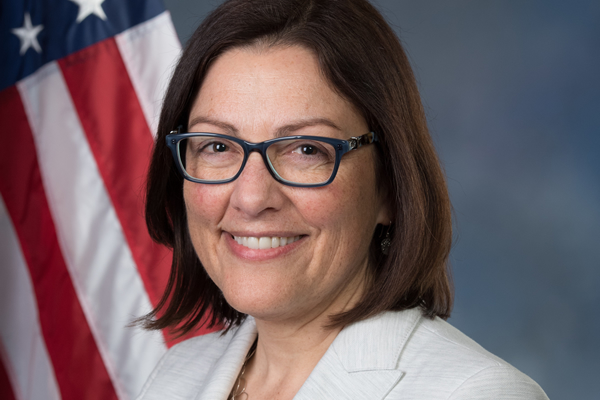 The 38 House Democrats — led by Reps. Suzan DelBene (D-Wash.) and Jared Huffman (D-Calif.) — articulate the call in an Aug. 1 letter to the IRS, arguing the Family Research Council is "primarily an advocacy organization and not a church."
"We understand the importance of religious institutions to their congregants and believe that religious freedom is a cherished American value and constitutional right," the letter says. "We also believe that our tax code must be applied fairly and judiciously. Tax-exempt organizations should not be exploiting tax laws applicable to churches to avoid public accountability and the IRS's examination of their activities."
The impetus for the letter was a July report in ProPublica revealing the Family Research Council — which pushes for legislation against gender reassignment surgery for youth, filed friend-of-the-court briefs in favor of overturning of Roe v. Wade, and pushed for exemptions for individuals refusing to provide services for LGBTQ people over religious objections — is considered an "association of churches" with Tony Perkins, president of the anti-LGBTQ group, as its religious leader.
According to ProPublica, the Family Research Council is among a number of social conservative groups in recent years that have sought and been granted tax status as churches, which shields them from financial scrutiny. As a result, Family Research Council won't be required to issue an IRS 990 detailing its finances and salaries of key staff members, nor can the IRS initiate an audit of the organization without approval from a high-ranking Treasury Department official, ProPublica reports.
The letter from House Democrats seeks from the IRS: 1) An expeditious review of the status of the Family Research Council; 2) Investigation on whether other political advocacy organizations have obtained church status, but do not satisfy the IRS requirements for churches; 3) Improvement of the review process for organizations seeking church status to ensure that organizations that aren't churches can't abuse the tax code; and 4) a determination on whether existing guidance is sufficient to prevent abuse and whether more congressional actions are necessary.
The Washington Blade has placed a call with the Family Research Council and the Internal Revenue Service seeking comment on the letter and calls to review the organization's tax status.
Padilla pushes to protect abortion rights during Planned Parenthood visit
Senator Padilla is a champion for reproductive rights and is a cosponsor of the Women's Health Protection Act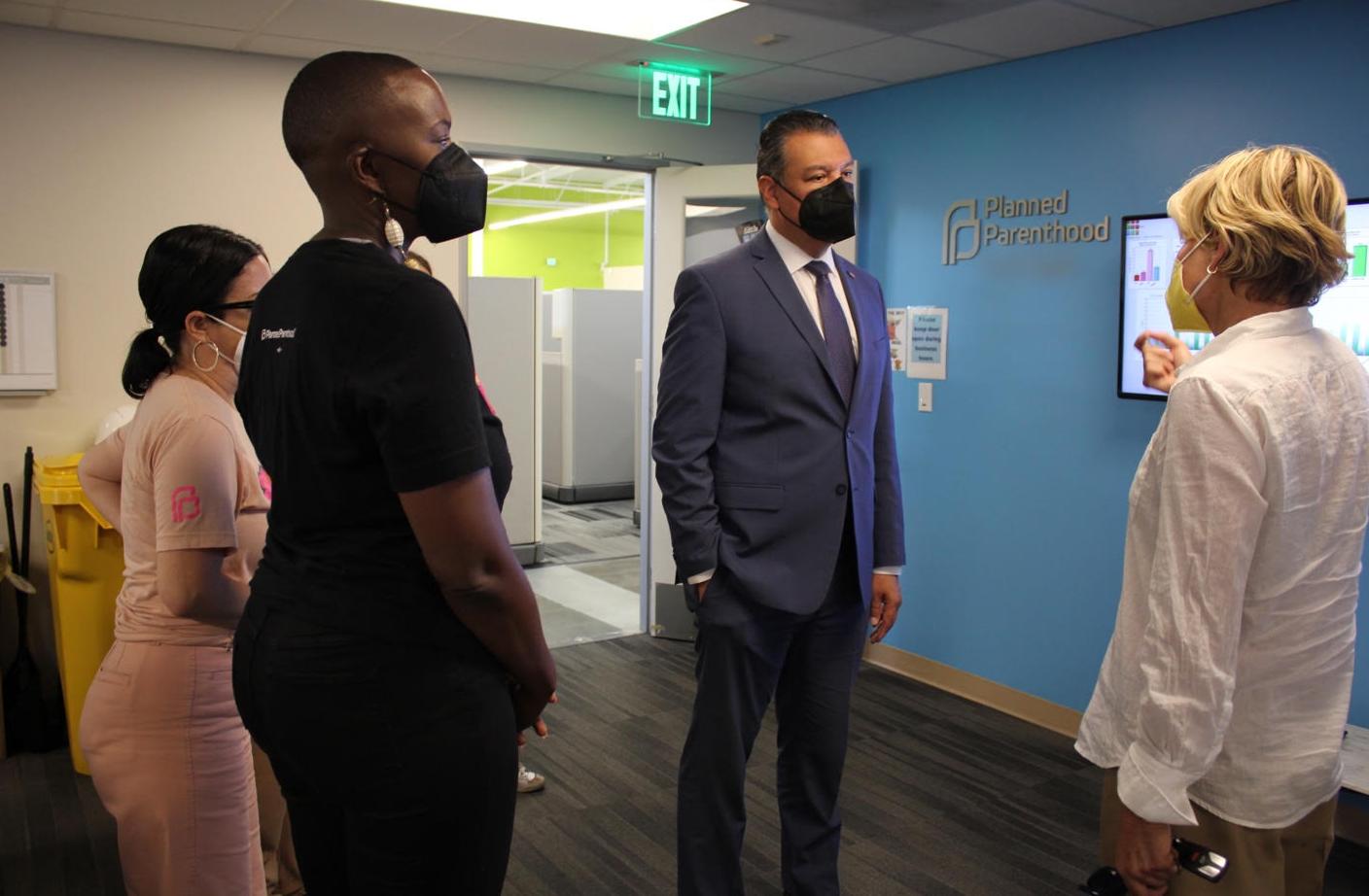 LOS ANGELES — U.S. Senator Alex Padilla (D-Calif.), member of the Senate Judiciary Committee, visited the Planned Parenthood Los Angeles headquarters on Friday to meet with volunteers, advocates and workers, and highlight his efforts to protect essential reproductive health care in the wake of the Dobbs decision.
Padilla was joined by Sue Dunlap, President and CEO of Planned Parenthood Los Angeles and Celinda Vazquez, Chief External Officer of Planned Parenthood Los Angeles. The visit comes as nearly half of states across the country continue to restrict access to reproductive care.
"I am grateful for the tremendous level of dedication and care that Planned Parenthood Los Angeles offers to the surrounding community," said Senator Padilla. "However, across the country women continue to experience the harmful and, in many cases, deadly consequences of a post-Roe America. In the face of unending attacks on reproductive freedom, we will not give up the fight to protect a woman's right to safe abortion access."
"We want to extend our sincere thanks to Senator Padilla for stopping by Planned Parenthood Los Angeles to see the importance of our work first hand. Senator Padilla is a long time champion for reproductive health care and access to safe and legal abortion and we're thankful for his continued advocacy in this critical moment where people from all walks of life are looking to California to lead." Celinda M. Vazquez, Chief External Affairs Officer, Planned Parenthood Los Angeles.
Senator Padilla is a champion for reproductive rights and is a cosponsor of the Women's Health Protection Act, which would guarantee access and the right to provide abortion services in the United States.
Most recently, Padilla joined his colleagues in introducing the Freedom to Travel for Health Care Act of 2022, legislation that would make it clear that it is illegal for anti-choice states to limit travel for abortion services and would empower the U.S. Attorney General and impacted individuals to bring civil action against those who restrict a person's right to cross state lines to receive legal reproductive care.
Padilla also successfully secured commitments from SafeGraph and Placer.ai, two data brokers, to permanently stop selling the location data of people who visit abortion clinics. This month, he also urged President Biden to prioritize health equity for people of color, and low-income, immigrant, and tribal communities in any executive actions to address the recent Dobbs decision.
David Hogg removed from U.S. House hearing after interrupting GOP Rep.
Marjory Stoneman Douglas High School survivor: 'You are reiterating the points of a mass shooter, sir, sir, you are perpetuating violence,'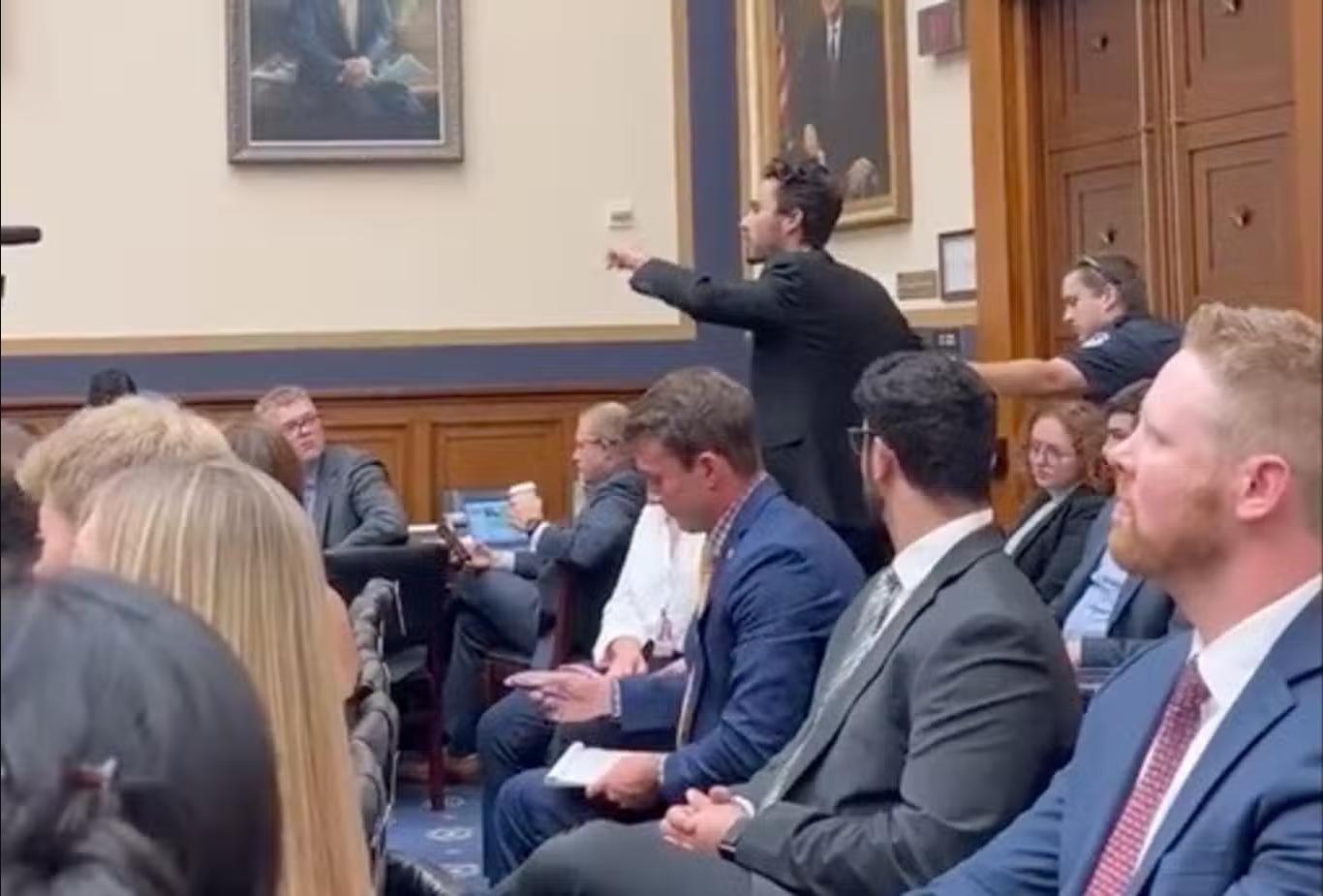 WASHINGTON – Marjory Stoneman Douglas High School, Parkland, Florida mass-shooting survivor David Hogg was removed by a Capitol Police officer from a U.S. House Judiciary Committee hearing about gun control on Wednesday, after he confronted Arizona Republican Rep. Andy Biggs about "reiterating the points of mass shooters."
Hogg was sitting in the gallery seating area reserved for the public when Biggs made an observation about the source of weapons and motivations of the shooters used in mass shootings when Hogg stood up and confronted him.
"You're reiterating the points of mass shooters in your manifesto!" he shouted. "The shooter in my high school, anti-Semitic, anti-black and racist. The shooter in El Paso described it as an invasion."
The guns in Parkland, Buffalo, El Paso, didn't come from Mexico. They came from the US, and the shooters were inspired by racist, anti-black, anti-immigrant manifestos that rhyme with GOP talking points. pic.twitter.com/0D4QbHvu1t

— David Hogg ☮️ (@davidhogg111) July 20, 2022
Hogg's angered outburst came as testimony by Hogg's former schoolmates and classmates continued in Day three of the sentencing phase in the death penalty trial of the Marjory Stoneman Douglas High shooter.
In at times emotionally charged testimony, former students recalled the horrors of the carnage inside the Freshman Building as the shooter armed with an AR-15 style assault rifle murdered students and faculty members who were trying to shield and protect their students.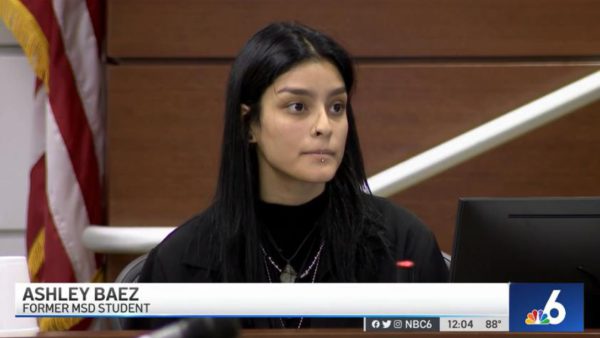 WTJV NBC 6 reported, that students who were wounded and witnessed classmates gunned down in the Parkland school shooting were the first to testify Wednesday at the gunman's sentencing trial.
WATCH:
Hogg issued a more detailed explanation on his twitter account:
We have a duty to interrupt white nationalists when they spew harmful rhetoric. We have to, they're using the same talking points as mass shooter manifestos.

Here's my reflections and some context. https://t.co/lrz8RMBc84 pic.twitter.com/dTb6YpDLZO

— David Hogg ☮️ (@davidhogg111) July 20, 2022