California LGBTQ Health & Human Services Network names new director
Ceseña will work with advocates to ensure the implementation of legislation & policies that will benefit LGBTQ+ health and wellness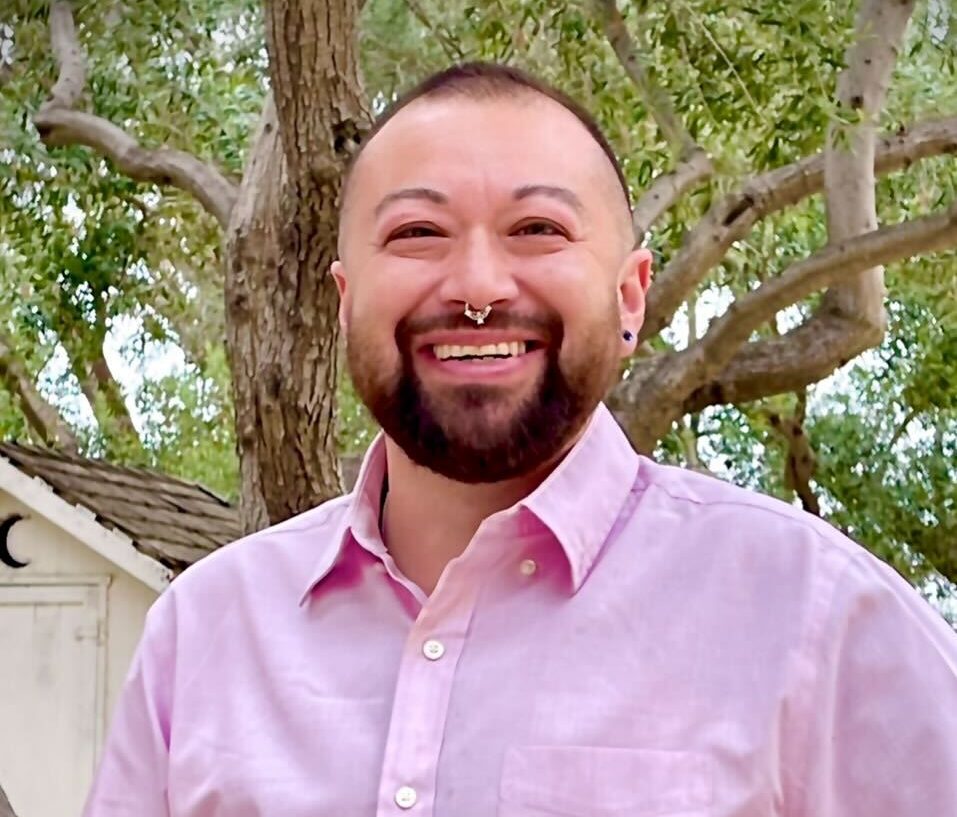 SACRAMENTO – The California LGBTQ Health and Human Services Network, the statewide coalition working to advance LGBTQ health equity, announced that Transgender Health Equity Manager Dannie Ceseña will lead the organization as its Network Director after Amanda McAllister-Wallner stepped down on July 31.
McAllister-Wallner had served as Network Director since 2016. Over the last six years under her leadership, the Network has grown to a team of six, and has launched multiple projects, including #Out4MentalHealth, We Breathe, Out About ACEs, and LGBTQ+ COVID Safety.
During this time, the Network has firmly established itself as the statewide leader on issues related to LGBTQ health – with state funding to coordinate efforts to reduce LGBTQ mental health and tobacco-related disparities.
McAllister-Wallner also pushed numerous advocacy efforts, including the creation of the Gender Health Equity Unit at CDPH, collection of sexual orientation and gender identity data during the COVID-19 pandemic, and prioritizing funding for LGBTQ communities impacted by the War on Drugs.
"It's impossible to overstate my excitement to welcome Dannie as the next Director of the California LGBTQ Health and Human Services Network! I feel fortunate to have had a front-row seat to Dannie's work and leadership over the past four years, and have no doubt that he will take the Network to exciting new heights in the coming years," said McAllister-Wallner.
"Serving as the Network Director for the past six years has truly been a dream come true. It's been an honor to have the opportunity to work on behalf of my community, achieve some amazing wins, and work alongside some of the most incredible LGBTQ community leaders in existence," she added.
Ceseña (he/they) is the first Indigenous, Two Spirit with Mexica roots to lead as Director of the Network. He has over 15 years of experience working with non-profits in program development and advocacy.
He has extensive knowledge in creating Transgender and Gender Nonconforming (TGNC) healthcare collaborations by utilizing upstream interventions and addressing the root cause of the lack of access to TGNC-affirming health care.
Ceseña's knowledge and leadership have assisted in the creation of two TGNC community health care clinics, and a monthly TGNC legal clinic in Orange County, CA.
Ceseña has become a trusted leader in LGBTQ health among partners in the California Tobacco Control Program, responsible for building We Breathe: Supporting Tobacco-Free LGBTQ Communities from the ground-up, and has established the program as a leader statewide, nationally, and even internationally. 
He provided leadership and guidance for LGBTQ organizations that are new to working with the Department of Public Health, helping them navigate the complicated bureaucracy and ensuring LGBTQ project staff always have a place to turn with their questions and concerns.
"With the enthusiastic support from both the staff and the steering committee, I am excited to promote Dannie as the fourth director of the California LGBTQ HHS Network, continuing his work to amplify the voices of LGBTQ-serving organizations and advance health equity." Said Anthony Wright, Executive Director of Health Access, the statewide health care consumer advocacy coalition, which hosts the Network.
"Amanda McAllister-Wallner took the CA LGBTQ HHS Network to another level, expanding the staff sixfold, creating new programs on mental health, tobacco control and health equity, and winning new policies on SOGI data collection and more. With his significant experience before and during his time with Health Access working on public health, trans inclusion, and program development, we are excited to see Dannie take the CA LGBTQ Network to be a greater resource and leader to support the community."
As the Network Director, Ceseña will work with advocates throughout the state to ensure the implementation of legislation and policies that will benefit LGBTQ+ health and wellness. Additionally, he will provide management and direction to Network programs and staff, and support the expansion and overall capacity of the Network by adding a new Network Organizer and Trans Health Equity Manager.
"Amanda has done a tremendous job in taking a small program that is housed at Health Access and turning it into a Statewide powerhouse and organization that has name recognition and respect among many state departments," stated Network Director Dannie Cesena. "Even though I am following in the footsteps of a legend, I look forward to working closely with our Steering Committee and deepening our work in State advocacy and policy for equitable and accessible LGBTQ health care."
Governor Newsom announces new gun safety legislation
In 2021, Calif. was ranked as the #1 state for gun safety by the Giffords Law Center, seeing a 37% lower gun death rate than national average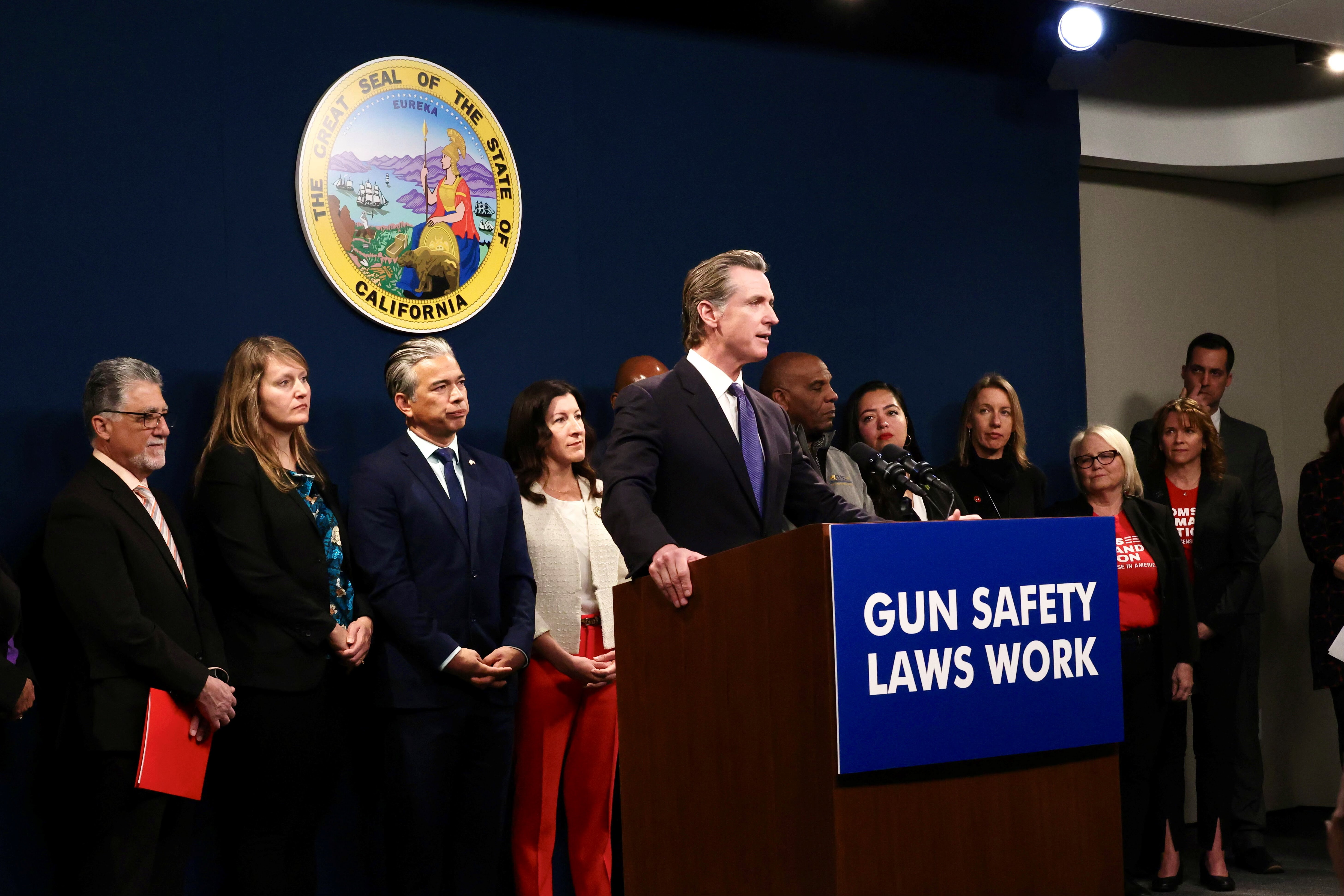 SACRAMENTO – In the wake of multiple mass shootings that took the lives of 19 Californians in just 72 hours last week, Governor Gavin Newsom, Attorney General Rob Bonta, and Senator Anthony Portantino (D-Burbank) announced new gun safety legislation to modernize and strengthen California's public carry laws.
"Only in America do we see the kind of carnage and chaos of gun violence that destroys our communities and our sense of safety and belonging," said Newsom. "America is number 1 in gun ownership and we far surpass every developed nation on Earth in gun deaths – it's not complicated. In California, we've passed common sense gun safety laws and they work: we have a 37% lower gun death rate than the national average. We're doubling down on gun safety and strengthening our public carry law to protect it from radical Republican attacks."
According to the Center for American Progress, efforts to weaken concealed carry laws across the country have increased violent crimes – with studies showing gun homicides increased by 22% in states that passed permitless carry laws and violent crimes with a firearm went up 29%.
Newsom signed a package of gun safety laws last year, making it easier for Californians to sue manufacturers of illegal assault weapons and those spreading them, allowing lawsuits against irresponsible gun industry members, strengthening prohibitions on ghost guns, as well as restricting marketing to minors. 
"The mass shooting incidents we have seen over recent weeks bring to light the need for stronger protections for our communities. The fact is, individuals who are not law-abiding, responsible citizens simply shouldn't possess firearms — and they especially shouldn't be allowed to carry a concealed weapon in public. When a gun is placed in the wrong hands, it is deadly," said California Attorney General Rob Bonta. "The Second Amendment is not a regulatory straightjacket — we must protect our communities. The time for thoughts and prayers has long passed, we need brave and immediate action by our leaders – here in California and beyond. We owe our community stronger protections. I urge our state leaders to quickly adopt SB 2. We can't afford to wait even one minute more."
Last June, the U.S. Supreme Court struck down a New York law, aspects of which mirrored California's public carry laws, and the legislation announced today – Senate Bill 2 by Senator Portantino – would make fixes necessary to update the standards and processes for obtaining a public carry permit in California.
Senate Bill 2 strengthens California's restrictions regarding public carry laws by:
Enhancing the existing licensing system – ensuring those permitted to carry firearms in public are responsible and law-abiding individuals;
Protecting children – setting a minimum age requirement of 21 years of age to obtain a CCW license;
Advancing stronger training requirements – ensuring proper handling, loading, unloading, and storage of firearms; and
Identifying certain sensitive public places – establishing safe community places where people should expect freedom from gun violence.
"In the wake of the recent tragedies in Monterey Park and Half Moon Bay and the continued threat of mass shootings, it's critical that California leads on the issue of gun safety and reform. I am proud to be working with Governor Newsom, Attorney General Bonta and activists on SB 2 to strengthen our existing public carry laws and ensure every Californian is safe from gun violence.  We must be diligent in addressing the gun violence epidemic in our country and public carry laws are a key component of this," said Senator Anthony Portantino.
California launched an 18-month campaign to promote gun violence restraining orders – "red flag laws" – that allow law enforcement, family, coworkers or friends to petition a court to temporarily remove weapons from people deemed dangerous to themselves or others. A study from the Violence Prevention Research Program at the University of California, Davis found that California's red flag law was used to stop 58 threatened mass shootings since 2016.
California's gun safety laws work. In 2021, California was ranked as the #1 state for gun safety by the Giffords Law Center, and the state saw a 37% lower gun death rate than the national average.
According to the CDC, California's gun death rate was the 44th lowest in the nation, with 8.5 gun deaths per 100,000 people – compared to 13.7 deaths per 100,000 nationally, 28.6 in Mississippi, 20.7 in Oklahoma, and 14.2 in Texas.
Moms Demand Action Founder Shannon Watts noted: "The Supreme Court's reckless Bruen decision opened up the floodgates for more guns in more places — but with this bill California once again renewed its commitment to being a national leader in the fight against gun violence. While the gun industry celebrated the ruling that put their profits over our safety, our grassroots army is proud to stand with our Gun Sense Champions in California to pass this critical bill and make our communities safer."
"Following the Supreme Court's egregious decision in the Bruen case, it is vital that the Golden State takes meaningful action to protect all Californians from the threat of gun violence. SB2 would do just this by updating and improving the state's already strong concealed carry license system, and ensure that loaded and concealed weapons are not allowed in certain sensitive places. With SB2, leaders in California are continuing their leadership in prioritizing the public health and safety of all its citizens," said Brady Campaign President Kris Brown, adding "Brady applauds Senator Portantino for introducing this important bill, and thanks Governor Newsom and Attorney General Bonta for their continued leadership on this issue, and urges the California legislature to pass it without delay."
Giffords State Policy Director Ari Freilich stated: "In the face of tragedy, California's leaders act. They've led the nation on gun safety reform and made California a much safer state than most. But today, grieving communities know all too well how much more work there is to do. California achieved an all-time record low gun fatality rate in 2019. But like the rest of the country, we have faced record spikes in gun sales and violence since the start of the pandemic and a flood of new weapons in public spaces as a result of the US Supreme Court's dangerous Second Amendment ruling last year. Passing SB (2) will strengthen communities' ability to respond to these threats by requiring stronger vetting and safety training to carry weapons in public and by designating vital community spaces like parks and playgrounds as off-limits to weapons throughout the state. We thank leaders like Governor Newsom, Attorney General Bonta, and Senator Portantino for their work and commitment to make all Californians safer and freer from violence."