Newsom announces water strategy for a hotter, drier California
Without action, California officials believe extreme weather could diminish the water supply by up to 10% by 2040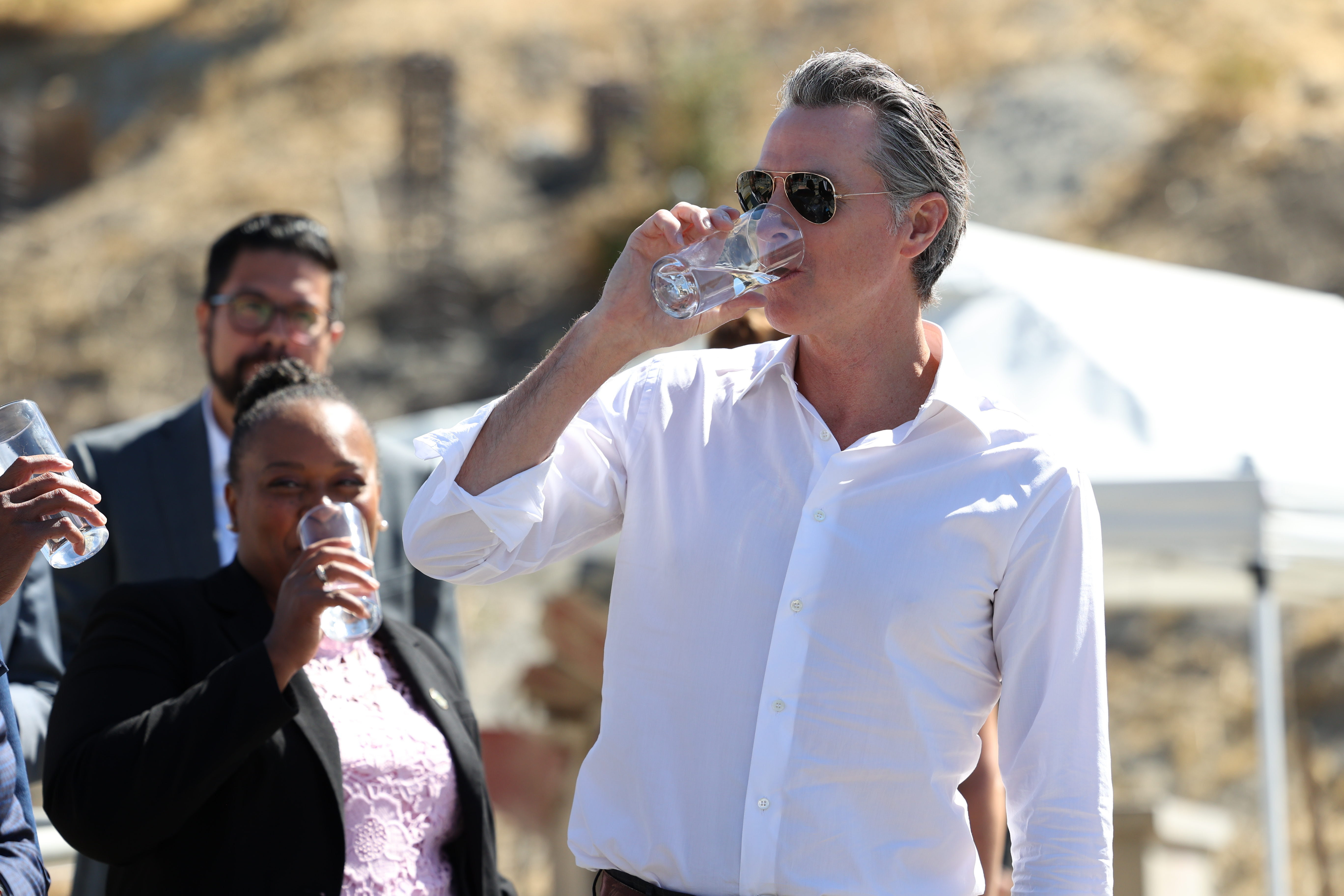 ANTIOCH – Hotter and drier weather conditions spurred by climate change could reduce California's water supply by up to 10% by the year 2040. To replace and replenish what the loss to thirstier soils, vegetation, and the atmosphere, Governor Gavin Newsom on Thursday announced California's latest actions to increase water supply and adapt to more extreme weather patterns caused by climate change. 
Thursday's announcement follows $8 billion in state investments over the last two years to help store, recycle, de-salt and conserve the water it will need to keep up with the increasing pace of climate change, generating enough water in the future for more than 8.4 million households by 2040.
The actions, outlined in a strategy document published by the Administration called "California's Water Supply Strategy, Adapting to a Hotter, Drier Future" calls for investing in new sources of water supply, accelerating projects and modernizing how the state manages water through new technology. 
This approach to California's water supply management recognizes the latest science that indicates the American West is experiencing extreme, sustained drought conditions caused by hotter, drier weather. The warming climate means that a greater share of the rain and snowfall California receives will be absorbed by dry soils, consumed by thirsty plants, and evaporated into the air. This leaves less water to meet the state's needs.
"The best science tells us that we need to act now to adapt to California's water future. Climate change means drought won't just stick around for two years at a time like it historically has – extreme weather is a permanent fixture here in the American West and California will adapt to this new reality," Governor Newsom said at the Antioch Brackish Desalination Project. "California is launching an aggressive plan to rebuild the way we source, store and deliver water so our kids and grandkids can continue to call California home in this hotter, drier climate."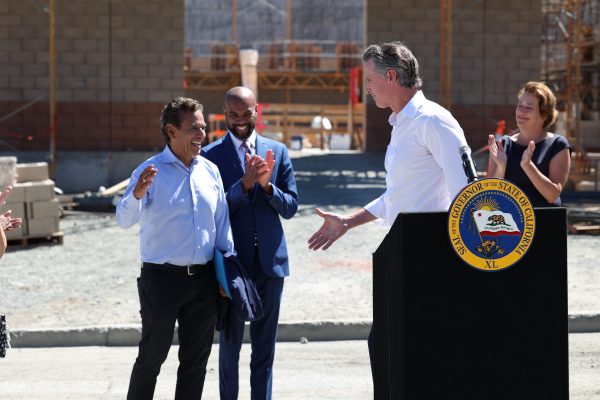 To help make up for the water supplies California could lose over the next two decades, the strategy prioritizes actions to capture, recycle, de-salt and conserve more water. These actions include:
Creating storage space for up to 4 million acre-feet of water, which will allow us to capitalize on big storms when they do occur and store water for dry periods
Recycling and reusing at least 800,000 acre-feet of water per year by 2030, enabling better and safer use of wastewater currently discharged to the ocean.
Freeing up 500,000 acre-feet of water through more efficient water use and conservation, helping make up for water lost due to climate change.
Making new water available for use by capturing stormwater and desalinating ocean water and salty water in groundwater basins, diversifying supplies and making the most of high flows during storm events.
These actions are identified broadly in the Newsom Administration's Water Resilience Portfolio – the state's master plan for water released in 2020 – but they will be expedited given the urgency of climate-driven changes. To advance the infrastructure and policies needed to adapt, the strategy enlists the help of the Legislature to streamline processes so projects can be planned, permitted and built more quickly, while protecting the environment.
Newsom signs legislation to support California Native communities
Advances equity, inclusion and highlights the unique history, culture and government of tribes in the Golden State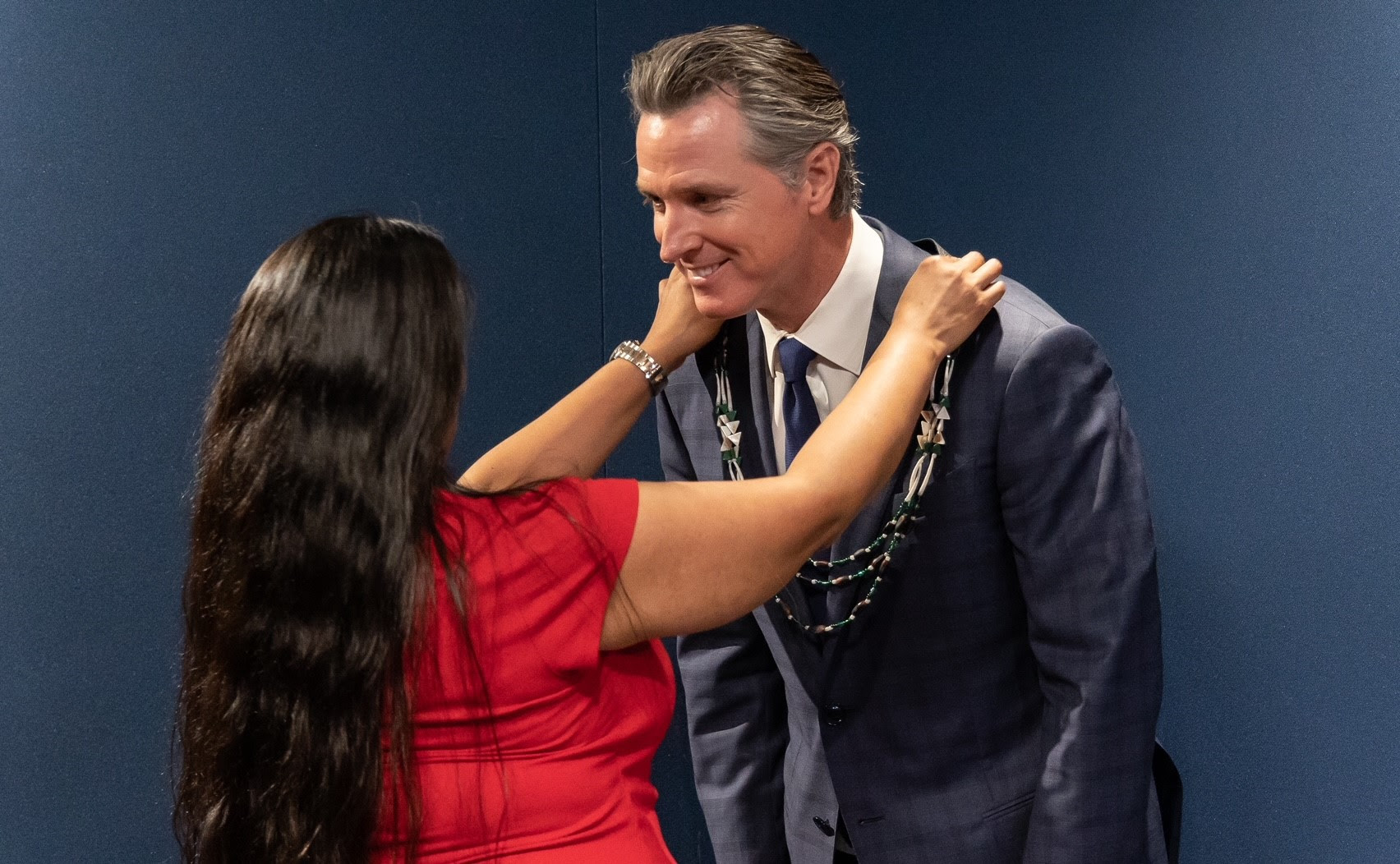 SACRAMENTO – Today on Native American Day, Governor Gavin Newsom signed several bills to support California Native communities and build on the Administration's work to promote equity, inclusion and accountability throughout the state.
AB 1314 establishes a statewide emergency alert system for missing Native people 
In a ceremony joined by leaders of Native American tribes from across California, the Governor signed AB 1314 by Assemblymember James C. Ramos (D-Highland) to help address the ongoing crisis of missing and murdered Native people from communities across the country.

Under AB 1314, local law enforcement will be able to request that the California Highway Patrol activate an emergency Feather Alert, similar to an Amber or Silver alert, to assist in search efforts for a Native person who has been reported missing under suspicious circumstances.
"As we lift up the rich history and contributions of California's diverse tribal communities today, the state recommits to building on the strides we have made to redress historical wrongs and help empower Native communities," said Governor Newsom. "Today's measures continue to move these efforts forward, including a new emergency alert system that will provide us with additional critical tools needed to address the crisis of Missing and Murdered Indigenous People. I thank all the legislators and tribal partners whose leadership and advocacy help light the path forward in our work to build a better, stronger and more just state together."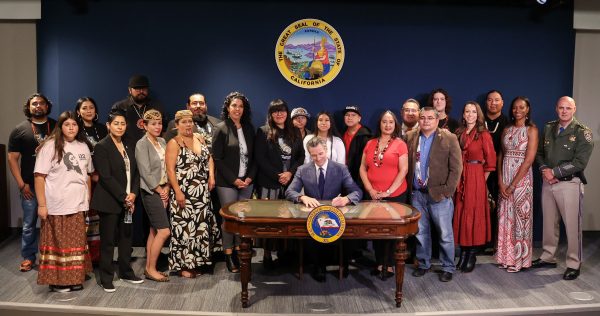 "AB 1314 will help us get the word out sooner when an individual is missing or endangered, enlisting the help of the public for tips and leads as soon as possible when quick action is critical," said Assemblymember Ramos. "I thank the Governor for signing this vital measure – creating an alert system was a top recommendation from tribal leaders for addressing the crisis of Missing and Murdered Indigenous People."
The state budget this year invests $12 million over three years to fund tribally-led programs to help address the crisis of Missing and Murdered Indigenous People on tribal lands. This investment built on last year's investment of $5 million to fund training and guidance for law enforcement agencies and tribal governments to improve public safety on tribal lands and study challenges related to the reporting and identification of missing and murdered Native peoples, particularly women and girls.
AB 1936 re-designates UC Hastings College of the Law and advances restorative justice efforts for Native peoples who suffered mass killings orchestrated by the college's founder
Governor Newsom also signed AB 1936 by Assemblymember Ramos, which re-designates the University of California's Hastings College of the Law as the College of the Law, San Francisco and advances restorative justice efforts for Round Valley Indian Tribes and Yuki people whose ancestors suffered mass killings and other atrocities funded and supported by college founder Serranus Hastings in the mid-19th century.
AB 1936 also outlines several restorative justice initiatives that the College intends to pursue, such as renaming the law library with a Native language name, annually reading a statement of the atrocities Hastings committed against the Yuki people and providing collaborative opportunities for Round Valley tribal students to gain debate and writing experience, among other efforts.
AB 2022 will remove the racist and sexist slur squaw from all geographic features and place names in California
Under AB 2022 by Assemblymember Ramos, the racist and sexist term "squaw" will be removed from all geographic features and place names in the state, and a process to review petitions to change offensive or derogatory place names will be created. This comes on the heels of federal action this month to complete the removal of this slur from nearly 650 geographic features across the country, including several name changes advanced by California based on extensive tribal engagement. The Newsom Administration has launched a series of ongoing actions to identify and redress discriminatory names of features attached to the State Parks and transportation systems.
Governor Newsom also signed AB 1703 by Assemblymember Ramos, the California Indian Education Act. The measure encourages local educational agencies and charter schools to form California Indian Education Task Forces in partnership with local tribes to develop curricular materials that highlight the unique history, culture and government of tribes in their region.
Calif. companies limited in cannabis testing; statewide access ok'd
Laws preventing employers from screening for cannabis use as a condition of employment & stop cities from banning Medicinal Cannabis signed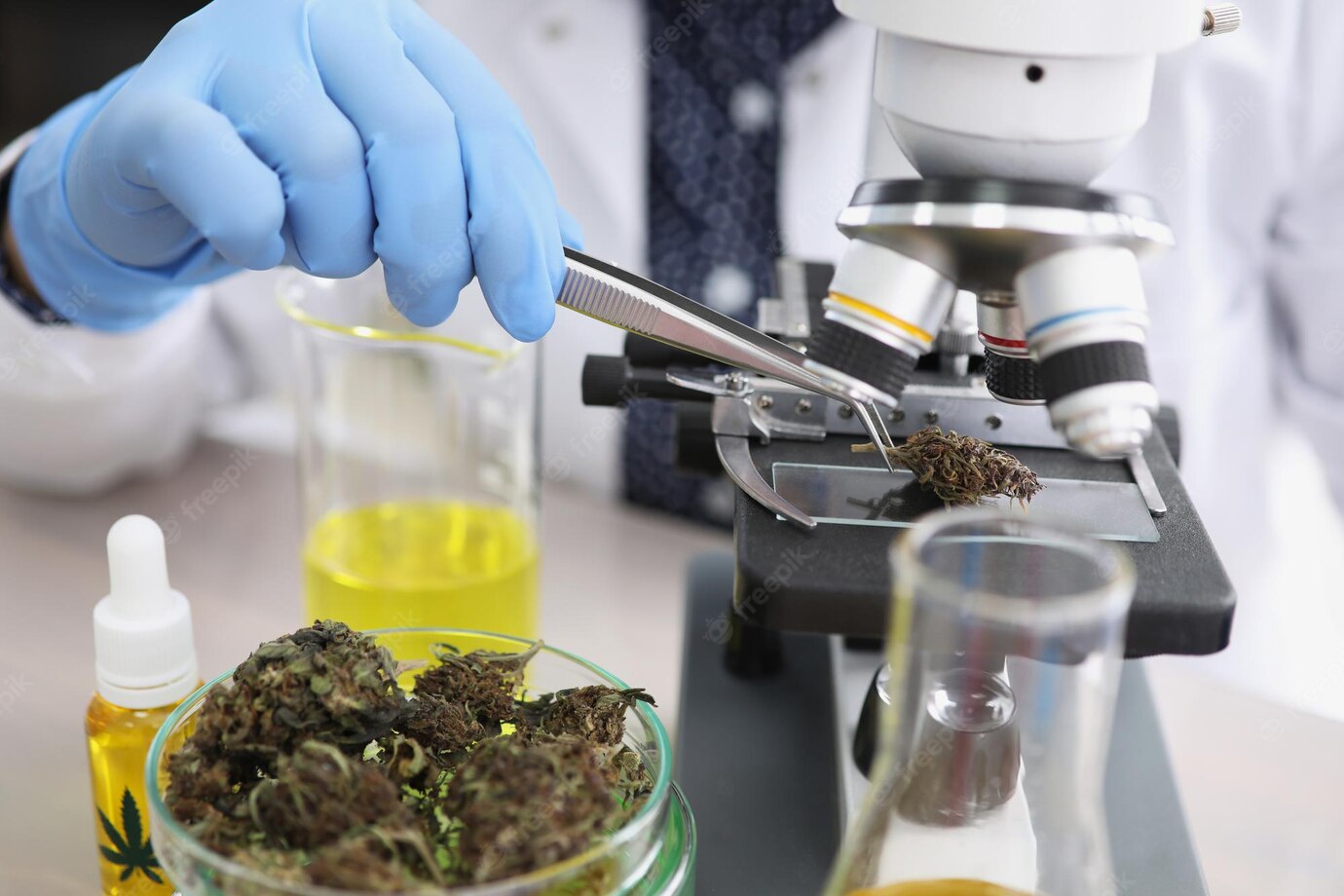 SACRAMENTO – California Governor Gavin Newsom has signed a law that will prevent employers from screening for cannabis use as a condition of employment except for narrow exceptions and also for use in terminating an employee.
The law, Assembly Bill 2188, will ban employers from any determination based on cannabis use while employees are off work. It also prevents them from hiring or firing based on that. There are exceptions for on-the-job use prohibitions and in positions that require a federal background investigation or clearance.
The law also provides for prohibitions on employees' cannabis use while at work, working while impaired, and being in possession of cannabis while on the job.
The language reads:
This bill, on and after January 1, 2024, would also make it unlawful for an employer to discriminate against a person in hiring, termination, or any term or condition of employment, or otherwise penalize a person, if the discrimination is based upon the person's use of cannabis off the job and away from the workplace, except for preemployment drug screening, as specified, or upon an employer-required drug screening test that has found the person to have nonpsychoactive cannabis metabolites in their hair, blood, urine, or other bodily fluids.
The bill would exempt certain applicants and employees from the bill's provisions, including employees in the building and construction trades and applicants and employees in positions requiring a federal background investigation or clearance, as specified.
The bill would specify that the bill does not preempt state or federal laws requiring applicants or employees to be tested for controlled substances as a condition of employment, receiving federal funding or federal licensing-related benefits, or entering into a federal contract.
In a related matter, Senator Scott Wiener's (D-San Francisco) Senate Bill 1186, was also signed into law by Newsom this past week. The law restores voter-created access to medicinal cannabis across the state by requiring cities to allow patients access to purchase legal medicinal cannabis by delivery. SB 1186 will take also effect on January 1, 2024.
"This is a victory for seniors, and for those living with HIV,  cancer, and other chronic illnesses who use medical cannabis," said Senator Wiener, "Finally, patients in rural areas – who have to drive for hours or rely on the illegal cannabis market to access their medicine – will be able to get cannabis delivered right to their door. Thank you, Governor Newsom, for helping us ensure anyone who needs it can access this life-saving medicine." 
Under current California law — which allows cities to ban any and all cannabis sales — 62% of cities have banned all cannabis sales, including medical cannabis sales. As a result, residents of those cities, including people living with HIV, cancer, arthritis, insomnia, and other conditions, frequently have no option other than to buy on the illicit market. California's thriving and growing illicit cannabis market both undermines the legal, regulated market and risks people obtaining contaminated cannabis.
To address this significant medical access problem, SB 1186 requires cities to allow medical cannabis access via delivery.
Wiener's office in a press release pointed out:
"To be clear, SB 1186 does not in any way change cities' ability to limit or ban sales of *adult* use of cannabis. Prop 64, passed by the voters in 2016, grants cities that local control. But Prop 64 did not speak to medical cannabis — which the voters legalized in 1996 via Prop 215 — and the Legislature's decision to grant cities that local control was not required by any voter measure. Indeed, the Legislature's grant of power to cities to ban medical cannabis undermined the voters' intent in passing Prop 215. Prop 215's core goal was to create legal access to cannabis as medicine."
California was the first state in the country to allow medical use of cannabis with the 1996 approval of Proposition 215. This voter initiative, driven largely by caretakers and activists seeking palliative therapies for AIDS and cancer patients, led to a cascade of state medical cannabis legalization efforts nationwide, as well as recognition that cannabis is essential medicine.
SB 1186 prioritizes patient health by allowing patients to access licensed deliveries in their area and by prohibiting jurisdictions from enacting restrictions on these businesses that have the effect of prohibiting retail sale by delivery.
Under SB 1186, local jurisdictions retain all of their local control over adult-use (non-medicinal) cannabis businesses. This law simply prevents jurisdictions from prohibiting medicinal cannabis delivery and therefore preventing patients from accessing the medicine they need.
Newsom signs legislation to crack down on hate crimes 
"California will not tolerate violence terrorizing our communities, and this measure updates state law to punish use of symbols of hate"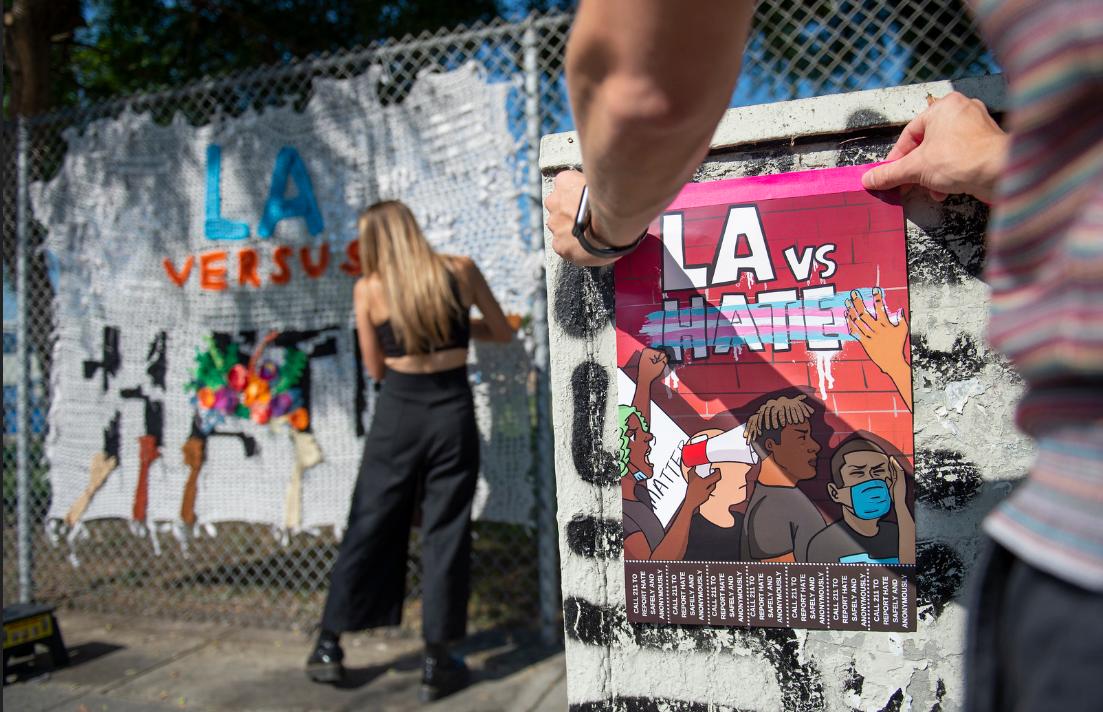 SACRAMENTO – Amid an increase in hate-fueled violence across the country, Governor Gavin Newsom signed legislation Sunday to equalize and strengthen penalties for using hate symbols and bolster security for targeted religious and community-based nonprofits. 

AB 2282 by Assemblymember Rebecca Bauer-Kahan (D-Orinda) brings parity to penalties for burning crosses and using swastikas and nooses. Currently, using a noose as a hate symbol carries the lightest penalty of the three while cross burning is the most highly penalized. Under AB 2282, individuals who use any of the three symbols of hate will be subject to the strongest of these criminal penalties.

"At a time when hate pervades the public discourse and violent extremism threatens our communities, it's critical that we take a clear, strong stand against bigotry in all its forms," said Newsom. "California will not tolerate violence terrorizing any of our communities, and this measure updates state law to punish the use of universally recognized symbols of hate equally and to the fullest extent of the law. California will continue to lead the fight to stamp out hate and defend those under attack for who they are, how they identify or what they believe in."
In addition, AB 2282 equalizes the restrictions on where the symbols can legally be used and expands restricted locations for each to include K-12 schools, colleges, cemeteries, places of worship, private property, public spaces and places of employment, among other locations.
"I'm so grateful Governor Newsom has signed AB 2282 protecting our communities from symbols of terror" said Assemblymember Rebecca Bauer-Kahan. "This critical legislation ensures that vulnerable communities are protected equally against the use of terror symbols, such as burning crosses, nazi symbols, and nooses. I am proud to have been able to work with many stakeholders to ensure that this bill recognizes and protects a diverse group of Californians."
The Governor also signed AB 1664 by Assemblymember Jesse Gabriel (D-Encino) to bolster the State Nonprofit Security Grant Program, which helps nonprofit organizations that are targets of hate-motivated violence improve security at their facilities. AB 1664 extends the program, which was set to expire in 2025, and enables grant recipients to fund additional uses, including security training.

The State Nonprofit Security Grant Program was codified under legislation by Assemblymember Gabriel signed by the Governor in 2019 following the Chabad of Poway shooting. This year, nearly $50 million in grants were awarded to 290 nonprofit community groups through the program, including houses of worship, reproductive health clinics and cultural centers.
"In a world where hate crimes and antisemitism are on the rise, we need more than thoughts and prayers to keep us safe," said Assemblymember Jesse Gabriel, Chair of the California Legislative Jewish Caucus. "This new law will provide critical resources to protect vulnerable communities and send a powerful message that California stands firmly with those targeted by hate. I applaud Governor Newsom for his steadfast leadership in standing up to hate and bigotry and thank him for signing this important bill today."
Governor Newsom and the Legislature have funded a total of $115 million for the State Nonprofit Security Grant Program, and an additional more than $150 million to support other anti-hate programs that provide direct support for impacted communities and victims. Earlier this week, the Governor named appointments to the Commission on the State of Hate, created by legislation he signed last year to track hate crimes, develop anti-hate resources and make recommendations to better protect civil rights. The Governor this week also signed an executive order that will help protect communities against hate violence and discrimination by accelerating the launch of a California versus Hate Resource Line and Network, among other actions.