Virginia Gov. Youngkin calls for schools to out trans students
"This kind of hostile school climate puts trans youth at greater risk of harassment, mental health challenges or discrimination"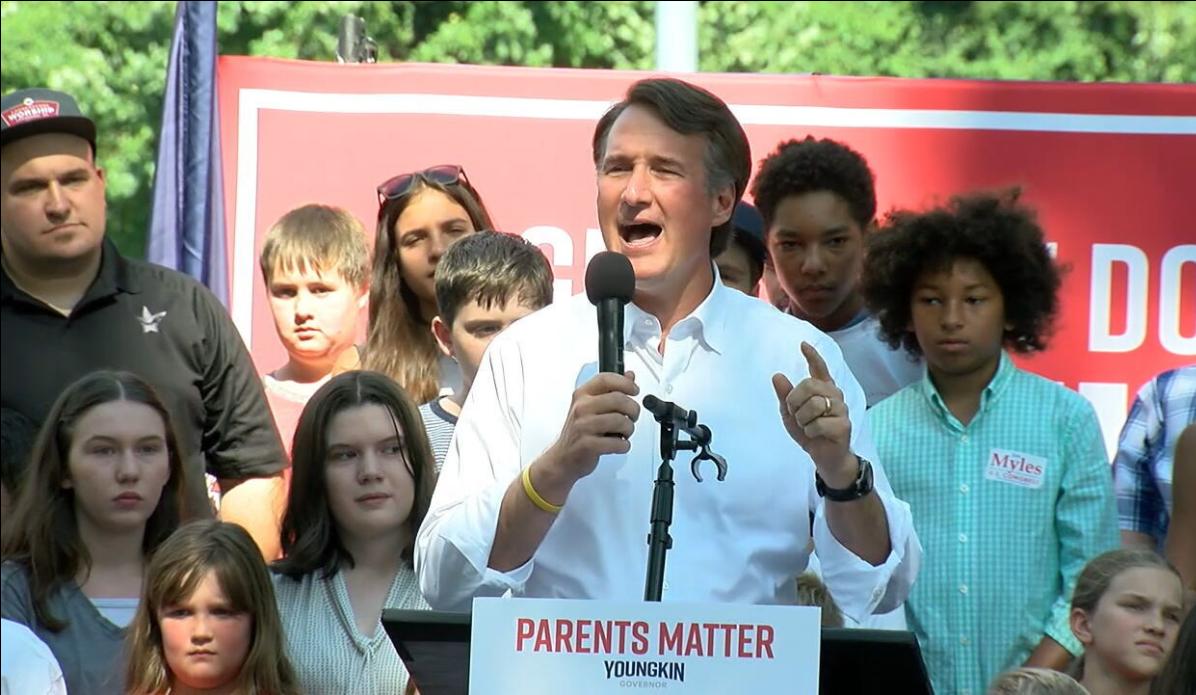 ANNANDALE, Va – During a "Parents Matter" rally on Wednesday, Virginia Gov. Glenn Youngkin called for schools to out trans and gender nonconforming students to their parents and guardians, prompting a rebuke from GLSEN.
The organization's Executive Director Melanie Willingham-Jaggers condemned the Governor's comments in an exclusive emailed statement to The Los Angeles Blade, writing: "It's devastating to see politically motivated attempts to break trust between students and educators and to force educators to violate students' privacy by outing them to guardians."
They added, "This kind of hostile school climate puts trans youth at greater risk of harassment, mental health challenges or discrimination. Transgender and nonbinary students need respect and autonomy, not additional scrutiny and policing of their gender identity in school."
Gov. Youngkin comments on the subject addressed Fairfax County Public Schools' (FCPS) Regulation 2603, which stipulates that students may choose to use pronouns and restrooms/facilities that correspond with their gender identities and transition their genders without parental permission.
"They think that parents have no right to know what your child is discussing with their teacher or their counselor, particularly when some of the most important topics, most important topics that a child may want to discuss are being determined," the Governor said during the back-to-school event Wednesday.
"What's their name? What pronoun will they use? How are they going to express their gender? This is a decision that bureaucrats in Fairfax County believe that they should be able to make without telling parents," Gov. Youngkin said.
Protecting students' privacy is a core element of "A Guide for Transgender and Gender Nonconforming Students," published by GLSEN and the ACLU.
The document tells students their schools should act to prevent harassment and bullying, facilitate their access to their preferred restrooms and facilities, and protect their privacy "by not revealing that you are transgender to others unless you have given them permission to do so," adding, "your school should not be outing you to anyone." 
"It's time that Gov. Youngkin stops using trans students' lives to gain political points at the expense of their safety and well-being," said Equality Virginia in a statement. "Transgender and nonbinary students are not going anywhere, and we need to treat them with the respect and care that they deserve. The governor's administration needs to hear and really listen to what transgender youth in our schools have to say about their experiences, and ensure that there are policies in place to protect them. By instead making open threats to their rights, the administration is failing transgender students in Virginia and contributing to hostile school environments for our youth."
Gov. Youngkin's office did not respond to a request for comment on the apparent conflict between the tenets of this guidance and the Governor's comments on Wednesday.
Obama rallies for Warnock as Walker goes transphobic in latest ad
"Tomorrow is the last day for early voting and then we need to get people out to the polls on Tuesday, which means we still got work to do"
ATLANTA – Former President Barack Obama held a rally with Sen. Raphael Warnock (D-GA) tonight in Atlanta as the Georgia election runoff for the U.S. Senate seat currently held by Warnock enters its final week.
Speaking to the enthusiastic crowd in the historic Pullman Yard, Obama urged supporters to continue pressing to secure Warnock's chances as early voting ends Friday ahead of next Tuesday's election.
"Now I know a lot of folks have been voting early over the last few days, that is a good thing. That is an encouraging thing. But — you knew there was a but —plenty of folks haven't voted yet. Tomorrow is the last day for early voting and then we need to get people out to the polls on Tuesday, which means we still got work to do," Obama said.
A spokesperson for the the Georgia secretary of state's office told the Blade that more than 1.1 million votes have been cast so far.
Warnock's Republican challenger meanwhile focused on his opposition to transgender rights. In a recent campaign ad, Herschel Walker is featured alongside cisgender former University of Kentucky swimmer Riley Gaines, who tied with University of Pennsylvania trans female swimmer Lia Thomas.
In the ad Gaines says she "worked so hard" at competitive swimming but she was "forced to compete against a biological male."  The ad also goes on to attack Warnock in the Chyron onscreen stating: "Raphael Warnock voted to allow biological men to compete in women's sports." That particular charge by Walker's campaign is factually incorrect as the U.S. Senate has not held any votes on the subject of transgender women in sports.
Politico's National political reporter Natalie Allison tweeted:
Herschel Walker is up with a new runoff ad about transgender athletes, featuring a swimmer who tied with Lia Thomas.

"My senior year, I was forced to compete against a biological male," Riley Gaines says in the ad for Walker's Senate campaign. pic.twitter.com/MlVxnJwkgB

— Natalie Allison (@natalie_allison) November 21, 2022
During the rally in Atlanta this evening Politico reported Warnock received roaring applause when he poked fun at Walker, something Obama also did, referencing a series of outlandish comments the retired football star has made over the course of his candidacy.
"We all know some folks in our lives who, we don't wish them ill will, they say crazy stuff … but you don't give them serious responsibility," Obama said.
"He was an amazing running back," Warnock said of Walker. "And come next Tuesday, we're going to send him running back to Texas."
Walker, who was raised in the Peach State and was a star player at the University of Georgia, lived the majority of his adult life in Texas before returning to run for Senate in 2021.
Politico also noted that Warnock, the pastor of the Atlanta church that Martin Luther King Jr. attended, tied the election to the long struggle of African Americans for equal rights, noting the crowd had gathered on the 67th anniversary of Rosa Parks refusing to get up from a bus seat in Montgomery, Alabama. Walker is also African American.