DeSantis smears opponent's campaign with Libs Of TikTok tweets
"It's a lie. And to top it off, it's coming from a Governor whose own campaign was led by accused child sexual predator Matt Gaetz"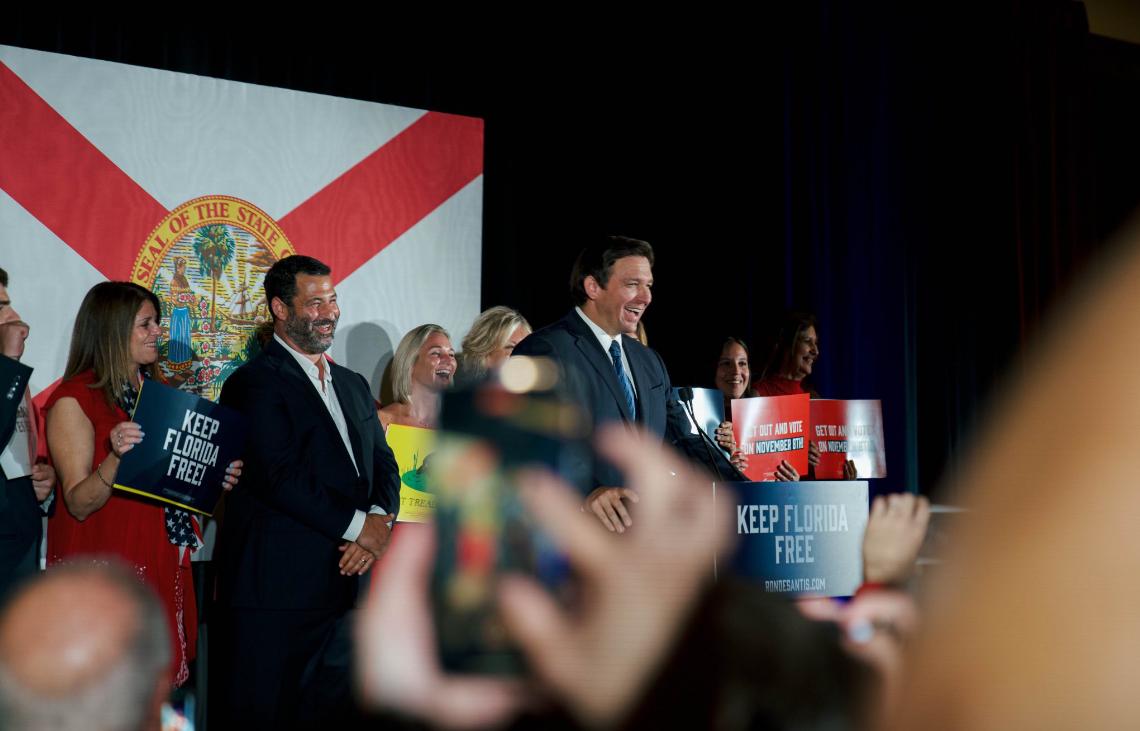 TALLAHASSEE – A pair of tweets last week by anti-LGBTQ+ Libs of TikTok's founder Chaya Raichik, spread malicious misinformation about the running mate for former U.S. Rep. Charlie Crist in his race to oust incumbent Florida Governor Ron DeSantis.
Karla Hernández, the Democratic nominee for Lieutenant Governor of Florida, was attacked by Raichik who tweeted: "Charlie Crist just picked Karla Mats as his running mate for Gov. She's the president of a teacher's union who covered up for a teacher who pled guilty to sexual assault of a student. There were allegations against him for 12 YEARS & the union she was in charge of protected him."
In a follow-up tweet that included a link to a Miami-Herald story, Raichik wrote: "Here's the article detailing how @KarlaMats protected a pedophile for 12 YEARS while he was working in a middle school."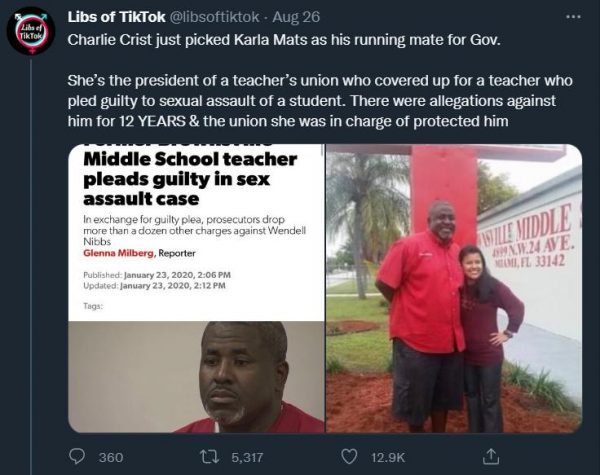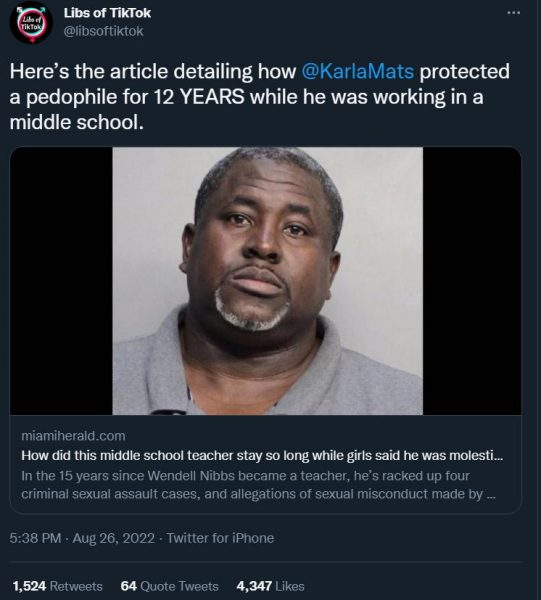 DeSantis campaign press flack and his former official state gubernatorial communications director, Christina Pushaw, who gained national notoriety for inflammatory tweets and remarks, calling LGBTQ+ people "groomers" while serving as the governor's chief official spokesperson tweeted out the misinformation being spread by Raichik.
The UTD member Karla Hernandez Mats protected through years of investigations and student rape allegations pled guilty to rape of a child and was sentenced to prison in Jan 2020.

By May 2020, media was back to promoting Karla for her pro-lockdown stance.https://t.co/CmZ0UWxLOP

— Christina Pushaw 🐊 🇺🇸 (@ChristinaPushaw) August 27, 2022
During a news conference earlier this week in Fort Pierce the governor stated:
"Everybody knew this was going on, and her union protected him knowing that he represented a threat to those students in middle school classrooms," DeSantis told reporters. "He abused and he abused and he abused, and he finally got caught and he's finally in prison."
"They cared more about the power of their union than they did about the best interests of these kids," he continued. "That is disgraceful. You do not put union politics ahead of middle school students who are in danger of being sexually abused. I think that's disqualifying to be in any political office, much less Lieutenant Governor of the state of Florida."
According to Florida Politics, Mediaite, and Popular Information, '"although allegations against Nibbs date back to 2004 and included rape accusations, the investigation against him didn't begin until 2015, the year before Hernández was first elected union president."
Nibbs was sentenced to eight years in prison plus 10 years of sex offender probation. He has a lifetime designation as a sexual predator.
Florida Politics reported that the Crist campaign hit back at the governor tying him to U.S. Rep. Matt Gaetz, a Fort Walton Beach Republican who is under investigation for underage sex trafficking. Gaetz served on DeSantis' transition team and reportedly helped him earn President Donald Trump's endorsement in 2018.
"It's a lie. And to top it off, it's coming from a Governor whose own campaign was led by accused child sexual predator Matt Gaetz, and whose disgusting actions DeSantis still refuses to condemn," said the Crist campaign's Communications Director, Samantha Ramirez.
"While Ron DeSantis shields sexual predators in his own party, Karla Hernández is a former special needs teacher who has devoted her life to serving the people of her community."
Obama rallies for Warnock as Walker goes transphobic in latest ad
"Tomorrow is the last day for early voting and then we need to get people out to the polls on Tuesday, which means we still got work to do"
ATLANTA – Former President Barack Obama held a rally with Sen. Raphael Warnock (D-GA) tonight in Atlanta as the Georgia election runoff for the U.S. Senate seat currently held by Warnock enters its final week.
Speaking to the enthusiastic crowd in the historic Pullman Yard, Obama urged supporters to continue pressing to secure Warnock's chances as early voting ends Friday ahead of next Tuesday's election.
"Now I know a lot of folks have been voting early over the last few days, that is a good thing. That is an encouraging thing. But — you knew there was a but —plenty of folks haven't voted yet. Tomorrow is the last day for early voting and then we need to get people out to the polls on Tuesday, which means we still got work to do," Obama said.
A spokesperson for the the Georgia secretary of state's office told the Blade that more than 1.1 million votes have been cast so far.
Warnock's Republican challenger meanwhile focused on his opposition to transgender rights. In a recent campaign ad, Herschel Walker is featured alongside cisgender former University of Kentucky swimmer Riley Gaines, who tied with University of Pennsylvania trans female swimmer Lia Thomas.
In the ad Gaines says she "worked so hard" at competitive swimming but she was "forced to compete against a biological male."  The ad also goes on to attack Warnock in the Chyron onscreen stating: "Raphael Warnock voted to allow biological men to compete in women's sports." That particular charge by Walker's campaign is factually incorrect as the U.S. Senate has not held any votes on the subject of transgender women in sports.
Politico's National political reporter Natalie Allison tweeted:
Herschel Walker is up with a new runoff ad about transgender athletes, featuring a swimmer who tied with Lia Thomas.

"My senior year, I was forced to compete against a biological male," Riley Gaines says in the ad for Walker's Senate campaign. pic.twitter.com/MlVxnJwkgB

— Natalie Allison (@natalie_allison) November 21, 2022
During the rally in Atlanta this evening Politico reported Warnock received roaring applause when he poked fun at Walker, something Obama also did, referencing a series of outlandish comments the retired football star has made over the course of his candidacy.
"We all know some folks in our lives who, we don't wish them ill will, they say crazy stuff … but you don't give them serious responsibility," Obama said.
"He was an amazing running back," Warnock said of Walker. "And come next Tuesday, we're going to send him running back to Texas."
Walker, who was raised in the Peach State and was a star player at the University of Georgia, lived the majority of his adult life in Texas before returning to run for Senate in 2021.
Politico also noted that Warnock, the pastor of the Atlanta church that Martin Luther King Jr. attended, tied the election to the long struggle of African Americans for equal rights, noting the crowd had gathered on the 67th anniversary of Rosa Parks refusing to get up from a bus seat in Montgomery, Alabama. Walker is also African American.