Supreme Court: Yeshiva University can block LGBTQ student club
"Requiring it to endorse the group would be a "clear violation" of its rights under the U.S. Constitution's First Amendment"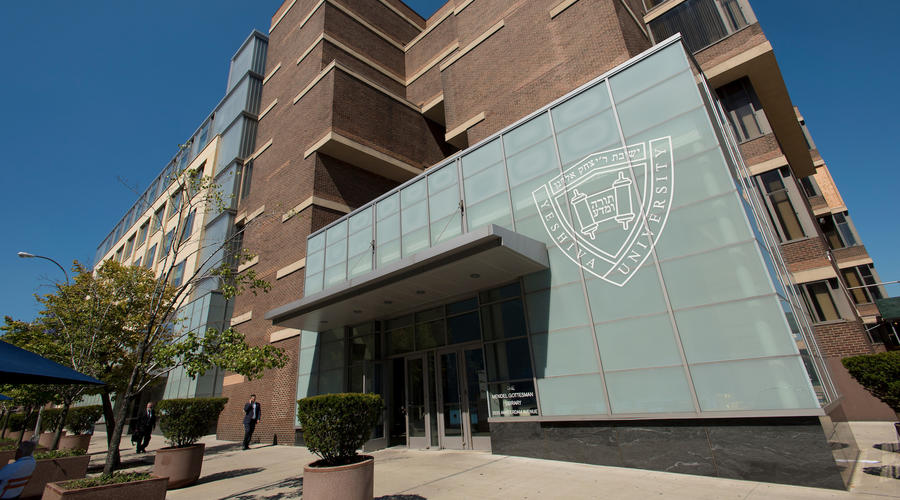 WASHINGTON – Associate U.S. Supreme Court Justice Sonia Sotomayor, in a brief order granted an emergency request made by Yeshiva University, a private modern Orthodox Jewish research university in New York City, to deny official recognition to an LGBTQ student group.
Today's ruling by Justice Sotomayor puts on hold a decision by a New York County Supreme Court Judge this past June who ruled that Yeshiva was bound by the New York City Human Rights Law, which bars discrimination based on sexual orientation.
Last year in May, The Washington Post reported that the suit was filed April 26 in the New York County Supreme Court on behalf of a group of students collectively as 'YU Pride Alliance, along with recent graduates including openly bisexual Molly Meisels, who told the Post she had come out at a rally on campus in September 2019. She added that she started a feminist club during her second semester on campus, and while it was initially ridiculed, she said, now it is simply accepted as a club.
She emphasized that having an officially recognized LGBTQ club at Yeshiva University is important in a tightknit, small campus, especially where the Jewish community emphasizes connection.
"What a queer club provides is community, especially where community is so vital," Meisels said.
What sets the 3,000 students university apart is that it has registered as a nonsectarian corporation versus the more typical religious affiliated institution of higher education.
That status according to attorney Katie Rosenfeld, who is representing some of the students in the suit sets YU apart, especially she argues that because the school receives government and state funding, it shouldn't qualify for religious exemptions. she works at a law firm that specializes in cases on civil rights.
The university argued that it is a religious institution and therefore should be exempted from the law. Requiring it to endorse the group would be a "clear violation" of its rights under the U.S. Constitution's First Amendment, which protects the free exercise of religion, the university said in its response.
"Yeshiva shouldn't have been forced to go all the way to the Supreme Court to receive such a commonsense ruling in favor of its First Amendment rights. We are grateful that Justice Sotomayor stepped in to protect Yeshiva's religious liberty in this case," Eric Baxter, a lawyer at the religious liberty legal advocacy group Becket, which is representing Yeshiva told NBC News.
Katherine Rosenfeld, a lawyer for Pride Alliance, said Friday in a statement that the group "remains committed to creating a space space for LGBTQ students" on campus and would await final action from the Supreme Court.
This is yet another in a series of cases the present court has heard and with its 6-3 conservative majority, has strongly backed religious rights in those cases.
Among its most recent rulings the high court has decided in favor of including a 6-3 ruling that sided with a former Bremerton, Washington assistant high school football coach fired for refusing to halt his practice of praying at mid-field after games on school property.
The court in 2021 ruled in favor of a Catholic Church-affiliated agency that Philadelphia had barred from participating in its foster care services because the group refused to place children with same-sex couples. Two years previously in 2018, the court ruled in favor of a conservative Christian baker in Colorado who refused to make a wedding cake for a same-sex couple.
This Fall term justices are set to hear arguments in cases from a web designer, also from Colorado, who wants the court to rule that, based on her evangelical Christian beliefs, she does not have to design wedding websites for same-sex couples.
Christian lawyers take case of anti-trans athletes to appeals court
Besides campaigning for a national abortion ban, Alliance Defending Freedom aims to ban trans girls competing in girls' high school sports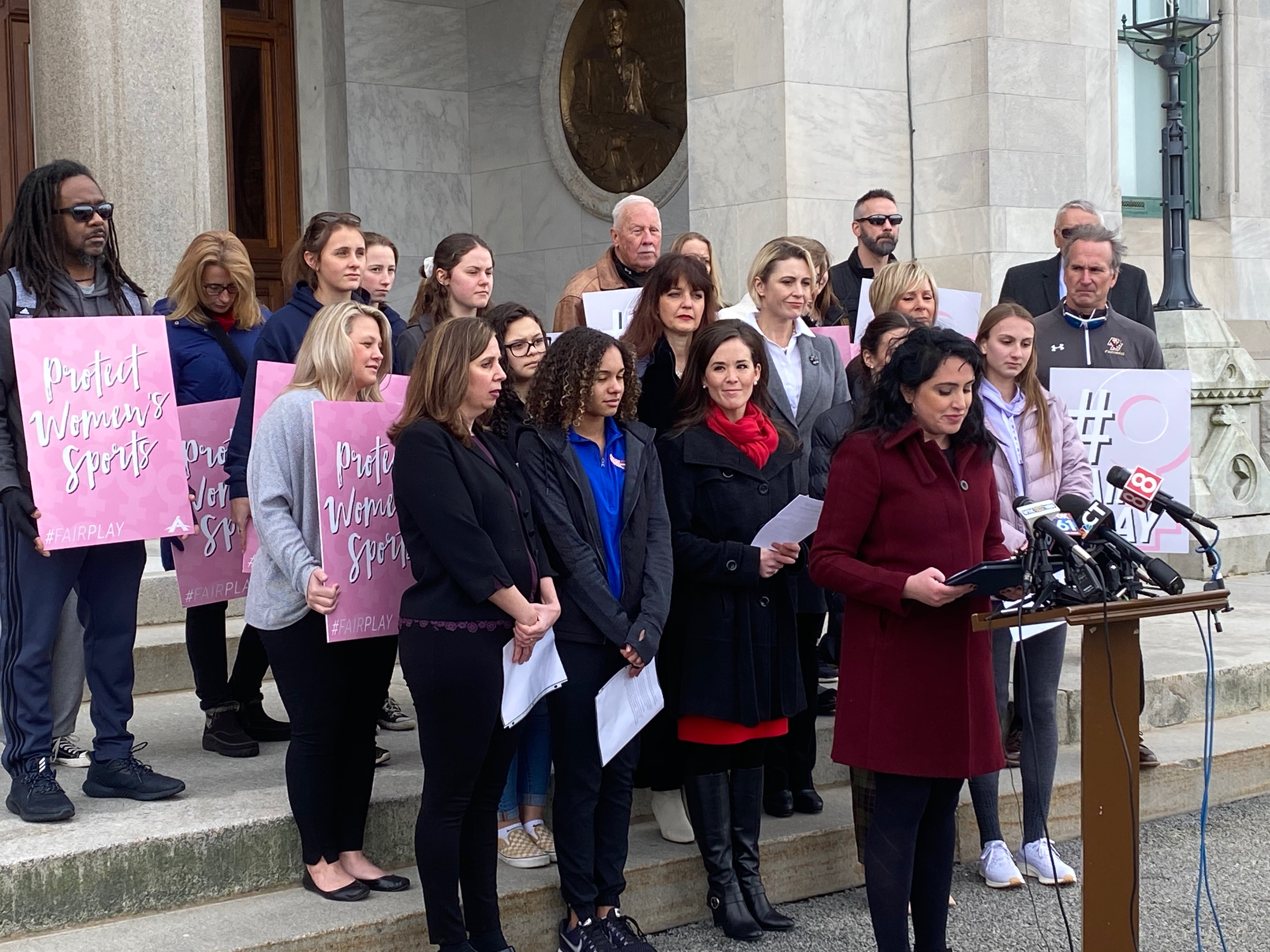 NEW YORK – A federal appeals judge in New York City on Thursday listened to attorneys arguing for and against a ban on transgender athletes in high school sports, the first federal case challenging a policy of inclusion.
Now it's up to Chief Judge Debra Ann Livingston of the Second Circuit of the U.S. Court of Appeals to decide whether a landmark case should be retried or tossed out.
The case, brought by the Alliance Defending Freedom in February 2020, was dismissed by a federal judge in Connecticut in April 2021.
The ADF, a conservative Christian law group labeled an extremist hate group by the Southern Poverty Law Center, is appealing the decision by U.S. District Judge Robert Chatigny. The ADF claims he was biased in favor of the defendants, the Connecticut Interscholastic Athletic Conference and several Connecticut boards of education.
Their original lawsuit and this appeal claims that by permitting transgender student-athletes to compete according to their gender identity, the CIAC and the schools discriminated against the plaintiffs: cisgender women who were track and field athletes in high school in Connecticut. They have all gone on to win collegiate sports scholarships: Selina Soule, Chelsea Mitchell and Alanna Smith.
"Today we argued that my clients, Selena, Chelsea and Alanna, their records and achievements matter, and we ought to be able to prove our case in court," said ADF Senior Counsel Christiana Kiefer outside court in Manhattan. "And so, we're asking that the judges here allow the case to continue to move forward."
A fourth plaintiff, Ashley Nicoletti, was added to the case last year. The women claim they couldn't win against trans girls, and because they were forced to compete with trans girls, they were "denied the chance to be champions."
They also want the court to order the state to change its track and field records and championship-winning results and erase the names of two transgender athletes: Andraya Yearwood and Terry Miller.
In their appeal, and in their press release following today's hearing, the ADF attorneys repeatedly misgendered the two young Black women, referring to them as "boys" and "biological males." Yearwood and Miller are not named in the suit, but American Civil Liberties Union attorneys represented them at the hearing.
The ACLU tweeted what the organization called "the facts" of the case, responding to the ADF's arguments, including that Mitchell and Smith did in fact beat Yearwood and Miller and that three of the four plaintiffs actually did win championships.
"Connecticut's laws preventing discrimination against trans youth in school and sports are consistent with federal law," said Elana Bildner, ACLU Foundation of Connecticut senior staff attorney, in a statement. "For years now, Andraya and Terry have carried more on their shoulders, as two Black trans youth, than most adults face in a lifetime."
"The plaintiffs' argument is filled with hypotheticals about a dystopia where cisgender girls disappear from the podium, but the court must rely on facts," said ACLU attorney Joshua Block. "The facts are that these plaintiffs repeatedly outperformed Andraya and Terry and won an impressive collection of first place trophies in the process. There is enough room on the victory podium for transgender girls too. Under Title IX, all girls, including transgender girls, should be able to participate fully and equally in athletics, in accordance with who they are."
Yearwood and Miller's records and the lawsuit naming them have been cited in several states across the U.S. where legislatures have considered and enacted bans on trans student-athletes. Outside court, Block called this case "sort of Exhibit A," in that effort. "It's held up as an example of the dangers that would happen if transgender girls were allowed to participate. And the reality is that that's based on a completely false premise, because there's no cisgender girls getting pushed off the victory podium. The plaintiffs in this case have been on the victory podium on multiple occasions."
Miller and Yearwood did not win any sports scholarships to colleges and are not pursuing track and field following their graduation from their high schools.
You can read the filing by ADF by clicking here.
The ACLU's statement is here.
Federal jury indicts doctor & her spouse: Passing info to Russia
They received public attention in 2015 after becoming the first known active-duty Army officer to come out as transgender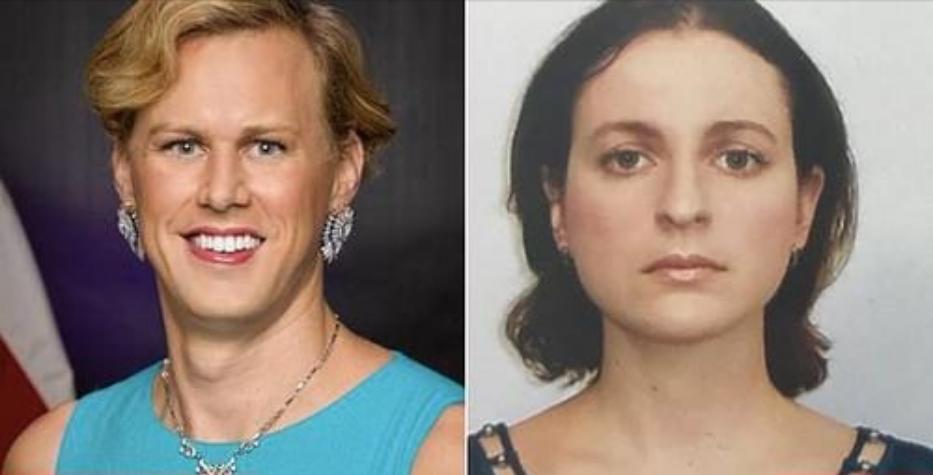 BALTIMORE – A federal grand jury on Wednesday handed down an indictment of a Johns Hopkins anesthesiologist and her spouse, a doctor and major in the U.S. Army, with conspiracy and for the disclosure of individually identifiable health information related to their efforts to assist Russia in connection with the conflict in Ukraine.
The United States Attorney's office for Maryland in a press release stated that the indictment charging Anna Gabrielian, age 36, and her spouse, Jamie Lee Henry, age 39, both of Rockville, Maryland, both of whom had secret clearances, were attempting to provide medical information about members of the military to the Russian government.
Gabrielian and Henry met with an individual they believed to be associated with the Russian government, but who was, in fact, a Federal Bureau of Investigation Undercover Agent.
In court documents filed Gabrielian told the FBI agent posing as a Russian operative that she had previously reached out to the Russian embassy by email and phone, offering Russia her and her spouses' assistance.
According to the U.S. Attorney's office Gabrielian told the FBI agent that, although Henry knew of Gabrielian's interaction with the Russian Embassy, she never mentioned Henry's name to the Russian Embassy.
In the narrative released by the U.S. Attorney's office, on August 17, 2022, Gabrielian met with the FBI at a hotel in Baltimore. During that meeting, Gabrielian told the FBI she was motivated by patriotism toward Russia to provide any assistance she could to Russia, even if it meant being fired or going to jail.
She proposed potential cover stories for her meeting with the "Russians" and stressed the need for "plausible deniability" in the event she was confronted by American authorities. Gabrielian also told the FBI that, as a military officer, Henry was currently a more important source for Russia than she was, because they had more helpful information, including how the United States military establishes an army hospital in war conditions and information about previous training provided by the United States military to Ukrainian military personnel.
Gabrielian's spouse is U.S. Army Major Jamie Lee Henry, who identifies as a transgender military physician on their Twitter account.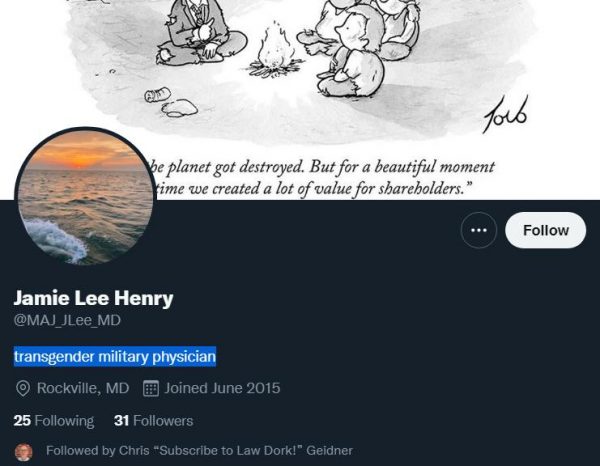 Henry received public attention in 2015 after becoming the first known active-duty Army officer to come out as transgender.
Henry was at one point a member of SPARTA, the nation's largest nonprofit representing actively-serving transgender U.S. servicemembers. A spokesperson for SPARTA, in an emailed statement, commenting on the announcement of the arrest and indictment of Henry and their spouse told the Blade:
"Transgender people are as diverse as the societies to which they belong. One's gender identity neither increases nor decreases a propensity towards alleged criminal activity."
As stated in the indictment, Gabrielian is an anesthesiologist and worked at Medical Institution 1, located in Baltimore, Maryland. Henry, a Major in the United States Army, who held a Secret-level security clearance, is Gabrielian's spouse and a doctor. During the time of the alleged conspiracy, Henry worked as a staff internist stationed at Fort Bragg, the home of the Army's XVIII Airborne Corps, headquarters of the United States Army Special Operations Command, and the Womack Army Medical Center.
Gabrielian was scheduled to have initial appearance at 11:30 a.m. Thursday in U.S. District Court in Baltimore before U.S. Magistrate Judge Brendan A. Hurson.  Henry is also expected to have an initial appearance today, although a time has not yet been set.
Full statement from SPARTA:
"SPARTA, a non-profit advocacy organization representing transgender Service members in the United States, is saddened to learn of the arrest and indictment of Jamie Lee Henry, an officer in the United States Army and a medical doctor.
SPARTA has long advocated for the inclusion and total equity for transgender persons throughout the United States uniformed services. Today, thousands are serving honorably and authentically at home stations worldwide.
The actions alleged in the indictment do not reflect Henry's identity as transgender. Their alleged actions are those of an individual and should not be taken as a representation of transgender people broadly or transgender members of the military specifically.
All people in the United States are entitled to the same rights, including due process and the presumption of innocence in this case. SPARTA does not condone any actions alleged in the indictment and expects the process to play out fairly and equitably as it would for anyone accused of a crime."
Bisexuality not covered by federal employment law lawsuit claims
"There is nothing in Title VII that prohibits employers from discriminating because of the employee's sexual or romantic partners"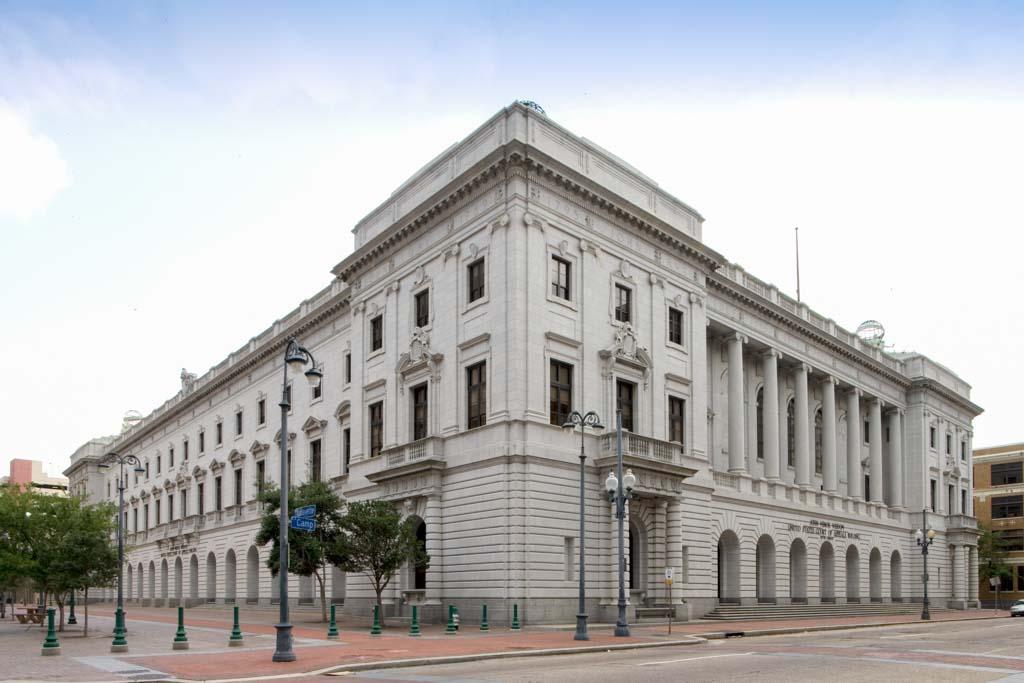 NEW ORLEANS – Lawyers in a Texas case filed a brief last week arguing that the U.S. Supreme Court's ruling in Bostock v. Clayton County, in June of 2020, does not apply to bisexual men. In that ruling the High Court held that Title VII of the Civil Rights Act of 1964 protects employees against discrimination because they are gay or transgender.
Lawyers for Braidwood Management, a business owned by hardline anti-LGBTQ activist Steven Hotze, and Bear Creek Bible Church in Keller, Texas, argued in their brief that "An employer who discriminates on account of an employee or job applicant's bisexual orientation (or conduct) cannot engage in 'sex' discrimination as defined," the lawyers wrote, "because that employer would have taken the exact same action against an identically situated individual of the opposite biological sex." In other words, employment discrimination based on sexual orientation or gender identity does not apply to bisexuals — as long as bi men are being discriminated against "on equal terms" as bi women.
The Dallas Morning News reported the brief was filed on the day it was due, Sept. 21, by former Texas solicitor general Jonathan Mitchell and Gene Hamilton, with the Trump affiliated American First Legal, are representing the plaintiffs. midway through Bisexuality Awareness Week.
The Dallas Morning News noted that:
Mitchell sued the U.S. Equal Employment Opportunity Commission in 2018, arguing that employers with religious objections should be able to hire and fire employees based on their gender identity or sexual orientation. Last year, U.S. District Judge Reed O'Connor ruled largely in his favor.
But the judge sided with the federal government on two issues — so-called bisexual conduct and certain transgender health care procedures.
In their reply to that ruling with the Fifth Court of Appeals, Hamilton and Mitchell argue the Texas judge erred on these issues. The lawyers explained their reasoning like this: The Supreme Court's decision said that an employer cannot treat two people differently solely based on their sex under federal employment discrimination rules known as Title VII.
This means, according to their argument, an employer cannot fire a gay man for being attracted to men if it would not also fire a woman for being attracted to men. But that same employer is in the clear if it discriminates equally against all bisexuals because it is not treating bi men and bi women differently, the lawyers argued.
"The text of Title VII prohibits sex discrimination only with respect to the sex of the affected employee or job applicant," they wrote. "There is nothing in Title VII that prohibits employers from discriminating because of the 'sex' of an employee or job applicant's sexual or romantic partners."
One of the foundational arguments in their brief the lawyers cite is the fact that U.S. Supreme Court Associate Justice Neil Gorsuch who wrote the majority opinion in Bostock, outlined the fact that "The key to determining whether sex discrimination has taken place is determining whether a worker of the opposite sex would be treated the same."
"An employer who fires an individual for being homosexual or transgender fires that person for traits or actions it would not have questioned in members of a different sex," Gorsuch wrote, leaving out any mention of bisexual workers. "Sex plays a necessary and undisguisable role in the decision, exactly what Title VII forbids."
The lawyers are arguing the difference between romantic or sexual partners and gender identity or sexual orientation as it applies under those circumstances.