21 years later, Americans remembering Sept. 11, 2001
"21 years ago — 21 years, & still we kept our promise: Never Forget.  We'll keep the memory of all those precious lives stolen from us"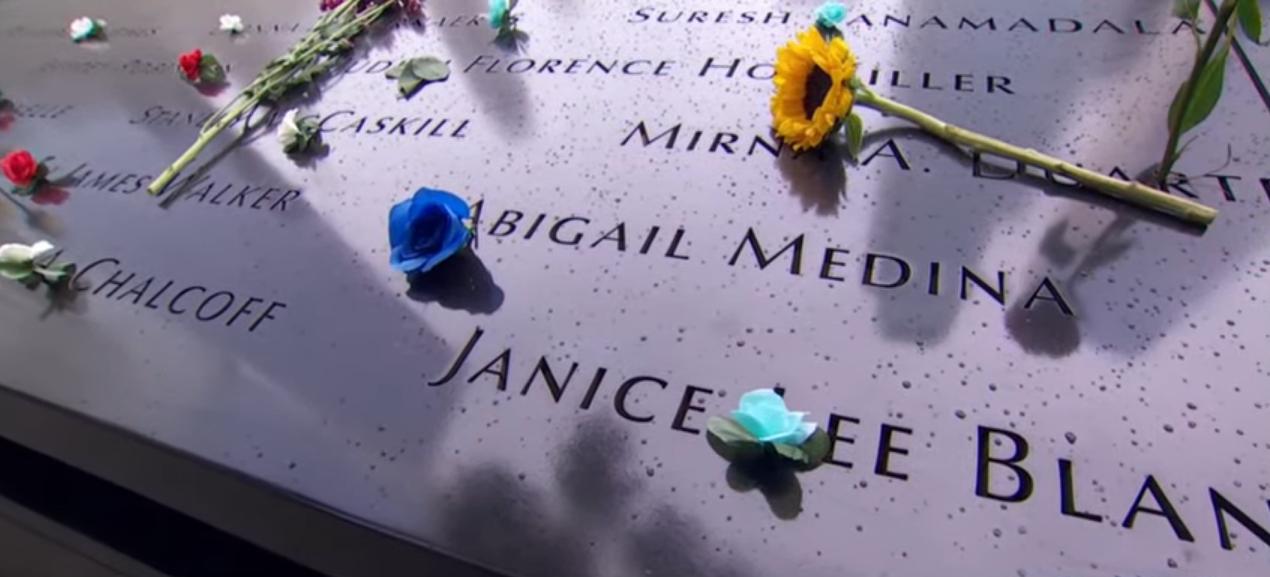 WASHINGTON – Americans are remembering 9/11 with moments of silence, readings of victims' names, volunteer work and other tributes 21 years after the deadliest terror attack on U.S. soil.
Victims' relatives and dignitaries convened Sunday at the places where hijacked jets crashed on Sept. 11, 2001 — the World Trade Center in New York, the Pentagon and a field in Pennsylvania.
In New York City the solemn annual ceremony in remembrance of the attacks was marked with the reading of the names of those killed at the site of the World Trade Center Sept. 11 memorial.
In Washington, President Joe Biden and others gathered at the Pentagon in Arlington, Virginia, to mark the solemn occasion at the memorial for the victims of American Airlines Flight 77, a scheduled domestic transcontinental passenger flight from Washington Dulles International Airport in Dulles, Virginia, to Los Angeles International Airport in Los Angeles, California.
Flight 77 was one of the four commercial airliners hijacked the morning of Tuesday, September 11, 2001, by nineteen terrorists and crashed into the Pentagon, two others were deliberately flown into the Twin Towers at the World Trade Center in New York City and the fourth aircraft, American Airlines Flight 93, which was believed headed to Washington D.C. to crash into the U.S. Capitol building, but was downed in a field near Shanksville, Pennsylvania by its passengers in the largest terrorist attack on U.S. soil.
9/11: The FDNY | 60 Minutes
On September 11, 2001, 343 members of the Fire Department of New York perished while trying to rescue people trapped in the World Trade Center. Scott Pelley speaks with firefighters who were there that day and the loved ones of those who never made it home.
Transcript of the president's remarks delivered at the Pentagon:
THE PRESIDENT: Secretary Austin, General Milley, to all the families and loved ones who still feel the ache of that missing piece of your soul, I'm honored to be here with you once more to share in this solemn rite of remembrance and to reflect on all that was lost in the fire and ash on that terrible September morning and all that we found in ourselves to respond.

Twenty-one years ago — twenty-one years, and still we kept our promise: Never Forget. We'll keep the memory of all those precious lives stolen from — from us: 2,977 — at Ground Zero in New York; in Shanksville, where my wife is speaking now — in Pennsylvania; 184 of them here at the Pentagon.

And I know, for all those of you who lost someone, 21 years is both a lifetime and no time at all.

It's good to remember. These memories help us heal, but they can also open up the hurt and take us back to that moment when the grief was so raw.

You think of everything — everything that they could have done if they had lived to just had a little more time: the experience you missed together; the dreams they never got to fulfill or realize.

I remember a message sent to the American people from Queen Elizabeth. It was on September 11. Her ambassador read a prayer of service at St. Thomas Church in New York, where she poignantly reminded us, quote, "Grief is the price we pay for love."

Grief is the price we pay for love. Many of us have experienced that grief, and you've all experienced it.

And on this day, when the price feels so great, Jill and I are holding all of you close to our hearts.

Terror struck us on that brilliant blue morning. The air filled with smoke, and then came the sirens and the stories — stories of those we lost, stories of incredible heroism from that terrible day.

The American story — the American story itself changed that day. But what we did change — what we will not change, what we cannot change, never will, is the character of this nation that the terrorists thought they could wound.

And what is that character? The character of sacrifice and love, of generosity and grace, of strength and resilience.

In the crucible of 9/11, in the days and months that followed, we saw what stuff America is made — Americans are made of. Think of all of your loved ones, particularly those on that flight — ordinary citizens who said, "We will not let this stand," who risked and lost their lives so even more people would not die.

We saw it in the police officers and firefighters who stood on the pile at Ground Zero for months amid that twisted steel and broken concrete slabs, breathing the toxins and ash that would damage their health, refusing — refusing to stop the search through the destruction. They never stopped and would not.

We learned about the extraordinary courage and resolve, as I said, of the passengers on board Flight 93, who understood that they were living the open — they were there in the middle of the open shot of a new war, and who chose to fight back — not professionals — to si- — fight back, sacrificing themselves, refusing to let their plane be used as a weapon against even more innocents.

And here at the Pentagon, which was both the scene of the horrific terrorist attack and the command center for our response to defend and protect the American people, so many heroes were made here. So many of your loved ones were those heroes.

It began almost immediately, with civilians and service members leaping to action as the walls collapsed and the roof began to crumble. They raced into the breach between the fourth and fifth corridors.

The impact created by the fire raged at twice the heights of this building. I remember. I was a U.S. senator walking up to my office, and I could see the smoke and flames.

They were heroes. They went back into those soaring flames to try to save their teammates.

Firefighters battled the ba- — the blaze of jet fuel long into the night, pushing past the bounds of exhaustion.

Pentagon staff showed up to work on September 12th more determined than ever to keep their country secure.

As I said when I was up on 9/11, we will follow them to the gates of hell to be sure that they're not able to continue.

And millions of young men and women from across the nation responded to the 9/11 attacks with courage and resolve, signing up to defend our Constitution and joining the greatest fighting force in the history of the world.

And in the years since 9/11, hundreds of thousands of American troops have served in Afghanistan, Iraq, and so many other places around the world to deny terrorists the safe haven
and to protect the American people.

And to all our service members and their families, our veterans, our Gold Star families, all the survivors and caregivers and loved ones who have sacrificed so much for our nation: We owe you. We owe you an incredible — an incredible debt, a debt that can never be repaid but will never fail to meet the sacred obligation to you to properly prepare and equip those that we send into harm's way and care for those and their families when they come home — and to never, ever, ever forget.

Through all that has changed over the last 21 years, the enduring resolve of the American people to defend ourselves against those who seek us harm, and to deliver justice to those responsible for attacks against our people, has never once faltered.

It took 10 years to hunt down and kill Osama bin Laden, but we did. And this summer, I authorized a successful strike on Zawahiri, the man who bin Laden — was his deputy on 9/11 and was the leader of al Qaeda.

Because we will not rest. We'll never forget. We'll never give up. And now, Zawahiri can never again threaten the American people.

And 20 years after Afghanistan is over but our commitment to preventing another attack on the United States is without end.

Our intelligence and defense and counterterrorism professionals in the building behind me and across the government continue their vigilance against terrorist threats that has evolved and spread to new regions of the world.

We'll continue to monitor and disrupt those terrorist activities wherever we find them, wherever they exist. And we'll never hesitate to do what's necessary to defend the American people.

What was destroyed, we have repaired. What was threatened, we fortified. What was attacked — the indominable spirit — has never, ever wavered.

We raised monuments and memorials to the citizens whose blood sacrificed on these grounds, and in Shanksville and Ground Zero, to keep touch of the memory — keep it bright for all the decades to come.

When future generations come here to sit in the shade of the Maple trees that shelter the memorial and grown tall and strong with passing years, they will find the names of patriots. They will feel the connection that will come to pass on September 11, 2001, and how our country was forever changed.

And I hope they will think about all those of — all those heroes that were made in the hours and days and years that followed. Ordinary Americans responding in extraordinary and unexpected ways.

I hope we'll remember that in the midst of these dark days, we dug deep, we cared for each other, and we came together.

You know, we regained the light by reaching out to one another and finding something all too rare — a true sense of national unity.

To me, that's the greatest lesson of September 11. Not that we will never again face a setback, but that in a moment of great unity we also had to face down the worst impulses, fear, violence, recrimination directed against Muslim Americans, as well as Americans of Middle Eastern and South Asian heritage.

It's that, for all our flaws and disagreements, in the push and pull of all that makes us human, there is a nation that cannot accomplish — there's nothing this nation cannot accomplish when we stand together and defend with all our hearts that which makes us unique in the world: our democracy.

We're not only a nation based on principles, but we are based on an idea unlike — we're the most unique nation in the world. An idea that everyone is created equal and should be treated equally throughout their lives.

We don't always live up to it, but we've never walked away from it. That's what makes us strong. That's what makes us who we are. And that's what those hijackers most hoped to destroy when they targeted our buildings and our people.

They failed. No terrorist could touch the wellspring of American power. And it falls to us to keep it safe on behalf of all those we lost 21 years ago, on behalf of all those who have given their whole souls to the cause of this nation every day since.

That's a job for all of us. It's not enough to gather and remember each September 11th those we lost more than two decades ago. Because on this day, it is not about the past, it's about the future.

We have an obligation, a duty, a responsibility to defend, preserve, and protect our democracy, the very democracy that guarantees the rights and freedom that those terrorists on 9/11 sought to bury in the burning fire and smoke and ash.

And that takes a commitment on the part of all of us — dedication, hard work — every day.

For always remember: The American democracy depends on the habits of the heart of "We the People." That's how our Constitution — "We the People." The habits of heart of "We the People."

It's not enough to stand up for democracy once a year or every now and then. It's something we have to do every single day.

So this is a day not only to remember but a day of renewal and resolve for each and every American, in our devotion to this country, to the principles it embodies, to our democracy.

That is what we owe those who remember today. That is what we owe one another. And that is what we owe future generations of Americans to come.

I have no doubt we will do this. We will meet this significant responsibility. We'll secure our democracy together as one America, the United States of America. That's who we are. That's who your loved ones were and why they gave so much.

Thank you. May God bless you all. And may God honor the members of the military we lost and all those we lost here on 9/11. May God protect our troops.
The White House celebrates "A night when hope & history rhyme"
"On his final tour in Washington, Jill and I invited Elton to the White House to thank him on behalf of the American people"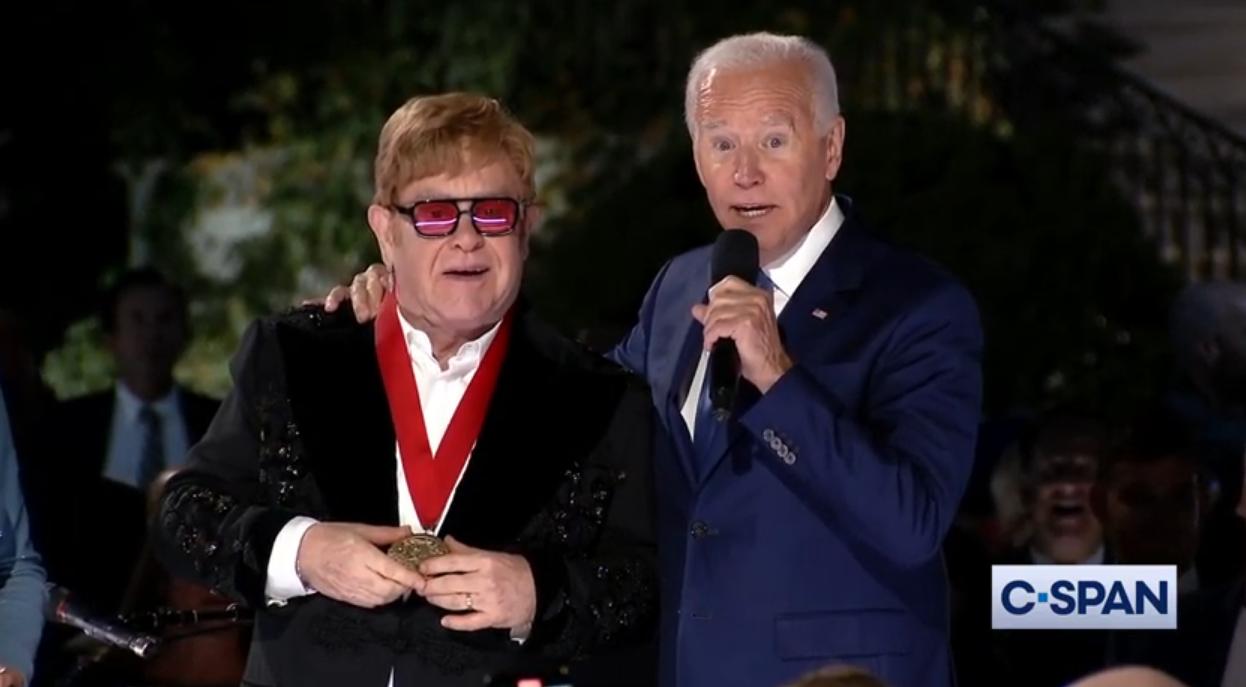 WASHINGTON – After a performance from a repertoire of the best known hits from his songbook in a special musical concert at the White House Friday evening, Sir Elton John was called to the podium where, accompanied by the First Lady Dr. Jill Biden, President Joe Biden surprised the iconic British singer-songwriter with an award.
The president presented John with the National Humanities Medal for his advocacy work in recognition of LGBTQ+ rights and tireless activism against the global HIV/AIDS crisis disease through his contributions in music and the arts.
The National Humanities Medal, inaugurated in 1997, honors individuals or groups whose work has deepened the nation's understanding of the humanities and broadened its citizens' engagement with history, literature, languages, philosophy, and other humanities subjects.
A stunned John was moved to tears. After the president had the citation read by a military aide and hung the medal around the singer's neck, Biden told the audience gathered, "I think we surprised him" to which they cheered and applauded.
The medal's citation read in part that it was honoring John "for moving our souls with his powerful voice and one of the defining song books of all time. An enduring icon and advocate with absolute courage, who found purpose to challenge convention, shatter stigma and advance the simple truth — that everyone deserves to be treated with dignity and respect."
Visibly moved, the iconic musician and performer said: "I just said to the First Lady, I'm never flabbergasted- but I'm flabbergasted and humbled and honoured by this incredible award from the United States of America. I will treasure this so much- I will make me double my efforts to make sure this disease goes away. Your kindness- America's kindness to me as a musician is second to none, but in the war against AIDS and HIV it's even bigger and I can't thank you enough…. I'm really emotional about this- thank you."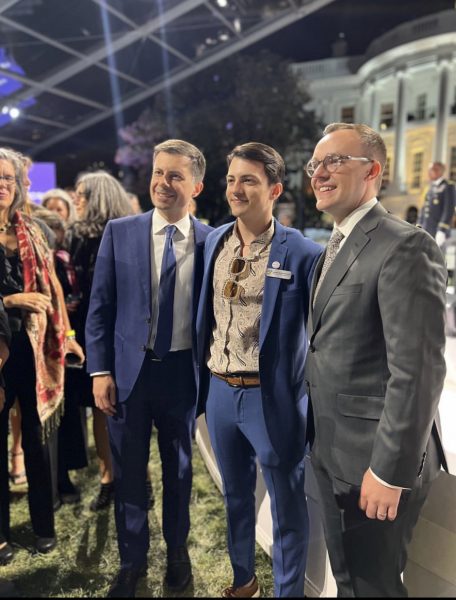 The special gathering held under a vaulted glass and aluminum 'tent' on the South Lawn of the White House was attended by 2,000 guests including former first lady Laura Bush, U.S. House Speaker Nancy Pelosi and U.S. Transportation Secretary Pete Buttigieg, his husband Chasten, as well as teachers, nurses, LGBTQ advocates and military families, who the White House had dubbed "everyday history-makers."
During a pause in his performance earlier, the singer addressed former first lady Laura Bush, praising her husband, former President George W. Bush's ongoing work on the Presidential Emergency Plan for AIDS Relief, which President Bush had initiated while in office and is credited with saving millions of lives across the African continent and helping to change the trajectory of the HIV/AIDS crisis globally.
"I want to say to the first lady, President Bush accelerated the whole thing with his PEPFAR bill. It was the most incredible thing," he said to Mrs. Bush.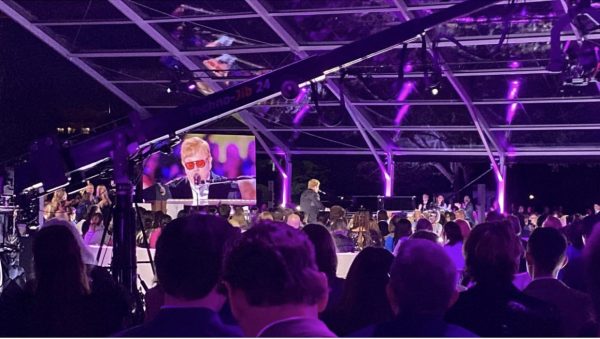 On his final tour, Jill and I invited Sir Elton John to the People's House.

I proudly presented @eltonofficial with the National Humanities Medal for a legacy of challenging convention, shuttering stigma, and advancing the truth that all of us deserve to be treated with dignity. pic.twitter.com/vFAkrW6lWS

— President Biden (@POTUS) September 24, 2022
Full Text of the President and the First Lady's remarks:
THE FIRST LADY: Hello! Good evening. Thank you, Athen. It's leaders like you, those helping the next generation live authentically and find their voice, who make me so hopeful for our future.

And thank you to Paul Buccieri and A&E for helping us put this event together.

Isn't this incredible?

First Lady Laura Bush is with us tonight. And, Laura, it's such an honor to welcome you and your family back to the White House.

And finally, I want to say what a joy it is to be here with the man who has inspired, supported, and loved Sir Elton John for so many years: his husband, David.

Few things have the power to bring us together like music. It can compel us to move as one on the dance floor, to sing along with strangers when we hear that familiar tune. It's a voice for the feelings we can't always define.

When the piano plays, the strings swell, the drums beat in time with our hearts, we find joy or a balm for our sorrows or the harmonies that tell us we aren't alone.

And in that spirit, as we celebrate Elton John's music, we also celebrate you — everyday history-makers.

Many of you are my colleagues — fellow teachers, like Leah Michael Dillard. (Applause.) Love the teachers! So, Leah has taught 7th grade English for 20 years. And, Leah, your students are better thinkers and more engaged citizens because of you.

We also have first responders and healthcare heroes like — like Dr. Amber Pearson. Amber was the first person in her family to go to college. And it wasn't easy. She worked multiple jobs, took out loan, and when she finally reached her dream, she gave back to others, as an audiologist for veterans and their families, serving the women and men who serve us so well.

And in this crowd are leaders of the beautiful, bold, and diverse future we are building together, like Javier Gomez, a student from Miami. When his governor passed a law targeting the LGBTQ community, he didn't sit back.

Javier, you remind us of the power of one person who is willing to speak up for what is right, and that's what this night is all about. Coming together, using our voices, celebrating that, here in America, our differences are precious and our similarities infinite.

Elton once said, "Music has healing power. It has the ability to take people out of themselves for just a few hours."

We're here tonight to once again lose ourselves and be brought together — perhaps even healed — by the power of music.

And now, I get to introduce another huge fan, who also happens to be the President of the United States and my husband, Joe Biden.

THE PRESIDENT: You had to stand for Jill, but you can sit for me. Please, all have a seat. Please, have a seat.
Thank you, Jill. Thank you all for being here on such a special evening.

And, Athen, leaders like you are helping the next generation live an authentic voice. And I want to thank you very much for introducing me.
Look, I — as my colleagues — many of whom from the Senate are still here, came tonight — they always used to kid me because I — I was quoting Irish poets on the floor of the Senate.
The think I did it because I'm Irish. That's not the reason; I did it because they're the best poets in the world.
One who we lost not too long ago, Seamus Heaney, once wrote, and I quote, "Once in a lifetime, the longed-for tidal wave of justice rises up, and hope and history rhyme."

Throughout this incre- — his incredible career, Sir Elton John has been that tidal wave — a tidal wave to help people rise up and make hope and history rhyme. Three hundred million records sold. Seventy-one billboard hits, nearly half in the top ten. Six Grammy Awards. Two Oscars. One Tony, among the multiple, multiple nominations across the board. Four thousand performances around the world. A singer, songwriter of our time, for all time.

On his final tour in Washington, Jill and I invited Elton to the White House to thank him on behalf of the American people.

So, like so many Americans, our family loves his music. His songs take us — take us back to a time, a place, a memory. Songs that make every day exceptional, help us connect and come alive. And songs that reflect the artist's gift, that sixth sense to imagine what no one else can, and then sing and play and dream until he sets that feeling free.

As Jill just mentioned, we're joined by so many people that it's — he's set free to be themselves, to be treated with the dignity and respect they deserve.
Families and advocates in the fight against HIV/AIDS — a fight — a fight that he has led with sheer will, and fight for those lives lost and those lives that we can save.
Leaders standing up for equality of all people, no matter who you are or who you love.

Every day — every day Americans of every generation, of every background who know that life can be cruel and full of struggle, but it can also be full of joy and purpose.

And we're joined tonight by the UK Ambassador to the United States, Karen Pierce, during a difficult time. Karen, thank you. Thank you for being here, Karen.

Jill and I travelled to London to pay our respects to the Royal Family on the Queen's passing.

Our hopes tonight — our hope is that Sir Elton John's music heals the sorrow, as it often has in the past.
Throughout his career, Elton found his voice — not only his voice, but his voice to help others and help them find their voice.

With his hope, he made history rhyme for countless people in our nation. That's what tonight is all about.

Elton often talked about how American music changed his life and how the different genres and sounds influenced his own music and imagination. It's clear Elton John's music has changed our lives.

To David and the boys, thank you for sharing your husband and dad with us tonight. (Applause.) And to Elton, on behalf of the American people, thank you — and I sincerely mean this — thank you for moving the soul of our nation.