Zambia president reiterates opposition to LGBTQ+, intersex rights
Hakainde Hichilema made comments in response to anti-LGBTQ+ protest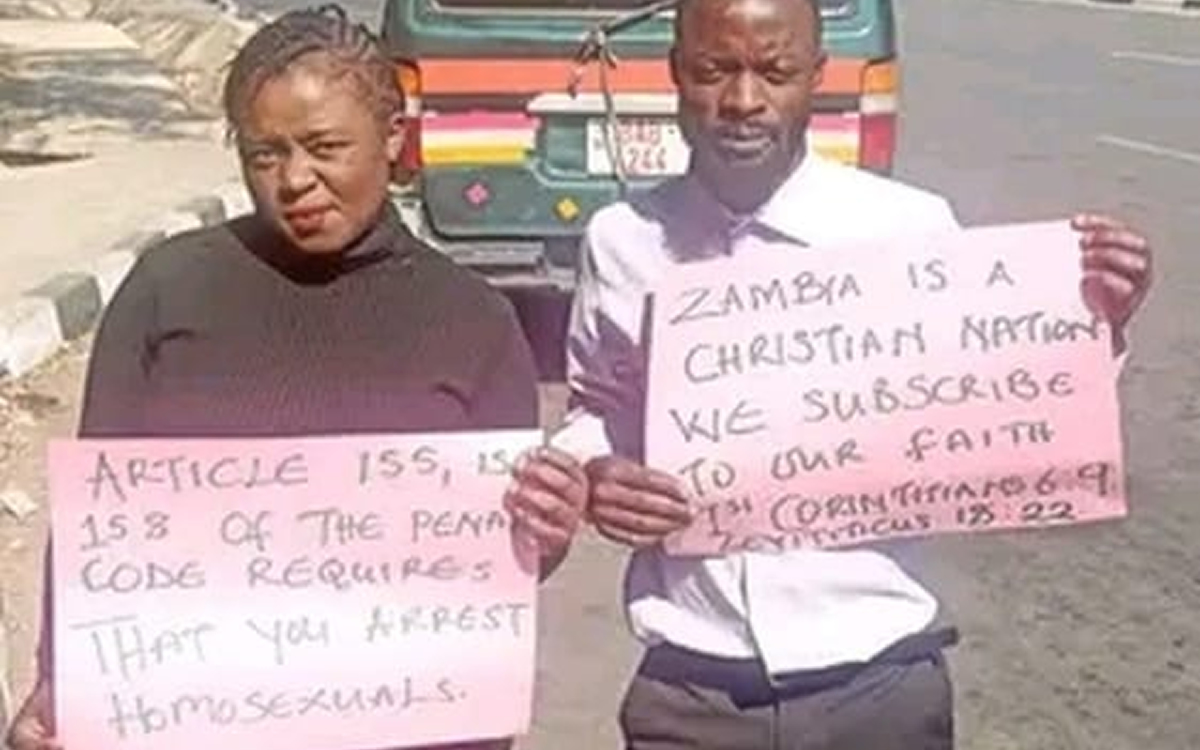 LUSAKA, Zambia — Zambian President Hakainde Hichilema on Monday reiterated his government does not support LGBTQ+ and intersex rights.
In a video posted to his Facebook page on Monday, Hichilema said Zambia is a country deeply rooted in Christianity and therefore does not support same sex relations. The president's remarks came after Dr. Brian Sampa on Sept. 15 held an anti-LGBTQ+ rights protest.
The police stopped Sampa's protest, which was to have taken place at the State House in Lusaka, the country's capital. Officers said he did not have the necessary permits and told him and the handful of other protesters to instead approach the country's Gender Ministry.
"Zambia is a Christian nation it's clear! We all agree, but sometimes we want to extract sections of our communities and say these are not Christians. Religion in diversity. Churches in diversity but one body of Christ and I want to say it is not right," said Hichilema in his video. "I have been following what is happening in the country and to say that the new dawn government is promoting lesbian rights or gay rights that is not right. We have said it before in opposition and now in government that we do not support gay, lesbian rights as a government."
"The records are there," he added. "The media houses carry those records from years back but now in the last recent days people are propagating in churches preaching about lesbian rights that is divisive you know, the new dawn government this and that it's not right let's focus on unity, let's focus on materiality, things that matter for this country, our children keeping them in school matters more than the peripheral petty side of a divisive behavior."
Sampa, meanwhile, has said he will be leading another anti-LGBTQ+ protest under the banner #BanNdevupaNdevu (#BanBeardonBeard) on Sept. 28. He said he plans to deliver a letter to the State House pertaining to what he labelled "the rise in unnatural acts like homosexuality."
"Our fight is non-political. It's for Zambians regardless of your color, creed, religion or political affiliation," said Sampa on Facebook. "The president needs to be making it clear to those ambassadors from some countries our stance about homosexuality. Here we chase ambassadors who support homosexuals because it's criminal under our constitution. The government has got power to end all this, but we are lacking political will against homosexuality. Use the law to the latter."
"Parents make time to talk to your children and visit them in boarding schools," he added. "Male boarding schools are no longer safe. The homosexuals are sodomizing children as they initiate them into this bad vice."
Sampa also posted to Facebook a picture of a bed with what appears to be human feces on sheets. Sampa said it was a result of too much anal sex and cautioned that heterosexuals should be concerned if their partner wants to engage in it.
"Before you join them no matter the amount they will offer you, remember this picture. This is a picture of a bed used by a person with fecal incontinence due to anal sex what you are seeing are feces leaking from the anus because the sphincter muscle is destroyed due to anal sex," he said. "This is an example of a male-to-male relationship. Don't be deceived; the anus is not a sexual organ. Would a normal person be happy to dip their penis in feces? Nobody enjoys the smell of feces unless there is some psychological problem."
"For ladies, how to know that you are dating a homosexual," added Sampa. "If the guy keeps demanding for anal sex make sure you report him to the police."
Zambia criminalizes same-sex sexual activity between men and between women. Sentences include a maximum penalty of 14 years in jail.
A court in 2019 convicted two gay men of engaging in same-sex sexual activity and sentenced them to 15 years in prison. They received a presidential pardon in 2020 amid international pressure, but reports of discrimination and violence against LGBTQ+ and intersex Zambians remain commonplace.
Daniel Itai is the Washington Blade's Africa Correspondent.
Kenya president-elect says LGBTQ+, intersex rights 'not a big issue'
Homosexuality remains criminalized in former British colony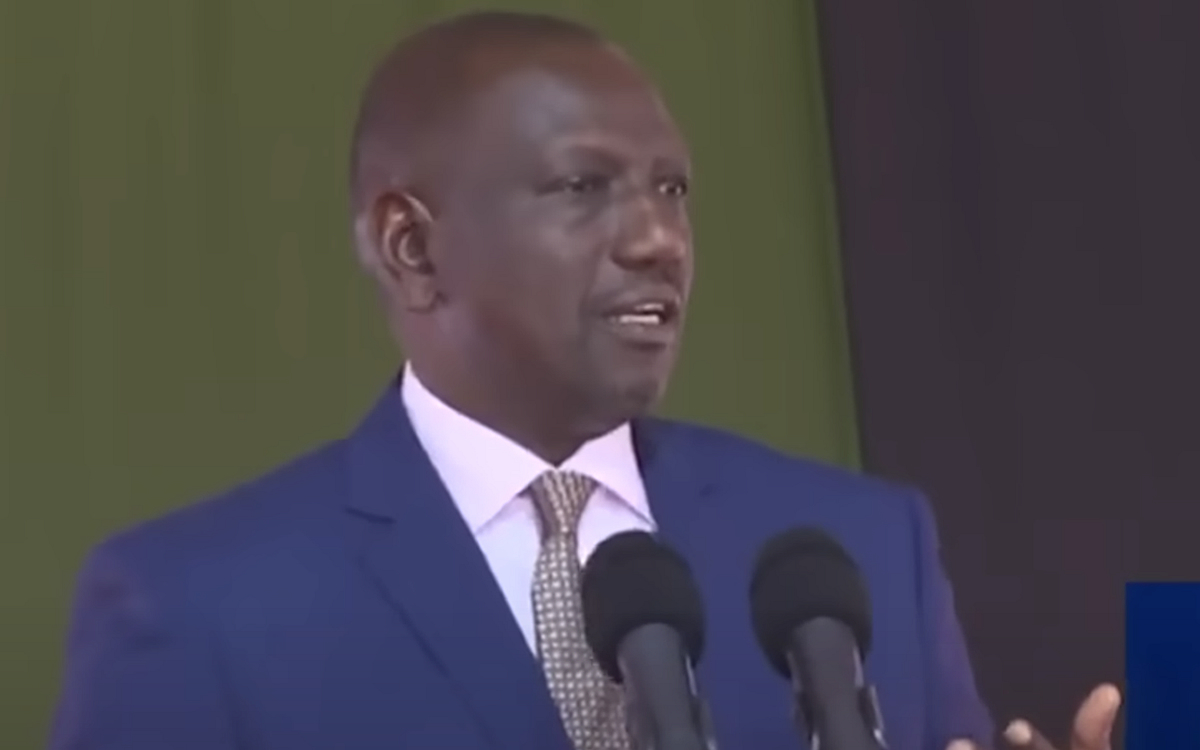 NAIROBI, Kenya — The president-elect of Kenya last week told CNN's Christiane Amanpour that LGBTQ+ and intersex rights are "not a big issue" in his country.
"We don't want to create a mountain out of a molehill," William Ruto told Amanpour during a Sept. 7 interview. "This is not a big issue for the people of Kenya. When it becomes a big issue for the people of Kenya, the people of Kenya will make a choice."
Ruto spoke with Amanpour days after the Kenyan Supreme Court declared him the winner of the country's Aug. 9 presidential election. Ruto's inauguration will take place in Nairobi, the Kenyan capital, on Wednesday.
The Children Act 2022, a law that granted equal rights and recognition to intersex people in Kenya, took effect in July. Consensual same-sex sexual relations nevertheless remain criminalized in the former British colony.
Amanpour noted to Ruto that outgoing President Uhuru Kenyatta previously said there is "no room for homosexuality in Kenyan society."
Ruto said his predecessor "was spot on." Ruto also noted youth unemployment and hunger are his top priorities.
"That is my concern. That is the focus of the people of Kenya at the moment," said Ruto. "When the issue you have discussed about homosexuality and the rights of LGBT (people) will come, the people of Kenya will make a choice and we will respect the choice of the people of Kenya. For now, Christiane Amanpour, let us focus on the real issues that affect our people."
Gay sex is illegal in Kenya and President-elect @WilliamsRuto previously said "we have no room for gays." Ruto tells me "we respect everybody," but adds "this is not a big issue for the people of Kenya" and President Kenyatta was "spot on" to say homosexuality "is not agreeable." pic.twitter.com/qLN3Ss0p2G

— Christiane Amanpour (@amanpour) September 7, 2022
Rwanda criticized over exclusion of LGBTQ+, intersex people from Census
National count scheduled to end on Tuesday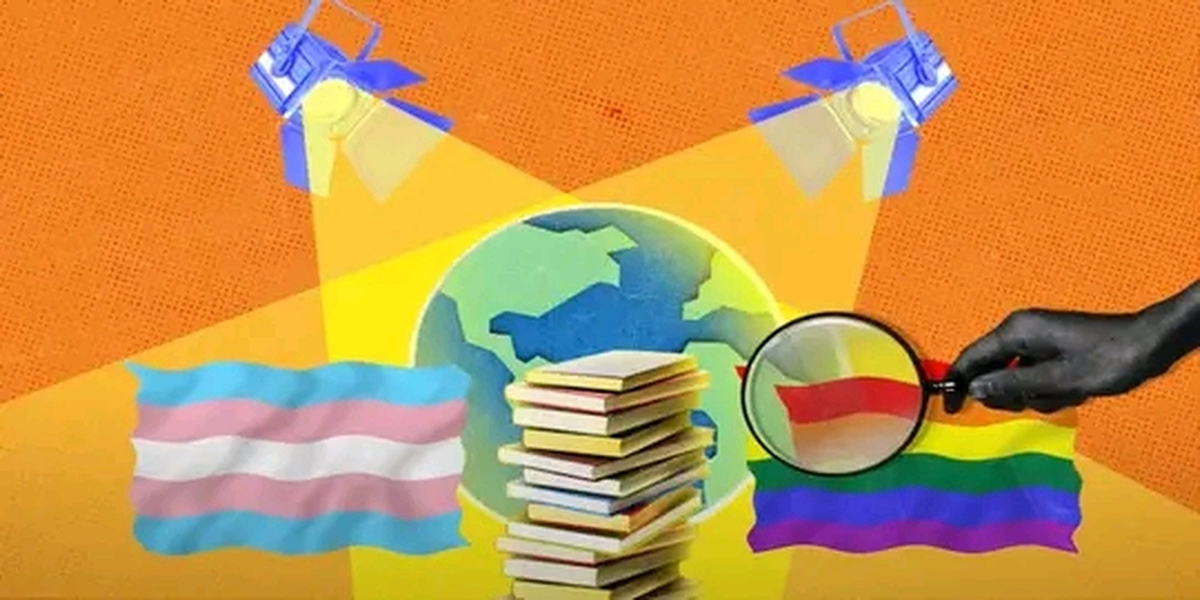 KIGALI, Rwanda — Activists in Rwanda have criticized the government over the lack of inclusion of LGBTQ+ and intersex people in the country's national Census.
The current Census does not specifically count LGBTQ+ and intersex people or include them in the questionnaires. Activists have criticized this exclusion, especially with the fact that Rwanda does not criminalize homosexuality.
"2SLGBTQIA+ people, like other minorities and vulnerable groups, face disparities in economic status, health and housing," said Human Rights First Rwanda Association, an organization based in Kigali, the Rwandan capital, that promotes the rights of LGBTQ+ and intersex people and other marginalized groups. "The government normally plans its long-term policies more especially in health matters and other issues depending on the vulnerability and marginalization from the number of its populace and also through conducting surveys including census. Thus, collecting data on sexual orientation and gender identity helps identify what those specific disparities are, which is a crucial first step in addressing those disparities in the long run and that's why some 2SLGBTQIA+ community members in Rwanda allude to the importance of this exercise and their inclusion."
The Human Rights First Rwanda Association said the Census questionnaires were broad, even though the government recognizes the LGBTQ+ and intersex community faces specific issues.
"The government recognizes the fact that 2SLGBTQIA+ issues exist but they did mention that the census questions had been tested to include issues of health and housing to a specific group but rather said continuous surveys would be conducted to collect data on particular groups like persons living with disabilities including those with intellectual disability, hard of hearing and other vulnerable groups including the 2SLGBTQIA+ groups who are different from others," added the Human Rights First Rwanda Association.
The group acknowledged same-sex couples will not receive marriage rights in Rwanda anytime soon, but it did note it remains engaged with various government agencies to ensure people who are LGBTQ+ or intersex receive the same rights and protections that heterosexuals receive.
"The Rwanda Family Law only recognizes marriage of a man and woman and also does not provide for any other types of marriage," said the Human Rights First Rwanda Association. "Same sex relations to be legalized may take time through the Rwanda law reform commission and advocacy on changes of laws, it could eventually allow and remove that clause that only recognizes marriage to be of a man and a woman and maybe include other forms of consensual relationships and marriages. This calls for a long-term advocacy agenda from civil society organizations and in particular the 2SLGBTQIA+ community."
"Nevertheless, change comes gradually," added the organization.
Human Rights First Rwanda Association since 2006 has joined other NGOs in opposition of efforts to criminalize homosexuality in Rwanda. Rampant discrimination and abuse based on sexual orientation and gender identity forces many LGBTQ+ and intersex Rwandans to remain in the closet.
"The process of reducing victimization on 2SLGBTQIA+ requires concentered and continued efforts and engaging various stakeholders such as the Ministry of Justice, (the) Rwanda Human Rights Commission; Ministry of Health, Ministry of Gender and Family; (the) Gender Monitoring Unit; international development partners; faith leaders and including mainstream NGOs and 2SLGBTQIA+ organizations working together to change the mindset of the populace," said Human Rights First Rwanda Association. "This can be done through dialogue meetings and continuous sensitization campaigns and also empowering sexual minorities to be their own self advocates."
Director of LGBTQ+ rights group in Ghana kidnapped, held for ransom
Rightify Ghana said incident took place Aug. 20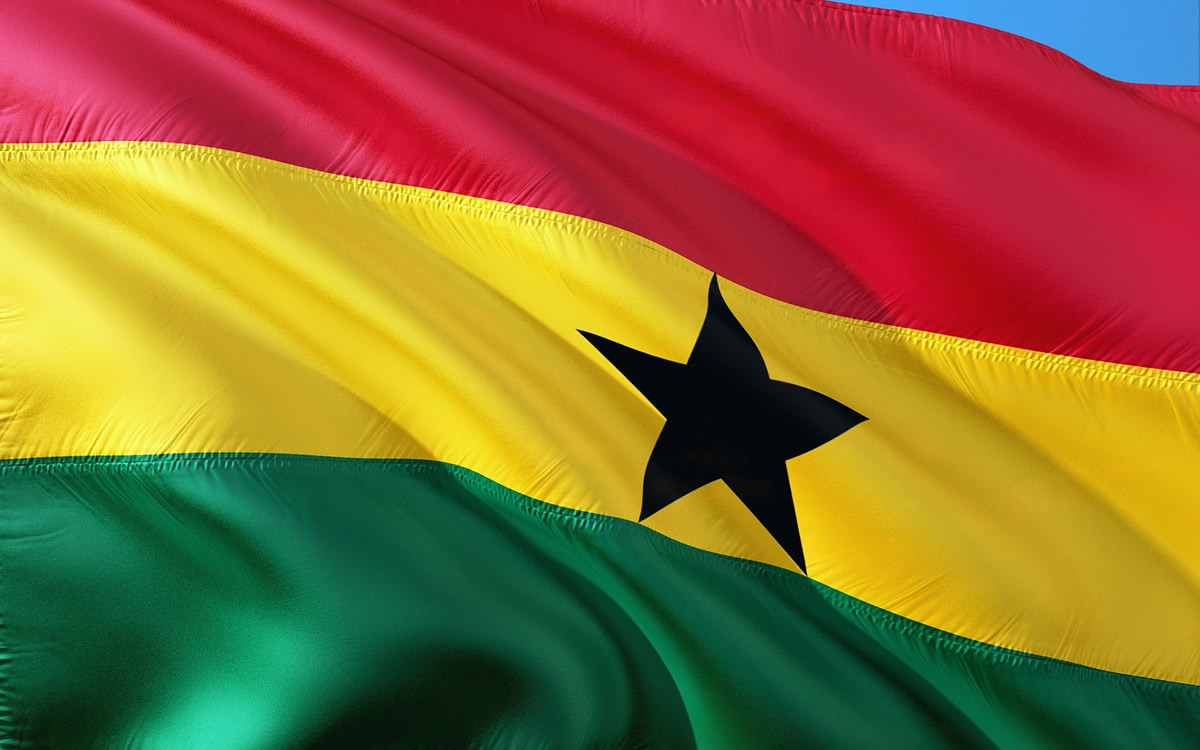 KUMASI, Ghana — An LGBTQ+ and intersex rights group in Ghana on Saturday said a group of men kidnapped its director and held him for ransom before they released him.
Rightify Ghana in a series of tweets said a group of seven "homophobic men" in the country's Ashanti Region on Aug. 20 held its director "hostage."
"He was beaten and threatened with a knife by the men who demanded for a ransom to (be) paid before releasing him," said Rightify Ghana.
Rightify Ghana said their director "was taken hostage" at around 11:20 a.m. on Aug. 20 "while doing a follow-up on an alleged abuse case which turned out to be a trap by a notorious violent and organized anti-gay group." Rightify Ghana on Twitter said one of the men who kidnapped their director held a knife to his throat and told him that "we will kill you and bury you here and no one would know."
"While attacking him, it emerged that they knew his work as an activist, asked questions about his organization and even brought a screenshot of a recent interview he did," said Rightify Ghana. "While doing this, they demanded a ransom to (be) paid and only released him after they had withdrawn a large sum of money."
Rightify Ghana said "a lot of information about the homophobic group was gathered during this attack, as they also detailed their operations, locations and their threat to their primary target, the LGBTQI+ community, and the general public." Rightify Ghana further noted the group "also shared how other groups target queer men in alleged murder for money ritual."
Rightify Ghana said it has contacted the Ghana Police Service about the incident.
🚨 TRIGGER WARNING

At this time last week, the Director of @RightifyGhana was being held hostage by seven homophobic men at an area in the Ashanti region of Ghana.

He was beaten and threatened with a knife by the men who demanded for a ransom to paid before releasing him.

1/7 pic.twitter.com/eCO3j4AwEL

— Rightify Ghana (@RightifyGhana) August 27, 2022
The State Department's 2021 human rights report notes "extortion attempts" against LGBTQ+ and intersex people have taken place in Ghana.
Ghana is among the dozens of countries in which consensual same-sex sexual relations remain criminalized.
A bill that seeks to criminalize LGBTQ+ and intersex identity and allyship in Ghana was introduced in the country's Parliament last year. The State Department in May 2021 urged the Ghanaian government to protect LGBTQ+ and intersex rights after police arrested 21 activists in the city of Ho.
A man who now lives in Massachusetts on Saturday told the Washington Blade that he fled Ghana after he was "caught with my boyfriend" who later died by suicide. The man said he has asked for asylum in the U.S.
"We were blackmailed and harassed (until) it became too much and my boyfriend committed suicide," the man told the Blade. "I tried committing suicide myself and was treated by a discreet gay doctor who hid me and bought tickets for me to flee to the United States."
"What happened to the director (of Rightify Ghana) is common in Ghana right now," he added.