The White House celebrates "A night when hope & history rhyme"
"On his final tour in Washington, Jill and I invited Elton to the White House to thank him on behalf of the American people"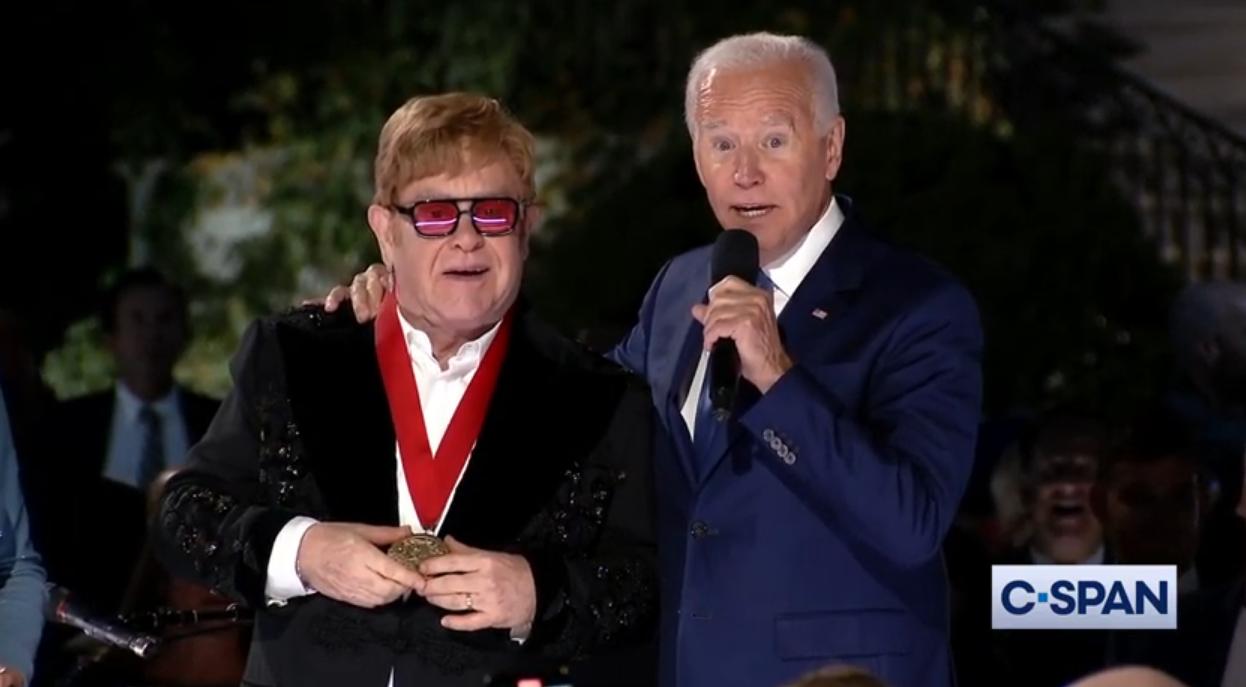 WASHINGTON – After a performance from a repertoire of the best known hits from his songbook in a special musical concert at the White House Friday evening, Sir Elton John was called to the podium where, accompanied by the First Lady Dr. Jill Biden, President Joe Biden surprised the iconic British singer-songwriter with an award.
The president presented John with the National Humanities Medal for his advocacy work in recognition of LGBTQ+ rights and tireless activism against the global HIV/AIDS crisis disease through his contributions in music and the arts.
The National Humanities Medal, inaugurated in 1997, honors individuals or groups whose work has deepened the nation's understanding of the humanities and broadened its citizens' engagement with history, literature, languages, philosophy, and other humanities subjects.
A stunned John was moved to tears. After the president had the citation read by a military aide and hung the medal around the singer's neck, Biden told the audience gathered, "I think we surprised him" to which they cheered and applauded.
The medal's citation read in part that it was honoring John "for moving our souls with his powerful voice and one of the defining song books of all time. An enduring icon and advocate with absolute courage, who found purpose to challenge convention, shatter stigma and advance the simple truth — that everyone deserves to be treated with dignity and respect."
Visibly moved, the iconic musician and performer said: "I just said to the First Lady, I'm never flabbergasted- but I'm flabbergasted and humbled and honoured by this incredible award from the United States of America. I will treasure this so much- I will make me double my efforts to make sure this disease goes away. Your kindness- America's kindness to me as a musician is second to none, but in the war against AIDS and HIV it's even bigger and I can't thank you enough…. I'm really emotional about this- thank you."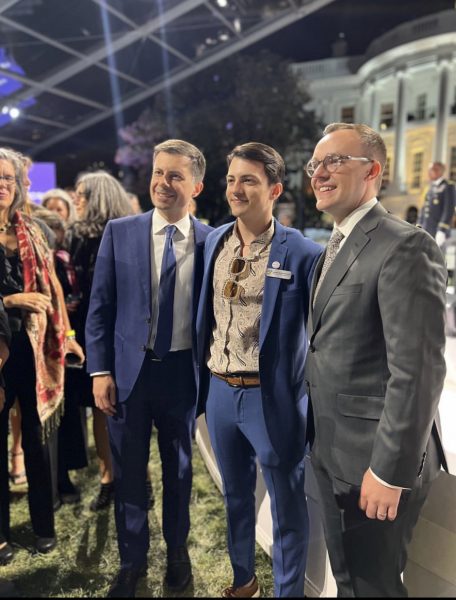 The special gathering held under a vaulted glass and aluminum 'tent' on the South Lawn of the White House was attended by 2,000 guests including former first lady Laura Bush, U.S. House Speaker Nancy Pelosi and U.S. Transportation Secretary Pete Buttigieg, his husband Chasten, as well as teachers, nurses, LGBTQ advocates and military families, who the White House had dubbed "everyday history-makers."
During a pause in his performance earlier, the singer addressed former first lady Laura Bush, praising her husband, former President George W. Bush's ongoing work on the Presidential Emergency Plan for AIDS Relief, which President Bush had initiated while in office and is credited with saving millions of lives across the African continent and helping to change the trajectory of the HIV/AIDS crisis globally.
"I want to say to the first lady, President Bush accelerated the whole thing with his PEPFAR bill. It was the most incredible thing," he said to Mrs. Bush.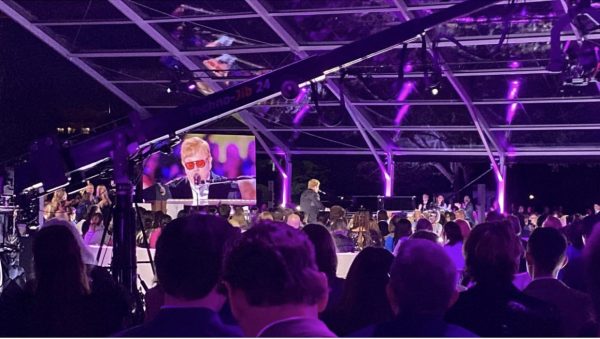 On his final tour, Jill and I invited Sir Elton John to the People's House.

I proudly presented @eltonofficial with the National Humanities Medal for a legacy of challenging convention, shuttering stigma, and advancing the truth that all of us deserve to be treated with dignity. pic.twitter.com/vFAkrW6lWS

— President Biden (@POTUS) September 24, 2022
Full Text of the President and the First Lady's remarks:
THE FIRST LADY: Hello! Good evening. Thank you, Athen. It's leaders like you, those helping the next generation live authentically and find their voice, who make me so hopeful for our future.

And thank you to Paul Buccieri and A&E for helping us put this event together.

Isn't this incredible?

First Lady Laura Bush is with us tonight. And, Laura, it's such an honor to welcome you and your family back to the White House.

And finally, I want to say what a joy it is to be here with the man who has inspired, supported, and loved Sir Elton John for so many years: his husband, David.

Few things have the power to bring us together like music. It can compel us to move as one on the dance floor, to sing along with strangers when we hear that familiar tune. It's a voice for the feelings we can't always define.

When the piano plays, the strings swell, the drums beat in time with our hearts, we find joy or a balm for our sorrows or the harmonies that tell us we aren't alone.

And in that spirit, as we celebrate Elton John's music, we also celebrate you — everyday history-makers.

Many of you are my colleagues — fellow teachers, like Leah Michael Dillard. (Applause.) Love the teachers! So, Leah has taught 7th grade English for 20 years. And, Leah, your students are better thinkers and more engaged citizens because of you.

We also have first responders and healthcare heroes like — like Dr. Amber Pearson. Amber was the first person in her family to go to college. And it wasn't easy. She worked multiple jobs, took out loan, and when she finally reached her dream, she gave back to others, as an audiologist for veterans and their families, serving the women and men who serve us so well.

And in this crowd are leaders of the beautiful, bold, and diverse future we are building together, like Javier Gomez, a student from Miami. When his governor passed a law targeting the LGBTQ community, he didn't sit back.

Javier, you remind us of the power of one person who is willing to speak up for what is right, and that's what this night is all about. Coming together, using our voices, celebrating that, here in America, our differences are precious and our similarities infinite.

Elton once said, "Music has healing power. It has the ability to take people out of themselves for just a few hours."

We're here tonight to once again lose ourselves and be brought together — perhaps even healed — by the power of music.

And now, I get to introduce another huge fan, who also happens to be the President of the United States and my husband, Joe Biden.

THE PRESIDENT: You had to stand for Jill, but you can sit for me. Please, all have a seat. Please, have a seat.
Thank you, Jill. Thank you all for being here on such a special evening.

And, Athen, leaders like you are helping the next generation live an authentic voice. And I want to thank you very much for introducing me.
Look, I — as my colleagues — many of whom from the Senate are still here, came tonight — they always used to kid me because I — I was quoting Irish poets on the floor of the Senate.
The think I did it because I'm Irish. That's not the reason; I did it because they're the best poets in the world.
One who we lost not too long ago, Seamus Heaney, once wrote, and I quote, "Once in a lifetime, the longed-for tidal wave of justice rises up, and hope and history rhyme."

Throughout this incre- — his incredible career, Sir Elton John has been that tidal wave — a tidal wave to help people rise up and make hope and history rhyme. Three hundred million records sold. Seventy-one billboard hits, nearly half in the top ten. Six Grammy Awards. Two Oscars. One Tony, among the multiple, multiple nominations across the board. Four thousand performances around the world. A singer, songwriter of our time, for all time.

On his final tour in Washington, Jill and I invited Elton to the White House to thank him on behalf of the American people.

So, like so many Americans, our family loves his music. His songs take us — take us back to a time, a place, a memory. Songs that make every day exceptional, help us connect and come alive. And songs that reflect the artist's gift, that sixth sense to imagine what no one else can, and then sing and play and dream until he sets that feeling free.

As Jill just mentioned, we're joined by so many people that it's — he's set free to be themselves, to be treated with the dignity and respect they deserve.
Families and advocates in the fight against HIV/AIDS — a fight — a fight that he has led with sheer will, and fight for those lives lost and those lives that we can save.
Leaders standing up for equality of all people, no matter who you are or who you love.

Every day — every day Americans of every generation, of every background who know that life can be cruel and full of struggle, but it can also be full of joy and purpose.

And we're joined tonight by the UK Ambassador to the United States, Karen Pierce, during a difficult time. Karen, thank you. Thank you for being here, Karen.

Jill and I travelled to London to pay our respects to the Royal Family on the Queen's passing.

Our hopes tonight — our hope is that Sir Elton John's music heals the sorrow, as it often has in the past.
Throughout his career, Elton found his voice — not only his voice, but his voice to help others and help them find their voice.

With his hope, he made history rhyme for countless people in our nation. That's what tonight is all about.

Elton often talked about how American music changed his life and how the different genres and sounds influenced his own music and imagination. It's clear Elton John's music has changed our lives.

To David and the boys, thank you for sharing your husband and dad with us tonight. (Applause.) And to Elton, on behalf of the American people, thank you — and I sincerely mean this — thank you for moving the soul of our nation.
President Biden signs Executive Order on Artificial Intelligence  
Without safeguards, AI can put Americans' privacy further at risk. AI not only makes it easier to extract, identify, & exploit personal data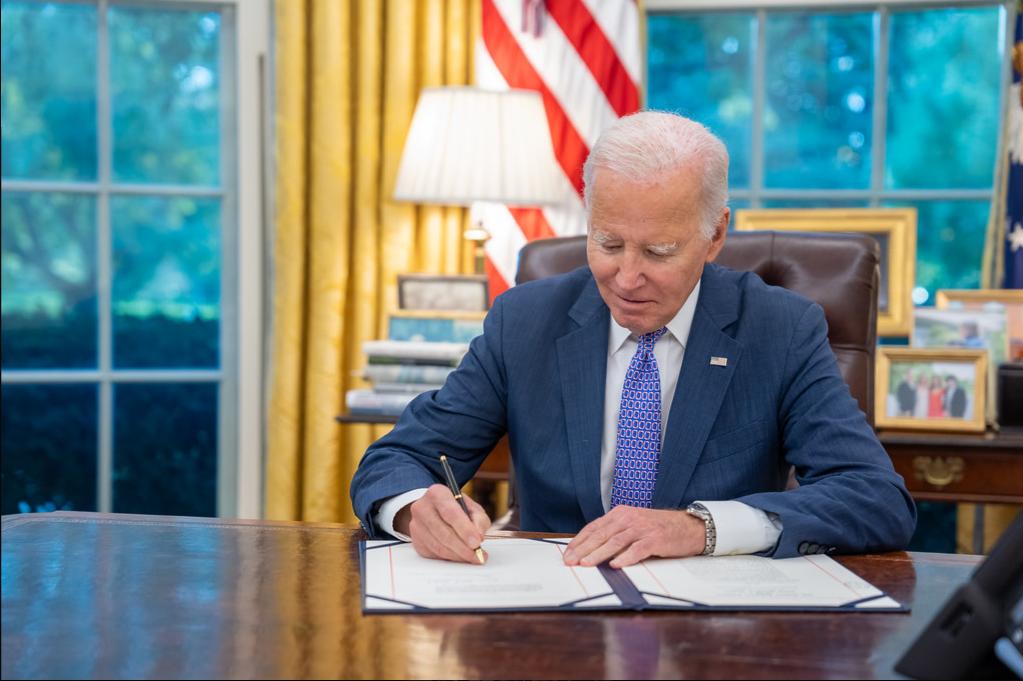 WASHINGTON – President Joe Biden signed a wide-ranging landmark Executive Order on artificial intelligence Monday with its focuses ranging from civil rights and industry regulations to a government hiring spree.
In a media call previewing the order Sunday, a senior White House official, who asked to not be named as part of the terms of the call, said AI has so many facets that effective regulations have to cast a wide net. "AI policy is like running into a decathlon, and there's 10 different events here," the official said.
From the White House:
As AI's capabilities grow, so do its implications for Americans' safety and security. The Executive Order directs the following actions:

New Standards for AI Safety and Security
Require that developers of the most powerful AI systems share their safety test results and other critical information with the U.S. government. In accordance with the Defense Production Act, the Order will require that companies developing any foundation model that poses a serious risk to national security, national economic security, or national public health and safety must notify the federal government when training the model, and must share the results of all red-team safety tests. These measures will ensure AI systems are safe, secure, and trustworthy before companies make them public.
Develop standards, tools, and tests to help ensure that AI systems are safe, secure, and trustworthy. The National Institute of Standards and Technology will set the rigorous standards for extensive red-team testing to ensure safety before public release. The Department of Homeland Security will apply those standards to critical infrastructure sectors and establish the AI Safety and Security Board. The Departments of Energy and Homeland Security will also address AI systems' threats to critical infrastructure, as well as chemical, biological, radiological, nuclear, and cybersecurity risks. Together, these are the most significant actions ever taken by any government to advance the field of AI safety.
Protect against the risks of using AI to engineer dangerous biological materials by developing strong new standards for biological synthesis screening. Agencies that fund life-science projects will establish these standards as a condition of federal funding, creating powerful incentives to ensure appropriate screening and manage risks potentially made worse by AI.
Protect Americans from AI-enabled fraud and deception by establishing standards and best practices for detecting AI-generated content and authenticating official content. The Department of Commerce will develop guidance for content authentication and watermarking to clearly label AI-generated content. Federal agencies will use these tools to make it easy for Americans to know that the communications they receive from their government are authentic—and set an example for the private sector and governments around the world.
Establish an advanced cybersecurity program to develop AI tools to find and fix vulnerabilities in critical software, building on the Biden-Harris Administration's ongoing AI Cyber Challenge. Together, these efforts will harness AI's potentially game-changing cyber capabilities to make software and networks more secure.
Order the development of a National Security Memorandum that directs further actions on AI and security, to be developed by the National Security Council and White House Chief of Staff. This document will ensure that the United States military and intelligence community use AI safely, ethically, and effectively in their missions, and will direct actions to counter adversaries' military use of AI.
Protecting Americans' Privacy
Without safeguards, AI can put Americans' privacy further at risk. AI not only makes it easier to extract, identify, and exploit personal data, but it also heightens incentives to do so because companies use data to train AI systems. To better protect Americans' privacy, including from the risks posed by AI, the President calls on Congress to pass bipartisan data privacy legislation to protect all Americans, especially kids, and directs the following actions:
Protect Americans' privacy by prioritizing federal support for accelerating the development and use of privacy-preserving techniques—including ones that use cutting-edge AI and that let AI systems be trained while preserving the privacy of the training data.
Strengthen privacy-preserving research and technologies, such as cryptographic tools that preserve individuals' privacy, by funding a Research Coordination Network to advance rapid breakthroughs and development. The National Science Foundation will also work with this network to promote the adoption of leading-edge privacy-preserving technologies by federal agencies.
Evaluate how agencies collect and use commercially available information—including information they procure from data brokers—and strengthen privacy guidance for federal agencies to account for AI risks. This work will focus in particular on commercially available information containing personally identifiable data.
Develop guidelines for federal agencies to evaluate the effectiveness of privacy-preserving techniques, including those used in AI systems. These guidelines will advance agency efforts to protect Americans' data.
Advancing Equity and Civil Rights
Irresponsible uses of AI can lead to and deepen discrimination, bias, and other abuses in justice, healthcare, and housing. The Biden-Harris Administration has already taken action by publishing the Blueprint for an AI Bill of Rights and issuing an Executive Order directing agencies to combat algorithmic discrimination, while enforcing existing authorities to protect people's rights and safety. To ensure that AI advances equity and civil rights, the President directs the following additional actions:
Provide clear guidance to landlords, Federal benefits programs, and federal contractors to keep AI algorithms from being used to exacerbate discrimination.
Address algorithmic discrimination through training, technical assistance, and coordination between the Department of Justice and Federal civil rights offices on best practices for investigating and prosecuting civil rights violations related to AI.
Ensure fairness throughout the criminal justice system by developing best practices on the use of AI in sentencing, parole and probation, pretrial release and detention, risk assessments, surveillance, crime forecasting and predictive policing, and forensic analysis.
Standing Up for Consumers, Patients, and Students
AI can bring real benefits to consumers—for example, by making products better, cheaper, and more widely available. But AI also raises the risk of injuring, misleading, or otherwise harming Americans. To protect consumers while ensuring that AI can make Americans better off, the President directs the following actions:
Advance the responsible use of AI in healthcare and the development of affordable and life-saving drugs. The Department of Health and Human Services will also establish a safety program to receive reports of—and act to remedy – harms or unsafe healthcare practices involving AI.
Shape AI's potential to transform education by creating resources to support educators deploying AI-enabled educational tools, such as personalized tutoring in schools.
Supporting Workers
AI is changing America's jobs and workplaces, offering both the promise of improved productivity but also the dangers of increased workplace surveillance, bias, and job displacement. To mitigate these risks, support workers' ability to bargain collectively, and invest in workforce training and development that is accessible to all, the President directs the following actions:
Develop principles and best practices to mitigate the harms and maximize the benefits of AI for workers by addressing job displacement; labor standards; workplace equity, health, and safety; and data collection. These principles and best practices will benefit workers by providing guidance to prevent employers from undercompensating workers, evaluating job applications unfairly, or impinging on workers' ability to organize.
Produce a report on AI's potential labor-market impacts, and study and identify options for strengthening federal support for workers facing labor disruptions, including from AI.
Promoting Innovation and Competition
America already leads in AI innovation—more AI startups raised first-time capital in the United States last year than in the next seven countries combined. The Executive Order ensures that we continue to lead the way in innovation and competition through the following actions:
Catalyze AI research across the United States through a pilot of the National AI Research Resource—a tool that will provide AI researchers and students access to key AI resources and data—and expanded grants for AI research in vital areas like healthcare and climate change.
Promote a fair, open, and competitive AI ecosystem by providing small developers and entrepreneurs access to technical assistance and resources, helping small businesses commercialize AI breakthroughs, and encouraging the Federal Trade Commission to exercise its authorities.
Use existing authorities to expand the ability of highly skilled immigrants and nonimmigrants with expertise in critical areas to study, stay, and work in the United States by modernizing and streamlining visa criteria, interviews, and reviews.
Advancing American Leadership Abroad
AI's challenges and opportunities are global. The Biden-Harris Administration will continue working with other nations to support safe, secure, and trustworthy deployment and use of AI worldwide. To that end, the President directs the following actions:
Expand bilateral, multilateral, and multistakeholder engagements to collaborate on AI. The State Department, in collaboration, with the Commerce Department will lead an effort to establish robust international frameworks for harnessing AI's benefits and managing its risks and ensuring safety. In addition, this week, Vice President Harris will speak at the UK Summit on AI Safety, hosted by Prime Minister Rishi Sunak.
Accelerate development and implementation of vital AI standards with international partners and in standards organizations, ensuring that the technology is safe, secure, trustworthy, and interoperable.
Promote the safe, responsible, and rights-affirming development and deployment of AI abroad to solve global challenges, such as advancing sustainable development and mitigating dangers to critical infrastructure.
Ensuring Responsible and Effective Government Use of AI
AI can help government deliver better results for the American people. It can expand agencies' capacity to regulate, govern, and disburse benefits, and it can cut costs and enhance the security of government systems. However, use of AI can pose risks, such as discrimination and unsafe decisions. To ensure the responsible government deployment of AI and modernize federal AI infrastructure, the President directs the following actions:
Issue guidance for agencies' use of AI, including clear standards to protect rights and safety, improve AI procurement, and strengthen AI deployment.
Help agencies acquire specified AI products and services faster, more cheaply, and more effectively through more rapid and efficient contracting.
Accelerate the rapid hiring of AI professionals as part of a government-wide AI talent surge led by the Office of Personnel Management, U.S. Digital Service, U.S. Digital Corps, and Presidential Innovation Fellowship. Agencies will provide AI training for employees at all levels in relevant fields.
As we advance this agenda at home, the Administration will work with allies and partners abroad on a strong international framework to govern the development and use of AI. The Administration has already consulted widely on AI governance frameworks over the past several months—engaging with Australia, Brazil, Canada, Chile, the European Union, France, Germany, India, Israel, Italy, Japan, Kenya, Mexico, the Netherlands, New Zealand, Nigeria, the Philippines, Singapore, South Korea, the UAE, and the UK. The actions taken today support and complement Japan's leadership of the G-7 Hiroshima Process, the UK Summit on AI Safety, India's leadership as Chair of the Global Partnership on AI, and ongoing discussions at the United Nations.

The actions that President Biden directed today are vital steps forward in the U.S.'s approach on safe, secure, and trustworthy AI. More action will be required, and the Administration will continue to work with Congress to pursue bipartisan legislation to help America lead the way in responsible innovation.

For more on the Biden-Harris Administration's work to advance AI, and for opportunities to join the Federal AI workforce, visit AI.gov.