Landmark LA County project spotlights the effects of violence 
LA County residents recount stories of violence, hope, & healing as project spotlights the effects of violence on a diverse group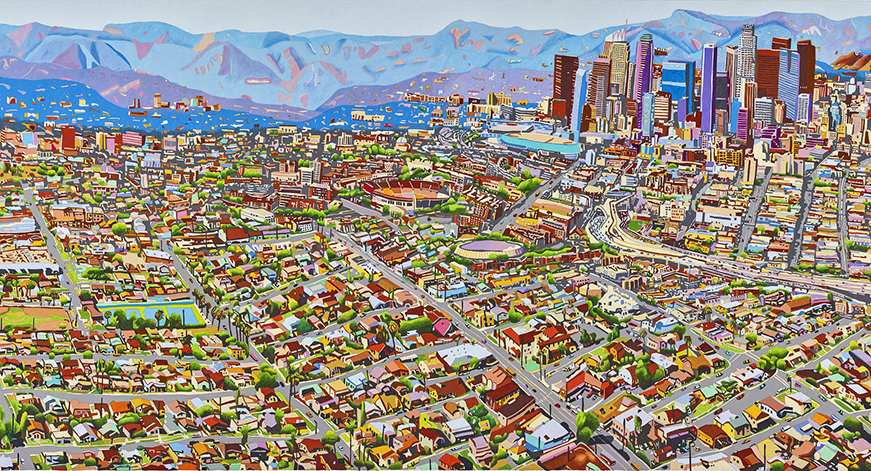 LOS ANGELES – Starting in the Fall of 2020, the Los Angeles County Department of Arts and Culture and the Los Angeles County Office of Violence Prevention housed in the Department of Public Health embarked on a landmark project to record the intensely personal stories of a diverse group of residents whose lives have been directly affected by violence.
For more than a year, Olga Koumoundouros, Department of Arts and Culture Creative Strategist-Artist in Residence with the Office of Violence Prevention (OVP) enlisted the help of community-based organizations and individuals to identify people willing to share their stories. A total of 100 people from all over Los Angeles County reflecting diverse perspectives spoke in blunt, unsparing language about the terrible physical and psychological toll that violence inflicts on individuals and families.
A selection of these intimate stories – along with photographic portraits of many of the contributors – have now been published in a book, Violence, Hope and Healing in Los Angeles County, which is now available at County libraries and other designated locations. A digital copy of the book along with the remaining stories will be published on the Department of Arts and Culture and the OVP websites.
"I truly hope that by sharing my story," said Mildred Brown, a participant who experienced years of physical, sexual, and verbal assault, "it will help that fellow person gain confidence, and to know that you are not alone."
"I am so proud of this cross-sector collaboration between our Department of Arts and Culture and the Office of Violence Prevention," said Los Angeles County Board of Supervisors Chair Holly J. Mitchell. "Thank you to everyone who courageously shared their stories with us. We do not take this brave offering lightly. This project provides policy makers and our communities with the opportunity to learn from the real lived experience behind every story shared, so that we can create stronger systems for prevention and care."
"The intersection of violence prevention and arts equals healing for survivors and our communities," said Los Angeles County Supervisor Hilda L. Solis, First District. "I thank Olga for developing a way to gather and uplift the stories of survivors from throughout the County who have experienced harm in a cathartic manner. And to the survivors that came forward to be a part of this project, you are incredibly brave. Sharing a time when you experienced vulnerability and fear and turning that into an inspiring message of justice, hope, and healing is a lesson from which we can all benefit and carry with us."
"I am so grateful to the extraordinary residents who shared their heartache, bravery and hope with us and thank the Department of Arts and Culture for their partnership on this project,," said Dr. Barbara Ferrer, director of the LA County Department of Public Health. "These stories communicate the devastating impact of violence on residents from across Los Angeles County, while providing us with a blueprint for how our community can heal and stop the cycle of brutality."
"The Department of Arts and Culture's Creative Strategist program places artists, arts administrators, and other creative workers in County departments to develop and implement artist-driven solutions to complex social challenges. We know that artists have an extraordinary power to humanize the data behind policymaking and help us step into another person's story, as well as provide opportunities for creative healing and community building in meaningful ways. This courageous book is a result of that lens. It reflects the kind of inclusion and representation that comes when County departments enact a cross-sector approach to service," said Kristin Sakoda, Director, Los Angeles County Department of Arts and Culture.
'The strength of this project lies in how it has and is stretching institutional procedural practices so that they can center human voices as they are articulated and expressed," said Koumoundouros, "so that the established avenue of communication is strengthened not just utilized once but finds a way into the fold of priorities that forms the backbone of community inclusive violence prevention work" "It creates a formality of listening further and a bit more deeply so the details within the high stakes work of violence prevention can be more effectively heard via ongoing connection and trust with our communities most effected."
"We wanted to hear directly from violence survivors to understand the extent and effect of violence on the lives of our friends, our neighbors, and our communities," said Andrea Welsing, director of the Los Angeles County Office of Violence Prevention.
Welsing noted that the stories offer compelling evidence of the ways in which racism, sexism, homophobia, transphobia, poverty, addiction, and systemic failures have helped to perpetuate a culture of violence across communities. In some of the stories recounted here, people caught up in a seemingly endless cycle of violence became violent themselves.
Still, the message is not all grim. "At the same time, these stories confirm that violence is often predictable and preventable, and highlight how we can support prevention and healing," added Welsing. She said that the OVP will use these stories to guide practices and programs moving forward.
The Creative Strategist-Artist in Residence Program was a LA County Cultural Equity and Inclusion Initiative recommendation that the Board of Supervisors, in a motion authored by Supervisor Hilda L. Solis, funded in 2017. Since its inception, the program has explored how arts-based strategies can be used to solve complex civic challenges and make government more equitable.
Arts and Culture pairs a creative strategist with a County department to bring arts-based thinking, methodologies, projects, and approaches to address an issue of equity in partnership with staff. As it advances the cross-sector role of the arts; inter-departmental collaboration; and diversity, equity, and inclusion, the program supports the goals of the Countywide Cultural Policy, which calls for LA County and all its departments to ensure every resident has meaningful access to arts and culture.
The mission of the Los Angeles County Department of Arts and Culture is to advance arts, culture, and creativity throughout Los Angeles County. It provides leadership, services, and support in areas including grants and technical assistance for nonprofit organizations, countywide arts education initiatives, commissioning and care for civic art collections, research and evaluation, access to creative career pathways, professional development, free community programs, and cross-sector creative strategies that address civic issues.
Visit LACountyArts.org, and learn more about the Creative Strategist Program at lacountyarts.org/CreativeStrategist
LA vs. Hate & United Against Hate Week launched
"United against Hate Week provides opportunities for every resident to get involved, show our strength, and take a real stand against hate"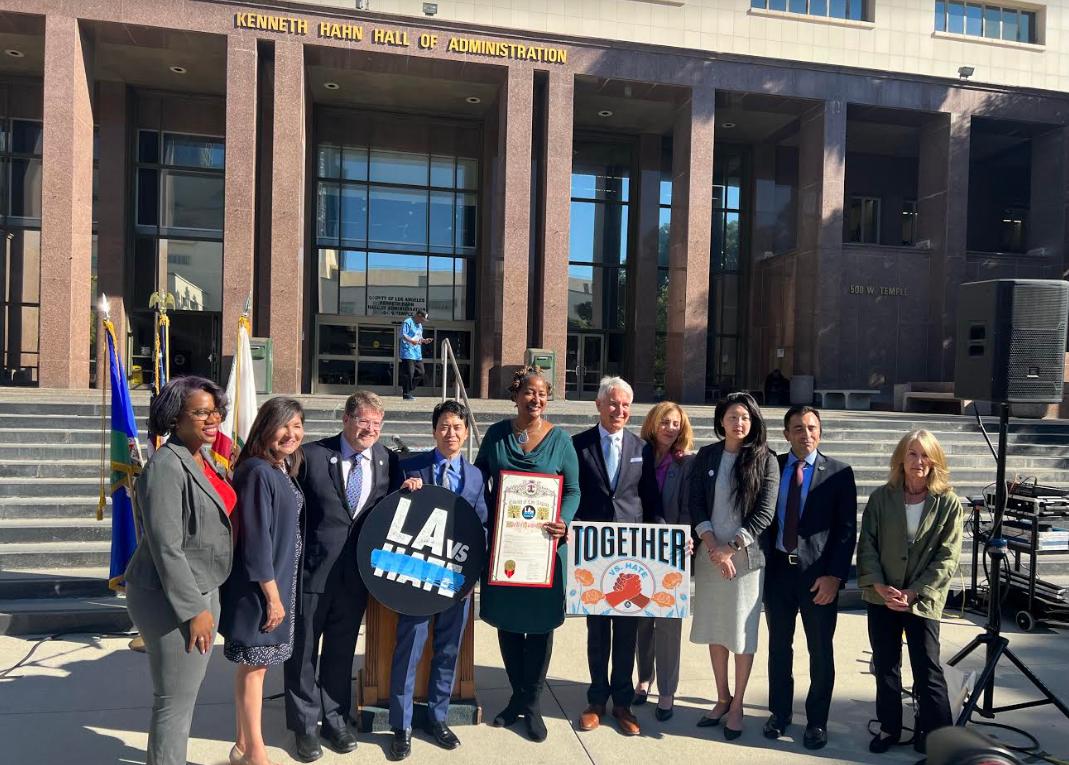 LOS ANGELES – A panel of leaders from different cultural sectors of Los Angeles stood on the steps of Kenneth Hahn Hall of Administration on Monday, November 14, to launch LA vs. Hate- United Against Hate Week.
Behind them, supporters stood with signs depicting the hands of two people of different races clasped together in unity under the words "TOGETHER," and "JUNTOS." Before the panel, a small crowd gathered in anticipation. 
The rally was led by Robin Toma, Executive Director of the Los Angeles County Commission on Human Relations, lead agency for LA vs Hate. Also present were Holly Mitchell, Chair, Los Angeles County Board of Supervisors, District Two, Esther Lim, Justice Deputy, Office of Supervisor Hilda Solis, Los Angeles County Board of Supervisors, District 1, George Gascon, LA County District Attorney.
Also in attendance were Maria S. Salinas, President and CEO, Los Angeles Area Chamber of Commerce & UAHW Honorary Co-Chair, Debra Duardo, Superintendent, Los Angeles County Office of Education UAHW Honorary Co-Chair, Martin Estrada, U.S. Attorney's Office, Central District of California, Shawn Landres, Immediate Past President, Los Angeles Quality & Productivity Commission & UAHW Co-Chair, Dean Chalak Richards, Dean of Student Life, Diversity & Belonging, Pepperdine Caruso School of Law & UAHW Co-Chair and Hildy Sterns, South Bay Social Justice Work Group Founder.
Each took their turn expressing their dedication to the Stop the Hate Initiative, and detailing the steps they would take to realize the initiative's mission. 
"The release of the commission's annual hate crime report will confirm what we have been experiencing," said Mitchell, addressing the crowd, "which is a historic rise in hate crime across one of the most diverse counties in the country. A county with the largest Native American population of any county in the nation, a county with the largest Armenian population outside of Armenia, a county with the largest Iranian population outside of Iran, a county in which two hundred and twenty-four identified languages are spoken on a daily basis. We can and must, my fellow Angelinos, be proactive. United against Hate Week provides opportunities for every resident to get involved, show our strength, and take a real stand against hate."
In a panel discussion major focus was on stopping hate in the workplace and in schools.
"The chamber is committed to supporting businesses to stay abreast of changing business practices to make strategic, employee-centered investments that promote business growth and advance employment opportunities," said the Chamber's Salinas.
Dean Richards proudly listed competing schools, such as Southwestern Law School, UCLA School of Law, USC School of Law, and Loyola,  stating that these institutions have come together with the shared goal of coming against hate. She stated that through the initiative, students and their families alike are being taught how to recognize hate and utilize resources such as the law to help them stop hate crimes in their tracks. 
Sterns spoke regarding the anti-hate coalition's community-wide event last Sunday with activities to raise awareness and bring the community together. On Tuesday, Stearns invited everyone to watch a free screening of the new documentary, "Race to be Human," which will be followed by a panel discussion.
Finally, on Friday, she added that she encouraged everyone to take part in a moment of silence at 9:31AM to think about how Angelenos can support others within the community. Lawn and window signs will also be distributed throughout Manhattan Beach with the slogan, "Manhattan Beach Stands United Against Hate."
Estrada announced the start of The U.S. Department of Justice's initiative called "United Against Hate." The initiative will include local forums to connect community groups to federal, state, and local partners. The goal is to increase awareness about reporting hate crimes and incidents, and to create and strengthen alliances between law enforcement, government actors, and the community.
This past September, Attorney General Merrick B. Garland announced on September 15 during the White House United We Stand Summit, that over the next year, all 94 U.S. Attorneys' Offices (USAOs) will host a new nationwide initiative to combat unlawful acts of hate. The United Against Hate program is convening local forums that connect community groups to federal, state, and local law enforcement to increase community understanding and reporting of hate crimes; build trust between law enforcement and communities; and create and strengthen alliances between law enforcement and other government partners and community groups to combat unlawful acts of hate.
"The Justice Department remains committed to enforcing federal hate crime laws," said Attorney General Garland. "That is why the Justice Department has launched its new United Against Hate program. This initiative brings together community groups, community leaders, and law enforcement at every level to build trust and strengthen coordination to combat unlawful acts of hate."
On Wednesday, Estrada's office will partner with the LA County District Attorney's office in an LGBTQ+ portion of the United Against Hate Initiative. 
The rally ended with the unveiling of a "Wishing Tree" art intervention inspired by county residents. All attendees were invited to contribute a wish to the art piece.