Newsom calls out gas companies, says they're fleecing Californians
The governor announced oil refineries could roll out winter-blend gas ahead of schedule, which could reduce price up to 25 cents per gallon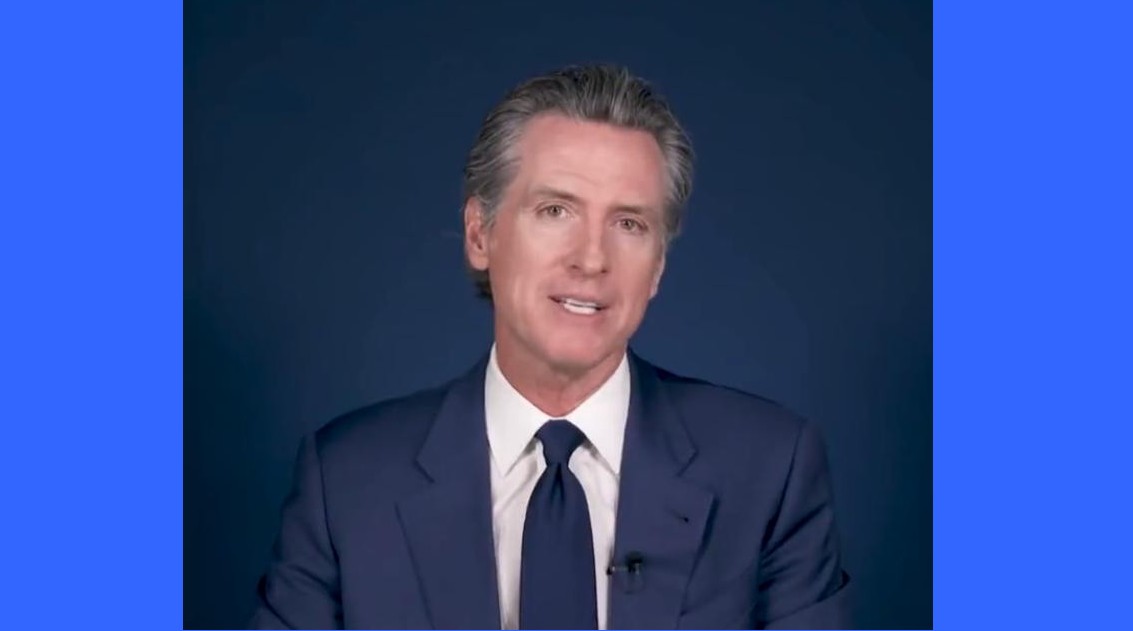 SACRAMENTO – On Friday California Governor Gavin Newsom in a scathing video on his Twitter account castigated oil and gas companies for what he termed fleecing consumers in the Golden State.
"Oil companies are ripping you off. Their record profits are coming at your expense at the pump," the Governor said. "I'm calling for a NEW windfall tax exclusively on oil companies. If they won't lower their prices we will do it for them. The money will go directly back to you."
Oil companies are ripping you off. Their record profits are coming at your expense at the pump.

I'm calling for a NEW windfall tax exclusively on oil companies. If they won't lower their prices we will do it for them.

The $$ will go directly back to you. pic.twitter.com/oDOx6jYLtK

— Gavin Newsom (@GavinNewsom) September 30, 2022
According to the Triple A Auto club of Southern California, gas prices statewide crept up yet again overnight, reaching an average of $6.36/gallon for regular unleaded Saturday.
In the Los Angeles area, gasoline hit $6.45/gallon, up 7 cents from the day before. Ongoing Southern California fuel supply issues pushed Los Angeles wholesale gasoline prices to new records this week and pump prices may also break new records soon if they keep increasing at the current pace of 10-15 cents a day.
The average price for self-serve regular gasoline in California is $6.18, which is 66 cents higher than last week. The average national price is $3.78, which is ten cents higher than a week ago.
"The degree of diversions from the national prices has never happened before, and oil companies provide no explanation," Newsom said. "We're not going to stand by while greedy oil companies fleece Californians."
The average price of self-serve regular gasoline in the Los Angeles-Long Beach area is $6.26 per gallon, which is 67 cents higher than last week, 98 cents higher than last month, and $1.85 higher than last year. In San Diego, the average price is $6.20, which is 67 cents higher than last week, 96 cents higher than last month, and $1.85 higher than last year.
California Gas Prices vs. National Average
| | |
| --- | --- |
| California | Nationwide |
| Saturday, Oct 1. = $6.358/gallon | Saturday, Oct 1. = $3.80/gallon |
| Friday = $6.293 | Friday = $3.797 |
| Week Ago = $5.682 | Week Ago = $3.700 |
| Month Ago = $5.252 | Month Ago = $3.829 |
Source: AAA
The governor also announced on Friday that oil refineries could roll out winter-blend gasoline ahead of schedule, which could reduce the price of gas up to 25 cents per gallon.
"In light of the dramatic increase in gas prices that California is experiencing, we should not wait until the end of the month to start distributing or to ramp up production of our winter-blend gasoline. Allowing refiners to make an early transition to winter-blend gasoline could quickly increase fuel supply and provide a much needed safety valve with minimal air quality impacts," Newsom said in a letter to Liane Randolph, chair of the California Air Resources Board. "Accordingly, I am directing that the Air Resources Board immediately take whatever steps are necessary to allow for an early transition to gasoline to be manufactured, imported, distributed, and sold in California."
Switching from the summer to winter blend would likely save consumers 15 to 20 cents per gallon, said Doug Shupe, a spokesman for the Southern California Automobile Club said.
California legislative wrap-up: Newsom signs multiple bills
In a final flurry of activity this past week and on the final day to take action with legislation on his desk Newsom signs multiple bills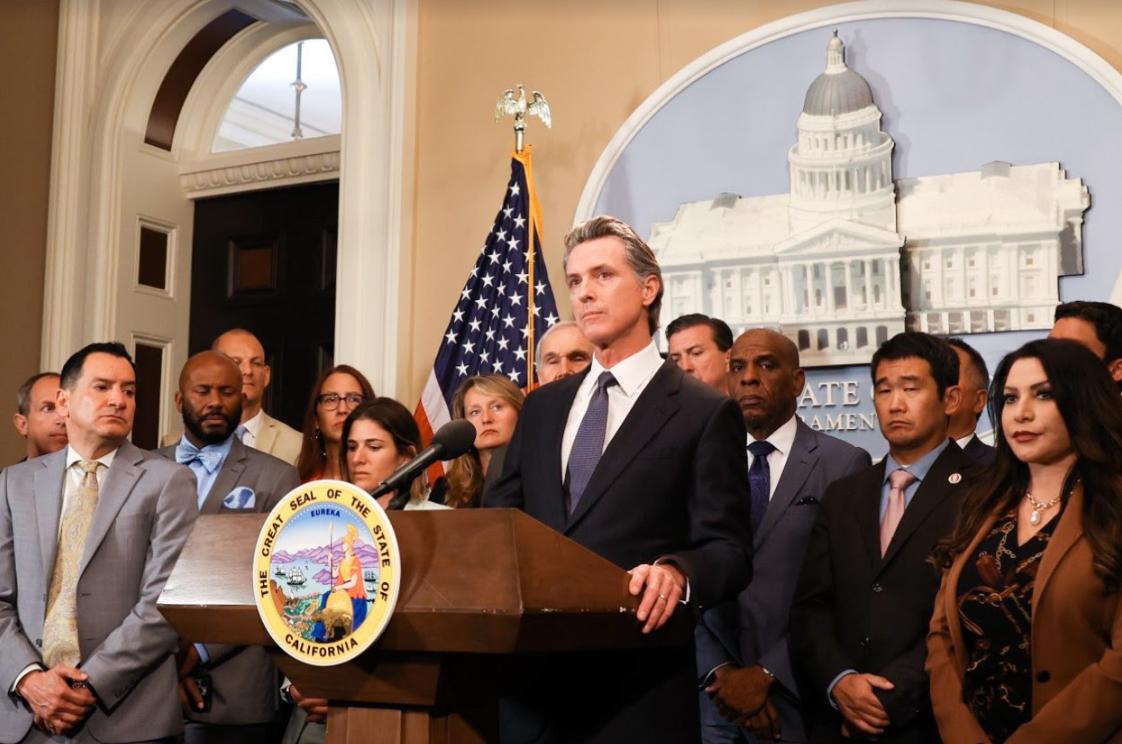 SACRAMENTO – In a final flurry of activity this past week and on the final day to take action with legislation on his desk, California Governor Gavin Newsom for signed multiple bills into law ranging from SB 1194 allows for multi-stall gender-neutral bathrooms in cities that choose to pass such an ordinance to legislation to protect Civil Rights, Support Community Living for Californians with Disabilities.
California to Speed Graduation, Offer Debt Cancellation at Community Colleges
"California is increasing resources, adding services, and advancing equity to boost graduation and transfer rates throughout our higher education systems," said Governor Newsom.
The bills signed will:
Ensure that students attending California Community Colleges enroll directly into transfer-level math and English courses, if their program requires it or they are seeking to transfer.
Expand supervised tutoring offered for foundational skills and transfer-level courses.
Offer debt cancellation to encourage students to re-enroll and enroll at community colleges, building on budget appropriations.
Senate Bill 1194 Public Restrooms: Building Standards Which Allows for Multi-Stall Gender Neutral Bathrooms
Newsom signed the bill into law on Thursday allowing cities to adopt the new regulations for multi-stall gender-neutral bathrooms by adopting ordinances. In addition, and to afford additional discretion to communities, cities can exclude certain occupancies from the bill's requirements.
"I am overjoyed that the Governor has signed SB 1194 into law!" said City of West Hollywood Mayor Pro Tempore Sepi Shyne. "I was proud to co-sponsor the City of West Hollywood Multi-Stall Gender Neutral Bathroom Ordinance, which made us the first city in the United States to move to require equity and safety in bathroom access for people with disabilities who have opposite sex caretakers, our transgender, non-binary, and gender non-conforming siblings, and same sex and single parents of opposite sex children. I worked with Senator Ben Allen and his staff, my colleague Councilmember John M. Erickson, and our City legislative staff to help shepherd SB 1194 through the legislature. California is now the first state in the nation to give cities local control to make the same choice West Hollywood did." 
Legislation to Protect Sexual Assault Victims' DNA Signed into Law
Newsom signed into law Senator Scott Scott Wiener (D-San Francisco)'s Senate Bill 1228, the Genetic Privacy for Sexual Assault Victims Act. It will take effect on January 1, 2023.
SB 1228 protects sexual assault survivors and other victims by prohibiting the retention of DNA profiles collected from victims by local law enforcement agencies — including rape kits for sexual assault survivors. It also prohibits victims' DNA from being used for any purpose other than identifying the perpetrator of the crime. Thus, a victim's DNA could not be used in the future against the victim.
"Today, California showed once again that we stand with survivors of sexual assault," said Senator Wiener. "Sexual assault exams are key to law enforcement finding perpetrators. It is critical that we protect the integrity of that process and ensure that survivors' DNA is kept private. This law is a meaningful change for those going through what are likely some of the worst moments of their life."
SB 1228 is sponsored by the San Francisco District Attorney's Office, the Prosecutors Alliance of California, and Black Women Revolt, an anti-domestic violence advocacy and resource group for Black women.
These protections help ensure the privacy of sexual assault survivors and promote public safety by encouraging survivors to report sexual violence. If a sexual assault survivor believes their rape kit DNA can be used against them in the future, they will have one more reason not to come forward and undergo an invasive rape kit examination.
SB 1228 was introduced following the discovery that a local law enforcement agency was retaining DNA collected from sexual assault survivors in its quality assurance database and then searching that database to incriminate survivors in unrelated crimes. Since the discovery of this practice, advocates for sexual assault survivors and victim rights have widely condemned the practice and called for legislative action. Congressman Adam Schiff has called for a federal investigation.
When victims report a sexual assault, they can consent to a sexual assault examination, also known as a rape kit. During this examination, biological evidence from bodily fluids, fingernail scrapings, and bite and scratch marks is collected from the victim's body. The victim submits their own DNA sample in order to exclude their DNA from an investigation. In addition, reference samples of those who have close contact with the survivor—such as consensual sexual partners, family members, or other people living in the same household—may be collected as well to differentiate their DNA from that of the perpetrator.
Sexual assault is significantly under-reported; fewer than a quarter of sexual assault survivors come forward to report to police. Of those survivors who do report, only a small percentage undergo the highly invasive process of sexual assault testing. Victims of sexual assault consent to their DNA collection for this purpose, not so that their DNA will be retained in a local law enforcement database permanently to be searched years later. Using victims' DNA in order to potentially incriminate them in the future further dissuades sexual assault survivors from undergoing what is already a very difficult process.
SB 1228 protects sexual assault survivors and other victims by prohibiting the DNA profiles collected from victims from being used for any purpose other than aiding in identifying the perpetrator. Local law enforcement agencies will also be prohibited from retaining and then searching victim DNA to incriminate them in unrelated crimes.
Federal law already prohibits the inclusion of victims' DNA in the national Combined DNA Index System (CODIS). However, there is no corresponding California state law to prohibit local law enforcement databases from retaining victims' profiles and searching them years later for entirely different purposes. This legislation would remedy that by requiring DNA samples taken from victims to be used only for the sexual assault investigation. It would prohibit DNA samples from being included in any database that allows for a sample to be matched with DNA profiles obtained from crime scenes.
The bill would also instruct the Committee on Revision of the Penal Code to study whether additional steps are needed to protect the privacy of Californians who have submitted DNA samples to law enforcement, and determine whether a forensic oversight board is needed.
Assemblymembers Reggie Jones-Sawyer and Phil Ting are co-authors of this legislation.
Legislation to End Wrongful Convictions Due to Faulty Expert Witness Testimony Signed into Law
Newsom signed into law Senator Scott Wiener's (D-San Francisco) Senate Bill 467. SB 467, the End Wrongful Convictions Act, amends the standards used for evaluating expert testimony and forensics in court post-conviction. This law will take effect on January 1, 2023..
"The End Wrongful Convictions Act will get innocent people out of prison," said Senator Wiener. "When anyone spends even a day in prison for a crime they did not commit, it's a terrible miscarriage of justice. Now, we'll have more tools to help exonerate anyone wrongfully convicted on the basis of outdated or flawed science. This is a victory for the integrity of our criminal justice system."
"Senator Wiener continues to be a champion for the innocent by authoring and advocating for laws that both help the wrongfully convicted regain their freedom and prevent wrongful convictions from happening in the first place," said Melissa O'Connell of the California Innocence Coalition.
SB 467 clarifies that the definition of false testimony includes expert opinions undermined by the state of scientific knowledge and creates a path for the wrongfully convicted to obtain justice when their convictions were based on expert opinions about which a significant dispute has emerged or further developed regarding its validity. The California Supreme Court has long recognized that "[l]ay jurors tend to give considerable weight to 'scientific' evidence when presented by 'experts' with impressive credentials" but emphasized "scientific proof may in some instances assume a posture of mystic infallibility in the eyes of a jury . . ."(People v. Kelly (1976) 17 Cal.3d 24, 31-32.)
Unreliable forensic science remains a leading cause of wrongful convictions, occurring in 45% of DNA exoneration cases nationwide, 24% of all exonerations in the nation and 15% of the California exoneration cases known since 1989. In these cases, "expert" testimony that was either flawed or false forensic science, or relied on scientific methods that are widely debated within the scientific community provided critical evidence leading to the conviction. In California, 70% of these innocent men and women were given life sentences; one was sentenced to death.
SB 467 is part of a larger slate of the California Innocence Coalition's reform bills. Previously, Senator Wiener authored SB 923, which ensures that law enforcement use evidence-based procedures when obtaining eyewitness identification. Eyewitness misidentification is a leading contributor to wrongful convictions proven with DNA evidence. Before SB 923 was signed into law, California had no statewide best practices for eyewitness identification and there were no evidence-based standards in place. With the passage of SB 467, California takes a giant step forward to address concerns set forth by the scientific community itself as well as to allow our courts to remain lockstep with advancements in science
SB 467 is sponsored by the California Innocence Coalition, which includes the Northern California Innocence Project, the California Innocence Project and the Loyola Project for the Innocent.
Legislation to Expedite Sustainable Transportation Projects Signed into Law
Newsom signed into law Senator Scott Wiener (D-San Francisco)'s Senate Bill 922. It will become law on January 1, 2023. SB 922 extends and improves upon Senator Wiener's previous legislation (SB 288, 2020) to expedite bike, pedestrian, light rail, and rapid bus projects by exempting these environmentally sustainable projects from the California Environmental Quality Act (CEQA). SB 922 will accelerate approval of sustainable, climate-friendly transportation projects.
In the short time – just 18 months – that SB 288 has been in place, 15 projects have been streamlined in various parts of the state. Another 20 projects are currently under consideration for streamlined treatment. Transit agencies from around the state, including the San Francisco Municipal Transportation Agency, the Los Angeles Department of Transportation, AC Transit, and CalTrain, have invoked this streamlining. Other transit agencies that have made use of SB 288 include: Yuba-Sutter Transit, Tahoe Transportation District, Napa Valley Transportation Authority, Santa Rosa CityBus, Fairfield and Suisun Transit, Monterey-Salinas Transit District, Culver City CityBus, Long Beach Transit, and Riverside Transit Authority. Streamlined projects include protected pedestrian walkways and bike lanes, bus rapid transit projects, electric vehicle charging for buses, and more.
"Increasing sustainable transportation options – like biking, walking, and public transit – is incredibly important when it comes to reducing carbon emissions and fighting climate change," said Senator Wiener. "SB 922 continues our work to make it easier to build these projects more quickly and at lower cost, and will get people out of their cars. This is great news for California and for our climate. Thank you, Governor Newsom."
Free Books for Children, Support for Student Athletes and Creative Expression
Newsom signed SB 1183 by Senator Shannon Grove (R-Bakersfield), expanding Dolly Parton's Imagination Library Program to children statewide. Under the initiative, launched to inspire a love of reading at an early age, California children under the age of five will be eligible to enroll in the program to receive a free book every month through a direct mail program starting in June 2023.
Joined virtually by award-winning rappers, record producers and record industry executives, Governor Newsom signed AB 2799 by Assemblymember Reginald Byron Jones-Sawyer, Sr. (D-Los Angeles), a first-in-the-nation bill that limits the use of creative expression like rap lyrics as evidence in criminal cases to protect against bias.
In a virtual ceremony, Governor Newsom signed AB 2747 by Assemblymember Adrin Nazarian (D-North Hollywood), which will make Olympians, Paralympians and elite Olympic hopefuls who train in California eligible for in-state tuition.
California Empowers Students
The Governor signed SB 997, SB 955, and SB 291 empowering students in California by:
Providing a seat at the table in local accountability plan processes.
Allowing an excused absence from school to engage in civic opportunities in their communities.
Adding two pupils with exceptional needs to the Advisory Commission on Special Education.
Newsom also signed AB 2806 by Assemblymember Blanca Rubio (D-Baldwin Park) ensuring equitable treatment of children in state preschool and child care programs by prohibiting suspensions and expulsions except as a last resort. When a child is suspended or expelled, they do not receive the benefits that early learning and education provides and this disportionately impacts toddlers and preschoolers of color. AB 2806 aims to change this and support California's youngest learners.
Additionally, the Governor signed SB 1047 by Senator Monique Limόn (D-Santa Barbara) increasing access and stability for families to get the care and learning opportunities their kids need and are critical for young children to succeed.
Newsom Signs Legislation to Protect Civil Rights, Support Community Living for Californians with Disabilities
Newsom signed AB 1663 by Assemblymember Brian Maienschein, which reforms California's probate conservatorship system to enable disabled and older people needing support to care for themselves to pursue supported decision-making as a less restrictive alternative to conservatorship. The bill also makes it easier to end a conservatorship.
"Our state is committed to protecting civil rights and lifting up every Californian with the supports they need to thrive in their community," said Newsom. "This measure is an important step to empower Californians with disabilities to get needed support in caring for themselves and their finances, while maintaining control over their lives to the greatest extent possible."
AB 1663 establishes supported decision-making in statute as an alternative to probate conservatorship. This is a process in which adults with intellectual, developmental, dementia, and other disabilities who need support to care for themselves or their finances can consult with trusted supporters while making choices about their life, without jeopardizing their self-determination. The bill also requires that alternatives to conservatorship are included for consideration in a petition for conservatorship, and requires courts to provide conservatees with information regarding the rights that they retain. Under AB 1663, courts are allowed to terminate a conservatorship without a hearing if both the conservatee and conservator agree to termination.

"Everyone deserves to have control over the choices they make in their daily lives, including individuals with disabilities. AB 1663 prioritizes that right by emphasizing less-restrictive alternatives to probate conservatorships, specifically Supported Decision-Making. I am grateful that the Governor signed this important legislation today," said Assemblymember Brian Maienschein (D-San Diego).

State law allows the courts to appoint a conservator for an adult when a third party such as law enforcement or Adult Protective Services is concerned about the health, safety or welfare of a person and there has been a comprehensive review of the individual's circumstances. Information about recent actions by the California Department of Developmental Services (DDS) to support individuals conserved by DDS can be found here.

Governor Newsom also signed AB 1195 by Assemblymember Cristina Garcia (D-Bell Gardens) which facilitates the hiring of people with disabilities within state government through the Limited Examination and Appointment Program (LEAP).
California raises wage replacement for new parents, sick workers
Newsom has signed a bill that will increase the amount of money workers receive under the state's paid family and medical leave program, providing a boost that supporters say will ensure lower wage workers are not locked out of a benefit they are already paying for.
Beginning in 2025, the state will pay up to 90% in wage replacement for new parents and those who need to take time off to care for a seriously ill family member or themselves. Senate Bill 951 by Sen. María Elena Durazo (D-Los Angeles) also ensures that the wage replacement will remain between 60% and 70% during the next two years after the rate was scheduled to return to 55% beginning Jan. 1.
California Expands Support for Working Families
Newsom today signed legislation to help hard-working Californians access family and disability leave benefits. SB 951 by Senator María Elena Durazo (D-Los Angeles) will boost leave benefits for lower- and middle-income employees to cover more of their regular income while they take much-needed time off to care for loved ones.
"California families and our state as a whole are stronger when workers have the support they need to care for themselves and their loved ones," said Governor Newsom. "California created the first Paid Family Leave program in the nation 20 years ago, and today we're taking an important step to ensure more low-wage workers, many of them women and people of color, can access the time off they've earned while still providing for their family."
SB 951 extends increased wage replacement rates for State Disability Insurance and Paid Family Leave that were set to sunset at the end of the year. Under the legislation's phased increase in benefits, by 2025, workers earning less than the state's average wage could receive up to 90% of their regular wages while taking leave.
SB 951 builds on the Governor's action since taking office to bolster access to workplace leave, including legislation to expand job-protected family leave to millions more Californians, extend paid family leave benefits for a newborn child from 6 to 8 weeks and expand paid sick leave in response to COVID-19.
Yesterday, Governor Newsom signed AB 1041 by Assemblymember Buffy Wicks (D-Oakland) which enables workers to take paid sick leave or family leave in order to care for any person designated by the employee, including non-family members. The Governor also signed AB 152 to extend COVID-19 Supplemental Paid Sick Leave through the end of the year and AB 1949 by Assemblymember Evan Low (D-Campbell) which allows workers to take job-protected bereavement leave.
Newsom Signs Legislation to Crack Down on the Sale of Stolen Goods Online
With online marketplaces selling stolen merchandise, Governor Newsom today signed legislation to strengthen transparency rules for high-volume, third-party sellers and provide greater tools for law enforcement to identify stolen items, often taken from doorsteps or shoplifted at retail stores.
"We are tightening the spigot, reducing the sale of online illegal merchandise," said the Governor. "By empowering consumers with the ability to identify stolen items for sale online and providing greater transparency for high-volume sellers, we are tackling this problem at the source. Thanks to the work of my partners in the Legislature, in California, we are addressing the crime we see affecting the nation through a multipronged approach focused on deterrence, enforcement, and prevention."

Both SB 301 by state Senator Nancy Skinner (D-Berkeley) and AB 1700 by Assemblymember Brian Maienschein (D-San Diego) work to address the online sale of stolen merchandise. SB 301 calls for online marketplaces to require high-volume third-party sellers to provide greater information to protect consumers. These requirements include contact and bank account information, as well as a seller's physical address. AB 1700 directs the Attorney General's Office to dedicate a section of its website for individuals to report items found on online marketplaces, identified as possible stolen goods. The Attorney General will share this information with local law enforcement agencies. The bill will also require online marketplaces to display a link to the Attorney General's webpage.

The Governor also signed AB 2294 by Assemblymember Reginald Byron Jones-Sawyer Sr. (D-Los Angeles), which gives law enforcement the ability to keep in custody individuals suspected of organized retail theft. Under the current process, an individual arrested for a misdemeanor is typically released with a written notice or citation. This bill will allow for law enforcement to keep in custody a person arrested for a misdemeanor if they have been convicted of theft from a store in the last six-months, or if there is probable cause that the individual is guilty of participating in organized retail theft.

Today's bill signing comes on the heels of the Governor's announcement of California's Real Public Safety Plan, which includes hundreds of millions in funding to provide grants for local District Attorneys to address retail theft, establish a statewide organized theft team in the Attorney General's Office, make permanent and expands the Organized Retail Theft Task Force led by CHP, and create the largest gun buyback program in the country. The plan also includes grants for local law enforcement, prosecutors, and small businesses victimized by retail theft.
Fresh Start Act, to Remove Outstanding Restitution as a Barrier to Expungement
Newsom signed into law Senator Scott Wiener's (D-San Francisco) Senate Bill 1106, the Fresh Start Act. It will become law on January 1, 2023.
SB 1106 helps people clear their criminal records by ensuring outstanding restitution and restitution fines are not a barrier to expungement. Currently, people across California are frequently denied record sealing and expungement because they are poor and cannot afford to pay outstanding restitution and restitution fines. Restitution debt is often the only thing holding someone back from clearing their record and finding a job and housing. This exacerbates the cycle of poverty and criminalization of Black and brown communities, who are disproportionately impacted by the criminal legal system.
"This is a huge moment for anyone who has served their time and is looking to start over fresh," said Senator Wiener. "Now, outstanding restitution debt won't be a barrier to getting one's record cleared. Formerly incarcerated people will be able to more easily access housing and jobs, which will ultimately help them pay off this debt. Thank you, Governor Newsom, for seeing the value of a fresh start."
Two types of restitution payments are frequently imposed on anyone convicted of a crime. The first is a restitution fine, which is a fixed amount charged to anyone with a conviction regardless of the crime and its impact. Restitution fines can run in the thousands and even more than $10,000. The second is direct restitution, by which a court can order someone to compensate a victim for the harm caused to the victim.
When setting these amounts, courts are not required to take into account a person's ability to pay that restitution. This means that victims of crime, who are awarded restitution, overwhelmingly receive either nothing or a small percentage of the restitution because a defendant lacks the resources to actually pay it.
Current law allows courts to deny a request for expungement of a conviction — even if the individual is otherwise eligible for expungement — if they have any outstanding unpaid restitution. A court can deny expungement on this basis even if the defendant is living in poverty.
This kind of barrier to reentry does not increase the likelihood that someone will pay off their restitution. In fact, blocking someone from clearing their record makes it even less likely that they'll ever be in a position to pay restitution. A 2014 study by Stanford University and the San Jose State University Record Clearance Project found that the estimated benefits of expungement outweigh costs by about $5,800, per person, in one year – nearly $6,500 in today's dollars.
Under SB 1106, people who have served their time would be able to clear their criminal records despite owing restitution, if they otherwise meet the criteria for that relief. SB 1106 does *not* cancel a person's restitution debt. Rather, the legislation allows a person to clear their record and move forward in life despite being too poor to pay restitution.
The bill is sponsored by a multi-regional coalition focused on modifying the court fee system and ending wealth extraction through the criminal legal system, which disproportionately impacts Black and Brown communities, inflicting life-long monetary subjugation on them. The coalition is made up of legal advocates, formerly incarcerated people, policy experts, and movement building organizations led by impacted people.
Newsom signs game-changing elections bill, The Ballot DISCLOSE Act
Newsom signed AB 1416 – The Ballot DISCLOSE Act – a bill that will have a major positive impact on ballot measure transparency. All statewide ballot measures will now include a list of supporters and opponents on the ballot itself. Lead authors were Assembly Member Miguel Santiago (D-Los Angeles) and Senator Henry Stern (D-Calabasas).
"This bill is a colossal game changer for California elections because voters will now be able to make more informed choices on ballot measures," said Assembly Member Santiago. "Big money in politics continues to capitalize on the lack of ballot measure transparency, which directly affects the outcome of elections. As more and more ballot measures appear on general election ballots, it is imperative voters have the information they need to cast an informed vote on state and local ballot measures. The Ballot DISCLOSE Act will bring greater transparency and democracy to the ballot box on Election Day."
"This law will vastly improve voters making an informed choice when voting, and finally root out the special interest that lurk in the shadows seeking to mislead the public," said Senator Stern.
"Governor Newsom's signature of the Ballot DISCLOSE Act will ensure that every Californian voter will know key supporters and opponents of ballot measures when they vote, just like every legislator when they vote and the Governor when he signs or vetoes bills. This will be true no matter what voters' life circumstances and no matter how lopsided the campaign spending," said Trent Lange, President of the California Clean Money Campaign, sponsor of AB 1416. "Every Californian who cares about fairness in democracy owes a debt of gratitude to Governor Newsom, Assemblymember Miguel Santiago, Senator Henry Stern, and all the other bold leaders in the California Legislature who helped AB 1416 pass."
AB 1416 will bring greater transparency to ballot measures while providing voters with relevant information on Election Day. Specifically, this bill would require a voter's ballot to include a short list of those who support and oppose each statewide ballot measure, submitted by the proponents and opponents who submit the official ballot arguments. Each list is limited to no more than 125 characters, with rules to avoid political parties and newly created "sham organizations" from being listed. Local ballot measures will be required to have similar lists of supporters and opponents, but with Board of Supervisors allowed to opt out of local measures if they choose.
This bill will take effect on January 1, 2023.
Newsom signs bill to raise fines on health plans for patient protection violations
The Governor signed SB 858 by Senator Scott Wiener updating penalty amounts that the state can levy on health plans that don't meet state consumer protection standards. It will go into effect on January 1, 2024.
Health plan accountability is critically important: current fine levels were set in the 1970s and are so low they can be viewed as a cost of doing business. As a result, health plans, at times, illegally deny or delay coverage. For example, Kaiser Permanente has yet to come into compliance with a previous law authored by Senator Wiener (Senate Bill 221) — requiring timely access to mental health treatment — resulting in a strike by Kaiser mental health professionals.
"Californians rely on their health insurance to cover critical, even life-saving, care, and we must hold health plans accountable for following the rules and providing timely and adequate coverage," said Senator Wiener. "California's low, outdated fine levels allow health plans to view these fines as a mere cost of doing business. SB 858 makes clear that when we pass a law requiring coverage, we mean it."
"For years health care corporations have been skirting consumer protection laws with minimal consequences. This new law will change the behavior of these health plans and ensure access to needed care for Californians," said Diana Douglas, Health Access California's director of policy and legislative advocacy.
Despite strong consumer protections for Californians in health plans regulated at the Department of Managed Health Care (DMHC), many have still been denied or delayed in getting medically necessary services. Yet fine amounts for violations related to grievance handling and other specific consumer protections had not been updated for decades, all while health insurance premiums have not just doubled, but quadrupled since 1999. Some of these fine amounts had not been updated since 1975 when gas was 59 cents a gallon.
The new law increases the maximum fines from $2,500 per violation to $25,000 when they violate standards such as timely access to care, adequate network standards, language access, behavioral health care services, gender-affirming care, or other consumer protections.
Even for the biggest, headline-making penalties in recent years, the fines didn't necessarily match the severity and breadth of the violations. Just this year, L.A. Care was fined a historic $35 million by DMHC for failure to appropriately handle grievances and for a severe backlog of authorization requests for services over a five year span. However, with over 67,000 grievances and over 9,000 requests for authorization, this seemingly large fine amounted to only a few hundred dollars per instance—essentially less than a speeding ticket for delaying or denying care to a patient. Meanwhile, the plan reported a tangible net equity of over $1 billion, an amount $923 million over that which is required by law
This new law will give DMHC the additional authority to levy higher fines and impose corrective action plans when necessary. It will also modernize penalty amounts every 5 years, and updates the methodology to ensure the penalty amounts reflect the true harm caused to enrollees.