Health care orgs ask Feds investigate trans healthcare threats
The groups also call on Twitter, TikTok and Meta-Facebook and Instagram, to do more to prevent coordinated campaigns of disinformation
CHICAGO – In a letter sent Monday to U.S. Attorney General Merrick Garland, the American Medical Association joined with the American Academy of Pediatrics (AAP), and Children's Hospital Association asking the Department of Justice investigate [the] increasing "threats of violence against physicians, hospitals and families of children for providing and seeking evidence-based gender-affirming care."
The AAP and AMA collectively represent more than 270,000 physicians and medical students and CHA represents more than 220 children's hospitals across the country. The groups wrote to Garland urging "swift action to investigate and prosecute all organizations, individuals, and entities responsible."
The AMA letter highlighted one instance where a mother was prevented from seeing her newborn premature infant because the NICU was locked down due to a bomb threat. These attacks on children's hospitals have effects on so many people who aren't even involved in gender affirming care.
Attacks on American hospitals providing trans healthcare, especially those with clinics treating trans youth have been targeted by anti-Trans extremists led by the Daily Wire's Matt Walsh and Brooklyn, New York-based Chaya Raichik, a former real estate agent whose 'Libs of Tik-Tok' have spread misinformation and lies about gender-affirming surgery which has fostered attacks on those healthcare facilities by far-right extremist elements.
"Whether it's newborns receiving intensive care, children getting cancer treatments or families accessing compassionate care for their transgender adolescents, all patients seeking treatment deserve to get the care they need without fear for their personal safety," wrote AAP President Moira Szilagyi, MD, PhD, FAAP. "We cannot stand by as threats of violence against our members and their patients proliferate with little consequence. We call on the Department of Justice to investigate these attacks and social media platforms to reduce the spread of the misinformation enabling them."
In addition to the letter to the Department of Justice, the groups call on Twitter, TikTok and Meta, which owns Facebook and Instagram, to do more to prevent coordinated campaigns of disinformation. The organizations ask the platforms to take bolder action when false information is shared about specific institutions and physicians. They also urge social media companies to enforce safety and hateful conduct policies to stop the endangerment of patients, families, physicians and health care staff.
"The medical organizations have raised an alarm because this is a safety issue, not a political issue. No one should be allowed to encourage violence against medical providers or anyone else," Shannon Minter, the Legal Director for the National Center for Lesbian Rights, (NCLR) told the Blade in an emailed statement.
Raichik who has been suspended from Facebook and also Twitter for inflammatory lies and propaganda about Trans youth healthcare, pledged to redouble her attacks on hospitals providing trans people with health care, she wrote in a rant on her Substack in which she called gender-affirming care "mutilating the body."
Libs of TikTok has reportedly been suspended multiple times on multiple platforms, including Instagram, Facebook, and Twitter. Raichik's last Twitter suspension came for accusing LGBTQ people of "grooming" children, which Twitter confirmed violates its policies against hateful conduct.
Today as her latest suspension was lifted by Twitter, Raichik attacked the Barbara Bush Children's Hospital in Maine as documented on Twitter by Alejandra Caraballo, Clinical Instructor at Harvard Law School's Cyberlaw Clinic.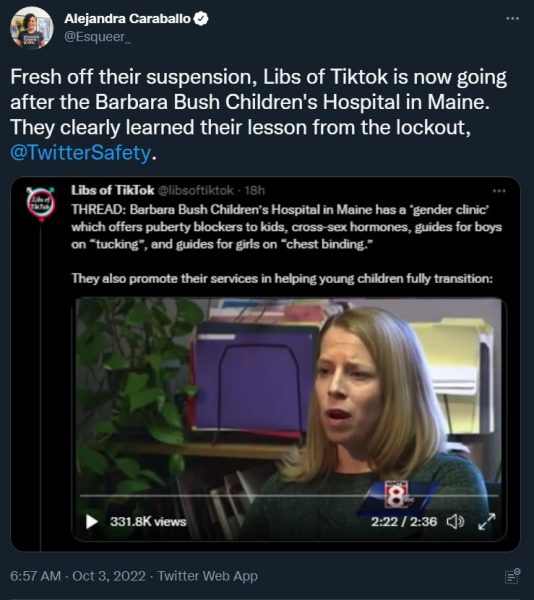 Just this past week, inspired by the Daily Wire's Walsh, Tennessee lawmakers and Governor Bill Lee who provided Walsh with a statement, sent a letter Vanderbilt University Medical Center's Pediatric Transgender Clinic demanding gender-affirming surgeries cease.
"We are committed to providing safe, supportive and inclusive health care environments for each and every child and family, and the clinicians and staff who are dedicated to caring for children," said CHA President Amy Wimpey Knight. "Threats and acts of violence are not a solution, nor a substitute, for civil dialogue about issues of a child or teen's health and wellbeing. At CHA, we are committed to working across sectors to prevent misleading and inflammatory comments that result in threats to those caring for patients."
The groups wrote in their letter to Attorney General Garland, "Our organizations are dedicated to the health and well-being of all children and adolescents. We are committed to the full spectrum of patient care—from prevention to critical care. We stand with the physicians, nurses, mental health specialists, and other health care professionals who provide evidence-based health care, including gender-affirming care, to children and adolescents."
Two months ago anti-LGBTQ+ far right extremists targeted Boston Children's Hospital, threatening its employees and medical staff after falsehoods and disinformation was spread online about the healthcare facility's treatment of transgender youth by Libs of Tik-Tok, Walsh, and conservative journalist and anti-LGBTQ+ activist Christopher Rufo.
The United States Department of Justice launched an investigation into the Boston Children's threats according to an announcement by the United States Attorney for the District of Massachusetts, Rachael Rollins.
Last month D.C.'s Children's National Hospital became the target of threatening phone calls, email messages and social media postings after Libs of Tiktok posted an incorrect report claiming the hospital routinely performs hysterectomies on transgender patients under the age of 18.
$600 Million in refunds returned to airline passengers
Airlines were also fined $7.25 Million in civil penalties against six airlines for extreme delays in providing refunds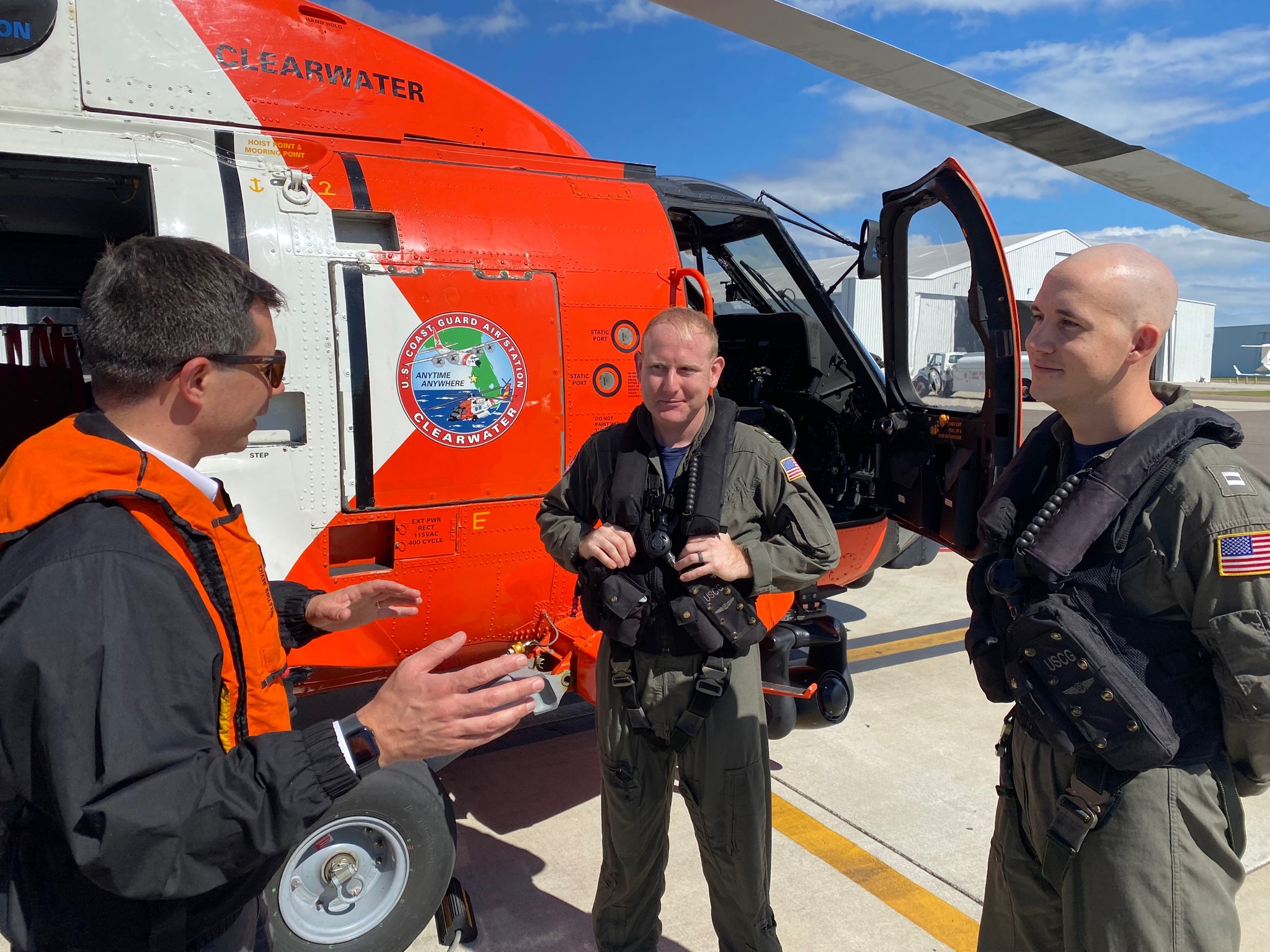 WASHINGTON – The U.S. Department of Transportation, (DOT) announced Monday that six U.S. air carriers, targeted by the DOT paid more than half a billion dollars to people who were owed a refund due to a canceled or significantly changed flight.
In a press release, the DOT noted that these fines are part of DOT's ongoing work to ensure Americans receive the refunds they are owed from airlines. Since the beginning of the COVID-19 pandemic, DOT has received a flood of complaints from air travelers about airlines' failures to provide timely refunds after they had their flights canceled or significantly changed. 
"When a flight gets canceled, passengers seeking refunds should be paid back promptly. Whenever that doesn't happen, we will act to hold airlines accountable on behalf of American travelers and get passengers their money back." said U.S. Transportation Secretary Pete Buttigieg. "A flight cancellation is frustrating enough, and you shouldn't also have to haggle or wait months to get your refund." 
In addition to the more than $600 million in refunds airlines have paid back, the Department announced today that it is assessing more than $7.25 million in civil penalties against six airlines for extreme delays in providing refunds.
With today's fines, the Department's Office of Aviation Consumer Protection has assessed $8.1 million in civil penalties in 2022, the largest amount ever issued in a single year by that office. A majority of the assessed fines will be collected in the form of payments to the Treasury Department, with the remainder credited on the basis of payments to passengers beyond the legal requirement.
The Department's efforts have helped lead to hundreds of thousands of passengers being provided with more than half a billion dollars in required refunds. The Department expects to issue additional orders assessing civil penalties for consumer protection violations this calendar year. 
The fines assessed today and required refunds provided are:
Frontier – $222 million in required refunds paid and a $2.2 million penalty
Air India – $121.5 million in required refunds paid and a $1.4 million penalty
TAP Portugal – $126.5 million in required refunds paid and a $1.1 million penalty
Aeromexico – $13.6 million in required refunds paid and a $900,000 penalty
El Al – $61.9 million in required refunds paid and a $900,000 penalty
Avianca – $76.8 million in required refunds paid and a $750,000 penalty
Under U.S. law, airlines and ticket agents have a legal obligation to refund consumers if the airline cancels or significantly changes a flight to, from and within the United States, and the passenger does not wish to accept the alternative offered. It is unlawful for an airline to refuse refunds and instead provide vouchers to such consumers.
The fines announced today are one of the many steps the Department is taking to protect consumers. Below are additional actions DOT has taken:
During the summer, the Department rolled out a new airline customer service dashboard to help consumers determine what they are owed when a flight is cancelled or delayed because of an airline issue. Previously, none of the 10 largest U.S. airlines guaranteed meals or hotels when a delay or cancellation was within the airlines' control, and only one offered free rebooking. However, after Secretary Buttigieg called on airlines to improve their service and created this dashboard, nine airlines now guarantee meals and hotels when an airline issue causes a cancellation or delay and all 10 guarantee free rebooking. The Department will continue to work to increase transparency so Americans know exactly what the airlines are providing when they have a cancellation or delay. 
 
The Department's proposed rule on Airline Ticket Refunds, if adopted, would: 1) require airlines to proactively inform passengers that they have a right to receive a refund when a flight is canceled or significantly changed, and 2) define a significant change and cancellation that would entitle a consumer to a refund. The rule would also 3) require airlines to provide non-expiring vouchers or travel credits when people can't travel because they have COVID-19 or other communicable diseases; and 4) require airlines that receive significant government assistance in the future related to a pandemic to issue refunds instead of non-expiring travel credits or vouchers when passengers are unable or advised not to travel because of a serious communicable disease.
 
The Department has proposed a rule that would significantly strengthen protections for consumers by ensuring that they have access to certain fee information before they purchase their airline tickets. Under the proposed rule, airlines and travel search websites would have to disclose upfront – the first time an airfare is displayed – any fees charged to sit with your child, for changing or cancelling your flight, and for checked or carry-on baggage. The proposal seeks to provide customers the information they need to choose the best deal. Otherwise, surprise fees can add up quickly and overcome what may look at first to be a cheap fare. DOT encourages members of the public and interested parties to submit comments by December 19, 2022. 
The Department has proposed a rule to refund passengers for services they paid for that aren't actually provided (e.g., broken WiFi). 
The Department invites the public to submit comment on this rulemaking by December 16, 2022. The Department's Aviation Consumer Protection Advisory Committee will publicly deliberate on the Department's proposed rule on Airline Ticket Refunds and decide on recommendations to make to the Department at a virtual meeting on December 9, 2022. To register and attend this virtual meeting, please use this link:
 https://usdot.zoomgov.com/webinar/register/WN_V2zwVF3RQfuoOkyYFVqvdA. 
For information about airline passenger rights, as well as DOT's rules, guidance, and orders, the Department's aviation consumer website can be found at: