On LA City Hall scandal, Democrats it's time to meet the moment
When the top leadership calls a Black boy a monkey, & accuses a colleague of being with "the Blacks," what more do you need to know?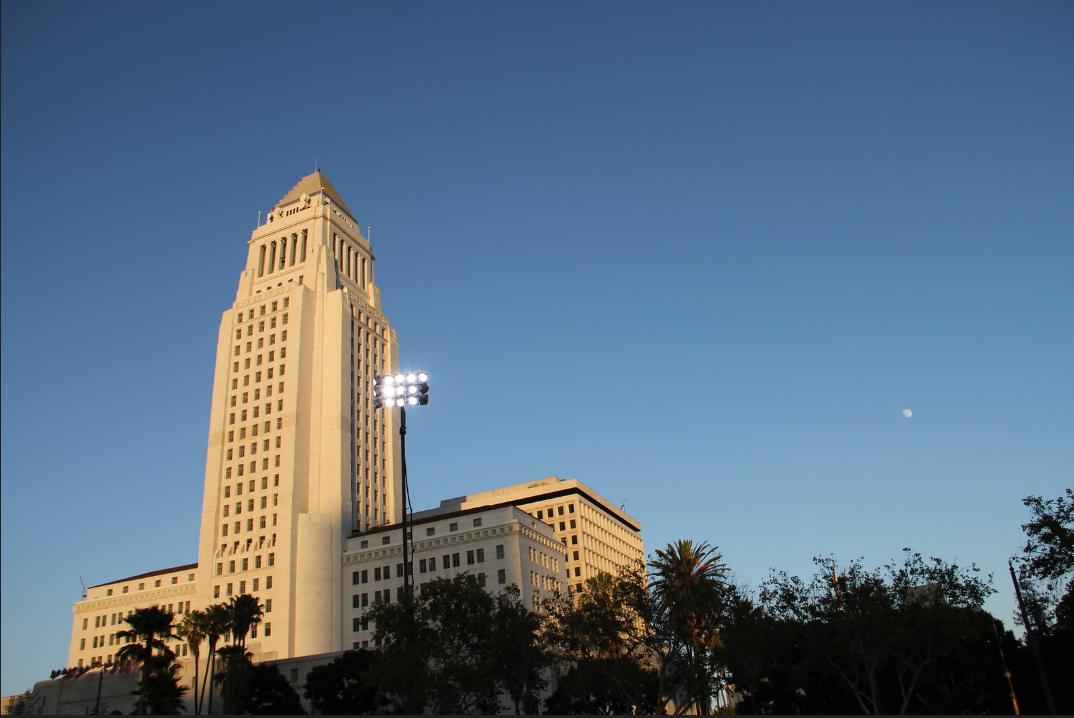 By Jasmyne A. Cannick | Los Angeles has seen its fair share of political scandals over the decades, but the leaked audio of Los Angeles City Council President Nury Martinez, Councilmembers Gil Cedillo, Kevin de León, and Los Angeles County Federation of Labor President Ron Herrera making disparaging and racist remarks about Black people, their colleagues, and conspiring to commit voter suppression takes the cake.
In one single instance, the worst fears of Blacks in Los Angeles were confirmed in graphic detail — the top Democratic political and labor leaders of the city are anti-Black and are actively conspiring to dismantle what is left of the Black community in Los Angeles.
Famed author and poet Maya Angelou once said, "When someone shows you who they are believe them the first time."
From referring to a white councilmember's Black son as an "accessory" and describing him as a monkey in Spanish to wanting to physically beat that same little boy, colluding to replace one Black councilmember with another who can be depended on to vote in favor of Latinos, conspiring to commit Black voter suppression, even seemingly writing off Los Angeles County District Attorney George Gascón because "He's with the Blacks" — no one should ever be confused about where Black people stand with Martinez, Cedillo, de Leon, and Herrera.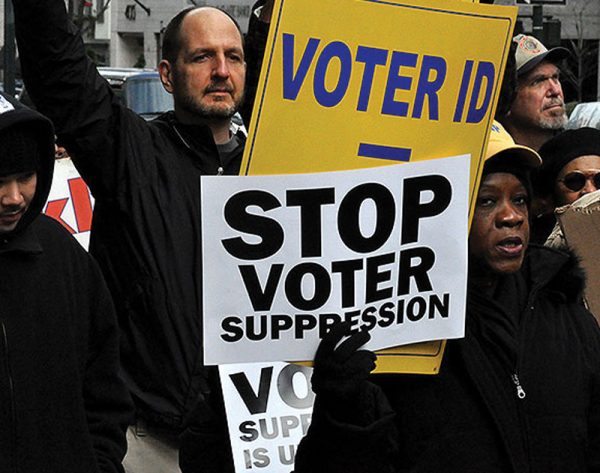 Now that their plotting and planning and blatant racism have been exposed, usher in the carefully crafted public apologies.
Miss me.
At the risk of never working at city hall or in politics again, I am going to speak the truth about this situation.
There are some instances where apologies just won't cut it, and this is one of them.
The only acceptable resolution to this scandal is for the immediate resignation from public office of all four people involved. Period.
This is not a situation where thoughts-and-prayer-like statements mean a damn thing.
The only statement that needs to be crafted is a resignation statement, and as a seasoned political strategist, I'll write it for them for free.
Let's be clear, had the leaked audio been of a group of Black leaders or Republicans saying racist and derogatory comments towards any other race or group of people and it would have been a "Do not pass Go and do not collect $200" type of situation that would have resulted in the immediate calls for resignations of all involved.
This situation deserves the same treatment, and anything less says that it's open season on Blacks and that there are no real long lasting consequences.
The deafening silence from alleged allies of the Black community on this situation, including the Democratic Party, is just as bad as the strongly worded statements that say everything except for the Martinez and Co. to resign.
This is a s — t or get off the pot moment. There is no sitting on fence or tap dancing around the elephant in the room.
Either you support racists or you don't, and from where I am sitting, the Los Angeles County and California Democratic Parties, along with dozens and dozens of political leaders, seem to be siding with the racists, which makes them all hypocrites.
This is not a situation where folks get off the hook by apologizing, followed by meeting with leaders in the Black community, and we're back to holding hands and singing kumbayah.
Any so-called Black leader that isn't calling for the resignation of these four people is aiding and abetting in the oppression and suppression of their own people, most likely for personal gain.
Fact. All four of the people involved in the leaked audio get paid from money that comes from all Angelenos — not just Latinos. Nury Martinez offering to resign as council president leaves her paycheck and position as a councilmember in place. And in the case of top labor leader Ron Herrera, he actually conspired to use the dues from the paychecks of hardworking Black folks against them to dilute their power in the 10th council district.
It is because of years of behind-the-scenes anti-Black politicking by people who share the same views as Martinez, Cedillo, de Leon, and Herrera that Black people have been pushed out of the city to the point that there is no real Black political power in the city of Los Angeles. Because of the high cost of living and years of the very same tactics discussed in that audio, Black people make up less than 9 percent of the city's population. Any power that we think we have in Los Angeles almost always requires the buy-in and support of allies. We have a 15-member city council with three Black members, of which one's credibility has been called into question given the comments heard in the audio about why she was appointed to the position.
For those of us who love this city and fight every day just to be able to afford to live here, this hurts deep down. The release of the audio is an in-your-face reminder that many of the powers that be don't care about us or want us here and are actively working against us — sadly, in some ways, with the help of other Blacks.
The audio also validates why the only zip code in the city that has seen an increase in its Black population is the one that encompasses Skid Row — an area of Los Angeles that Kevin de Leon represents. We know how he feels about Black people. It explains why Black people make up most of the homeless and cannot access city services in the ways others can. It explains why so many of the councilmembers don't have any Black people on their staffs. Why Black consultants aren't hired by labor unions in the way that other races are? Why there is a lack of Black leadership at the executive level in many of the labor unions in Los Angeles. The audio explains a lot.
When the top leadership of the city council calls a Black boy a monkey, says she wants to beat him, and accuses a colleague of being with "the Blacks," what more do you need to know? Remember what Maya Angelou said.
Given the revelations exposed, every vote that was ever cast by Martinez, Cedillo, and de Leon that had anything to do with Black people needs to be re-examined. Department heads, starting with the chief of police, need to be interviewed on the record to see if members of the city council gave them directives to target, ignore, not hire, arrest, deny, not rent to, not contract with, not buy from Black people.
Pandora's Box has been opened.
Add to all of that, the federal government needs to step in and investigate the city's redistricting process, now.
If known racists are allowed to stay on the city council after being exposed, then we, Black people, deserve everything we get in this city moving forward.
Democrats love to talk about meeting the moment. What are they waiting for?
***********************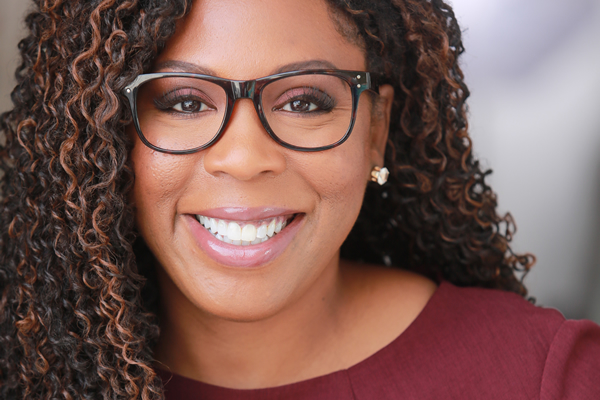 A political strategist & contributor to the Los Angeles Blade, Jasmyne Cannick is a former Special Assistant to previous Los Angeles City Council President Herb Wesson, a delegate in the Los Angeles County Democratic Party, and a proud member of The Blacks.
Judy Heumann helped so many of us with disabilities to be out and proud
'Like the color of my eyes or the color of my hair, it is a part of who I am'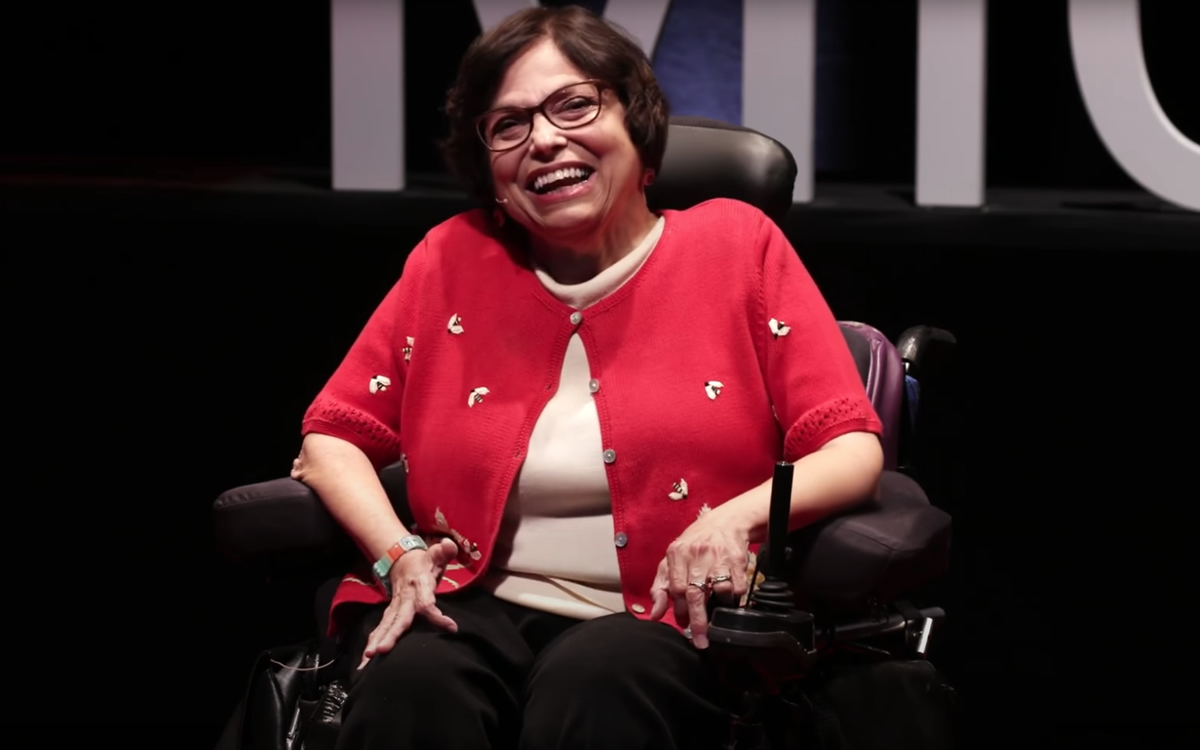 When I was growing up, people like me, who were disabled, were usually met with scorn, pity and exclusion.
On March 4, Judith (Judy) Heumann, a founder of the disability rights movement, died at 75 in Washington, D.C.
For decades, Heumann, who contracted polio when she was 18 months old, was a leader of a civil rights movement that changed the lives of millions of folks like me.
Judy (so many of us, whether we knew or not, connected with her on a first-name basis), was known as the "mother" of the disability rights movement. She was the Harvey Milk of our struggle.
You might think: why should LGBTQ people care about the passing of a disability rights leader?
Here's why: Nearly, 20 percent of people in this country have a disability, according to the U.S. Census Bureau. This includes LGBTQ+ people. An estimated three to five million people are queer and disabled.
Studies, including a study by the Map Advancement Project, reveal that queer people are more likely than non-queer people to become disabled. We face the double-whammy of anti-queer and disability-based discrimination. The MAP study reported that of the more than 26,000 transgender people surveyed, 39 percent reported having a disability.
If you're queer and have a disability (blindness, epilepsy, cerebral palsy, psychiatric disorder, etc.), you've likely run up against employers who don't want to hire you or restaurants who don't care to serve you. If you're a queer parent of a disabled child, you've probably had to fight to get your kid the education they need.
These battles are hard. But, thanks to Heumann and the movement she led, there are ways — from the Americans with Disabilities Act to working the media — to fight this injustice.
Heumann, who at 29 led a month-long protest that was the Stonewall of the disability rights movement, and in her 70s was the star of the fab, Oscar-nominated documentary "Crip Camp," was a powerhouse of energy, discipline, hard work and humor. She was a quintessential bad ass who worked for justice 24/7, and kicked your butt if you didn't."Kathi, get your self together!" commanded the voice over the phone, "or you won't get anything done."
It was 1987, and I was writing my first news story. I was interviewing Heumann about an historic protest that she'd led a decade earlier. It was the 10th anniversary of what is believed to be the longest non-violent sit-in a federal building.
In April 1977, more than 100 disabled people took over the (then) Health, Education and Welfare building in San Francisco. President Richard Nixon had signed the Rehabilitation Act into law in 1973. But, regulations, known as "504," a section of the Act that prohibited discrimination against disabled people by institutions (schools, hospitals, etc.) receiving federal funding, hadn't been signed. After protesting in the San Francisco building for a month and in Washington, D.C. (including at then President Jimmy Carter's church), the "504″ regulations were signed.
Heumann, who was an official in the Clinton administration and a special adviser in the Obama State Department, was tough, kind, and proud of herself and the movement that she founded.
For Heumann, who is survived by her husband and brothers, disability was a normal part of life, not a tragedy.
"I never wished I didn't have a disability," Heumann wrote in her memoirs "Being Heumann: An Unrepentant Memoir of a Disability Rights Activist."
When Heumann was a child, disabled children were often institutionalized. Like being queer, being disabled wasn't considered to be normal then.
Doctors advised Heumann's parents to send Judy to an institution when she was a child. But her parents, who were Jewish and had fled Nazi Germany, refused. This experience turned her mother and father against institutionalizing her, Heumann wrote in her memoir.
"If I'd been born just 10 years earlier and become disabled in Germany, it is almost certain the German doctor would also have advised that I be institutionalized," Heumann wrote, "The difference is that instead of growing up being fed by nurses in a small room with white walls and a roommate, I would have been taken to a special clinic, and at that special clinic, I would have been killed."
Just as it is if you're queer, if you're disabled, if you want to respect yourself, you need to be out and proud.
Judy more than anyone I've ever known, helped so many of us with disabilities to be out and proud. She taught us that being disabled isn't something to be ashamed of. That it's an important aspect of who we are.
Her disability, Judy often said, is, "Like the color of my eyes or the color of my hair, it is a part of who I am."
I knew Judy only from interviewing her over the years and being on an episode of her podcast "The Heumann Perspective." But Judy, whether you'd known for decades or just a few months, made you feel like you were a friend. She'd advise you, cheer you on and challenge you over the phone, in texts and on Zoom.
She almost got me, a non-make-up wearing lesbian, to wear lipstick (so I wouldn't look like a ghost on her podcast). Earlier this winter, Judy wondered why I didn't put my disability on my resume. Being nervous could be good, she said, when I was scared of reading at a poetry festival.
"If you don't respect yourself and if you don't demand what you believe in for yourself, you're not going to get it," Judy said.
Thank you, Judy for teaching us to respect ourselves and to demand our rights! R.I.P., Judy!
Kathi Wolfe, a writer and a poet, is a regular contributor to the Blade.