Race to the Midterms: Black leaders on race & the LGBTQ vote
Victoria Kirby, from the National Black Justice Coalition & Venton Jones running for a seat in Texas House are featured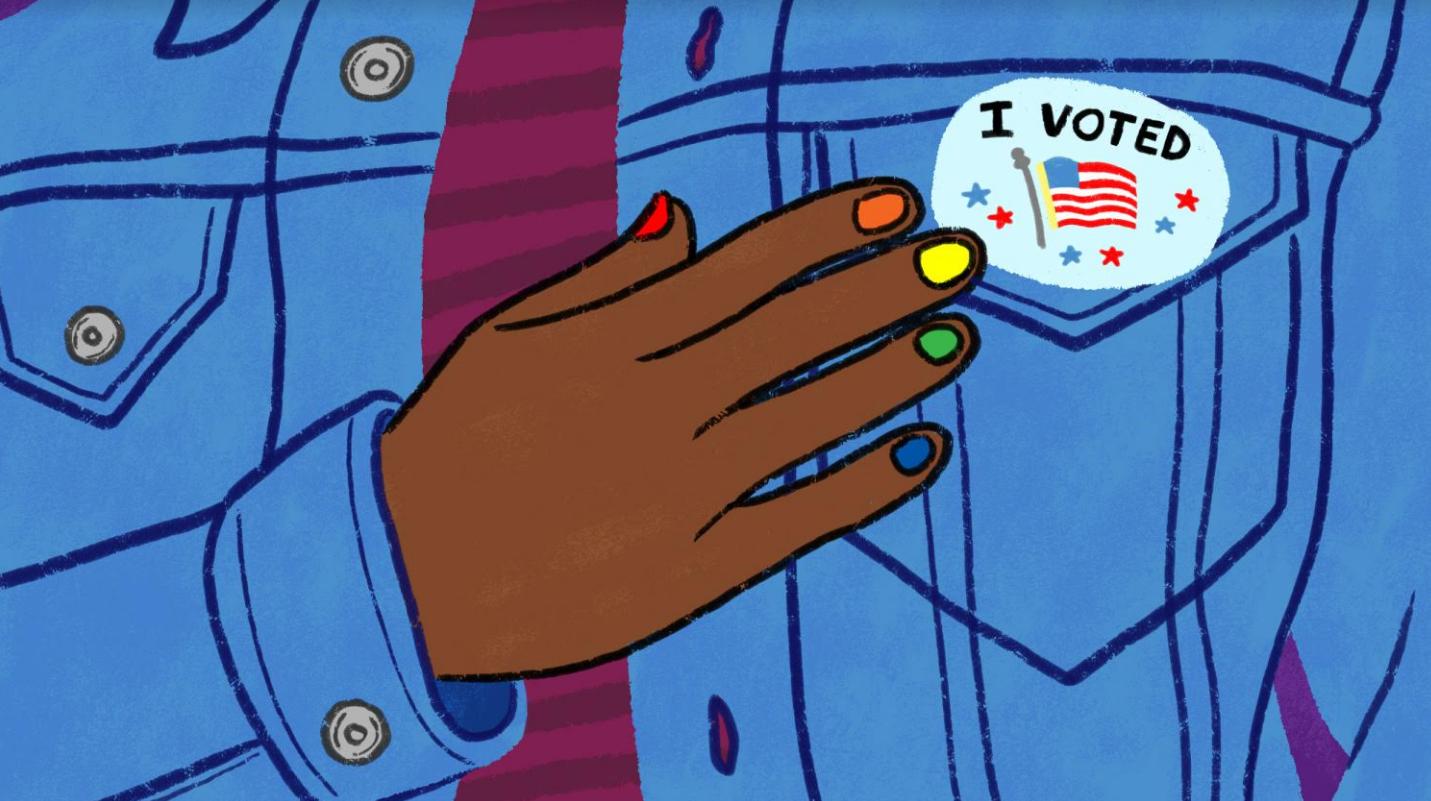 By Karen Ocamb | WEST HOLLYWOOD – Victoria Kirby, deputy executive director at the National Black Justice Coalition, is effusive in her energetic call for hope in these trying times heading into the Nov. 8 midterm elections.
The Ku Klux Klan may have discarded their white sheet hoods so their white faces shine even brighter under the fascistic tiki torch lights. But don't forget what we did. Don't forget that we foiled their plan.  
"Those people that were under those hoods, they had a plan that we foiled in 2018," Kirby says in the latest installment of Race to the Midterms. Remember the 2010 election "when the Tea Party took over and began a strategic plan to first take over Congress — they took over the US House, they took over the US Senate — and to then win the presidency. And in between, to take over enough state houses and governor's mansions that they would be able to have a constitutional convention for the first time since the original one that created our founding document. And that they would have been able to use that convention to completely rewrite our Constitution, based off of what they believed America should be. They were only one or two state houses away when we came to the 2018 election.
"And what did we do?" Kirby asks, barely containing her enthusiasm. "We turned out in record numbers during a midterm when people said we wouldn't. LGBTQ people, people of color, young people, differently abled or disabled people. We showed up and showed out and we got rid of folks in those statehouses and governor's mansions. We took back a chamber of Congress, the US House of Representatives, and then in 2020, progressives were able to have — plus Georgia in the 2020 midterms, got to give a shout out to Georgia — we were able to have this 50-50 US Senate that, no, didn't allow us to get some of the legislation we wanted signed into law but was able to stop some pretty bad things from being able to become the law of the land.
"And so when people wonder if their vote matters — what is changed? — I let people know when we showed up and showed out in 2018 and 2020, we changed the course of the strategy of the far right who want it and had a really good plan. They almost came close to implementing, to completely hijacking our democracy and our nation's values. And we can do that again in just a couple of weeks."
That Georgia race could again decide the fate of the US Senate. In 2020, Democrat Raphael Warnock, 51, reverend at the historic Ebenezer Baptist Church in Atlanta, eked out a victory over Trump-loving Republican Sen. Kelly Loeffler, becoming Georgia's first Black senator and the first Black Democratic senator from the South. Fellow Georgia Democrat Jon Ossoff won his runoff against Republican David Perdue, becoming Georgia's first Jewish Senator, which gave Democrats the 50-50 Senate split with Vice President-elect Kamala Harris breaking any ties for Democrats.
In the full episode of Race for the Midterms posted on Sunday night, Kirby talks about those wins, the John Lewis Voting Rights Advancement Act, racism and the historical fight for the right to vote, as well as NBJC's efforts to get out the vote.
Also featured is Venton Jones, a 36-year old Black gay, HIV-positive native of Dallas, Texas who is running for state representative for Texas House District 100. Texas. You read that right – Texas.
"One of the main reasons that I'm running is because I've been afforded the amazing opportunity to be able to learn and dive into public policy through my work in addressing public health through working to address the HIV epidemic — working within the African-American community and the LGBTQ community, and now using that experience to bring that home and to be able to help change outcomes, not only in the community that I grew up in, but also in the state of Texas," Jones tells us.
Right now, "the state is in desperate need of leadership," he says. Jones wants "to make sure that we're not continuing to perpetuate the hatred and bigotry that we continue to not only see statewide, but also that we see in our national discourse. So I ran to make a difference and use the experience that I've gained to be able to do that necessary work, particularly for a new generation of leaders that have been able to learn and grow from so many fighters that I've seen, particularly addressing HIV and public health" in the 1980s and the ongoing racial justice work "that that's so needed" in our state and national discourse.
"Working in HIV, you also saw that it wasn't just about public health," Jones says. "You know, these communities at this intersection also faced larger socioeconomic disadvantages, more racism, more stigma, more discrimination in those circles. And so, one thing that I committed the last 20 years of my career to doing before running for office was to work unapologetically in that space."
Check the Los Angeles Blade on Sunday night to watch the full video interviews and find out more about the midterm elections and how Vicky Kirby and Venton Jones are trying to make a difference.
WATCH:
Obama rallies for Warnock as Walker goes transphobic in latest ad
"Tomorrow is the last day for early voting and then we need to get people out to the polls on Tuesday, which means we still got work to do"
ATLANTA – Former President Barack Obama held a rally with Sen. Raphael Warnock (D-GA) tonight in Atlanta as the Georgia election runoff for the U.S. Senate seat currently held by Warnock enters its final week.
Speaking to the enthusiastic crowd in the historic Pullman Yard, Obama urged supporters to continue pressing to secure Warnock's chances as early voting ends Friday ahead of next Tuesday's election.
"Now I know a lot of folks have been voting early over the last few days, that is a good thing. That is an encouraging thing. But — you knew there was a but —plenty of folks haven't voted yet. Tomorrow is the last day for early voting and then we need to get people out to the polls on Tuesday, which means we still got work to do," Obama said.
A spokesperson for the the Georgia secretary of state's office told the Blade that more than 1.1 million votes have been cast so far.
Warnock's Republican challenger meanwhile focused on his opposition to transgender rights. In a recent campaign ad, Herschel Walker is featured alongside cisgender former University of Kentucky swimmer Riley Gaines, who tied with University of Pennsylvania trans female swimmer Lia Thomas.
In the ad Gaines says she "worked so hard" at competitive swimming but she was "forced to compete against a biological male."  The ad also goes on to attack Warnock in the Chyron onscreen stating: "Raphael Warnock voted to allow biological men to compete in women's sports." That particular charge by Walker's campaign is factually incorrect as the U.S. Senate has not held any votes on the subject of transgender women in sports.
Politico's National political reporter Natalie Allison tweeted:
Herschel Walker is up with a new runoff ad about transgender athletes, featuring a swimmer who tied with Lia Thomas.

"My senior year, I was forced to compete against a biological male," Riley Gaines says in the ad for Walker's Senate campaign. pic.twitter.com/MlVxnJwkgB

— Natalie Allison (@natalie_allison) November 21, 2022
During the rally in Atlanta this evening Politico reported Warnock received roaring applause when he poked fun at Walker, something Obama also did, referencing a series of outlandish comments the retired football star has made over the course of his candidacy.
"We all know some folks in our lives who, we don't wish them ill will, they say crazy stuff … but you don't give them serious responsibility," Obama said.
"He was an amazing running back," Warnock said of Walker. "And come next Tuesday, we're going to send him running back to Texas."
Walker, who was raised in the Peach State and was a star player at the University of Georgia, lived the majority of his adult life in Texas before returning to run for Senate in 2021.
Politico also noted that Warnock, the pastor of the Atlanta church that Martin Luther King Jr. attended, tied the election to the long struggle of African Americans for equal rights, noting the crowd had gathered on the 67th anniversary of Rosa Parks refusing to get up from a bus seat in Montgomery, Alabama. Walker is also African American.