Tulsa donut shop firebombed after hosting LGBTQ+ event
The shoppe had recently sponsored an art exhibition The Queens Dirty Dozen; An art installation run by drag queens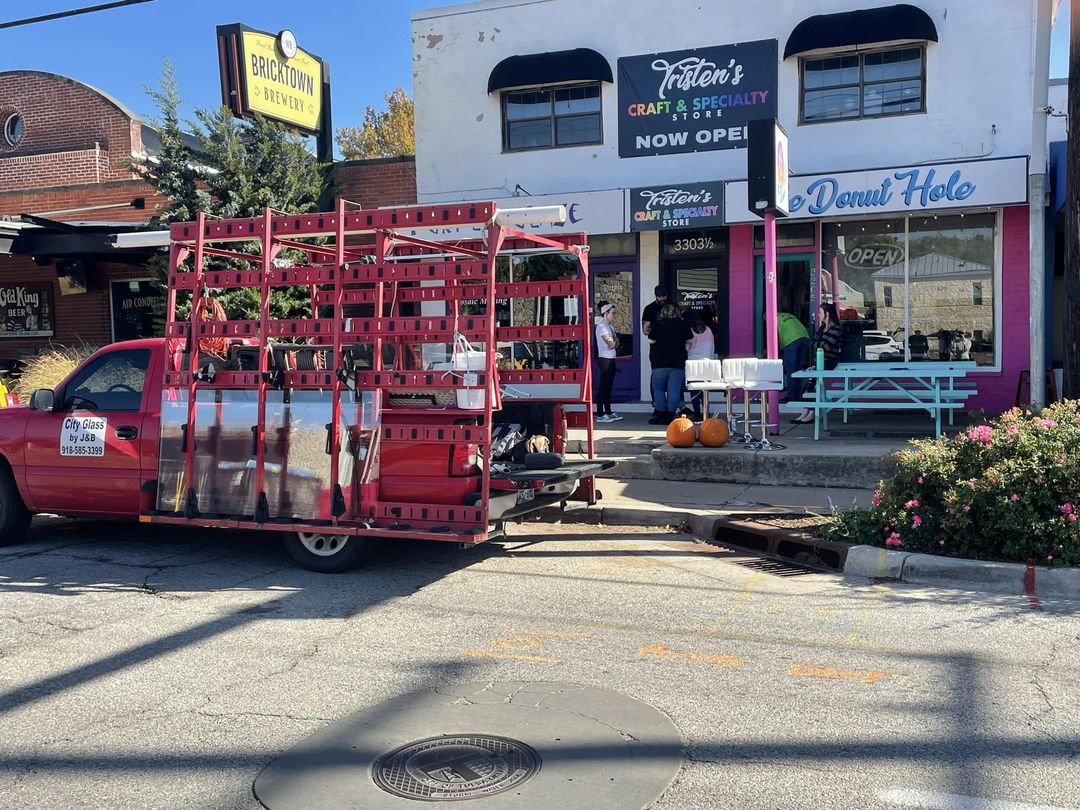 TULSA, Ok. – Tulsa Fire Department arson investigators are looking for a person of interest caught on a Ring.com door cam smashing a hole in a glass door and tossing a Molotov cocktail into a donut shop earlier this week.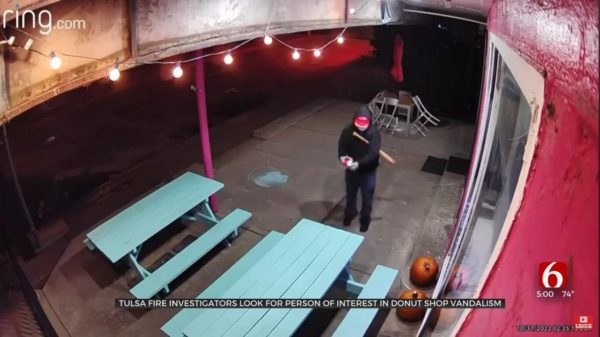 The surveillance video shows a person placing a letter that investigators said contained anti-LGBTQ rhetoric on the door of a neighboring business, then uses a bat to smash through the glass door. The person then lights the arson device and tosses it through the hole. Tulsa Fire officials told local News On 6/KOTV that the damages to 'The Donut Hole' shoppe were fortunately minimal.
The shoppe had recently sponsored an art exhibition The Queens Dirty Dozen; An art installation run by drag queens. This had caused the business to be vandalized in a previous incident according to the shoppe's Facebook page.
Sarah Swain, the owner had the front door and windows smashed and her register and electronic equipment stolen the first incident. In a Facebook post Swain noted:
"We had the privilege of being able to be a part of the vision of The Queens Dirty Dozen; An art installation donut shop run by drag queens. The event was an enormous success with over 500 guests attending, and an overwhelming reaction of laughing, jokes, fun and good times were had by all.
Unfortunately, there was also a reaction of hate and we were the victim of somebodies malicious acts. But in ones attempt to rain on our parade, the community answered by showing overwhelming support. From the GoFundMe that was started by Queens Dirty Dozen, goals were surpassed in less than one hour.
Repairs will be made and all extra proceeds will be given to the Tulsa Equality Center to help spread acceptance, tolerance and love. These malicious acts have resulted in thousands of dollars going towards the cause this entire event was meant to support. Love wins."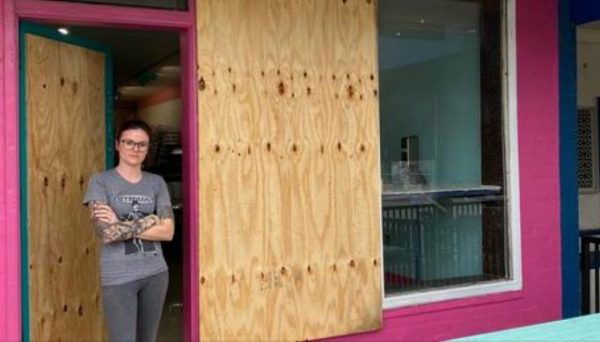 The GoFundMe campaign was extended to cover the damages from the firebombing/arson attack.
The local business association, Brookside Business Association, reacted in a statement:
"Over the last few weeks, right here in Brookside, we have watched as a destructive anger has played out against one of the businesses in our district.
Overnight, The Donut Hole was vandalized for the second time in just a matter of weeks. This time, instead of just breaking out glass, the perpetrator threw a Molotov cocktail through the broken glass in an attempt to destroy one of our local businesses.
We are heartbroken.
This type of action does not represent who we are as Tulsans. This irresponsible and reprehensible behavior is destructive and only sends a message of divisiveness and hate.
No matter in what ways we may disagree with others, violence will never be the right response. We, as a business association representing Brookside, unconditionally and unequivocally, condemn these destructive actions and behaviors.
As a community made up of mostly family-owned and small businesses, the Brookside Business Association stands against those in our city who wish to do harm or cause fear. We believe that there is no place for violence or hurtful acts based on differences in our personal beliefs at any time, or in any place.
Our Brookside Business Association stands united against violent displays of anger of any kind, especially aimed at business in our community.
Today, we call for unity and peace. We call for a stop to this targeted vandalism and seek to bring understanding and wholeness back to our community.
We believe that our differences make us stronger together than any of us could ever be on our own.
May these differences unite us instead of divide us as we work to create a better, safer tomorrow."
Bill banning funds for "gender transition" at OU Children's signed
The requirement OU stops providing gender reassignment or affirming care to minors was signed Tuesday by Republican Governor Kevin Stitt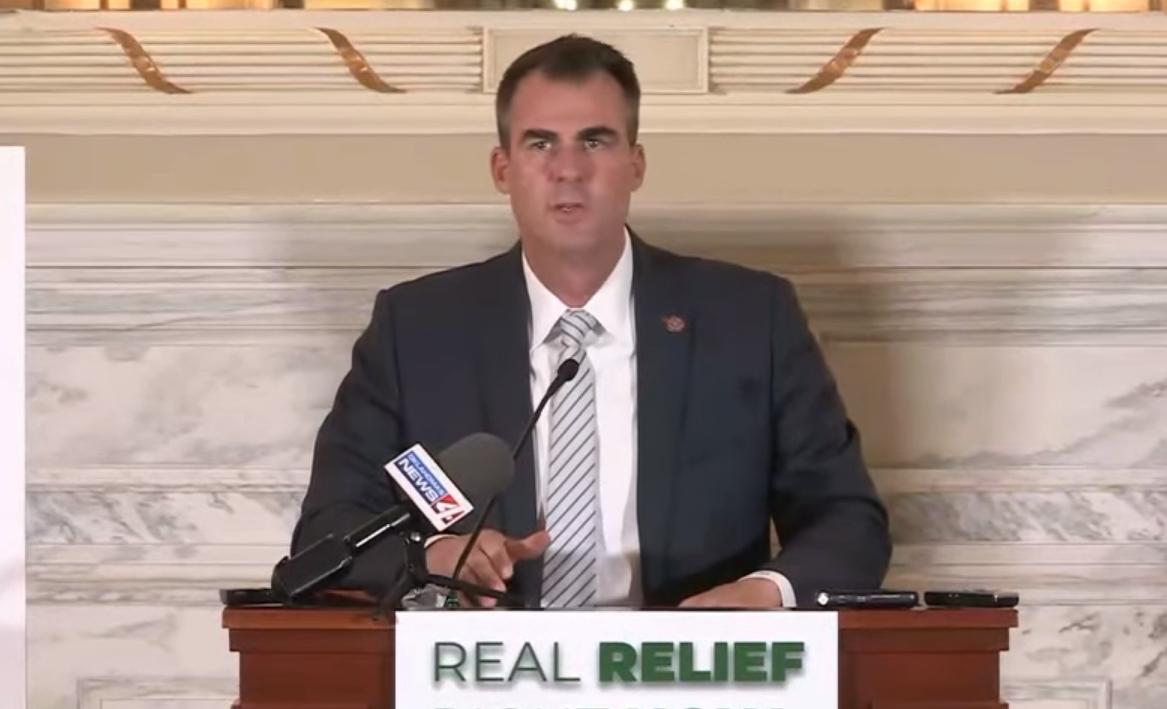 OKLAHOMA CITY – A measure that provides $39 million in funding for OU Children's Hospital that stipulates the money appropriated will not be transferred without OU meeting the requirement OU stops providing gender reassignment or affirming care to minors was signed Tuesday by Republican Governor Kevin Stitt.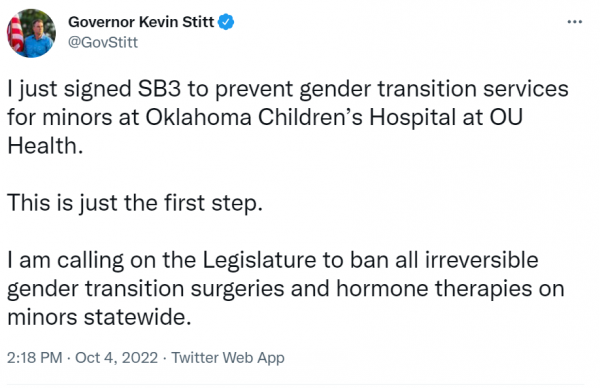 KOCO ABC 5 reported on Sep 29, 2022, that Senate Bill 3 passed both the House and the Senate. Some Republican lawmakers said the stipulation doesn't go far enough, saying gender reassignment or affirming care has to be banned statewide first.
Democrats argue the bill will already hurt vulnerable children.
"Oklahomans, and specifically young Oklahomans who are transgender, live among us," state Sen. Julia Kirt, D-Oklahoma City, said. "They deserve respect, dignity and medical care that serves them with best practices."
Senate Bill 3 allocates more than $39 million to OU Health for a children's mental health center. That money, according to the bill, comes with the requirement that OU stops providing gender reassignment or affirming care to children – even though the funding was never going to that specific department.
OU Health officials told KOCO 5 in a statement Wednesday that they would stop those services.
Thirty-one Republicans wanted the bill. Leadership said it will stop gender treatments while still ensuring OU Health can provide top-notch mental health care.
"Will make OU, which is already a great hospital, will make them a better hospital to serve the people of Oklahoma," state Sen. Roger Thompson, R-Okemah, said.