Spotify's Joe Rogan claims being trans is a "cult-like" mental illness
Walsh asserted that all trans people's gender identities are invalid and Rogan claimed that being trans is a "mental condition"


By Alex Paterson & Alyssa Tirrell | WASHINGTON – Spotify podcast host Joe Rogan and anti-trans pundit Matt Walsh spread extreme misinformation about trans people on the November 7 edition of The Joe Rogan Experience, with Rogan falsely claiming that being trans is a "mental health issue," "a weird kink," and a "cult-like mentality." Rogan's bigoted rhetoric appears to violate Spotify's platform rules, which prohibit "dehumanizing statements about a person or group" based on gender identity.
Walsh is a Daily Wire pundit who has committed himself to an anti-trans crusade. He recently claimed to be "building a nationwide organized movement" to target hospitals and medical providers after helping to drive harassment against Boston Children's Hospital. Walsh continued to target the hospital after it reported threats against doctors and staff, and the facility later received more than one bomb threat.
Rogan has faced widespread backlash for using his Spotify podcast to spread bigotry, medical misinformation, and right-wing falsehoods. Anti-trans hate is also a central pillar of Rogan's show. He has promoted the online hoax that students are using litter boxes in school restrooms — later admitting that "it doesn't seem like there was any proof" of his bogus story — and repeatedly suggested that social acceptance of trans people is a sign of "civilizations collapsing." But Spotify has determined that its platform rules do not prohibit the hate and misinformation spread on The Joe Rogan Experience.
Walsh and Rogan's anti-trans fearmongering is in direct contrast to research showing that many trans people are aware of their gender identities at a young age. The American Medical Association, American Academy of Pediatrics, and other major medical organizations overwhelmingly support access to gender-affirming care, which studies show dramatically reduces symptoms of anxiety and depression for people who experience gender dysphoria.
Walsh asserted that all trans people's gender identities are invalid and Rogan claimed that being trans is a "mental condition" that opens "the door to all this chaos"
Throughout the interview, Rogan and Walsh spread extreme rhetoric about trans people. The two misgendered, deadnamed, or attacked several trans people, including Fox News contributor Caitlyn Jenner, TikTok star Dylan Mulvaney, MMA fighter Fallon Fox, the daughter of retired NBA player Dwayne Wade, gynecologist and surgeon Dr. Marci Bowers, and U.S. Assistant Secretary for Health Adm. Rachel Levine.
At the beginning of the interview, Walsh claimed that trans people can be broken down into categories "by age" and then proceeded to deny the validity of each category. He falsely claimed that "very young children" cannot be trans "because no child even knows what that is, so you have to suggest that to them." Walsh also claimed that the gender identity of trans adults "is a fetish" and pushed the anti-trans social contagion myth, which has been widely propagated by anti-trans author and former Rogan guest Abigail Shrier.
Rogan agreed with Walsh's comments and added that being trans has "always been a psychological condition. It's always been known as being like a psychiatric condition, like it's a mental health issue." He also claimed that by accepting trans people, "we're opening the door to all this chaos."
The claim that being trans is itself a mental health issue or an expression of self-harm is part of a broader right-wing effort to falsely frame gender- affirming care as enabling and damaging rather than lifesaving. This trend has gained traction in recent months from right-wing media, including on Walsh's own show.
From the November 7, 2022, edition of Spotify's The Joe Rogan Experience
MATT WALSH (DAILY WIRE PUNDIT): So in general, like there are different categories of people who transition. And we kind of talk about them like they're all the same, but they're not. And you can kind of break it down by age, like there's the very young children — a five-year-old. And we hear that, "Oh, my five-year-old is trans." That's 1,000% the parent just deciding they're going to do that because no child even knows what that is, so you have to suggest that to them. Then you have the adolescent girls. And, you know, Abigail Shrier has written about this in her great book. And that's the social contagion. They pick it up from society. But then there's the older men who are adults and decide one day that they're women. And for so many of them, this is a fetish. I mean, this is like the thing we're not allowed to say or acknowledge. But it's totally true that for most of these older men who decide that I'm a woman, it's a fetish. It's autogynephilia.
JOE ROGAN (HOST): Yes.
WALSH: They're enchanted by the idea of themselves as women. And so now, now we have to participate in your fetish? Like you, you get off on the idea of being seen as a woman, and I have to be a participant in that? It's really degrading to all of us, you know, that we're all being forced into this.
ROGAN: Well, it's always been a psychological condition. It's always been known as being like a psychiatric condition, like it's a mental health issue.
WALSH: Right.
ROGAN: And now it's being accepted as a gender identity issue, where it was always just like a weird kink that people had. And now you're — again, regardless whether or not this person's a sex offender, registered sex offender, repeated sex offender, you have to accept this. Otherwise you're a bigot. It's just this rigid adherence to ideology is so cult-like. It's so fucking Handmaid's Tale. It's so wild that people are just wholesale adopting this. And this is not to deny that there's people that are trans. I've met people that are trans. It exists in nature. I mean, occasionally guys will shoot a buck and they'll find out that it's actually a female with antlers. Nature's weird, right? I think nature does put people, make humans, for whatever reason, that really feel like they should have been born a female or should have been born a male. But that's not all of what's happening. And in our desire to be compassionate and to have care for these people and to love these people and respect these people, we're opening the door to all this chaos.
Rogan and Walsh equated being transgender to having anorexia and a "cult-like mentality"
Walsh compared being trans to being mentally ill, specifically having anorexia, saying, "If a young woman goes to the doctor and she's 90 pounds and she says, 'I feel like I'm a 300-pound, you know, fat ass,' the doctors are not going to affirm that."
Rogan agreed with Walsh' assessment and then added that being trans is a "cult-like mentality."
Responding to Rogan's claim that gender identity is an "ideology" that doesn't "fit with logic or reality," Walsh suggested that trans people are part of a conspiracy to attack "truth" and "the reality of the self." "Once you do that, if you're successful on a societal level, then it's sort of like the sky's limit," the Daily Wire host said.
From the November 7, 2022, edition of Spotify's The Joe Rogan Experience
MATT WALSH (DAILY WIRE PUNDIT): But self-perception is not always reality. In most other contexts, we recognize that a person can have a self-perception that just is not true, is just inaccurate. I mean, you could walk down the street in any city and find drug-addled homeless people talking to themselves. And if you were to ask them about themselves, you're going to find they're going to say a lot of things that just don't line up with reality. And in every other context, we're allowed to acknowledge that, even in medical context. I mean, someone who has body dysmorphia in the form of anorexia, you know, a young woman goes to the doctors and she's 90 pounds and she says, "I feel like I'm a 300-pound, you know, fat ass."
JOE ROGAN: Yeah.
WALSH: The doctors are not going to affirm that and say, "Well, if that's how you feel, fatness is on a spectrum." I mean, they're not going to give her diet pills, they're going to —
ROGAN: But why gender? Like, why is gender this ideological battleground? Like, how the fuck did that become this thing where it's encouraging like this cult-like mentality where you can, even when things are clearly odd, think clearly, clearly, don't make any sense, they don't fit with logic or reality, you have to adhere to whatever this ideology is, promoting?
WALSH: I think it's — I mean, at a most basic level, I think that this is, like I said, an attack on truth. And this is, you know, if you want to, if your project is kind of, is relativism and you want to get rid of the objective ideas of truth, what are you going to go after? I mean, if you can go after someone's really fundamental understanding of themselves, it's not just that they're attacking reality, it's like they're attacking the reality of the self. And so they're depriving a person of the ability to understand their own — themselves. And once you do that, if you're successful on a societal level, then it's sort of like the sky's limit, you can go anywhere from there.
Walsh spread false claims about the number of trans youth who have received gender-affirming health care
Walsh also fearmongered about the number of trans youth who have accessed gender-affirming health care, claiming that "millions" of young people have received hormone blockers.
Walsh is likely vastly overstating this number. According to a Reuters report, "At least 14,726 minors started hormone treatment with a prior gender dysphoria diagnosis from 2017 through 2021," and less than 5,000 began taking puberty blockers during that time.
Shortly after Walsh made this claim, Rogan's podcast producer Jamie Vernon fact-checked it and displayed a page that showed that less than 1,000 trans youth receive puberty blockers in a year. Walsh denied the report, saying, "You know, who are you going to trust when they're telling you the numbers?"  
From the November 7, 2022, edition of Spotify's The Joe Rogan Experience
JOE ROGAN (HOST): How many people have had this done?
MATT WALSH (DAILY WIRE PUNDIT): Depends on what? I don't think we have exact numbers, but if we're talking about the drugs it's, I mean, millions.
ROGAN: Do you — talking about human hormone blockers?
WALSH: Yeah.
ROGAN: Millions of kids have been on hormone blockers. Really?
WALSH: I'm sure someone is going to fact-check me on that. But my guess is that we're into the millions now at this point. Yeah, that would be my guess. I can say for double mastectomy is the most — I read a report recently that there were over a thousand done between 2016 and 2019. And when you compare that to how many were done between, you know, 2008 and 2015, it's just, it's a massive increase. And over a thousand girls had double mastectomy — gender-affirming double mastectomies in that time frame. But that's —
ROGAN: When you see girls, you're talking about prepubescent?
WALSH: Right. Minors. And that's just up until 2019. And then we know that there's been this exponential increase with all this stuff year-over-year. So it's a lot. It's too many. You know, one — having this happen to one kid is way too many. It's a lot more than one.
ROGAN: Yeah. Look, if you're an adult and you want to do that and you understand who you are and what you are and this is how you feel you should progress. You're an adult. This is a free country. You should be able to do whatever you want. But when you're talking about doing that to children, the fact that so many people are on board and so many people are angry if you — like, people are going to be angry at us that we're having these conversations.
WALSH: Yeah, they will be. And I also — I actually think that this shouldn't be happening to —
JAMIE VERNON (PRODUCER): It's a very small number, if that's right.
ROGAN: It says over the last five years, there were at least 4,780 adolescents who started puberty blockers and had a prior gender dysphoria diagnosis.
VERNON: Yeah, it says it's kind of undercounted but that's —
ROGAN: That would be a big undercount
VERNON: Less than 1,000 people a year.
ROGAN: Yeah.
WALSH: Yeah. I mean, I would guess, you know, hundreds of thousands at this point, but I could be wrong.
ROGAN: A million sounds great.
WALSH: Yeah, I could be wrong. Yeah. Media Matters will have fun with that clip. "Matt Walsh claims it does — " But part of the problem though is that we don't – It's very hard to get numbers on any of this stuff and, you know, who are you going to trust when they're telling you the numbers? So that's why that's one of the issues with all of this. 
*******************************
The preceding article was previously published by Media Matter for America and is republished by permission.
A list of everything & everyone the right accused of grooming
A non-exhaustive list from Joe Biden to Fox News, no one was safe from the right's ongoing bigoted smear campaign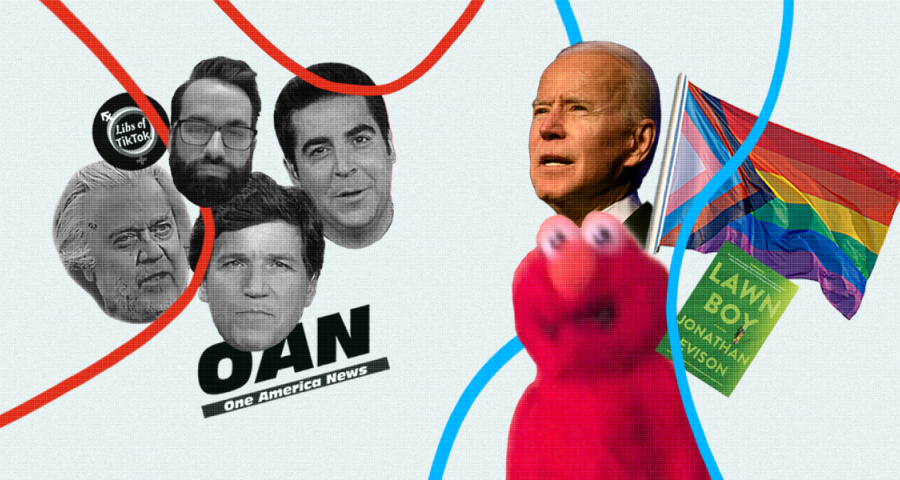 Editor's Note: Content warning: This article includes extended discussion of sexual violence and LGBTQ hate. The Rape, Abuse & Incest National Network (RAINN) operates the National Sexual Assault Hotline, which can be reached at 800-656-4673 or online via hotline.rainn.org. Trans lifeline, a hotline staffed by and created for transgender and nonbinary people, can be reached at 1-877-565-8860 or translifeline.org. The Trevor Project's crisis intervention and suicide prevention hotline for LGBTQ youth can be reached at 866-488-7386 or through thetrevorproject.org/get-help/. 
By Beatrice Mount & Alyssa Tirrell | WASHINGTON – Last year, no one — not even Elmo — dodged the right's bigoted groomer smear campaign. Accusations that individual people, organizations, and companies were engaged in widespread attempts to groom children (either sexually or into a so-called LGBTQ lifestyle) reached staggering levels in 2022, spreading from social media platforms and conservative cable all the way to representatives in Washington.
Grooming is a set of manipulative behaviors abusers use for the explicit purpose of forming a sexual relationship with minors. Right-wing media outlets and figures misappropriated the term, drawing on old and bigoted stereotypes that LGBTQ people are a sexual threat to minors in order to perpetuate hate — turning a once useful term into a de facto anti-LGBTQ slur.
This rhetoric supported dangerous bans on life-saving trans healthcare, a directive investigating parents who support their trans children, legislation revoking the parental rights of LGBTQ allies, and vague laws restricting any mention of LGBTQ people in the classroom. The smear has also contributed to a wave of anti-LGBTQ violence — including armed terrorists storming drag queen story hours and family-friendly pride events, death threats against gay politicians, and bomb threats against Children's Hospitals.
Mainstream press perpetuated the smear by platforming its architects in puff-piece profiles and articles framing LGBTQ rights as a political debate. By the time the Associated Press had officially released guidance against uncritically repeating the slur, groomer was already the right's catchall for the LGBTQ community.
Transgender People: The use of the word groomer to refer to transgender people echoes a tactic utilized in the early 2000s against gay people. Grooming was already misappropriated when applied to LGBTQ acceptance or same-sex marriage and now the right has expanded the definition even further in an effort to frame the existence of trans people as an encouragement of sexual acts. Hate spread by Rep. Marjorie Taylor Green (R-GA), right-wing influencer Will Witt, conspiracy theorist James Lindsay, and Gays Against Groomers founder Jaimee Michell, was buoyed by anti-trans coverage on Fox News that fearmongered around trans representation, healthcare, and the notion of transness.  
Drag Queens: Referring to drag performers as groomers has created the false impression that drag performance is inherently sexual or that it encourages gender dysphoria. Right-wing media figures, such as conservative podcasters Owen Shroyer and Steve Bannon, Fox News hosts Jesse Watters and Sean Hannity, and former Secretary of Housing and Urban Development Ben Carson claimed that drag performers were intentionally sexualizing children. Other figures, including OAN host Dan Ball and right-wing commentator Dominique Samuels, claimed that this alleged sexualization is an effort to indoctrinate children into leftism. In even more extreme cases, the Daily Wire's Matt Walsh encouraged or excused direct violence against drag performers. These smears have fueled a violent political atmosphere and targeted attacks. Mainstream media has noted the uptick in the presence of Proud Boys and other violent protesters outside of drag events across the country, individual drag queens have expressed concern for their own safety, and some performers have been the victims of online harassment campaigns.
Pride Parades: During Pride Month, right-wing media utilized the groomer slur to fearmonger around pride events, going so far as to doctor footage of drag performances in an effort to mobilize extremist reactions. Right-wing influencers such as Chaya Raichik, creator of Libs of TikTok, and avowed Christian fascist Kelly Neidert, targeted specific gatherings. Meanwhile, OAN's In Focus, Real America and Tipping Point segments waged a more generalized campaign of hate against pride events.  Extremism researchers and LGBTQ activists drew a direct connection between this bigoted smear campaign and the far-right extremists who protested pride parades, including the highly publicized arrest of white nationalist group Patriot Front, in which police charged dozens of members with conspiracy to riot. 
The Entire LGBTQ Community: In addition to targeting specific LGBTQ people or groups, right-wing media accounts such as Libs of TikTok, OAN personalities Landon Starbuck and Alison Steinberg, Fox News host Tucker Carlson, right-wing podcasters Tim Pool, Allie Beth Stuckey, Matt Walsh, and Freddy Silva, and conservative commentators Christopher Rufo and Dave Rubin made generalized claims against the entire LGBTQ community. Following a severe uptick in the use of the word groomer on right-wing social media accounts, evidence that the slur contributed to real-world violence against LGBTQ people, and calls for guidance from organizations, including Media Matters, some social media outlets incorporated the slur into their hate speech policies. The Associated Press eventually cautioned against uncritical use of the slur, but on social media, regulation and enforcement remain varied. 
Club Q: After the mass shooting at Club Q in Colorado Springs, right-wing figures blamed the LGBTQ community for motivating violence against themselves. They weaponized the groomer slur in a confusing response that oscillated between excusing anti-LGBTQ violence and denying any culpability right-wing media bore in stoking anti-LGBTQ sentiment. Far-right trolls subsequently harassed Club Q survivors both on and offline — dubbing the man who disarmed the shooter a groomer. The House Oversight Committee held a hearing on the rise in anti-LGBTQ extremism following the shooting, during which Republican representatives claimed that their Democratic colleagues were using the tragedy as a means of smearing the right. The hearing was followed by GAG founder Jaimee Michell slandering one witness who had appeared before the representatives as a groomer.
WATCH: Club Q shooting survivor Michael Anderson testifies before House Oversight Committee hearing on violence against LGBTQ+ community.

"Hate speech turns into hate action, and actions based on hate almost took my life…at 25 years old." pic.twitter.com/2c3QEaompc

— MSNBC (@MSNBC) December 15, 2022
Books: Alongside right-wing legislative efforts aimed at schools and libraries, 2022 saw a concerted effort to ban LGBTQ books under the guise of protecting children from grooming. Many of these policies were successfully implemented.
American Girl: American Girl released "A Smart Girl's Guide: Body Image," discussing practical and intersectional advice about body image and gender identity — which Jaimee Michell called the "definition of grooming." Others called for a boycott of American Girl for promoting "transgender ideology" to kids — or as one right-wing commentator put it, "using girls' love of dolls as a Trojan horse to teach them to destroy their bodies." American Girl stood by the book, emphasizing: 
"The content in this book was developed in partnership with medical and adolescent care professionals and consistently emphasizes the importance of having conversations and discussing any feelings with parents or trusted adults. … We are committed to delivering content that leaves our readers feeling informed, confident, and positive about themselves."
Hospitals and Doctors: Libs of TikTok instigated a series of online harassment campaigns against specific hospitals and doctors, falsely conflating gender-affirming care to mutilation, child abuse, and grooming. The effort was later amplified by other media figures such as Jesse Kelly, Matt Walsh, and Terry Schilling. Enraged followers left online comments and voicemails labeling health care providers groomers. This led to a series of bomb threats. As a result, some facilities limited either their care or the information on their websites, making it more difficult for trans people to access gender-affirming care.
Parents: Texas Gov. Greg Abbott, conservative "parody" site Babylon Bee's CEO Seth Dillon, conservative commentators Steven Crowder and Tim Young, Fox News guest Jimmy Failla, and Candace Owens contributed to claims that parents who expose their children to LGBTQ themes or supported their LGBTQ children were themselves groomers. This trend continues to fuel new legislative efforts. Gov. Abbott directed Texas state agencies to investigate parents and medical caregivers of trans youth. Florida Republicans proposed legislation criminalizing adults taking children to drag shows while Republicans in Idaho, Alabama, and Michigan proposed legislation criminalizing guardians providing gender-affirming care to their children. 
Democrats: Leading up to the 2022 midterm elections, Republicans and right-wing media figures spread anti-LGBTQ rhetoric in an effort to rally their base. Fox News host Laura Ingraham, conservative podcaster Liz Wheeler and Jesse Kelly, Steve Bannon, and Matt Walsh associated grooming with the Democratic party or the left more broadly. After the election, Media Matters noted that political attacks on LGBTQ people and supporters failed to produce the victory Republicans had promised.
President Joe Biden: In addition to the Democratic party, some right-wing media figures turned the groomer slur against individual politicians. OAN's Chanel Rion accused President Joe Biden of being the "groomer-in-chief" during a rant against gender-affirming health care. In her segment, Rion claimed that grooming was the first step in a top-down leftist strategy to "sterilize your children, abort your babies, discourage nuclear families, and encourage non-reproducing unions."
Coming out doesn't happen just once. It's a journey that needs love and courage every step of the way. Share our new film 👇 and let someone know you're their #LifelongAlly. pic.twitter.com/S5ipPxZRON

— OREO Cookie (@Oreo) April 4, 2022
By hijacking the conversation around grooming with conspiracy theories, the right has turned child abuse into a demeaning moral crusade that obscures legitimate concerns about predators with flashy fiction. Child sexual abuse is a problem outside of Hollywood, and most abusers aren't executive producers or directors — they're the acquaintances, family friends, and family members of their victims. While pretending this isn't the case may earn Owens views, it makes it harder for victims and survivors — especially queer victims and survivors — to share their story, seek justice, and heal. 
**************************************************************************
The preceding article was previously published by Media Matters for America and is republished with permission.