Trump's running- uses old campaign material & adds transphobia
LGBTQ groups condemned the former president's disclosure of his plans to make a second run for the White House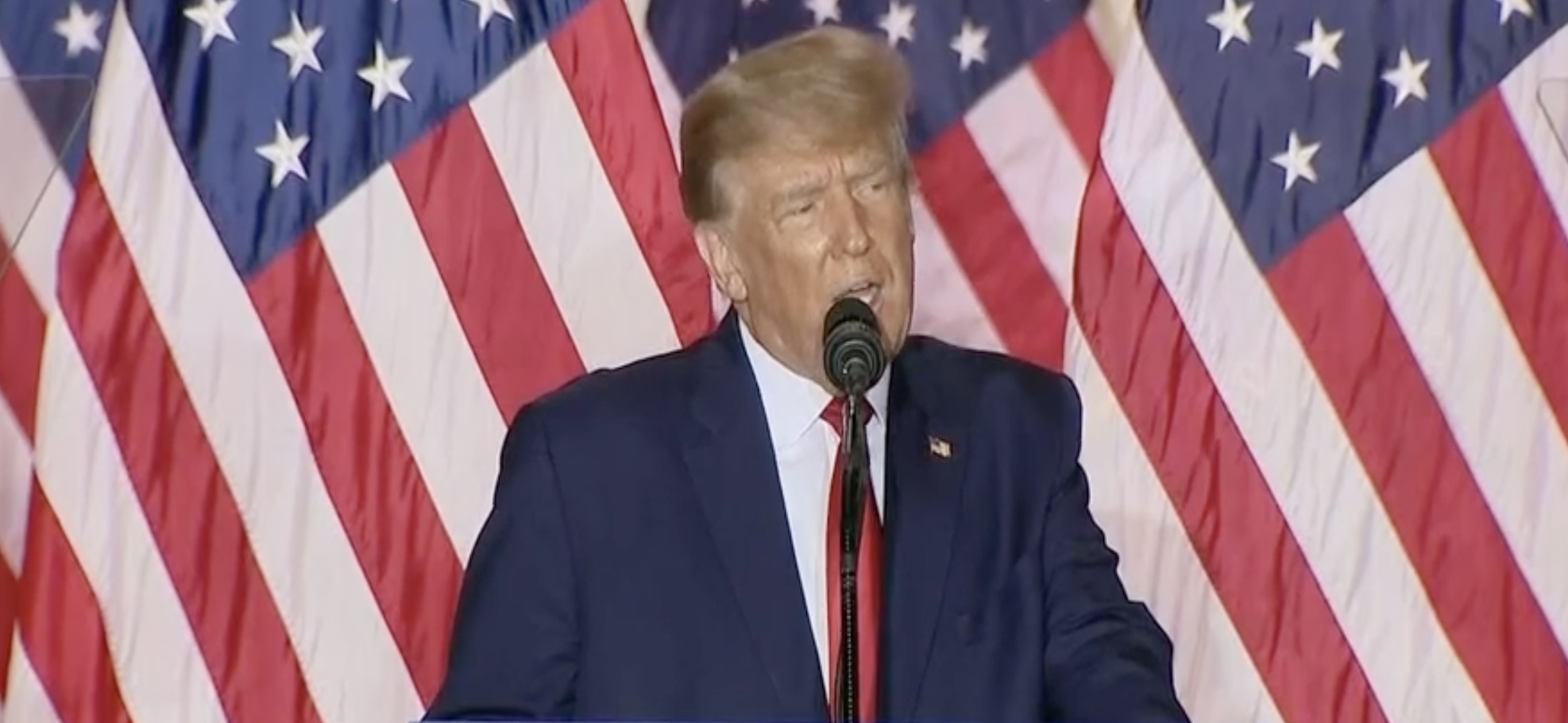 PALM BEACH – Announcing his plans to run again for president in 2024, Donald Trump's speech on Tuesday night from his Mar-a-Lago club in Florida retread themes of economic populism, international trade, and fear mongering over immigration from Latin American countries that were central to his 2016 campaign.
Trump did touch on more current subjects, however, first by downplaying the defeat suffered by Republican candidates in last week's midterm elections, as well as the voices that have credited him for the party's weaker-than-expected showing at the ballot box.
He then recited popular recent Republican talking points about Joe Biden's age, inflation, energy prices, election integrity, and instability overseas, blaming the current administration for America's dicey withdrawal from Afghanistan and Russia's invasion of Ukraine.
Next, the former president expressed admiration for China and Singapore's ruthless prosecution of drug dealers, suggesting that American leaders emulate their example, before turning his attention to matters concerning transgender youth in schools and in the military.
Schools engaged in "radical civics and gender insanity" will lose federal funding, Trump promised. "We will not let men, as an example, participate in women's sports. No men! My people tell me 'Sir, that's politically incorrect to say.' I say, 'that's okay, I'll say it anyway.'"
"As Commander in Chief, I will get Biden's radical left ideology out of our military," Trump said, appearing to reference Biden's reversal, with an executive order, of his administration's ban prohibiting transgender Americans from serving in the armed forces.
As the former president delivered his speech, LGBTQ groups published statements condemning Trump's planned 2024 run.
GLAAD's statement read:
"GLAAD documented more than 200 attacks against LGBTQ people throughout the Trump-Pence administration. It was an administration defined by anti-LGBTQ actions and rhetoric and policy that empowered white supremacists and fueled racism, xenophobia, antisemitism, and misogyny. The unmistakable message from the 2022 midterms is that Americans value freedom, support the democratic process, and reject the divisive policies of the recent past. GLAAD urges the media to include former President Trump's record against LGBTQ equality in their campaign reporting."
A statement from Annise Parker, President and CEO of LGBTQ Victory Fund, read in part:
"Another Donald Trump presidency presents a serious threat to our nation's LGBTQ community which continues to face rampant homophobia and transphobia fueled by his divisiveness. Donald Trump and those who wish to follow in his footsteps continue to use our community – and LGBTQ kids in particular – as political pawns in their quest for power.
The Human Rights Campaign (HRC) issued a press release documenting "Trump's timeline of hate." The group's interim President Joni Madison condemned the former president's reelection bid, writing in part that:
"Even as Republican voters have become increasingly supportive of LGBTQ+ people – registering majority approval of nondiscrimination projections and marriage equality – [Trump] and his extremist MAGA supporters have worked tirelessly to try to slander and demonize us, our relationships, and our families. His time in office saw a relentless onslaught of unconscionable executive orders that made it harder to live as an LGBTQ+ person in this country."
Among the songs that played before Trump took the stage was "Do You Hear the People Sing?" from Victor Hugo's "Les Misérables," a tune whose next refrain is "singing the song of angry men."
Trump's decision to run again for the presidency, and to announce his candidacy so early, is widely believed to be – at least in part – a means of dodging the many investigations by state and federal law enforcement agencies in which the former president has become enmeshed.
Obama rallies for Warnock as Walker goes transphobic in latest ad
"Tomorrow is the last day for early voting and then we need to get people out to the polls on Tuesday, which means we still got work to do"
ATLANTA – Former President Barack Obama held a rally with Sen. Raphael Warnock (D-GA) tonight in Atlanta as the Georgia election runoff for the U.S. Senate seat currently held by Warnock enters its final week.
Speaking to the enthusiastic crowd in the historic Pullman Yard, Obama urged supporters to continue pressing to secure Warnock's chances as early voting ends Friday ahead of next Tuesday's election.
"Now I know a lot of folks have been voting early over the last few days, that is a good thing. That is an encouraging thing. But — you knew there was a but —plenty of folks haven't voted yet. Tomorrow is the last day for early voting and then we need to get people out to the polls on Tuesday, which means we still got work to do," Obama said.
A spokesperson for the the Georgia secretary of state's office told the Blade that more than 1.1 million votes have been cast so far.
Warnock's Republican challenger meanwhile focused on his opposition to transgender rights. In a recent campaign ad, Herschel Walker is featured alongside cisgender former University of Kentucky swimmer Riley Gaines, who tied with University of Pennsylvania trans female swimmer Lia Thomas.
In the ad Gaines says she "worked so hard" at competitive swimming but she was "forced to compete against a biological male."  The ad also goes on to attack Warnock in the Chyron onscreen stating: "Raphael Warnock voted to allow biological men to compete in women's sports." That particular charge by Walker's campaign is factually incorrect as the U.S. Senate has not held any votes on the subject of transgender women in sports.
Politico's National political reporter Natalie Allison tweeted:
Herschel Walker is up with a new runoff ad about transgender athletes, featuring a swimmer who tied with Lia Thomas.

"My senior year, I was forced to compete against a biological male," Riley Gaines says in the ad for Walker's Senate campaign. pic.twitter.com/MlVxnJwkgB

— Natalie Allison (@natalie_allison) November 21, 2022
During the rally in Atlanta this evening Politico reported Warnock received roaring applause when he poked fun at Walker, something Obama also did, referencing a series of outlandish comments the retired football star has made over the course of his candidacy.
"We all know some folks in our lives who, we don't wish them ill will, they say crazy stuff … but you don't give them serious responsibility," Obama said.
"He was an amazing running back," Warnock said of Walker. "And come next Tuesday, we're going to send him running back to Texas."
Walker, who was raised in the Peach State and was a star player at the University of Georgia, lived the majority of his adult life in Texas before returning to run for Senate in 2021.
Politico also noted that Warnock, the pastor of the Atlanta church that Martin Luther King Jr. attended, tied the election to the long struggle of African Americans for equal rights, noting the crowd had gathered on the 67th anniversary of Rosa Parks refusing to get up from a bus seat in Montgomery, Alabama. Walker is also African American.