Respect for Marriage Act written to withstand legal challenge
"This bill is careful with how to thread the needle protecting state and federal marriages without addressing a host of other issues"
WASHINGTON – The Senate's version of the Respect for Marriage Act (RFMA) was written to "provide the strongest protections possible while being very thoughtful to ensure the best legal defense" in the face of a possible litigated challenge, Sen. Alex Padilla (D-Ca.) said.
"Might there be legal challenges to it? I hope not. But in the case that there are, I believe it will be upheld," Padilla told the Washington Blade by phone on Wednesday, ahead of the Senate's expected procedural vote on the legislation.
It is the prerogative of any senator to propose additional amendments to the RFMA, as with any legislation, but the appetite among the bipartisan coalition of lawmakers backing the bill is for none to be added at this stage, Padilla said.
The California senator credited Sen. Tammy Baldwin (D-Wi), the Democratic lead on negotiation over the bill, for securing "the Republican support necessary to overcome the filibuster."
"I'm grateful that my Republican colleagues were willing to see the light and act accordingly here," Padilla said.
As written, the RFMA "makes clear that federal government will not discriminate on marriage on the basis of sex or race [while requiring that] states must acknowledge marriages happening in other states," said Cathryn Oakley, state legislative director and senior counsel at the Human Rights Campaign (HRC), America's largest LGBTQ organization.
The legislation "is really important as insurance for what's happening next," she said, during a media briefing jointly hosted by HRC and GLBTQ Legal Advocates and Defenders (GLAD). "We don't know what lays in front of us," Oakley said.
Writing a concurring opinion earlier this year in the case of Dobbs v. Jackson Women's Health Organization, Supreme Court Justice Clarence Thomas signaled his interest in revisiting the High Court's rulings establishing constitutional protections for same-sex marriage.
"Part of the urgency" to pass the RFMA during this legislative session "has been the fallout from the Dobbs decision at the Supreme Court, where extremists undid 50 years of Roe v Wade protections and jeopardized other rights," Padilla said.
"With a target on [same-sex] marriage, we appreciate that Congress is stepping up to do something," GLAD's Senior Director of Civil Rights and Legal Strategies Mary Bonauto said during the media briefing this morning.
"This bill is careful with how to thread the needle," she said, "protecting state and federal marriages without addressing a host of other issues."
"There are limitations to the bill," Oakley conceded. "But what it is doing is really important – symbolically, legally, and practically," she said, noting that there are more than 1,100 federal rights and benefits conferred through marriage that will be protected for same-sex couples through passage of the RFMA.
"Not to get ahead of ourselves," Padilla said, but the RFMA will hopefully pave the way toward eventual passage of the Equality Act, which would expand civil rights protections to prevent discrimination against LGBTQ Americans in employment, housing, credit, jury service, and federally funded programs.
McCarthy elected Speaker (finally) after 4th day and the 15th ballot
"Our debates will be passionate but not personal" Speaker-elect McCarthy tells Democratic Minority Leader Hakeem Jeffries as he accepts gavel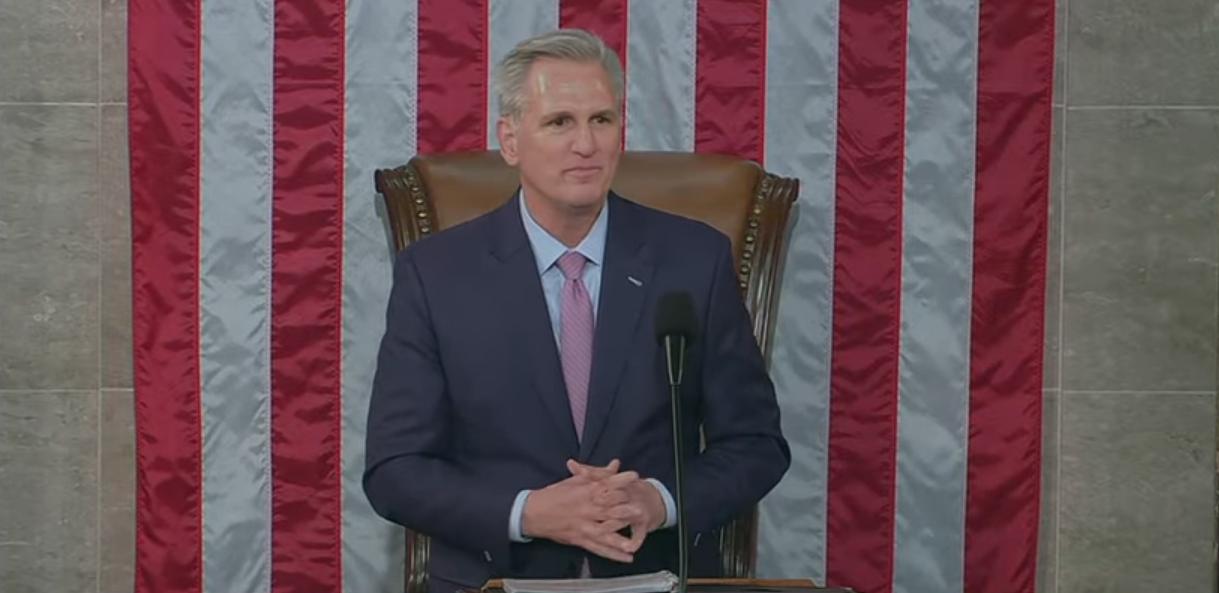 WASHINGTON – In the final vote tally shortly after midnight Saturday, January 7, House Republican Leader Kevin McCarthy of California was elected Speaker with 216 votes followed by Democratic Minority Leader Hakeem Jeffries with 211 and 6 lawmakers voting present, in the 15th and final ballot.
He was sworn in at 1:40 AM Eastern and in turn Speaker McCarthy then swore in the assembled members of the 118th Congress en masse. Afterwards the Democratic and Republican conferences appointed their leadership roles and House officers including the Clerk of the House and the House Sergeant-at-Arms who were also sworn in.
The House adjourned at 1:54 am Saturday and is set to reconvene on Monday, January 9 at 5 pm Eastern.
McCarthy was initially stymied again in his quest to be Speaker Friday evening as the 14th floor vote was held in the chamber and it became apparent he had once again not garnered the requisite votes needed.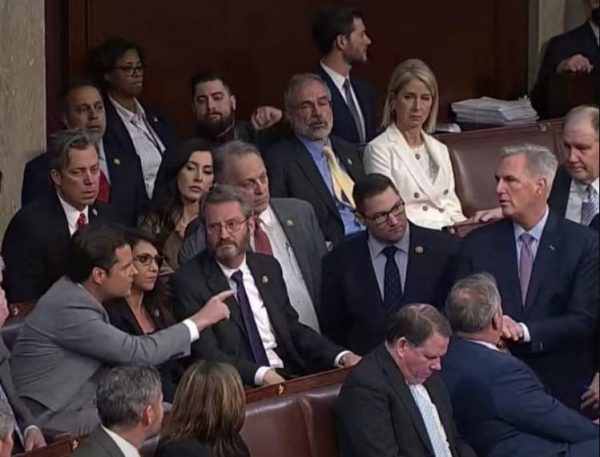 After two key Republican holdouts voted present to lower the tally McCarthy would need to get the gavel, a visibly angry McCarthy strode to the back of the chamber to confront Florida Congressman Matt Gaetz sitting with Colorado Rep. Lauren Boebert and some of the other holdouts who had vocally opposed his ascending to the Speakership. Fingers were pointed, heated words were exchanged as those in the Republican conference nearby stared in disbelief.
Wow McCarthy goes right to Gaetz and this conversation didn't end well pic.twitter.com/Nbh6PdA40P

— Acyn (@Acyn) January 7, 2023
At one point someone was heard to shout at the two lawmakers: "Stay civil!" This happening as Alabama Rep. Mike Rogers had to be physically restrained from attacking Gaetz by Rep. Hudson, R-N.C. and others.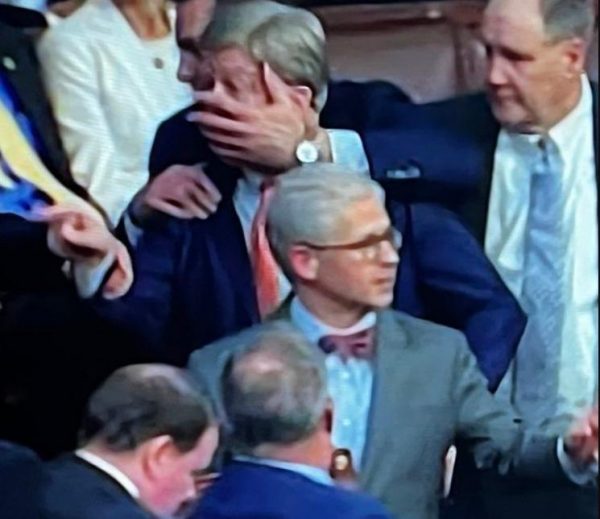 There was a motion to adjourn, which initially had enough votes to carry, when there was an abrupt turnabout after some last minute discussions on the floor. After the motion to adjourn was defeated, the Clerk of the House, Cheryl L. Johnson, commenced the fifteenth voice roll call vote after McCarthy's name was again put forward.
During the vote Representative Stephanie Bice (OK-05) shouted: "For the 15th and final goddamn time, Kevin McCarthy"
The final path to the Speaker's chair occurred as Gaetz and Boebert dropped their opposition by voting present along with the others left in opposition also voting present.
McCarthy's victory required him and his allies to make extraordinary concessions to the bloc of far-right holdouts.
These included changes to House rules that empowered the House Freedom Caucus, and a new rules package. CNN reported that package included:
Any member can call for a motion to vacate the speaker's chair – this is significant because it would make it much easier than it is currently to trigger what is effectively a no confidence vote in the speaker. Conservatives pushed hard for this, while moderates are worried it will weaken McCarthy's hand.
A McCarthy-aligned super PAC agreed to not play in open Republican primaries in safe seats
The House will hold votes on key conservative bills, including a balanced budget amendment, congressional term limits and border security
Efforts to raise the nation's debt ceiling must be paired with spending cuts. This could become a major issue in the future when it is time to raise the debt limit to avoid a catastrophic default because Democrats in the Senate and the White House would likely oppose demands for spending cuts
Move 12 appropriations bills individually. Instead of passing separate bills to fund government operations, Congress frequently passes a massive year-end spending package known as an "omnibus" that rolls everything into one bill. Conservatives rail against this, arguing that it evades oversight and allows lawmakers to stick in extraneous pet projects.
More Freedom Caucus representation on committees, including the powerful House Rules Committee
Cap discretionary spending at fiscal 2022 levels, which would amount to lower levels for defense and domestic programs
Seventy-two hours to review bills before they come to floor
Give members the ability to offer more amendments on the House floor
Create an investigative committee to probe the "weaponization" of the federal government
Restore the Holman rule, which can be used to reduce the salary of government officials
The White House released a statement from President Joe Biden:
"Jill and I congratulate Kevin McCarthy on his election as Speaker of the House. The American people expect their leaders to govern in a way that puts their needs above all else, and that is what we need to do now.

As I said after the midterms, I am prepared to work with Republicans when I can and voters made clear that they expect Republicans to be prepared to work with me as well. Now that the leadership of the House of Representatives has been decided it is time for that process to begin."
It was the first time in a century that the gavel was not passed with the first ballot, paralyzing the U.S. House of Representatives as new lawmakers could not be seated and activity like committee assignments and legislation was ground to a halt.
McCarthy had faced an obstinate group of about 20 hardline GOP members, despite having won the endorsement of influential conservative media figures, former president Donald Trump, and ultraconservative members of the conference like Rep. Marjorie Taylor Greene (Ga.).
Signs that the dam was breaking began to emerge Friday amid reporting that the Republican Leader made more concessions, such as by agreeing to a rules change that would allow for any GOP member to call for a vote to vacate the speakership at any time and for any reason.
Partly as a consequence of the conditions to which he agreed to earn their support, McCarthy's autonomy over the gavel is expected to be compromised by the ultraconservative faction of the House GOP caucus whose power was just demonstrated during the speakership election.
McCarthy has long been an opponent of LGBTQ rights. The Republican Leader cosigned the House GOP's legal defense of the Defense of Marriage Act during the Obama administration in 2011, later co-authoring an amicus brief supporting the legislation to the U.S. Supreme Court.
More recently, in 2022 McCarthy voted against the Respect for Marriage Act, which codifies key protections for LGBTQ people as a safeguard if the Supreme Court overturns or weakens the constitutional right to same-sex marriage.
The Human Rights Campaign, America's largest LGBTQ organization, awards McCarthy a score of "0" for his record in the legislature.