Gay Ukrainian immigrant used social media to find himself
Bezrukavenko said his life is the most stable it's ever been & described his personal life as "very boring because it's very good"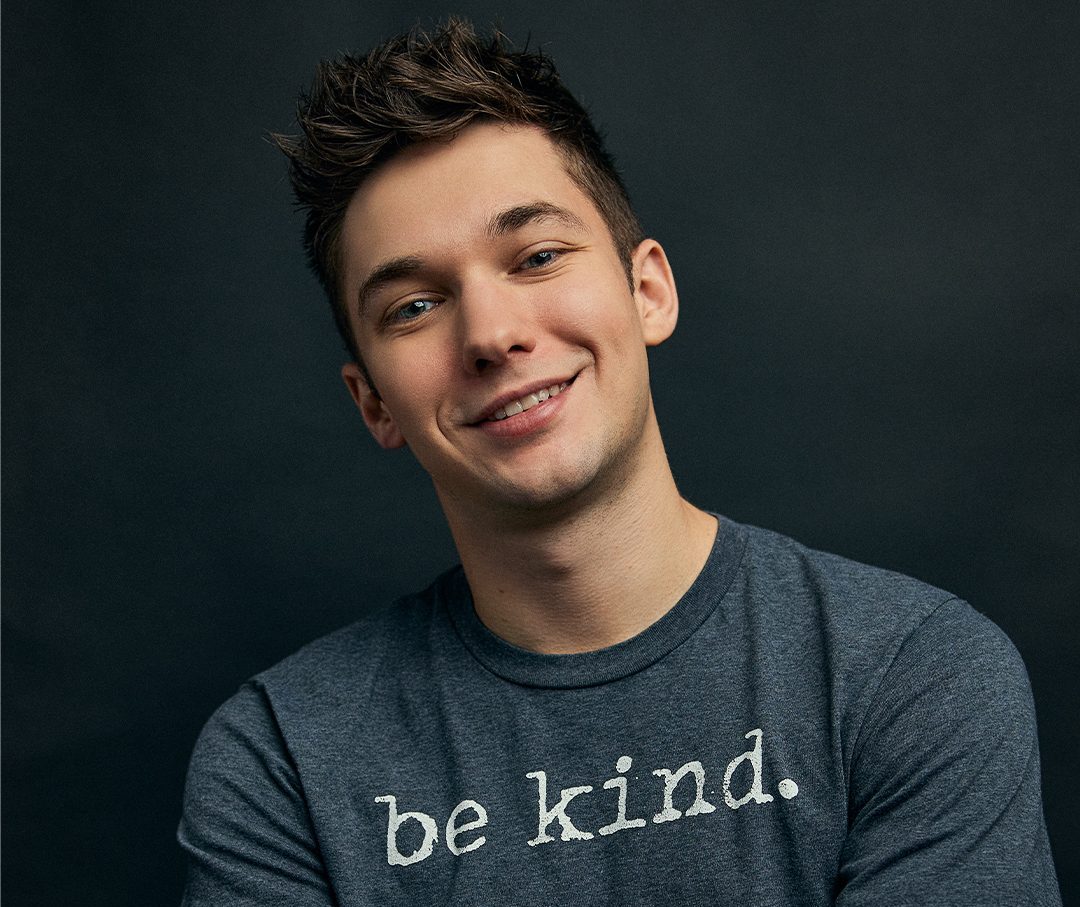 NEW YORK – On the streets of New York City, Artem Bezrukavenko stood next to a bystander with a microphone.
"What would be your ideal boyfriend?" he asked the man.
But he didn't answer. Instead, he posed the same question to Bezrukavenko.
"My ideal boyfriend would be loyal, ambitious and monogamous," Bezrukavenko said, adding: "He knows what he wants from life, loves me – I love him – and we have very good goals that are going to bring us together."
Of course, Bezrukavenko has already found this man. He and his boyfriend have been together for over a year and share a one-bedroom apartment in the Upper West Side.
But it hasn't always been this way for Bezrukavenko. The 25-year-old, who was born in the Donetsk Region of eastern Ukraine, left the country for nearby Poland in 2014, the year Russia annexed Crimea from Ukraine – beginning a period of prolonged bloodshed in the country's Donetsk and Luhansk regions. He moved to the United States a few years later, in 2017.
Bezrukavenko told the Los Angeles Balde that he has been closeted most of his life. But, through social media, he said he learned to embrace his queer identity.
"When I started to do content, I didn't really show my gay side," he said. "But, at some point, I just kind of dived into it. I saw there were a lot of people who could relate to me. And, in fact, I do change a lot of people's lives."
Double-edged sword
Discussions surrounding the LGBTQ community and social media often focus on cyberbullying and hate speech. However, some research has shown that the internet can also provide LGBTQ people, particularly youth, a safe space to explore themselves – especially if they come from an unsupportive environment.
According to a study published in the Journal of Medical Internet Research, sexual minorities between 10 and 16 years old more often reported joining a group or web-based community to make themselves feel less alone compared to their heterosexual peers. An Australian survey of people aged 14 to 21 found digital spaces provide an ideal practice ground for LGBTQ youth to come out, engage with gay culture, socialize with other LGBTQ youth and experiment with nonheterosexual intimacy.
Ross Murray, vice president of the GLAAD Media Institute, said LGBTQ people often use social media to find people like them. He said it can be very easy to feel isolated, but "social media helps you find and realize that you're not alone."
On the flip side, Murray said, social media is also used to broadcast who you are. "You can be the one who is sharing your life, being your authentic self, talking about the joys and struggles, so that other LGBTQ people can learn that," he said.
Bezrukavenko has seen both sides – inspired by LGBTQ creators and empowered by making content that celebrates who he is.
"I looked at some people who were being gay on social media and showing their life," he said. "I felt like, 'oh, my gosh, there are so many gay people.' And they're not feeling it's a disadvantage, they make the best out of it."
That's not to say social media isn't an increasingly dangerous place for LGBTQ people. GLAAD, for example, recently analyzed the five major social media platforms – Facebook, Instagram, Twitter, YouTube and TikTok – finding none scored over a 50% for LGBTQ safety, privacy and expression. TikTok – the second most popular form of social media amongst teens, according to Pew Research – scored the lowest, with 43%.
"This is the dark side of visibility, I guess," Murray said. "The more visible you get, the more of a target you become."
Murray said social media is a place where we put ourselves out there. We do it for an intended audience, he said, like people we can educate, comfort or guide. "But that can be seen by anyone," he said. "And that being seen by anyone also then can turn into a weaponization."
Bezrukavenko – who dabbled with, but ultimately abandoned, social media before coming out – said fear of online harassment kept him from pursuing it for most of his life. He said he always wanted to do social media, but his biggest fear was that he would be bullied for how he talked or walked, like in school.
War in Ukraine
His life changed drastically in 2014 as war erupted 80 miles from his home in the Ukrainian city of Dobropillya. Bezrukavenko, who was raised by his mother and grandparents, was 17 at the time and had just finished high school.
In an attempt to salvage his country's lost influence in Ukraine, Russian President Vladimir Putin invaded and annexed Crimea on the northern coast of the Black Sea in March 2014. Then, pro-Russia separatist rebels began seizing territory in the eastern part of the country. But as fighting with the Ukrainian military intensified, the rebels started losing – causing Russia to invade eastern Ukraine in August 2014. As of September 2014, more than 2,500 Ukrainians have been killed.
Bezrukavenko wanted to build a life for himself. Not only was there war, but he also said he knew he was gay and – though he saw the country making some efforts toward LGBTQ tolerance – ultimately didn't see Ukraine as a place where he would be comfortable.
"I knew I did not belong in Ukraine, and I always wanted to go away," he said.
Bezrukavenko said his Ukranian identity is complicated – he hasn't felt a strong connection to the country since he left it in 2014. Even with today's war in Ukraine, he still doesn't feel a strong sense of Ukrainian identity.
In February of this year, Putin announced a "special military operation" in the country – the war still has no end in sight. Nearly 8 million Ukrainians have fled the country since Russia's invasion, making it the worst refugee crisis in Europe since World War II. Russia has also been accused of war crimes.
Bezrukavenko still has family in Ukraine. In fact, his uncle is fighting in the war. "I don't really miss Ukraine, and I don't really want to live there," he said. "But I don't want them to be under the bumps."
Bezrukavenko said he thinks his sense of Ukrainian identity has faded because he moved from the country at a young age. He said since moving to America, the feeling has faded even more.
"My whole adult life, I was out of there, so I feel like I'm probably more American than Ukrainian at this point," he said.
Bezrukavenko's Journey
So he could leave the country, Bezrukavenko's family – who he was not out to – borrowed money and sent him to Warsaw, Poland, with a three-month allowance. Knowing little Polish, he was set to start at the University of Management.
He said he had to "hustle" in Poland. In addition to school, Bezrukavenko worked two jobs at a time – working for months without a day off. At one point, he was expelled from school for poor attendance. (He was later readmitted.)
"I didn't have a choice," he said. "It's not like I didn't want to go to school, I just didn't have time."
After six months of being in Warsaw, Bezrukavenko's mother joined him. They shared a small studio apartment with nothing to sleep on but a small couch. He worked during the day while his mother worked nights.
"There was no time for anything," he said. "It was just working."
Bezrukavenko worked several jobs in Warsaw – from distributing flyers to being a receptionist and sales associate. "You know, it sounds terrible but it was a good time," he said." I had a dream and I was saving money for America."
After three years in Poland – with only $500 in his pocket – Bezrukavenko moved to the U.S. in 2017. His mother stayed back in Warsaw.
In the years since, Bezrukavenko has moved coast to coast – starting his journey in Ocean City, Maryland, then New York City (for one day), then Chicago, then Los Angeles, then Austin, until he ended up in Manhattan.
"I did a circle kind of," he said.
All the while, he worked in restaurants, call centers and retail – to name a few – to make ends meet.
Coming Out – Twice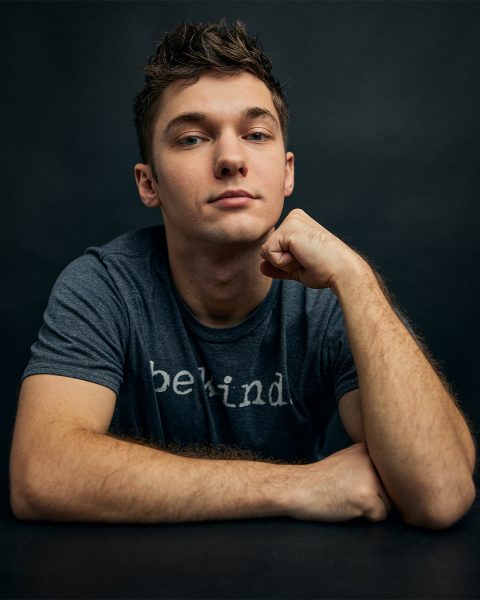 During this period, Bezrukavenko was closeted. While living in Warsaw, he remembers telling his mother he was gay. She suggested that a psychologist could help him.
"Even though my mom is the most progressive mom ever – I mean, she was my best friend all my life. But she still couldn't believe that I was gay," Bezrukavenko said. "So we kind of forgot about it."
After having his heart broken in Austin – though he said it "wasn't really that broken, I was just being [dramatic]" – Bezrukavenko came out to his mother again. This time went smoother than the last.
"After I came out to my mom, I was just like, I just need to come out – I just need to get it over with," he said.
Bezrukavenko publicly came out as gay in a video posted on Christmas 2020 while living in Austin. In it, he held the LGBTQ Pride flag over his shoulders. Within three hours, the video had 500,000 views.
"I thought in my head, I make a problem for myself being gay," he said. "Why don't I look at it as not a problem but an advantage?"
He said that his life changed a lot after posting that video, something that shocked him. He began to grow on all different platforms – like TikTok, Instagram and YouTube – sharing his story, doing LGBTQ-themed videos, posting so-called "thirst traps" and doing comedy.
Bezrukavenko also noticed that many people online were already saying he was gay. For example, he said he ran a YouTube channel in Polish about living in America while he was closeted. As the channel grew, so did the number of people saying he acted gay – which, at the time, made him feel ashamed.
"They would say I am giving Cher," he said, referring to a viral Shawn Mendes video, where the singer told his then-girlfriend Camila Cabello that "it's giving Cher." The meme invited inappropriate jokes about Mendes' presumed sexuality.
But as it turned out, Bezrukavenko said, being unapologetically himself on the internet set him free and racked up more views.
"I realized at this point, why do I hide myself?" he said. "I have a very unique perspective."
Gay Content for Gay People
Now, Bezrukavenko is living in Manhattan with his boyfriend, mainly creating content on TikTok, Instagram and OnlyFans.
Bezrukavenko recently teamed up with a fellow gay influencer, StanChris, to film a series of videos later seen on TikTok and Instagram.
"He seems really, really motivated – and I really liked that," Chris, who asked the Blade to use his first name only, said. "He's like, go, go, let's work. And he's always thinking of new ideas and stuff."
The two met after Chris noticed a viral Instagram reel Bezrukavenko posted. When Chris clicked on the account, he noticed Bezrukavenko had already attempted to DM him. So he wrote back, and the two began communicating.
Chris, who lives in New Hampshire, was in New York for a skateboarding event and suggested that the two meet in person to film videos. After spending some time in Bezrukavenko's apartment, the two embarked on a night in the city.
"We were just interviewing random people, asking them questions for more short videos to make," Chris said. "And we both got multiple viral videos from doing that, so we had some good energy, good vibes, good luck."
Bezrukavenko said he is focusing on making gay content for gay people. "I realized at some point that there is not enough gay content – that there is not enough good representation," he said.
He does have one account, Art in the Park – a TikTok page with over 120,000 followers and north of 3 million likes where he interviews people on the streets of New York City – with the purpose of capturing a wider audience. Though he has come to love interviewing people, he said he is also focused on his LGBTQ-themed comedy on his personal accounts.
Bezrukavenko said his life is the most stable it's ever been. After losing both his grandparents last year, he met his now boyfriend.
"I don't want to say I'm a religious person, but I feel like there's some power," he said. "I told my mom a lot that I feel like [my boyfriend] was sent to me by my grandparents."
He described his personal life as "very boring because it's very good."
The powerful gay man behind Tucker Carlson's bloodcurdling hate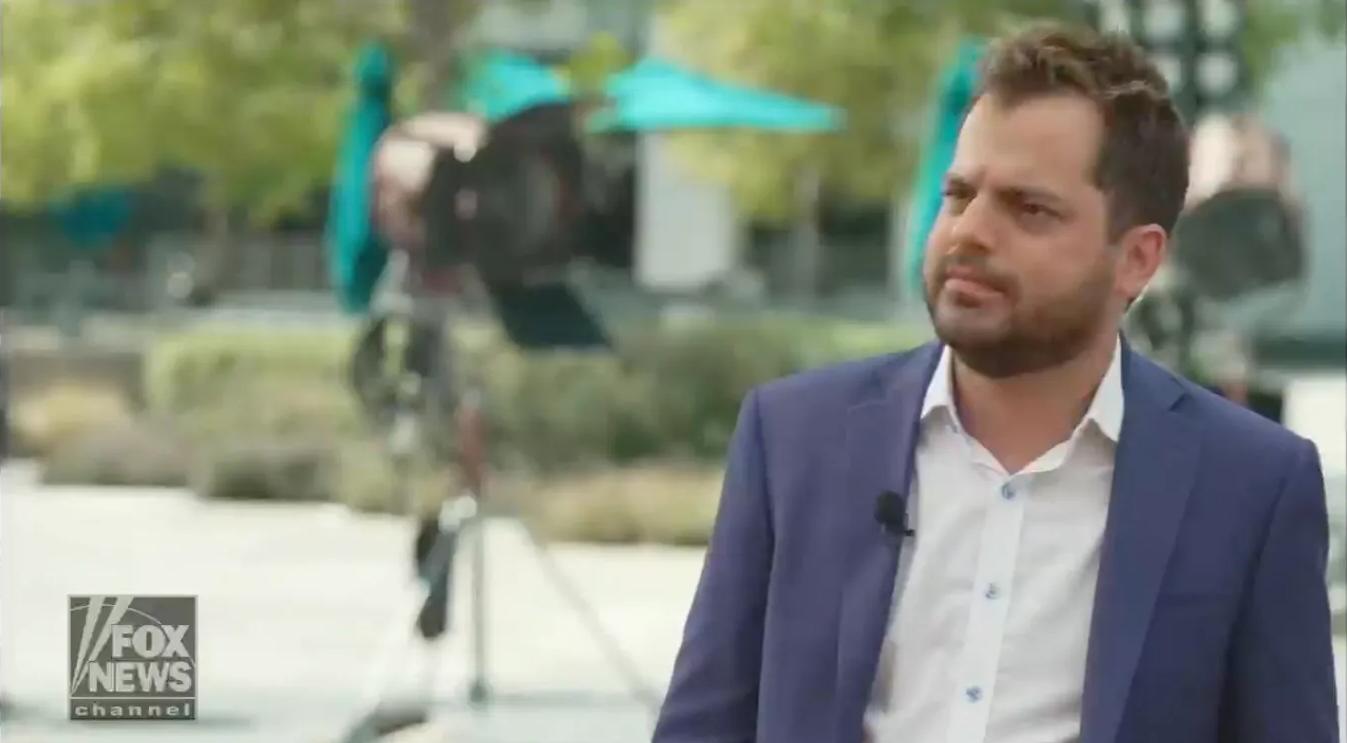 By Michelangelo Signorile (reprinted with permission from The Signorile Report, Subscribe here)| NEW YORK – On his first Fox News broadcast following the November 19th mass shooting at Club Q, the LGBTQ nightclub in Colorado Springs in which five people were murdered and at least 17 were injured, Tucker Carlson was undaunted, continuing his relentless smearing of LGBTQ people as "groomers" who are dangerous to children. 
After a perfunctory condemnation of the violence, Carlson pivoted back to railing against "drag time story hour for fifth graders" and "genital mutilation of minors" while a graphic image behind him blared, "STOP SEXUALIZING KIDS."
The following night, Carlson promoted the grotesque view that the staff and patrons of Club Q — where a drag performance was scheduled on that Saturday night of the attack — had it all coming to them. He brought on a guest who said the shooting was "expected and predictable," and that "it won't stop until we end this evil agenda that is attacking children."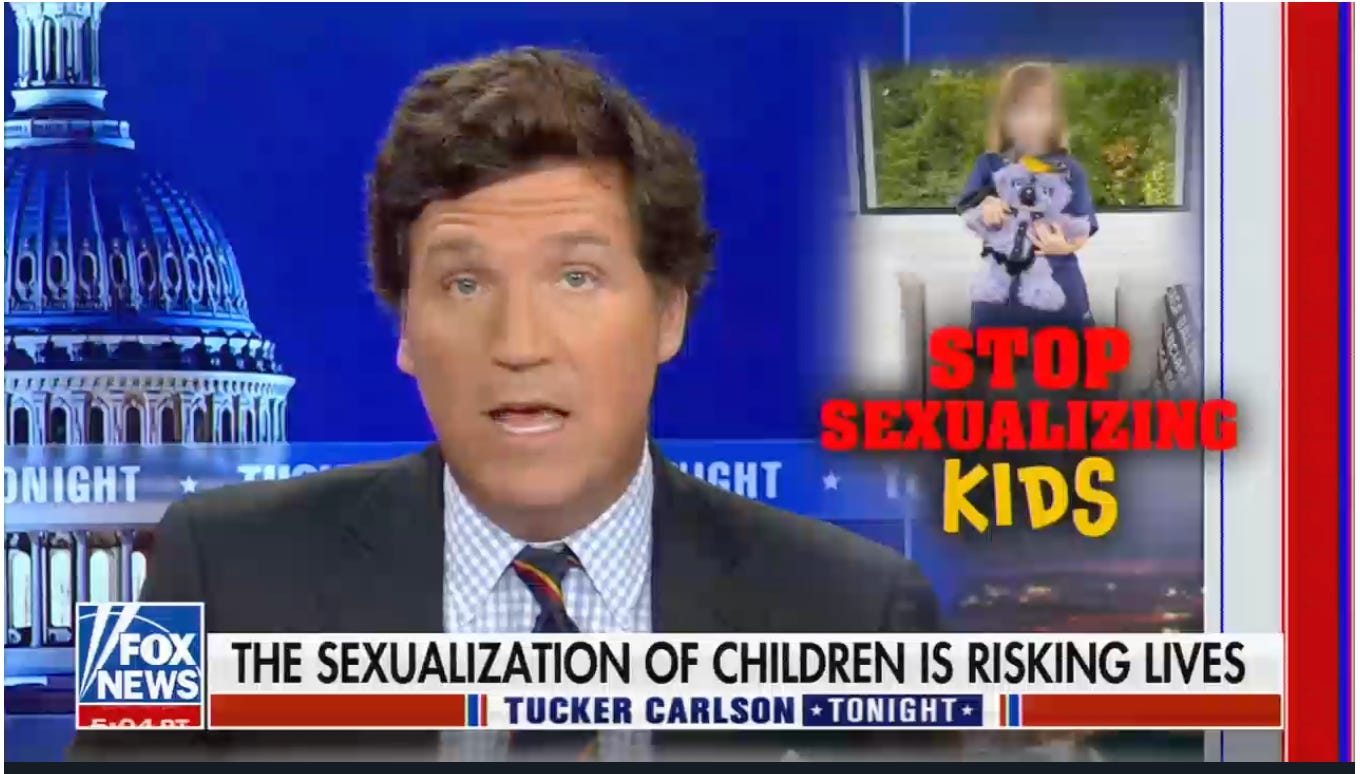 Twisted enough. But even more shocking is the little-known fact that a gay man helped craft, mold and disseminate these bloodcurdling distortions and the horrendous demonization against his own community.
A gay man supercharges Carlson's promotion of Florida's odious "don't say gay" law, which stigmatizes queer kids, teachers and parents — a brutal campaign in which Carlson at one point said teachers who don't comply "should get beaten up." And a gay man empowers Carlson's crusade against trans teens and and their parents, a crusade in which Carlson stated that hospitals should expect violent threats for providing gender-affirming care.
That gay man, Justin Wells, helped promulgate the kind of hate that leads to violence. A mass shooting that happened in the same kind of nightclub at which Wells, in years past, danced the night away in Miami Beach and elsewhere, liberating himself from the world outside and surely never imagining he'd be shot dead.
Now he's aided the extremists who deny that sense of safety and liberation to every future generation of queer people.
Wells runs the entire Tucker Carlson operation, and is responsible for imprinting the Tucker Carlson brand, which is all about emboldening white heterosexual male grievance, furthering the racist conspiracy of "replacement theory" and pushing an increasingly virulent anti-LGBTQ agenda. Wells is Senior Executive Producer of "Tucker Carlson Tonight" and also holds the title of Vice President of Tucker Carlson Digital Products.
"He's been promoted to a level that no other producer has been since, maybe, David Tabocoff at O'Reilly," a former Fox employee told me, describing how Tabocoff, who was at Fox with Bill O'Reilly for 16 years, produced O'Reilly's shows, all of his various specials and interviews, and oversaw his entire brand, including his merchandising.
"I think that Justin has more power than Tabby [Tabacoff] ever had," another Fox employee, a former producer, countered. "And there's not another show that out-rates it. Influence-wise, everyone who's conservative wants to be on Tucker." Indeed, Wells has his own website, independent of Fox News's site, JustinWells.com, something that surprised the former Fox News producer.
On the site, Wells touts his accomplishments: "Television Creator & Journalist. Senior Executive Producer & Vice President at Fox News Media." It brims with photos meant to convey his power and importance: Wells, out on remotes with Carlson, helping to craft the story; Wells, shoulder-to-shoulder with military Special Forces in front of their Airbus chopper; and Wells, meeting with former President Donald Trump. The site describes Wells as "leading the Tucker Carlson Team across multiple platforms at Fox News Media," and lays out the Carlson Fox empire he oversees.
Angelo Carusone, President and CEO of Media Matters, the media watchdog group that is laser-focused on Fox News and Carlson, observed, "It's unlikely that any narrative would get broadcast by Tucker without significant buy-in from Justin." In a clip highlighted by Media Matters in which Wells was interviewed by Carlson on Carlson's show last year as Carlson's Fox Nation documentaries began launching, Wells brags about the latitude Fox News executives give him: "They believe in what we're doing and have since we launched 'Tucker Carlson Tonight.'"
It's beyond horrific to think a gay man has helped to shape and widely disseminate a message of hate against LGBTQ people. This story is not, however, about a warped closet case, tormented by self-loathing, hiding his true self while bashing those like him. And thus, this story is not an outing, which involves exposing someone who covers up their sexual orientation while publicly presenting as heterosexual — though it certainly may be a startling revelation to a great many. It is, rather, about connecting the dots regarding a reality that seems to have been hiding in plain sight.
Wells has been married to another man for almost 10 years, and they openly celebrated their wedding among family and friends. They live together in a residence they purchased in New York shortly after they married. And they also own a country home together, with both names on the deed.
I have reviewed the relevant marriage and property data, and have viewed evidence of their publicly sharing their wedding day with friends. (I'm not referencing this information, nor reporting Wells' spouse's name, to protect the spouse's privacy.)
I've also spoken with individuals who knew Wells in years past, including former Fox News colleagues and members of NLGJA, the association of LGBTQ journalists, a well-known and highly-public organization to which Wells apparently was once a member and a group whose events he most definitely attended over a decade ago. (These people spoke only without attribution because they are either former Fox employees who signed non-disclosure agreements or work for other news organizations, or both.)
Contacted for a response, neither Wells nor his representative offered a statement.
Wells, a veteran Fox News producer who cut his teeth at Fox as a field producer on Greta Van Susteren's "On the Record" from 2008 until 2016, not only launched "Tucker Carlson Tonight" as Carlson's executive producer, heading the program's team in 2016; he became indispensable and in 2018 was given the loftier title of Senior Executive Producer. And as Carlson further pushed white nationalism, attacked transgender people and embraced Hungary's authoritarian leader Victor Orban, Wells, in 2021, was named a Vice President at Fox News, in charge of all Carlson product that airs on Fox News TV as well as on Fox's streaming network, Fox Nation.
Wells' Twitter feed shows how he ramped up Twitter activity in early 2021, after years of relative dormancy after Van Susteren's show ended, around the time of his promotion to VP and the launching of the Carlson Fox Nation projects. Twitter is also a place where far-right conservatives lobby Wells for coveted coverage on Carlson's show, and where some even complain when they don't get it.
If you want to see how abusively @TuckerCarlson and his @FoxNews team deal with people, read this thread. It's an exchange between me and Tucker's executive producer @justinbwells

— Dinesh D'Souza (@DineshDSouza) May 13, 2022
Author's note: If you want to see how abusively @TuckerCarlson and his @FoxNews team deal with people, read this thread. It's an exchange between me and Tucker's executive producer @justinbwells 1:16 PM ∙ May 13, 2022
In an exchange he tweeted out earlier this year, far-right conservative Dinesh D'Sousa, who made the bonkers election denial documentary "2000 Mules", quoted a response he received from Wells as he tried to promote the film: "Dinish. Justin Wells here. VP and EP of everything in the Tucker world. I just want you to know that I/we won't forget your little stunt today. If you want to decide how much time to give content on the most watched show in America–then I suggest you produce one in the future."
Before joining Fox News 14 years ago, Wells, as his Linkedin page describes, worked in news at several local TV stations, mostly in Florida. He'd grown up in St. Petersburg, and worked for stations in Tampa, Miami and West Palm Beach. Colleagues remember him out on the gay nightclub and bar scene on Lincoln Road in Miami Beach with his boyfriend of the time, also a TV journalist.
They both became involved in NLGJA, attending events and traveling to conferences, though the boyfriend was, according to these people, more involved. NLGJA, like many such groups, provides networking and connection, and a social life of gatherings and parties. (I've attended and spoken at NLGJA events on and off over the years; I have no recollection of having met or known of Wells or his then-boyfriend.)
"I always felt Justin was a little more buttoned up. Timid. Not quite as outgoing as [the boyfriend]," a member of NLGJA remembers, noting how it suited them as a couple. "It's one of those things where I just saw them as a unit."
Even after joining Fox in 2008, Wells apparently stayed involved in NLGJA at least for a little while, before breaking up with his long-time boyfriend. But he's not had any involvement with the group for years, and certainly not since joining Carlson's show. Some of those who knew Wells in years past are baffled.
A former Fox producer who socialized with Wells and his then-boyfriend remembers a "quiet dude, unassuming," adding, "if you would have told me in 2008 [when we knew one another] that Justin would be the executive producer of the number one right-wing TV show in America, I would have said you're out of your mind."
"It really blows my mind that he — who he is as a person and what he does as a job — it's beyond the scope," said another former Fox employee who knew Wells, distinguishing between those working for someone like Carlson and others working at Fox.
"I don't know if he's just completely blinded by the money. It's mind-boggling." he said.
But not everyone is shocked. "It's a very clear manifestation of someone who showed their true colors," said a person in the industry who is highly respected, and who knew Wells for many years. This individual is referring to Wells sharing Carlson's broader far-right views. "I'm not at all surprised. They are two peas in a pod. Simpatico."
Still, it's quite stunning that Wells would work for Carlson, who has a well-known history of visceral homophobia. That's something that came to light again last year when it became known that Carlson had offered a tribute to Dan White, the assassin of San Francisco supervisor and gay civil rights leader Harvey Milk, in his college yearbook back in 1991, as well as to the late vociferously anti-gay Senator Jesse Helms of North Carolina, who whipped up homophobia during the height of the AIDS epidemic in the 1980s.
I wrote about those jarring revelations when they surfaced last year, as well as about what I dubbed Carlson's "pathological obsession with homosexuality" throughout his career. Carlson has expressed revulsion at homosexuality, and in one incident he reveled in a violent response. In a TV interview in 2007 he described having smashed a man's head "against the stall" in a public rest room, after the man "bothered" him.
After an uproar, Carlson claimed the following day he was "assaulted" by the man, implying it was an act of self-defense. But in fact, according his own description, it was not: Carlson said he'd left the rest room after the man had "bothered" him, and then went back with a friend, explaining that they then "grabbed" the man and "hit him against the stall with his head."
Given these sentiments and incidents, some might think it's bizarre that Carlson would even want a gay man such as Wells around him. But Carlson also has always reveled in having members of minority groups he bashes standing up for him and against the group, sort of like trophies — much as Trump famously touted "Where's my African-American?" at a rally, and used his friendship with Kanye West in the past as a way to claim he wasn't racist. It's certainly a power trip, having the loyalty of that individual and helping to legitimize pushing hate against the group.
In that respect, Wells, as a gay man, only emboldens Carlson further. He gives him permission to launch the ugly attacks and helps Carlson validate, for himself (and likely for executives at Fox News), the vitriol he espouses. That makes Justin Wells' presence as the powerful gay man behind Tucker Carlson all the more newsworthy. And all the more dangerous.
*******************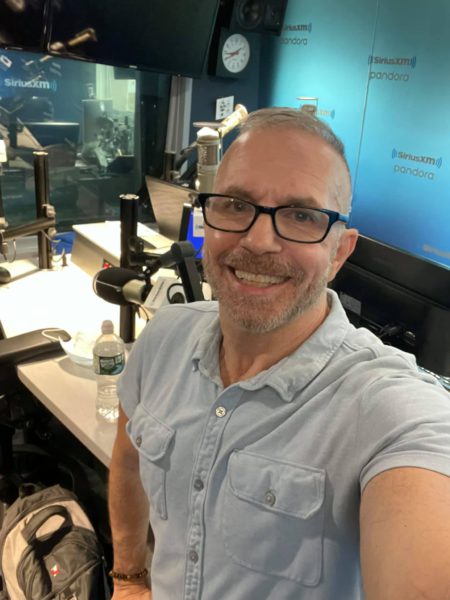 Michelangelo Signorile is an American journalist, author and talk radio host. His radio program is aired each weekday across the United States and Canada on Sirius XM Radio and globally online.
Signorile is noted for his various books and articles on gay and lesbian politics and is an outspoken supporter of LGBTQ+ rights. Signorile rose to national prominence as a columnist and writer for OutWeek magazine where he 'outed' closeted public figures who were working against the LGBTQ+ community.
Signorile was inducted into the National Lesbian and Gay Journalists Association LGBT Journalist Hall of Fame in 2011.
********************
The preceding article was previously published at The Signorile Report and is republished by permission.
If you've valued reading The Signorile Report, consider becoming a paid subscriber and supporting independent, ad-free opinion journalism. Thanks!