Triple A: Thanksgiving travel expected to become busiest on record
For the second year in a row SoCal travelers will be paying highest gas prices ever when they fill up for their holiday trips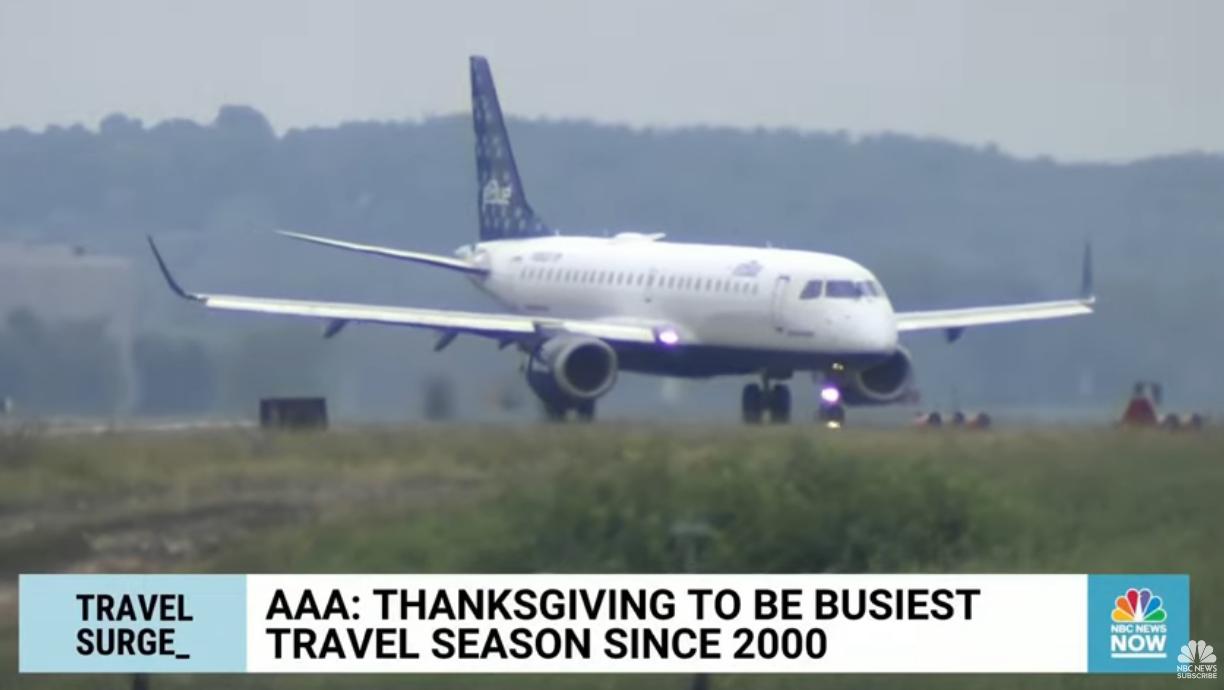 LOS ANGELES – The Automobile Club of Southern California projects 4.5 million Southern Californians will travel during the Thanksgiving holiday period this year – an all-time record for the holiday and a 2.5% increase from last year.
Nationwide, AAA is projecting this Thanksgiving to be the third busiest on record, with 54.6 million travelers expected compared to 58.6 million in 2005 and 56 million in 2019.
"Despite inflation and high gas prices, consumers are continuing to prioritize valuable and memorable time with family and friends through coming together at the holidays," said Heather Felix, the Auto Club's vice president for travel products and services. "Our members still want to make up for their delayed or missed opportunities to travel during the pandemic."
Top Destinations
Nationally, AAA expects Anaheim to be the second-most popular destination for Thanksgiving travelers, with Orlando the most popular. According to a survey of Auto Club travel advisers, the top five destinations for Southern Californians are:
1) Las Vegas
2) San Diego
3) Grand Canyon/Sedona
4) Yosemite
5) Mexico cruises
The top 5 destinations nationally are Orlando, Anaheim, Las Vegas, New York and Atlanta.
Gas Prices
For the second year in a row, Southern California travelers will be paying the highest gas prices ever for this time of year when they fill up for their holiday trips. With average gas prices near $5.50 a gallon in most local areas – about a dollar per gallon higher than last year – a typical 15-gallon tank fill-up could cost drivers $82. To find the cheapest gas prices closest to your location, use the AAA Mobile app, and visit gasprices.aaa.com to find the average gas prices at your destination or calculate the estimated gas cost for your Thanksgiving trip.
Travel Tips
If traveling by automobile, make sure your vehicle maintenance is up-to-date and your tires and battery are in good condition. The Auto Club expects to respond to nearly 48,000 calls for help in Southern California over the Thanksgiving weekend. Visit AAA.com/AAR to find a reputable AAA-Approved Auto Repair facility near you.
Air travelers should plan to arrive at the airport at least two hours early for domestic flights and three hours ahead of time for international departures. The Auto Club recommends reserving a parking space at the airport to make sure you have one, and taking advantage of tools such as early check-in and airline apps.
Busy Roads
According to the transportation analytics firm INRIX, Wednesday, Nov. 23 in the afternoon and evening will be the busiest time for Southland freeways. They project that the busiest local freeway segment for drivers will be Interstate 5 South from Colorado St. to Florence Ave, where traffic is expected to be 144% over normal levels on the afternoon and evening of Nov. 24. All outbound freeways are likely to be congested on Tuesday and Wednesday afternoons before Thanksgiving, so drivers should expect longer travel times during those periods and plan to leave early.
Triple A: Gas price averages drop below $5 & may move lower
The average price for self-serve regular gasoline in California is $4.90, which is 21 cents lower than last week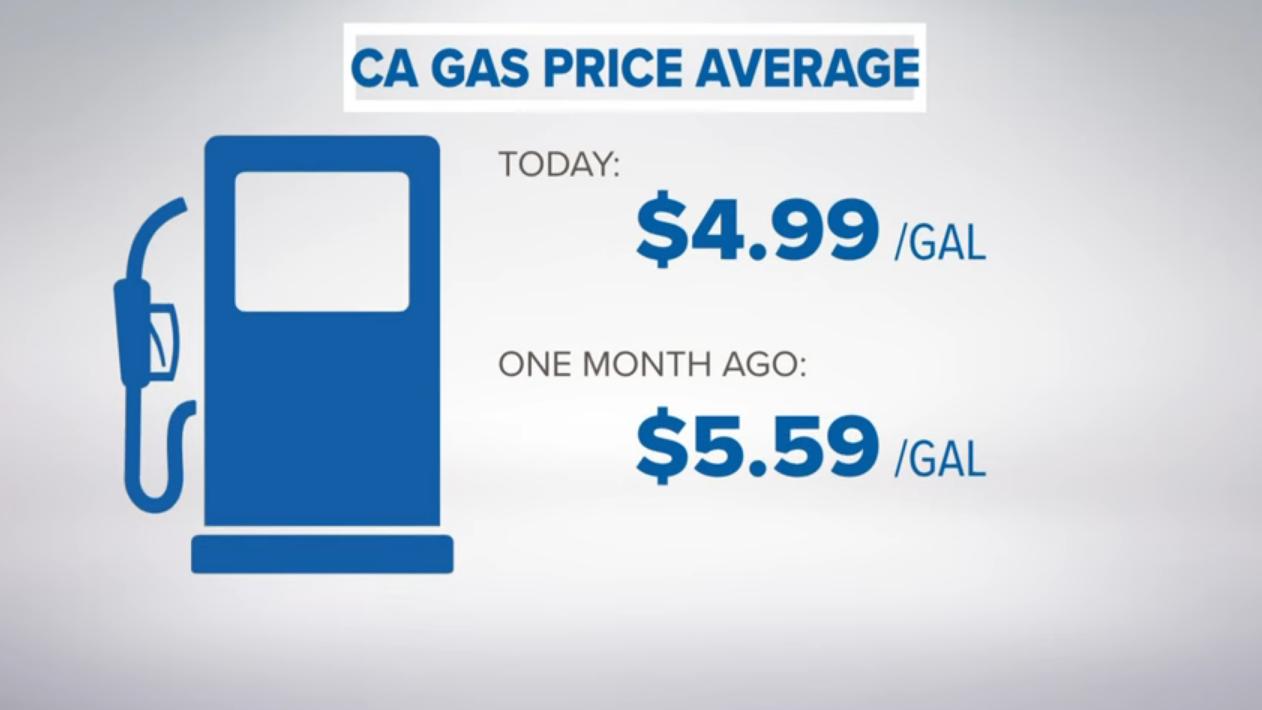 LOS ANGELES – Most areas of Southern California now have average gas prices of less than $5 a gallon after additional hefty price declines in the last week, according to the Auto Club's Weekend Gas Watch.
The average price for self-serve regular gasoline in California is $4.90, which is 21 cents lower than last week. The average national price is $3.47, which is 12 cents lower than a week ago.
The average price of self-serve regular gasoline in the Los Angeles-Long Beach area is $4.97 per gallon, which is 21 cents lower than last week, 63 cents lower than last month, and 26 cents higher than last year. In San Diego, the average price is $4.94, which is 21 cents lower than last week, 63 cents lower than last month, and 28 cents higher than last year.
On the Central Coast, the average price is $4.95, which is 20 cents lower than last week, 62 cents lower than last month, and 31 cents higher than last year. In Riverside, the average per-gallon price is $4.84, which is 20 cents lower than last week, 60 cents lower than last month, and 21 cents higher than a year ago. In Bakersfield, the $5.28 average price is 11 cents lower than last week, 50 cents lower than last month, and 63 cents higher than a year ago today.
"Despite a record number of Southern California travelers hitting the road for Thanksgiving, average pump prices have dropped below $5 a gallon for the first time since early March," said Auto Club spokesperson Doug Shupe. "Oil Price Information Service reports a substantial drop in demand statewide and high unleaded gas inventories. This week Los Angeles wholesale gasoline prices reached their lowest level of 2022, and if that trend holds, we should see additional pump price reductions. The least expensive gas station prices today are about $4.10 a gallon, so it's possible we will see stations charging less than $4 a gallon soon."
The Auto Club reminds drivers of the following tips to save money on gas:
If you use premium unleaded fuel, make sure it is required for your vehicle, not just recommended. The Auto Club's Automotive Research Center found that vehicles with recommended premium fuel performed safely with regular unleaded gasoline.
Make sure your tires are properly maintained and inflated to the correct level.
Maintain your car according to the manufacturer's recommendations. Regular service will ensure optimum fuel economy.
Avoid "jackrabbit" starts and hard accelerations. These actions greatly increase fuel consumption.
Slow down and drive the speed limit. Fuel economy peaks around 50 mph on most cars, then drops off as speed increases. Reducing freeway speeds by 5 to 10 mph can increase fuel economy by as much as 14%.
Use cruise control on the highway to help maintain a constant speed and save fuel. However, never use cruise control on slippery roads because you could lose control of the vehicle.
Minimize your use of air conditioning.
Avoid extended idling to warm up the engine, even in colder temperatures. It's unnecessary and wastes fuel.
Remove unnecessary and heavy items from your car.
Minimize your use of roof racks and remove special carriers when not in use.
Download the AAA App to find the cheapest gas prices near you.
The Weekend Gas Watch monitors the average price of gasoline. As of 9 a.m. on Dec. 1, averages are:
Related- Gov. Newsom caused gas price decline under $5, says California Energy Commission: