LA Mayor Garcetti volunteers at Project Angel Food's Thanksgiving
For many of the celebrities joining Project Angel Food's Thanksgiving Day volunteers the day was about sharing the experience with family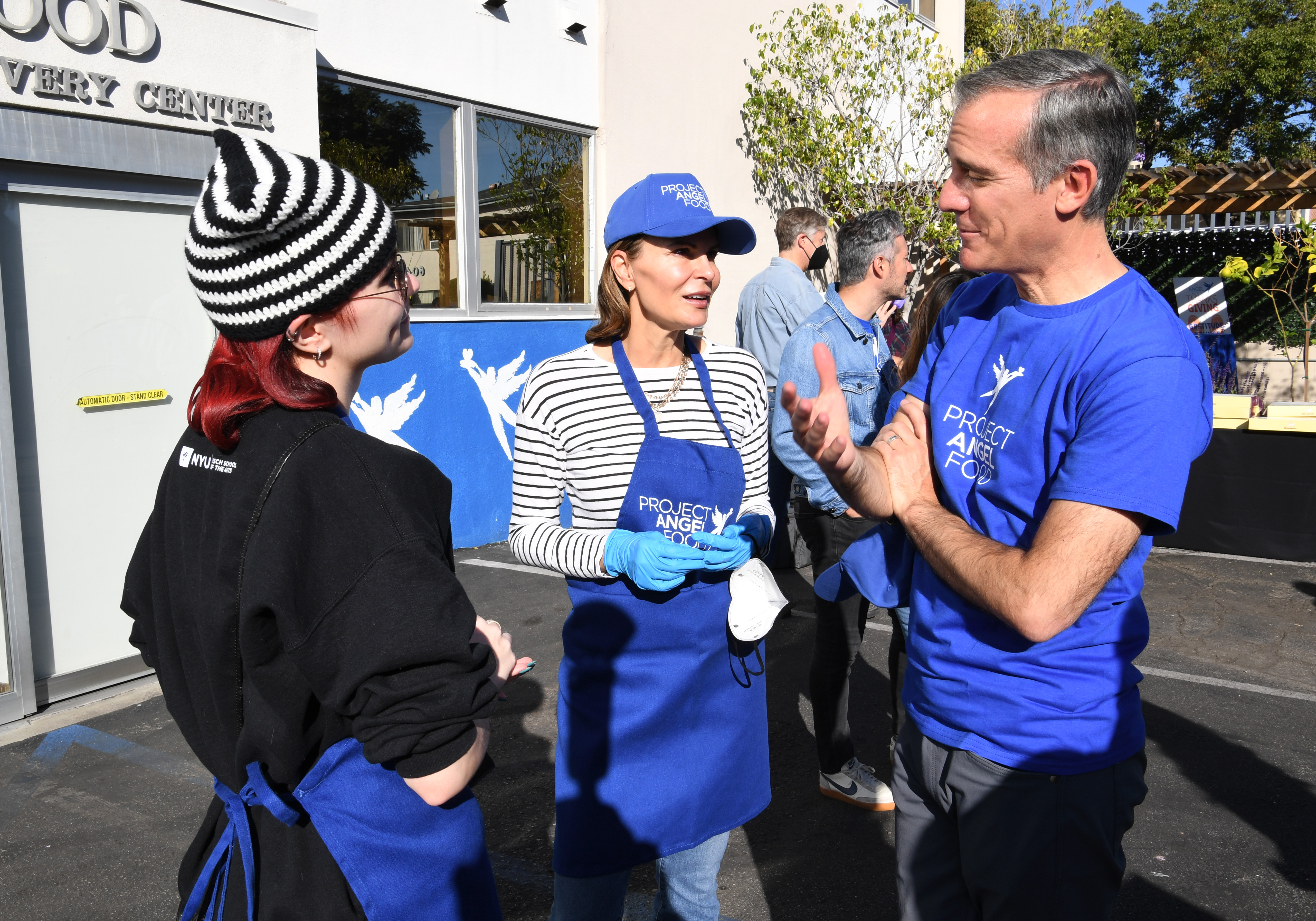 LOS ANGELES – In the early morning hours of Thanksgiving Day, Mayor Eric Garcetti joined Project Angel Food CEO Richard Ayoub, celebrity supporters and 225 volunteers and staff to prepare and deliver 7,400 meals on Thanksgiving Day to seriously ill and housing insecure people throughout 4,700 square miles of L.A. County.
"Mayor Eric Garcetti epitomizes what it is to be part of a community and lift one another through compassion and service. As he rolled up his sleeves and helped plate meals, he brought attention that while this is a day most of us are surrounded by people we love, we need to remember that some people don't have that," Project Angel Food CEO Richard Ayoub said. "He reminded us that no Angeleno should be alone and with a warm smile, a conversation and a meal, our volunteers can change the entire day for our clients, become angels in the City of Angels," Ayoub added.
For many of the celebrities joining Project Angel Food's Thanksgiving Day volunteer pool, the day was about sharing the experience with family. Volunteers included Lisa Rinna and husband Harry Hamlin; "Weird Al" Yankovic with his wife Suzanne and daughter Nina.
Also volunteering was Out actor and singer Cheyenne Jackson and husband Jason Landau with their twins Willow and Ethan. Jackson said the couple brought the children because, "I want to teach my kids to be grateful and thankful for everything that we have, and when you have the capability to give to other people, do it."
He also talked about the death of friend Leslie Jordan, a Project Angel Food supporter who died exactly one month earlier. "He was one of my best friends and it hit me really, really hard like so many people," he said.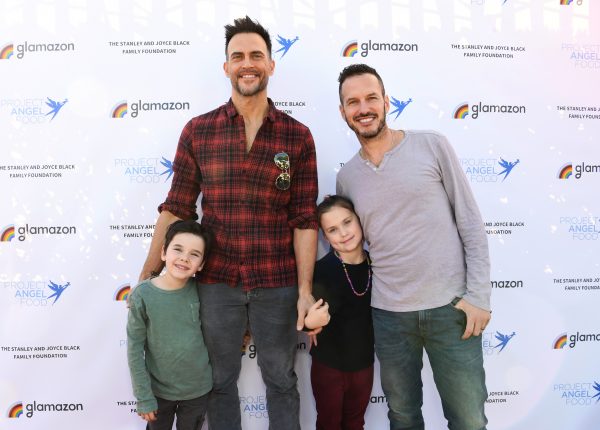 American Idol favorite Ava Maybee with her mother, and Melissa Rivers with son Cooper Endicott, continuing her mother Joan Rivers' legacy of volunteering on Thanksgiving.
Avatar: The Way of Water star Trinity Bliss brought her parents just weeks before the December 16 release of the highly anticipated film. "I'm so honored to work alongside so many people to bring a warm, delicious, tasty meal to people in need."
Of her much-anticipated film, Avatar: Way of Water, Trinity added, "Avatar was amazing, but I think Avatar: The Way of Water is going to be just so much more dramatic and be an experience people are going to need to experience in theaters."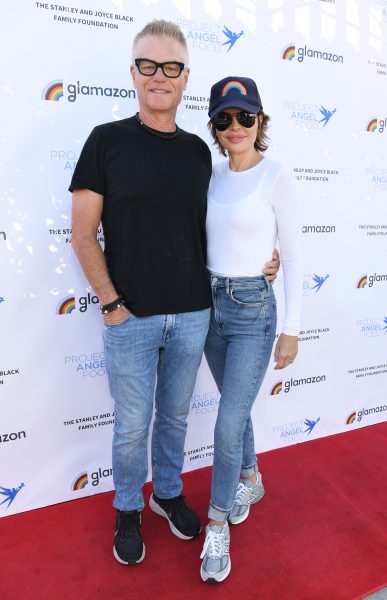 Lisa Rinna reflected on the fact that Project Angel Food is the primary source of food for most of its clients. "It's so important because that is going to be their only meal of the day." her husband Hamlin added, "to have the opportunity to give back is amazing."
Other celebrities included Eileen Davidson (RHOBH, Days of Our Lives), Peter Porte (Days of Our Lives), Juan Pablo Di Pace (DWTS, Fuller House), Olympian Tai Babilonia, Tim Bagley (Gracie & Frankie, Will & Grace), Michael Hitchcock (The Resort, Crazy Ex-Girlfriend), Lawrence Zarian (The Kelly Clarkson Show), Marc Malkin (Variety), James Wallington and Will Jardell (Amazing Race Season 32 winners), Romeo Escobar (Survivor 42 runner-up), and parenting author Donna Tetreault.
The 7,400 meals being delivered on Thanksgiving included 1,600 traditional turkey dinners to critically ill men, women, children and their caregivers, 5,600 Medically Tailored Meals and breakfasts regularly scheduled for Thursday delivery, and another 200 meals were provided to Project Angel Food community partner PATH for residents for two of PATH's Interim Housing and Permanent Supportive Housing sites.
Volunteers provided contactless "drive-by" pick-up of the meals which were then delivered to Project Angel Food clients. Traditional Thanksgiving dinners consisted of roasted turkey, root vegetables, stuffing, gravy, cranberry sauce and a slice of pumpkin cheesecake. Vegetarian meals were also provided.
The meal was sponsored by the Stanley and Joyce Black Family foundation with Glamazon (Amazon's affinity group for the LGBT+ community) sponsoring the volunteer event.
Project Angel Food CEO Richard Ayoub noted that Project Angel Food strives to end food insecurity and improve health outcomes of critically ill men, women and children in Los Angeles with Medically Tailored Meals, delivered with care and compassion.
Over 2,500 clients are fed daily. Project Angel Food delivers 1.3 million meals each year.
Monterey Park grieves as investigators probe for a motive
As the community grieves the Langley Senior Center in Monterey Park has become a resource center for survivors and families of the victims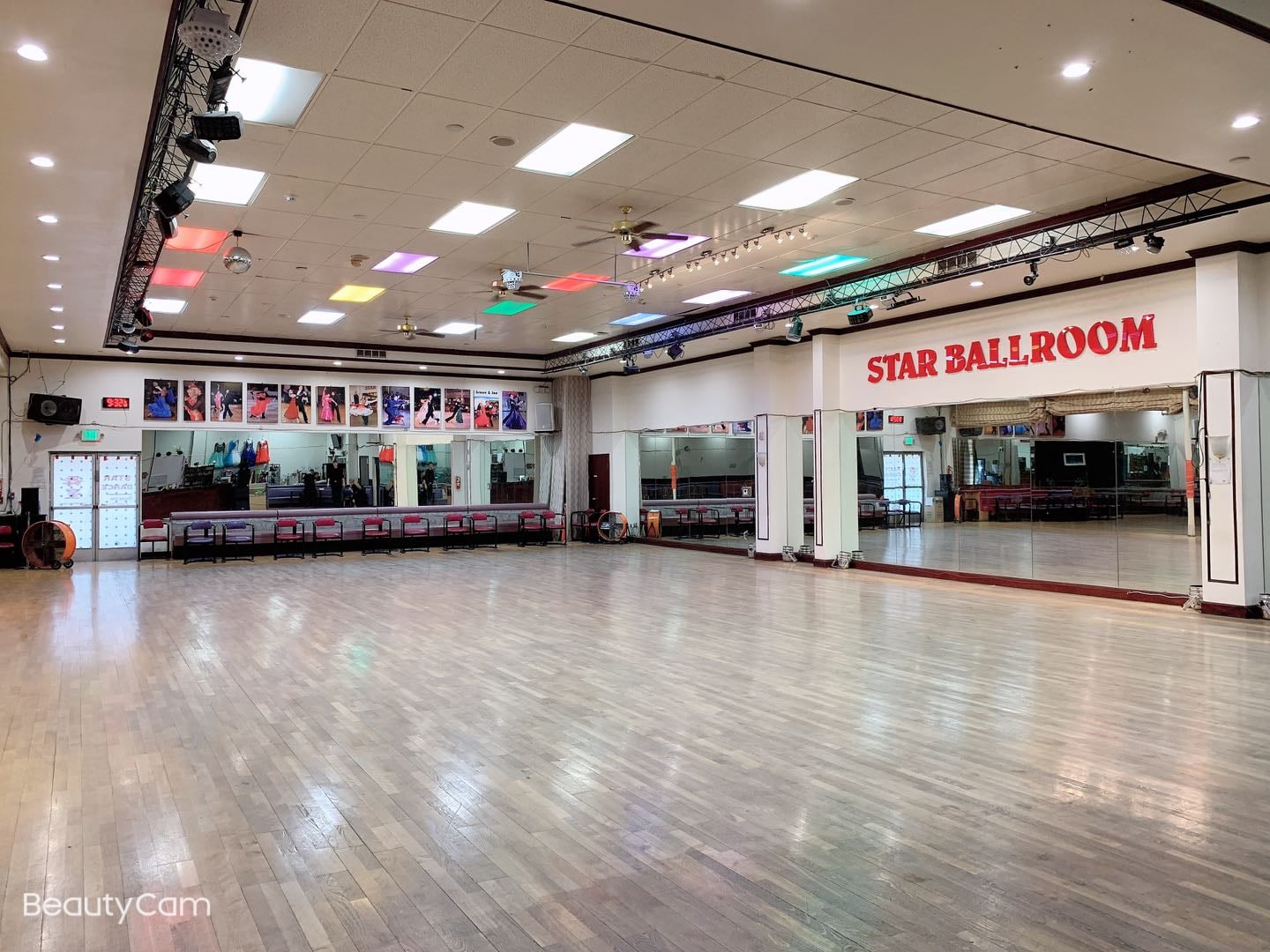 MONTEREY PARK, Calif. – As Monterey Park police and the Los Angeles County Sheriff's Department homicide investigators piece together the events of Saturday's massacre at the Star Ballroom on the eve of the Lunar New Year, the majority-Asian community is in deep grief.
UPDATE from the Los Angeles Times Monday:
The death toll in the Lunar New Year mass shooting in Monterey Park rose to 11 Monday, after one person who was injured in the massacre died at the hospital.
The first 10 victims were all in their 50s, 60s or 70s, according to the L.A. County coroner. Only two – My Nhan, 65, and Lilan Li, 63 – have been identified by name. No age or name was immediately given for the latest victim.
A spokesperson for the LA County Sheriff's Department told the Blade Monday that detectives are attempting to determine the motive that drove 72-year-old Huu Can Tran to kill 10 people and wound 10 others in the mass shooting at the Star Ballroom before traveling to the Lai Lai Ballroom in Alhambra. Tran was forcibly disarmed and fled in a White cargo van.
Tran was later found deceased from a self-inflicted gunshot would hours later after a stand-off with LASD and local police tactical units in Torrance.
Law enforcement sources said that the investigation is focused on Tran's prior interactions at two dance studios targeted and whether jealousy over a relationship was a possible motive stressing that the investigation is in its early stages. But detectives believe that Tran had frequented both clubs.
Speaking to reporters, Congresswoman Judy Chu who represents the area and is herself a former Mayor and City Councilmember of Monterey Park stated: "I still have questions in my mind, which is: What was the motive for this shooter? Did he have a mental illness? Was he a domestic violence abuser? How did he get these guns and was it through legal means or not?"
Brandon Tsay, 26, who helps run the Lai Lai dance hall with his family, spoke to ABC News' Robin Roberts in an interview Monday on "Good Morning America," telling her he heard the front door click close behind him.
He told Roberts that the gunman was "looking around the room" as if he was "looking for targets — people to harm."
"That's when I turned around and saw that there was an Asian man holding a gun. My first thought was I was going to die here, this is it."
"He started prepping the weapon and something came over me," Tsay said. "I realized I needed to get the weapon away from him. I needed to take this weapon, disarm him or else everybody would have died."
"When I got the courage, I lunged at him with both my hands, grabbed the weapon and we had a struggle," he added. "We struggled into the lobby, trying to get this gun away from each other. He was hitting me across the face, bashing the back of my head."
Tsay speaking with ABC News' Robin Roberts on "Good Morning America:"
As the community grieves the Langley Senior Center in Monterey Park has become a resource center for survivors and families of the victims. The American Red Cross, Los Angeles Mayor's Crisis Response Team and the Department of Mental Health are there to offer assistance. The center is located at 400 W Emerson Ave.
A GoFundMe has created a central page with all verified fundraising campaigns.