Health orgs distribute Fentanyl test strips & Narcan in WeHo
Activists and members of health organizations hand out life-saving Fentanyl Test Strips and Naloxone nasal sprays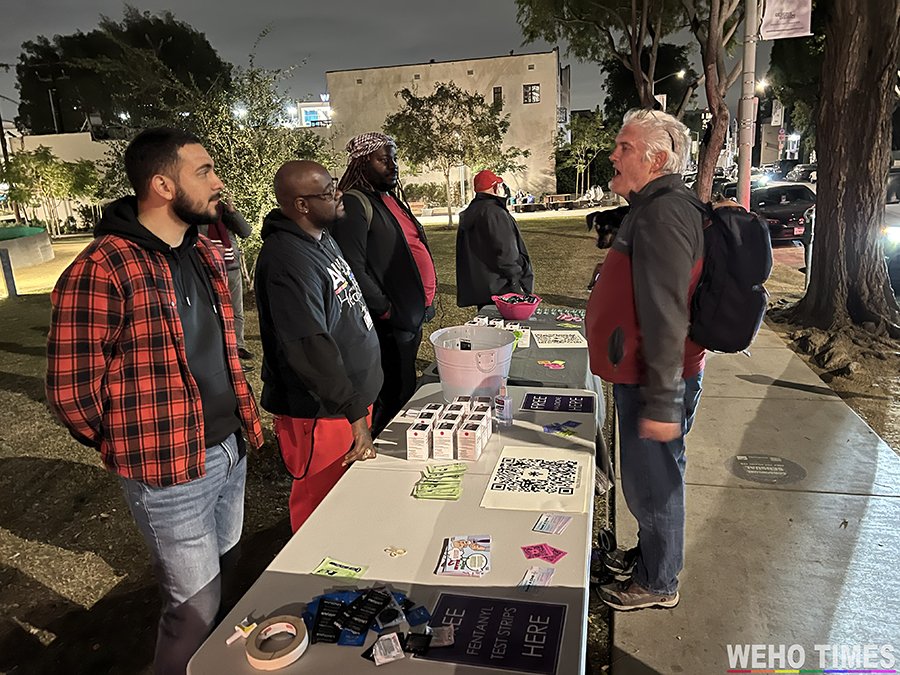 By Paulo Murillo | WEST HOLLYWOOD – The Institute for Public Strategies' West Hollywood Project joined activists and members of health organizations Being Alive Los Angeles, LGBT Center's Trans Wellness Center, AHF, The Wall Las Memories APLA Health, Los Angeles Centers for Alcohol and Drug Abuse (LA CADA), and Los Angeles Department of Public Health to distribute overdose prevention information and resources along with life-saving Fentanyl Test Strips and Naloxone nasal sprays.
The group gathered for an evening of engaging with the public to discuss the dangers of drug use on National Meth Awareness Day, on Wednesday, November 30, 2022, at West Hollywood Park facing Robertson Boulevard (Next to The Abbey Food & Bar).
The West Hollywood Project recognized National Meth Awareness by hosting two events, one in Silverlake (at Akbar, located at 4356 Sunset Blvd), and the other at West Hollywood Park at 647 N. San Vicente Boulevard (picnic area near Robertson Boulevard), beginning at 7:30 p.m. (there is an additional event at Stache WeHo, 8941 Santa Monica Blvd.)
Volunteers set up two tables to and offered resources on drug addiction and provided information on harm reduction, along with tools individuals could use for themselves or offer to a friend.
"We're engaging the community and giving away free fentanyl test strips and Narcan for education and to raise awareness, "said Daniel Ruiz of West Hollywood's Institute of Public Strategies "We are also offering condoms and lube and we also have other organizations here that are part of the coalition."
"I'm out here with APLA Health, and not only are we providing the Narcan and the test strips, but we're also out here as a resource," said Luckie Alexander, "I'm also working with the Trans Wellness Center, so if anyone comes out here and needs other services, especially our trans folks, I'm providing those services and giving them contact information. We just ask them if they want the Narcan or the test strips and a lot of folks are really responding. We know those folks are going to be safe and live another day. This is about harm reduction, having access to these things and knowing what to do with it. Folks really appreciated."
Alexander added that there this was a judgment-free space and that they weren't telling anyone to stop doing drugs, but to help them take better care of themselves.
The West Hollywood Project is an ongoing, centralized effort to help promote Alcohol and Drug (AOD) Free events, activities and civic opportunities in the West Hollywood area. They promote specific events such as #SIZZLE! at LA Pride and #BOOM!, the annual New Year's Eve event in West Hollywood. The West Hollywood Project is a Project of the Institute for Public Strategies and funded by the Los Angeles County Department of Public Health, Substance Abuse Prevention and Control.
A national survey found one out of six young adults has used illicit drugs in the last month. Brain scientists now know why just one use of crystal meth (methamphetamine) can make a person feel hooked.
The National Meth Awareness day is an effort to send a prevention message to potential meth users. It also gets the message out about available programs to current users. In some parts of the country, meth use is increasing while in others it continues to rise.
Part of the reason meth is so addictive is it increases the amount of dopamine in the brain. Dopamine occurs naturally in our brains. It affects our body's reward centers as well as our movement, motivation, and reinforcement. It's the impact on this area of the brain that makes methamphetamine so addictive.
Beyond the short-term effects of alertness, increased physical activity, reduced or no appetite, rapid heart rate and increased blood pressure, continued use of methamphetamine has long-term health effects.
risk of diseases transmitted through needles
addiction
extreme weight loss
dental problems including tooth loss and gum disease
sleeping disorders
memory loss
anxiety
skin issues
hallucinations
paranoia
However, there is help. Visit Substance Abuse and Mental Health Services Administration (SAMSA) to learn about the referral program. It's available 24 hours a day, 7 days a week. The page is full of resources for adults, teens, and family members. There, you can find support for yourself and others who may be facing addiction. There is a way out and a life after addiction. Visit the helpline at: https://www.samhsa.gov/find-help/national-helpline.
In a proclamation signed by President George W. Bush in 2006, November 30th was set forth as National Meth Awareness Day. The observance serves two purposes. First, it aims to reach potential users with prevention methods. Second, the day increases awareness of programs and services available to current users.
*******************************
Paulo Murillo is Editor in Chief and Publisher of WEHO TIMES. He brings over 20 years of experience as a columnist, reporter, and photo journalist.
The preceding article was previously published by WeHo Times and is republished with permission.
Calif. bill to strengthen penalties for Fentanyl trafficking introduced
AB 367 will be heard in policy committees later this spring and will move on to the Assembly floor this summer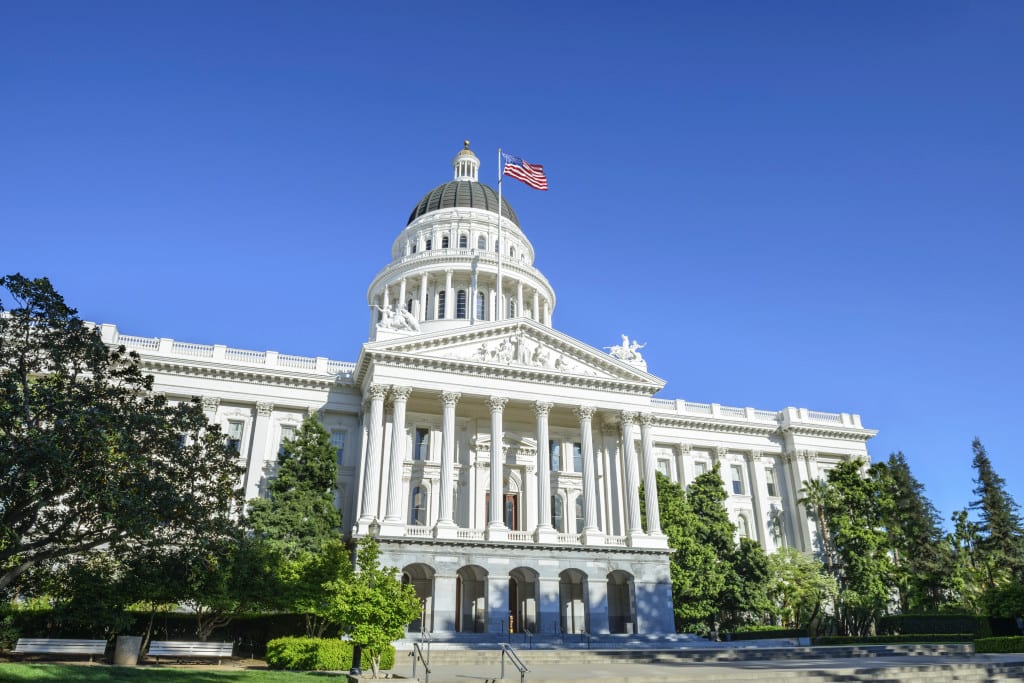 SACRAMENTO – Assemblymember Brian Maienschein introduced legislation this week to help California take action to stop drug traffickers from contributing to the fentanyl epidemic.
Fentanyl overdoses have spiked across the nation in recent years. In California, over 5,700 fentanyl-related deaths were reported in 2021 alone. According to the California Department of Public Health, fentanyl is up to 50 times stronger than heroin and 100 times stronger than morphine. An alarming increase in counterfeit pills and other illicit substances being sold on the drug trafficking market have been laced with a fatal amount of fentanyl, leading to thousands of deaths and serious injuries.
Assembly Bill 367 will provide stronger criminal penalties for individuals who sell or otherwise furnish controlled substances, such as fentanyl, that result in great bodily injury or death.
"Fentanyl has had devastating effects in San Diego County and throughout the state, and the data shows us that action to address this epidemic is critically overdue," said Assemblymember Maienschein. "My bill would help California hold drug dealers accountable for the destruction and trauma they cause by knowingly distributing this deadly substance."
Last year, San Diego Mayor Todd Gloria signed an executive order calling for bold action by state and federal lawmakers to help the region and the state address the fentanyl emergency. Assemblymember Maienschein has partnered with Mayor Gloria on AB 367 to take the necessary steps to address this crisis in San Diego County and throughout California.
"The nationwide proliferation of illicitly manufactured fentanyl is a deadly crisis that claimed more than 800 lives in San Diego County in 2021 alone – and the death toll continues to climb," said San Diego Mayor Todd Gloria. "We need action at every level of government, and Assemblymember Brian Maienschein is stepping up with bold legislation that I'm proud to sponsor. AB 367 will crack down on predatory dealers of a dangerous poison that's complicating our efforts to address homelessness and fueling a crisis of addiction, mental illness, and overdose across our region and the nation."
The fentanyl epidemic has claimed too many lives across CA, including over 800 San Diegans in 2021 alone. This year, I am partnering with @MayorToddGloria on #AB367 to provide stronger penalties & hold drug dealers accountable. pic.twitter.com/AsQSHNkEVw

— Brian Maienschein (@BMaienschein) February 2, 2023
AB 367 is also supported by San Diego County District Attorney Summer Stephan who has championed fentanyl overdose awareness and action throughout the region, as well as the San Diego Police Department.
"This bill gives a measure of dignity to the suffering of the thousands who were inflicted with great bodily injury or death due to drug dealers selling fentanyl," said San Diego County District Attorney Summer Stephan. "This proposed law allows our prosecutors to hold those who are causing this devastation accountable for their actions. Current state law treats a seller of drugs who does not result in injury the same as a fentanyl seller that results in the person becoming paralyzed or dying and that is not justice. I fully support this bill and thank Assemblymember Maienschein for helping us fight to save lives."
"Law enforcement needs help from the legislature in updating our laws to meet the needs of our communities," said San Diego Police Chief David Nisleit. "We must ensure that when crimes are being committed, including the predatory actions of fentanyl dealers who have little regard for whether their actions lead to loss of life, there are real consequences so we can stem the tide of rising drug-induced deaths. Combatting the drug overdose crisis from all levels is what it will take to save lives. Thank you to Assemblymember Brian Maienschein for enhancing our ability to hold criminals accountable with AB 367."
AB 367 will be heard in policy committees later this spring and will move on to the Assembly floor this summer.