The 'Spoiler' is you're going to cry
Love is worth it even when you know it's going to end badly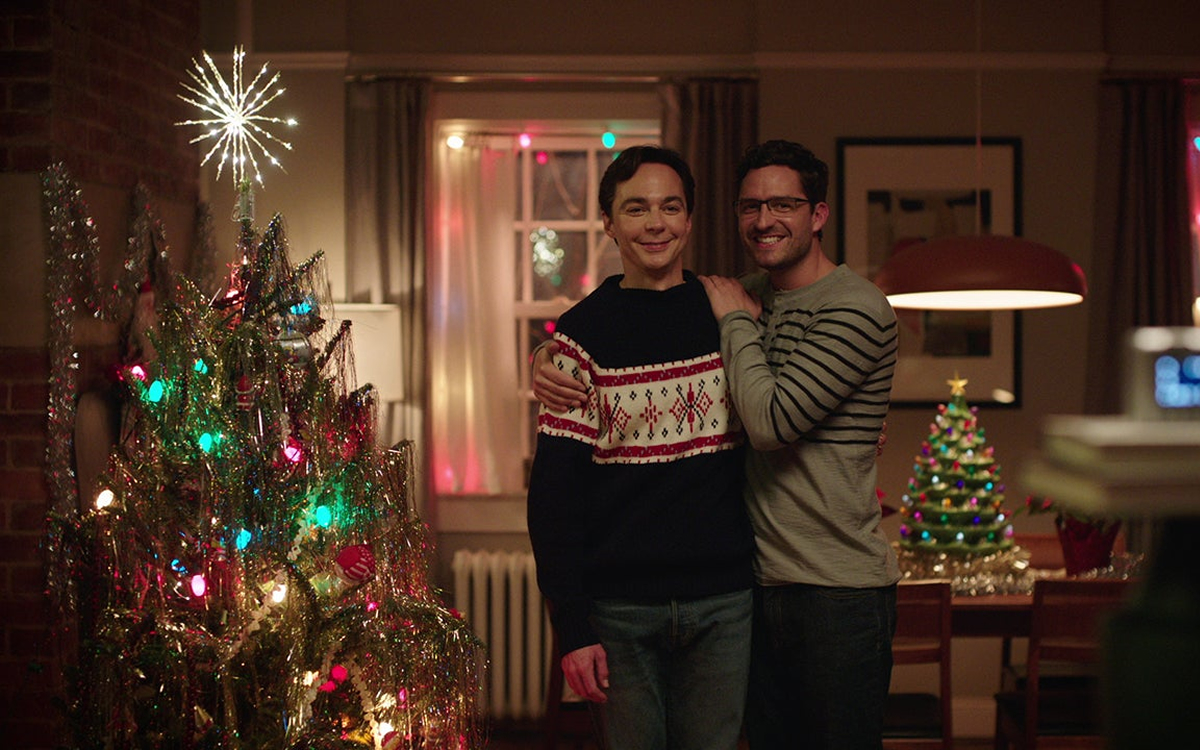 It's been a refreshing year for LGBTQ love stories on the screen. From "Fire Island" to "Bros," from "Crush" to "Anything's Possible," we've seen narratives that offer up hopeful and positive alternatives to the gloomy outcomes presented by movies of the past. Instead of stories that reinforce the tired trope of doomed queer romance, we're finally seeing ourselves get the same chance at a happily-ever-after ending as everybody else.
It's been a welcome change – but just when Hollywood finally seems to have finally figured out that all our relationships don't have to end in tragedy, "Spoiler Alert" has come along to remind us that sometimes they still do.
Based on the best-selling memoir by Michael Ausiello ("Spoiler Alert: The Hero Dies") and directed by Michael Showalter from a screenplay by David Marshall Grant and gay blogger/author/pundit Dan Savage, it's the true story of a couple (Ausiello and his eventual husband, photographer Kit Cowan) who find love and build a relationship over the course of more than a decade only to face the heartbreak of Kit's diagnosis of – and his (SPOILER ALERT, hence the title) premature passing from – a rare form of terminal cancer. Though It's not exactly a rom-com, it does try to keep things light-hearted, and it aims for the uplift despite its foregone tragic conclusion.
That's a tough tightrope to walk. The book, penned by veteran television and entertainment journalist Ausiello, pulled it off successfully, becoming a bestseller – and not just among queer readers – with its warts-and-all celebration of what it truly means to commit to love. After all, we may adore our fairy tale fantasies, but we all know that even a couple's best-case scenario is guaranteed a sad ending; Ausiello's first-person written narrative managed to get the point across that it's all worth it, anyway.
Sometimes, though, a literary device that works on the page doesn't translate easily to the screen, and on film, Ausiello's "we-already-know-the-outcome" approach faces a more resistant challenge.
In the first act of the film, which details the meeting and early romance of its two lead characters (Jim Parsons and Ben Aldridge as Michael and Kit, respectively), our knowledge of the ending becomes an obstacle. This may be particularly true for more jaded viewers, who are apt to be keenly aware of the emotional payoffs being set up in advance. Heartwarming moments can easily come off as deliberate, even manufactured, and one might sense an obvious bid to force our identification with the characters in the movie's deployment of all the standard "new gay relationship" tropes. In reading, it's easy to personalize such universal moments through our own imaginations, which can fill in the spaces (and the faces) in a way that rings true for us. On film (this film, at least), such communally identifiable experiences run the risk of feeling manipulative: a little too perfect, a little too pat, a little too "meet-cute," and a little too… well, precious.
The dissonance between formulaic fantasy and genuine lived experience is sometimes made even more obtrusive by occasional flashbacks to Michael's childhood, framed as excerpts from an imagined '90s sitcom, which distance us further from the story – a stylistic ploy that seems intended to keep the tone of the narrative as far from tragic as possible.
When it's time to get real, however, Showalter's film lands on more solid ground. Once the blissful "happy-ever-after" couple-hood of the two men is established, the movie takes us into deeper, more mature – and therefore, less predictable – territory. Things don't end up being perfect in Michael and Kit's ostensible lover's paradise: jealousies, self-esteem issues, and the inevitable individual growth that sometimes drives wedges between us in our relationships take their toll. As any successful long-term couple – queer or otherwise – is bound to discover, relationships take a lot of work, and seeing the two protagonists confront that seldom-told part of the story goes a long way toward making their experience more relatable for those who are looking for more than mere aspirational fantasy.
So, too, does the acting from the two leads. Parsons, who struggles against the obvious artificiality of playing against being two-decades-too-old in the film's earlier scenes, blossoms once the story moves ahead in time to deliver an emotionally brave and affectingly authentic portrait of a man overcoming the baggage of his awkward and socially isolated youth (there's a Smurf addiction involved, need we say more?) and finding the resilience to weather a battle for his lover's life. Aldridge, a Brit flawlessly playing American, is perhaps even better – not that it needs to be a competition – as Kit, whose easy-going self-esteem masks a world of unresolved insecurities and makes an almost-too-good-to-be-true character endearingly real; perhaps more importantly, the emotional journey he's tasked with portraying requires an absolute dedication to unornamented truth, and he delivers it impeccably.
It helps that the two actors, who carry most of the movie's running time, have a convincingly natural chemistry together that gradually persuades us to invest in these characters even if we had resisted becoming invested in them before. Bolstering the emotional solidity even further is the presence of seasoned pros Sally Field and Bill Irwin as Kit's parents, who deepen this not-as-clueless-as-they-seem pair beyond the familiar stereotype they represent and raise them above the easy sentimentality they might otherwise have carried into the story's already-poignant mix.
These considerable advantages are enough to help us forgive the movie's contrived expository beginnings, though its ongoing sitcom conceit for childhood flashbacks – as well as its occasional fourth-wall-breaking interruptions from Michael's TV obsessed imagination – continue to feel a little gimmicky, especially after the plot has passed the point where such amusements are welcome or even necessary.
Still, the movie's fortunate choice to play against its tearjerker underpinnings – such as when it undercuts a particularly histrionic scene of hospital drama by calling itself out on its own shameless nod (which any gay movie buff will surely already recognize) to an iconic moment from a cinema classic – keeps the tears which finally come from feeling as though they've been shamelessly manipulated out of us. It's this quality that marks the best entries in the tearjerker genre; the thing that movies like "Terms of Endearment" and "Steel Magnolia" have in common (besides Shirley MacLaine) is their ability to lean fully into the artifice of their own weepy, sentimental style without sacrificing the sincerity of their emotional payoffs. Films like these don't play their big moments for drama, or even for laughs, to keep us involved – they play those moments for truth. "Spoiler Alert" clearly aspires to the same standard.
It mostly succeeds, after an awkward start; though some viewers might find its quirkier narrative conceits to be an overcompensation for its weepy ending, its characters are real enough to get past all that and win us over. And though it's hard to deny that it's ultimately another tragic gay love story, it manages to remind us that love is worth it even when you know it's going to end badly.
After all, just because a romance is doomed doesn't mean it has to be a downer.
'Women Talking' is the timely film everyone should be talking about
Filmmaker Sarah Polley explores shocking abuse in culturally significant effort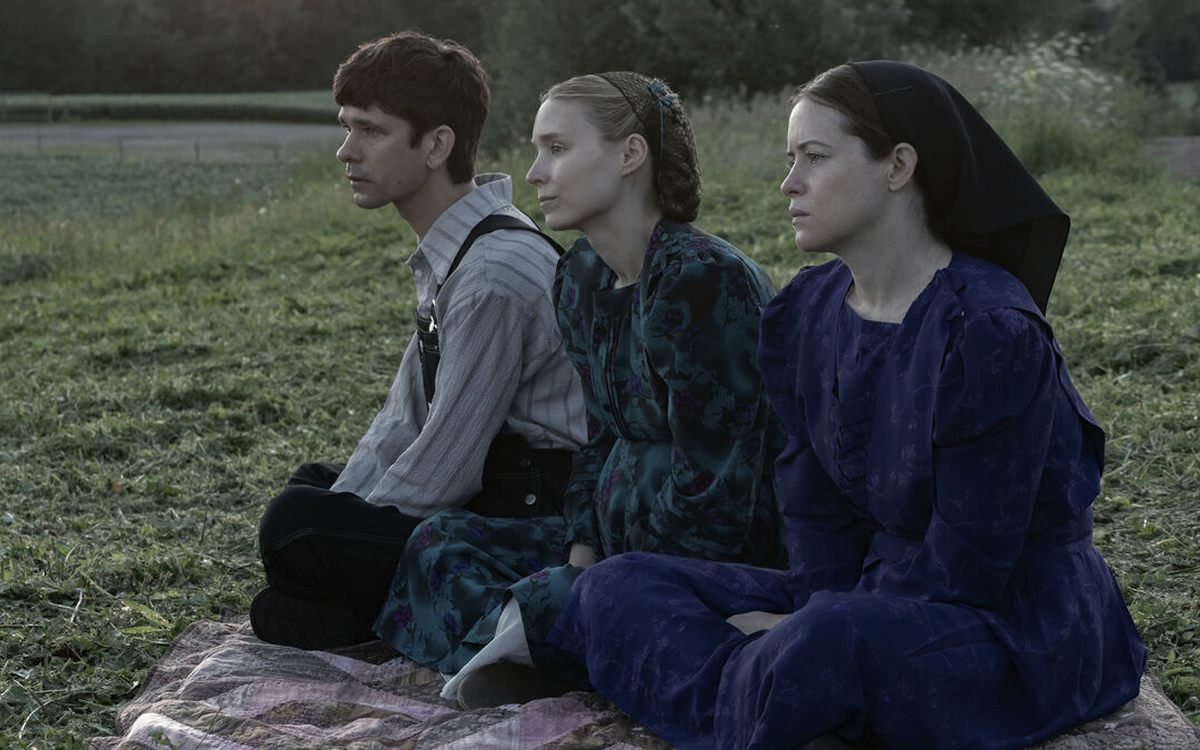 With the Hollywood awards season well underway, the public conversation around movies these days is mostly around the movies that have begun to emerge as early champions.
That makes this the perfect time to bring up "Women Talking," a movie not many people have seen – yet – but that more people should be talking about.
Adapted for the screen and directed by Canadian filmmaker Sarah Polley, it's based on a 2018 novel of the same name by Miriam Toews (which itself was loosely based on real-life events in Bolivia), and set in an ultraconservative Mennonite colony, isolated from the wider world by both distance and strict religious tradition, in which dozens of girls and women have been drugged with animal tranquilizers and sexually assaulted in the night by a group of men over the course of several years – only to be accused of lying or told that their attacks and injuries were perpetrated by "ghosts or demons." Now, they've now been offered a choice – either forgive their attackers and continue living in fear or leave the community and be expelled from the church; with only a few short hours to decide, a group of townswomen convene in a barn to weigh the dilemma, and to make the impossible choice of what to do.
In Toews's book, and therefore Polley's film, the shocking circumstances of the story are reimagined in an American setting, and the scenario is framed – in the spirit, perhaps, of an increasing sense of public conscience that favors commemorating the victims of violence over elevating the victimizers' names in the cultural record – through the eyes of the women; we never see the faces of their attackers, nor hear their names. Their identities, in fact, are irrelevant; for these women, what matters is making an impossible choice whether to brave the unknown evils of a world outside their experience or resign themselves to endure the all-too-familiar evils to which they are accustomed, forced upon them by male elders who seemingly think of them as little more than human livestock.
That's a position that feels unsettlingly relevant in the climate of today's America, and though both book and movie were conceived and executed before the devastating Supreme Court decision striking down Roe v. Wade, the timing of "Women Talking" couldn't be more powerful or relevant. In watching these onscreen women attempt to find justification within their faith to defy the strictures that leave them powerless and without protection, it's impossible not to notice the reflected significance; though the arguments they rehash – obedience to the teachings of their church, accepted gender roles within their culture, the "rightful place" of women in society, and all the other well-rehearsed topics inextricably tied to the ideals of feminism and basic human rights – often feel to us like the antiquated rhetoric of a bygone era, we cannot help but be aware that the principles they struggle to define, considered by many of us to be long-settled and self-evident, are currently anything but.
That's entirely the point, of course. Polley's film derives considerable power from the juxtaposition of an old-fashioned lifestyle into a contemporary setting; most of what we see on the screen – clothing, mores and manners, the quaint routine of a daily life lived without technology and off the grid – belies any connection to the 21st century, and when we are occasionally reminded that we're watching a story that takes place in modern times, it's jarring.
Indeed, there's an unabashedly "meta" effect that permeates throughout, heightened by a theatrical approach to the narrative that spends more of its time on dialogue than on action – after all, the title is "Women Talking" – and takes place mostly in a single location. The movie's studied mix of emotion and intellect, its prominent agenda and its progressive political leanings, all land with us as if we were watching a play, rather than a movie. Yet Polley ingeniously expands into the cinematic realm to connect with us though our eyes as well as our ears, particularly with the use of rapid-paced flashback collages that cut away from a character to wordlessly convey crucial details of their backstory, deepening both our insight and our empathy in the process.
She also takes pains to illuminate the emotional triggers – fear, rage, even guilt over perceived culpability – that bubble to the surface as her traumatized characters try to form a unified front; by tracking the way these lingering psychic scars affect the dynamic among this group of survivors, determining the positions they take and setting them at odds against each other, her movie helps open us up to empathy for those whose memory pain sometimes drives them to act against their own self-interest. Yet things aren't unrelentingly grim, nor are they always somber; there are frequent interspersions of humor, appreciations of beauty, and expressions of love. It's this focus on lived inner experience that keeps "Women Talking" grounded in the human and enables it to indulge in lengthy theoretical discourse about justice, ethics, and theology without feeling like an exercise in aloof didacticism.
To that end, a gifted ensemble of players, each obviously relishing the chance to do work of such substance, turns in a remarkably gripping collection of performances. Standing out in the showiest roles, Claire Foy and Jessie Buckley offer up unforgettable moments throughout the film, while a softer Rooney Mara serves as a warm and intelligent heart; screen veterans Judith Ivey and Sheila McCarthy bring depth and dignity to their roles as elders in this female contingent, with multi-Oscar-winner Frances McDormand leaving her stamp in a brief but indelible supporting turn; out gay actor Ben Whishaw shines as a gentle schoolteacher enlisted by the women to take the minutes of their meeting, a sole reminder that men can be allies, too; and nonbinary performer August Winter, cast as a transmasculine colony member, adds an affirming thread of queer inclusion to the mix, opening the door for one of the film's most unexpected – and powerful – moments.
It's not surprising, given the talents of Polley and her cast (not to mention the expert cinematography of Luc Montpellier and a stirring score by Hildur Guðnadóttir), that "Women Talking" has quietly gained momentum as an awards contender – even though it doesn't go into wide release until Jan. 20. Whether it can pick up more prizes than the buzzier titles currently leading the race remains to be seen. Even in a post-#MeToo Hollywood, female-led films are often overlooked for the big awards, and the industry's supposed progressive leanings rarely prevent it from shying away from polarizing subject matter.
Incredibly, in 2023, the subject of women seeking freedom to have agency over their own bodies feels more polarizing than ever, and women are fighting for it under oppressive regimes from Iraq to Indonesia, let alone in parts of the USA.
That's why, whether it wins any awards or not, "Women Talking" is still one of the most culturally significant movies on the shortlist.