Supreme Court: Oral arguments in LGBTQ 303 Creative case
Civil rights & legal advocacy groups fear a ruling that could endanger marginalized people protected by nondiscrimination laws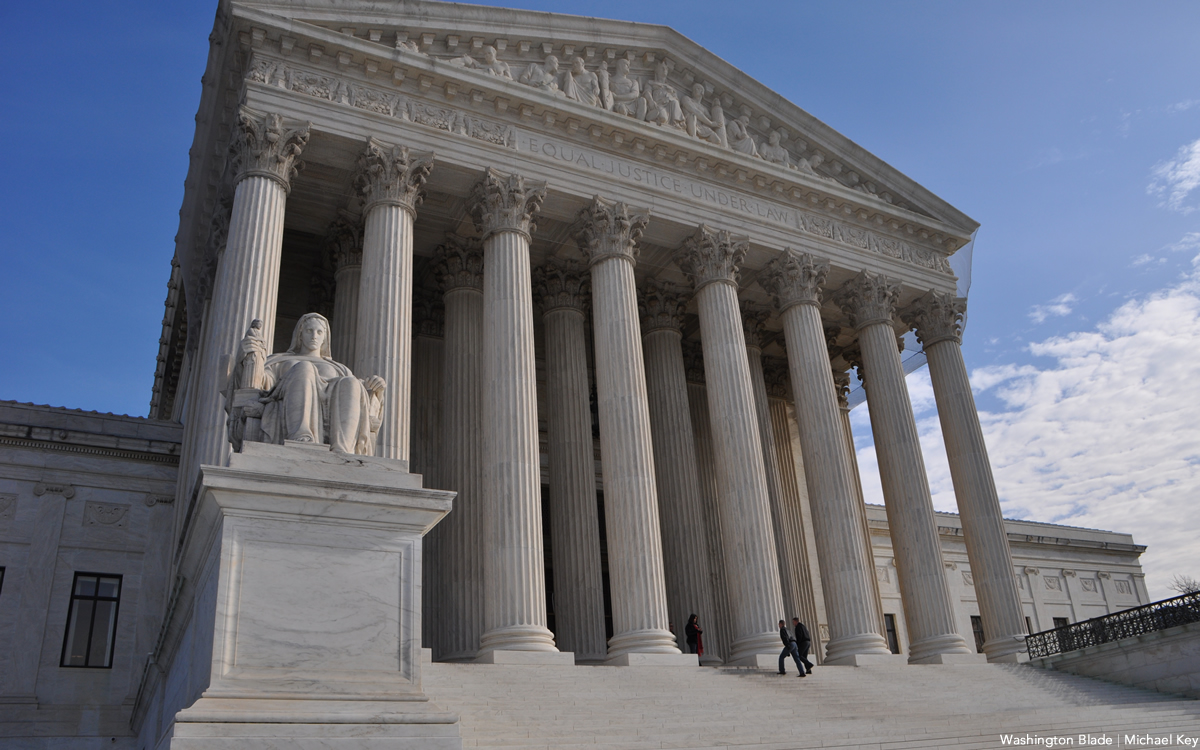 WASHINGTON- The U.S. Supreme Court on Monday heard oral arguments in 303 Creative v. Elenis, a case that could carry broad implications for whether and in which circumstances states may enforce nondiscrimination rules against purveyors of goods and services.
The case was brought by website designer Lorie Smith, who sought to include a disclaimer that her company 303 Creative would not develop wedding announcement websites for LGBTQ couples, but discovered that such a notice would violate Colorado's antidiscrimination laws, which include sexual orientation as a protected class.
Her lawsuit against the state of Colorado, argued by counsel from the anti-LGBTQ group Alliance Defending Freedom (ADF), reaches the Supreme Court following the ruling against Smith from the 10th Circuit Court of Appeals, which created a circuit split with decisions from the 8th Circuit and Arizona Supreme Court. A ruling is expected to come in June.
The fact pattern in 303 Creative closely mirrors the 2018 case Masterpiece Cakeshop v. Colorado Civil Rights Commission, where the Supreme Court declined to rule on the broader legal questions because it found the Commission exhibited hostility toward the religious views of the bakery that refused to design a custom wedding cake for a same-sex couple.
The high court has since moved substantially to the right, with a 6-3 conservative supermajority. Colorado is one of 20 states that enforces laws prohibiting businesses from discrimination based on sexual orientation, and a ruling that would allow for broadly construed exemptions to be carved out for firms based on their First Amendment protections would carry implications well beyond the context of same-sex marriage.
Monday's oral arguments focused on preexisting and hypothetical cases that were presented by counsel from both parties as well as by the justices, examples whose scope and fact patterns reinforced the breadth of the legal issues in play in 303 Creative.
Colorado Solicitor General Eric Olson and U.S. Principal Deputy Solicitor General Brian Fletcher pointed to the Supreme Court's ruling in Rumsfeld v. Forum for Academic and Institutional Rights, 2006, which found that the federal government may withhold funding from universities that, based on their objections to "Don't Ask, Don't Tell," refuse to grant military recruiters access to their resources.
ADF CEO, President and General Counsel Kristen Waggoner cited the Supreme Court's decision in Hurley v. Irish American Gay, Lesbian, and Bisexual Group of Boston, 1995, which upheld the right of private organizations to exclude participation by certain groups without interference by the state, even if that intervention by the government was for the purpose of preventing discrimination.
Much of the discussion during Monday's oral arguments centered on what kinds of goods and services may be considered public accommodations and which constitute artistic speech or expression by the business provider. Also at issue were questions such as whether their refusal to accommodate certain events – i.e., same-sex weddings – are tantamount to refusing goods and services to members of a protected class of people under the state's nondiscrimination laws.
LGBTQ rights groups fear the implications of a ruling in favor of 303 Creative
ADF is designated an anti-LGBTQ extremist group by the Southern Poverty Law Center. An amicus brief was filed in support of the government by the corporate law firm White & Case along with a coalition of LGBTQ rights groups and legal advocacy groups: the National LGBTQ Task Force, GLAD, the National Center for Lesbian Rights, Lambda Legal, and the Human Rights Campaign (HRC).
"Just two weeks after a shooter killed 5 people, injured 18, and traumatized so many others at Club Q in Colorado Springs, the United States Supreme Court prepares to hear oral arguments in an anti-LGBTQ public accommodations discrimination case from Colorado," wrote the National LGBTQ Task Force in a statement addressing Monday's oral arguments.
Liz Seaton, the group's policy director, highlighted the importance of public accommodations laws and condemned efforts by the opposition to legalize discrimination and segregation in the marketplace. "The brief's most important argument lifts up the powerful amicus briefs of the NAACP Legal Defense and Educational Fund and of the Lawyers' Committee for Civil Rights Under Law," Seaton said. "Those two briefs by venerable civil rights organizations provide a detailed history of public accommodations discrimination against Black and Brown people in this country."
HRC's statement on Monday touched on similar themes:
"Granting the unprecedented 'free speech exemption' sought by petitioners in 303 Creative v. Elenis would be a dangerous change to long standing constitutional and civil rights law. It would inevitably lead to increased discrimination not only related to LGBTQ+ people or weddings, but also for other vulnerable populations including women, people with disabilities, and people of minority faiths. It's crucial that justices of the Supreme Court reject discrimination and affirm the equal dignity of every American."
Likewise, the Congressional LGBTQ+ Equality Caucus released a statement exploring the broad implications that could result from the Court's ruling on 303 Creative:
"…the Supreme Court could issue a broad ruling that not only implicates nondiscrimination laws' applications to graphic designers but to a wide range of businesses providing goods and services that have an artistic component. A broad ruling for the graphic designer could not only provide a constitutional basis for discriminating against same-sex couples, but also for discriminating against all marginalized people currently protected by public accommodations nondiscrimination laws."
Judge's nationwide abortion pill ban 'could open the floodgates'
"You're not talking about just mifepristone," U.S. Department of Health & Human Services Secretary Xavier Becerra said on CNN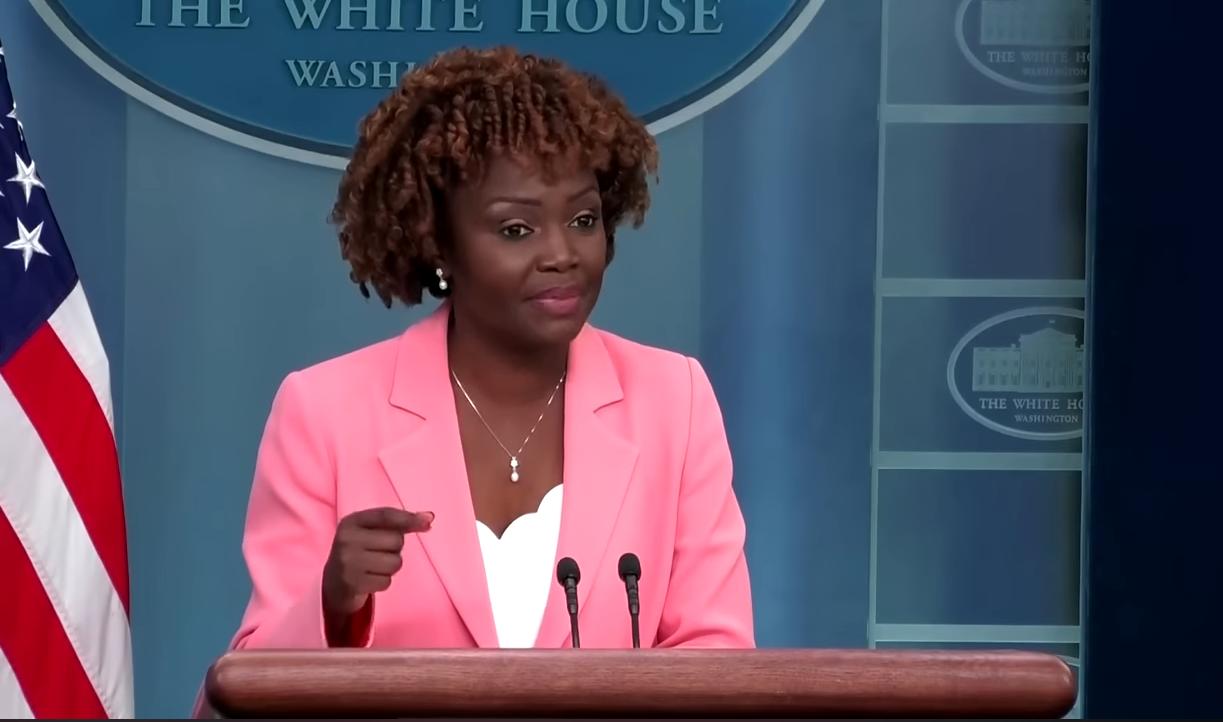 WASHINGTON – White House Press Secretary Karine Jean-Pierre told reporters Monday that Friday's decision by a Federal court in Texas to ban the nationwide sale and distribution of the abortion pill mifepristone "could open the floodgates for other medications to be targeted and denied to people who need them."
Following that ruling by Judge Matthew Kacsmaryk of the U.S. District Court for the Northern District of Texas, American Medical Association President Jack Resneck raised similar concerns in a statement warning that "upending longstanding drug regulatory decisions by the U.S. Food and Drug Administration (FDA)" would position "other drugs at risk of being subject to similar efforts."
"This ruling makes every medication on the market a potential target for political grandstanding," Whitman-Walker Institute Executive Director Kellan Baker told the Washington Blade by email.
"Now that Judge Kacsmaryk has decided that he knows more about medical evidence than the FDA, the entire foundation of the FDA's essential role in safeguarding access to medications is now subject to political attack," Baker said.
"You're not talking about just mifepristone," U.S. Department of Health and Human Services Secretary Xavier Becerra said during an appearance on CNN's "State of the Union" Sunday. "You're talking about every kind of drug. You're talking about our vaccines. You're talking about insulin. You're talking about the new Alzheimer's drugs that may come on."
Likewise, in an interview on Pod Save America that aired Tuesday, University of Michigan and former U.S. Supreme Court law clerk, law professor Leah Litman agreed drugs like HIV medications, along with vaccines like those targeting HPV and Covid, or even birth control pills, could be next.
Medicines for trans youth and adults, in some cases, have been targeted with legislation passed by conservative states to restrict access to guideline directed medically necessary interventions for the treatment of gender dysphoria.
And last year, in another Federal Texas court, that judge ruled that employers can deny health coverage for PrEP, a medication used to prevent the transmission of HIV.
More litigation lies ahead, along with more uncertainty
In his ruling in Alliance for Hippocratic Medicine v. FDA, Kacsmaryk had issued a stay on the Food and Drug Administration's conclusion that mifepristone is safe and effective, a finding the agency reached in 2000 that has since been buttressed by more than two decades of clinical evidence.
It was roundly denounced as unscientific, the product of the judge's longstanding and well documented ideological opposition to abortion.
The Biden administration was prepared for Kacsmaryk's decision, Jean-Pierre said: U.S. Attorney General Merrick Garland immediately ordered the Justice Department to appeal and seek a stay (of Kacsmaryk's stay) pending the outcome of additional litigation. On Monday the Department asked the U.S. Court of Appeals for the Fifth Circuit to halt implementation of the ruling.
Other powerful legal actors had also been on notice. On Monday, New York Attorney General Letitia James led a coalition of state attorneys general in challenging Kacsmaryk's ruling with an amici brief filed with the 5th Circuit.
Casting additional uncertainty into the mix was a separate ruling, just hours after Kacsmaryk's on Friday of last week, by Judge Thomas Rice of the U.S. District Court for the Eastern District of Washington, who ordered the FDA to make no changes to the availability of mifepristone.
The case in Washington was brought by attorneys general from 17 states and the District of Columbia in anticipation of Kacsmaryk's ruling, and the split decision means the matter is likely to be settled by the U.S. Supreme Court.
Some legal observers speculated that the Biden administration may be pushing for this outcome, hedging that even with its 6-3 conservative supermajority the Justices are likely to reject Kacsmaryk's analysis of the relevant facts on substantive or procedural grounds.
Still, and notwithstanding the fate of other medications or vaccines in the hands of Kacsmaryk or his ideological allies on the federal bench, the court's ruling raises other major concerns.
For example, can a federal judge circumvent the Congressionally ordained power of America's federal administrative agencies? If so, under which circumstances? How about the practice of forum shopping, by which litigants deliberately move to have their cases adjudicated by judges they expect will be most sympathetic? And what will all of this uncertainty mean for the global biopharmaceutical industry and the future of drug discovery in America?
One solution that was proposed by at least two Democratic members of Congress, Rep Alexandria Ocasio-Cortez (N.Y.) and Sen. Ron Wyden (Ore.): the Biden administration should simply ignore Kacsmaryk's ruling.
"I believe the Food and Drug Administration has the authority to ignore this ruling, which is why I'm again calling on President Biden and the FDA to do just that," Wyden said in a statement Friday.
"If they don't," warned the Senator, "the consequences of banning the most common method of abortion in every single state will be devastating."
"The courts rely on the legitimacy of their rulings, and what they are currently doing is engaging in an unprecedented erosion of their legitimacy," Ocasio-Cortez told Anderson Cooper during an interview on CNN Friday.
On Twitter, the Congresswoman addressed the backlash against her comments, explaining that Republicans have also ignored court orders in cases where they felt they were unlawful.
GOP are losing their mind over this, but there's precedent – including their own.

Courts ordered Trump to fully restore DACA. They ignored it w/ Republican support.

GOP operate in complete contempt for the law until they're in a position to shred Constitutional & human rights. https://t.co/kfxsdF5eKG

— Alexandria Ocasio-Cortez (@AOC) April 9, 2023
On Monday, the White House circulated an open industry letter signed by more than 200 pharmaceutical industry executives, which echoed criticisms of Kacsmaryk's ruling that noted his lack of formal education or training in science or medicine.
The executives' letter also argued the decision presents systemic risks to the drug discovery pipeline.
"As an industry we count on the FDA's autonomy and authority to bring new medicines to patients under a reliable regulatory process for drug evaluation and approval," the group wrote.
"Adding regulatory uncertainty to the already inherently risky work of discovering and developing new medicines will likely have the effect of reducing incentives for investment, endangering the innovation that characterizes our industry."