Inside Marjorie Taylor Greene's unprecedented attack on a staffer
Career Hill staffer Tim Hysom speaks publicly for the first time since he was targeted for harassment by Rep. Marjorie Taylor Greene (R-Ga.)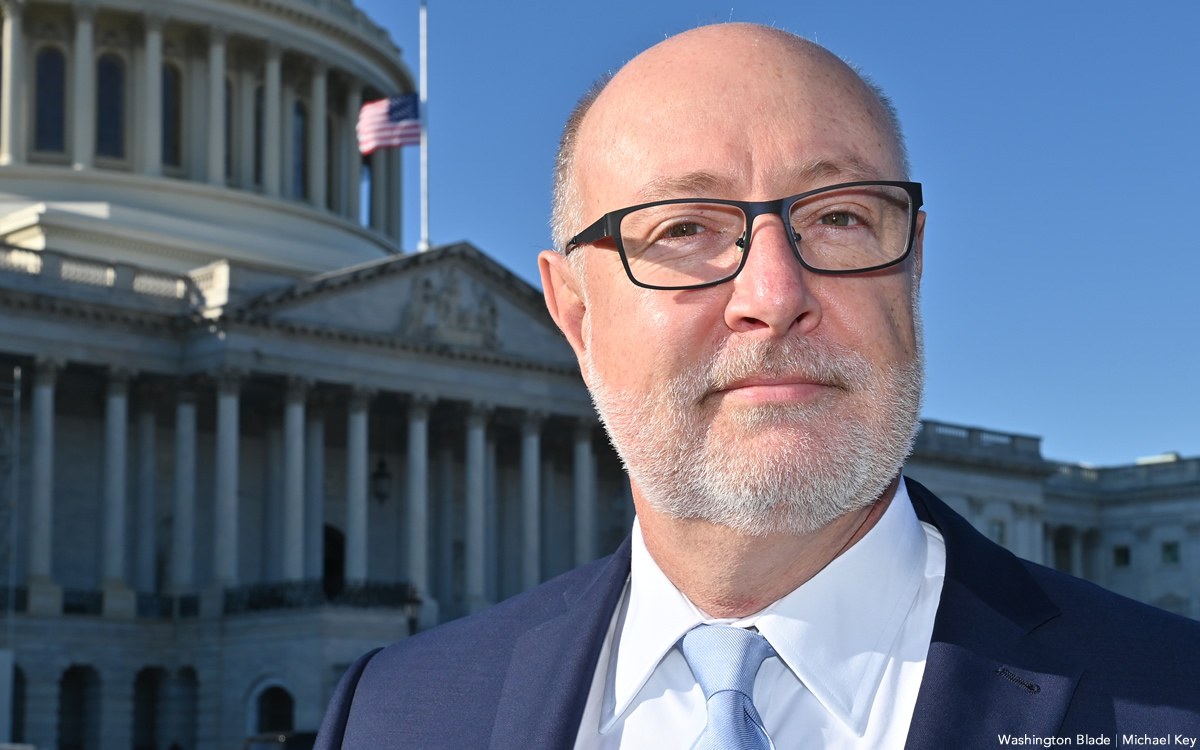 WASHINGTON – After more than 20 years in public service working behind the scenes on Capitol Hill, Tim Hysom never imagined he would be staring down the barrel of an Ethics Committee probe into whether he had brought discredit upon the U.S. House of Representatives.
Equally inconceivable was the barrage of intimidating and hateful messages from strangers that have persisted for months, which included credible threats of violence that prompted the U.S. Capitol Police to monitor Hysom's home for concern over his and his family's safety.
A longtime public servant whose career has included high-profile positions in the congressional offices of Democratic Reps. Adam Schiff (Calif.), Alan Lowenthal (Calif.), and Jake Auchincloss (Mass.), Hysom also spent five years at the Congressional Management Foundation working with Republican and Democratic members of the House and Senate and served on the board of the House Chief of Staff Association, first as a vice president for Professional Development and later as president of the staff organization.
Now he is still trying to piece his life and career back together after the fallout from a conflict this summer with Republican Rep. Marjorie Taylor Greene of Georgia. Part of that effort, Hysom told the Washington Blade in an exclusive interview, is to go public after months of silence to tell the story of how the firebrand congresswoman, who is poised to become a member of Republican leadership in the House next year, launched an unprecedented attack on him with the goal, he claims, of forcing him out of Capitol Hill.
Congressional staff are rarely the subject of complaints filed to the House Ethics Committee. Nor are they often otherwise embroiled in controversies and political debates among members that attract public interest and news coverage.
The story of Greene's conflict with Hysom breaks from that precedent, serving as, potentially, a harbinger of what may come when she is seated alongside Republican leadership in the next Congress.
It started with Greene's transphobic sign
In February 2021, after Rep. Marie Newman (D-Ill.) hung a transgender flag outside her door in the Longworth House Office Building, Greene, whose office was directly across the hallway, put up a sign that read: "There are TWO genders: MALE & FEMALE…Trust The Science!"
When a series of stickers were placed on Greene's signs over the course of several weeks earlier this year, she referred the matter to the Capitol Police, which identified Hysom in surveillance footage as the staffer placing the stickers on Greene's signs. Using a point of personal privilege, Greene took to the House floor in June to rail against Hysom – then Auchincloss's chief of staff – while admonishing the Justice Department for declining to bring charges against him.
Greene subsequently announced in July that she filed a complaint with the House Ethics Committee against Hysom.
Those events earned some media attention at the time, mostly from right-wing outlets, but the full story and its fallout have not yet been revealed. Nor has Hysom responded publicly before now, either through his social media or in comments to the press.
Asked for comment, Greene shared the following statement with the Blade:
"This has nothing to do with his sexual preference or orientation, or the fact that he's married to a man, but it has everything to do with the fact that he attacked me, a Member of Congress, and my First Amendment freedom of speech, my Christian beliefs and values. He also broke the law vandalizing my office's property multiple times, was caught on camera, and continued to do it. He's been arrested. Unfortunately, the Department of Justice dropped the charges, but I think they should have pressed charges. It's outrageous that a chief of staff would continue such illegal behavior, and he should be no longer employed in any office in the federal government."
Hysom pointed out that in the first place, Greene's decision to hang the sign seems to be a clear violation of House rules.
While members are permitted to display flags within certain guidelines outside their offices in House office buildings, a policy updated in 2008 stipulates that: "Furnishings of any kind, including but not limited to furniture items (including sign-in/registration tables, pedestals, easels, carpets, rugs and mats); shades, drapes, and screens; artwork, exhibits and posters; and trees, flowers and other plants may not be placed in a hallway or exit access."
"If she can violate the standing rules of the House and hang offensive and abusive material in the halls of Congress under the guise of free speech," Hysom asked, "doesn't the Constitution also protect my right to free speech?"
He added that Greene's response was disproportional in the extreme. "Placing a sticker on a sign that isn't supposed to be there in the first place is hardly a high crime or misdemeanor."
Greene had also hung a sign that read, "Let's go Brandon" with the hashtag "#FJB"– both slogans used on the right as substitutes for the phrase, "Fuck Joe Biden." Hysom said many House staffers were deeply offended by the display of a message so disrespectful of the sitting president of the United States, and in a public corridor of a House government office building.
As a gay man whose religious upbringing taught the importance of love and respect as Christian virtues, Hysom was also offended when Greene hung the "there are TWO genders" sign to bully and taunt Newman.
After requesting a copy of the House's policy governing decorations in the hallways of its office buildings, he put a sticker on Greene's sign, which according to Hysom kicked off a back-and-forth exchange whereby Greene would occasionally respond to the stickers by writing a message on the poster back to Hysom, once signed (heart) MTG. Most of the stickers contained Bible verses to point out her hypocrisy, he said. When Hysom would put a sticker on one of Rep. Greene's posters, she would take down the posters to replace them with new ones.
One sticker Hysom placed on Greene's gender poster read, "True Disciples of Christ don't say the things you say, act the way you act, or treat people the way you treat people."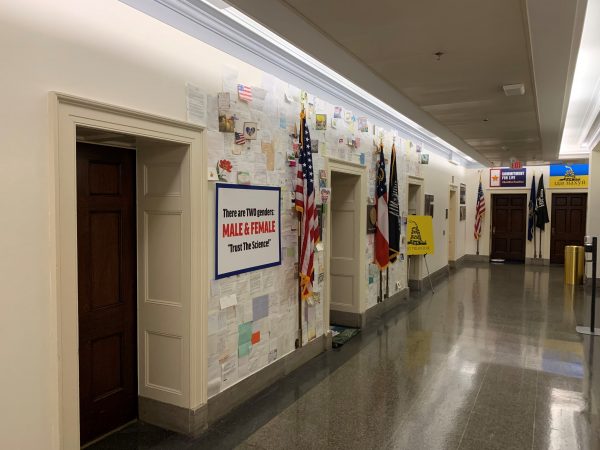 Greene's escalation of the matter came as a surprise, Hysom told the Blade. "The reality is that I challenged her hate speech in the halls of the Congress in a way that triggered her and caused her to have a meltdown," he said. "Her response was to send a like-minded horde of her followers to harass and threaten me." He added, "Regrettably, there are likely to be other waves of hate and vitriol, but I won't be intimidated by her or her hate-filled acolytes."
First, pursuant to the investigation by Capitol Police, likely conducted at Greene's behest, an affidavit in support of an arrest warrant was issued. (Contrary to what Rep. Greene told the Blade, Hysom was never arrested or charged with a crime.)
Then, in her 31-minute speech denouncing Hysom from the House floor, Greene tried to goad Auchincloss into firing Hysom, while directing her supporters to bully and harass him.
Almost immediately, a deluge of threats and harassment started pouring in to Hysom's personal and professional email and social media inboxes. He received a threatening letter at his home address. Many of the messages contained hateful anti-LGBTQ slurs. It continues to this day.
Now that the threats have died down, at least for now, Hysom said he is unsure whether his home is still being monitored by the Capitol Police, but the hateful messages have slowed, though they have persisted.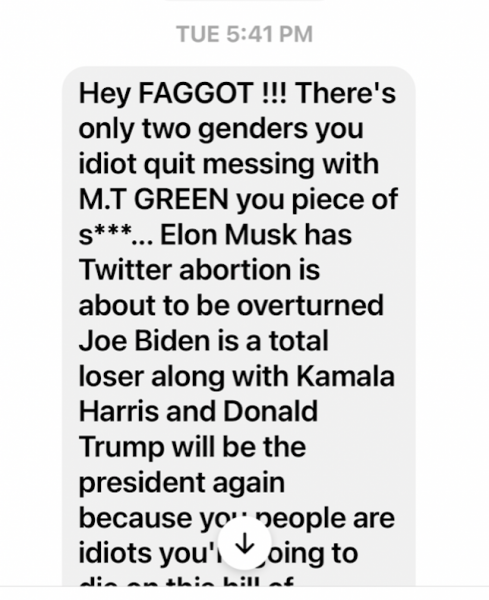 Amid the chaos following Greene's speech, Lowenthal reached out to offer support to his former chief of staff and extended an offer for Hysom to return to his office in the months before the lawmaker's planned retirement from Congress at the end of this year.
The congressman sent a statement to the Blade on his experiences working with Hysom:
"Standing up to bullies and railing against injustice, while demanding equity and grace in how we treat one another, are ideals I have always aspired to. And yes, sometimes that demands what my dear friend John Lewis called 'good trouble.' Tim has always fought for these same ideals of justice and equality and he has demonstrated his above-and-beyond dedication to this institution more times than I can count.
"I have been honored to have him as a member of my staff, just as each of my staff have benefited, both personally and professionally, from working with him. The foundation of my success in Congress has been the efficient and effective office that Tim built for me and kept running smoothly through his more than eight-year tenure with my office. And despite his commitment to my office, he has also dedicated himself to the betterment of not only this institution as a whole, but to the development of the professional staff that works here.
"I can say without hesitation that Congress is a better institution for Tim being a part of it."
For her part, Greene accused Hysom of targeting her for her gender and her religious beliefs. Among the messages she shared on Twitter were:
"Soon Biden's DOJ will prosecute people for hate crimes if they dare try to stop trans strippers dressed in drag from grooming children at schools & in public, but they refuse to prosecute @JakeAuch COS Tim Hysom for hate crimes against my faith & gender and my district's beliefs."
And: "[email protected] did you know your COS Tim Hysom repeatedly targeted me? I have some of the highest number of death threats in Congress, with approx 60 official threats just this year and one man on trial for trying to kill me. Do you or Tim Hysom know any of them? Is Hysom one?"
Hysom assured the Blade he has not sent and would never send threatening messages to the congresswoman. Apart from the exchange over the stickers, he said he has never had any contact with Greene or her office.
The poster Greene took to the House floor on June 21 – which misleadingly accuses Hysom by name of criminal conduct with photos of him taken from surveillance footage – was hung outside Greene's office in Longworth since that time. (It is unclear whether she brought it to her new space in the Cannon House Office Building.)
Ahead of Lowenthal's retirement, Hysom said he's actively job hunting. "I have some prospects, but nothing has materialized definitively yet," he said. "It's a bit scary, but I remain hopeful. I'm an institutionalist and I love the House. I've spent more than 20 years trying to build up the Congress and Rep. Greene has spent every waking minute of the last two years trying to tear it down."
In terms of the impact of his conflict with Greene, Hysom said, "Nobody on my side of the aisle puts any credence whatsoever into what Congresswoman Greene says, so it's not like people on my side of the aisle believe putting a sticker on her poster was a 'hate crime' or that a Bible verse on a sticker somehow means that I hate women or Christians. On the contrary, I simply tried to point out that what the congresswoman says and does are not at all Christ-like."
Still, the last thing Hysom was looking for was a public feud with the congresswoman. "Nobody that knows me would consider me a rabble rouser," he said. "Walking by those hateful signs every single day just finally got to me. I couldn't let it go unanswered."
And then, there's the matter of the House Ethics Committee investigation.
"The committee is still deliberating on what to do next. These are uncharted waters," Hysom said. Republicans on the committee are perhaps unlikely to cross Greene and vote with Democrats to dismiss the complaint, while Democrats would be unlikely to assist Greene in her quest to further punish Hysom by voting with Republicans to move forward and impanel an investigative subcommittee.
With the members deadlocked, the matter could die with the end of the current Congress, though the committee could vote to extend the case into the upcoming 118th Congress.
The House Ethics Committee declined to comment.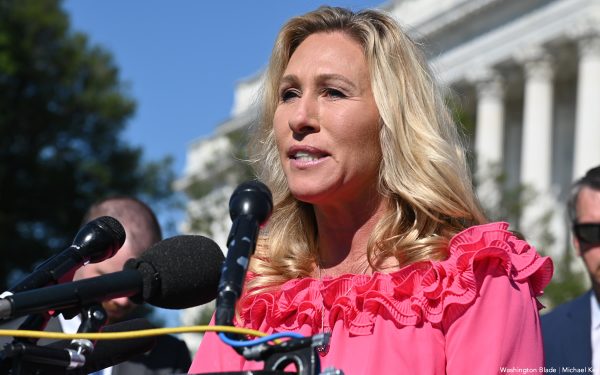 Lifelong warrior for social justice takes his mission to Sacramento
Former farm boy turned lawyer turned former Executive Director of Equality California turned politician, Rick Zbur speaks with the Blade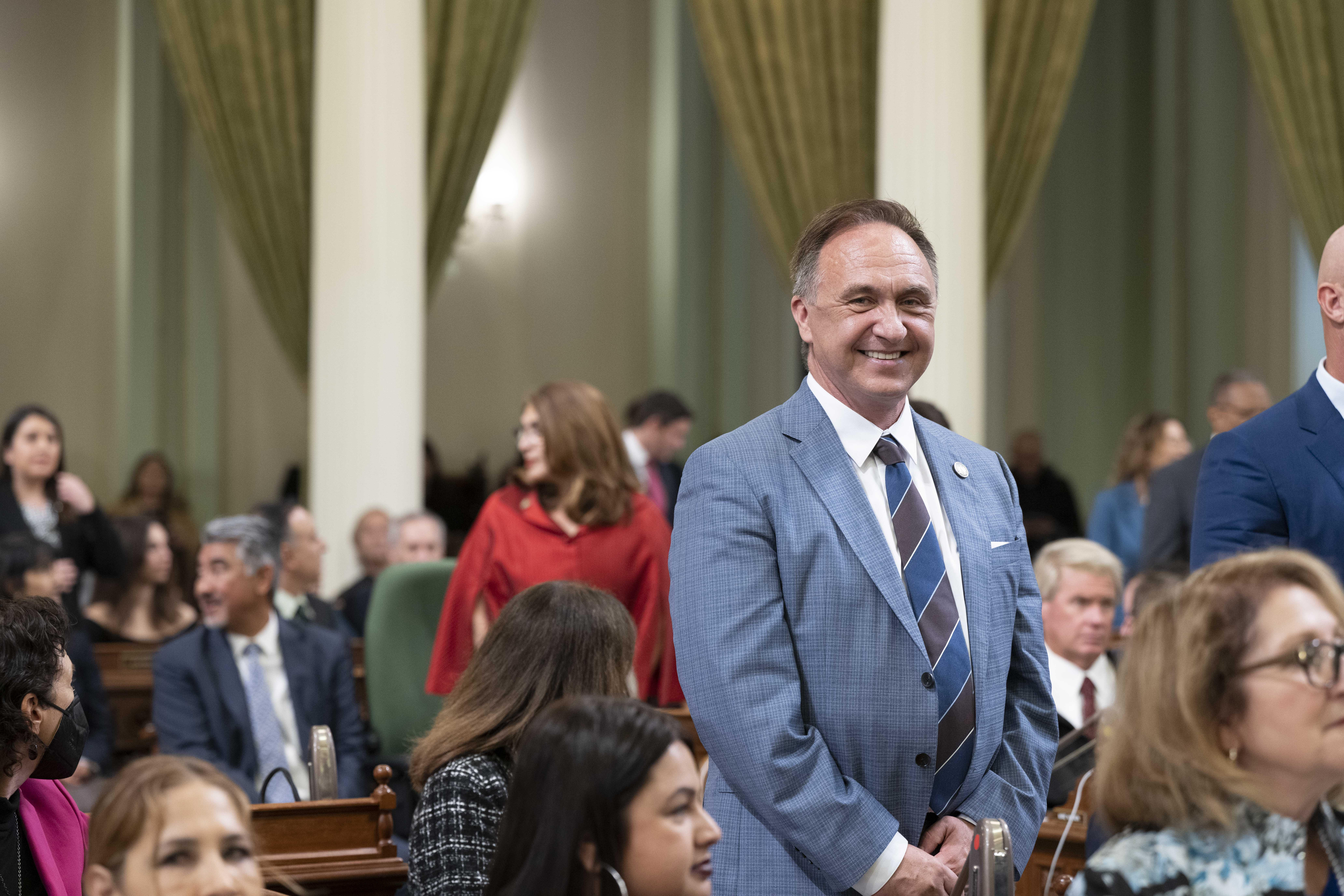 CALABASAS, Calif. – Proudly Out Democratic Assemblymember Rick Zbur is a lifelong justice warrior. The former farm boy turned lawyer turned Executive Director of Equality California turned politician has made it his mission to fight for the rights of LGBTQ+ people, immigrants, communities of color and faith and people living with HIV.
Zbur graduated from Yale, making him the first person from his rural community in the Rio Grande Valley of New Mexico to attend an Ivy league university. He then went on to practice law for twenty-five years at the renowned Los Angeles-based international law firm of Latham & Watkins LLP, making both partner at the firm and a name for himself as one of California's leading environmental and government law attorneys. 
Zbur was Latham & Watkins' first openly gay attorney and first openly gay partner. He worked in all aspects of the firm's environmental, land and resource practice, including leading the firm's extensive work before the powerful California Coastal Commission.
During his eight years at the helm of Equality California, (the nation's largest statewide LGBTQ+ civil rights organization), Zbur led the organization through a period of significant growth and an expansion of its mission to include advancing civil rights and social justice for the diverse communities to which LGBTQ+ people belong — communities of color, communities of faith, immigrants, women and people living with HIV.
Early Activism
Zbur has fond memories of growing up in rural New Mexico about two hours south of Albuquerque where his mother, Erlinda Chavez Zbur, and her family have lived for generations. In particular, he recalled being inspired by his father, who, after dropping out of high school, made his way from working the steel mills of Chicago to serving in the military then attending college earning his Ph.D. and finally to becoming a professor. 
"He was always the Democratic activist in the family," Zbur told the Blade. "He used to say that I was sort of his sidekick."
Zbur credits his early connection to his father's activism as the foundational reason that instilled his love for politics.
"I was one of those very weird kids who was interested in government and was always watching everything on the TV, like the Democratic convention. Because I was always helping my dad with organizing, I always thought I would do something in government."
"After I went to Yale, I worked with Tom Harkin for the reelection. He is a progressive, representing an agricultural district in Iowa. I cut my teeth on that and then went back to law school."
"It was during law school that I started to come to terms with the fact that I was a gay man," he added.
A Shift to Politics
"I always wanted to do something in public service and create charge," Zbur told the Blade. 
"I had a sister who was ill with ALS. [amyotrophic lateral sclerosis aka Lou Gehrig's disease] She passed away in 2020. About ten months before she passed away, she was already in a wheelchair, and she knew her time was short. She was basically looking at her life and feeling like she had regrets about the things that she didn't do. She turned to me then and said, 'You know, Rick, you were always supposed to do something in public service. That was always your calling. I hope you decide not to put that off any longer.'"
Zbur took his sister's advice to heart. When he won the Democratic primary in March of 1996, he made history as the first openly LGBTQ+ non-incumbent in the nation's history to win a contested congressional primary race.
"The times were very different. You couldn't really be openly gay. In 1979 to 1983, there were no openly gay elected officials."
"I ran for Congress in 1996 when I lived down in Long Beach. I was a pretty idealistic and young candidate, and I made a decision to try to unseat a popular republican incumbent. I became the first openly gay person to win a contested primary as a non-incumbent when I went in the primaries in 1996. I lost in the general that year." 
"I then basically decided that I really should just focus on trying to advance the things that I cared about and keeping very active California Environmental Voters. I was really just trying to advance the things I cared about through community service."
"During this whole period of time, we had Sheila Kuehl become elected to the legislature, and the world started changing. That is what caused me to run again. I was at Equality California, and I had been running the organization for six or seven years. At that point, I was really active in the LGBTQ+ movement. I really felt like we had an incredible amount of impact in terms of the bills we were getting passed and the programs we had for LGBTQ+ people, with a big focus on addressing all the disparities in health and wellness needs within our community. We also really focused on addressing the trans community, taking up focuses on labor standards, immigration reform, and criminal justice reform." 
"Equality California had really matured into a strong organization. When I started there, it was on the brink of collapse. By the time I left after my eight years there, we were the second largest LGBTQ political organization in the country in terms of membership and very high up in terms of our budget. I felt like I could take a step back and focus on public service and broader issues, and I decided that running for the legislature was the way that I could have the most impact in the next stage of my career."
The Importance of Being an Out Politician
Zbur explained, though, that his coming to terms with being gay was complicated by the rampant homophobia of the time.
"The times were very different. You couldn't really be openly gay. In 1979 to 1983, there were no openly gay elected officials."
However, Zbur decided that being true to himself was a priority.
"I started coming out in law school, and when I was doing that, I wasn't out at work yet. There was no one out in my law firm. I was out to friends, and then I came up to my sister next and slowly came out when I was about 24 or 25."
"There was a lot of discrimination generally in society. So I was actually really proud when I came out at work because they embraced me, and they said it was a meritocracy, and this was not going to be an issue."
"A couple of years after that, I was promoted to partner at the firm, but you know I was the first openly gay lawyer at Lathem and Watkins despite the fact that it was a big firm."
Zbur noted that while his law firm was overall supportive of his coming out, homophobic rhetoric has been rampant throughout his career. 
"When I was at Equality California, we always had people that were trolling our social media channels. We had death threats that were targeted at our events, so much so that we had to put in high amounts of security and metal detectors at the events."
"When I was a candidate for Congress, I had death threats repeatedly to the point where the Long Beach Police Department had to put security detail on me at my house. We would get these long diatribes at the office telling me that I was going to go to hell. People would call in to the campaign office with hate epithets."
While a lot of the hate that Zbur received was overt, some hate speech was more subtle, albeit no less targeted.
"My first campaign for Congress, my opponent at the time had people that were putting out leaflets at churches, basically showing a picture of me shaking hands with Bill Clinton and asking, 'Do you want a homosexual representing you?' My Republican opponent, who ran against me, basically sent out a flyer that said, 'Is Steve Horn anti-gay?' And then when you would open up the flyer, it would say, 'No. Steve Horn would never use the fact that Rick Zbur is a homosexual against him."
"There were gay neighborhoods in Long Beach, so we knew this kind of tactic wasn't appealing to them, but it appealed to the broader campaign, and the anti-LGBTQ people within the conservative areas were clearly engaging in hate speech and hate communications."
Sadly, this type of homophobic rhetoric is still seen in political races today.
"We see cases where anti-LGBTQ+ strategies are still used against LGBTQ+ candidates. It happened to Todd Goria when he ran for mayor. It was very easy for people to use all the same kinds of anti-LGBTQ+ that the right-wing uses. They went after many candidates, but particularly Todd Gloria, because he was going to be the first openly gay mayor of San Diego. This was just a couple of years ago."
When asked why, in the face of all this hate, he feels it is so important to be an openly out politician, Zbur replied that it is vital that those who can lead by example indeed should.
"When you have a seat at the table, it affects the outcome," Zbur told the Blade. "Of course, our allies are very important. As the body that we are, we are still not the majority of the public. I want to stress the importance of having strong allies. But having strong allies does not substitute for having a real, lived experience where you can actually bring your own experiences as examples and where you are accountable to our community, and you don't trade off goals and objectives for that community for other important objectives. The other thing is, the message that it sends to not only LGBTQ+ youth but all LGBTQ+ people, especially in areas that are not as accepting as the area that I live in, in West Los Angeles area in West Hollywood."
Zbur then recounted one instance at a gay bar when a young gay man approached him to thank him for the positive impact his pro-LGBTQ+ political actions had on his life.
"I remember once when I was still at Equality California, I was walking into a gay bar on a Sunday afternoon, and this 20-something DREAMmer young man came up to me."
"DREAMers" are individuals who entered the U.S. before age 18 in 2017 or earlier and have continually lived in the United States since that time. Many of these individuals are LGBTQ+. Equality California has been a constant supporter of granting work permits to DREAMers.
"He basically wanted to thank me. Equality California was doing so much on immigration reform, and we had come out in favor of comprehensive immigration reform. He said how important it was to him as a gay young man that there were people like him whom he could see that were successful in society and that LGBTQ+ organizations were actually standing up for him. I think it's important to show role models to people that are out in society and to show folks that we are part of a community, that we contribute to our communities, and it shows kids that they can achieve any dream they want if they work hard. It shows them that being LGBTQ+ should not be a barrier to any dream that they might have."
HIV/AIDS Work
A well-known AIDS activist, Zbur has a personal connection with the disease. He moved to Los Angeles in the 80s as the AIDS pandemic was just beginning to rear its ugly head. 
"I had many friends who became ill," said Zbur regretfully.
Seeing how little the government was doing to help spurred Zbur's political action and also gave him the courage to come out at work.
"I was still closeted at work, and what got me politically active again in the mid to late 80s and early 90s was that our government wasn't doing anything to address the AIDS epidemic. We had hundreds of thousands of people get sick and die. I worked hard to get Barbara Boxer elected because, at that point, she was the only candidate for the Senate, pretty much any place in the country, who even talked about gay people when we were dying, and our community was being so impacted. During that period of time, I became engaged and was trying to get people elected who I thought were progressive and willing to address LGBTQ+ civil rights."
"A lot of people started coming out around the AIDS movement," explained Zbur, "because they realized the lives of our community were at stake. Because so many people were in the closet, people didn't understand how many people there were in at risk in society and how these discriminatory laws were impacting people. It was clearly discrimination. I mean, there's still discrimination today."
The AIDS crisis sparked not only a wave of political activism but also a sense of unity and pride within the queer community as they were bound together in the face of this tragedy. 
"The women in our community really stepped up in that period of time when the men were very, very ill," said Zbur. "I think that our greater community together was really part of a combination of things that happened throughout the same time and had really brave trans folks really sort of standing up against the brutality that they were facing, and so the AIDS epidemic standing up the Stonewall and the cafeteria riots were basically standing up to the brutality that our community faced."
"We were really trying to improve the lives of people who are living with AIDS and HIV, as well as really trying to get to zero — zero stigmas and zero transmission, and zero HIV deaths. We really started focusing on HIV legislation in particular."
Zbur worked closely with partners such as APLA Health and Wellness, the ACLU, LA LGBT Center, and The Trans Latina Coalition to push hard to pass bills relating to queer civil rights. 
Some bills seemed almost impossible to pass without the help of Calif. State Senator Scott Wiener, who worked closely with Zbur and Equality California. 
"We couldn't find someone in the legislature who was willing to carry the HIV criminalization bill. Literally, people were afraid of it. The LA Times just completely mischaracterized what that bill does. This kind of thing still happens today. If you actually look at the LA Times endorsement of my campaign, they describe one of my accomplishments as basically reducing the penalties for people who intentionally infect people with HIV. But that is not what I did. But because that was the way it was characterized, legislators were really afraid of taking that bill on."
"I remember meeting with Senator Wiener before he got elected. We were helping him and asked him if he would be willing to take on this bill if he got elected. He said, 'Yes. I would be happy to.' So when he got elected, he took the bill on. It took us two years to get it through."
"We were not the first state to modernize HIV laws, but we were the first state that had a model bill that did it all the right ways. Since then, Equality California, working with the Elizabeth Taylor AIDS Foundation, made a program helping state organizations in other states also reform their HIV criminal laws so that just the fact that you're living with HIV does not become a criminal risk for you. Passing that bill was a hard slug, but I'm very proud of it."
"We also supported other bills like making PREP and PEP available at pharmacies without a prescription and ensuring that in California, health plans cover them."
"We have done a lot of budget advocacy around HIV to make sure that the social service organizations that provide support for people in our state are adequately funded."
We have also done education programs. We did a very deep program focused on making sure that everyone who is at risk knows that PREP is available. We focused this where PREP intake was low. We even did Gindr ads and made sure that we were focusing on communities of color and low-income communities to try to make sure that people understood the fact that we could prevent HIV by a combination of things."
"We were really trying to help the public understand that HIV is no longer a death sentence. You can live a normal healthy life with the disease, and there are things that can be done to stop the spread, of course." 
Ending Hate
"I have been really chagrined about this whole attack on the LGBTQ+ community and the anti-sematic speech that has been occurring," Zbur admitted.
When asked what needs to be done to end hate in California, Zbur responded with a multi-step solution.
"First of all, I think one of the things that we need to be doing is standing up whenever hate speech occurs. A lot of it is about speaking up. I'm really excited that I'm able to represent another district in Southern California where there is strong public support for moving forward the cutting-edge legislation that we need to both protect our community and actually really address and achieve what I call 'full-lived equality.' This is an equality wherein all the disparities in health and well-being that our community faces are addressed." 
"I think there are a lot of parallels between anti-LGBTQ hate speech and the rising anti-Semitic hate speech. This applies to any racist and xenophobic hate speech as well. The antisemitic hate speech, in particular, is currently really troubling. I feel like I have a special responsibility to step up to that, given that if you look at the two largest communities in my district, they are basically the mosaic of what constitutes the LGBTQ+ community and the mosaic of what constitutes the Jewish community. Those are the two largest groups."
I think the thing that really is saddening to me is the fact that we've seen this rise in anti-somatic hate speech, including in Los Angeles and Beverly Hills, and Santa Monica, over the course of the last year. I don't think that it is a coincidence. I think this is all spurred by what's happening in the far right, and with President Trump. What we need to do is always stand up against it and make sure that we always address it.
"I do also think that some of the social media platforms are really accelerating hate speech."
"I think there are things that the platforms can do, although it's complicated because, on the one hand, we have free-speech rights that we don't want to infringe upon. But, on the other hand, there is a way that some of the social media algorithms work that needs to be changed in terms of transparency and focusing more on how the social media algorithms basically expand the hate speech that is occurring."
I want to give props to Assembly Member Jesse Gabriel, who has been very focused on that and ran a bill last year that I supported."
That bill was the Social Media Transparency and Accountability Act of 2021 (Assembly Bill 587) which is intended to 'bring much-needed transparency and accountability to the role of social media platforms in amplifying extreme and dangerous content and driving severe political polarization.
AB 587 would call for social media platforms to disclose internal policies on hate speech and harassment and share their specific protocol on how to deal with these policies.
"There is more to be done," said Zbur, "and the fact that it's complicated doesn't mean that we shouldn't focus on it."