The State of Hate: LA highest hate crimes reported in 19 years
Reported hate crimes in Los Angeles County grew 23% from 641 to 786 in 2021. This is the largest number recorded since 2002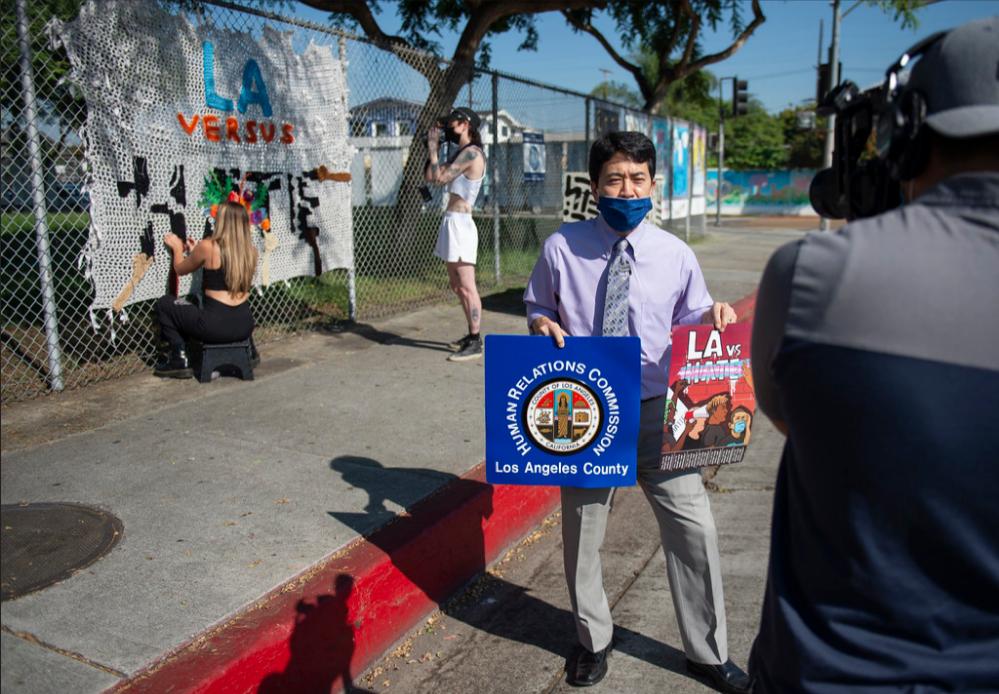 LOS ANGELES – The Los Angeles County Commission on Human Relations (LACCHR) released a report Wednesday that showed that hate crimes in Los Angeles County have reached a total that is the highest recorded in 19 years.
Since 1980, LACCHR has compiled, analyzed, and produced this annual report of hate crime data submitted by over 100 law enforcement agencies, educational institutions, and community-based organizations in Los Angeles County.
Crime data submitted by over 100 law enforcement agencies, educational institutions and community-based organizations in Los Angeles County was used showed that hate crimes in Los Angeles County grew 23% from 641 to 786 in 2021, according to the report. This is the largest number recorded since 2002.
The crimes overwhelmingly included acts of violence, and more than half were spurred by racism. Blacks, Latinos, Jews and LGBTQ individuals were the most-targeted groups. While Black residents only make up 9% of the county's population, the report showed that they comprise 46% of hate crime victims.
"The year 2021 began with a violent assault on the U.S. Capitol, led in part by white nationalist groups," said Robin Toma, the Commission's Executive Director.  "The shocking revolt was evidence of not only growing political polarization, but a country deeply divided along lines of race, religion, sexual orientation, and gender.  Against this backdrop, hate crimes across the nation, including L.A. County, skyrocketed in 2021."
The report noted that transgender people experience the highest rate of violent crimes at 93%, and racial crimes against the Black, Hispanic, Asian and Muslim communities all increased.
"The rise in hate crimes across Los Angeles County is deeply distressing. Our most vulnerable neighbors are facing enough challenges, and now have to worry about a greater risk of being attacked or harassed because of who they are. That is unacceptable," said Fourth District Supervisor Janice Hahn, Chair of the Board of Supervisors. "As Chair of the Board I'm looking forward to engaging with our partners across the County and with community groups to tackle these crimes. Hate has no place in LA County."
The report's significant findings include the following:
Hate crimes have grown 105% since hitting an all-time low in 2013.
The overall rate of violence increased from 68% to 74%, the highest rate in at least 20 years* Transgender victims experienced the highest rate of violence (93%), followed by homophobic (89%), racial (78%), and religious crimes (53%).
The 23% increase in hate crime was largely due to a 17% spike in racial crimes. Crimes targeting African Americans, Latino/as, Asians and Middle Easterners all rose dramatically. Racist offenses constituted 58% of all hate crimes.  
As in past years, Blacks were grossly over-represented. Although Blacks constitute only 9% of County residents, they comprised 46% of racial crime victims.  Anti-Black crimes jumped 30% from 169 to 219.
Latino/as comprised 25% of racial victims and anti-Latino/a crimes rose 10% from 106 to 117. Latino/as were the most likely of the larger targeted groups to be targets of violent racially motivated crime. In 78% of these crimes, anti-Mexican slurs were used.
Crimes targeting Asians grew 67% from 46 to 77 and comprised 16% of racially motivated offenses. In 23% of these crimes, the suspects blamed the victims for the COVID-19 pandemic. 
Crimes targeting persons of Middle Eastern descent rose 267% from 3 to 11.
Crimes in which suspects used specifically anti-immigrant slurs skyrocketed 48% from 56 to 83, the largest number ever recorded.
Sexual orientation attacks grew 15% from 124 to 142 and made up 17% of all hate crimes. Eighty-five percent of these crimes targeted gay men.
Religious-motivated offenses spiked 29% from 86 to 111 and made up 14% of all hate crimes. The rate of violence (53%) was the second highest on record*  The Jewish community was targeted in 74% of these cases.
Anti-transgender hate crimes rose 24% from 33 to 41. This number nearly tied the largest number ever reported (42, in 2019).
The largest number of hate crimes took place in the Metro Service Planning Area, which stretches from West Hollywood to Boyle Heights, followed by the San Fernando Valley region. However, if one compares the populations of the areas to the numbers of reported hate crimes, the Metro region had the highest rate, followed by the Western region (which includes parts of West L.A., Beverly Hills, Culver City, and several affluent beach communities).
Hate crimes committed by gang members increased 69%, from 32 to 54. Seventy-four percent were racial and the majority targeted African Americans.
"There is no room for intolerance and hate against anyone in Los Angeles County. I am disappointed by the most recent statistics that show we are going in the opposite direction of being inclusive," said Los Angeles County District Attorney George Gascón. "My office is committed to prosecuting those types of crimes that are motivated by hate and anger toward any group based on their race, ethnicity, religious beliefs, gender identity or sexual orientation. We need to recognize, respect, and celebrate our differences so we can build a stronger foundation of healthy and safe communities."
Since launching in June 2020, LAvsHate.org website content has been viewed over 1 billion times and has been shared more than 180 million times. Since September 2019, when L.A. vs. Hate and 211 began accepting calls, L.A. vs. Hate has received more than 1,900 reports.  Approximately, 90% of those callers have requested assistance via case management.
To view the complete report, including hate crime maps, graphs, and tables, as well as specific race/ethnicity data and examples, please visit https://hrc.lacounty.gov.
Brandon Tsay; hero who disarmed Monterey Park shooter honored
The White House announced that President Joe Biden has invited Tsay to be his guest at the State of the Union Address on February 7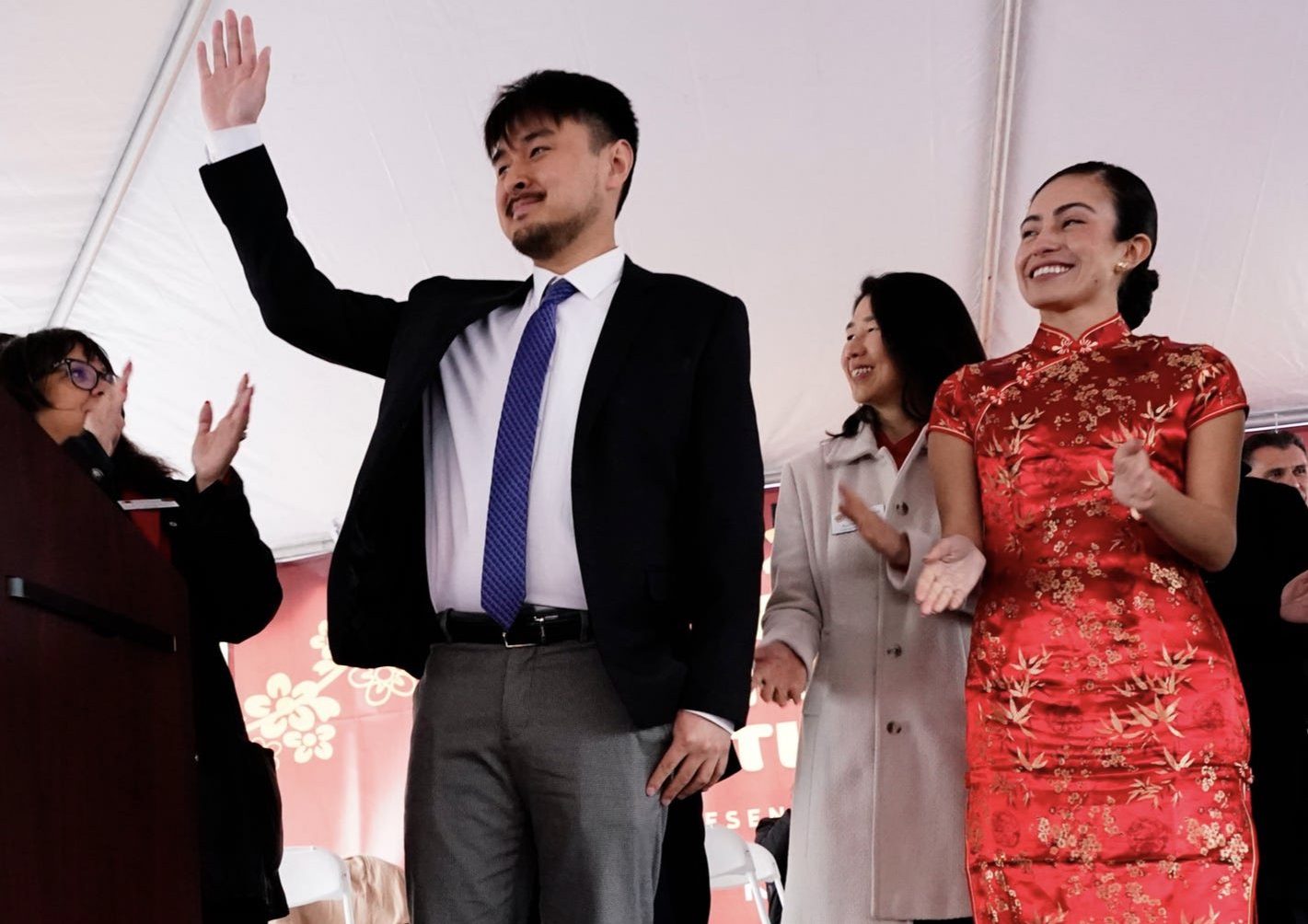 ALHAMBRA, Calif. – The City of Alhambra honored Brandon Tsay, the hero who disarmed the Monterey Park shooting suspect, at a ceremony this past Sunday. Tsay, 26, was awarded a medal of courage from the Alhambra Police Department. 
The White House also announced that President Joe Biden has invited Tsay to be his guest at the State of the Union Address on February 7.
In a surveillance video, Tsay is seen struggling to take a weapon away from the deceased suspect, Huu Can Tran, in the lobby of his family's dance studio, the Lai Lai Ballroom, in Alhambra eventually gaining control of the gun causing Tran to flee.
In an interview with ABC News anchor Robin Roberts in an interview last Monday on "Good Morning America," Tsay told Roberts that the gunman was "looking around the room" as if he was "looking for targets — people to harm."
"That's when I turned around and saw that there was an Asian man holding a gun. My first thought was I was going to die here, this is it."
"He started prepping the weapon and something came over me," Tsay said. "I realized I needed to get the weapon away from him. I needed to take this weapon, disarm him or else everybody would have died."
"When I got the courage, I lunged at him with both my hands, grabbed the weapon and we had a struggle," he added. "We struggled into the lobby, trying to get this gun away from each other. He was hitting me across the face, bashing the back of my head."
The Los Angeles County Sheriff's Robbery-Homicide division is piecing together the facts as to why Tran killed 11 people and wounded nearly a dozen others others in the mass shooting at the Star Ballroom in Monterey Park before traveling to the Lai Lai Ballroom.
"The carnage would have been so much worse had it not been for Brandon Tsay," California U.S. House Representative Judy Chu whose District includes Monterey Park said Sunday during the ceremony.
Rep. Chu also presented Tsay with a certificate of congressional recognition, calling his story "was so amazing" that she noted she had asked him to be her guest at the State of the Union address on Feb. 7. According to the congresswoman though, barely an hour after her request to him, the President called Tsay to personally invite him to be his guest.
According to the White House, the president in the call told Tsay: "I wanted to call to see how you're doing and thank you for taking such incredible action in the face of danger. I don't think you understand just how much you've done for so many people who are never going to even know you. But I want them to know more about you.
"You have my respect," Biden added. "You are America, pal. You are who we are — no, no, you are who we are. America's never backed down, we've always stepped up, because of people like you."
There was also a highly visible law enforcement presence at Sunday's event, held during the city's own Lunar New Year Festival.