Queer creator blends Shakespeare with iconic musical duo for 'Invincible' theatre project
"Invincible" is not the first time "Romeo and Juliet" has been deconstructed & rebuilt as a musical; apart from the obvious example of "West Side Story"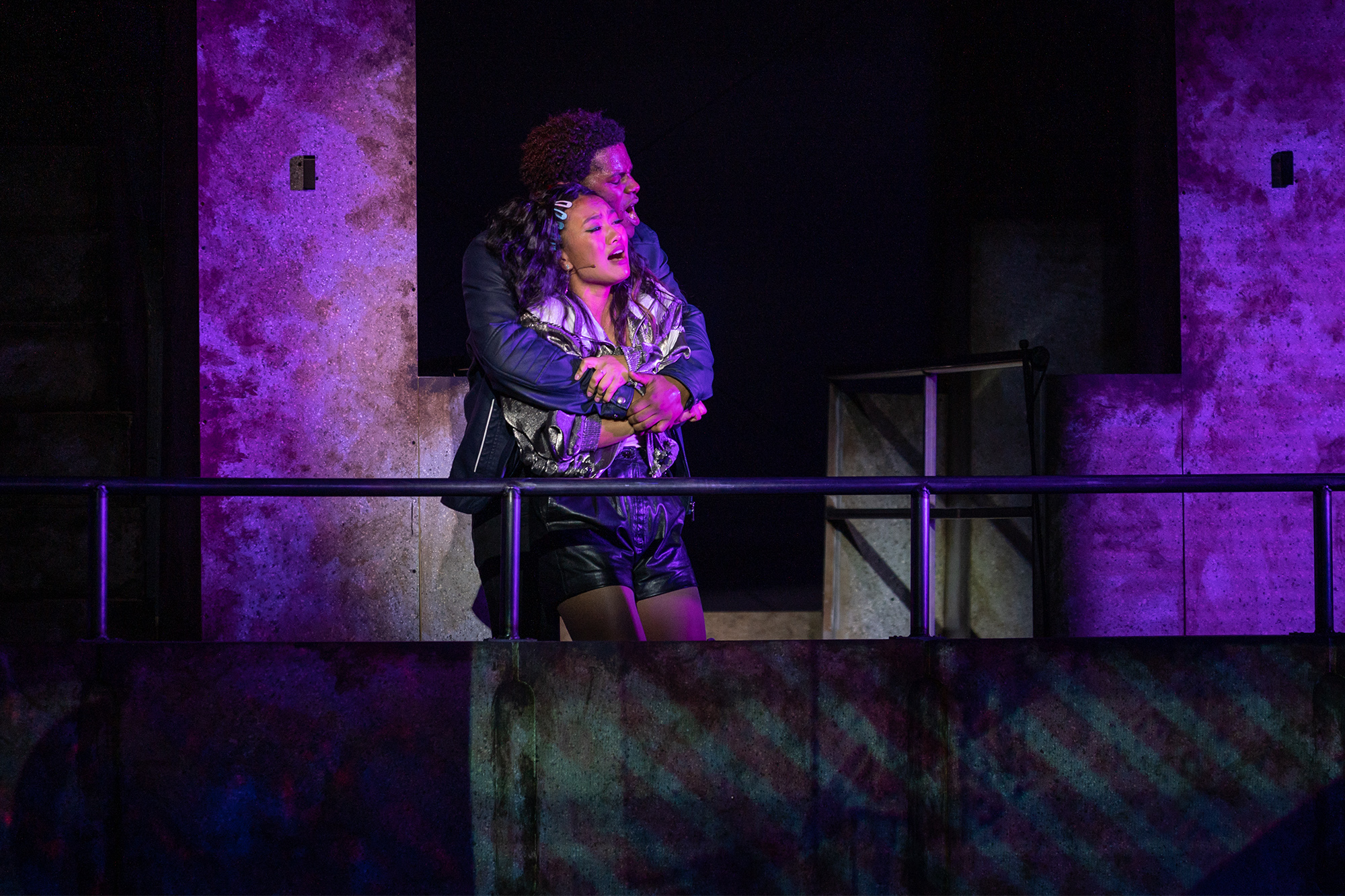 For millions of GenX-ers, the music of Pat Benatar and Neil Giraldo – Benatar's longtime lead guitarist, collaborator, and producing partner, and her husband since 1982 – has been an iconic generational touchstone for over four decades. This might be especially true for queer GenXers, who found inspiration during their formative years in the defiant spirit that resonated through many of the duo's songs.
One of those queer GenXers was Bradley Bredeweg, the out co-creator of another queer touchstone, television's "The Fosters," which became a hit for five seasons on FreeForm with its story of a lesbian couple raising five adopted children. Now, Bredeweg – a self-described "theatre kid" – is helping to bring Benatar and Giraldo's music to a new generation of rebellious youth with "Invincible," a new musical which intricately weaves the couples legendary catalog with inspired new songs to reimagine Shakespeare's "Romeo and Juliet" for the 21st century.
"When I got into writing for television, I realized that I missed the equal exchange that happens between the people on the stage and the audience," explains Bredeweg, who spoke with the Blade ahead of his show's November 22 opening at Beverly Hills' Wallis Center for the Performing Arts. "I love film and television, obviously, I'm so grateful for it, but after a couple of years of doing it, I was like, 'I miss that inner theatre child, so I'm gonna moonlight.'"
The result of his "moonlighting" turns Shakespeare's classic Verona setting into a modern, war-torn metropolis, and places his timeless tale of star-crossed lovers in a time of great transformation. Love and equality are forced to battle for survival as a newly-elected chancellor works to return the city to its traditional roots and destroy a progressive resistance that is trying to imagine peace in a divided world – and if you think that sounds familiar, it's by design. It's current run at the Wallis is its world premiere, but if things go as hoped, this is just the first step toward Broadway.
According to Bredeweg, however, it's far from the beginning of his show's journey.
"About twelve years ago, I realized I hadn't read 'Romeo and Juliet' since high school and decided to read it again," he tells us. "The next day I had to take a road trip – this was back in the era when I still had a CD book in my car – and I came across the "Best of" album of Pat Benatar and Neil Giraldo, so I popped it in and started driving. And because the story was obviously fresh in my head, I was listening to all these songs and realizing that if you line them up a certain way they totally tell the tale of 'Romeo and Juliet.' I wrote a first draft a couple of weeks later and then I just put it away and forgot about it."
Much later, in 2015, he walked into a Los Feliz bar called the Rockwell ("It was this really cool kind of spot that we don't have a lot of in LA, because we're not a theatrical town"), where cabaret performances were sometimes mounted by visting Broadway talent and Jeff Goldblum would do a gig every Wednesday night. Inspired by the vibe, he suddenly remembered "this thing I had come up with all those years ago" and impulsively pitched the idea of putting it on to the bar's manager. I said, 'I've got this crazy idea where I want to combine Shakespeare with Pat Benatar,' and she said, 'That's insane, but I'm a huge fan of your show and I love it, so let's do it.'"
This early incarnation (then called "Love is a Battlefield") was an unprecedented hit, enjoying a six-month run to sold out houses – that is, until Benatar and Giraldo's manager attended a performance and recorded a video of the whole thing on his iPhone. He showed it to Benatar and Giraldo, and they were intrigued; but at the time, unbeknownst to Bredeweg, they were working on developing their own life story as a musical using their songs, so they sent a "cease and desist" letter to the Rockwell and the show was forced to shut down.
"It was heartbreaking, for all of us," says Bredeweg, "because we knew we had something with real potential."
Then, a year later, he got a call from a producer who told him Benatar and Giraldo wanted him to come to New York and discuss his musical.
"Of course, I said yes and got myself there immediately. We took a meeting on their tour bus, and we started talking about the musical they were developing, and suddenly we all started to move in the direction of doing 'Love is a Battlefield.' By the end of it we were all laughing about how we had started out with a 'cease and desist' order and here we were talking about coming together to do a show."
In part, says Bredeweg, the couple was convinced to change course by their discussion of the proliferation of so-called "jukebox musicals" that have increasingly populated Broadway in recent years.
"We talked about how they have a shelf life, especially if they're focused on a specific artist. They have a built-in audience, but beyond that, how can they stand the test of time? The real test of a timeless musical is if, in 40 years, every high school is doing it. I think that's why we went back to using their iconic music to reinvent this epic, timeless tale."
Another part of the appeal was how aptly the couple's songs fit into Shakespeare's classic – a coincidence, perhaps, but one that might be better described as synchronicity.
"When Pat and Neil met back in the late seventies it was supposed to just be a working relationship, but they fell head over heels in love with each other," Bredeweg says. "When I got close to them, they told me they had been called the 'Romeo and Juliet of the music world' because the labels and managers and PR people were trying to break them up. They wanted Pat to stand on their own and Neil to just be her producing partner, and so much of what the two of them were creating at that time was about that struggle, about fighting that music industry system and saying, 'let us figure this out for ourselves.' That's why so much of their music works inside of this story."
For Bredeweg, the chance to realize his vision struck an intensely personal chord, too.
"I was always obsessed with the classics, but as a gay kid growing up in the eighties, I knew I felt different from everyone else, and as much as I loved them, I couldn't really 'attach' to any character inside them. Nothing felt familiar to me, everything was from the point of view of a white cisgender person – and I always had these dreams, if I ever had any say, that I would love to tackle these classics in a different way and reposition them for a more diverse audience."
In keeping with this mission, "Invincible" doesn't just make Verona into a more modern city, but a more diverse one as well. The Capulet and Montague houses are run by the women, whose husbands are both dead; Romeo's chum Benvolio is nonbinary, and falls in love with Juliet's nurse; Juliet's cousin Tybalt is secretly in love with her would-be husband, Paris; Paris himself is the city's new chancellor, seeking the marriage as a means to control the vast Capulet fortune and deploy it to shore up his political power. In Bredeweg's updated take on the tale, it's a story about powerful men with powerful motives, with a matriarchy fighting against the traditional patriarchy and a younger generation trying to take control of its own destiny – and to ensure that it includes the freedom to love who they want.
"That's obviously something the queer community can really understand," says Bredweg. "We've been there and done that, the fight for marriage equality is all about that. It's very much at the center of the show, and it was a big reason why I wanted to tackle the story, why I've rewritten so many characters with queer identities – taking these figures we thought we knew and giving them a more modern point of view."
"Our culture is shifting in such huge ways," he continues. "It goes back to my experience of not being able to find myself in these old tales. We are looking at our past, and pieces of art or the written world, or things in our politics, and we're trying to reinvent these pinnacle moments in a way to make sure that history doesn't always repeat, to move forward in different directions that are better for all of us. Especially the younger generations – they've stepped into this word where they've had no say in how chaotic things feel, and they are trying to take control of their identities and their path forward. That's really what's at the heart of our show."
"Invincible" is not, of course, the first time "Romeo and Juliet" has been deconstructed and rebuilt as a musical; apart from the obvious example of "West Side Story," the recent London import "& Juliet," now a hot ticket on Broadway, presents an alternative version of the story in which the title character doesn't kill herself, set to the music of pop songwriter Max Martin – responsible for hits from Britney Spears, the Backstreet Boys, NSYNC, and Céline Dion, among others.
Bredeweg isn't worried about the competition.
"I never think about that kind of thing," he tells us. "There's always room for interpretation with classics of this stature. There's space for both."

His production, of course, has the added advantage of showcasing the music of two deeply-beloved icons whose recent induction into the Rock-and-Roll Hall of Fame has catapulted their names back into the public arena in a big way – not that they were ever very far out of it.

For Bredeweg, though, the Benatar/Giraldo connection has always been much more than just a way to make his show marketable. It's the whole reason "Invincible" even exists.
"Pat captured my heart as a young gay kid for obvious reasons. There was something about her music, and her energy and messaging.
"It made me feel that if someone as powerful as her could exist, then I could, too."
"Invincible" continues its run at the Wallis until December 18. For tickets and more details, visit their website.
Jinkx & DeLa's latest holiday show has laughs, heart, & guts
"Add supernatural elements plucked from A Christmas Carol, and you've got more than enough pop culture references to hang the plot on"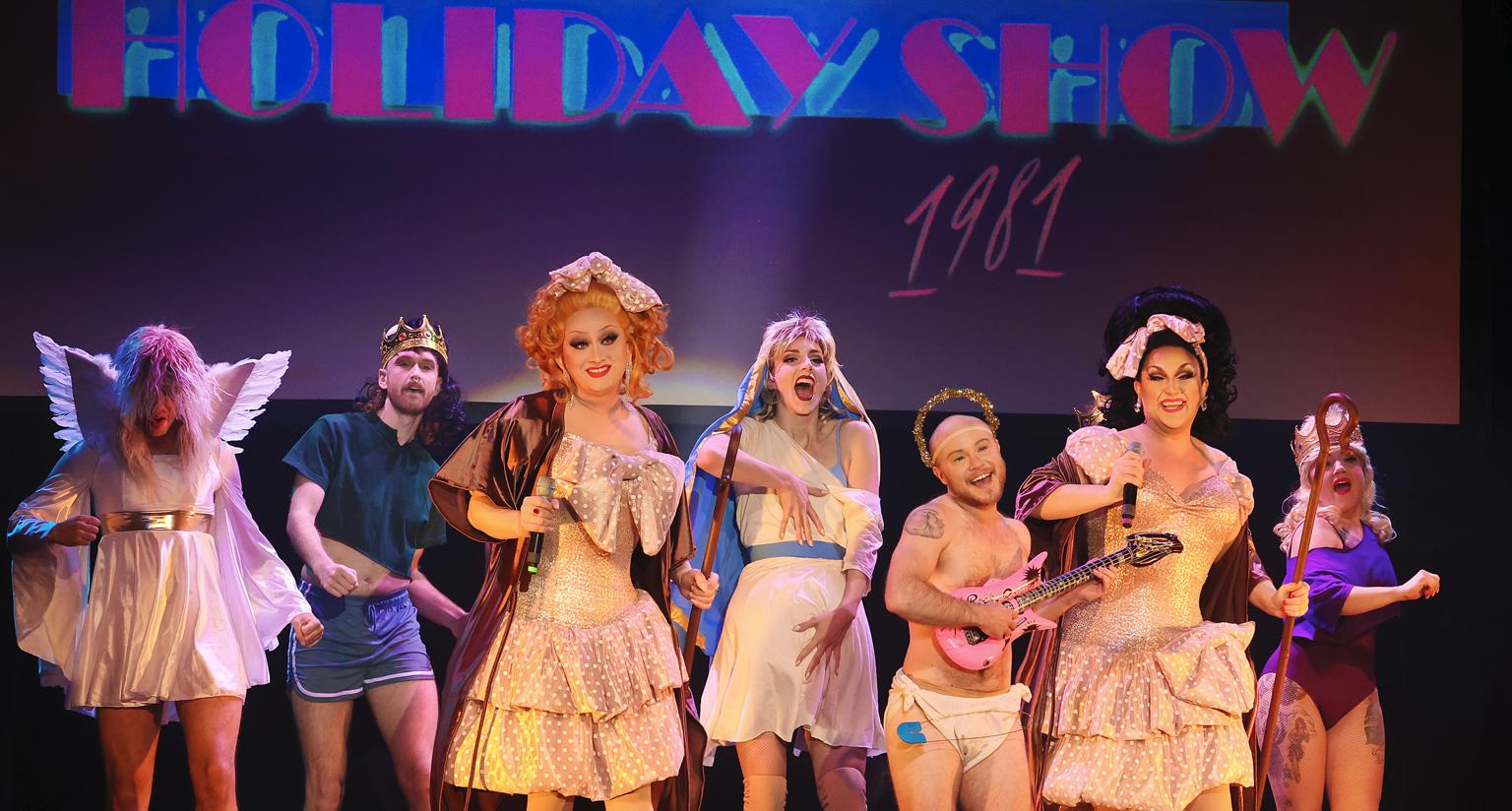 NEW YORK – Marking the fourth holiday-themed touring production from Jinkx Monsoon and BenDeLaCreme, The Jinkx & DeLa Holiday Show could do no wrong with the LGBTQ+-heavy crowd, at the first of two sold-out December 2/3 gigs at NYC's storied Town Hall.
That the show landed at a venue known for hosting progressive organizations and artists such as the ACLU and Bob Dylan was a fitting choice. Although they came to play, not fight, the headliners would cap their wonderfully silly and unabashedly sexual performance with a forceful rebuke of homophobic violence and call for corrective measures powered not by righteous anger, but by radical love.
But enough about the last ten minutes. You came to read about a show by two you know from RuPaul's Drag Race who've used that platform as both springboard and calling card—and that is what you shall get.
Written by and starring Jinkx Monsoon and BenDeLaCreme, The Jinkx & DeLa Holiday Show takes its rightful place in the ever-expanding canonical universe Big Banged into existence beginning with 2018's To Jesus, Thanks for Everything and followed by All I Want for Christmas is Attention (2019), The Return of the Jinkx & DeLa Holiday Show, LIVE! (2021), and The Jinkx & DeLa Holiday Special—a one-hour, made-for-TV program that first ran on HULU in 2020 and became an instant classic, with all the line-quoting, repeat viewing appeal of Rankin/Bass at their batshit crazy best. It's highly recommended at least once a year (handily beating a Hallmark movie for Christmas in July celebrants).
Fans of past Jinkx/DeLa stage shows who crave more of the same while hungering for something new will go home from 2022's installment feeling as if they've eaten the same slice of cake inexplicably cradled in the palm of their hand. In other words, this show takes up residence right along the border separating seen-it-before from ain't-seen-nothin'-yet. Familiarity shows itself exactly as it should—in the bickering and bonding between two wildly contrasting personality types locked in an eternal struggle to convince the other one they're going about things the all wrong.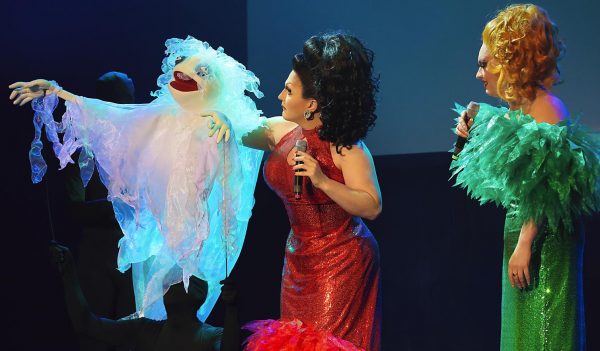 As self-appointed Activities Director of whatever happens to be happening at any given moment, Connecticut-raised BenDeLaCreme is the embodiment of a starchy but well-meaning perfectionist undermined by the very methods she uses to achieve that elusive enlightened state. At the opposite end of the spectrum is Jinkx Monsoon—a booze-swilling, pleasure-seeking, chaos-embracing pagan with a moral code so focused it invites comparison to DeLa's penchant for extremism.
That the duo stubbornly travel different roads but somehow end up at the same destination is a frequent narrative motif throughout their work, one that never fails to pay off. Both queens experience an occasional fleeting awareness of this irony, promptly tucking it away until the plot reaches its inevitable point of détente.
And as the rules of comedy fittingly dictate, they do need to be at war with each other, always on the brink of a nuclear option. In that manner, especially when there's no common enemy to fight, the conflict-prone odd couple milks their classic mismatched comedy team dynamic for all it's worth. Not that they need to. Sold separately, both can hold their own as artists. Jinkx won RuPaul's Drag Race All Stars 7 this year, and DeLa toured with the immensely satisfying matrimony farce Ready to be Committed.
But when offered as a two-for-one, as is the case with these annual Holiday Shows, the strange brew of charisma, chemistry, and unconventional choices supersizes the well-established personas of each performer while mapping some new terrain in a comedic landscape once surveyed by Burns and Allen, Burnette and Lawrence, Randall and Klugman, and Saunders and Lumley. (Don't know some or any of these names? One can easily imagine a steely-eyed Jinkx, in her raspy Smoker's Baritone, growling, "Oh, go look it up.")
As for the premise: It's 2022, and DeLa anticipates the impending celebration of Jesus' birth by working herself into a royal tizzy, having sensed, Princess-and-the-Pea-like, that something isn't quite right. Observing much "planetary pitchiness" and more eggshells than usual "in the global nog," DeLa recruits a reluctant Jinkx to time travel with her into past decades, from the 1960s onward—until they will presumably save Christmas by fixing whatever mistake created "the ever-declining Hellscape we once called our world." Add to that some supernatural elements plucked wholesale from A Christmas Carol, and you've got more than enough pop culture references to hang the plot on. ("More than enough" being the only substantial critic's takeaway: The Dickens classic is such a meaty bone, it deserves its own exclusive piece of satire. The ghosts used as guides to past/present/future could have been substituted by any number of imaginative options, as the writers excel at justifying huge narrative shifts with flimsy, throw-away logic.)
Of course, the large-looming, increasingly convoluted time travel thread itself is a wonderfully constructed conceit, an excuse for the show to stuff its stocking with every imaginable goodie on a diehard fan's wish list. We're talking giant puppets, RuPaul's Drag Race references, filthy jokes, gasp-inducing wardrobe reveals, cutting zingers, and an all-cast production number depicting the Christ Child's conception and birth as if it happened in the 1980s—when Journey rocked the top of the charts and everyone went to the gym looking like they had just seen Flashdance at a movie theater right next to a store that only sold headbands and leggings.
For practically every decade visited, there's an original or parody musical number benefitting immensely from the show's expertly choreographed dance ensemble. These six players—Chloe Albin, Mr. Babygirl, Elby Brosch, Shane Donohue, Jim Kent, and Ruby Mimosa—are on stage more often than not, and bring an actorly approach to the task at hand, whether it involves playing a candy cane, a reindeer, or sweet baby Jesus—fresh from the womb and already one of rock's most gifted lead guitarists. (Pay attention, Grindr bottoms: That's the kind of range expected when your profile says "verse.")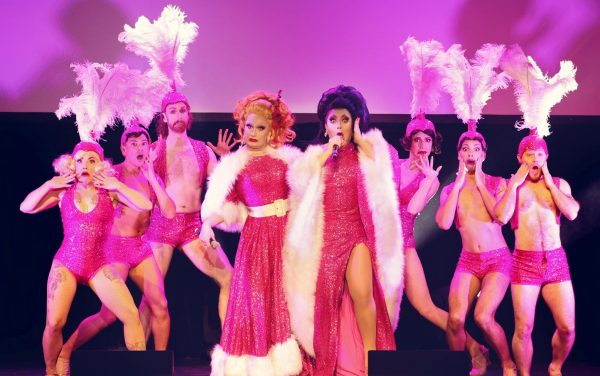 That our gals manage to bring the timeline back into acceptable alignment will come as no surprise. The real appeal of the show is seeing the onetime reality TV stars doing their own thing and doing it spectacularly, without manufactured drama and meanspirited betrayals. Fact is, there's plenty of mud being tossed, but done for the purpose of humor alone, it never lands with much force let alone stains.
What does linger is the potentially jarring—but effectively done—tonal shift during the show's final 10 minutes, serving as a shot of confidence that sends the largely LGBTQ+ crowd back into a world where the weapons-grade nastiness we've laughed at all night long won't be hurled by a member of the tribe or an ally who's in on the joke. After calling out the world they just spent two-plus hours fixing for its ever-present homophobia and potential for violence, Jinkx holds DeLa tight and sings Looking at the Lights, a contemplative number that swaddles the jam-packed, 1,500-seat venue in a blanket of radical love. Maybe enough to survive the holidays at an unhospitable family member's home, or at your own place, all alone. "We don't need to be okay," sings Jinkx, to recovering perfectionist DeLa. "There's no right way to be."
Composed by Major Scales, Jinkx delivers Looking at the Lights in a hushed manner worlds apart from the assertive vocal stylings she's been crushing all night. Lyricist BenDeLaCreme has called the 2021 song "the first I've ever written that's just earnest and didn't break itself with a joke… As someone who's always struggled with the holidays, this is more than just a song about pandemic loneliness. It's about friendship and community."
That sense of kinship is the gift we all hope to get, all year long. As such, it's one Jinkx and DeLa say they'll be touring with at this time of year—every year—for as long as the fates allow. Until then, this empowering nugget from the Jinkx/DeLa-written anthem, Everyone is Traumatized by Christmas:
No matter where you come from, no matter who you are
There's something 'bout this holiday that's sure to leave a scar
An overbearing family, no family at all
Run over by a reindeer or just working at the mall
…
[DeLa]
But, at least they're not alone

[Jinkx]
At least you're not alone

[Both]
No, you're not alone if you've been traumatized!
"The Jinkx & DeLa Holiday Show" has sold out its upcoming performances in cities including Austin, TX, San Diego, CA, and the December 18 show at LA's Orpheum Theatre. Limited tickets remained for the Orpheum's Dec. 19 show at the time of this article's publication. 
For tickets, click here. Super VIP and VIP Meet & Greet packages available. The tour continues through Dec. 30 with stops including Seattle, WA, Portland, OR, and Vancouver, BC. For those unable to see them live, highly recommended is 2020's "The Jinx & DeLa Holiday Special." Rent or purchase via Vimeo on Demand, iTunes, Google Play, VUDU, and Amazon Prime.
"The Jinkx & DeLa Holiday Show" is co-written and co-created by BenDeLaCreme and Jinkx Monsoon, directed by BenDeLaCreme, and produced by BenDeLaCreme Presents, a company comprised of producers BenDeLaCreme, Kevin Heard, and Gus Lanza.