Texas anti-drag protest included Log Cabin Republicans & guns
The anti-LGBTQ+ groups shouted out homophobic slurs "pedophile!" & "groomer!"  Some among the far-right extremists also open-carrying firearms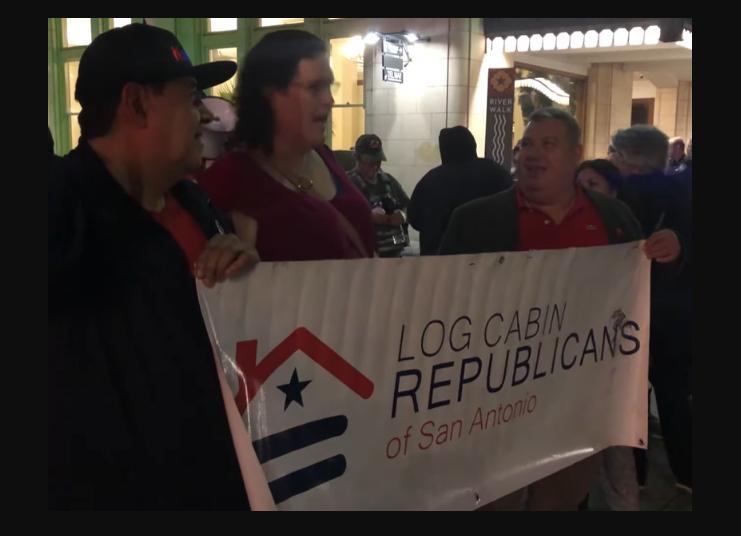 SAN ANTONIO – A holiday drag show event at the historic Aztec Theatre in downtown San Antonio Tuesday night was protested against by far-right extremists led by the Texas Freedom Force and conservative groups including the San Antonio Family Association and the LGBTQ+ political group Log Cabin Republicans of San Antonio among the demonstrators.
The protest also included pro-LGBTQ+ groups and individuals which, according to the San Antonio Report and a spokesperson for the San Antonio Police Department confirmed to the Blade, outnumbered the anti-LGBTQ+ protestors in an approximate 3:1 ratio.
The show, "A Drag Queen Christmas," features at least one reference to alcohol, but does not include any nudity or sexually explicit acts, according to promotional material and videos of previous performances posted online, the newspaper also reported.
The protest remained peaceful although police were extra watchful as both sides had individuals open carrying long rifles and sidearms.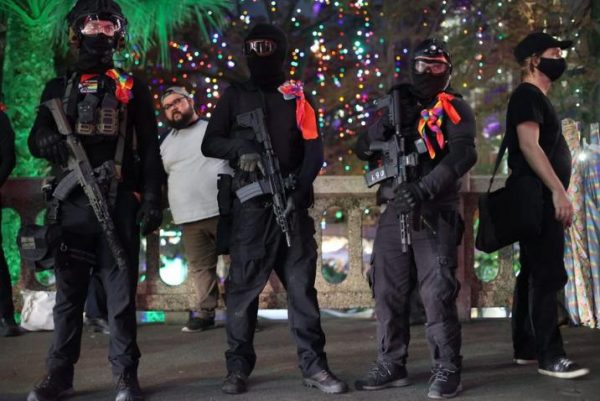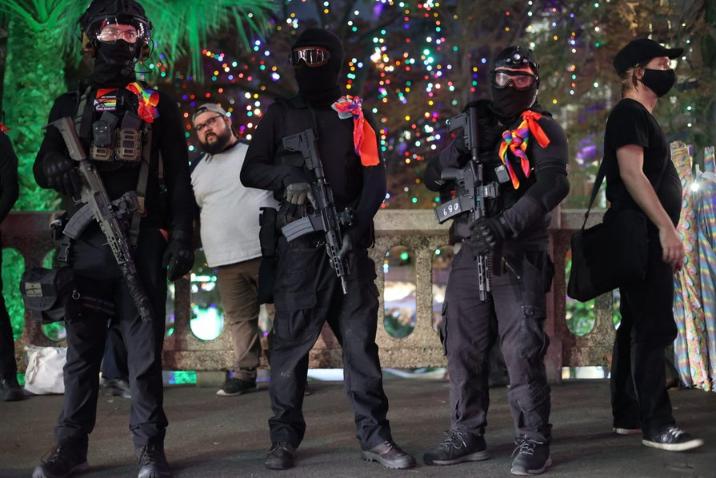 The crowd of LGBTQ community members and their allies grew to more than 150 people as the evening progressed the San Antonio Reporter noted, playing music, dancing and chanting to drown out those who massed across the street to protest the show.
A handful of armed people, dressed in all black with their faces mostly covered, stood on the pro-LGBTQ community side with rainbow scarves tied to their tactical gear.
The anti-LGBTQ+ groups shouted out homophobic slurs "pedophile!" and "groomer!" Some among the far-right extremists led by the Texas Freedom Force present were also open-carrying firearms.
About 40 protesters, some with the group This is Texas Freedom Force, stood across St. Mary's from the theatre. They have said they came to protest the all-ages drag show because it is inappropriate for children. https://t.co/MoEIuyqIzh

— San Antonio Report (@SAReport) December 14, 2022
City Councilman Jalen McKee-Rodriguez (D2) and Councilwoman Teri Castillo (D5) turned up to support the pro-LGBTQ group. Earlier in the day, McKee-Rodriguez, the first openly gay Black man to win a City Council seat, told the San Antonio Report that counterprotesters should "focus on [what we] hope to say in a protest — and it's that we are equally as deserving to be in this space as anybody else. And you can't intimidate us away from that."
Police Chief William McManus told the San Antonio Report earlier Tuesday that the department had spoken with a representative of This Is Texas Freedom Force.
"They have committed that … we won't have any problems from them," he said.
One of the anti-LGBTQ protesters outside the drag show here in San Antonio claims that the pro-LGBTQ counterprotesters are paid by "George Soros" and then spreads an antisemitic conspiracy theory that Soros was a Nazi collaborator who turned in Jews during the Holocaust. pic.twitter.com/izVEpfZHnG

— steven "italian elon musk" monacelli (@stevanzetti) December 14, 2022
In a development which will surprise exactly 0 people, the local Log Cabin Republicans chapter has joined the anti-drag show protest outside the Aztec Theatre in San Antonio. pic.twitter.com/DAVZwBE6Pj

— Tyler the ✨𝓕𝓾𝓬𝓱𝓼𝓲𝓪𝓷✨ 🏳️‍🌈🏳️‍⚧️ (@TylerAlbertario) December 14, 2022
Prominent anti-LGBTQ+ activist running for Texas House
Woodfill has for years been at the helm of conservative Christian and anti-LGBTQ+ movements in Houston and Texas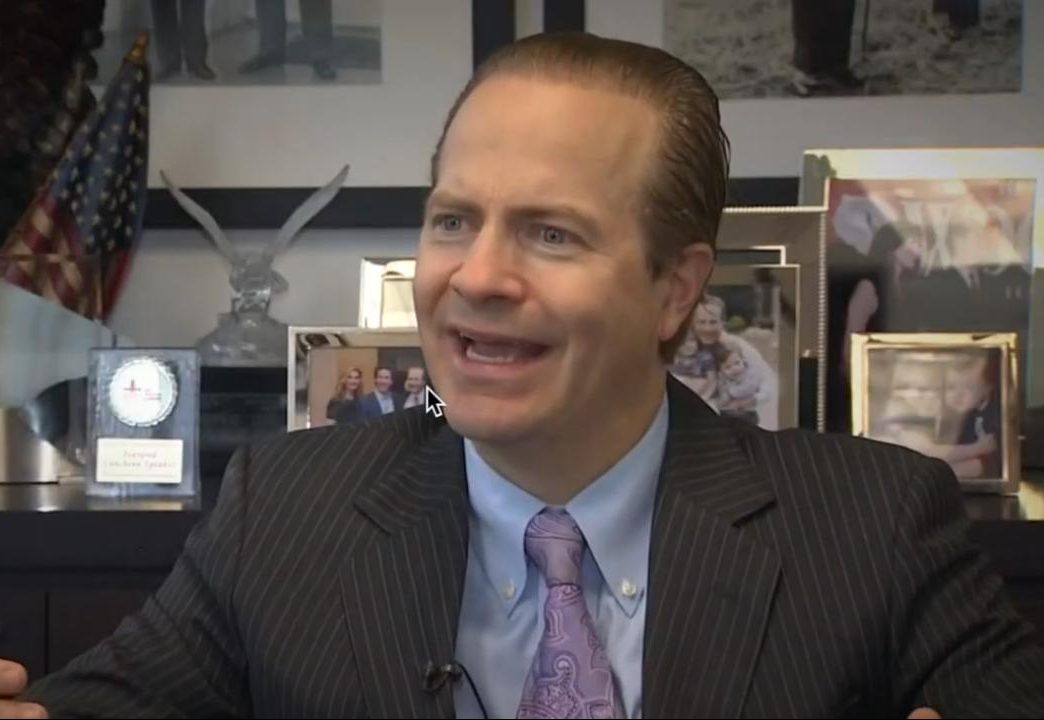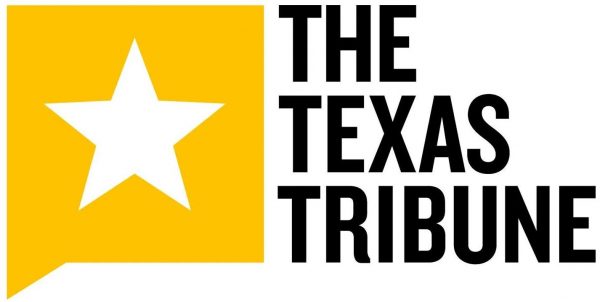 By Robert Downen | HOUSTON, Texas – Prominent anti-LGBTQ+ attorney and former Harris County GOP chair Jared Woodfill is running for the Texas House and to replace House Speaker Dade Phelan.
Woodfill announced his candidacy for House District 138 this week, touting his legal challenges to COVID-19 mandates and LGBTQ+ legislation, and the four "Republican sweeps" that Harris County Republicans saw during his tenure as the local GOP's leader from 2002 to 2014.
He's running against incumbent Republican Rep. Lacey Hull, who was first elected to represent the northwest Houston district in 2020 with backing from Gov. Greg Abbott and U.S. Rep. Dan Crenshaw, R-Houston. Hull was ranked as one of the most conservative members of the Texas House this year based on an analysis of voting records by Rice University political scientist Mark Jones.
Woodfill's campaign has already tried to frame Hull as a Republican in Name Only — RINO — by citing D ratings from two conservative activist groups. His campaign also accuses her of conspiring with Phelan — a longtime nemesis of Woodfill and other ultraconservative Texas Republicans — to "undermine" conservative legislation and impeach Attorney General Ken Paxton.
"The entire episode was an example of why 'RINOs' in Austin must be voted out of office," Woodfill's campaign website states. "Woodfill will be ready on Day 1 to bring decency back to HD 138, and return our conservative grassroots values back to the Texas House of Representatives."
Woodfill and Hull could not be reached for comment Friday.
Woodfill has for years been at the helm of conservative Christian and anti-LGBTQ+ movements in Houston and Texas. In 2015, he and well-known Houston GOP powerbroker and anti-gay activist Dr. Steven Hotze played key roles in the defeat of an ordinance that would have extended equal rights protections to LGBTQ+ Houstonians, during which they compared gay people to Nazis and helped popularize "groomer" rhetoric.
The two have remained close, leading a pro-Paxton fundraising group during the attorney general's impeachment this summer and spearheading legal challenges to COVID-19 closure mandates and election results in Harris County. Woodfill is also representing Hotze in a criminal investigation stemming from a 2020 incident in which a private investigator, allegedly acting at Hotze's behest, held at gunpoint an air-conditioning repairman who he believed was transporting fake ballots.
Woodfill has faced his own legal issues: He has for years been at the center of an ongoing lawsuit in which a man accuses Woodfill's former law partner and Southern Baptist leader Paul Pressler of decades of sexual abuse. In March, The Texas Tribune reported that Woodfill testified under oath that he was alerted in 2004 about child sexual abuse allegations against Pressler, who Woodfill was representing at the time in an assault lawsuit that was settled for $450,000. Despite that, Woodfill continued to work with Pressler, providing him with a string of young, male personal assistants who worked out of Pressler's home. The lawsuit is set for trial early next year.
In 2018, Woodfill was also investigated for money laundering by the Harris County District Attorney's Office after being accused of misappropriating funds from two clients of his law firm, though no charges were filed.
Hull cruised to reelection in HD 138 last year, beating her Democratic opponent Stephanie Morales by 15 percentage points — or about 8,000 votes.
Disclosure: Rice University has been a financial supporter of The Texas Tribune, a nonprofit, nonpartisan news organization that is funded in part by donations from members, foundations and corporate sponsors. Financial supporters play no role in the Tribune's journalism. Find a complete list of them here.
****************************************************************************************
Robert Downen is a reporter covering democracy and the threats to it, including extremism, disinformation and conspiracies. Before joining the Tribune in 2022, he worked for five years at the Houston Chronicle. As a Hearst Media fellow, he developed what would become "Abuse of Faith," a landmark investigation into child sexual abuse in the Southern Baptist Convention that prompted a Department of Justice investigation.
Before coming to Texas, Robert was a business reporter in New York's capital region, and the managing editor of six newspapers in his home state of Illinois. He is a 2014 graduate of Eastern Illinois University.
The preceding article was previously published by The Texas Tribune and is republished by permission.
**********************
Quality journalism doesn't come free
Perhaps it goes without saying — but producing quality journalism isn't cheap. At a time when newsroom resources and revenue across the country are declining, The Texas Tribune remains committed to sustaining our mission: creating a more engaged and informed Texas with every story we cover, every event we convene and every newsletter we send. As a nonprofit newsroom, we rely on members to help keep our stories free and our events open to the public. Do you value our journalism? Show us with your support.
Donation Link Here: (Link)