Trans youth sports ban fails to pass Ohio House
The Ohio bill is the latest in a year that has seen over 300 anti-LGBTQ+ bills introduced. The legislation overwhelmingly targets Trans youth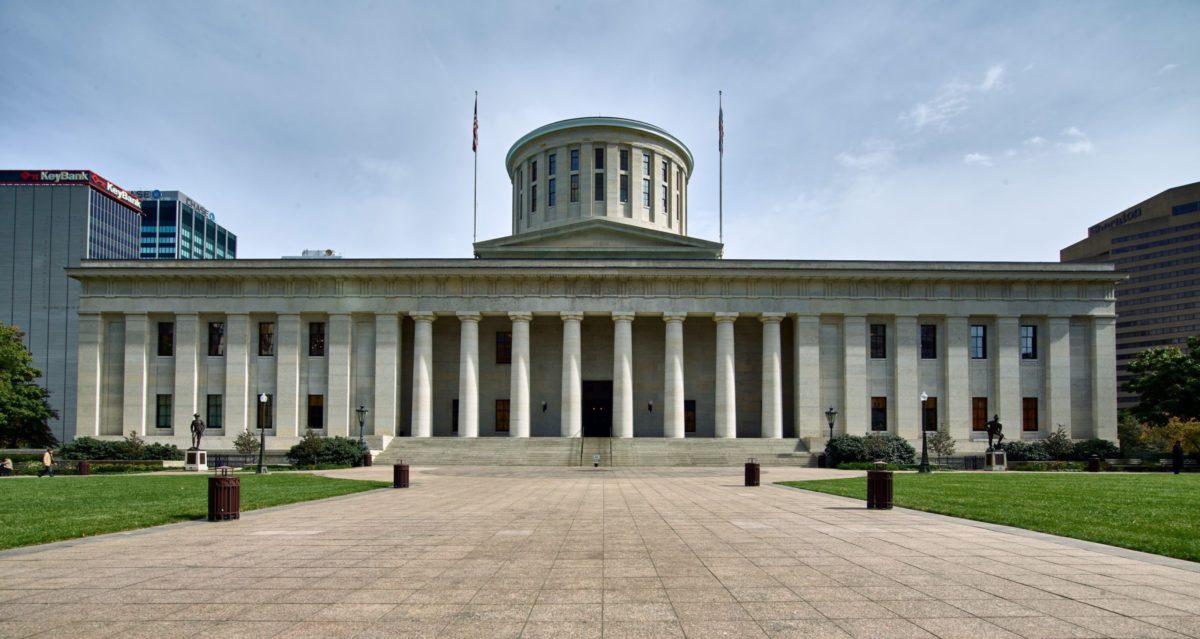 COLUMBUS – A bill that would ban Transgender women and girls from participating in high school and college sports failed to garner enough votes to pass the Ohio House in a late night session before the Ohio Legislature adjourned for the year.
The Ohio High School Athletic Association (OHSAA) has a policy, which has been in place since 2015, that sets standards for the inclusion of Trans Ohioans in school sports. According to Equality Ohio, throughout the policy's 10-year history, fewer than 20 Trans girls were approved to play high school girls' sports. 
Rep. Jena Powell, a Republican representing a district north of Dayton, added anti-Trans language to H.B. 151, sponsored by Republican state Rep. Don Jones, a piece of unrelated legislation that would revise Ohio's Teacher Residency Program.
The amended bill was introduced last June on the first day of Pride Month.
The bill that would ban Transgender women and girls from participating in high school and college sports would also require those accused of being Trans to go through a "verification process" to check their genitals. 
The Ohio bill is the latest in a year that has seen over 300 anti-LGBTQ+ bills introduced. The legislation overwhelmingly targets Trans youth, from blocking participation in sports to baring access to gender-affirming care.
According to a press release from Equality Ohio, in the last two weeks—in an attempt to save face but preserve the cruelty—the genital inspection language had been replaced with equally exclusionary language that created a blanket ban on transgender girls by adding a birth certificate verification process.
Ultimately, a new amendment passed on the Senate floor coupled pieces of the ban with 2000+ pages of other large changes to Ohio's education system. Thankfully, the gigantic amendment—including the anti-trans sports language—was voted down by the House in its entirety.
Last night, Ohio's ban on transgender athletes in K-12 sports failed to pass through the legislature.

We are absolutely thrilled by this news! Thank you to our partners and advocates who tirelessly fought this legislation into the night last night.

— Equality Ohio (@EqualityOhio) December 15, 2022
Alana Jochum, Executive Director of Equality Ohio, said about the victory, "I cannot begin to express my gratitude to the hundreds of community members and advocates who stood up for the rights of all transgender youth to participate in all parts of life as whole people, including sports, just like everyone else. Today is a day to celebrate that trangender Ohioans can continue to play sports with their friends and teammates. To our transgender youth: We see you, we love you, and we will always have your back."
"TransOhio is vehemently opposed to any legislation that attempts to limit the existing rights and freedoms of trans individuals, especially when lawmakers are clearly using trans children and adolescents as pawns in political games." said James Knapp Chair of TransOhio. "We are relieved this discriminatory bill did not advance further, but this is again a warning to stay vigilant — this is the second time in two legislative sessions that lawmakers have crammed a failing transphobic bill into an unrelated bill, trying to ram it past the legislature at the eleventh hour, while constituents are asleep."
"The ACLU of Ohio is relieved, for every transgender and gender-nonconforming child in this state, that early this morning the Ohio House rejected HB 151," said Sean McCann from ACLU of Ohio. "We celebrate the fact that trans athletes woke up this morning and found out they can continue to play their favorite sports. Their courage, and the courage of their families, has been so inspiring to watch. It is because of their tireless, courageous advocacy at the Statehouse and elsewhere that this hateful bill did not make it to the Governor's desk. The ACLU of Ohio will always stand with trans and gender non-conforming youth, and we will continue to be vigilant and prepared to fight against future attacks on their right to exist as their authentic selves."
"We are grateful that members of the Ohio legislature saw this legislation for what it is: discrimination. All children deserve to have the same positive, affirming, and formative experiences as their peers, and those who tirelessly fought against yet another extremist attack made it clear that our most vulnerable youth deserve to be seen, heard, and protected." Sarah Warbelow, Human Rights Campaign Legal Director
Ohio BOE delays vote on rejecting federal LGBTQ policies
The resolution calls for the general assembly to "assist local districts in combatting federal overreach" & references "parental rights"
COLUMBUS, Ohio – The Ohio Board of Education sent a resolution rejecting federal LGBTQ nondiscrimination policies to the executive committee, delaying a vote on the measure advocates have called anti-LGBTQ.
The resolution, introduced by board member Brandon Shea, expresses the board's "unequivocal opposition" to a proposed Biden administration rule extending Title IX protections to LGBTQ students. In addition, it attempts to invalidate the U.S. Department of Agriculture's announcement that such interpretations will apply to its school meal program. (Ohio's attorney general, Republican Dave Yost, joined a lawsuit challenging the USDA's regulations.)
The measure, which was referred to committee in a 12-7 vote, states that sex is "an unchangeable fact," adding that "[d]enying the reality of biological sex destroys foundational truths upon which education rests and irreparably damages children."
The resolution calls for the general assembly to "assist local districts in combatting this federal overreach" and makes reference to "parental rights." It asks state legislators to ban transgender girls from female sports teams and private facilities, prohibit classroom instruction on sexual orientation and gender identity in grades K-3, and force schools to inform parents when their child changes their name or pronouns.
LGBTQ and education advocates have railed against the resolution. Honesty for Ohio Education, a nonpartisan statewide coalition that champions honest education, notes that the guidance this resolution opposes is not a rule change or change in the law.
Shea – who has not responded to the Los Angeles Blade's request for comment – defended his resolution, stressing that "time is of the essence." The measure also "acknowledges the pain experienced by those suffering with gender dysphoria" and said the "appropriate course of action to pursue for students experiencing symptoms of gender dysphoria is treatment delivered by parent-selected mental health professionals."
After four hours of testimony – which included comments from transgender people, both youth and adults, teachers, Conservative activists, politicians, parents and more – the board took the resolution up for a vote, beginning an extended debate over whether to send it to the executive committee. The motion passed, delaying a vote on the resolution.
"I want this to be done, but I want it to be done right," board member Paul LaRue said.
Supporters and opponents packed the board's Wednesday meeting to comment on Shea's resolution before the vote. In September, the vast majority of speakers were against the resolution.
First, board members heard from a string of supporters of the measure – voicing concerns over "biological males" in women's restrooms and sports. Others called transgender people a "fad," warned against "grooming" and spoke against gender-affirming surgery for minors, which is rarely offered to adolescents. The World Professional Association for Transgender Health says the surgeries should be reserved for adults.
Ohio state Rep. Gary Click, a Republican who introduced a bill limiting transgender health care earlier this year, said President Biden is trying to force an agenda on kids by "stealing their lunch money." News 5 Cleveland reported in July that Click did not speak to any transgender people before authoring, introducing or giving testimony on his legislation.
On Twitter, Equality Ohio, the state's largest LGBTQ organization, said the speakers were anti-LGBTQ. "We are currently in the back room waiting to testify," the group tweeted as supporters of the resolution spoke.
Meanwhile, demonstrators stood outside the building with transgender Pride flags and signs that read "Trans kids matter" and "This teacher loves and supports trans students." At least one demonstrator held a sign demanding the board not be "religious bullies."
The first two speakers are supporting the resolution. Here is what is happening outside right now. H/T @KarenKasler for the picture pic.twitter.com/mu9bNQOQTr

— Jo Ingles (@joingles) October 12, 2022
After the first stream of speakers, opponents of the measure began to testify – many describing how dangerous the resolution could be for LGBTQ youth. According to the Trevor Project, LGBTQ youth who had access to spaces that affirmed their identity reported lower rates of attempting suicide than those who did not. (Some speakers said the Trevor Project is not a valid source.) 
Aaron Demlow speaks passionately about how he was a trans student in Ohio.

"That was me! I was a trans student in Ohio!"

Activists have killed the bill successfully for the time being. Ohio voted to send it back to committee. pic.twitter.com/7lXun5p3ZE

— Erin Reed (@ErinInTheMorn) October 13, 2022
"I will be one of the people who would have to clean up the mess you left behind," Rev. Andy Burns, a United Methodist Church pastor from Columbus, said – adding the resolution will harm children.