Brendan Fraser reclaims his star in 'The Whale'
Film overcomes criticism of straight casting, use of fat suit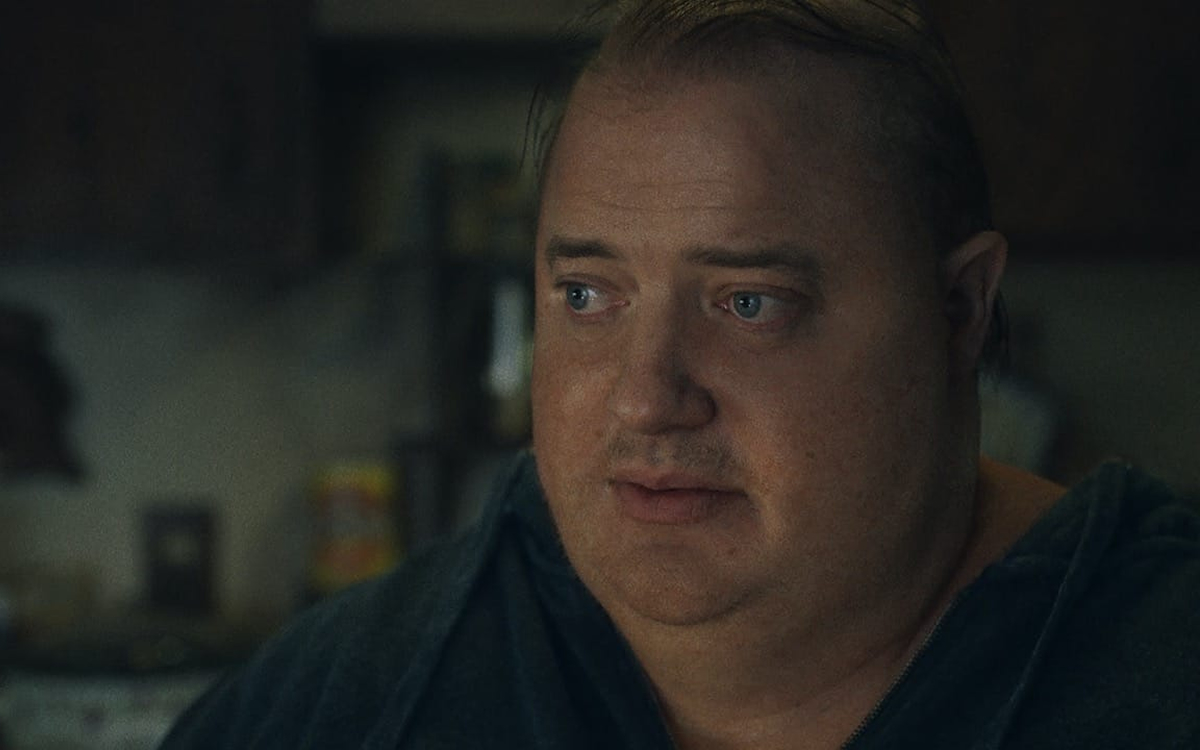 We're not going to lie to you: "The Whale" is a hard movie to watch.
This should come as no surprise to those familiar with the work of Darren Aronofsky, who has been disturbing audiences ever since "Requiem for a Dream" – his second feature, released in 2000 – subjected them to a grueling portrait of multiple characters driven to debasement and self-destruction by addiction. It was the kind of can't-look-away cinematic experience that turned many viewers into instant fans even if they never wanted to see it again.
His latest film is comparatively less shocking, but it somehow manages to be almost as disturbing. Adapted for the screen by Samuel D. Hunter from his original play of the same name, "The Whale" documents a crucial week in the life of Charlie (Brendan Fraser), a 600-lb shut-in who teaches a writing course for an online college. Consumed by grief over the death of his partner and haunted by guilt over abandoning his wife and child to be with another man, he has survived in his reclusive lifestyle thanks to regular visits from his only friend (Hong Chau), a professional nurse; now, with his health declining, and painful memories being stirred by a persistent young Christian missionary (Ty Simpkins) determined to "save" him, he decides to reach out to his estranged daughter (Sadie Sink) in the hope of being reconciled with her before it's too late.
It's a movie that comes with considerable fanfare, thanks in no small part to its star, who disappeared from the limelight nearly two decades ago after a series of personal setbacks – including an alleged sexual assault, revealed by the actor in 2018, in which he claims to have been groped by former Hollywood Foreign Press Association President Philip Berk during a 2003 function in Beverly Hills – led him to abandon his career as one of Hollywood's most likable leading men. News that Fraser had been cast in Aronofsky's film prompted a wave of social media attention from a legion of Millennial fans eager to see a much-deserved comeback, and when the movie premiered at the Venice Film Festival in September, glowing praise for his performance – as well as a six-minute standing ovation for the movie itself – only served to heighten the buzz.
Yet alongside the feel-good narrative of a beloved actor's triumphant return, there has also been a swirl of controversy – some over the casting of the heterosexual Fraser as a gay man, but mostly over criticism over the choice to put him in a prosthetic "fat suit" and what some cultural observers perceived as a stigmatizing portrayal of obesity.
For his part, Fraser rises above the fray to deliver a truly hype-worthy performance which validates the promise he showed but could never fully realize in his early career. Guided by consultations with the Obesity Action Coalition – which acknowledged the controversy around the use of prosthetics but endorsed the film for its "realistic" portrayal of "one person's story with obesity" – and bolstered by extensive dance training to help him capture the physicality of moving with excessive weight, he seems to fully inhabit Charlie; there is no performative self-awareness to make us doubt his sincerity or distract from the emotional nuance he brings to the role, and he deploys the characteristic earnestness that made him an audience favorite in the '90s to undercut any suggestion of the morose. No matter where you stand on the cultural conflict over on-screen representation, it's hard not to be impressed by a performance so refreshingly devoid of ego.
The same cannot be said for the film in which that performance exists. The ever-polarizing Aronofsky has been explicit in his insistence that "The Whale" is meant to be empathetic, yet for many viewers its messaging contradicts that assertion. Shooting the movie in an old-fashioned 1:33 aspect ratio, the director crowds his protagonist into the frame, further amplifying our impression of his size; his editing and camera angles emphasize – even exaggerate – the grotesque, treating close-ups of Charlie's body like "jump scares" in a horror film and infusing his episodes of physical distress with a fascination that borders on fetish. He does everything he can to confront us with Charlie's weight in ways that seem designed to repulse us.
These flourishes of excess are visually hard to take – after all, this is Darren Aronofsky – but what makes them even more unsettling is the challenge they present to our self-perception. Our visceral response to them forces us to measure our own level of empathy, to question the judgments we carry, and to think about the deeply ingrained cultural stigma that influences our attitudes about body acceptance.
The same confrontational approach pervades Hunter's script. Embracing its theatricality, his adaptation never expands the action beyond Charlie's cramped apartment and indulges in lengthy didactic exchanges that serve as a litmus test for our prejudices around religion, homophobia, marital infidelity, and more. Further, prompted by Melville's "Moby-Dick" as a central element in Charlie's obsessions (SPOILER ALERT: that's why it's called "The Whale"), we are strongly encouraged to interpret things with a strong dose of literary irony.
All of this might make a case for Aronofsky and company's good intentions in making a film that promotes empathy, but it's not likely to satisfy viewers who believe those intentions fail to justify a portrayal they see as demeaning. Though a majority of reviews so far have been positive, many critics have taken a harsher perspective, rebuking "The Whale" and its director over what they deem an insensitive depiction, and it's not our place to say they're wrong.
Even so, it has much to recommend it for cinephiles who take a wider view; though its approach may raise some hackles, it pushes us to look past self-satisfied pretensions of supportive solidarity and consider the reality of existence for those who struggle with extreme weight. Charlie's self-esteem can't be fixed by adopting a body–positive outlook, nor can the life-threatening impact of his size on his health be erased by acceptance; in the face of his profoundly traumatic lived experience, such solutions feel like shallow platitudes – and that's a big part of what makes "The Whale" such a bitter pill to swallow.
That doesn't mean it's a masterpiece; constrained by its structure, it requires us to accept too many pat-and-perfect coincidences among its five characters to buy into its narrative, and some of its most cathartic moments feel unearned, even hollow, as a result. Then again, considering Aronofsky's penchant for making films that feel more like parables than cinema, an expectation of realism might just be one more pretension the director is aiming to deflate.
In any case, Fraser is reason enough to give "The Whale" a chance. The movie belongs to him (though the whole cast is excellent, with standout turns from Chau and Sink), and his performance transcends its divisive provocations; and though Aronofsky may fall somewhat short of his ambitions, sometimes even undermine them, he nevertheless succeeds in shaking us out of black-and-white oversimplification and pointing us toward a deeper understanding of the world. In our book, that's never a bad thing.
'Women Talking' is the timely film everyone should be talking about
Filmmaker Sarah Polley explores shocking abuse in culturally significant effort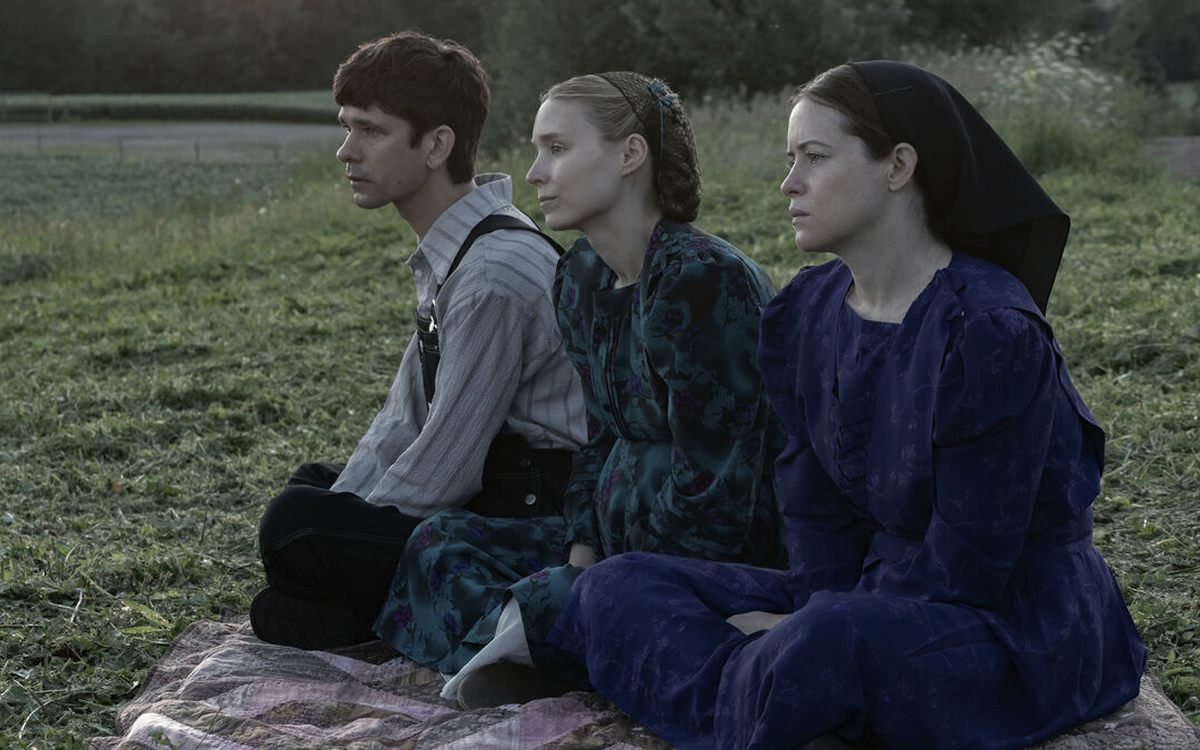 With the Hollywood awards season well underway, the public conversation around movies these days is mostly around the movies that have begun to emerge as early champions.
That makes this the perfect time to bring up "Women Talking," a movie not many people have seen – yet – but that more people should be talking about.
Adapted for the screen and directed by Canadian filmmaker Sarah Polley, it's based on a 2018 novel of the same name by Miriam Toews (which itself was loosely based on real-life events in Bolivia), and set in an ultraconservative Mennonite colony, isolated from the wider world by both distance and strict religious tradition, in which dozens of girls and women have been drugged with animal tranquilizers and sexually assaulted in the night by a group of men over the course of several years – only to be accused of lying or told that their attacks and injuries were perpetrated by "ghosts or demons." Now, they've now been offered a choice – either forgive their attackers and continue living in fear or leave the community and be expelled from the church; with only a few short hours to decide, a group of townswomen convene in a barn to weigh the dilemma, and to make the impossible choice of what to do.
In Toews's book, and therefore Polley's film, the shocking circumstances of the story are reimagined in an American setting, and the scenario is framed – in the spirit, perhaps, of an increasing sense of public conscience that favors commemorating the victims of violence over elevating the victimizers' names in the cultural record – through the eyes of the women; we never see the faces of their attackers, nor hear their names. Their identities, in fact, are irrelevant; for these women, what matters is making an impossible choice whether to brave the unknown evils of a world outside their experience or resign themselves to endure the all-too-familiar evils to which they are accustomed, forced upon them by male elders who seemingly think of them as little more than human livestock.
That's a position that feels unsettlingly relevant in the climate of today's America, and though both book and movie were conceived and executed before the devastating Supreme Court decision striking down Roe v. Wade, the timing of "Women Talking" couldn't be more powerful or relevant. In watching these onscreen women attempt to find justification within their faith to defy the strictures that leave them powerless and without protection, it's impossible not to notice the reflected significance; though the arguments they rehash – obedience to the teachings of their church, accepted gender roles within their culture, the "rightful place" of women in society, and all the other well-rehearsed topics inextricably tied to the ideals of feminism and basic human rights – often feel to us like the antiquated rhetoric of a bygone era, we cannot help but be aware that the principles they struggle to define, considered by many of us to be long-settled and self-evident, are currently anything but.
That's entirely the point, of course. Polley's film derives considerable power from the juxtaposition of an old-fashioned lifestyle into a contemporary setting; most of what we see on the screen – clothing, mores and manners, the quaint routine of a daily life lived without technology and off the grid – belies any connection to the 21st century, and when we are occasionally reminded that we're watching a story that takes place in modern times, it's jarring.
Indeed, there's an unabashedly "meta" effect that permeates throughout, heightened by a theatrical approach to the narrative that spends more of its time on dialogue than on action – after all, the title is "Women Talking" – and takes place mostly in a single location. The movie's studied mix of emotion and intellect, its prominent agenda and its progressive political leanings, all land with us as if we were watching a play, rather than a movie. Yet Polley ingeniously expands into the cinematic realm to connect with us though our eyes as well as our ears, particularly with the use of rapid-paced flashback collages that cut away from a character to wordlessly convey crucial details of their backstory, deepening both our insight and our empathy in the process.
She also takes pains to illuminate the emotional triggers – fear, rage, even guilt over perceived culpability – that bubble to the surface as her traumatized characters try to form a unified front; by tracking the way these lingering psychic scars affect the dynamic among this group of survivors, determining the positions they take and setting them at odds against each other, her movie helps open us up to empathy for those whose memory pain sometimes drives them to act against their own self-interest. Yet things aren't unrelentingly grim, nor are they always somber; there are frequent interspersions of humor, appreciations of beauty, and expressions of love. It's this focus on lived inner experience that keeps "Women Talking" grounded in the human and enables it to indulge in lengthy theoretical discourse about justice, ethics, and theology without feeling like an exercise in aloof didacticism.
To that end, a gifted ensemble of players, each obviously relishing the chance to do work of such substance, turns in a remarkably gripping collection of performances. Standing out in the showiest roles, Claire Foy and Jessie Buckley offer up unforgettable moments throughout the film, while a softer Rooney Mara serves as a warm and intelligent heart; screen veterans Judith Ivey and Sheila McCarthy bring depth and dignity to their roles as elders in this female contingent, with multi-Oscar-winner Frances McDormand leaving her stamp in a brief but indelible supporting turn; out gay actor Ben Whishaw shines as a gentle schoolteacher enlisted by the women to take the minutes of their meeting, a sole reminder that men can be allies, too; and nonbinary performer August Winter, cast as a transmasculine colony member, adds an affirming thread of queer inclusion to the mix, opening the door for one of the film's most unexpected – and powerful – moments.
It's not surprising, given the talents of Polley and her cast (not to mention the expert cinematography of Luc Montpellier and a stirring score by Hildur Guðnadóttir), that "Women Talking" has quietly gained momentum as an awards contender – even though it doesn't go into wide release until Jan. 20. Whether it can pick up more prizes than the buzzier titles currently leading the race remains to be seen. Even in a post-#MeToo Hollywood, female-led films are often overlooked for the big awards, and the industry's supposed progressive leanings rarely prevent it from shying away from polarizing subject matter.
Incredibly, in 2023, the subject of women seeking freedom to have agency over their own bodies feels more polarizing than ever, and women are fighting for it under oppressive regimes from Iraq to Indonesia, let alone in parts of the USA.
That's why, whether it wins any awards or not, "Women Talking" is still one of the most culturally significant movies on the shortlist.