Queer, Chinese, entrepreneur: Canadian seeks permanence in LA
"As a gay Asian immigrant there isn't a lot of guidance on what we are supposed to do. I am at a weird crossroads of different cultures"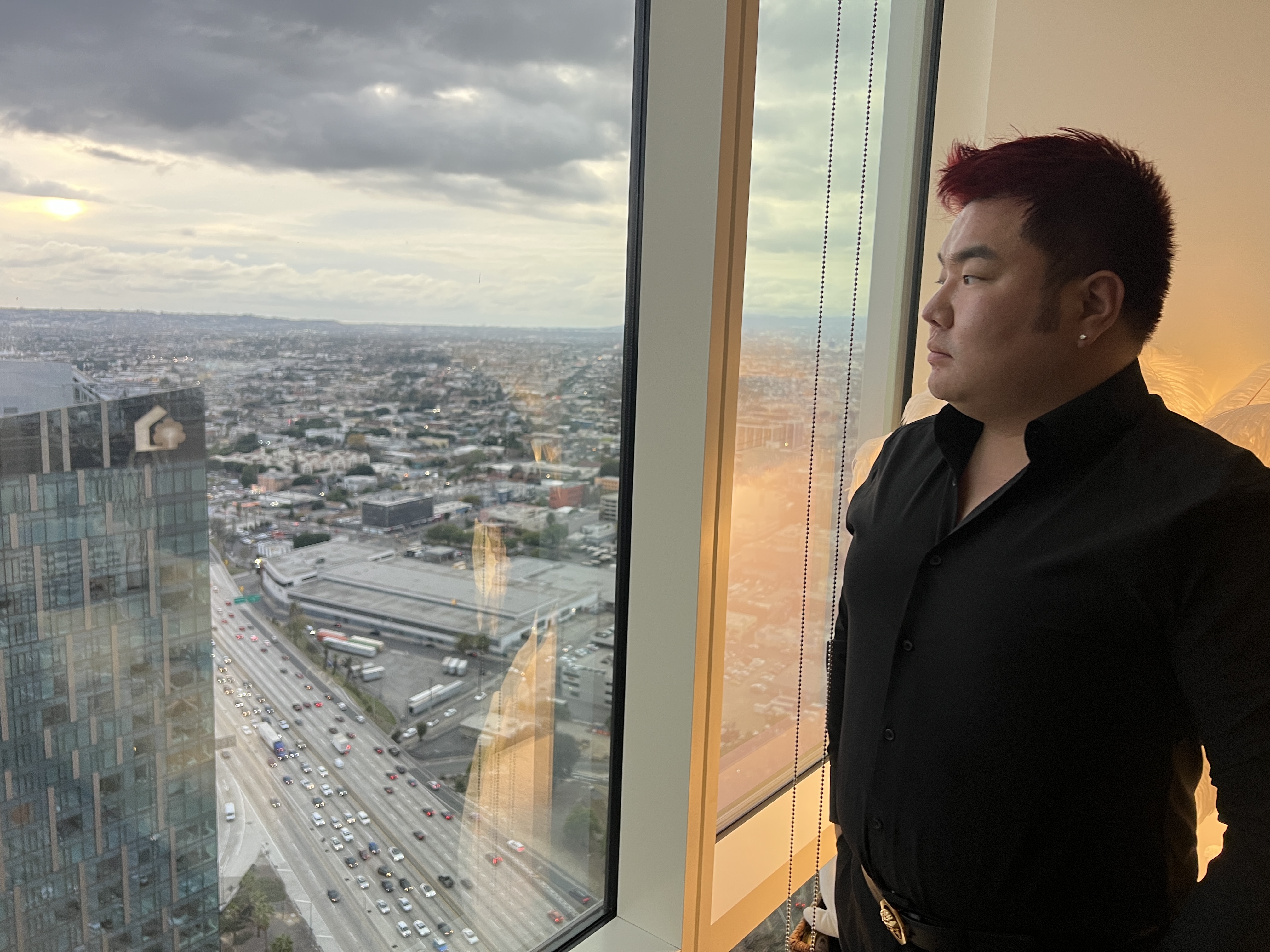 LOS ANGELES– The elevator opens on the twenty-seventh floor of an ultra-luxury Highrise building in downtown LA. A man of medium height in a professional and impeccably pressed all-black ensemble is waiting in the marble vestibule.
He greets me with appraising eyes, a wide smile, and a firm handshake before ushering me to a large conference room with sweeping views of the city below.
Endy Zhou, 31, is a Canadian national and a Chinese immigrant. He is a skilled pianist and proudly queer. He is also the owner of Solar101, the largest remote solar platform in California.
In recent years, the rise of solar energy has been astronomical. A study by Princeton University predicts an increase in solar usage of five hundred percent by 2025. This will be a huge win to help maintain and protect the environment by limiting greenhouse gas emissions and thereby reducing climate change.
"I like to be involved in things that benefit the world," says Zhou. "I realize, too, though, that I am just one person. I like to create small changes that I can control. I will never be one of those people who say, 'I'm going to change the world.' No. I'm only making about a 10% difference. But that 10% is enough."
As a successful entrepreneur who has to work with new people on a daily basis, Zhou has mastered the art of propriety. He has bottled water waiting for us, and even though this is clearly his turf, Zhou chooses not to take a seat at the head of the table but opts for the seat just to the right of it, offering me the head seat as a sign of respect.
Zhou's business sense and people skills have taken him far in a short period of time. He and his company, which he launched during COVID, have already been featured in LA Wire and New York Weekly, to name a few. Zhou has also been featured in CEO Weekly as number seven on their list of top ten self-made men and women (Oprah held spot number one).
Zhou has taken time out of his busy schedule to speak to The Blade about struggling as a queer immigrant youth, his rise to success, and his philosophy on sexuality and identity.
We are also joined by his immigration lawyer, Joe Adams.
DIFFICULT BEGINNINGS
Zhou was born in the city of Harbin China, the capital of Heilongjiang in the northernmost Sheng province. The "Icy City" is known for its Russian architecture, transportation system, and its yearly "Ice and Snow Festival."
At age twelve, his parents decided to leave China for a small town in Canada in hopes of a bright and better future for their family–a dream that all too quickly became somewhat of a living nightmare.
"My parents found out quickly after moving to Canada that it didn't matter that one of them had a master's degree and one had a bachelor's degree," says Zhou. "It was frustrating because these are requirements to enter Canada. But those degrees themselves aren't recognized passed the immigration stage. So you have to have these things to immigrate here, but no one will recognize those degrees when you are looking for a job."
"My dad used to be a university professor, and my mom was a college professor. When they came here, my dad became a janitor, and my mom became a massage therapist."
Due to a combination of xenophobia and a general lack of job opportunities, many immigrants to Canada find it difficult to find work that is comparable to their old jobs. These immigrants, like Zhou's parents, are then forced to take "survival jobs" to stay afloat.
"My parents moved here because they wanted a better life," says Zhou. "They thought they would move to a utopia. They were stuck."
Trapped in unexpected poverty, the family had one goal: survival. This meant mounting pressure was placed on a young Zhou to contribute to the family, at times exceeding the capacity of a twelve-year-old.
"By the age of twelve, I was already forced to be three-quarters of an adult. I was the only person who spoke English in my family. I had to translate everything. I had no choice. Little did they know I didn't speak very good English back then at all, but I was in an immigrant family, and the mindset was, 'Oh you speak English? Then you speak English.'"
"I was handling my family's finances and things like that since I was twelve, not by choice. I feel this is very similar in a lot of immigrant families. There are a lot of things you have to do and learn when you move to a new country, and sometimes that comes at the expense of the kid's childhoods and teenage years."
"I spent a lot of my teenage years helping and working with my parents. When I wasn't in school, I would be helping my dad clean and stuff like that."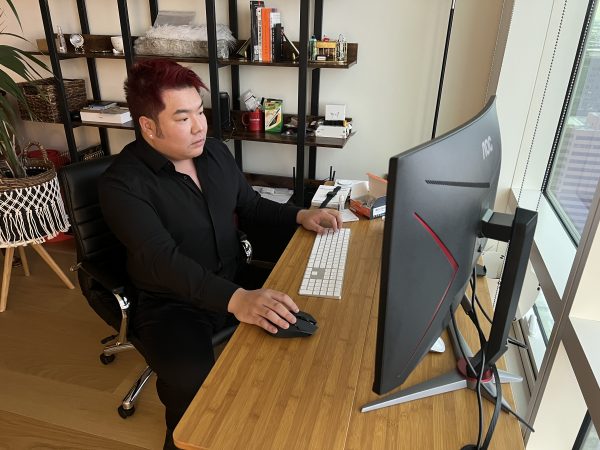 While the struggle to stay afloat was difficult, he also feels grateful for those formative years.
"I used to be kind of ashamed of that, but in recent years I actually made peace with that. I love the fact that we went through that together as a family, even though those weren't the easiest years."
Zhou feels the money struggles of his youth helped to form the resilience he has today.
"I've learned to adapt to the negative and change it to work for me. As an Asian LGBTQ+ person, I pretty much have all these targets on myself. I think, 'how do we turn that negative thing into a positive thing? How do we turn trauma into something that will benefit everybody in the long run?'"
While Zhou is driven to turn his negative experiences into positive ones, there was a time when navigating his sexuality was far more difficult for him. Coming to terms with his sexuality was problematic for Zhou both at home and socially.
"I find that as a gay Asian immigrant, the interesting thing with us is there isn't a lot of guidance on what we are supposed to do. I am at a weird crossroads of different cultures."
Zhou feels that, at the time of his childhood, his Canadian hometown was seriously lacking in LGBTQ+ representation.
"I often make this joke that in my hometown, there are about 9 people on Grinder," says Zhou.
Zhou's coming out journey was one wrought with prejudice and bullying from his peers.
"I got called, "Fag" walking down the hallway," says Zhou. "I wasn't accepted into the best choir of my high school even though I was talented enough because they were all clicks that dated each other, and, being gay, I couldn't do that."
"I moved to Canada at grade 7, so by grade 11, I had endured a lot of bullying," says Zhou.
When the bullying got really bad, Zhou, a naturally shy and quiet child, began to rehearse his responses.
"I was very slow with comebacks. I had a lisp and an accent. So I started to practice on the bus. I had to take the bus an hour home because we couldn't afford to live where my school was, even though my parents wanted me to go there for the music program. But we couldn't afford to live in the area."
"I had two hours to myself plus shower time to just really talk to myself. You know those shower arguments you have with yourself? Every argument I lost, I practiced. I really don't lose arguments anymore."
Zhou recalls the day all his practicing first paid off.
"Grade eleven, I just snapped back at somebody. I said, "I'm not sure if I am a homosexual, but I'd rather be one than have to date your girlfriend."
That moment marked a turning point for him, understanding that standing up to his bullies was the only way to get them to leave him alone.
"After that, my life really changed. I realized I was a lot more powerful than I thought."
"You have to put out the fire before it becomes a big fire. I believe in making an example out of something. So once I fought back publicly the first time, and my bullies realized they weren't winning, they backed off. When you turn that back on them, they don't know what to do anymore."
For Zhou, the bullying for being gay was sometimes perplexing as he himself had never told anyone he was gay. In fact, he was not even sure of the fact himself at the time.
"I was confused," says Zhou. "I always knew I was a little bit different. I tried to fit in. When that repeatedly didn't work, I realized the best thing to do was to create your own friend group."
"I never felt I fully came out. I never really said I was gay. I just said I was queer. Then I joined the gay men's chorus, and I thought, "oh, okay, fine. I guess I'm gay now.' But I don't necessarily care about that declaration. If I sit here and make that declaration that I am gay, nothing about that changes who I am."
Zhou fully made the discovery that he is queer in university in what he humorously calls "the hard way."
"I had a girlfriend, and it just didn't work," Zhou says, laughing. "It just didn't work."
Zhou says that making peace with who he is has greatly shifted his perspective and sense of self.
"Once I figured out who I was, I realized that I couldn't hide or change it. In university, I realized that all those people in high school who bullied me for being gay all those times were all right. I really was gay. I was like, "Oh shit! You're right." And then I made peace with that."
"Being Asian and being gay, that's not who I want to be. That's just who I am. I have no choice in the matter. I would say that is the most powerful recognition that I have. Just be yourself. I can't be other people. "
At home, Zhou says he never officially came out to his parents.
Zhou's situation is not singular nor unique. Many Chinese males find it nearly impossible to speak about sexuality and gender in traditional Chinese homes. One study in 2018 found that gay Chinese men, in particular, are more prone to mental health issues "because of deep-rooted, traditional social influence that overemphasizes heterosexual marriage, fertility, and filial piety."
This silence on the topic of Zhou's queerness has carried through to his adult life.
"Do they (Zhou's parents) acknowledge the fact that I'm gay? No. But to quote my idol in life, Naomi Campbell, 'That's a them problem.'"
"They don't have to accept me because I'm not asking for acceptance. I change enough people's lives. I create my own family."
"My relationship with my parents has changed throughout the years. I would say that in my childhood, I felt the hardship that was put on them was transferred to me. But, nowadays, we have a different dynamic. I support my family. Most of what I say to them is just statements rather than asking for permission. I'm not asking them if I can be a homosexual. I'm saying I will not marry a woman."
While Zhou has come to terms with his sexuality, he says that while he is open to finding a partner, romantic love is not and has never been the main priority for him.
"Finding a girlfriend or boyfriend was never on my radar in life. I didn't really think about that. I was more focused on myself and my career. Growing up, I saw a lot of relationships around me, and I know I don't want anything like that."
When asked whether the relationship between his parents influenced his stance on romance, Zhou responds: "Absolutely. It influenced me not to have one."
"I've really seen what a conservative ideology has done to my mother as a woman. But also, in life, I'm not saying I'm not open to dating. But I'm looking for someone to push me, to make me better. I don't want to meet somebody halfway. I want to meet better people. People who inspire me and encourage me both in friendship and in a relationship."
A BUSINESSMAN IS BORN
Working with his father from a young age gave Zhou his first taste of earning a living. He then had various other pursuits, such as selling water at raves, even though he was too young to participate in the raves themselves. He also paid for his music degree with a choir gig, singing as a tenor on the weekends at a local church.
But it wasn't until shortly after attaining his music degree from the University of Victoria, B.C. that Zhou's life as a businessman truly began, not out of desire but out of necessity.
"After university, my dad had a stroke," explains Zhou. "So, I took the most paying job that I could find, which was making door-to-door sales for internet and TV in Canada in the middle of nowhere. I had to support my family. I had to support my parents."
Zhou says he made a name for himself by making door-to-door sales. He quickly got promoted to general manager, where he oversaw large door-to-door campaigns in Canada.
However, the shy boy from his youth was still alive and well within Zhou, making client-facing an excruciating experience. This lack of natural talent in sales forced Zhou to face his fears and his pitfalls just as he had to learn to stand up to those bullies in school.
"I hated it door-to-door. I was so bad at it. How many times in a day can you get someone to look at you and slam the door in your face? It's pretty hard. So I was forced to find ways to make it work for me and become good at it. I had been handed a situation where I had no choice but to go try to make sense of it. I had to go try to make $70 at a house."
Zhou gives the impression of being self-assured. His eye contact is direct, and his jokes flow naturally with our conversation. However, Zhou admits that these social skills set still do not come naturally to him. Rather, he has learned and practiced them over time.
"I needed to learn how to communicate with people, how to talk to people because I really didn't know how. I am very shy. I didn't want to talk to people. That sort of is still true, although now I have the ability to override it.
"I don't necessarily fight it. I often put myself in situations where I don't have to speak to people. If I am in a situation where there are a lot of people, I ask myself, 'are you happy here?' If the answer is no, I leave."
"But when I have to speak, I just learned to work with it. If I need to have a conversation and I see there is a value I doing so, then I can do it."
Zhou's tendency towards shyness highlights a major cultural difference between the East and the West. Where the West tends to value the boasting of success, the East, especially East Asia, tends to preach and value modesty from a young age.
"My innate nature and my culture says, 'why are you talking?'" says Zhou.
Unfortunately, Zhou's cultural upbringing may be what stands in the way of his legal status in America.
Zhou's immigration lawyer, Joe Adams, explains that Zhou is seeking an extraordinary ability visa, an O-1 visa.
By definition, in order to qualify for an O-1 visa, "you must demonstrate extraordinary ability by sustained national or international acclaim, or a record of extraordinary achievement in the motion picture and television industry, and must be coming temporarily to the United States to continue work in the area of extraordinary ability."
However, the nature of the O-1 visa is problematic for East Asians like Zhou, Adams explains.
"There is an implicit bias in the way certain immigration rules are written," says Adams. "When it comes to the extraordinary ability visa and petitions, there is an implicit bias towards people who are self-promoters. I don't think this was deliberately set out, but these rules were written in the 20th century to favor those who are really good at self-promotion. This is a western bias."
In other words, Zhou's learning to override his shyness is not just good for business, it is necessary to his being able to apply for a visa that will allow him to keep his business in the United States.
"I find this counterintuitive," says Zhou. "As I said, I don't want to talk about myself. But as I learned to talk about myself, I realized I have a lot of things to speak to. I can inspire people."
"When I applied for my first visa right at the border, I thought to myself, 'it's just a sale. They are forced to talk to me. They can't shut the door on me.' I said to myself, 'you are here. Now let me do my job.'"
Zhou also makes an effort to educate his staff on Eastern mentalities to better serve his Asian clients.
"We do a lot of outreach. A lot of companies in California tend to ignore that Asian people even exist. For example, a standard here is that a long contract has to come in English or Spanish, but it doesn't have to be in Mandarin or Tagalog or in any other Asian language. We do a lot of education on how to work with Asian clients. We are slowly making it more friendly and multicultural."
"We are building a platform for people who are traditionally overlooked by society," said Zhou in a previous interview with New York Weekly, "whether it's due to a lack of a degree or lack of opportunity. I've worked extremely hard to build my own platform, and I'm now offering to grow with other like-minded individuals together. We are not just looking for sales in a solar company. We are looking to build an authentic platform for people who are underdogs: people who grew up being told that they aren't good enough, not hardworking enough, and people who grew up never feeling like they had a chance."
In addition to his internal fight to Westernize his mentality and educate Westerners on the Eastern mindset, Zhou has to battle homophobia in the business world.
"I have lost out on contracts before when people found out I was gay or that I go to drag shows. To that, I say, 'great.' One of the most advantageous things I enjoy as someone who knows myself is that I have the ability to pick and choose. I am not afraid to say no. I find that very validating. 'No' is a complete sentence."
Zhou also does a fair amount of due diligence when it comes to taking on new clients.
"We do research on our clients," says Zhou. "I am also very careful about my online profile. When we decide to work with someone, we look at their online profile as well. If they belong to some sort of hate group or something like that, I just don't work with them. I can't be associated with people like that."
"When I speak to someone about business, their looks, their gender, their sexuality has nothing to do with me. What has something to do with me is what can you bring to the table and what can I bring to the table."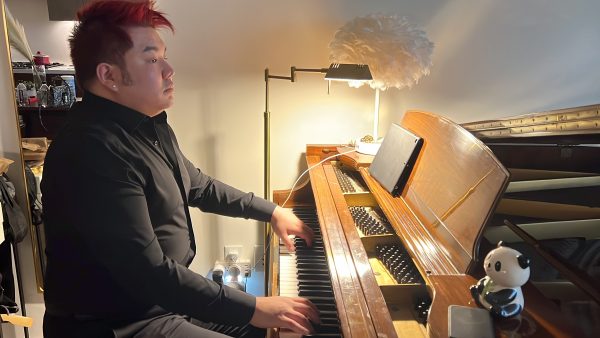 "Now I have a lot of people reach out to me via Instagram and LinkedIn, especially. They say, 'I read your article in LA weekly,' or 'I saw you perform.' A lot of gay people say, 'I didn't know that you could be publicly gay and do these things.' That is what I spoke about earlier. I like to take my cons and turn them into pros."
Zhou feels that LA, his home of five years now, is the one place he has found consistent acceptance.
"I actually visited LA when I was 26. I never had experienced so much inclusivity when it comes to people being LGBTQ+ especially when it comes to being an Asian LGBTQ+ person.
"When you are in a smaller town like where I was working up in Canada, we as people of color kind of come after the white people, for lack of better words. Because of who I am, I was never the preferred anything. So it is nice to be in a place where you can just be who you are."
"I love LA so much that I actually recently had this conversation with that I have fallen into this interesting place where I don't want to travel because I already live exactly where I want to be. I don't need a vacation from my life. This is my vacation spot."
When asked what advice Zhou would give to his childhood self, he responds: "I wouldn't say anything. He will figure it out."
Nancy Pelosi reflects on her long career & LGBTQ advocacy
In an exclusive interview the former House Speaker credits activists who fought for AIDS funding & marriage equality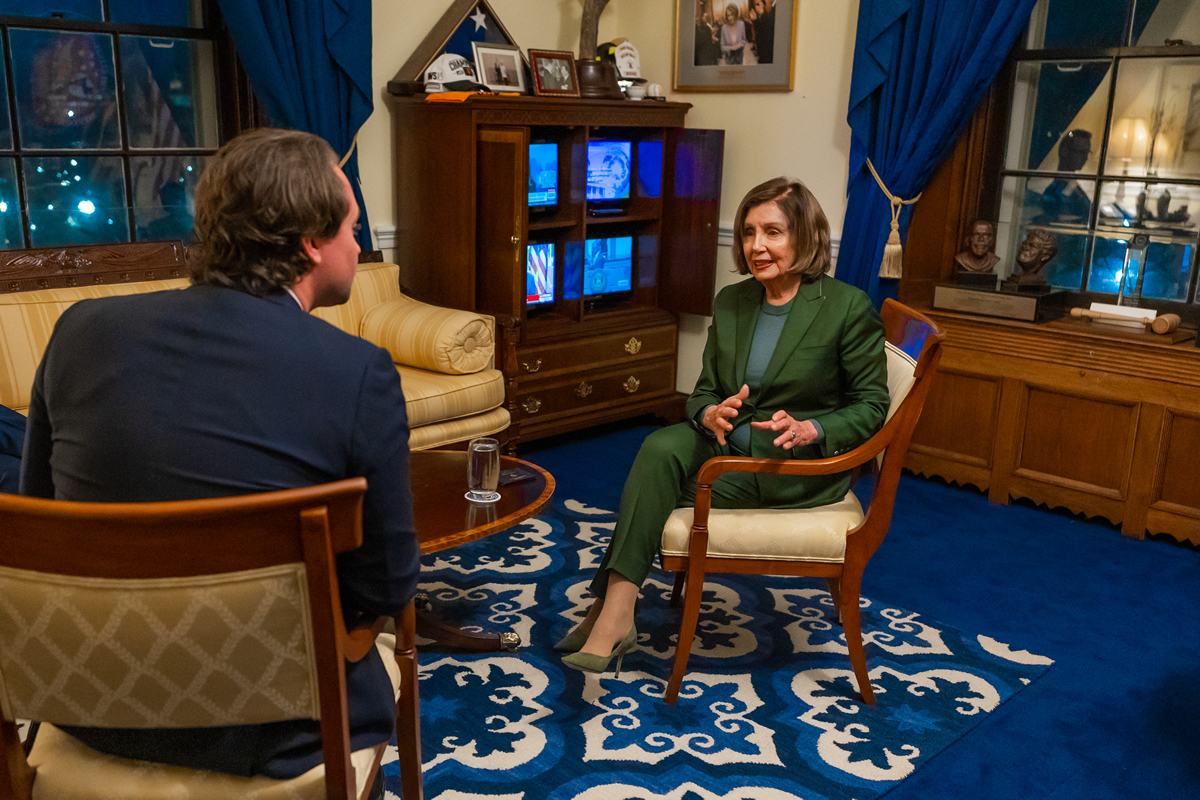 WASHINGTON – Rep. Nancy Pelosi (D-Calif.) sat down with the Washington Blade in her office Tuesday evening for an exclusive interview just weeks after formally stepping down from leadership, having led her party in the House for 20 years, including as Speaker. 
Pelosi reflected on the role she has played in landmark legislative achievements, including milestones in the fight for LGBTQ rights. She also addressed some current events that have earned significant attention from political observers and the beltway press.
So much of the historic progress over the past few decades in advancements toward the legal, social, and political equality of LGBTQ Americans, including those living with HIV/AIDS, was facilitated directly or otherwise supported by Pelosi's leadership in Congress, but she was quick to credit the tireless work of individual activists and LGBTQ, civil rights, and HIV/AIDS advocacy groups.
"I attribute the success with [fighting] HIV/AIDS and everything that came after," from legislation on hate crimes to marriage equality, "to the outside mobilization" of these activists and organizations, she told the Blade.
Despite positioning herself as an advocate for LGBTQ rights well before that position was popular, Pelosi said she is unaware of any instances where she may have suffered political consequences as a result. Regardless, she said, "I don't care."
The more she has been criticized for championing LGBTQ rights in Congress, "the more proud I am" of that work, Pelosi added.
Pelosi has always been a strident LGBTQ ally, guided by her commitment to justice, love, and fairness as ordained by the teachings of her Catholic faith. These ideals are in perfect alignment, she said, as opposed to the position held by many opponents of LGBTQ rights who nevertheless claim to believe we are all created in God's image.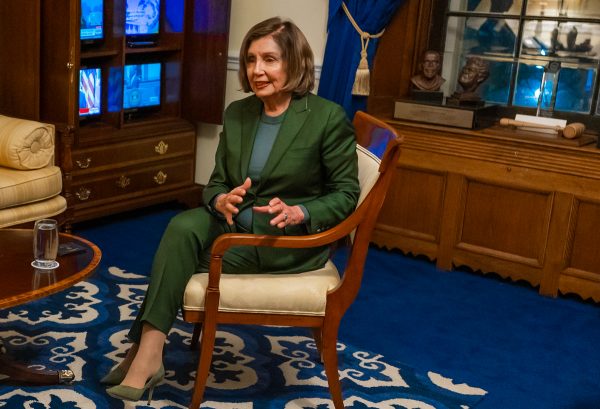 During an interview with Larry King, when serving as the San Francisco Democratic National Convention host committee chairwoman in 1984, Pelosi said the late television host remarked: "I just don't understand how a Catholic girl who grew up in Baltimore, Maryland is such a champion for gay rights."
"You've answered your own question," Pelosi told him, referring to his mention of her Catholicism. "It is our faith that tells us that we're all God's children, and we must respect the dignity and worth of every person."
Pelosi's time in Congress began with the AIDS crisis, and she has kept up the fight ever since
After committing herself and the Congress to the fight against HIV/AIDS during her first speech from the floor of the House in 1987, Pelosi said some of her colleagues asked whether she thought it wise for her feelings on the subject to be "the first thing that people know about you" as a newly elected member.
They questioned her decision not because they harbored any stigma, but rather for concern over how "others might view my service here," Pelosi said. The battle against HIV/AIDS, she told them, "is why I came here."
"It was every single day," she said.
Alongside the "big money for research, treatment, and prevention" were other significant legislative accomplishments, such as "when we] were able to get Medicaid to treat HIV [patients] as Medicaid-eligible" rather than requiring them to wait until their disease had progressed to full-blown AIDS to qualify for coverage, said Pelosi, who authored the legislation.
"That was a very big deal for two reasons," she said. First, because it saved lives by allowing low-income Americans living with HIV to begin treatment before the condition becomes life-threatening, and second, because "it was the recognition that we had this responsibility to intervene early."
Other milestones in which Pelosi had a hand include the Housing Opportunities for People with AIDS program, President Bush's PEPFAR (President's Emergency Plan For AIDS Relief) initiative, the Affordable Care Act (which contains significant benefits for Americans living with HIV/AIDS), and funding for the Ending the Epidemic initiative.
The last appropriations bill passed under Pelosi's tenure as Democratic leader in December contained an additional $100 million boost to HIV/AIDS programs.
These and other hard-won victories over the years – from the biomedical progress made possible by investment in research to foreign aid packages that have saved countless lives overseas – have often come despite staunch opposition from lawmakers, particularly congressional Republicans.
For instance, the late former Sen. Jesse Helms of North Carolina opposed federal funding for HIV/AIDS research because he considered it tantamount to the government's endorsement of "the homosexual lifestyle" responsible for the spread of the disease in the U.S.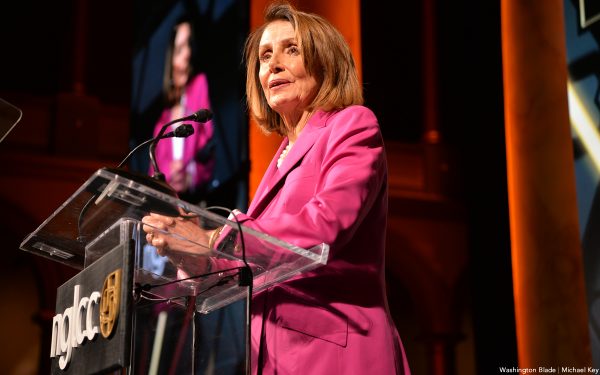 Asked how she might compare anti-LGBTQ members like Helms with whom she worked in the past to those serving today, Pelosi said the most salient difference is the homophobic and transphobic attitudes among lawmakers in previous decades were in many cases borne out of ignorance.
Pelosi said that while the prejudice was "horrible [back] then" and she was "impatient" with lawmakers in the House who exhibited attitudes similar to those expressed by Helms, at that time people who held those views were often "just not up to date on what was happening in the world."
(Pelosi noted that, for his part, Helms seemed to soften his stance on matters concerning HIV/AIDS. She suspects U2 frontman Bono may have successfully appealed to Helms as a parent, but "I don't know exactly.")
By contrast, today's lawmakers, like the overwhelming majority of Americans, "must have a growing awareness of [LGBTQ] people in their own communities, maybe in their own families," Pelosi said. "They're really in a different world," which means, they "have made a decision that they're going to be anti-LGBTQ," she said, adding that hate and prejudice today is most often directed at the trans community. "It's completely unacceptable."
Asked to share her thoughts on the many scandals that have unfolded over the past couple of months concerning gay freshman GOP Rep. George Santos of New York, Pelosi pointed out that while the congressman has dominated headlines recently, other members of the House Republican caucus who have weaponized homophobia and transphobia to a far greater extent than he are much more dangerous.
But first, Pelosi said that House Democrats would never do what the Republican leadership has done by tolerating the embattled freshman congressman to protect their slim majority control of the chamber.
Santos is "almost a joke; he's become a punch line," Pelosi said. "He's outrageous, and there's no way he should be allowed to serve" given the extent to which the congressman has failed to exhibit the "dignity" required of members who are privileged to serve in the House of Representatives.
At the same time, "there are people over there who are more seriously dangerous to the freedoms in our country than him" Pelosi said. She pointed to the hate mongering and fear mongering in which many of Santos's Republican colleagues have engaged, including "the things that that they say about trans families and, just, the injustice of it all."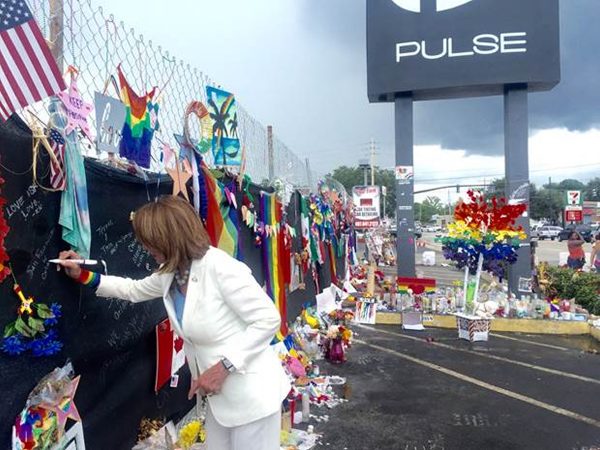 The aim of these far-right lawmakers extends far beyond undermining the rights of LGBTQ people, of course. Pelosi noted that, "you have to remember, with all of these things, whether we're talking about women's right to choose – we've always expanded freedoms. And now with this Supreme Court, they're narrowing freedoms with women's right to choose" by the revocation of constitutional protections for abortion via last year's ruling in Dobbs v. Jackson Women's Health Organization.
Breaking the 'marble ceiling'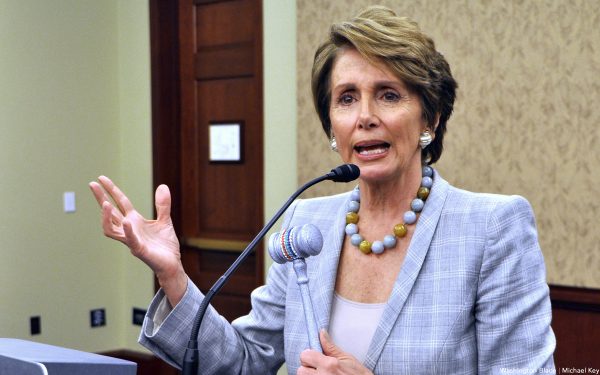 During a lecture last year hosted at the University of California, Berkeley, Barbara Boxer, who formerly represented California in the House and then in the Senate, commented on the historic significance of Pelosi's election to become the first woman Speaker of the House of Representatives in 2006. "The fact that a woman could get into the leadership like this, to win the trust of all these men, it's more extraordinary than you can imagine," Boxer said.
Boxer has also been a trailblazer for women in politics. She was the first woman to chair the Marin County Board of Supervisors, and after her election to serve in the upper chamber alongside California's senior Sen. Dianne Feinstein, the two became the first pair of women to represent any state in the U.S. Senate.
Asked how she managed to secure the votes from, particularly, the older men in her caucus without compromising her values, Pelosi told the Blade, "I just did what I believed" rather than coming to Congress to "change other people's behavior."
She said that many of her male colleagues "had to get over their own negative attitudes" concerning the prospect of electing a woman to lead their party in the House, but "I wasn't going to wait until then."
At the same time, Pelosi acknowledged that "it took courage to vote for a woman as speaker," noting that when she was sworn in back in 2007, she took the opportunity to thank the men who had supported her speakership. (She was elected unanimously on the first ballot.)
Pelosi said that prior to her speakership, she had always believed that the prospect of Americans electing a woman president was likelier to happen in her lifetime than members of Congress – who tend to be older men – voting for a woman speaker.
"I thought the American people were more ready than the Congress" to break the "marble ceiling," she said.
Considering the parallel special counsel investigations into alleged mishandling of classified documents by President Joe Biden and former President Donald Trump, Pelosi has perhaps unwittingly strengthened the case for America to elect a woman president by virtue of her unblemished record as a steward of sensitive, top-secret information.
"I have 30 years of experience in intelligence. I have been on the [House Intelligence] Committee, the top Democrat on the Committee, ex officio on the Committee, a speaker and [Democratic] leader [in the House]," Pelosi said.
She distinguished the rules by which she and other members of Congress are governed, which prohibit the removal or relocation of classified documents, from the policies that the Commander in Chief must follow, which are comparably more permissive.
Regardless, Pelosi said, "the documents are to be respected," along with the rules and procedures for how they should be handled.
There are also important distinctions to note between the allegations against Trump and Biden, Pelosi said. "When you see the former president obstructing access to the documents, and you see this president saying, 'I've instructed my lawyers to look for whatever is there and make them available to the Justice Department,' that's two different things," she said.
Additionally, Pelosi said, from the information that has been made available so far, it seems that Trump was in possession of a greater volume of documents whose contents were more sensitive than those at issue in Biden's case.
Pelosi's LGBTQ fans celebrate her accomplishments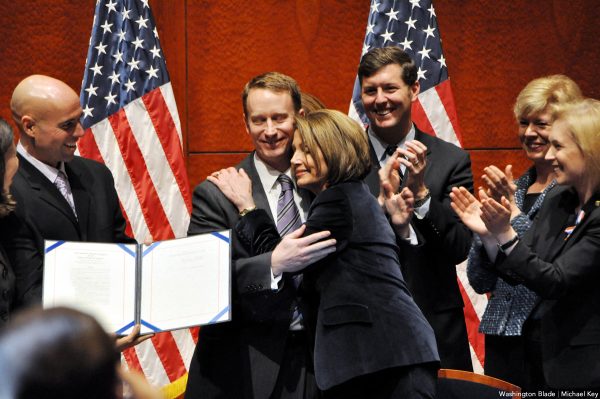 In November, the Human Rights Campaign, America's largest LGBTQ advocacy organization, issued a statement following Pelosi's announcement of her plans to step down from Democratic leadership but continue to represent her constituents in California's 11th Congressional District in the House.
"Speaker Pelosi has been the tip of the spear on watershed advancements for the LGBTQ+ community," HRC President Kelley Robinson said in a statement, pointing to her 1987 speech on the AIDS crisis and "forceful advocacy for marriage equality long before its mainstream popularity," both before she was elected as speaker.
The Clinton-era Defense of Marriage Act, which banned federal recognition of same-sex marriages, was signed into law in 1996 with overwhelming support from both parties in both chambers of Congress; 342 members of the House voted for the proposal, with Pelosi joining only 64 other House Democrats, one independent, and one Republican in her opposition.
"During [Pelosi's] tenure as Speaker," HRC noted, "the House of Representatives passed an historic hate crimes law [the Matthew Shepard and James Byrd Jr. Hate Crimes Prevention Act], repealed the discriminatory 'Don't Ask, Don't Tell' law, led the fight to enact the Affordable Care Act, and vocally opposed bans on transgender members serving in our nation's military."
Pelosi's leadership was bookended with Congress's passage late last year of the Respect for Marriage Act, which is credited as the greatest legislative victory for LGBTQ Americans since the 2010 repeal of "Don't Ask, Don't Tell."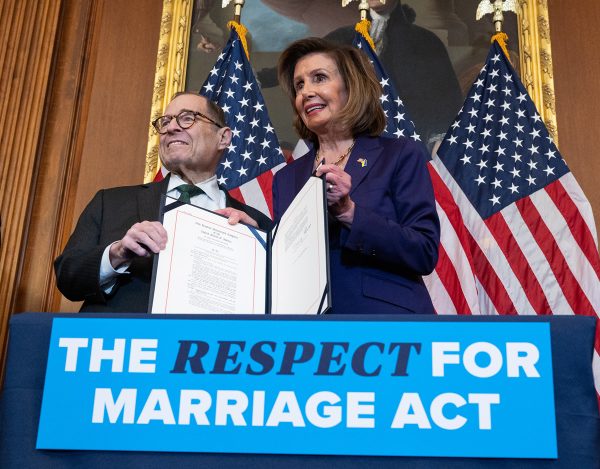 Outside the U.S. Capitol building, Pelosi has also been celebrated by the LGBTQ community for signaling her support through, for example, her participation in some of the earliest meetings of the NAMES Project AIDS Memorial Quilt, her meeting with the survivors of the 2016 Pulse nightclub massacre, and her appearance at a host of LGBTQ events over the years.
Of course, at the same time, Pelosi has been a constant target of attacks from the right, which in the past few years have become increasingly violent. During the siege of the Capitol on Jan. 6, 2021, her office was ransacked by insurrectionists who shouted violent threats against her. A couple of weeks later, unearthed social media posts by far-right Rep. Marjorie Taylor Greene (Ga.) revealed she had signaled support for executing Pelosi along with other prominent House Democrats. And last October, the speaker's husband Paul Pelosi suffered critical injuries after he was attacked by a man wielding a hammer who had broken into the couple's San Francisco home.
Pelosi told CNN last week that her husband is "doing OK," but expects it will "take a little while for him to be back to normal."
Among her fans in progressive circles, Pelosi – who has been a towering figure in American politics since the Bush administration – has become something of a cultural icon, as well. For instance, the image of her clapping after Trump's State of the Union speech in 2019 has been emblazoned on coffee mugs.
"What is so funny about it," Pelosi said, is rather than "that work [over] all these years as a legislator," on matters including the "Affordable Care Act, millions of people getting health care, what we did over the years with HIV/AIDS in terms of legislation, this or that," people instead have made much ado over her manner of clapping after Trump's speech. And while the move was widely seen as antagonistic, Pelosi insisted, "it was not intended to be a negative thing."
Regardless, she said, "it's nice to have some fun about it, because you're putting up with the criticism all the time – on issues, whether it's about LGBTQ, or being a woman, or being from San Francisco, or whatever it is."