The mistranslation that started a culture war & the man who found it
"I used to think God called me to pastoral ministry despite my being gay. I've decided He called me to ministry because I am gay"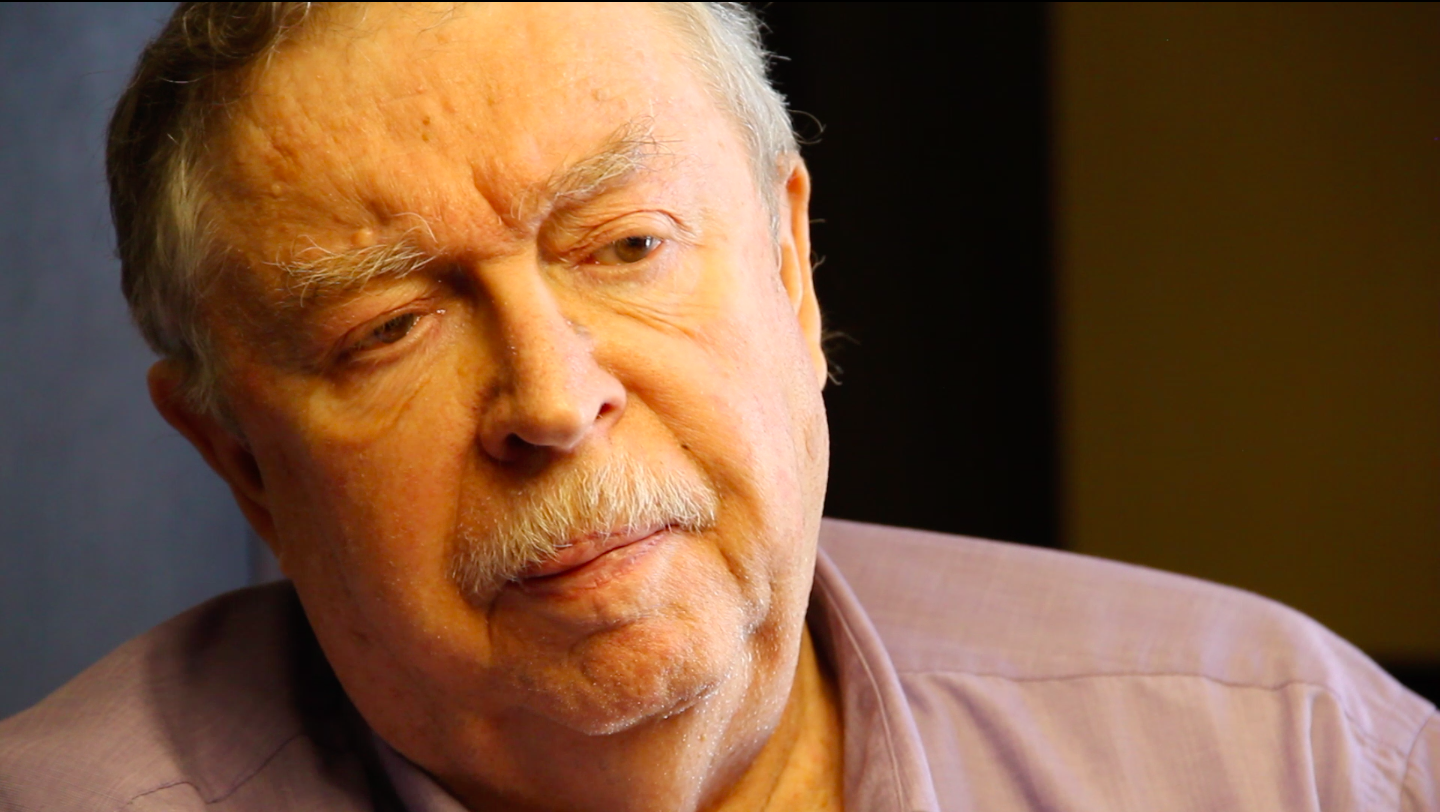 By Kathy Baldock | RENO, Nv. – Rev. David Sheldon Fearon, 84, died peacefully in his home in Nanaimo, Vancouver Island, B.C. Canada at the beginning of January.
On October 22, 1959, Fearon, then a 21-year-old seminary student at McGill University's School of Religious Studies, Montréal, Quebec, wrote a five-page letter to Dr. Luther A. Weigle, the head of the translation team for the newly published Revised Standard Version (RSV) of the Bible.
Fearon questioned the team's combining and translation of the two Greek words in I Corinthians 6:10 to the single word "homosexual." Until the New Testament of the RSV was published in 1946, the word "homosexual" had never appeared in any translation of the Bible.

Fearon was raised in Lenoxville, Quebec, the son of Earl, an iceman, and Evelyn, a primary school teacher. When Fearon was six, his mother realized he had a strong spiritual bent. As a result, Evelyn decided to change her church affiliation to the United Church of Canada, where the religious education was stronger.

In sixth grade, he developed his first "crush" on smart and handsome Dennis. He became nervous, shy, and uncomfortable around boys, and he began to develop a stammer. At sixteen-years-old, he noticed a book at the town's magazine stand, The Divided Path, subtitled "the story of a homosexual." He thought, "What, could he be like me? Maybe I'm not the only one? Maybe there are more people like me that just want to like and be liked by another boy?" Careful not to let the clerk see the book's face, he paid and brought the book home to read.
His mother seemed continually disappointed that her younger son did not seem to be "meeting a nice girl," after all, Gene, Fearon's older brother seemed to date several girls simultaneously. To put an end to her nagging, he told her, "Mother, I'm gay." It was 1954, and his stunned mother responded, "David, you can't be gay, you're are not a child molester or a pedophile." As would become a lifelong pattern he gathered resources for his mother to read so that she might understand what homosexuality meant.
Upon graduating from high school, Fearon attended Bishop's University in Lennoxville as a day student. He studied History and English, hoping to become a teacher like his mother. While a student at Bishop's, he served with a Royal Canadian Air Force (RCAF) Auxiliary Squadron from 1955 through 1959.
The system acted as an early warning detection of Russian bombers that might potentially come to the United States from the north, over Canada. Serving in the RCAF was a good opportunity for Fearon to become more comfortable being around other young men his age, something that in the past made him nervous.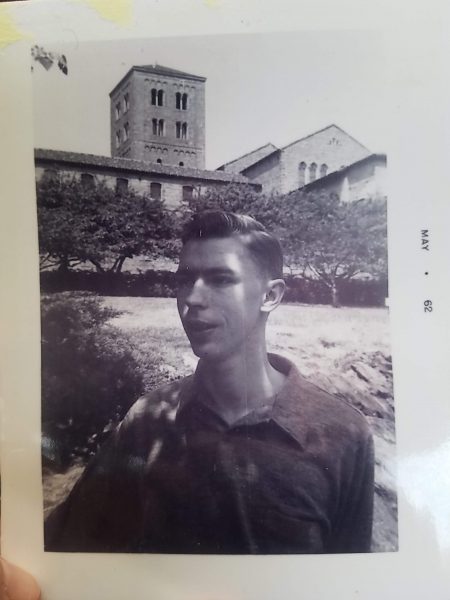 Though Fearon had been solidly secure in his faith and beliefs since childhood, now that he was older and taking classes in chemistry and biology, and learning about evolution and Darwinism, he began to think more about the existence of God. He hit a crisis of faith and sought the counsel of his minister. "I'm not sure God exists," he confided in Rev. Leonard Outerbridge. The minister asked him to pray over the Christmas break and come to his own conclusions.
Two weeks later, Fearon was back in Outerbidge's office. "Yes, I have found what I was looking for!" Having known David for many years, the wise minister asked, "David, do you feel called to the ministry?" In his mind, Fearon thought, "What am I getting myself into? I am a stammerer, and I'm gay."

Outerbridge invited Fearon to give the Sunday night sermon, the service most attended by his peers, his fellow students. He stood to give the sermon, delivered it clearly and never stammered again. It seemed settled to Fearon. "God fixed my stammer, but not my homosexuality. He must be good with it."
The United Church of Canada gave him a scholarship to attend the McGill University School of Theology. The denomination had adopted the RSV as their official text for service and worship in 1952 when the full version of the translation was published.
The Revised Standard Version (RSV) is an English translation of the Bible that was popular in the mid-20th century. It posed the first serious challenge to the King James Version (KJV), aiming to be both a readable and literally accurate modern English translation of the Bible.
Fearon had been raised reading the King James Version of the Bible. Eventually, in his Divinity Program, he came across I Corinthians 6:9-10 in the RSV: "Do you not know that the unrighteous will not inherit the kingdom of God? Do not be deceived; neither the immoral, nor idolaters, nor adulterers, nor homosexuals, nor thieves, nor greedy, nor drunkards, nor revilers, nor robbers will inherit the kingdom of God."
"Well," that puzzled him, "that doesn't make sense to me. God called me to the ministry, and He knew I was homosexual. Now I am reading that homosexuals will not enter the kingdom of God. How can that be?" Then Fearon noticed a small notation "j" beside the word "homosexual" indicating a footnote that read: "Two Greek words are rendered by this expression."
Fearon suspected immediately that, "This translation has to be wrong, and if so, it is a terrible disservice to homosexual people. It shows strong prejudice on the part of the translation team."
The RSV translation of the passage deeply bothered him. The more he thought about it, he thought that the RSV translation of the I Corinthians verse would lead to the further discrimination of gay people, but this time, from the church. But Fearon knew how to dig in to find answers to his questions. He had been doing it since his teenage years.
Fearon was also a good Greek student both at Bishop's University and now at McGill. He knew it was essential not to simply read translated words in English versions of the Bible. Instead, he was trained to return to the original Greek texts to better understand the original meanings of words.
After reading the RSV I Corinthians 6:9-10 footnote, he took out his Greek Bible and looked up the two words that had been combined to form the one word "homosexual." The two Greek words were malakos and arsenokoites. In his interlinear New Testament that compared the Greek text with the literal translation immediately above it, Fearon learned that the word arsenokoites was likely to have been coined by Paul the Apostle to address a specific situation happening within the church at Corinth.
Corinth, an ancient seaport city, regularly saw sailors, and to service their sexual needs, prostitutes. In the ancient world and in Greek culture, men enjoyed both male and female prostitutes, but more often men preferred the less complicated services of men, particularly, young men.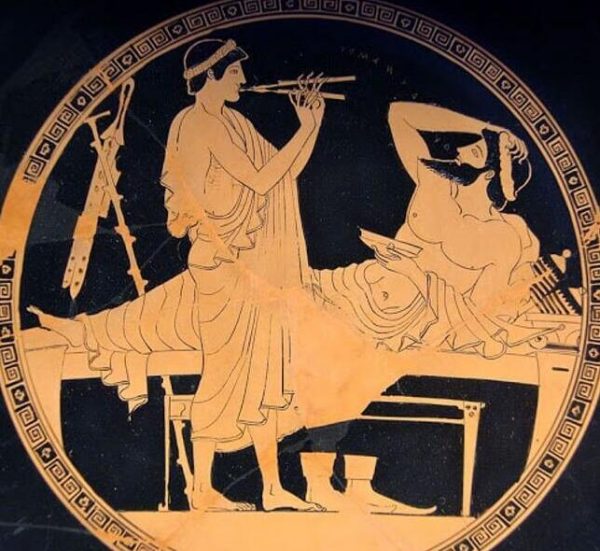 Fearon recalled from his study that these men who had sex with male prostitutes were called by some "abusers of men." Those who gave themselves for sexual use, especially to be used sexually as women and used, in other words, to be penetrated like women, were the "malakos," meaning "effeminate" which suggested, "to be used like women."
He was confident from what he'd learned about the Greek words, from the history of Corinth, and who he was as a homosexually-oriented person, that Paul could not have been writing about homosexuals as he knew them, as Fearon knew himself.
"Hmmm," he thought, "I'm a homosexual, but this is not about me. I know I am a Christian in the kingdom of God. I know God called me to the ministry. I've always known God has loved me, even as a child. The translators didn't get this right. I don't think "homosexuals" is what Paul meant by these words at all."
Fearon then checked the translation of the two words as they had appeared in the KJV. There, the two words were translated as: "the effeminate" and "abusers of themselves with mankind." He thought the KJV translation was far more accurate a translation of these two words separately than the RSV combining Paul's original two words into one sweeping word.
It seemed clear to Fearon that this RSV translation of that verse reflected the prejudice and ignorance of the society in which he had grown up.
He concluded, "My sexuality is part of God's plan for me and for humanity. I just don't think they got this right." He continued to think about the translation. But, he couldn't talk to anyone about it, not even to his professors. The blindness in society at the time to orientation would expose him.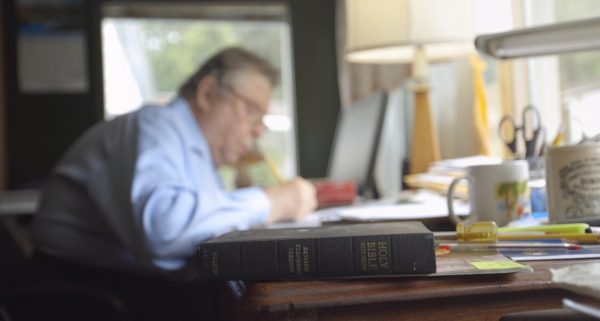 Over the span of almost two months, he privately went about constructing a single-spaced three-page letter, with an additional appendix, to send to the publisher of the RSV. He didn't know if his letter would even be noticed, for he was certain that the many Greek scholars around him at the University and so many more throughout the world who had read this Corinthians passage during the past seven years would have noticed this error, and written to the publisher as well.
On October 22, 1959, Fearon sent his five-page letter to Dr. Luther A. Weigle. At the end of his impressive academic substantiation of the assumed error in translation, the young seminarian warned,
"I write this letter after many months of serious thought and hard work, partly to point out that which to me is a serious weakness in translation, but more because of my deep concern for those who are wronged and slandered by the incorrect usage of this word.
Since this is a Holy Book of Scripture sacred to the Christian, I am more deeply concerned because well-meaning and sincere, but misinformed and misguided people (those among the clergy not excluded) may use this Revised Standard Version translation of I Corinthians 6: 9-10 as a sacred weapon, not in fact for the purification of the Church, but in fact for injustice against a defenceless minority group which includes the sincere, convicted, spiritually re-born Christian who has discovered himself to be of homosexual inclination from the time of his memory.
I write this letter with certain homosexual individuals in mind—Christians who would die for their faith, their Church, and their Lord, but who cannot alter their biological state of being.
I hope the committee responsible for considering any possible corrections or revisions of the RSV text may take my case here presented for consideration.
Very truly yours,
David Sheldon"
(Author's note: The full contents of the exchange of letters will not be made public until the book Forging a Sacred Weapon: How the Bible became Anti-Gay is published in mid-2023.)
Weigle responded November 3rd. He saw the possibility of an error and offered a suggested revision as "those who participate in homosexual practises."
Fearon responded to Weigle on November 23, 1959, counter-suggesting, "those who practice homosexual vices." Homosexual vices, as Fearon explained, were akin to same-sex rape. The same-sex sex referred to in I Corinthians, he pointed out, was abusive and exploitative in nature, like rape.

The exchange ended on December 3rd, with Weigle assuring him that the letters would be placed in a file and revisited when the team worked on a revision.
Fearon never thought about the letters again. He could not speak to anyone about them for fear that his questioning the translation might point to his sexuality. He did not know that his letters were placed in a file, and that, in the next round of translation edits, the team did change "homosexuals" to "sexual perverts," a term which could be applied to any person, and not to a specific group, homosexuals. The 1971 RSV-r reflects this change.

Very unfortunately, several other Bible translations were already in the creation process by 1959. None of those translation teams (The Living Bible, The New American Standard Bible, and The New International Version) knew about the admission of error by the RSV team and the intention to revise. All of the newer translations used the RSV as the base text. "Homosexual" had become the accepted translation. The creator of The Living Bible added the word "homosexual" in five more places in addition to I Corinthians.
Homosexuality soon became a highly charged and useful political wedge issue for the Religious Right. First, the top-selling Bibles all supported the notion of the sinfulness and depravity of homosexuality. Then, the AIDS crisis hit. Romans 1, now including the word "homosexuals," cemented the Religious Rights' idea that AIDS was a penalty for sinful behavior.
I knew of this sudden translation shift and included the information in my first book, Walking the Bridgeless Canyon. When I spoke about it in my public presentations, I always added, "I believe this translation shift was the result of cultural and ideological assumptions by men who were born between 1870 and 1917. They knew nothing about what it was to be gay or the meaning of homosexuality as an orientation."
The letter exchange has been housed in the archives in the Sterling Library at Yale University since 1976, when Weigle died.
Weigle had been the dean of Yale Divinity. In October 2017, I went to Yale University for five days with co-researcher, Ed Oxford, to see if we could find documentation as to why the RSV team made the decision they did. There was no paper trail that existed for the translation period; it seemed that they made a "logical" uncontested assumption in their translation. I imagine them looking into the culture of the 1930s, when the work on I Corinthians was done, and asking, "What is a simple way to express sex between men that is exploitative, abusive, and excessive." For them, that was homosexuality.

We had found no record of explanation as to their decision anywhere in the almost one hundred thousand documents we searched, until, on the third day of searching, I found the four letter exchange between Fearon and Weigle.
This set Ed and me on a quest to undo the translation error that had been based on assumptions. I have been writing Forging a Sacred Weapon which traces the verses used against the LGBTQ+ community throughout history and in context for the past four years; it will be out in mid-2023.

The other curiosity was, "Who is this David Sheldon who wrote these crucial letters?" They were written with a PO Box return address based in Lennoxville, Quebec. We asked my friend Tina Wood to help us find Sheldon. Tina volunteers to help adoptees, birth families, and others searching for family and friends. The details of her search (also told in the book) are head-spinning. How do you find a person who wrote a series of letters sixty years ago with a PO Box as the return address? (We did not know at the time that Fearon was using his first and middle name, not his last name.) It took almost a year, but Tina found him.

On August 17, 2018, I called Fearon and asked him if he had written letters questioning the RSV translation team in 1959. "Yes," came his reply. I had suspected on first reading the letters that the author was gay. Fearon confirmed he was.
"When did you come out?" I asked. "Never- I never came out." He was 80 years old.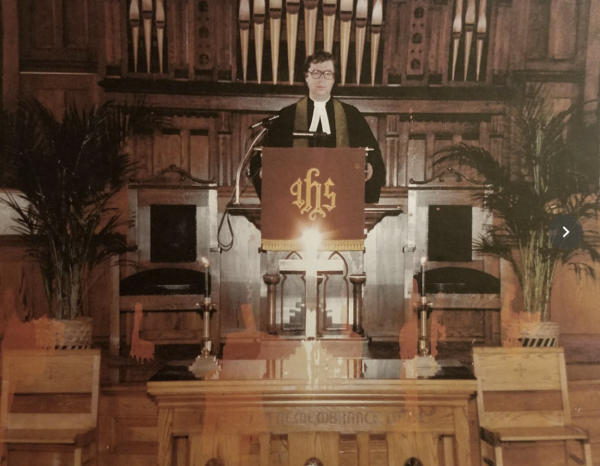 Fearon became a minister in the United Church of Canada after his studies at McGill. He served in nine pastorates for over thirty-seven years. He was partnered with Joe for twenty-three of those years. People thought live-in Joe was his cousin.
Fearon's letters left a historical record of why the RSV translation team made their long-reaching and damaging decision.
There is no other documentation explaining why the team included the word "homosexual" in the Bible, except the information found in the Fearon-Weigle letters.

Fearon had yet to learn he impacted the 1971 revision change. He noticed the shift to "sex perverts" in the revision. When I shared the information with him in our first of dozens of long phone calls, he was surprised that his letters had moved Weigle to reassess his assumptions. Fearon had always imagined his letters were "one of hundreds, if not thousands" written objecting to the translation. In fact, Fearon's was the only such letter.
I began presenting these findings in public presentations starting in 2018. At one such presentation at the Hollywood United Methodist Church, filmmaker Rocky Roggio brought her pastor father along.
Sal Roggio believes homosexuality is a sin. Rocky was planning on doing a documentary examining her relationship with her father. However, after listening to the presentation, Rocky switched courses. Over the past four years, she produced an excellent documentary, 1946: The Mistranslation that Shifted a Culture.
1946 threads several stories together: Rocky and Sal, my research work with Ed, Fearon's letters, and his story, and all supported by interviews with expert Old and New Testament scholars. (Author's note: The film is going through film festival now and will likely end up with a major online streamer within the next year.)

Fearon died last week peacefully in his home in Nanaimo on Vancouver Island. He was discovered January 8th by a friend who requested a wellness check. He was slumped over at his dining room table, his glass of beer half-finished, his television on, and his eyeglasses only slightly askew.
I would like to imagine he was watching the news, and God said, "Hey, David, good and faithful servant, you've done your work. It's time."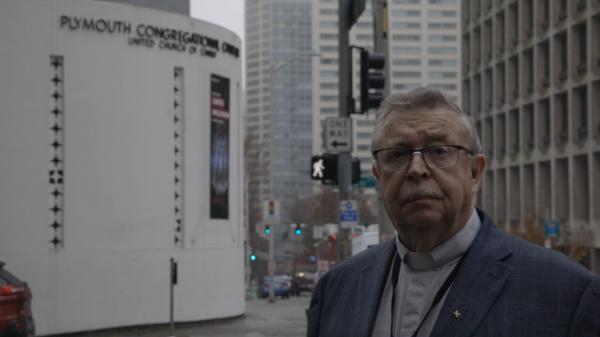 Fearon did not know the legacy he would leave when, at age 21, he bravely challenged the RSV translation error. His recently discovered letters left a record that allow us to further academically challenge a grave translation error based wrong assumptions.
In the last few years, he often said, "I used to think God called me to pastoral ministry despite my being gay. I've decided He called me to ministry because I am gay."
*************************************************************************************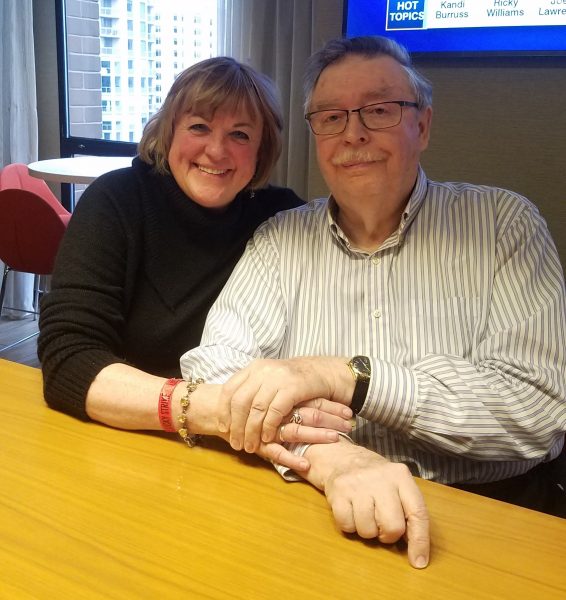 Kathy Baldock, is an author, LGBTQ+ advocate, and Executive Director of CanyonWalker Connections.
She is a leading expert on LGBTQ+ issues in the United States, especially dealing with historical and current discrimination faced from the socially conservative Christian church and political sector.
Nancy Pelosi reflects on her long career & LGBTQ advocacy
In an exclusive interview the former House Speaker credits activists who fought for AIDS funding & marriage equality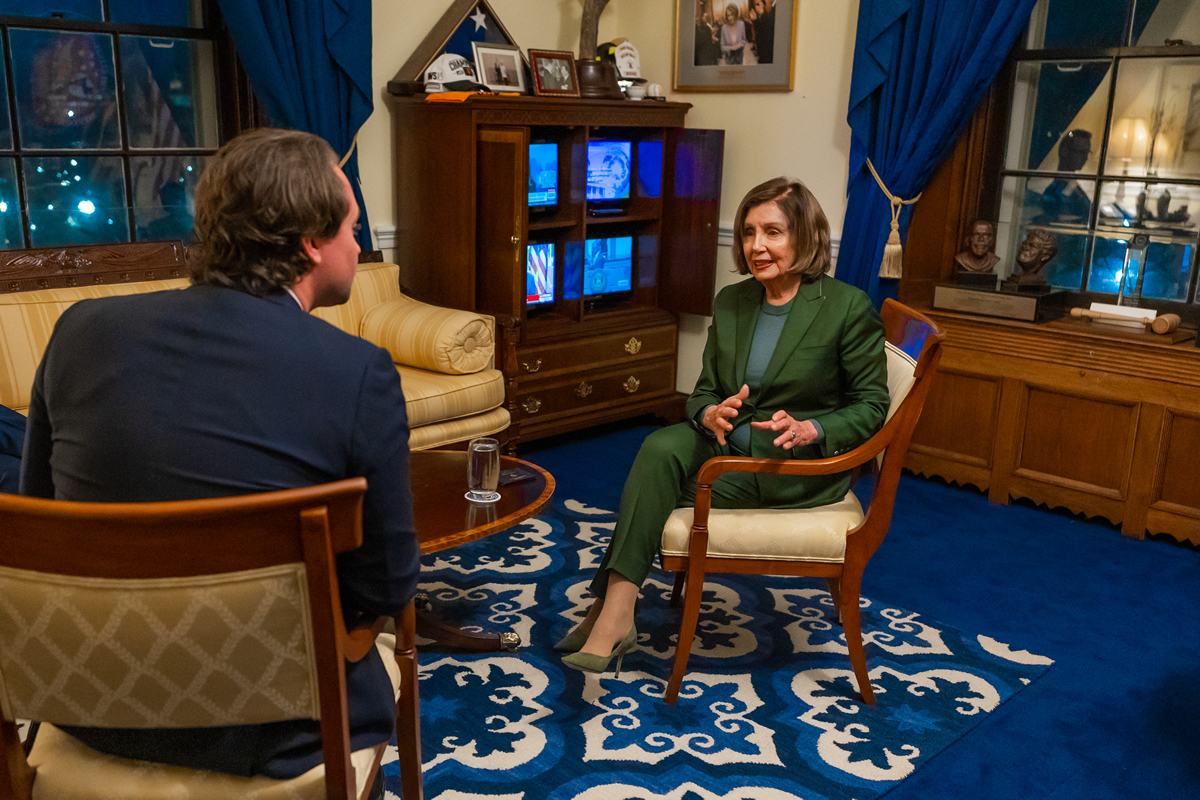 WASHINGTON – Rep. Nancy Pelosi (D-Calif.) sat down with the Washington Blade in her office Tuesday evening for an exclusive interview just weeks after formally stepping down from leadership, having led her party in the House for 20 years, including as Speaker. 
Pelosi reflected on the role she has played in landmark legislative achievements, including milestones in the fight for LGBTQ rights. She also addressed some current events that have earned significant attention from political observers and the beltway press.
So much of the historic progress over the past few decades in advancements toward the legal, social, and political equality of LGBTQ Americans, including those living with HIV/AIDS, was facilitated directly or otherwise supported by Pelosi's leadership in Congress, but she was quick to credit the tireless work of individual activists and LGBTQ, civil rights, and HIV/AIDS advocacy groups.
"I attribute the success with [fighting] HIV/AIDS and everything that came after," from legislation on hate crimes to marriage equality, "to the outside mobilization" of these activists and organizations, she told the Blade.
Despite positioning herself as an advocate for LGBTQ rights well before that position was popular, Pelosi said she is unaware of any instances where she may have suffered political consequences as a result. Regardless, she said, "I don't care."
The more she has been criticized for championing LGBTQ rights in Congress, "the more proud I am" of that work, Pelosi added.
Pelosi has always been a strident LGBTQ ally, guided by her commitment to justice, love, and fairness as ordained by the teachings of her Catholic faith. These ideals are in perfect alignment, she said, as opposed to the position held by many opponents of LGBTQ rights who nevertheless claim to believe we are all created in God's image.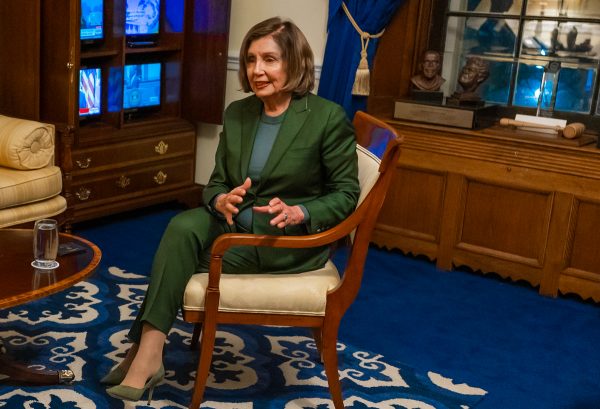 During an interview with Larry King, when serving as the San Francisco Democratic National Convention host committee chairwoman in 1984, Pelosi said the late television host remarked: "I just don't understand how a Catholic girl who grew up in Baltimore, Maryland is such a champion for gay rights."
"You've answered your own question," Pelosi told him, referring to his mention of her Catholicism. "It is our faith that tells us that we're all God's children, and we must respect the dignity and worth of every person."
Pelosi's time in Congress began with the AIDS crisis, and she has kept up the fight ever since
After committing herself and the Congress to the fight against HIV/AIDS during her first speech from the floor of the House in 1987, Pelosi said some of her colleagues asked whether she thought it wise for her feelings on the subject to be "the first thing that people know about you" as a newly elected member.
They questioned her decision not because they harbored any stigma, but rather for concern over how "others might view my service here," Pelosi said. The battle against HIV/AIDS, she told them, "is why I came here."
"It was every single day," she said.
Alongside the "big money for research, treatment, and prevention" were other significant legislative accomplishments, such as "when we] were able to get Medicaid to treat HIV [patients] as Medicaid-eligible" rather than requiring them to wait until their disease had progressed to full-blown AIDS to qualify for coverage, said Pelosi, who authored the legislation.
"That was a very big deal for two reasons," she said. First, because it saved lives by allowing low-income Americans living with HIV to begin treatment before the condition becomes life-threatening, and second, because "it was the recognition that we had this responsibility to intervene early."
Other milestones in which Pelosi had a hand include the Housing Opportunities for People with AIDS program, President Bush's PEPFAR (President's Emergency Plan For AIDS Relief) initiative, the Affordable Care Act (which contains significant benefits for Americans living with HIV/AIDS), and funding for the Ending the Epidemic initiative.
The last appropriations bill passed under Pelosi's tenure as Democratic leader in December contained an additional $100 million boost to HIV/AIDS programs.
These and other hard-won victories over the years – from the biomedical progress made possible by investment in research to foreign aid packages that have saved countless lives overseas – have often come despite staunch opposition from lawmakers, particularly congressional Republicans.
For instance, the late former Sen. Jesse Helms of North Carolina opposed federal funding for HIV/AIDS research because he considered it tantamount to the government's endorsement of "the homosexual lifestyle" responsible for the spread of the disease in the U.S.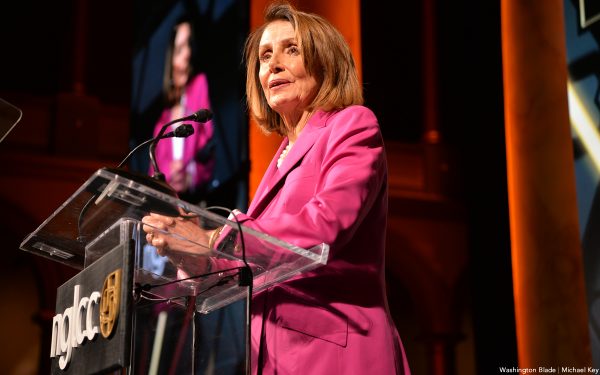 Asked how she might compare anti-LGBTQ members like Helms with whom she worked in the past to those serving today, Pelosi said the most salient difference is the homophobic and transphobic attitudes among lawmakers in previous decades were in many cases borne out of ignorance.
Pelosi said that while the prejudice was "horrible [back] then" and she was "impatient" with lawmakers in the House who exhibited attitudes similar to those expressed by Helms, at that time people who held those views were often "just not up to date on what was happening in the world."
(Pelosi noted that, for his part, Helms seemed to soften his stance on matters concerning HIV/AIDS. She suspects U2 frontman Bono may have successfully appealed to Helms as a parent, but "I don't know exactly.")
By contrast, today's lawmakers, like the overwhelming majority of Americans, "must have a growing awareness of [LGBTQ] people in their own communities, maybe in their own families," Pelosi said. "They're really in a different world," which means, they "have made a decision that they're going to be anti-LGBTQ," she said, adding that hate and prejudice today is most often directed at the trans community. "It's completely unacceptable."
Asked to share her thoughts on the many scandals that have unfolded over the past couple of months concerning gay freshman GOP Rep. George Santos of New York, Pelosi pointed out that while the congressman has dominated headlines recently, other members of the House Republican caucus who have weaponized homophobia and transphobia to a far greater extent than he are much more dangerous.
But first, Pelosi said that House Democrats would never do what the Republican leadership has done by tolerating the embattled freshman congressman to protect their slim majority control of the chamber.
Santos is "almost a joke; he's become a punch line," Pelosi said. "He's outrageous, and there's no way he should be allowed to serve" given the extent to which the congressman has failed to exhibit the "dignity" required of members who are privileged to serve in the House of Representatives.
At the same time, "there are people over there who are more seriously dangerous to the freedoms in our country than him" Pelosi said. She pointed to the hate mongering and fear mongering in which many of Santos's Republican colleagues have engaged, including "the things that that they say about trans families and, just, the injustice of it all."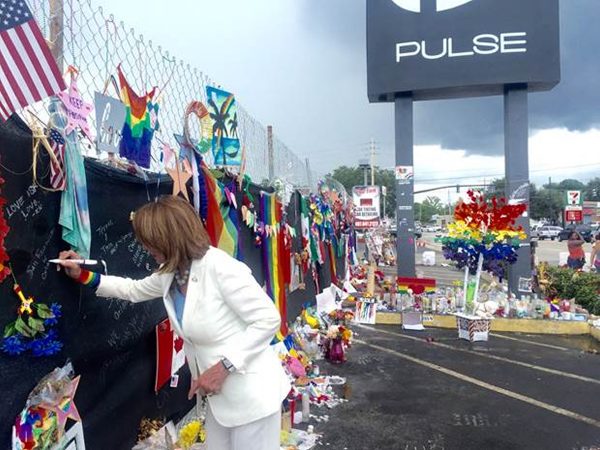 The aim of these far-right lawmakers extends far beyond undermining the rights of LGBTQ people, of course. Pelosi noted that, "you have to remember, with all of these things, whether we're talking about women's right to choose – we've always expanded freedoms. And now with this Supreme Court, they're narrowing freedoms with women's right to choose" by the revocation of constitutional protections for abortion via last year's ruling in Dobbs v. Jackson Women's Health Organization.
Breaking the 'marble ceiling'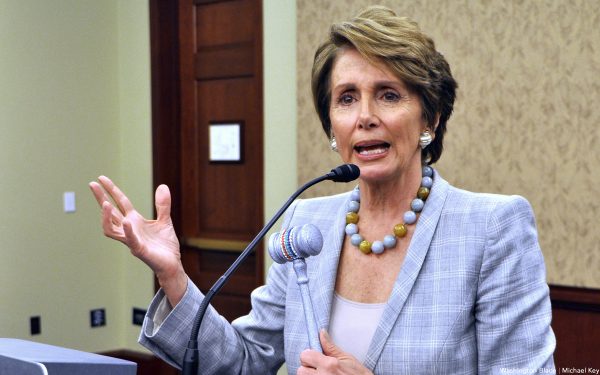 During a lecture last year hosted at the University of California, Berkeley, Barbara Boxer, who formerly represented California in the House and then in the Senate, commented on the historic significance of Pelosi's election to become the first woman Speaker of the House of Representatives in 2006. "The fact that a woman could get into the leadership like this, to win the trust of all these men, it's more extraordinary than you can imagine," Boxer said.
Boxer has also been a trailblazer for women in politics. She was the first woman to chair the Marin County Board of Supervisors, and after her election to serve in the upper chamber alongside California's senior Sen. Dianne Feinstein, the two became the first pair of women to represent any state in the U.S. Senate.
Asked how she managed to secure the votes from, particularly, the older men in her caucus without compromising her values, Pelosi told the Blade, "I just did what I believed" rather than coming to Congress to "change other people's behavior."
She said that many of her male colleagues "had to get over their own negative attitudes" concerning the prospect of electing a woman to lead their party in the House, but "I wasn't going to wait until then."
At the same time, Pelosi acknowledged that "it took courage to vote for a woman as speaker," noting that when she was sworn in back in 2007, she took the opportunity to thank the men who had supported her speakership. (She was elected unanimously on the first ballot.)
Pelosi said that prior to her speakership, she had always believed that the prospect of Americans electing a woman president was likelier to happen in her lifetime than members of Congress – who tend to be older men – voting for a woman speaker.
"I thought the American people were more ready than the Congress" to break the "marble ceiling," she said.
Considering the parallel special counsel investigations into alleged mishandling of classified documents by President Joe Biden and former President Donald Trump, Pelosi has perhaps unwittingly strengthened the case for America to elect a woman president by virtue of her unblemished record as a steward of sensitive, top-secret information.
"I have 30 years of experience in intelligence. I have been on the [House Intelligence] Committee, the top Democrat on the Committee, ex officio on the Committee, a speaker and [Democratic] leader [in the House]," Pelosi said.
She distinguished the rules by which she and other members of Congress are governed, which prohibit the removal or relocation of classified documents, from the policies that the Commander in Chief must follow, which are comparably more permissive.
Regardless, Pelosi said, "the documents are to be respected," along with the rules and procedures for how they should be handled.
There are also important distinctions to note between the allegations against Trump and Biden, Pelosi said. "When you see the former president obstructing access to the documents, and you see this president saying, 'I've instructed my lawyers to look for whatever is there and make them available to the Justice Department,' that's two different things," she said.
Additionally, Pelosi said, from the information that has been made available so far, it seems that Trump was in possession of a greater volume of documents whose contents were more sensitive than those at issue in Biden's case.
Pelosi's LGBTQ fans celebrate her accomplishments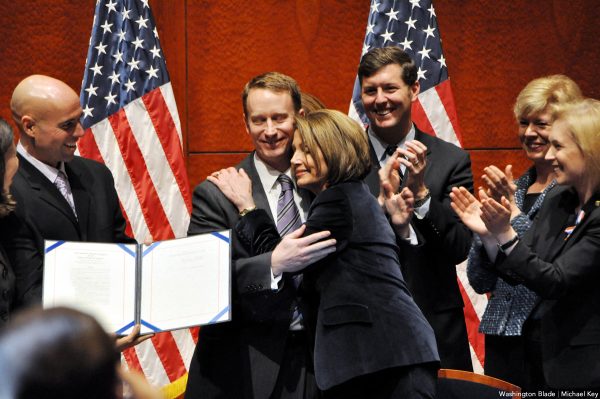 In November, the Human Rights Campaign, America's largest LGBTQ advocacy organization, issued a statement following Pelosi's announcement of her plans to step down from Democratic leadership but continue to represent her constituents in California's 11th Congressional District in the House.
"Speaker Pelosi has been the tip of the spear on watershed advancements for the LGBTQ+ community," HRC President Kelley Robinson said in a statement, pointing to her 1987 speech on the AIDS crisis and "forceful advocacy for marriage equality long before its mainstream popularity," both before she was elected as speaker.
The Clinton-era Defense of Marriage Act, which banned federal recognition of same-sex marriages, was signed into law in 1996 with overwhelming support from both parties in both chambers of Congress; 342 members of the House voted for the proposal, with Pelosi joining only 64 other House Democrats, one independent, and one Republican in her opposition.
"During [Pelosi's] tenure as Speaker," HRC noted, "the House of Representatives passed an historic hate crimes law [the Matthew Shepard and James Byrd Jr. Hate Crimes Prevention Act], repealed the discriminatory 'Don't Ask, Don't Tell' law, led the fight to enact the Affordable Care Act, and vocally opposed bans on transgender members serving in our nation's military."
Pelosi's leadership was bookended with Congress's passage late last year of the Respect for Marriage Act, which is credited as the greatest legislative victory for LGBTQ Americans since the 2010 repeal of "Don't Ask, Don't Tell."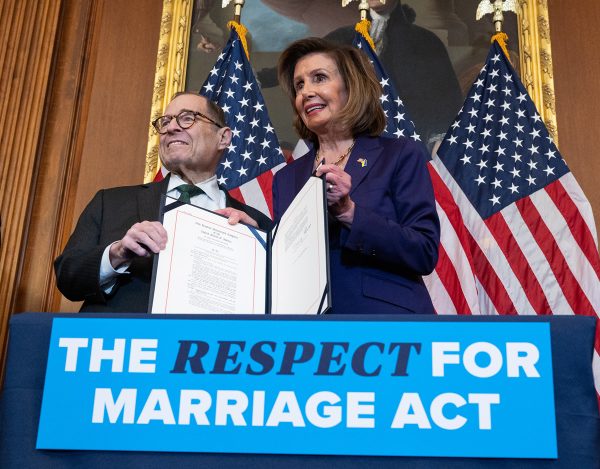 Outside the U.S. Capitol building, Pelosi has also been celebrated by the LGBTQ community for signaling her support through, for example, her participation in some of the earliest meetings of the NAMES Project AIDS Memorial Quilt, her meeting with the survivors of the 2016 Pulse nightclub massacre, and her appearance at a host of LGBTQ events over the years.
Of course, at the same time, Pelosi has been a constant target of attacks from the right, which in the past few years have become increasingly violent. During the siege of the Capitol on Jan. 6, 2021, her office was ransacked by insurrectionists who shouted violent threats against her. A couple of weeks later, unearthed social media posts by far-right Rep. Marjorie Taylor Greene (Ga.) revealed she had signaled support for executing Pelosi along with other prominent House Democrats. And last October, the speaker's husband Paul Pelosi suffered critical injuries after he was attacked by a man wielding a hammer who had broken into the couple's San Francisco home.
Pelosi told CNN last week that her husband is "doing OK," but expects it will "take a little while for him to be back to normal."
Among her fans in progressive circles, Pelosi – who has been a towering figure in American politics since the Bush administration – has become something of a cultural icon, as well. For instance, the image of her clapping after Trump's State of the Union speech in 2019 has been emblazoned on coffee mugs.
"What is so funny about it," Pelosi said, is rather than "that work [over] all these years as a legislator," on matters including the "Affordable Care Act, millions of people getting health care, what we did over the years with HIV/AIDS in terms of legislation, this or that," people instead have made much ado over her manner of clapping after Trump's speech. And while the move was widely seen as antagonistic, Pelosi insisted, "it was not intended to be a negative thing."
Regardless, she said, "it's nice to have some fun about it, because you're putting up with the criticism all the time – on issues, whether it's about LGBTQ, or being a woman, or being from San Francisco, or whatever it is."