The price of freedom and criminalization of poverty
The right to be treated fairly & equitably by institutions that govern this country remains an elusive concept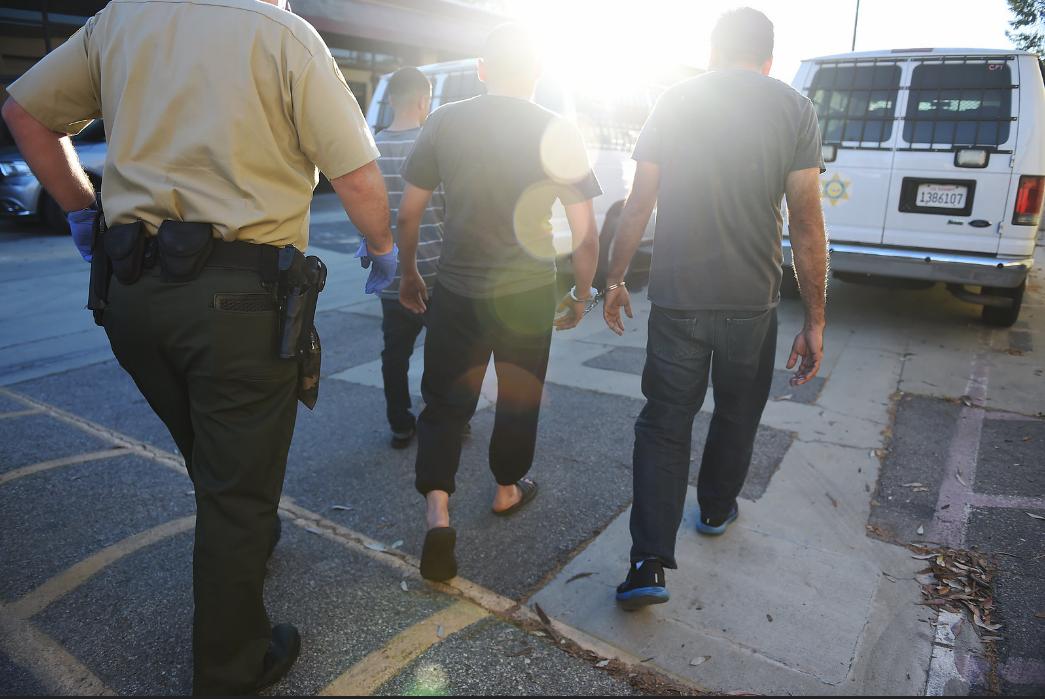 By Dr. Danielle Dupuy-Watson | LOS ANGELES – As we honor Dr. Martin Luther King Jr's legacy, it is important to recognize that civil rights battles continue in ways that are often unseen.  The right to be treated fairly and equitably by institutions that govern this country remains an elusive concept more than 50 years after his death.
One place where unseen injustice occurs every day in mass proportions is in our criminal legal system which irreparably harms millions, including those held in jail detention before trial. 
People have been led to believe that those arrested on suspicion of a crime are innocent until proven guilty. But this is simply not true. Statistics make clear that the presumption of innocence is reserved for those with access to money.  There are approximately 400,000 people in this country who are being held in cages while awaiting trial every day.
In Los Angeles, home to the largest jail system on the planet, it is estimated that 46% of the 14,000 people held in jail are being detained pretrial, often for days and weeks, before receiving an attorney or seeing a judge.  That's 6,440 people! And it's been estimated that about 72% of those detained pretrial are there because they can't afford bail. That's 4,600 Angelenos unnecessarily, and unjustly separated from their children, their families and their lives.
While the separation from your community is awful enough, the extreme and life-threatening harms that people face while in jail  pretrial is also a crucial part of these less visible stories. 
BIPOC and LGBTQ+ people are disproportionately impacted by this systemic injustice. Over 85% of people in LA jails are BIPOC. LGBTQ+ people are twice as likely to be arrested relative to the rest of the population. A survey of incarcerated LGBTQ+ people revealed that 74% of those interviewed were incarcerated simply because they couldn't afford the price of freedom.
The battle against this egregious system of poverty punishment is not new, but it has once again come into the spotlight in LA, in part because of the unrelenting work of those most impacted and advocates. We refuse to let our communities continue to suffer these harms. We continue to fight because we see how progress can be undermined when government actors disregard court rulings.
For instance, the California Supreme Court ruled that the state's money bail system violates due process and equal protection in what is commonly referred to as the Humphrey decision. And while many may have expected to see movement towards a different and better reality for LA, 15 months later the LA Superior Court reinstated one of the most expensive bail schedules in the country. It did so in spite of the CA Supreme Court decision and without any evidence that secured bail improves public safety. 
In fact, empirical literature has concluded just the opposite. So, we must acknowledge that even a decision by the state Supreme Court does not immediately turn the tide and can, in some cases, have little impact on what is practiced.
Angelenos must care about and commit to something different for anything to change. Supervisor Hilda Solis and former Supervisor Sheila Kuehl exemplified this type of care and commitment in 2021 when they co-authored two motions — unanimously passed by the full Board — that support the Supreme Court decision, activating county resources to address the problem that cash bail and pretrial detention poses.  
But even with this support, actual change for the people in pretrial detention remains unrealized. That's why Civil Rights Corp and Public Justice's Debtors' Prison Project, with a coalition of concerned lawyers and faith leaders, filed a class action lawsuit on Nov. 14, 2022 on behalf of six individuals jailed in LAPD and LASD stations and jails for five days before seeing a lawyer or judge. They could not afford to pay preset money bail as required by LA County's bail schedule, which assigns monetary amounts based on arrest charges before people are given any hearing in court.
In most cases, these charges were reduced or dropped once a prosecutor reviewed the case and the individuals were ordered released at their first hearing. The case alleges that this bail schedule policy is illegal. 
"Our clients can't afford to pay for housing, let alone the thousands of dollars police demand for their freedom. But they are not too dangerous to release: they would be set free right away if they could pay. They are jailed only because they do not have money. Through this case, they have decided to stand up to LA's cruel and senseless system of cash-based jailing," says Civil Rights Corps attorney Salil Dudani.
"Under LA County's system, a person arrested for a less serious crime is locked up solely because she can't pay, while another person arrested for a more serious crime is set free because he can afford bail. This is the definition of wealth discrimination, and it has no place in our society or our legal system," says Debtors' Prison Project Director Leslie Bailey.
The current problems with pretrial detention and the LA bail system validate Dr. King's fears about the future. "Until we commit ourselves to ensuring that the underclass is given justice and opportunity, we will continue to perpetuate the anger and violence that tears the soul of this nation. I fear I am integrating my people into a burning house," King said.
If we take this seriously, we must care for people in our communities who live in poverty and most importantly continue to put out the fire before the house burns beyond repair. 
To learn more about pretrial detention, the cash bail system and how to get involved in Los Angeles, visit The Bail Project or Justice LA. 
********************************************************************************* 
Danielle Dupuy-Watson, Ph.D, is the CEO of Civil Rights Corps. Prior to joining CRC, she was the Executive Director of the Million Dollar Hoods project and the Director of Research and Programs at the Ralph J. Bunche Center for African American Studies at UCLA.
The end comes soon: Drums, drums in the deep
"We cannot get out. The end comes. Drums, drums in the deep. They are coming." – J.R.R. Tolkien, The Fellowship of the Ring
By Brynn Tannehill | FAIRFAX COUNTY, Va. – To be trans in the US is to know fear. It is a companion that travels with us constantly: from the moment we realize we are trans, to coming out, to transitioning, and now into our lives long past the point where we should have faded away into anonymity in days past.
We are in the midst of a second Lavender Scare, and in many ways this is far more dangerous: even Christine Jorgenson wasn't barred from receiving hormones or being within 2500 feet of children simply for being transgender. 
I have been called a doomsayer who profits from prognosticating an inevitable end. This is not precisely true: there is hope, if precious little of it. We can all clearly see the situation deteriorating rapidly in red states, with (at best) spotty resistance from the Democratic Party as a whole. We can see the effects of this deterioration as transgender people not only ask how to flee, but actively do so now. But most in a poverty-stricken community, however, lack the money or resources to flee.
There's an eerie similarity to 1933, when people sold everything they owned, with no job waiting for them, just to get away from what they saw happening and coming. Others look at what it will take to get to another country, even as those countries are not yet ready to grant trans people asylum or refugee status. Most can only tell you that it's getting bad, and that they're afraid of what their government is preparing to do to them, even if they don't know exactly what that will be. However, with nowhere to go, and no country particularly wanting transgender people, I find myself dreading another S.S. St. Louis moment in history.
There's an authoritarian party in permanent power in half of the U.S. They're making it clear that intend to seize permanent federal control and bring their vision of a shiny, Godly America to the rest of the country by any means necessary. They're ready to destroy the Union and our democracy to save it from "wokeness". And they have sold their base on the idea that the number one threat that the country must be saved from is transgender people.
State level anti-transgender bills are becoming both more numerous and draconian year after year. The Overton Window of anti-trans legislation keeps shifting further and further to the right. For example, first they wanted to ban transition-related health care for everyone under the age of 18. Then the bills started putting the age at 21. Then, this year, we saw Oklahoma propose banning it for anyone under 26. Texas followed by passing a resolution condemning it for people of all ages.
Now, Oklahoma has proposed a law that would ban providers who take state or federal money of money of any sort (e.g. Medicare or Medicaid) from providing transition-related care to anyone of any age. This means thousands of people who transitioned years ago will no longer be able to refill their prescriptions. Access to medical care will become a right that exists in theory but not in practice, like suffrage in the Jim Crow South.
It's not just medical care. It's sports, bathrooms, birth certificates, driver's licenses, bans on "drag", required misgendering, and forced outing. The creativity of this performative cruelty seems endless. Of these though, the "drag" bans are the most devastating. These laws are deliberately written as to be so vague and overly broad that a symphony orchestra with a transgender 2nd clarinet, or a family with a trans child doing a sing along in the car would be considered obscene. In West Virginia, SB252 and 278 single out transgender people (and not just drag performers) to declare that their mere presence in public is obscene.
Not only are the scope of laws increasing; the sheer number is growing exponentially. In 2018, there were 19 anti-trans bills proposed in state legislatures. By 2020 it was 60. Last year it was 155. Now, in 2023, we surpassed the 2022 total by the middle of January and are well on our way to more than 200. Even so, these numbers don't tell the full tale.
In years past, only perhaps 10% of these bills would pass, usually after opposition and debate. Now, we're seeing bills introduced, sent to committee, debated, and sent to the floor in 24 hours. There is simply so much happening so fast that trans people cannot put together opposition in time to speak against these bills, whereas conservative legislators coordinating with religious legal groups always have "experts" lined up and ready, since they know exactly when and where the bills will be heard ahead of time. The result is that in a year where a record number of anti-transgender bills are introduced, a record percentage, and a record total, will be passed.
Trans people are not doomed, but we're clearly on an accelerating trajectory to the end of the community in at least half of the US. Reversing these trends, and preventing a nation-wide destruction of the community, requires numerous highly improbable things to happen. This includes Republicans moving on from the moral panic about trans people, deciding that they've gone far enough already with their oppression at the state level, or the courts overturning anti-trans laws. None of these seems likely.
Additionally, there remains the fear that even states with sanctuary laws, like California, will not remain safe forever. Republicans in Congress have made it clear that should they take power in 2024, they intend to pass nationwide laws similar to those at the state level. The odds of the GOP taking full control are frighteningly high: the Senate map in 2024 for Democrats is very bad, Biden's net approval is where Trump's was in 2020, and gerrymandering makes taking back the House difficult.
Masha Gessen's rules for surviving autocracy state that "your institutions will not save you." This is true for trans people now in several ways: neither courts, the Democratic party, nor the media seem prepared to stand up for us as the situation goes from hostile to non-survivable. There's the open question of whether the courts will uphold sanctuary laws. When Texas demands the arrest and extradition of trans people (or parents of trans youth) who have fled to a sanctuary state, it seems unlikely that the current Supreme Court will do anything but what their Christian Nationalist masters tell them to. It's also unknown whether a state like California would defy the courts and break the union over trans people or women seeking an abortion.
Then there's the news media, the fifth estate that is supposed to be the light of truth shining on darkness. Instead, half of the media ecosystem is leading the charge to brand transgender people as an existential threat to women, children, and society. The other half, like Reuters, The New York Times, and The Atlantic, produce poorly thought out "both-sideism" and concern troll pieces that amplify and reinforce the narratives of the side that believes the ideal number of transgender people in the US is zero.
Trans people have precious few people that they know will go to the mattresses for them. We're already seeing who on the left and center is stepping aside, or even joining in, to let self-proclaimed Christian fascists like Matt Walsh have their way. Not only can it happen here, but it is happening now, at this very instant, to the sound of deafening silence from the people who swore without irony "never again."
The American public, for their part, either doesn't know or doesn't care. It's just happening to "those people". Most trans people cannot enunciate all the factors that have them afraid, and why they form an interlocking system of failures that make recovery from the trajectory we're on improbable. They just know that things are getting worse, and they don't see how it will get better. Like animals before an earthquake, they know something is very wrong, even if they can't explain why, or get anyone to listen.
All they know is that they cannot get out, the unstoppable power of the government is coming, and no one is coming to the rescue. For those who cannot flee, and cannot survive the laws about to be passed, the end comes soon. Drums, drums in the deep.
*******************************************************************