Latino Leaders Network honors gay San Diego Mayor Todd Gloria
Last year's honorees were Albuquerque, New Mexico Mayor Tim Keller and San Antonio, Texas Mayor Ron Nirenberg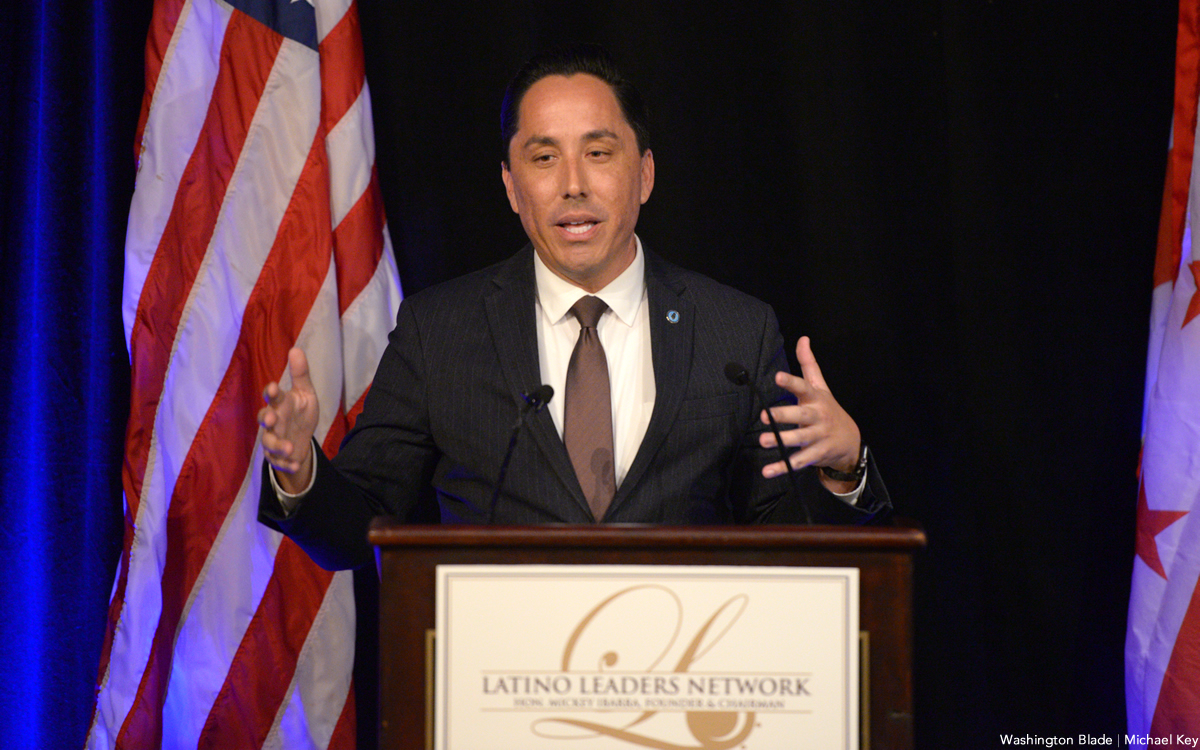 WASHINGTON – Openly gay San Diego Mayor Todd Gloria became the latest recipient of the Latino Leaders Network's Antonio Villaraigosa Leadership Award during the organization's Tribute to Mayors on Wednesday night.
The biannual event, which was held at the St. Regis hotel in Washington, D.C., was attended by more than 80 mayors – including Eric Adams of New York and Francis Suarez of Miami, who serves as president of the U.S. Conference of Mayors – along with other elected representatives like Rhode Island Lieutenant Gov. Sabina Matos.
Also in attendance were high profile government officials including Julie Chavez Rodriguez, senior advisor to the President and director of the White House Office of Intergovernmental Affairs, as well as Esteban Moctezuma and Batbayar Ulziidelger, ambassadors of Mexico and Mongolia to the U.S.
Upon receiving the award, Gloria expressed gratitude for the "open door policy" with which the Biden-Harris administration has welcomed input from the nation's mayors, particularly with respect to issues concerning immigration. He said San Diego is a better and more prosperous city by virtue of its close proximity to the southern border.
Gloria also remarked on how "far we've come as a community," noting his identity as an openly gay man with Puerto Rican, Filipino, Native American, and Dutch heritage who learned from his parents – who worked as a gardener and hotel maid – that one should "leave things better than you found them."
Introducing Gloria was the award's namesake, Villaraigosa, former Los Angeles mayor and California gubernatorial candidate, who said the latest honoree embodies the principle that, "when we break a glass ceiling and open up the door, we do that because we know we got there on the shoulders of others, and we say, 'this door is open to all of us.'"
"When we celebrate mayors who bring us together and unite us at a time when the country is so divided, we should really celebrate," Villaraigosa said.
The Latino Leadership Network presents the Antonio Villaraigosa Leadership Award to "a mayor from a city with a significant Latino population who has exhibited an outstanding commitment to bringing diverse communities together."
Last year's honorees were Albuquerque, New Mexico Mayor Tim Keller and San Antonio, Texas Mayor Ron Nirenberg.
(Washington Blade photos by Michael Key)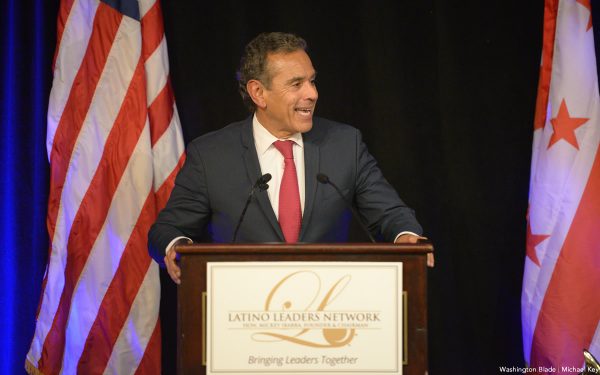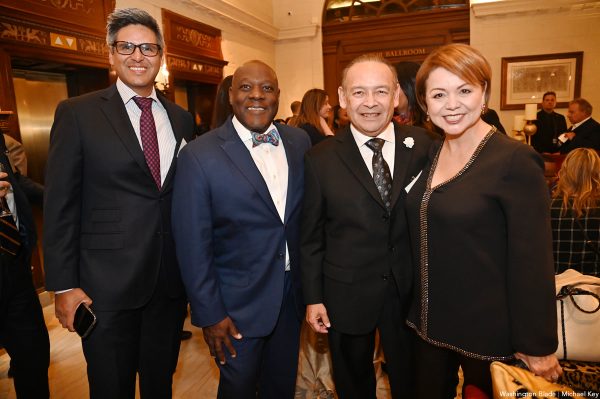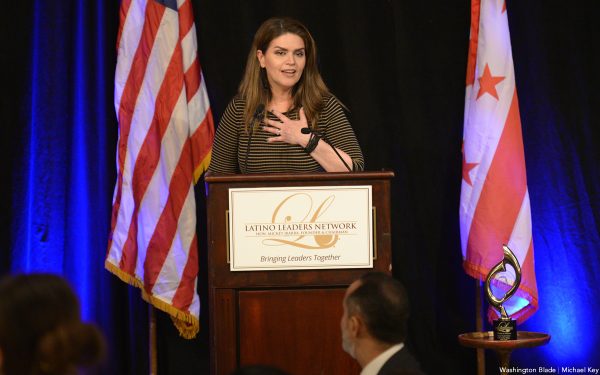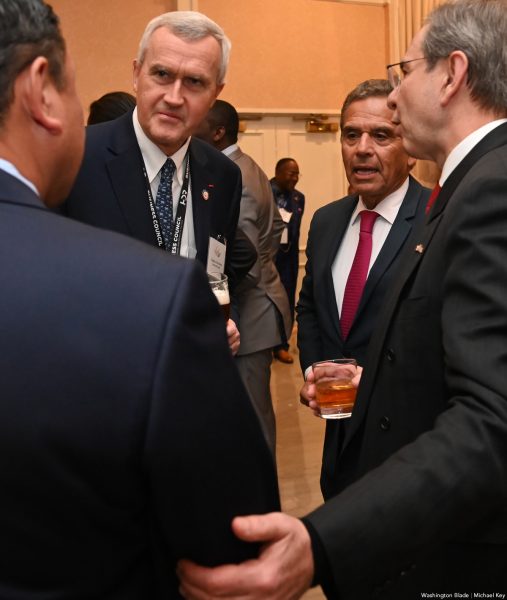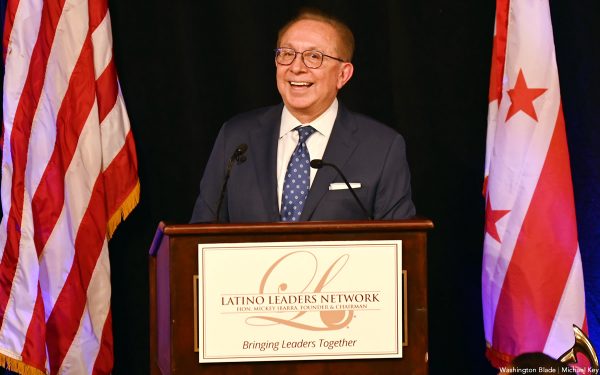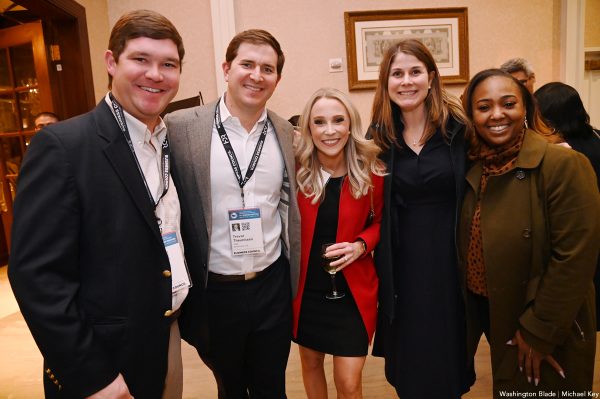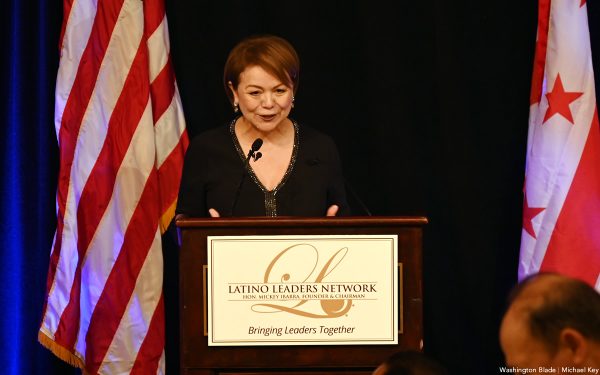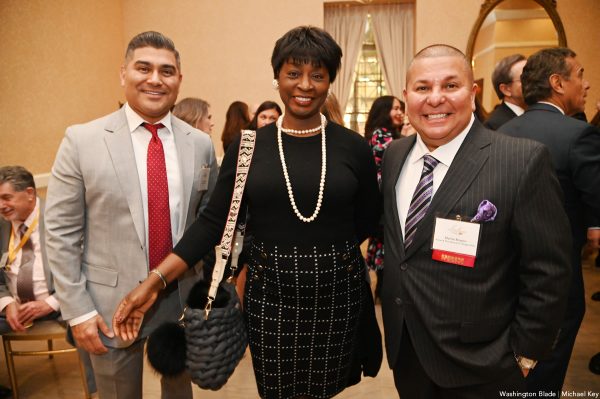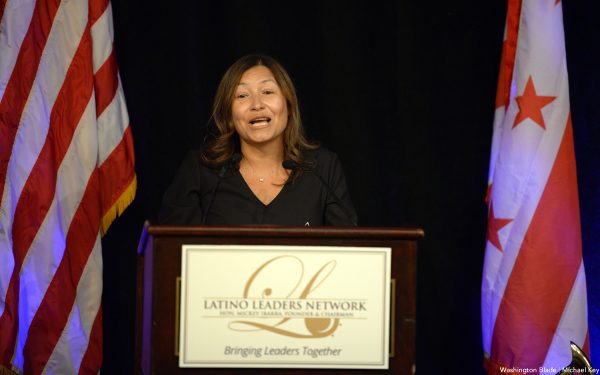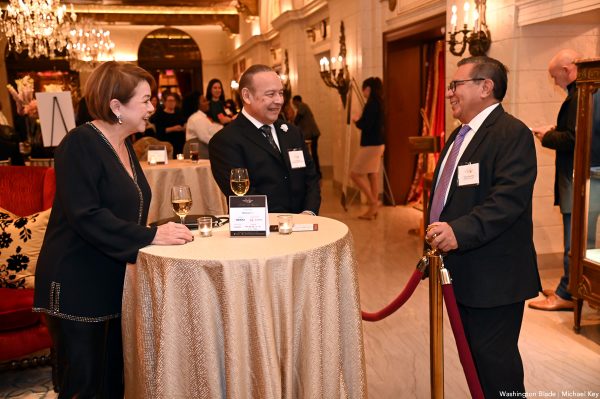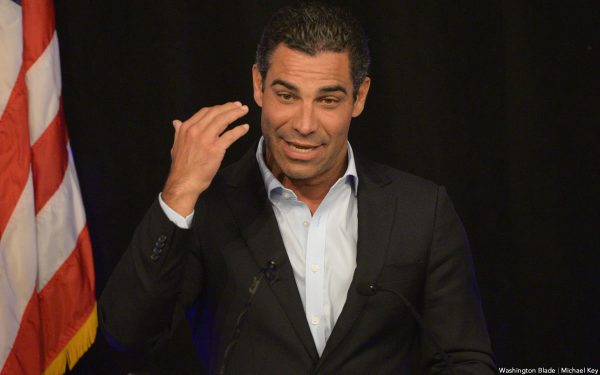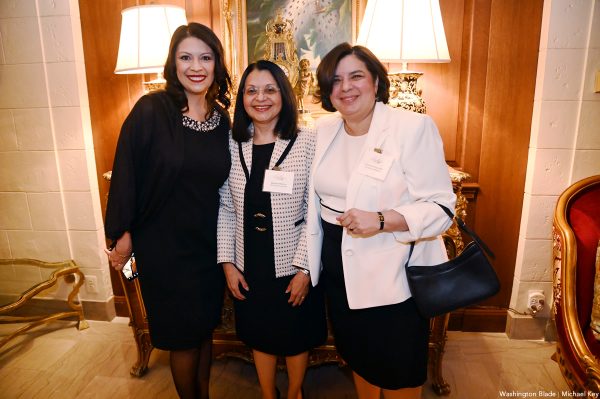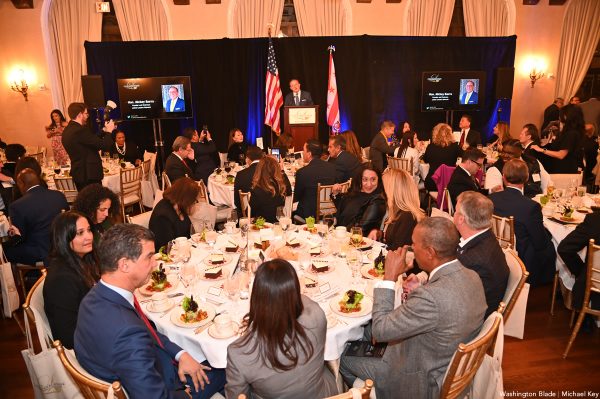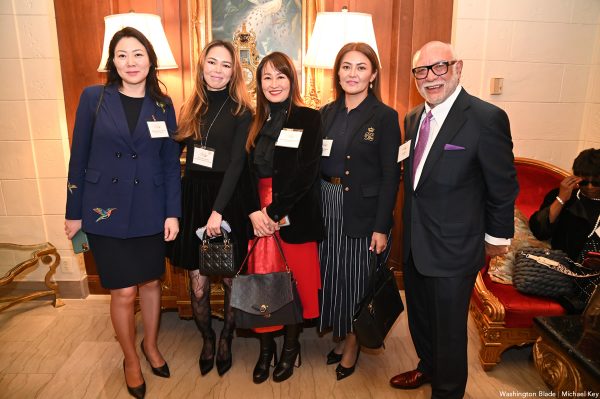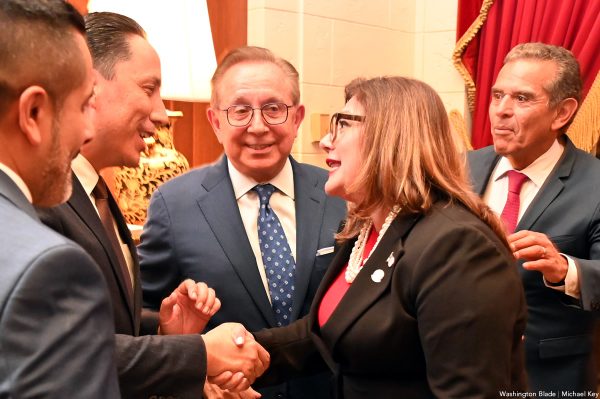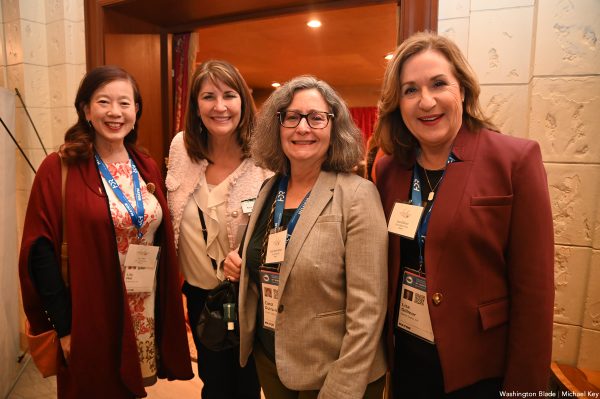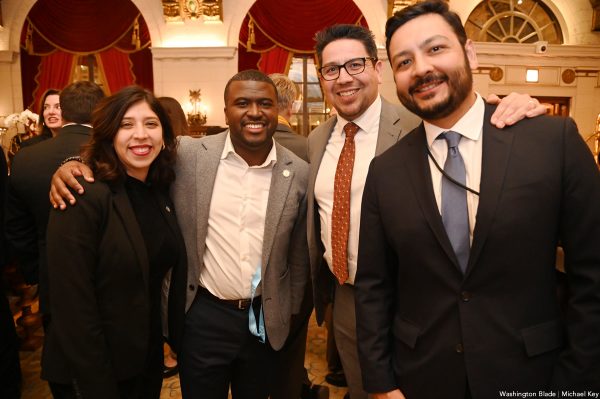 ACLU: 120 new anti-LGBTQ bills in the first few weeks of 2023
"Across the country, trans people & families are gearing up to fight back- prevent every one of these bills from becoming law"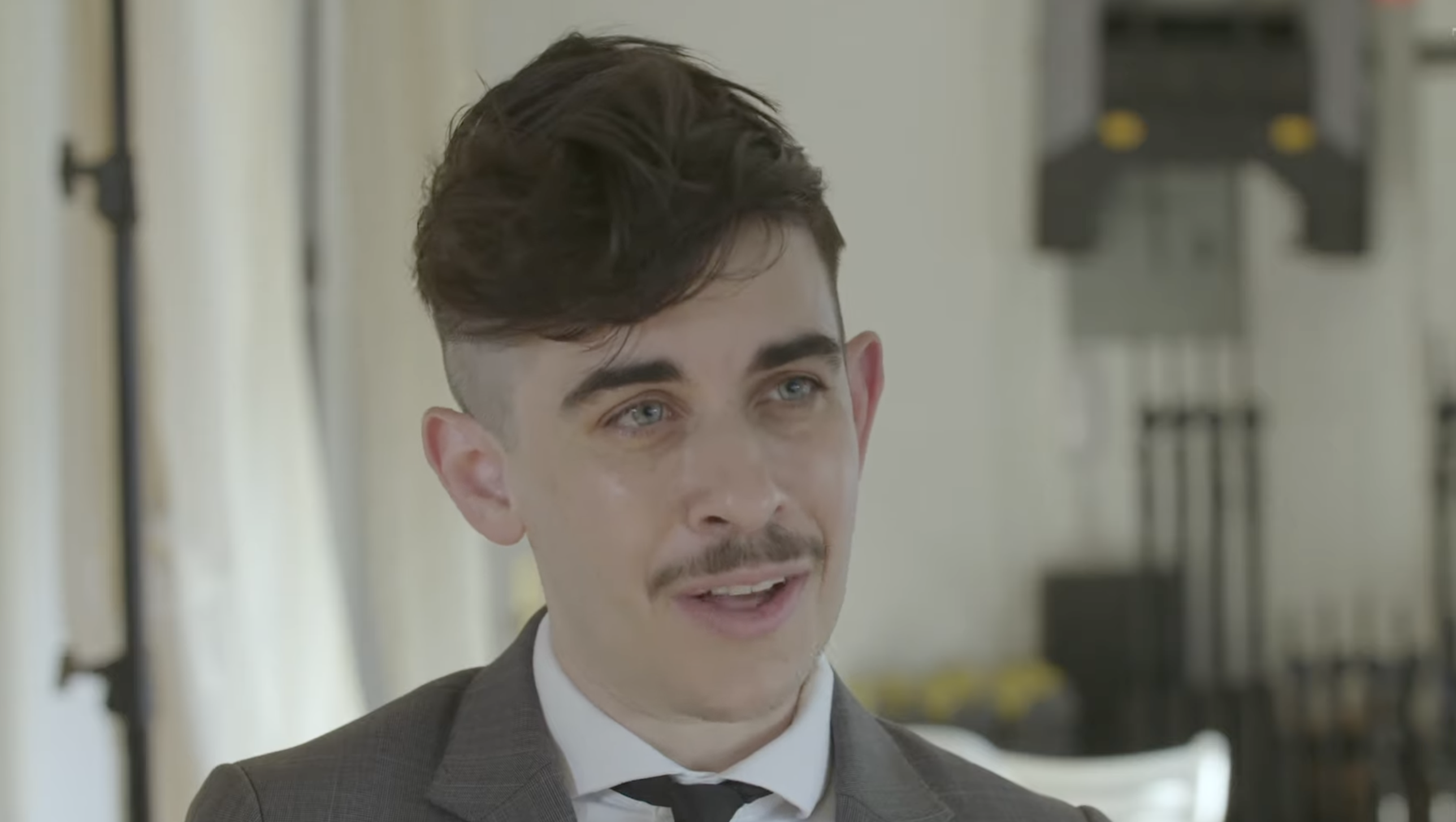 NEW YORK – Lawmakers across the country have introduced more than 120 anti-LGBTQ bills so far this year, according to a press release issued Thursday by the ACLU, America's largest and best-known litigation and lobbying group for individual rights and civil liberties.
In a press release announcing the findings, the ACLU introduced a digital dashboard, which summarizes the proposed anti-LGBTQ policies, organizes the bills by category, and tracks their progress through state legislatures.
"These bills represented a coordinated effort to deny transgender people our freedom, our safety, and our dignity," said Chase Strangio, deputy director for transgender justice at the ACLU's LGBTQ & HIV Project.
"Across the country, trans people and our families are gearing up to fight back and prevent every one of these bills from becoming law," he said in the press release.
Last year, the ACLU reports there were a record breaking 278 bills targeting LGBTQ people, of which 20 have become law. The group's litigation team has fought against "bills across the country restricting access to gender-affirming health care, barring trans people from updating identity documents, and denying transgender students equal access to school facilities and activities, as well as defending inclusive policies from political and legal attacks."
Additionally, the ACLU has brought lawsuits challenging book bans that target materials with LGBTQ characters or themes and represented parties in litigation over a Texas law that criminalizes parents who facilitate their trans children's access to guideline directed, medically necessary healthcare treatments and procedures.
The number of new anti-LGBTQ legislative proposals seen in the first few weeks of 2023 is especially remarkable considering that some state legislatures have not yet begun filing new bills.
In a Washington Blade article published Wednesday, activist and legislative researcher Erin Reed said that in addition to the fact that lawmakers are now on track to eclipse last year's record number of anti-LGBTQ bills, the proposals introduced so far this year have tended to be more extreme and cruel than in years past.
The ACLU has categorized them in seven primary focus areas: healthcare access, schools and education, free speech and expression, access to accurate IDs, Weakening Civil Rights Laws, Public Accommodations, and Other Anti-LGBTQ Bills.
The ACLU's press release describes each of these types of legislative proposals:
Health Care Access

Lawmakers are targeting access to medically-necessary health care for transgender people. Many of these bills ban affirming care for trans youth, and can even create criminal penalties for providing this care. 35 bills target health care access for transgender people.

Schools & Education

State lawmakers are trying to prevent trans students from participating in school activities like sports, force teachers to out students, and censor in-school discussions of LGBTQ people and issues. 58 bills target LGBTQ rights in schools and educational settings.

Free Speech & Expression

Despite the safeguards of the First Amendment's right to free expression, politicians are fighting to restrict how and when LGBTQ people can be themselves, limiting access to books about them and trying to ban or censor performances like drag shows. 19 bills target freedom of speech and expression for LGBTQ people.

Access to Accurate IDs

These bills attempt to limit the ability to update gender information on IDs and records, such as birth certificates and driver's licenses. Four bills target the right to accurate identity documents for transgender people.

Weakening Civil Rights Laws

These bills attempt to undermine and weaken nondiscrimination laws by allowing employers, businesses, and even hospitals to turn away LGBTQ people or refuse them equal treatment. Seven bills seek to weaken existing civil rights laws.

Public Accommodations

These bills prohibit transgender people from using facilities like public restrooms and locker rooms.

Other Anti-LGBTQ Bills

These bills don't quite fit in any of the other categories, but nonetheless target the rights of LGBTQ people. Examples include restrictions on marriage and bills preempting local nondiscrimination protections. Five bills target LGBTQ people and rights, including proposed amendments to define transgender people out of existence.