Wes Moore, first Black Governor of Maryland sworn in Wednesday
"We're always going to fight to ensure Maryland's a state open & welcome to all, regardless of who you are, regardless of who you love"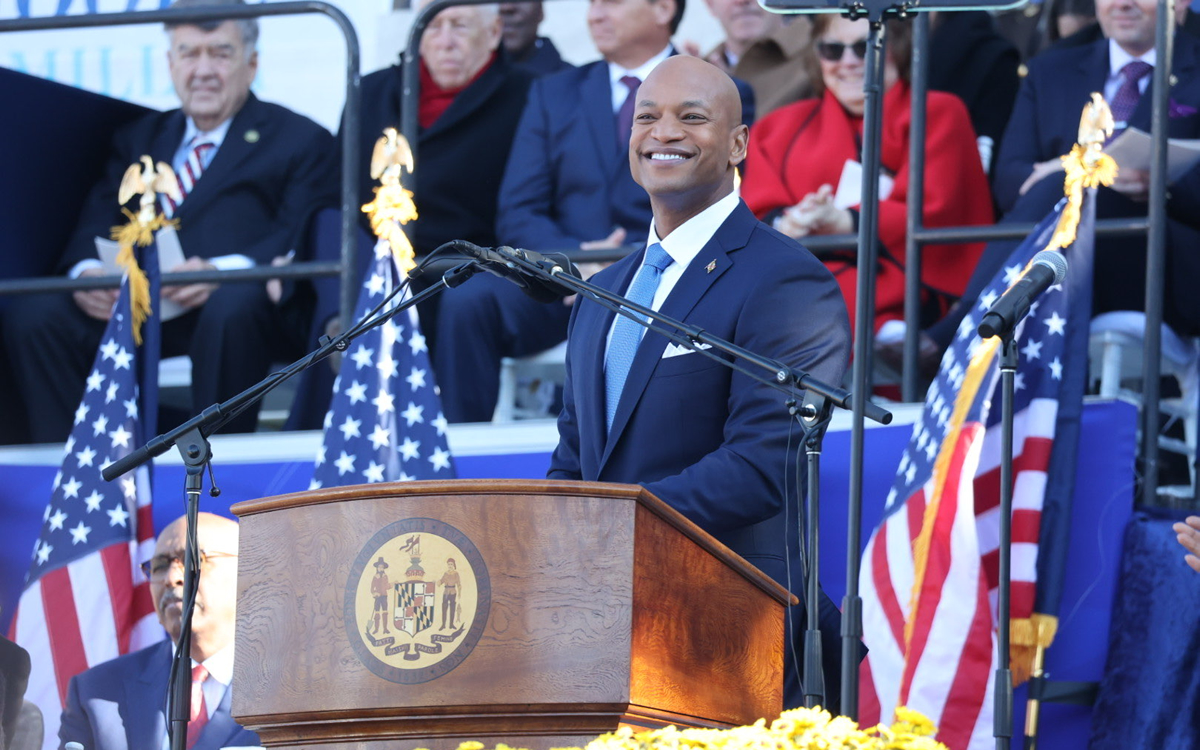 ANNAPOLIS – Maryland's new governor Wes Moore was sworn into office on Wednesday.
Moore, who defeated then-state Del. Dan Cox (R-Frederick County) last November, is Maryland's first Black governor. Lieutenant Gov. Aruna Miller is the first woman of South Asian descent elected lieutenant governor in the country.
Moore and Miller will succeed Republicans Larry Hogan and Boyd Rutherford respectively. Oprah Winfrey is among those who attended Wednesday's inauguration that took place at the State Capitol in Annapolis.
"In the state of Maryland, anything is possible," said Moore in his inaugural speech. "Today is a celebration of our collective future."
Moore during a pre-election interview with the Washington Blade expressed his support for LGBTQ rights.
"I care deeply about the LGBTQ+ community," he said. "And we're always going to fight to ensure that Maryland is a state that is open and welcome to all, regardless of who you are, regardless of who you love."
Moore told the Blade that he will enforce the Inclusive Schools Act that, among other things, bans discrimination based on sexual orientation and gender identity in Maryland's public schools. Moore in his inaugural speech specifically mentioned the need to protect the state's LGBTQ students.
Moore last October told the Blade he will urge lawmakers to support the Trans Health Equity Act, which would expand coverage of gender-affirming health care for transgender Marylanders under the state's Medicaid program.
Moore has appointed Anthony Woods, an openly gay U.S. Army veteran who was discharged under 'Don't Ask, Don't Tell' in 2008, as head of the Maryland Department of Veterans Affairs.
"The thing that people will see is that this is not just a new thing to me," Moore told the Blade. "We have a track record on working on these issues, whether it is the work I did on the repeal of 'Don't Ask, Don't Tell,' whether it is the work I did when I was running one of the largest poverty-fighting organizations in the country, and supporting organizations that were supporting LGBTQ plus homeless youth."
Maryland gubernatorial candidate: Restrict transgender in schools
"We cannot have transgender indoctrination in kindergarten. That's preposterous. That's exactly what my opponent supports"
BALTIMORE – Republican Maryland gubernatorial candidate Dan Cox on Wednesday said there is "transgender indoctrination" in the state's kindergartens.
"We're not doing enough because too many times we exclude the parents from involvement," said Cox in response to a question about support for LGBTQ students in Maryland schools during a debate against Democrat Wes Moore that Maryland Public Television hosted at Morgan State University in Baltimore. "I fought against a bill that would literally allow 12-year-olds to receive counseling without their parents even knowing. That's wrong. We need to make sure parents are involved."
"What I will do also is ensure that the indoctrination stops," added Cox. "We cannot have transgender indoctrination in kindergarten. That's preposterous. That's exactly what my opponent supports. It's on his website. I will stand against that and eradicate that from the curriculum and get back to world class learning."
Cox also noted "Gender Queer: A Memoir," a book that nonbinary author Maia Kobabe wrote, depicts "things that I cannot show you on television, it's so disgusting."
"We're going to change that and say let's get back to math, let's get back to making sure that our kids know how to read and write," said Cox.
Moore in response to the question said "many of the issues that we're discussing are being addressed at the local level and it's important for the state to understand that we're a partner in that, but we don't dictate to the local jurisdictions as to how their education processes work."
"I have an 11-year-old daughter and an 8-year-old son," said Moore. "All I ever want for my children is for them to be seen and for them to feel like they are being heard and I want the same thing for every child."
Moore noted rates of homelessness are higher among LGBTQ youth in Maryland than for those who identify as heterosexual. He also pointed to a statistic that indicate 80 percent of transgender people in the state have considered suicide.
"I want to say to all of our LGBTQ youth and families: I see you and I hear you and all policies that will be made will be made in partnership because that is how we have to lead as a state, in partnership," said Moore.
Cox, who represents District 4 in the Maryland House of Delegates, last October sought to amend an education bill that would restrict what he has described as "classroom indoctrination" around gender identity in kindergarten through third grade. The Trump-backed Republican, among other things, has also said he would ban transgender students from girls' sports teams.
A poll the Washington Post and the University of Maryland released last week shows Cox is trailing Moore by 32 points.