Biden's second State of the Union prioritizes bipartisanship
"To my Republican friends, if we could work together in the last Congress, there is no reason we can't work together in this new Congress"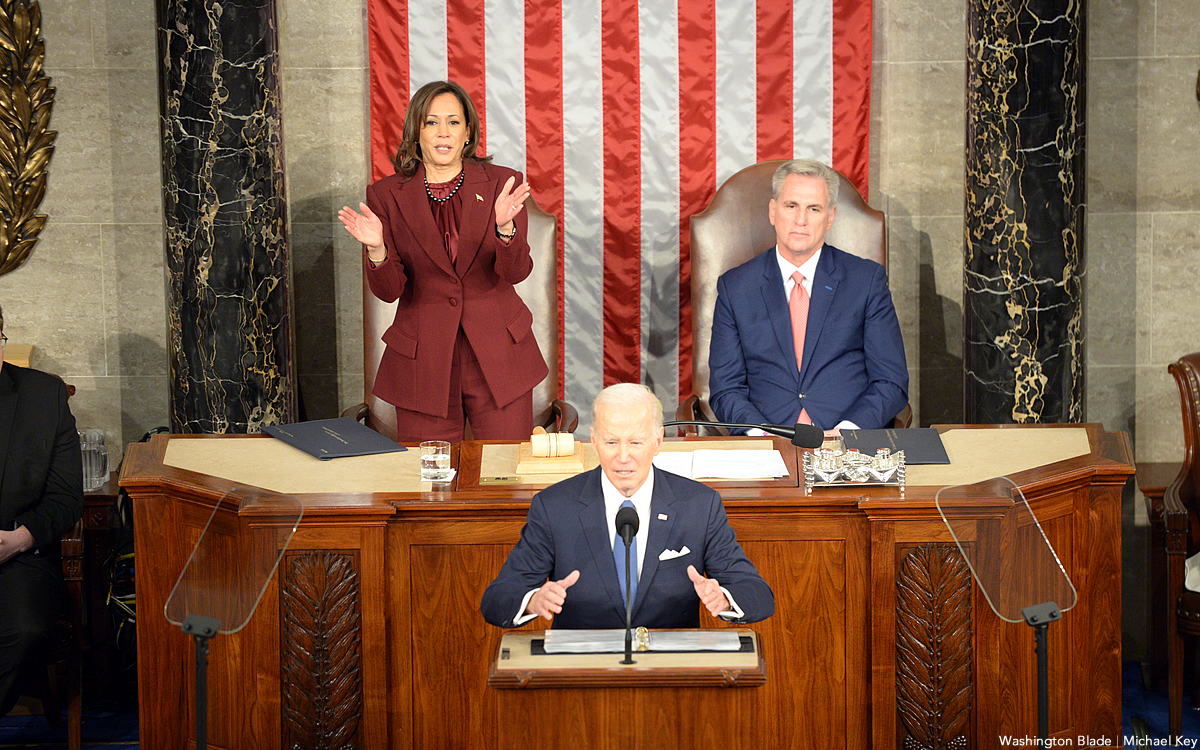 WASHINGTON – President Joe Biden's second State of the Union address on Tuesday focused on building upon recent accomplishments, especially legislative milestones that were reached with bipartisan cooperation.
Nevertheless, the speech was met with vocal objections from Republican lawmakers over Biden's comments about the debt ceiling and mention of some GOP members' plans to cut social security and Medicare.
"From reauthorizing the Violence Against Women Act, to the Electoral Count Reform Act, to the Respect for Marriage Act that protects the right to marry the person you love," Biden said, "To my Republican friends, if we could work together in the last Congress, there is no reason we can't work together in this new Congress."
On the subject of legislation, for the second year in a row, Biden repeated his plea for Congress to revisit the Equality Act "to ensure LGBTQ Americans, especially transgender young people, can live with safety and dignity."
He also focused part of Tuesday's address on public health. "Twenty years ago, under the leadership of President Bush and countless advocates and champions, we undertook a bipartisan effort through PEPFAR to transform the global fight against HIV/AIDS," Biden said.
The successful effort should be repeated in the fight against cancer, he added.
These matters aside, Biden included little mention of LGBTQ issues, or the extremism of Republicans who are poised to run for the presidency next year. Instead, the bulk of his remarks were focused on themes like implementing the provisions of the Inflation Reduction Act and the bipartisan infrastructure law.
The country's economic recovery was another well-trod message, on the heels of a January jobs report whose data showed record low unemployment and steady growth in new jobs and workers' wages.
Biden did devote some time to reproductive justice. "The Vice President and I are doing everything we can to protect access to reproductive health care and safeguard patient privacy," he said. "But already, more than a dozen states are enforcing extreme abortion bans."

The president then vowed to veto a national abortion ban if Congress should pass one.
During last year's State of the Union, Biden said "The onslaught of state laws targeting transgender Americans and their families is wrong," adding, "As I said last year, especially to our younger transgender Americans, I will always have your back as your President, so you can be yourself and reach your God-given potential."
One sign of solidarity with the LGBTQ community this year was the invitation of Gina and Heidi Nortonsmith, plaintiffs in the Massachusetts case that led the state to become the first to legalize same-sex marriage, to join First Lady Dr. Jill Biden's box.
And House Minority Leader Hakeem Jeffries (D-N.Y.) brought Human Rights Campaign President Kelley Robinson as his guest. Biden honored the former House Speaker, Rep. Nancy Pelosi (D-Calif.), as "someone who I think will be considered the greatest Speaker in the history of this country."
President Biden delivers 2023 State of the Union address:
Vice president to visit three African countries with criminalization laws
Ugandan lawmakers passed anti-homosexuality bill last week
ACCRA, Ghana — Vice President Kamala Harris this week will visit three countries in Africa that criminalize consensual same-sex sexual relations.
Harris and her husband, second gentleman Douglas Emhoff, arrived in Ghana on Sunday. They will travel to Tanzania and Zambia before returning to the U.S. on April 2.
Ghana, Tanzania and Zambia are among the dozens of countries in which consensual same-sex sexual relations remain criminalized.
The Washington Blade last week reported LGBTQ+ and intersex Ghanaians remain in limbo as lawmakers continue to debate the Promotion of Proper Human Sexual Rights and Ghanaian Family Values Bill that, would among other things, further criminalize LGBTQ+ and intersex people and make advocacy on their behalf and allyship illegal. A Ghanaian representative who spoke during a March 20 meeting that focused on the integration of LGBTQ+ and intersex rights into the U.N. Security Council's work said the body is not an appropriate venue to discuss them.
"You know that a great deal of work in my career has been to address human rights issues, equality issues across the board, including as it relates to the LGBT community," said Harris on Monday during a press conference with Ghanaian President Nana Afuko-Addo that took place in Accra, the Ghanaian capital. "I feel very strongly about the importance of supporting the freedom and supporting and fighting for equality among all people and that all people be treated equally. This is an issue that we consider and I consider to be a human rights issue and that will not change."
Tanzanian President Samia Suluhu, with whom Harris is scheduled to meet on Thursday, last month described LGBTQ+ rights as "imported cultures." The Tanzanian government has also banned children's books from schools because of their LGBTQ+-specific content.
The State Department in 2019 recalled then-U.S. Ambassador to Zambia Daniel Foote after the Zambian government sharply criticized him for publicly defending a gay couple who had been convicted of violating the country's colonial-era sodomy law and sentenced to 15 years in prison.
Then-Zambian President Edgar Lungu later pardoned the couple. Current Zambian President Hakainde Hichilema, which whom Harris will meet on March 31, last September reiteated his government does not support LGBTQ+ and intersex rights.
Harris arrived in Africa less than a week after Ugandan lawmakers approved a bill that would further criminalize homosexuality and LGBTQ+ and intersex people. White House Press Secretary Karine Jean-Pierre said the measure if signed "would impinge upon universal human rights, jeopardize progress in the fight against HIV/AIDS, deter tourism and investment in Uganda, and damage Uganda's international reputation."
"The bill is one of the most extreme anti LGBTQI+ laws in the world," she said on March 22 during her daily press briefing. "Human rights are universal — no one should be attacked, imprisoned or killed simply because of who they are or who they love."
President Joe Biden in 2021 signed a memo that committed the U.S. to promoting LGBTQ+ and intersex rights abroad as part of the White House's overall foreign policy. Then-State Department spokesperson Ned Price later told the Blade the decriminalization of consensual same-sex sexual relations is one of the Biden-Harris administration's five priorities as it relates to LGBTQ+ and intersex rights overseas.
A senior administration official told reporters during a conference call that previewed Harris' trip that she "is very much focused on opportunities in Africa and a positive message and the great things we can do in partnership with African countries. And you're going to really see that as the theme of the trip, given Africa's role in the world and what we think can be done with Africans, for the sake of Africans in the United States and the rest of the world."
"But that doesn't mean that she would shy away from discussing difficult issues, and you know her track record on the LGBTQ issue," added the official. "She spent her whole career fighting for rights of overlooked and marginalized people, including LGBTQ people."
The official further stressed the Biden-Harris administration "is very clear about the right for all people to live free of harm and discrimination and to realize their full potential and to fully participate in society."
"The vice president has been clear about that throughout her engagements in the United States and elsewhere in the world, and it won't be any different when she is in Africa," added the official. "We have said, you know, including in recent days — expressed the concerns we have about certain developments that we've seen on the African continent, whether it's laws or practices that are anti-LGBTQ. And that's not consistent with what this administration stands for."
The official also said they "don't think that is a choice between taking a firm stand on that set of really important issues and the big positive opportunity that the vice president sees in Africa and she's going to emphasize on this trip."
The Blade will provide further updates of Harris' trip as they become available.