GOP U.S. Rep. slams Rep. Judy Chu with racist comment on Fox
The Texas Republican's remarks were immediately targeted by House Democrats angered by the racist nature of his comments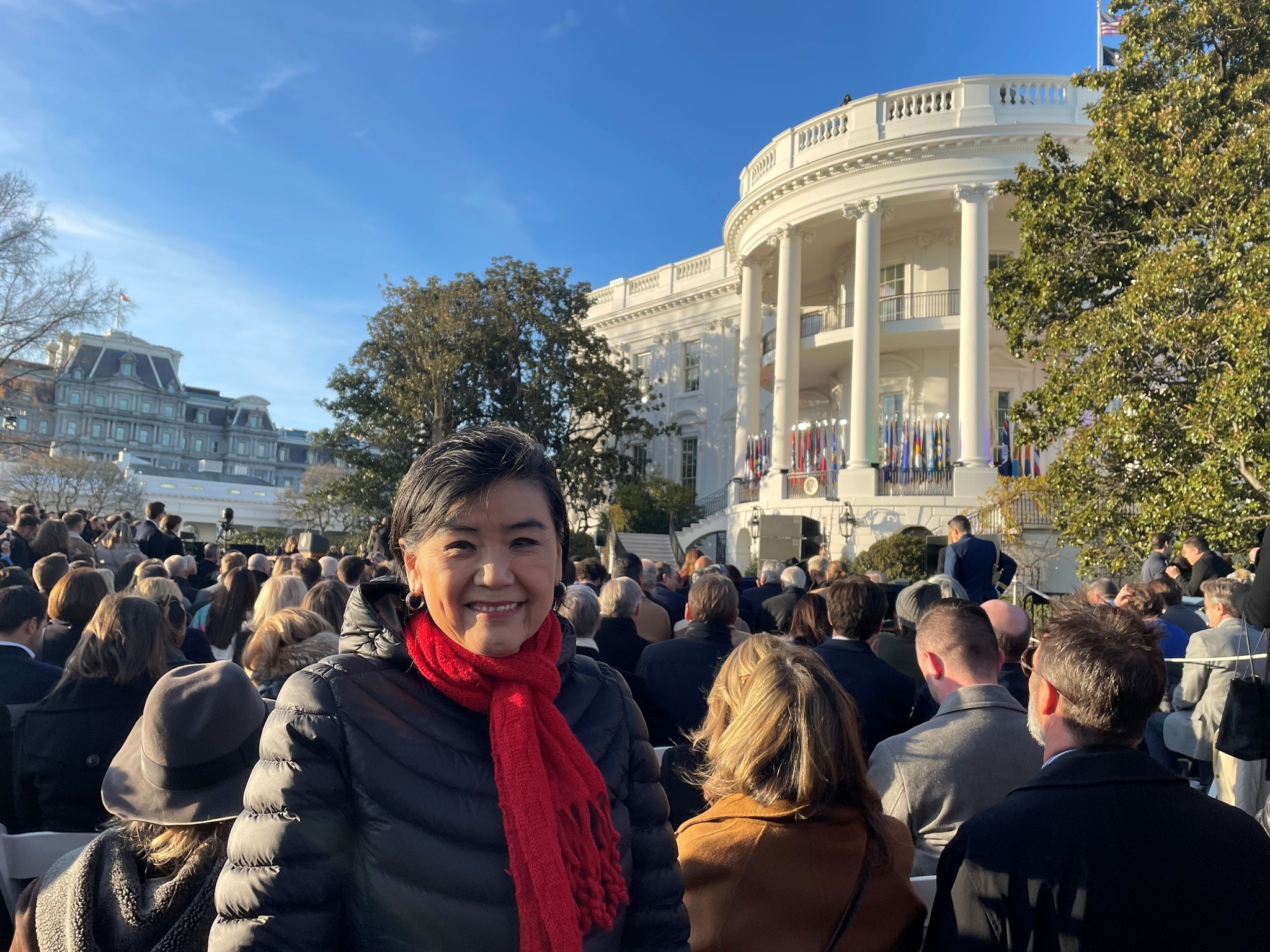 WASHINGTON – In an appearance on Fox News' Jesse Watters Primetime show on Wednesday, U.S. Rep. Lance Gooden, a Republican from Texas attacked California Congresswoman Judy Chu, implying that the first Chinese American woman elected to Congress is colluding with the government of China based on her ethnicity.
Gooden told Fox that [Chu] "needs to be called out," adding: "I question her either loyalty or competence. If she doesn't realize what's going on, then she's totally out of touch with one of her core constituencies. I'm really disappointed and shocked that someone like Judy Chu would have a security clearance and be entitled to confidential intelligence briefings until this is figured out."
Gooden's remarks were based in part on the fact that Rep. Chu had defended Dominic Ng, a Biden appointee featured in an article by the conservative Daily Caller that alleged Ng has ties to a Chinese Communist Party front group.
The Texas Republican's remarks were immediately targeted by House Democrats angered by the racist nature of his comments and the implications that Chu was expressing loyalty to the communist government in Beijing by defending Ng.
House Minority Leader Hakeem Jeffries (D-N.Y.) issued a statement excoriating Gooden saying, "Lance Gooden's slanderous accusation of disloyalty against Rep. Chu is dangerous, unconscionable and xenophobic."
Earlier this year, the Daily Caller published stories showing that Chu was listed as an "honorary president" on the website for the All America Chinese Youth Federation, a group whose other leaders have belonged to alleged Chinese intelligence front groups.
Chu refuted any affiliation with such groups in a Feb. 14 statement, and did so again with The Washington Post on Friday, saying that, while in office, organizations, businesses and campaigns have frequently used her name without her permission.
"Rep. Gooden's comments on Fox News questioning my loyalty to the USA is absolutely outrageous," Chu said. "It is based on false information spread by an extreme, right-wing website. Furthermore, it is racist. I very much doubt that he would be spreading these lies were I not of Chinese American descent."
Daily Caller publisher Neil Patel defended the article in a statement to media outlets saying: "It was well researched, fairly reported and based largely on direct Chinese language source materials. Rep. Chu is lashing out wildly instead of engaging substantively since she can't refute the facts presented."
NBC News reported that Gooden, a third-term lawmaker who is a member of the Judiciary Committee, was joined Feb. 15 by five other House Republicans in asking the FBI to investigate Ng, the CEO of East West Bank in California, whom Biden appointed last year to be the chair of the Asia-Pacific Economic Cooperation Business Advisory Council.
Chu and other members of the Asian Pacific American Caucus — Democratic Reps. Grace Meng of New York, Ted Lieu of California and Mark Takano of California — fired back at their GOP colleagues two days later in a joint statement.
"As with every presidential appointee, Dominic Ng, who is Chinese American, has undergone an extensive vetting process and sworn an oath to support and defend the Constitution and serve the American public," they said. "No Chinese Americans—indeed no Americans—should face suspicions of disloyalty or treason based on their ethnicity, nation of origin, or that of their family members."
Rep. Adam Schiff (D-Burbank-WeHo), the former chair of the House Intelligence Committee tweeted:
"Questioning @RepJudyChu's loyalty to the United States is xenophobic and racist. Shame on you, @LanceGooden. And on @FoxNews for airing such hate. We cannot allow anti-Asian bigotry to go without condemnation."
Gooden responded to Schiff: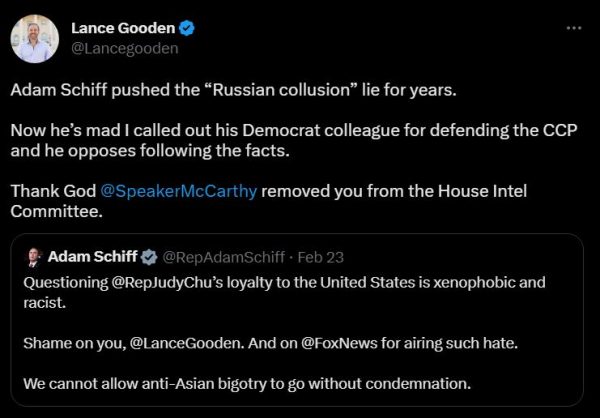 Equality California's Executive Director Tony Hoang, in response to the racist comments made by Gooden questioning Congresswoman Judy Chu, said,
"The comments made by Rep. Lance Gooden on Fox News are shameful, dangerous and flat-out racist. The Asian American Pacific Islander community continues to face violent attacks driven by hate and lies spread by far-right conservative extremists like Rep. Gooden. His comments disregard the lives lost in mass shootings earlier this year and feed the fear that AAPI people continue to face due to racism and xenophobia — Rep. Gooden needs to understand his racist remarks lead to detrimental consequences against the AAPI community.
"Equality California stands in solidarity with Congresswoman Judy Chu, the AAPI community, the Congressional Asian Pacific American Caucus and California's Asian American and Pacific Islander Legislative Caucus. No American should ever face suspicions of disloyalty or treason due to their ethnicity, nation of origin, or that of their family members."
California Senator Dave Min (D-Irvine) in an emailed statement to the Blade said:
"Unlike Congressman Gooden, my friend Congresswoman Judy Chu has never tried to undermine our democracy, overturn an election result, or encourage rebellion against the United States. She has never questioned the legitimacy of our Commander-in-Chief. Throughout her career in public service, Congresswoman Chu has served honorably and the racist, xenophobic, anti-Asian hate directed toward her by a fellow member of Congress is disgusting and appalling.
"The Asian American Pacific Islander community has been suffering through an epidemic of anti-Asian hate, driven in large part by anti-Chinese comments like those made by Lance Gooden. More Asian Americans of all ethnicities and backgrounds will be attacked and harmed because of his contemptible statement made on Fox News.
This is unacceptable. I urge Fox News to publicly apologize for the comments made on its network and to refuse to invite Lance Gooden back for any future interviews until he apologizes and makes amends with the AAPI community."
Wiener introduces legislation to protect LGBTQ+ foster youth
SB 407 ensures LGBTQ foster youth are raised in supportive environments by creating standard documentation for their needs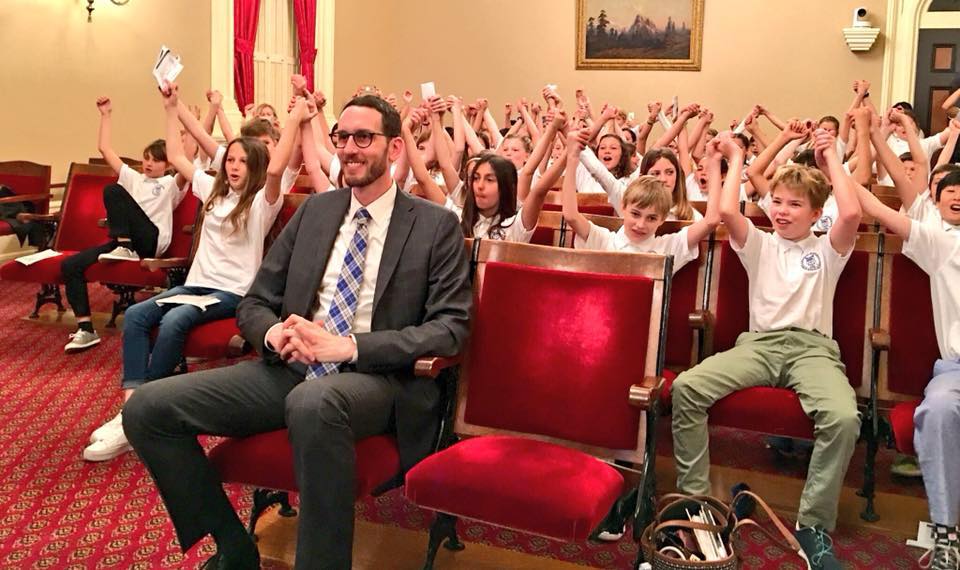 SACRAMENTO – Senator Scott Wiener (D-San Francisco) introduced SB 407, legislation to improve foster care conditions for LGBTQ youth. Nearly one third of foster youth identify as LGBTQ.
SB 407 ensures LGBTQ foster youth are raised in supportive environments by creating standard documentation for their needs, adding more follow-up from the Department of Social Services, and requiring LGBTQ youth's needs be specifically considered in at-home assessments – including clarifying that conduct that poses risk to the health and safety of LGBTQ youth is a valid reason to deny a family the right to host a foster youth. 
"Every child deserves to be one hundred percent supported at home," said Wiener. "SB 407 ensures that foster youth receive this essential support by specifically requiring LGBTQ acceptance be considered in the resource family approval (RFA) process, creating standard documentation for the assessment of LGBTQ youth needs, and ensuring more frequent follow-up. These youth are at high risk for homelessness, criminal justice involvement, and mental health issues, and we must do everything in our power to ensure they have a safe home in the state of California."
According to the California Child Welfare Indicators Project, there are 53,371 youth in foster care in California as of October 1, 2022. Youth who identify as LGBTQ+ are overrepresented in foster care, with at least three studies estimating about 30 percent of youth in foster care identify as LGBTQ.
The degree of support for their identity an LGBTQ child receives at home is a strong predictor of their mental health outcomes. According to the Trevor Project, teens who perceived parental support regarding gender identity were 93% less likely to attempt suicide than youth who did not perceive parents as supportive.
Data collected since the onset of the COVID-19 pandemic show LGBTQ youth are facing a crisis of mental health. Forty-two percent of LGBTQ+ youth—and 52 percent of trans youth—said they seriously considered suicide in 2021. This crisis may be related to the recent surge of anti-LGBTQ hatred in many states in recent years, which most LGBTQ youth are exposed to online. This year alone, more than 420 bills have been introduced in states across the country.
In 2019, California passed AB 175 (Gipson), which expanded the foster youth bill of rights to include rights to be referred to by the youth's preferred name and pronoun and maintain privacy of the child's sexual orientation and gender identity and expression. Under existing law, foster youth also have the right to have caregivers and child welfare personnel that have received instruction on cultural competency and best practices for providing care for LGBTQ+ youth in out-of-home care.
However, while the foster youth bill of rights is strong, it has not translated into the RFA process or into considerations made when approving caregivers. LGBTQ foster youth are still being placed in homes with families that discriminate against or are hostile toward them based on their sexual orientation and/or gender identity.
SB 407 will strengthen the resource family approval (RFA) process for LGBTQ foster youth by:
Requiring explicit consideration of LGBTQ youth in home and environmental assessments;
Creating standard documentation by the Department of Social Services for these assessments to include LGBTQ youth needs;
Reviewing county-approved resource families to evaluate if they are meeting the needs of LGBTQ youth and investigating related incidents as needed;
Ensuring that resource families have the necessary skills, knowledge, and abilities to support LGBTQ youth; and
Clarifying existing law that conduct that poses risk to the health and safety of LGBTQ youth is a valid reason for denial of a resource family.
SB 407 is sponsored by Equality California and the California Alliance of Child and Family Services.
"According to the Trevor Project, teens who have parental support regarding their gender identity were 93% less likely to attempt suicide than youth who did not perceive parents as supportive. Supportive and affirming homes for LGBTQ+ foster youth saves lives. The CA Alliance is excited to partner with Senator Wiener on SB 407 to ensure that all LGBTQ+ foster youth have affirming families and feel safe, supported, and cared for." –Christine Stoner-Mertz, CEO of the California Alliance of Child and Family Services
"LGBTQ+ foster youth experience violence and other stressors unique to the LGBTQ+ community, including homophobia or transphobia," said Tony Hoang, Executive Director of Equality California. "SB 407 protects LGBTQ+ foster youth from being placed in non-affirming homes by creating standard guidelines and criteria that carefully screens potential families. LGBTQ+ foster youth need a healthy environment that supports and embraces them as they explore their identity."