Rain, snow & high winds continue as 5 & 14 Freeways are closed
An army of Caltrans snowplows are working to clear roads. A winter storm warning remains in effect until at least 4 p.m. on Saturday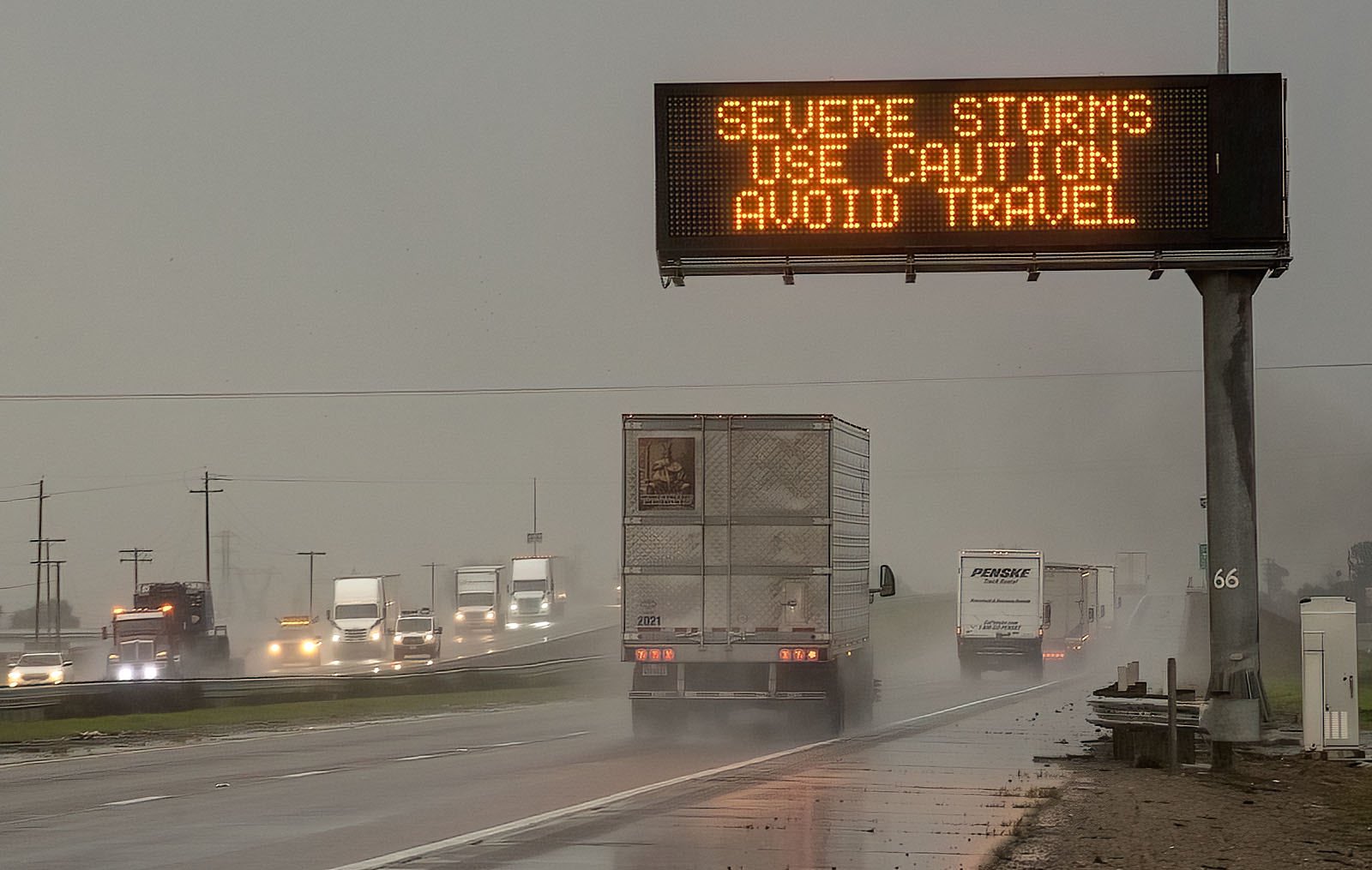 OXNARD – The National Weather Service forecast that blizzard conditions with heavy snow and winds gusting up to 45 mph will continue with near zero visibility until the storm begins to taper off around 4pm this afternoon. The NWS also continues to warn that heavy at time rainfall will increase the dangers of flash flooding in some low lying areas.
The powerful winter storm carving a path throughout the Southern California region is expected to weaken Saturday, leaving heaps of sleet, snow and record-setting rain behind in its wake.
Reports of power outages, grounded flights at all 3 major airports and road closures continued as the stormfront of frigid moisture carved a southeastern path. LAFD and other rescue/emergency services crews came to the aid of several people.
Earlier Saturday morning, the California Highway Patrol closed both Interstate 5 through the Grapevine and Highway 14 in the Santa Clarita Valley because of icy, dangerous driving conditions.
California Highway Patrol units are stationed on the northbound side of the 5 Freeway, ordering drivers to turn around and head back southward towards Los Angeles.
This follows Friday's closure, when authorities shut down a roughly 20-mile stretch of the 5 Freeway in both directions due to severe, icy conditions.
An army of Caltrans snowplows are working to clear the roads while salting the pavement. A winter storm warning remains in effect until at least 4 p.m. on Saturday, although closures can happen at any time if conditions become too severe, according to a CHP spokesperson. Areas impacted include Santa Barbara County Mountains, Ventura County Mountains and Los Angeles County Mountains.
Storm dumps several feet of snow on San Bernardino mountains amid blizzard warning:
KABC 7 weather reported that by noon, the rain will start to break up a bit, but some areas will still be seeing some snow. Coastal and valley areas could get between 2 and 5 inches of rain during the storm by Saturday night, with 5 to 7 inches possible in the foothills.
By 11 p.m. the rain will begin backing off but it'll still be snowing in some areas, though it won't be as intense. Sunday is expected to be mostly clear, while some clouds will return Monday – and then a new storm system is moving in Tuesday.
.
Flash flood warning LA County; Snow & heavy rain impact travel
The California Highway Patrol is cautioning that dangerous mountain driving conditions are currently affecting travel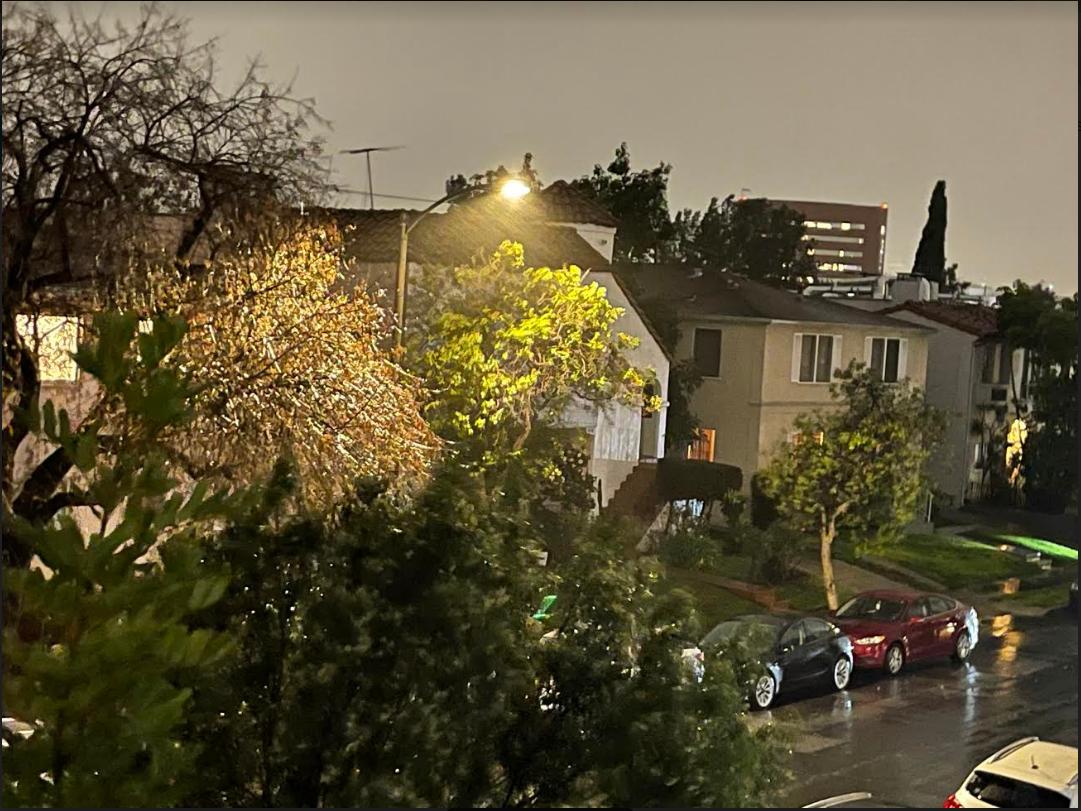 OXNARD – The National Weather Service has issued a flash flood watch for parts of LA County. The Flash Flood Warning has been expanded to include nearly 6 million people in metro Los Angeles. It remains in effect until 10 p.m.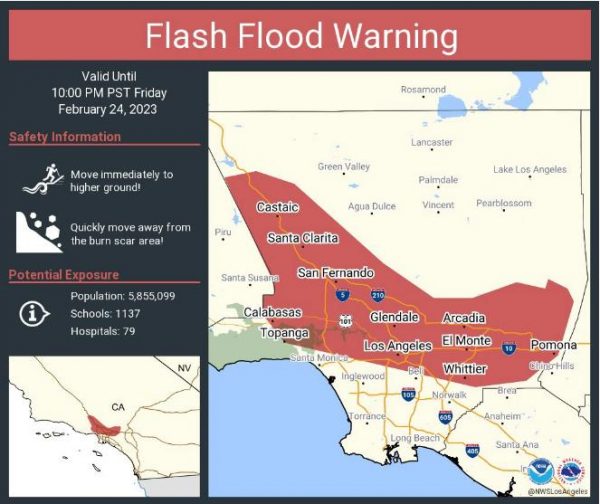 The California Highway Patrol is cautioning that dangerous mountain driving conditions are currently affecting travel. Drivers are urged to avoid traveling on mountain roads through Saturday.
Currently CHP units are conducting escorts through the Grapevine on the 5 Freeway: "Units from the Fort Tejon and Newhall areas are conducting escorts through the Grapevine. Road conditions are still very wet. Do not attempt to pass the CHP officers conducting the escorts. The weather conditions are expected to last through the night so please travel safe."
Heavy band of rain moving into Ventura County, dangerous mountain driving conditions persist
A band of heavier rain is expected to move into Ventura County between 7 p.m. and 11 p.m. Friday night, "capable of producing rainfall rates locally to 1 inch per hour," said NWS.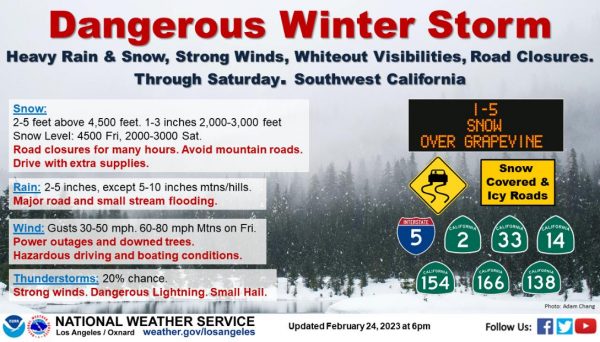 Updated Cold Weather Alert, Cold Temperatures Expected in Parts of Los Angeles County
The Los Angeles County Health Officer is issuing a Cold Weather Alert due to the National Weather Service's forecast for low temperatures. Wind chill temperatures are expected to be below 32 degrees Fahrenheit. Affected areas include:
Santa Clarita Valley – Friday, February 24, 2023 to Sunday, February 26, 2023 (continued)
Lancaster (Antelope Valley) – Friday, February 24, 2023 to Tuesday, February 28, 2023 (continued)
Mount Wilson (LA County Mountains) – Friday, February 24, 2023 to Tuesday, February 28, 2023 (continued)
Woodland Hills (West San Fernando Valley) – Sunday, February 26, 2023
Burbank (East San Fernando Valley) – Sunday, February 26, 2023
San Gabriel (West San Gabriel Valley) – Sunday, February 26, 2023
Pomona (East San Gabriel Valley) – Sunday, February 26, 2023
"Taking extra precautions amid cold weather events is especially important for children, the elderly, those with disabilities, and those with special medical needs," said Muntu Davis, MD, MPH, Los Angeles County Health Officer. "Shelters and other public facilities are open for those who have no access to a warm space. It's also important for everyone to make sure they are staying warm safely—never heat a home with a stove, oven, or barbeque as this could lead to carbon monoxide poisoning."
During these cold weather conditions, you can do several things to help yourself and others stay safe:
Avoid carbon monoxide poisoning. Never use a generator inside a home, shed or garage even if doors and windows are open. Keep generators outside and far away from windows, doors and vents.
Never use charcoal grills or camp stoves indoors. Deaths have occurred after people burned charcoal or used camp stoves in enclosed spaces, which produced lethal levels of carbon monoxide.
Never heat your home with a gas stovetop or oven.
Do not touch or approach a downed power line; call 9-1-1 if you see a downed or damaged electrical line.
Avoid using candles. If possible, use flashlights instead. If you must use candles, do not burn them on or near anything that can catch fire. Never leave burning candles unattended or near children or bedding. Extinguish candles when you leave the room.
Have a plan for back-up power if you or someone in your family is dependent on electricity for medical devices.
Wear layers and have blankets available to add additional warmth. Layers will keep you warmer than a bulky sweater. Stay dry to avoid hypothermia.
If it is safe, check on neighbors who may need assistance — older adults, people with disabilities and young children are more at risk in extreme cold.
Health Risks
Hypothermia: People exposed to cold weather for prolonged periods can lose body heat and develop hypothermia. Symptoms vary depending on how long you are exposed to cold temperatures. Early symptoms of hypothermia include shivering, fatigue, loss of coordination, and confusion and disorientation. Late symptoms of hypothermia include no shivering, blue skin, dilated pupils, slowed pulse and breathing, and loss of consciousness.
Frostbite: People exposed to extremely cold weather conditions with snow and freezing temperatures may be at risk of frostbite. Frostbite is a bodily injury caused by freezing that results in loss of feeling and color in affected areas. The most common affected areas are the nose, ears, cheeks, chin, fingers, or toes. Gently warm the person and seek immediate medical care if you believe someone is showing signs of hypothermia or frostbite.
Carbon monoxide poisoning: Carbon monoxide (CO) is an odorless, colorless gas that can kill you. It is found in fumes produced any time you burn fuel in cars or trucks, small engines, stoves, lanterns, grills, fireplaces, gas ranges, or furnaces. Carbon monoxide can build up indoors and poison people and animals who breathe it. Symptoms include shortness of breath, headaches, muscle and joint pain, and nausea. Exposure to high levels of carbon monoxide can lead to death within minutes. Those suffering from carbon monoxide poisoning should be immediately taken outside, into fresh air, and should be rushed to the emergency room for immediate medical treatment.
Emergency Shelter
The Los Angeles Homeless Services Authority (LAHSA) emergency shelters offer temporary shelters across the County to protect people experiencing homelessness during colder months. These beds are available through March 2023.
Persons seeking shelter services to stay in a warm place can visit www.lahsa.org/winter-shelter, dial 2-1-1 or call the Winter Shelter Hotline at 1(800) 548-6047. Transport services are available for those in need.
En español
Alerta Actualizada de Clima Frío, Se Esperan Bajas Temperaturas en Partes del Condado de Los Ángeles
El Funcionario de Salud del Condado de Los Ángeles está emitiendo una Alerta de Clima Frío debido al pronóstico de bajas temperaturas del Servicio Meteorológico Nacional. Se espera que las temperaturas de sensación térmica estén por debajo de los 32 grados Fahrenheit. Las áreas afectadas incluyen:
Valle de Santa Clarita: del viernes 24 de febrero del 2023 a domingo 26 de febrero del 2023 (continuado)
Lancaster (Valle del Antílope): del viernes 24 de febrero del 2023 a martes 28 de febrero del 2023 (continuado)
Mount Wilson: del viernes 24 de febrero del 2023 a martes 28 de febrero del 2023 (continuado)
Woodland Hills (Oeste del Valle de San Fernando): domingo 26 de febrero del 2023
Burbank (Este del Valle de San Fernando): domingo 26 de febrero del 2023
San Gabriel (Oeste del Valle de San Gabriel): domingo 26 de febrero del 2023
Pomona (Este del Valle de San Gabriel): domingo 26 de febrero del 2023
"Tomar precauciones adicionales durante eventos de clima frío es especialmente importante para los niños, las personas mayores o con discapacidades, y las personas con necesidades médicas especiales," dijo Muntu Davis, MD, MPH, Funcionario de Salud del Condado de Los Ángeles. "Los albergues y otras instalaciones públicas están abiertos para aquellos que no tienen acceso a un espacio cálido. También es importante que todos se aseguren de calentar su hogar de manera segura: nunca caliente una casa con una estufa, un horno o una parrilla, ya que esto podría provocar envenenamiento por monóxido de carbono".
Durante estas condiciones de clima frío, puede hacer varias cosas para mantenerse y a sus seres queridos seguros:
Evite el envenenamiento por monóxido de carbono. Nunca use un generador dentro de una casa o garaje, incluso si las puertas y ventanas están abiertas. Mantenga los generadores afuera y lejos de ventanas, puertas y conductos de ventilación.
Nunca use parrillas de carbón o estufas de campamento en el interior. Personas han fallecido después de quemar carbón o usar estufas de campamento en espacios cerrados, lo que produjo niveles letales de monóxido de carbono.
Nunca caliente su hogar con una estufa u horno de gas.
No toque ni se acerque a una línea eléctrica caída; llame al 9-1-1 si ve una línea eléctrica caída o dañada.
Evite el uso de velas. Si es posible, use linternas en vez de velas. Si no tiene otra opción, no las queme sobre o cerca de algo que pueda incendiarse. Nunca deje velas encendidas desatendidas o cerca de niños o ropa de cama. Apague las velas cuando salga de la habitación.
Tenga un plan de energía de respaldo si usted o alguien de su familia depende de la electricidad para dispositivos médicos.
Vístase con varias capas de ropa y tenga cobijas disponibles para agregar calor adicional. Las capas lo mantendrán más caliente que un suéter grueso. Manténgase seco para evitar la hipotermia.
Si es seguro, visite a sus vecinos que puedan necesitar ayuda: los adultos mayores, las personas con discapacidades y los niños pequeños corren más riesgo en condiciones de frío extremo.
Riesgos de Salud
Hipotermia: las personas expuestas al frío durante períodos prolongados pueden perder calor corporal y desarrollar hipotermia. Los síntomas varían dependiendo de cuánto tiempo esté expuesto a temperaturas frías. Los primeros síntomas de hipotermia incluyen escalofríos, fatiga, pérdida de coordinación, confusión y desorientación. Los últimos síntomas de hipotermia incluyen ausencia de escalofríos, piel azulada, pupilas dilatadas, pulso y respiración lentos y pérdida del conocimiento.
Congelación: las personas expuestas a condiciones extremadamente frías con nieve y temperaturas bajo cero pueden correr el riesgo de congelarse. La congelación es una lesión corporal causada por el frío extremo que resulta en la pérdida de sensibilidad y color en las áreas afectadas. Las áreas afectadas más comunes son la nariz, las orejas, las mejillas, la barbilla, los dedos de las manos o de los pies. Caliente a la persona cuidadosamente y busque atención médica inmediata si cree que alguien muestra señales de hipotermia o congelación.
Envenenamiento por monóxido de carbono: El monóxido de carbono (CO) es un gas inodoro e incoloro que puede matarlo. Se encuentra en los vapores producidos cada vez que quema combustible en automóviles o camiones, motores pequeños, estufas, linternas, parrillas, chimeneas, estufas de gas u hornos. El monóxido de carbono puede acumularse en el interior y envenenar a las personas y los animales que lo respiran. Los síntomas incluyen dificultad para respirar, dolores de cabeza, dolor muscular y articular, y náuseas. La exposición a altos niveles de monóxido de carbono puede provocar la muerte en cuestión de minutos. Las personas que sufren de envenenamiento por monóxido de carbono deben ser llevadas inmediatamente al aire libre, y deben ser trasladadas rápidamente a la sala de emergencias para recibir tratamiento médico inmediato.
Albergues de Emergencia
Los albergues de emergencia de la Autoridad de Servicios para Personas sin Hogar de Los Ángeles (LAHSA por sus siglas en inglés) ofrecen albergues temporales en todo el condado para proteger a las personas sin hogar durante los meses más fríos. Estas camas están disponibles hasta marzo del 2023
Las personas que buscan servicios de albergues para permanecer en un lugar cálido pueden visitar www.lahsa.org/winter-shelter marcar 2-1-1 o llamar a la línea directa de albergues de invierno al 1(800) 548-6047. Los servicios de transporte están disponibles para aquellos que lo necesiten.