Goldin doc captures both 'Beauty' and 'Bloodshed'
Laura Poitras produced and directed Oscar-nominated documentary
As the yearly Hollywood awards cycle heads into its final weeks before culminating with the Oscars on March 12, most of the public attention is — as always — focused on the movies in the so-called "major" categories, while the ones in the others are, if not completely overlooked, placed lower on the priority list for film fans looking to catch up on all the nominees before the big night.
As the shrewdest fans know, of course, some of the best filmmaking often goes unsung because it happens in the kind of films that win awards in categories deemed irrelevant by most of the people in the mainstream. Unfortunately, that description most frequently seems to apply to documentaries — and this year, a standout among the crop of potential Oscar winners comes from within that eternally underappreciated genre.
Nominated for Best Documentary Feature, producer/director Laura Poitras' "All the Beauty and the Bloodshed" is a movie that tells two stories. In part, it's a chronicle of the remarkable personal history of photographer and artist Nan Goldin, who rose to prominence in the "respectable" art world through the images that she took of herself and her friends — often in candidly intimate situations — in the post-Stonewall queer underground of '70s and '80s lower Manhattan; told in Goldin's voice and through her own vast archive of images, it charts her life and career from emotionally traumatic childhood to esteemed artist, while reminding us that she was as much a participant in the heady lifestyle she documented as she was a witness.
While Goldin's life and career would be more than ample as the singular focus of a documentary, though, Poitras' movie has an even bigger purpose in mind. In service of that goal, it interweaves its subject's personal narrative around the saga of P.A.I.N. (Prescription Addiction Intervention Now) — an organization she founded in 2017 after revealing she was in recovery from an addiction to prescribed opioids which almost led to her death from an overdose of fentanyl — and its high-profile protest campaign against the Sackler family, a billionaire pharmaceutical dynasty known internationally for its generous art patronage, who through its company Purdue Pharma were principle architects of America's staggering opioid crisis. Moving back and forth between these two threads throughout the film, Poitras frames Goldin's struggle to hold the Sacklers accountable within the context of the formative life experiences that shaped her into an activist, while making sure to give her subject due acknowledgment for the then-shocking celebration of queer life and sexuality in her work at a time when such things were still seen through the cold filter of anthropological distance or simply being denounced outright for violating social taboos.
As to that, many viewers will undoubtedly be drawn to "Bloodshed" by the prospect of revisiting the fabled era of Goldin's early heyday through her up-close-and-personal pictures and footage, and they will not be disappointed. The film includes plenty of both, illuminated by the artist as she recounts the memories behind them; it offers poignant glimpses at a few future icons and fallen stars (lost-but-not-forgotten queer icons from her circle, like Cookie Mueller and David Wojnarowicz, are among those lovingly profiled by Goldin as she narrates her reminiscences), gives us an inside look at a seminal time and place in counterculture history, tantalizes us with provocative images of a sexually liberated lifestyle and throws us into the front lines of AIDS activism and the political battle over government funding of the NEA.
For those more interested in direct biography, there is also copious material on Goldin's personal life. These sequences cover her memories of a dysfunctional childhood growing up with an older sister who would later die by suicide, her delinquent youth in and out of foster homes, her battery at the hands of a jealous lover, the horror of watching her community ravaged by AIDS while the rest of the world stood by and watched, and the crushing devastation of her opioid addiction.
Yet while these various parts of Goldin's story may carry weight of their own, "Bloodshed" ultimately transfers it all into its saga about her effort to exact palpable retribution against the Sacklers — something her position as a world-renowned artist made her uniquely situated to do. Following her organization through a series of brilliantly orchestrated actions in which — borrowing a page from ACT UP — they staged dramatic protests at museums who had taken donations from the disgraced philanthropic dynasty, the movie deploys footage from these events to capture the raw sense of danger experienced within them with the kind of thrilling immediacy unachievable through journalistic observation or dramatic recreation. It's this Robin Hood-esque story of taking back from the rich and amoral that drives Poitras' movie and gives it an emotional structure, making it more than just another profile of an influential artist.
That doesn't mean it relegates Goldin's work as a photographer into the background. On the contrary, the bulk of the imagery we see comes from Goldin herself; even the footage of the protests was shot by P.A.I.N. for documentary purposes before Poitras had even become involved. Still, the filmmaker deserves full credit for assembling these photos and home movies into a finished product, and while it's clear that "Bloodshed" is the result of intense collaboration between documentarian and subject, it's also clear that her understanding of the material and her nuance in presenting it are essential elements in creating the cumulative power— and the surprising sense of urgency — that it delivers.
As for her subject, Goldin's importance as both an artist and as activist come across plainly, but those were never in doubt. The film's biggest surprise, perhaps, is the compassion visible at the heart of her activism, manifesting through her desire to use the privilege and influence her art has given her to help balance the scales between the powerful elite and the marginalized masses they exploit — a compassion reflected even in the revelation of her former life as a sex worker, which she discusses publicly for the first time here out of solidarity with other sex workers and to help reduce the stigma around sex work.
While juggling two separate-but-complementary stories might come at the risk of a disjointed focus, "Bloodshed," thanks to Poitras' seemingly symbiotic alignment with her subject's aesthetic and sympathies, manages to weave its dual threads together in a way which not only makes sense, but uses them in concert to convey a fiercely radical worldview — one which resonates deeply in a contemporary social environment not too different from the one in which Goldin and her fellow sexual "outlaws" were flaunting their defiance of repressive, bigoted cultural norms not just in their work but in their everyday lives. Now, as then, a younger generation confronted with unbridled corporate greed and widening economic inequity, not to mention a conservative strategy of reverse cultural engineering through backlash and legislation, has been triggered to reevaluate its priorities.
It's not surprising. After all, as Goldin says in the film, "When you think of the profit off people's pain, you can only be furious about it."
Master and student go to war in 'The Tutor'
An unsatisfying thriller that fails to surprise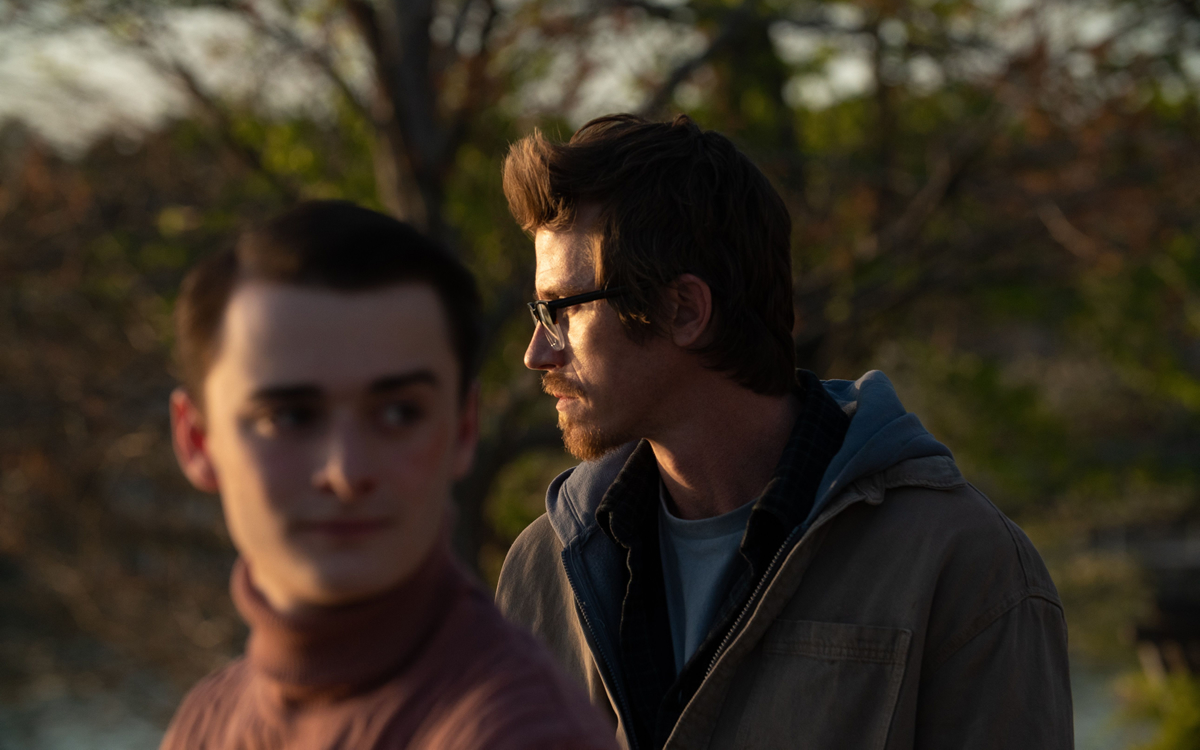 There was a time when horror movies weren't taken nearly as seriously as those falling into the more so-called "legit" genres. Even the now-iconic early masterpieces from the silent and early sound eras were largely dismissed by critics as mere lowbrow entertainment enhanced by big studio production values, offering little but shock value and occasionally a clever script and a memorable performance or two.
Today, of course, there is widespread critical appreciation for the horror genre. In recent years, especially, the horror movie field has taken a sharp step up in terms of ambition and perceived legitimacy, with smart and multi-layered movies from artists like M. Night Shyamalan, Guillermo Del Toro, and Jordan Peele pushing boundaries and daring to let the genre wear its once-coded cultural subtext on its sleeve.
"The Tutor," from sophomore feature director Jordan Ross and screenwriter Ryan King, clearly aims to be cut from that same cloth. It centers on Ethan (Garrett Hedlund), a professional academic coach whose ability to improve his pupils' educational standing has placed him highly in demand among the rich and elite; despite his success, Ethan and his girlfriend Annie (Victoria Justice) – who are expecting their first child as they make plans for a future together – are struggling financially, making it impossible for him to refuse a secretive, under-the-table offer from an anonymous one-percenter who wants to hire him at a life-changing daily rate to tutor his teenage son Jackson (Noah Schnapp). However, true to the old adage about things that seem too good to be true, Ethan soon discovers that not all is as he expected; arriving at his new employer's palatial estate, he finds it mostly deserted – save for a butler, a pair of vaguely insolent houseguests, and Jackson himself. Though his new student turns out to be a promising one, Ethan is disturbed by the teen's almost obsessive fascination with his private life; despite his efforts to maintain a healthy distance, Jackson's increasingly inappropriate overtures continue to escalate, and soon the boy's intrusions threaten to sabotage the tutor's life and career before he can even make sense of what's behind them.
At first, Ross's movie seems rooted in the familiar horror trope of the Damien-esque child of privilege, a creepy rich kid (in this case, a more grown-up version) whose demeanor suggests something evil lurking beneath his scrubbed and pampered exterior. However, as any horror fan knows, the more recognizable a trope may be, the less trustworthy it becomes – because if there's anything a good horror story likes to do, it's to pull the rug out from under us by turning our expectations on their ear with a clever, unforeseeable twist.
That makes it difficult to discuss "The Tutor" without giving away too much; though anyone who has watched a lot of films like it will find it easy to spot the sleights of hand Ross and King employ to misdirect their audience's attention, it's probably best to avoid the specific details of how the plot eventually unfolds. Instead, we can simply sum things up by calling it a cautionary tale about the dangers of judging a situation – or a person – based on appearance alone.
Citing Alfred Hitchcock and David Fincher as his influences, Ross approaches his movie more as a psychological thriller than as outright horror; there's little onscreen violence, and the tension is built more on uncertainty than fear. Nevertheless, he leans into the macabre with his brooding visual style, evoking a sense of dread. He also relies on a tight, streamlined narrative, moving with brisk and broad strokes through the preliminaries to get right into the business of unsettling us. In this way, he gets us invested quickly and manages to deliver a solid first half that makes up in creep factor for what it lacks in intricate plotting.
It also uses this not-so-slow build to introduce some intriguing themes. Most obviously, it plays with our cultural biases around money, class, and privilege, emphasizing both the extravagant luxury of Jackson's home and the smallness of Ethan and Annie's humble apartment, not to mention the teen's disregard for boundaries and the thinly veiled, mocking arrogance of his dissolute cousins (Jonny Weston, Ekaterina Baker), who may be more tied up in Ethan's dilemma than their seeming disinterest in him suggests.
Then there's the undercurrent of queerness – another familiar horror trope – that manifests in Jackson's apparent "infatuation" with his new teacher and becomes one more red flag for Ethan to dismiss and ignore if he wants to keep his lucrative gig. The casting of Schnapp – the young "Stranger Things" star who came out as gay in January after previously disclosing that his character in the Netflix hit series is also queer – plays into the expectations we have of these scenes.
On the subject of the casting, Schnapp gives an impressively nuanced performance in a volatile role that is both very different and oddly similar to the one his fans know him for, and manages to keep our sympathies – if not always our trust – even when he's on his worst behavior; he also sparks a believable chemistry with Hedlund, whose role positions him as a proxy for the audience. The latter succeeds by making Ethan as much an "everyman" figure as possible for a character whose defining feature is his intellectual prowess; still, he keeps a palpable distance from the audience when it comes to his inner landscape, something that works in his favor once the story begins to sow doubt about what's really going on.
Unfortunately, after "The Tutor" gets all its pieces in place and begins to move toward a climax and a final confrontation, it doesn't quite deliver on its promise. Instead of delving deeper into the mystery it's worked to establish, it devolves into a game of cat-and-mouse that sometimes stretches credibility a little too thin in the name of raising the stakes and ends up feeling more like a particularly dark episode of "Scooby Doo" than it does like "Strangers on a Train." Less forgivable, perhaps, is a tendency to reveal previously withheld and unknowable key information as a device for shifting the plot – and our assumptions – in a different direction. Used once, it feels like a cheat; used repeatedly, it feels like laziness.
Of course, all this is part of the movie's tactic to "gaslight" us so that we won't see what's coming. Yet somehow, we still do.
"The Tutor" does have reasons to recommend it. Besides Schnapp and Hedlund, it offers a striking, dramatic visual aesthetic and a sumptuous location setting. It also offers some food for thought by exploring certain thematic elements about narcissism and toxic masculinity, though to say more about that might constitute a spoiler.
Still, by the time it delivers its final surprise twist, it won't be much of a surprise to most viewers; and while provocative themes might stimulate some conversation after the final credits roll, they don't do much for creating a satisfying thriller. Or, for that matter, a scary one.