CPAC endorses eliminationist rhetoric
CPAC chairman Matt Schlapp retweeted Sen. Mike Lee's defense of Knowles, effectively co-signing Knowles' approach to trans people


By John Knefel | Speakers at the Conservative Political Action Conference spent three days attacking trans people and praising former-President Donald Trump in a frequently almost-empty ballroom just outside Washington, D.C. Even Trump himself failed to fill the room at National Harbor, despite handily winning the conference's straw poll and defeating likely rival, and CPAC no-show, Florida Gov. Ron DeSantis 62 to 20 percent.
Like virtually every other presenter, Trump took aim at trans people, bragging early in his typically solipsistic, self-referential keynote address that he "banned transgender insanity from our military."
As he continued his remarks, he returned to the subject in the graphic, cruel language that has long been his trademark. "I will revoke every Biden policy promoting the chemical castration and sexual mutilization of our youth, and ask Congress to send me a bill prohibiting child sexual mutilation in all 50 states," Trump said to a standing ovation. "That should be easy."
CPAC struggled this year to maintain its central stature in the conservative movement, as Fox News and the Republican National Convention declined to participate as sponsors. CPAC's chairman, Matt Schlapp, has been sued by a male staffer on Herschel Walker's failed Senate campaign for reported sexual battery, and Schlapp's leadership is facing increasing scrutiny as CPAC undergoes massive employee turnover. (Schlapp has denied the report of battery.)
Although the meandering conference touched on common conservative boogeymen like voter fraud and COVID-19 denialism, anti-trans bigotry was the animating force of the four days here. It was ubiquitous and load-bearing, consistently the topic that drew the loudest applause from the audience. If there was a single, unifying theme to the conference, it was that trans people are not welcome in public life, and their mere existence is a threat to children and families everywhere.
That stance was most clearly articulated by Michael Knowles, one of the two speakers from the right-wing, increasingly eliminationist Daily Wire.
"There can be no middle way in dealing with transgenderism," Knowles said, adding, "Transgenderism must be eradicated from public life entirely."
Knowles and a Daily Wire PR flack later called reporting on his remarks libelous and demanded retractions from The Daily Beast, HuffPost, and Rolling Stone. His response proves, once again, that exposing a fascist reveals a coward. The Daily Beast changed its headline to replace "transgender community" with "transgenderism," and Rolling Stone's headline went through at least two changes as well, one that bowed to Knowles' pressure and a following version that was more clear and closer to the original. HuffPost changed its headline as well, though the site retained the clear spirit of Knowles' extremism.
That Knowles had used almost the exact same phrasing in late February strongly suggests that Schlapp either knew or should have known that Knowles would invoke eliminationist rhetoric, directly implicating Schlapp and his entire conference in Knowles' directive. Indeed, Schlapp retweeted a defense of Knowles from Sen. Mike Lee (R-UT), preposterously arguing that Rolling Stone's initial headline was "libelous."
Schlapp's endorsement of Knowles' rhetoric stood in contrast to his denunciation of white nationalist and Holocaust denier Nick Fuentes earlier that week, after Media Matters spotted Fuentes in the hallway outside the main stage. The next morning, Schlapp released a statement saying Fuentes had been kicked out of the resort and wasn't welcome at the event due to his frequent antisemitic remarks.
Antisemitic remarks do not appear to be a consistent deal-breaker for the conference, however. As Media Matters' Eric Hananoki commented, CPAC speaker Rep. Marjorie Taylor Greene (R-GA) "previously promoted a video featuring a Holocaust denier who claimed that Jewish people are trying to destroy Europe through 'immigration and miscegenation.'"
The episode had at least one clear antecedent, when CPAC removed alt-right white nationalist Richard Spencer from the conference in 2017 in a hollow rebuttal of his extremism. But as CPAC's warm embrace of Knowles and Greene shows, Schlapp determines who to disavow based on power, not stated beliefs. Fuentes held an event in the hotel opposite CPAC's venue on Saturday evening after the conference ended.
Knowles' colleague, Candace Owens, also called for what would amount to the elimination of trans people in comments very similar to Knowles' statements.
"There is no middle ground on transgenderism," Owens said. "There is no middle ground on child grooming. There is no middle ground on coming up with fluffy terms for pedophilia."
No subject — perhaps other than Donald Trump — excited the audience like the attacks on trans people. Nobody came here to hear former Trade Representative Robert Lighthizer talk about tariffs, judging by the crowd's ambivalent response. They came to cheer on Greene when she promised to make providing any gender-affirming care to trans kids a felony under federal law, a proposal that appears to be even more radical than Trump's.
"I'm going to be introducing my bill, the Protect Children's Innocence Act," Greene said, the crowd in the palm of her hand, "that will make it a felony to perform anything to do with gender-affirming care on children."
Greene, and to a lesser extent her fellow far-right congressperson Rep. Lauren Boebert (R-CO), have solidified their standing as heirs to the proto-fascist impulses Trump has harnessed. And like Greene, Boebert also attacked trans people, using the "groomer" slur to cast LGBTQ people as a threat to children.
Micro-influencers in conservative media like the American Principles Project's Terry Schilling and former Trump adviser Sebastian Gorka heavily relied on demonizing trans people to prove their own relevance and maintain their thin grasp on the right-wing attention economy. Schilling moderated a panel on what he described as the "evil" of gender-affirming care. Gorka, who is allegedly a member of the neo-Nazi group Vitezi Rend, accused Democrats of wanting to "mutilate young girls and boys" as "sacrifices on the altar of their transgender insanity." A panel featuring anti-LGBTQ activist Chaya Raichik, the creator of Libs of TikTok, included multiple examples of transphobic comments.
These unrelenting assaults on trans people's right to exist come as state legislatures throughout the country are taking up anti-LGBTQ bills with increasing frequency, including targeting health care for trans adults. At least 350 anti-trans bills have been introduced in 36 states this year, a new high that more than doubles the number of similar bills introduced in 2022, which was itself a record-breaking year.
Even the media narrative surrounding DeSantis' absence is intimately intertwined with the transphobia that is ubiquitous among conservatism, as Trump and DeSantis are in an escalatory rhetorical battle in which each tries to outdo the other with their proposed anti-trans policies.
The other primary narrative was the emerging contentiousness between Fox News and Trump. The network has allegedly enacted a soft ban on Trump — even as on-air talent continue to celebrate him — while providing DeSantis with fawning coverage. Trump, for his part, returned the favor, praising Fox News stars Tucker Carlson, Sean Hannity, Jesse Watters, and Mark Levin.
Former Trump advisor Steve Bannon addressed the Murdoch family, which owns Fox, head-on in his speech on Friday afternoon. "Murdoch, you've deemed Trump's not going to be president," Bannon said. "Well, we've deemed that you're not going to have a network." For all the talk of Fox News turning on Trump, the network carried his speech live the following day, which Bannon immediately took credit for triggering.
Bannon also offered one of the few actual policy proposals not related to trans people in calling for "massive cuts" to Medicaid and other federal programs.
But the primary story of the conference and its aftermath is the full-throated embrace of eliminationist rhetoric directed at trans people. There was wide, nearly unanimous support for Knowles from conservatives, including fellow Daily Wire transphobe Matt Walsh, Turning Point USA's Charlie Kirk, Pizzagate conspiracy theorist and neo-Nazi collaborator (and CPAC speaker) Jack Posobiec, and others.
Knowles and his supporters claimed he was making a distinction between an ideology and a group of people. This is a distinction without a difference in this context, and any attempt to "eradicate" "transgenderism" is a de facto call to eradicate transgender people. Schlapp and the entire conference are enthusiastic participants in the escalating persecution of trans people. They're not even bothering to hide behind a hollow disavowal. It's all out in the open.
******************************************************************************************
The preceding article was previously published by Media Matters for America and is republished by permission.
Related:
Daily Wire host says having a trans child is "a fate worse than death"
Matt Walsh: "You're losing your child. It's like a death of a child while they're still alive"
From the February 28, 2023, edition of The Spectator TV, posted to YouTube:
WINSTON MARSHALL (HOST): Is it the children aspect that is so — emotional for you? Because, so — I see it that there's the aspects of the mutilation of children and the hormone blockers, etc. Then there's also the mutilation of the truth, you could say, or the distortion of truth, the concept of truth that's plagued with. And another thing, which probably was for me the — why I started to care the most about the issue is about protecting women. I have a duty to protect my mom and my sister. And the idea that biological men are in toilets with them is unacceptable to me. So, that was the thing that was, sort of, my hook in to the topic, on a personal level. What was yours?
MATT WALSH (DAILY WIRE HOST): Really it's what you said, the mutilation of the truth, which — I like that. I might steal that line. I don't know. I hadn't thought of that yet. But, to me, that's the starting point. And that is the most important thing. And all the other stuff grows from that root. Once we abandon truth as a society, then, you know, then all bets are off. And the whole reason why, you know — the reason why it's terrible to do this to a child, the primary reason — like, why is it — why is it a terrible thing to try to turn a 15 year old girl into a boy? Well, because it's not possible. Because she can't be a boy. She's not. So, that's what makes it mutilation. That's what makes it — it's not medical treatments. It's mutilation. And the reason why is because it's not true. So, I think that's the starting point for me, it's just like, this is not true. It's not true. And that's why it matters.
The thing that makes it really personal for me is the way that kids are affected by it. I have six kids and, you know, they are — we homeschool them and we do — my oldest kids are nine, so it's still relatively easy to shield them from a lot of this craziness. But eventually they're going to end up in the world and they're going to be subjected to this. And I hear from parents all the time, just these horror stories of, you know, I raised my kid, I did everything right. I even homeschooled. I did, whatever. And then one day my daughter at 16 comes home and declares that she's a boy. And from that moment, it's just she is devoured by this cult almost overnight and becomes unrecognizable. She wants nothing to do with us anymore. I've heard the story so many times and it's terrifying. It's horrific. You know, it's — I think as a parent, it's like a fate worse than death in a lot of ways. You're losing your child. It's like a death of a child while they're still alive and — so that's what makes it, I suppose, personal for me.
Wiener introduces legislation to protect LGBTQ+ foster youth
SB 407 ensures LGBTQ foster youth are raised in supportive environments by creating standard documentation for their needs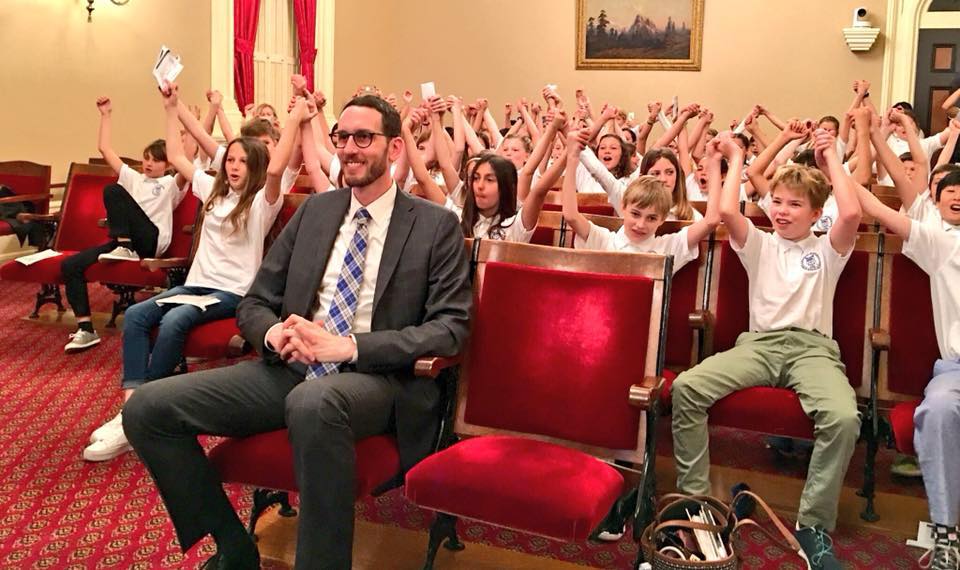 SACRAMENTO – Senator Scott Wiener (D-San Francisco) introduced SB 407, legislation to improve foster care conditions for LGBTQ youth. Nearly one third of foster youth identify as LGBTQ.
SB 407 ensures LGBTQ foster youth are raised in supportive environments by creating standard documentation for their needs, adding more follow-up from the Department of Social Services, and requiring LGBTQ youth's needs be specifically considered in at-home assessments – including clarifying that conduct that poses risk to the health and safety of LGBTQ youth is a valid reason to deny a family the right to host a foster youth. 
"Every child deserves to be one hundred percent supported at home," said Wiener. "SB 407 ensures that foster youth receive this essential support by specifically requiring LGBTQ acceptance be considered in the resource family approval (RFA) process, creating standard documentation for the assessment of LGBTQ youth needs, and ensuring more frequent follow-up. These youth are at high risk for homelessness, criminal justice involvement, and mental health issues, and we must do everything in our power to ensure they have a safe home in the state of California."
According to the California Child Welfare Indicators Project, there are 53,371 youth in foster care in California as of October 1, 2022. Youth who identify as LGBTQ+ are overrepresented in foster care, with at least three studies estimating about 30 percent of youth in foster care identify as LGBTQ.
The degree of support for their identity an LGBTQ child receives at home is a strong predictor of their mental health outcomes. According to the Trevor Project, teens who perceived parental support regarding gender identity were 93% less likely to attempt suicide than youth who did not perceive parents as supportive.
Data collected since the onset of the COVID-19 pandemic show LGBTQ youth are facing a crisis of mental health. Forty-two percent of LGBTQ+ youth—and 52 percent of trans youth—said they seriously considered suicide in 2021. This crisis may be related to the recent surge of anti-LGBTQ hatred in many states in recent years, which most LGBTQ youth are exposed to online. This year alone, more than 420 bills have been introduced in states across the country.
In 2019, California passed AB 175 (Gipson), which expanded the foster youth bill of rights to include rights to be referred to by the youth's preferred name and pronoun and maintain privacy of the child's sexual orientation and gender identity and expression. Under existing law, foster youth also have the right to have caregivers and child welfare personnel that have received instruction on cultural competency and best practices for providing care for LGBTQ+ youth in out-of-home care.
However, while the foster youth bill of rights is strong, it has not translated into the RFA process or into considerations made when approving caregivers. LGBTQ foster youth are still being placed in homes with families that discriminate against or are hostile toward them based on their sexual orientation and/or gender identity.
SB 407 will strengthen the resource family approval (RFA) process for LGBTQ foster youth by:
Requiring explicit consideration of LGBTQ youth in home and environmental assessments;
Creating standard documentation by the Department of Social Services for these assessments to include LGBTQ youth needs;
Reviewing county-approved resource families to evaluate if they are meeting the needs of LGBTQ youth and investigating related incidents as needed;
Ensuring that resource families have the necessary skills, knowledge, and abilities to support LGBTQ youth; and
Clarifying existing law that conduct that poses risk to the health and safety of LGBTQ youth is a valid reason for denial of a resource family.
SB 407 is sponsored by Equality California and the California Alliance of Child and Family Services.
"According to the Trevor Project, teens who have parental support regarding their gender identity were 93% less likely to attempt suicide than youth who did not perceive parents as supportive. Supportive and affirming homes for LGBTQ+ foster youth saves lives. The CA Alliance is excited to partner with Senator Wiener on SB 407 to ensure that all LGBTQ+ foster youth have affirming families and feel safe, supported, and cared for." –Christine Stoner-Mertz, CEO of the California Alliance of Child and Family Services
"LGBTQ+ foster youth experience violence and other stressors unique to the LGBTQ+ community, including homophobia or transphobia," said Tony Hoang, Executive Director of Equality California. "SB 407 protects LGBTQ+ foster youth from being placed in non-affirming homes by creating standard guidelines and criteria that carefully screens potential families. LGBTQ+ foster youth need a healthy environment that supports and embraces them as they explore their identity."