LGBTQ ally, former LA County Supervisor Molina battles cancer
"Equality is a right, not an option. We must all continue to fight until everyone has the same freedoms that many have died protecting"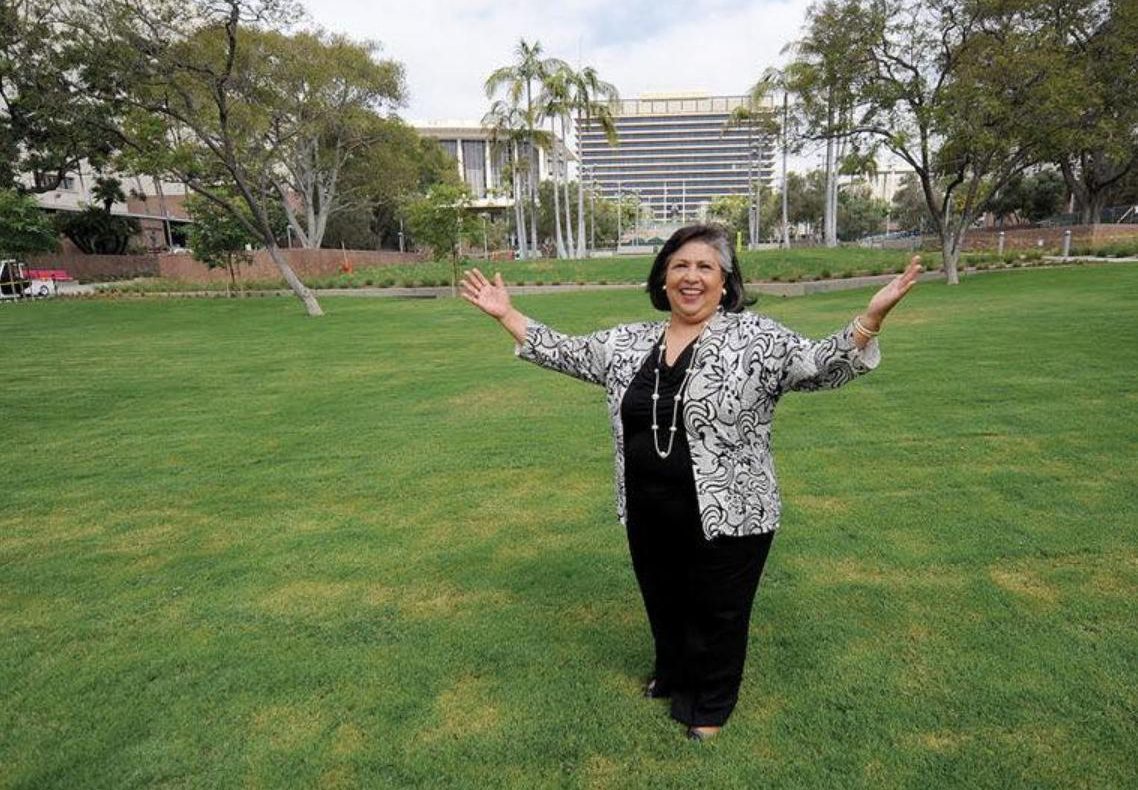 LOS ANGELES – In a Facebook post, former Los Angeles County Supervisor Gloria Molina, 74 announced Tuesday that for the past several years she has been receiving care for a terminal type of cancer but that the cancer was extremely aggressive.
In her post Molina wrote:
Dearest friends and beloved community,
I've lived a long, fulfilling and beautiful life.
For the last three years I have battled terminal cancer. While I've been getting treatment, at this point, it is very aggressive.
You should know that I'm not sad. I enter this transition in life feeling so fortunate. I have an amazing and caring family, wonderful friends, and worked with committed colleagues and a loyal team. Throughout my life I've had the support of many people.
I have a great daughter, son-in-law, a precious grandchild and another one on the way. I'm so excited!
I'm really grateful for everyone in my life and proud of my family, career, mi gente, and the work we did on behalf of our community.
I am very appreciative of the doctors, nurses and health care professionals at City of Hope, especially Dr. Christina Yeon and Dr. Manisha Trivedi. They have taken good care of me.
Most of all, I am fortunate to have this time to spend with family, friends and those who are special to me.
Thank you all for your love and support.
Gloria
Molina also served in the California Assembly and on the Los Angeles City Council, before she spent more than two decades on the County Board of Supervisors.
Born on May 31, 1948, the oldest of ten children, she was raised in eastern Los Angeles County in Montebello. Molina attended local Montebello public schools followed by first East Los Angeles City College, and then Cal State Los Angeles.
While still a college student Molina became a community activist later on becoming active in the Comisión Femenil Mexicana Nacional de Los Angeles. She was a proactive Chicana feminist early on in her career who helped establish the Chicana Service Action Center, Los Angeles, in 1973.
In the mid 1970's she became administrative assistant for California State Legislature Democratic Assemblyman Art Torres.
In 1977, Molina joined the Carter administration as a staffing specialist in the Office of Presidential Personnel in Washington D.C. then in 1979 she left D.C. to take up the post of director of Intergovernmental and Congressional Affairs in the Department of Health and Human Services, Region IX office, in San Francisco.
Her adovacy work in politics continued when she joined the staff of then California State Speaker of the Assembly Willie L. Brown, Jr. in 1981, as the Speaker's chief southern California deputy, where she functioned in the role of Brown's liaison with the southern California Latino community.
A lifelong Democrat, Molina was elected to the California State Assembly from the Fifty-sixth Assembly District in 1982, serving until her 1987 election to the Los Angeles City Council. Molina, upon her election became the first Latina member of the state assembly, and served on the Committees on Revenue and Taxation, Labor and Employment, Utilities and Commerce, chaired the Subcommittee on Mental Health and Developmental Disabilities, and was vice chairwoman of the Committee on Public Employment and Retirement.
Molina legislative efforts were focused on the special needs of her constituents, included bills on school dropouts, sexual harassment, state parks, insurance consumer protection, and child safety.
In 1987, Molina was the first Latina ever elected to and only the third person of Mexican ancestry to serve on the Los Angeles City Council. While a city councilwoman, Molina was known as an uncompromising and vocal advocate of citywide issues, as well as issues particular to her own district.
Molina campaigned to win a seat on the Los Angeles County Board of Supervisors in a special election held after a court-ordered reapportionment and in January 1991, she defeated her former Assembly boss Art Torres in the supervisorial election to represent a large portion of the San Gabriel Valley including her hometown.
In addition to her advocacy for Latino rights she also advocated for LGBTQ Angelenos writing in a May 2014 post on Facebook: "Equality is a right, not an option. We must all continue to fight until everyone has the same freedoms that many have died protecting. I'm proud that so many people participated in today's May Day march in support of worker, immigrant and LGBT rights!"
President Biden speaks about gun control in Monterey Park
Also signed executive order improving federal coordination supporting victims, survivors, families & communities affected by mass shootings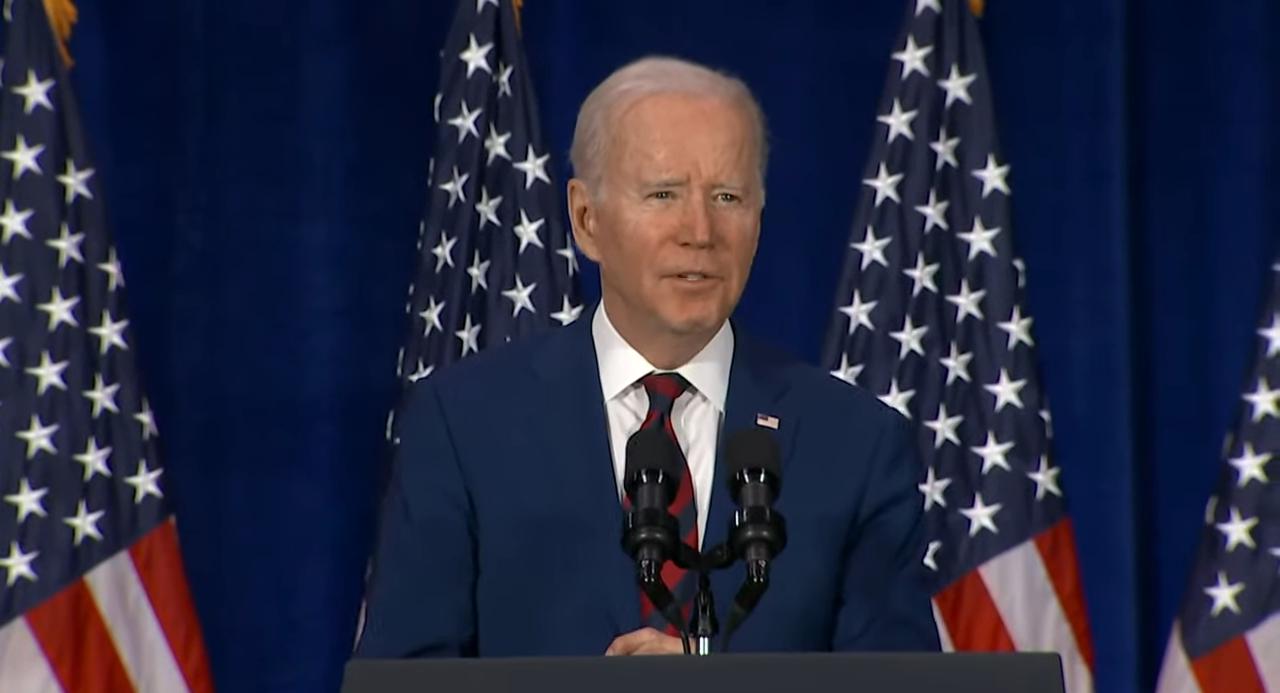 MONTEREY PARK, Calif. – President Joe Biden today spoke to an audience of survivors of the Lunar-New Year mass-shooting at the Star Ballroom in Monterey Park on January 22, 2023. Also in the audience was elected officials including Los Angeles County Supervisor Hilda Solis and U.S. Senator Alex Padilla (D-Calif.) who also spoke to those in attendance.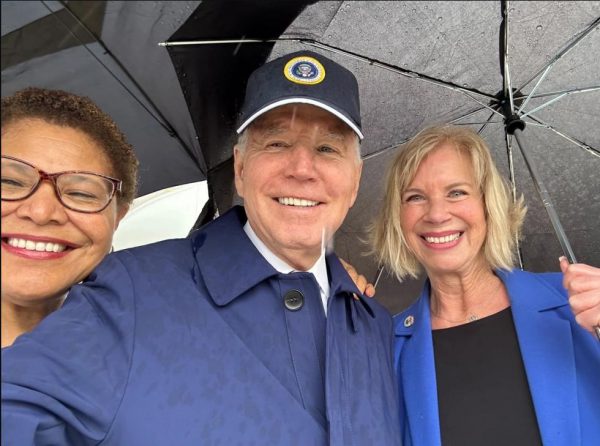 Earlier, the president had been greeted upon arrival at LAX in the driving rain by Los Angeles Mayor Karen Bass and LA County Supervisor Janice Hahn along with Brandon Tsay, the hero who disarmed the Monterey Park shooting suspect at his family's Lai Lai Ballroom, in Alhambra. Tsay was an honored guest of Biden's at the State of the Union address in Washington last month.
The president in his remarks acknowledged Rep. Judy Chu, a former Mayor of Monterey Park, who was also in attendance. Prior to his speech, Biden had met with the survivors and families of victims of the mass-shooting where a gunman shot 20 people, killing 11. He also met with the first responders from that day.
"To the families of victims who spend time — I get a chance to meet with today and whom Vice President Harris spent time with a few weeks ago, I'm here on behalf of the American people to mourn with you, to pray with you, to let you know you're loved and not alone." Biden said.
Later the president paid tribute to the victims in a brief biographical mention. He also acknowledged Tsay, who was in the audience saying: "[…] we saw that strength in Brandon Tsay, who met me at the airport, whom Jill and I have gotten to know. Twenty minutes after the rampage at Star Ballroom, Brandon saw the same shooter walk into his family's own dance studio just two miles away, pointing a gun at him. In an instant, he found the courage to act and wrestled the semi-automatic firearm away. Brandon saved lives. He protected the community."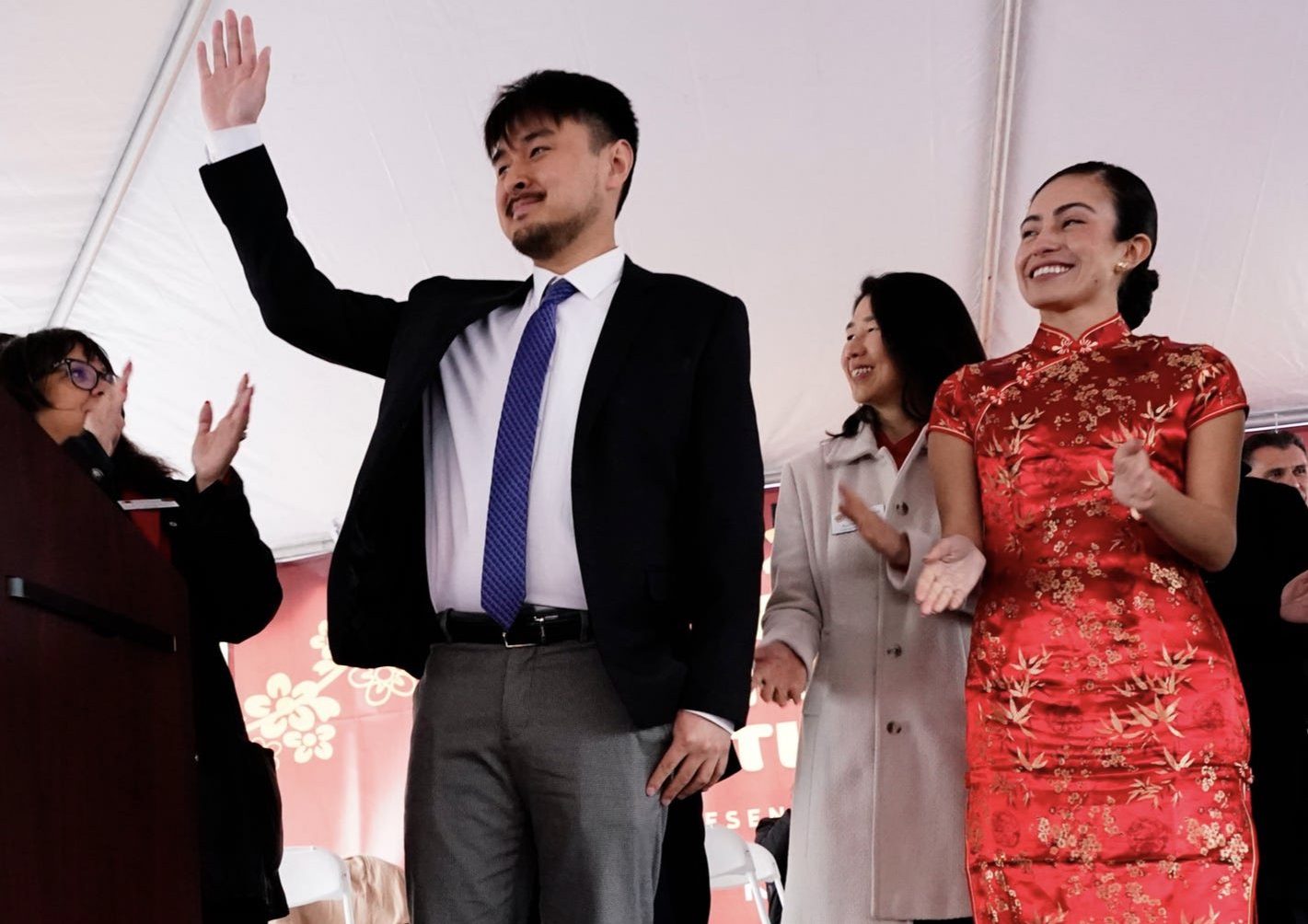 The president also took the opportunity to announce he had signed another gun control measure in an executive order:
"First, this executive order helps keep firearms out of dangerous hands, as I continue to call on Congress to require background checks for all firearm sales. (Applause.) And in the meantime — in the meantime, my executive order directs my Attorney General to take every lawful action possible — possible to move us as close as we can to universal background checks without new legislation.

I just — it's just common sense to check whether someone is a felon, a domestic abuser, before they buy a gun.

The executive order also expands public awareness campaigns about the "red flag" orders — the laws — which my son, when he — before he died — Attorney General of Delaware — was a great proponent of it and instituted it. So more parents, teachers, police officers, health providers, and counselors know how to flag for the — a court that someone is exhibiting violent tendencies, threatening classmates, or experiencing suicidal thoughts that make them a danger to themselves and others and temporarily remove that person's access to firearms.

And it promotes — this executive order — safe storage for firearms, something every responsible gun owner agrees with.

The second thing it does — the executive order ramps up our efforts to hold the gun industry accountable. It's the only outfit you can't sue these days. It does that by calling out for an independent government study that analyzes and exposes how gun manufacturers aggressively market firearms to civilians, especially minors, including by using military imagery.

And it directs the Attorney General to public release — publicly release Alcohol, Tobacco, and Fam- — and Firearms inspection reports of firearms dealers who were cited for violation of the law. (Applause.) That way, policymakers can strengthen laws to crack down on these illegal gun dealers and the public can avoid purchasing from them.

Third, the executive order improves federal coordination to support victims, survivors, and their families and communities affected by mass shootings the same way FEMA responds to your natural disasters in California and all around the nation. And it will help folks recover and build after wi- — that — they help folks recover and build after wildfires and superstorms and droughts.

For example, we need to provide more mental health support and grief — for grief and trauma — (applause) — and more financial assistance when a family loses the sole breadwinner or when a small business shuts down due to a lengthy shooting investigation."

The Associated Press reported Biden has only limited power on guns to go beyond bipartisan legislation passed by Congress last summer after the killings last year of 10 shoppers at a Buffalo, New York, grocery store and 19 students and two teachers at a Uvalde, Texas, elementary school.
Tuesday's action does not change U.S. government policy. Rather, it directs federal agencies to ensure compliance with existing laws and procedures — a typical feature of executive orders issued by presidents when they confront the limits of their own power to act without cooperation from Congress.
Biden, in the order, acknowledged Congress' opposition, but said, "In the meantime, my administration will continue to do all that we can, within existing authority, to make our communities safer."
The order directs the Cabinet to work on a plan to better structure the government to support communities suffering from gun violence. The plan calls on Attorney General Merrick Garland to shore up the rules for federally licensed gun dealers so they know they are required to do background checks as part of the license.
Prior to Biden's speech, U.S. Senator Alex Padilla (D-Calif.) spoke to the audience.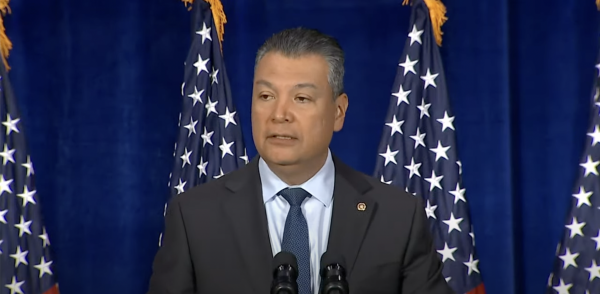 During his remarks, Padilla recalled the tragedy that took place in Monterey Park and honored the lives of those lost that day. He also applauded the president for the new Executive Order issued to expand background checks, further analyze the marketing of guns to children, and increase resources for communities in the wake of mass shootings. Padilla then called on Congress to pass more gun safety legislation to reduce gun violence.
"We have a gun violence epidemic in America," said Padilla. "The gun industry continues to work overtime to create a culture of chaos, because to them, American lives are worth less than the profits they make on the guns that they sell. […] But last year, under President Biden's leadership, Congress broke the stranglehold of the gun lobby when we passed meaningful gun safety legislation for the first time in nearly three decades. […] We can [continue to] honor those who were taken from us, by taking action to prevent future incidents of gun violence; we can and must save lives."
Governor Gavin Newsom today issued the following statement on President Biden's visit to Monterey Park and newly announced federal executive actions to reduce gun violence:
"California is grateful for President Biden's efforts today to strengthen our gun laws and make our streets, schools, and communities safer," said Newsom. "Simply put, it's the right thing to do. While some Republican leaders are focused on endangering our children and making law enforcement's job harder, California and the Biden Administration have worked to save lives and end the epidemic of gun violence that has plagued our nation for too long. Now, it's time for Congress to step up and do their job."
In a statement the governor's office noted:
With gun violence claiming the lives of over 110 Americans a day, California's nation-leading gun safety laws serve as a valuable blueprint for other states and Congress to save lives. California's gun safety laws work. In its most recent scorecard, California ranked as the #1 state for gun safety by the Giffords Law Center, and in 2021, the state saw a 37% lower gun death rate than the national average. According to the CDC, California's gun death rate was the 44th lowest in the nation, with 8.5 gun deaths per 100,000 people – compared to 13.7 deaths per 100,000 nationally, 28.6 in Mississippi, 20.7 in Oklahoma, and 14.2 in Texas.
WATCH: Biden & others speak about gun control in Monterey Park: