Save the date: WeHo Pride 2023
WeHo Pride 2023 in the City of West Hollywood > Updates and Details will be Announced at www.wehopride.com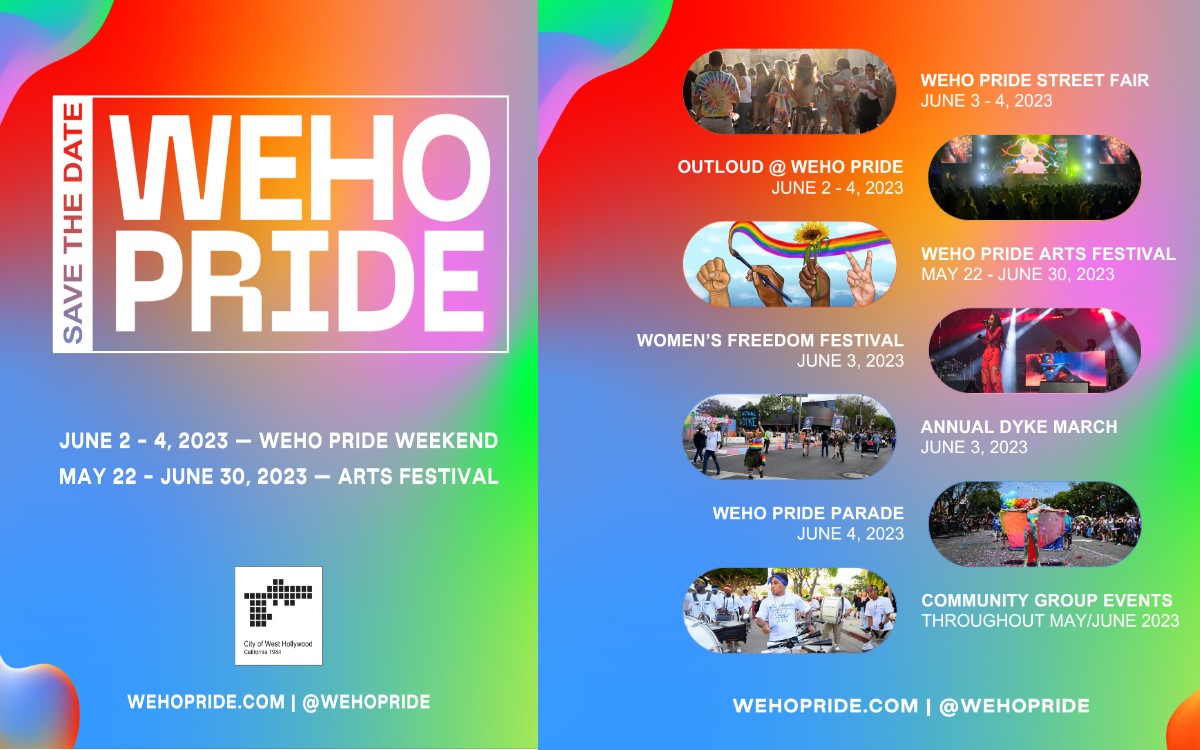 WEST HOLLYWOOD – The City of West Hollywood announces dates for its WeHo Pride 2023 celebration in May and June:
WeHo Pride Weekend will take place on Friday, June 2, 2023; Saturday, June 3, 2023; and Sunday, June 4, 2023 in and around West Hollywood Park, located at 647 N. San Vicente Boulevard. The weekend will include a free Street Fair, the Women's Freedom Festival, the Dyke March, the WeHo Pride Parade, and the ticketed OUTLOUD @ WeHo Pride music festival.
The WeHo Pride Street Fair will take place on Saturday, June 3, 2023 and Sunday, June 4, 2023 and will celebrate Pride with diverse participation of LGBTQ+ community groups and allied organizations as part of visibility and expression. The Street Fair is free and will feature a vibrant variety of exhibitors along Santa Monica Boulevard. There will be live entertainment and performances on a community stage, highlighting the LGBTQ+ community. The Street Fair is a family-friendly event and is open to everyone. It is a great occasion to take part in WeHo Pride's LGBTQ+ community experience.
The Women's Freedom Festival presented by the L-Project Los Angeles is planned to take place on Saturday, June 3, 2023. The 2023 event will feature emerging LGBTQ and BIPOC women and non-binary musicians, comedians, poets, and activists. More information will be available in the coming weeks at www.wehopride.com.
The Dyke March is planned to take place on Saturday, June 3, 2023. For people who are interested in marching, stay informed at www.wehopride.com for route and timing information!
Get festive as we roll down Santa Monica Boulevard for the WeHo Pride Parade on Sunday, June 4, 2023! The WeHo Pride Parade is an imaginative and colorful annual tradition along Santa Monica Boulevard that embraces LGBTQ+ representation, inclusion, and progress. Full of music, dancing, colorful floats, festive marching contingents, and creative flair, the Parade celebrates LGBTQ+ people and our contributions to community and culture. The Parade is a lively, energetic experience with good cheer and great vibes, and a whole lot of rainbows! Whether you participate in the Parade or join in the fun as a spectator, there's something for everyone at the WeHo Pride Parade! Organizations and individuals interested in submitting an application to participate as an entrant in the annual WeHo Pride Parade must apply by 5 p.m. on April 15, 2023 by using the form posted at https://www.wehopride.com/news/weho-pride-parade-applications-now-available-2023. Get creative and think outside of the box! The WeHo Pride Parade welcomes floats, bands, drill teams, dance teams, entertainment entries, marchers, and more.
OUTLOUD @ WeHo Pride produced by JJLA is the flagship music festival and concert experience of WeHo Pride featuring Grace Jones, Orville Peck, Santigold, Carly Rae Jepsen, and dozens more! It will take place on Friday, June 2, 2023; Saturday, June 3, 2023; and Sunday, June 4, 2023 at West Hollywood Park, located at 647 N. San Vicente Boulevard with a star-studded, high-energy line-up celebrating and advocating for queer voices in music. For more information and to purchase tickets, please visit www.weareoutloud.com.
WeHo Pride Arts Festival will take place during 40 days from Harvey Milk Day on Monday, May 22, 2023 to Friday, June 30, 2023 at various locations throughout the City of West Hollywood. First launched in 2008, and formerly known as the One City One Pride LGBTQ Arts Festival, this year's Arts Festival will feature a stellar range of LGBTQ+ dance, visual art, performance, literary arts, craft, and more. Learn more about Arts Festival events by visiting www.wehopride.com/artsfestival (programming details will be posted as they become available). This year's Arts Festival launches with a celebration of Harvey Milk Day taking place on Monday, May 22, 2023 from 6 p.m. to 8:30 p.m., which features the 1st Annual José Sarria Amateur Drag Pageant, a voter registration table, and an interactive photo opportunity.
WeHo Pride celebrations during WeHo Pride Weekend and during May and June 2023 will include a diverse array of LGBTQ+ community groups as part of visibility, expression, and celebration. The City of West Hollywood invites community groups to take part in WeHo Pride 2023. Through an application and review process, community groups may apply to request City funding for an independent Pride event, produced entirely by the group or organization. Details are posted at www.wehopride.com/getinvolved by clicking on the Community Group Grants tab for an application. If selected, your event will enter into a co-sponsorship agreement with the City and be a part of the City's Official WeHo Pride program, occurring between May 22, 2023 and June 30, 2023. The deadline to apply is March 24, 2023.
WeHo Pride Street Fair applications are also currently open for vendors, artists, performers, and more. The Street Fair promises to be bigger and better than ever before. With a wide range of activities and options, there is sure to be something for everyone. LGBTQ+ affiliated community groups who would like to apply for a free booth space in the WeHo Pride Street Fair can apply here. All other organizations interested in exhibiting at the WeHo Pride Street Fair can apply here.
Additional details about WeHo Pride 2023 will be posted as they become available at www.wehopride.com. Follow @wehopride on Instagram and Facebook and follow @officiallyoutloud on Instagram and Facebook.
Since its incorporation in 1984, the City of West Hollywood has become one of the most influential cities in the nation for its outspoken advocacy on LGBTQ issues. Home to the "Rainbow District" along Santa Monica Boulevard, which features a concentration of historic LGBTQ clubs, restaurants, and retail shops, West Hollywood consistently tops lists of "most LGBTQ friendly cities" in the nation. More than 40 percent of residents in West Hollywood identify as LGBTQ and three of the five members of the West Hollywood City Council are openly gay or lesbian.
Pride is deeply rooted part of West Hollywood's history and culture. In fact, Pride events have taken place in West Hollywood since 1979, five years before the City of West Hollywood was incorporated as a municipality. The City's embrace of Pride is part of its advocacy for nearly four decades for measures that support LGBTQ individuals, and the City is in the vanguard on efforts to gain and protect equality for all people on a state, national, and international level. The City of West Hollywood is one of the first municipalities to form a Lesbian & Gay Advisory Board (now LGBTQ+ Advisory Board) and a Transgender Advisory Board, which each address matters of advocacy. As part of its support of the transgender community, the City has a Transgender Resource Guide available on the City's website.
In 2022, the City of West Hollywood inaugurated WeHo Pride with programming that represents a diverse array of LGBTQ community groups as part of visibility, expression, and celebration. West Hollywood is a community of choice for LGBTQ people from throughout the world and WeHo Pride embraces a source of deep connection for its LGBTQ history and culture.
WeHo Pride Weekend: June 2 to June 4
OUTLOUD @ WeHo Pride: June 2 to June 4
WeHo Pride Parade: June 4
WeHo Pride Street Fair: June 3 to June 4
Women's Freedom Festival & Dyke March: June 3
WeHo Pride Arts Festival: May 22 to June 30
WeHo Pride Community Group Events: May 22 to June 30
Updates and Details will be Announced at www.wehopride.com
Follow @wehopride on Instagram and Facebook and @officiallyoutloud on Instagram and Facebook
For more information about WeHo Pride and the WeHo Pride Arts Festival, please visit www.wehopride.com/contact.
For more information about Outloud @ WeHo Pride, please visit www.weareoutloud.com/get-involved.
For inquires to the City of West Hollywood's Event Services Division, please email [email protected].
For people who are Deaf or hard of hearing, please call TTY (323) 848-6496.
GLAAD Media Awards 2023
Margaret Cho to host the 34TH Annual GLAAD Media Awards in Los Angeles featuring special performances from Fletcher and Orville Peck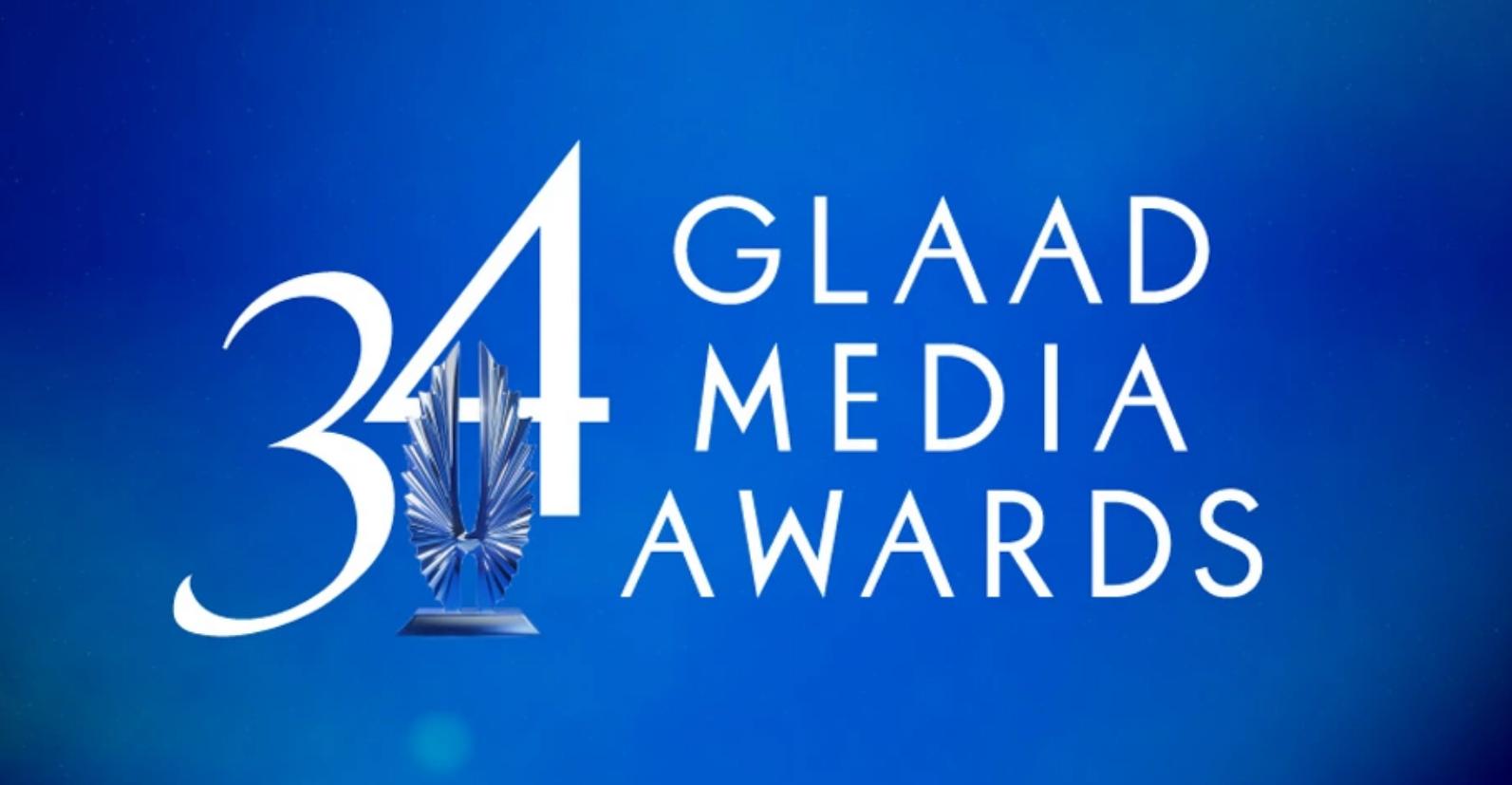 LOS ANGELES- GLAAD, the world's largest lesbian, gay, bisexual, transgender, and queer media advocacy organization, announced today that for the third consecutive year, Hulu will serve as the official streaming destination for the GLAAD Media Awards.
The Awards will be held in Los Angeles on Thursday, March 30, 2023 and will be available to stream on Hulu beginning Wednesday, April 12, 2023.

Emmy and Grammy nominated comedian and actress Margaret Cho will host the 34th Annual GLAAD Media Awards in Los Angeles which will feature performances by GLAAD Media Award Nominees for Outstanding Music Artist, FLETCHER and Orville Peck at the Beverly Hilton on Thursday, March 30, 2023.

The GLAAD Media Awards honor media for fair, accurate, and inclusive representations of LGBTQ people and issues. Since its inception in 1990, the GLAAD Media Awards have grown to be the most visible annual LGBTQ awards show in the world, sending powerful messages of acceptance to audiences globally.

Special guests include Angelica Ross (Pose, Framing Agnes), Betty Who, Billy Eichner (Bros), Brian Michael Smith (911: Lone Star), Brooke Eden, Chase Joynt (Framing Agnes), Gabrielle Union (The Inspection), Geena Davis (The Geena Davis Institute on Gender in Media) Geena Rocero (Horse Barbie), Harvey Guillen (What We Do in the Shadows), Isis King (With Love), Jake Borelli (Grey's Anatomy), Jen Richards (Framing Agnes), Joel Kim Booster (Fire Island), JORDY, Rafael Silva (911: Lone Star), Ronen Rubinstein (911: Lone Star), Sarah Michelle Gellar (Wolf Pack), Sherry Cola (Good Trouble), Ts Madison (Bros), Zackary Drucker (Framing Agnes), Zuri Adele (Good Trouble) and more.

As previously announced, Christina Aguilera will receive GLAAD's Advocate for Change Award, recording artist and actor Bad Bunny will receive the Vanguard Award and film, television and Broadway star Jeremy Pope will receive the Stephen F. Kolzak Award.
During the Los Angeles ceremony, GLAAD will also announce award recipients for LGBTQ representation in categories that span film, TV, news, and Spanish-language media.
Earlier this year, GLAAD announced nearly 300 nominees.
This past January GLAAD, announced that it is presenting its prestigious Barbara Gittings Award for Excellence in LGBTQ Media to the Los Angeles Blade along with the Washington Blade.
"Together, representing 50 years, the Los Angeles Blade and Washington Blade's relentless reporting reflects best-in-class journalism, reminding us all that LGBTQ issues and people have a stake in every news story and headline," GLAAD said in a statement.
Previous recipients of the award have included The Advocate, Windy City Times, and Curve.
Margaret Cho is a five-time Grammy and Emmy nominated comedian, actress, musician, advocate and entrepreneur. Her recent television appearances – guest star on Season 2 of The Flight Attendant (HBO Max), guest star on Season 2 of Hacks (HBO Max) and two Netflix is a Joke comedy specials: Stand Out: An LGBTQ+ Celebration and Jane Fonda & Lily Tomlin: Ladies Night Live – have expanded an already wide-ranging career, and her role as the 'mother hen' in the well-reviewed movie Fire Island.
As a comedian Margaret has been named one of Rolling Stone magazine's 50 Best Stand-Up Comics of All Time, one of Vogue magazine's Top 9 Female Comedians of all time, while CNN chose her as one of the 50 People Who Changed American Comedy. Her Disney+ movie, "Prom Pact" premieres on March 30.

Praised by leading outlets like Rolling Stone, TIME, Interview Magazine, and more, acclaimed singer and songwriter FLETCHER hails from Asbury Park, New Jersey, where she cultivated her passion for music and her unforgettably candid storytelling.
In 2019 she released her debut EP 'you ruined new york city for me.' The widely lauded EP features her breakthrough hit "Undrunk," a track that spent several weeks on the Billboard Hot 100, scored the No.1 spot on Spotify's Viral Chart, and emerged as the fastest-rising song at pop radio from a new artist in the past five years.
Released in September 2020, FLETCHER's EP THE S(EX) TAPES hit No. 1 on iTunes across all genres featuring gold-certified lead single "Bitter" – which has amassed over 200 million global streams.
FLETCHER's debut album Girl Of My Dreams arrived in September 2022 featuring the smash single "Becky's So Hot" which hit #3 on the iTunes chart across all genres and landed on Billboard's Hot Rock and Alternative Songs chart. The album earned raves from the likes of Rolling Stone, Billboard, Alternative Press, Vulture and many others while her music has amassed over a billion combined streams worldwide.
FLETCHER's latest single, "Better Version (feat. Kelsea Ballerini) is available now on the Girl Of My Dreams (Deluxe) edition. In support of her LP, FLETCHER performed on "The Tonight Show Starring Jimmy Fallon", and set out on sold-out headline tours across North America, Australia and Europe throughout 2022.
FLETCHER kicked off 2023 with a viral performance alongside Miley Cyrus on her "New Year's Eve Party" on NBC. FLETCHER will continue her "Meet Her At The Bar Experience" in 2023, a program she launched last year in support of woman-owned queer bars around the country and GLAAD (raising $50,000 for their key initiatives with the support of her fanbase, brand partner JD Sports and co-sponsor Lyft).

Orville Peck is a country recording artist and songwriter known for his deep baritone voice, strong musicianship and songs that are sincere yet bold in their storytelling. Never confirming his identity, Orville, who is openly gay and lived an itinerant life across South Africa and the rural south, is never seen without his signature, fringed mask.

Following the release of his self-produced debut album Pony in 2019, Orville signed with Columbia Records and released his Show Pony EP. Released to immediate critical acclaim early last year, the EP features a duet with global icon Shania Twain and puts Orville's triumphant songwriting skills and intentional craftmanship on full display. He then followed that up with BRONCO, which he released in chapters, alongside a multitude of cinematic videos. He was also hand selected by Lady Gaga for her Born This Way 10th Anniversary album.

Orville, known for his unique personal style, has collaborated with many fashion brands including but not limited to Dior, Michael KORS, ADIDAS X Ivy Park and Pamela Love amongst others.

Known for his live shows, Orville was one of the first artists to return to touring and has toured across the US, Europe, Australia and Canada. He has had sold out shows at Hollywood Bowl and Ryman Theatre, as well as major festival appearances at Lollapalooza, Stage Coach and Coachella amongst others.

When Orville is not performing or touring, he lends his time to activism and the causes he is committed to.

The Christina Aguilera Advocate for Change Award
Christina Aguilera, who has one of the most celebrated voices in history, has used her platform to be a bold advocate for the LGBTQ community, advancing conversations around LGBTQ acceptance and more, through music. Most recently, her impact on the LGBTQ community was realized after Club Q Colorado Springs shooting survivor, Michael Anderson, invoked her lyrics as he testified before the U.S. House Oversight Committee on LGBTQ violence.
In 2002, Aguilera dedicated her single, "Beautiful," to the LGBTQ community, with the line "words can't bring us down" becoming a personal mantra for many queer people. The song brought a unique awareness and a sense of compassion in the face of hate, earning Aguilera a Special Recognition honor at the 14th GLAAD Media Awards. Last year, the seven-time Grammy-winner celebrated 20 years of "Beautiful" with a brand new music video, reminding people of the importance of accepting themselves for who they are.

A staunch supporter of LGBTQ rights and a visionary for representation, Aguilera raised over $500 million for HIV research with MAC cosmetics in 2004, spoke out loudly against Proposition 8 in 2008 and brought trans dancers and drag artists into the limelight during the 2012 American Music Awards.
Following the Pulse Nightclub mass shooting in Orlando, Aguilera dedicated the song, "Change," to those affected by the tragedy with proceeds from the song going to victims' families. She later penned a "Love Letter to the LGBTQ Community" for Billboard in 2017. Her very own Pride collection was launched in 2021, to proudly support two nonprofit organizations: TransTech and TransLash. Using the power of music to build bridges and demand change, Aguilera has redefined what it means to be a true advocate for the LGBTQ community, creating spaces for queer voices and talent to be known and thrive: From performing alongside breakthrough LGBTQ artists like Anitta, Syd, Kim Petras, Chika and Michaela Jaé, to condemning anti-LGBTQ legislation like Florida's "Don't Say Gay" law.

"Christina Aguilera is a beloved icon who has inspired and shared messages of love for the LGBTQ community since the start of her music career. From using her voice to speak out against anti-LGBTQ legislation to creating songs and music videos that showcase LGBTQ love, Christina loudly and proudly raises the bar for what it means to be a LGBTQ ally today," said GLAAD President & CEO, Sarah Kate Ellis.

Bad Bunny's Vanguard Award
Bad Bunny's advocacy and outspoken allyship for the LGBTQ community has reached millions around the world . Named Spotify's most-streamed artist of 2022, with 8.3 billion streams globally, the three-time Grammy-winning artist uses his craft to powerfully speak out as an ally to transgender people and advance equality for the LGBTQ community, bringing his own voice to the forefront to help others see themselves in the world.

As he reimagines the Latin urban music genre, LGBTQ people and issues remain in the vanguards of equality and inclusion for him, especially those in Puerto Rico, where he was born. His live performances and music videos cast an array of voices, experiences and backgrounds, showcasing queer love and affection on full display. For his music video for "Yo Perreo Sola," he dressed in drag, telling Rolling Stone, "I did it to show support to those who need it. I may not be gay, but I'm a human."

In a performance for "The Tonight Show Starring Jimmy Fallon," the rapper paid homage to Alexa Negrón Luciano, a trans woman murdered in the city of Toa Baja, wearing a shirt in Spanish that read: "They killed Alexa, not a man in a skirt." In 2019, the artist also helped influence a movement to force former Puerto Rican Governor, Ricardo Rosselló, to step down from office, after being exposed for corruption and anti-LGBTQ attitudes.

Moving from sound booth to the big screen, Bad Bunny plans to executive produce the forthcoming Netflix adaptation of the New York Times bestselling novel, "They Both Die in the End," which features a queer Latinx storyline.

Previous GLAAD Vito Russo Award recipient Ricky Martin told Rolling Stone that Bad Bunny is an "icon for the Latin queer community."

"Bad Bunny uses his role as one of the world's most popular music artists to boldly shine a light on LGBTQ people and issues, including transgender equality and ending violence against trans women of color," said GLAAD President & CEO Sarah Kate Ellis. "By consistently advocating for our community, elevating our stories, and demanding action from anti-LGBTQ leaders, Bad Bunny redefines the positive influence Latin music artists can have within the LGBTQ community, and has set an example for all artists."

Jeremy Pope's Stephen F. Kolzak Award
Jeremy Pope is a multi-faceted out performer who has broken barriers across Broadway, television and film, earning two Tony Award nominations, a Grammy Award nomination, an Emmy Award nomination, and a Golden Globe Award nomination.

His breakthrough film role as Ellis French in Elegance Bratton's autobiographical first feature, "The Inspection," follows a closeted Black gay man through Marine Corps Recruit Training in a "Don't Ask Don't Tell" era. That performance earned him his first Golden Globe nomination for Best Actor in a Motion Picture – Drama, as well as a Film Independent Spirit Award nomination for "Best Lead Performance."

Pope's rise from stage to screen began in 2018, when he earned two Tony Award nominations in the same season – one for Best Lead Actor in A Play for his Broadway debut performance in "Choir Boy" and a second nomination for Best Featured Actor in a musical for his performance in "Ain't Too Proud: The Life and Times of the Temptations." Pope was soon cast in Ryan Murphy's series "Hollywood," where he earned an Emmy nomination for his lead performance as aspiring Black screenwriter Archie Coleman. Pope also had a meaningful arc in "Pose" and in the final season of the FX series, his character, Christopher, gave audiences a sense of visibility and belonging for trans experiences and for those living with HIV.

Pope is about to wrap his Broadway run as Jean-Michael Basquiat in Manhattan Theater Club's "The Collaboration." Later this year, he will be seen revisiting the role on the big screen.

"Jeremy Pope is one of today's most talented and dynamic actors who has given life and excitement to important stories that impact and honor the LGBTQ community. Offscreen, Pope has used his voice to have important conversations about being an out actor in Hollywood, which are key to continuing to erase stigma and bias that affect out actors today," said GLAAD President & CEO, Sarah Kate Ellis.

The 34th Annual GLAAD Media Awards
This year, GLAAD announced 295 nominees across 33 categories including two new categories: Outstanding Podcast and Outstanding Live TV Journalism – Segment or Special. For the first time ever, the Outstanding Reality Program category was also split to nominate both reality competition series and non-competition series independently.
The Outstanding Kids & Family Programming category was also split to nominate animated and live action programs independently. This year also includes ten nominees in the Outstanding Film – Wide Release category for the first time.

Last year, the 33rd GLAAD Media Awards in Los Angeles were hosted by Bob the Drag Queen, Eureka O'Hara and Shangela and were streamed on Hulu.
Cody Rigsby and Peppermint hosted the 33rd GLAAD Media Awards in New York City.
Both ceremonies featured appearances and performances by Dove Cameron, Kacey Musgraves, Ben Platt, Cody Rigsby, Ariana DeBose, Laverne Cox, Karine Jean-Pierre, Wilson Cruz, Cynthia Nixon, Gigi Gorgeous, Sheryl Lee Ralph, Judith Light, Anthony Rapp, Michaela Jaé Rodriguez, Christina Ricci, Cynthia Erivo, Shangela, JoJo Siwa and many more.

The Executive Producers of the 34th Annual GLAAD Media Awards are GLAAD President & CEO, Sarah Kate Ellis and GLAAD's Rich Ferraro and Anthony Allen Ramos. STAMP Event Co. will produce.

The 34th Annual GLAAD Media Awards are presented by Gilead Sciences, Inc., Hyundai, and Ketel One Family Made Vodka. GLAAD is also grateful to Major Sponsor Delta Air Lines and Official Sponsor Sony Music Group.

To purchase tickets for the 34th Annual GLAAD Media Awards, please visit: www.glaad.org/mediaawards/tickets.

On socials please follow @GLAAD and #glaadawards