Why are so many gay influencers launching underwear lines?
Some influencers use their microcelebrity status to launch their own businesses- when it comes to gay influencers, one dominates, underwear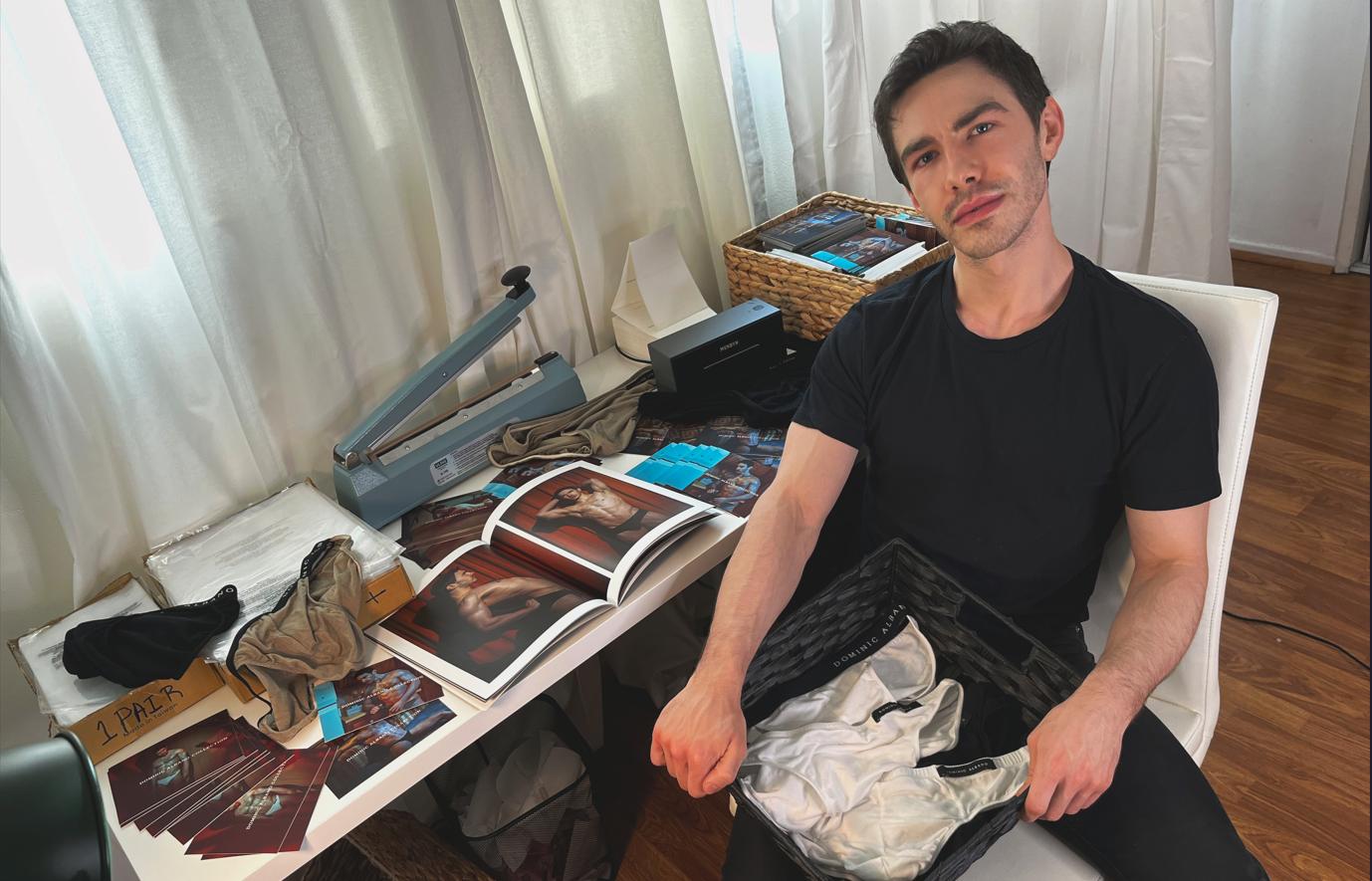 By Rob Salerno | WEST HOLLYWOOD – Social media has made it possible for gay men to connect with like-minded audiences all over the world, and in 2023, it's basically axiomatic that with great social media reach must come great monetization. 
But while some social media influencers are content to get paid by flogging brand-name fashions, workout supplements, and vacation packages, some influencers prefer to use their microcelebrity status to launch their own businesses. And when it comes to gay influencers, one business in particular seems to dominate: underwear.
From porn stars to musicians, to models and artists, gay social media stars of all stripes seem to be in a rush to launch their own underwear lines.
And this does seem to be a gay male phenomenon. While there are plenty of trans people and cis women marketing their own underwear lines, they all seem to be primarily trained fashion designers. It really does seem to just be gay men who make the journey from Insta-fame to undie-mogul.
So, what is it that makes the skivvies business so appealing for gay influencers? We talked to some of these upstart influencers for a briefing on the whys and hows of launching an underwear line.
THE MUSICIAN
For Steve Grand, owner of Grand Axis Clothing and a country-pop musician who first rose to internet fame ten years ago with his music video "All-American Boy," underwear and swimwear seemed like a natural outgrowth of his brand, especially as his various social media channels began to focus more and more on showing off his ripped body in skimpy clothes.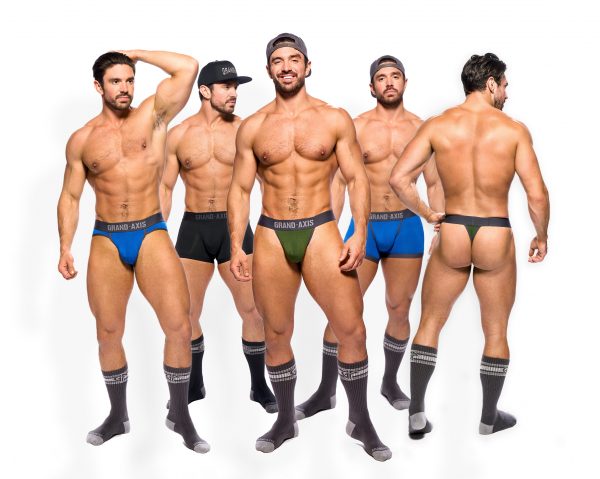 "I was always very picky about how things fit me," Grand says. "After years of building up hundreds of pairs of speedos and underwear and jocks, I started to reach out to people who offered custom fits, so I began to have things custom made. I started sending them patterns, and I started driving them nuts. I would get a great fit, and I would post them on Instagram, and people would reach out and ask where can I get them. I figured I should start my own line because I'm already down in the details."
Grand Axis was launched in December 2019, which turned out to be an auspicious time, right before the world shut down due to the COVID-19 pandemic. As Grand's opportunities to perform live music dried up, he was able to devote his full attention to Grand Axis. Just over three years later, the fashion line is now Grand's primary focus.
"It's completely flipped in terms of income," he says. "I'll still do several gigs a year. But with Grand Axis, it hasn't allowed me the time to record something new and write and get back out there. Which is a shame, because I really do miss that."
Grand designs every piece, coordinates with manufacturers, fills orders, handles customer service, and, of course, does all the social media marketing himself.
"I create so much work for myself to get it how I want instead of just slapping a logo on something," he says. "If I thought it would just a great way to monetize my social media presence, it's consumed my whole life."
Social media remains the most important marketing tool for Grand Axis, with Grand's posts to his various channels showing off his underwear and swimwear driving the bulk of his orders.
"I'm saving on modelling fees by doing it myself. It's a great excuse to stay in shape," Grand jokes. "I'm really just posting there to get customers and connect to people through the brand. I want Grand Axis to stand outside of me. I don't want to have to be the face of it, but it's helping to sell it right now."
THE MODEL
Los Angeles-based model Dominic Albano, who's shot with famed photographers like Rick Day and whose image graced the cover of the inaugural issue of the relaunched Playgirl magazine last summer, launched his self-named underwear line earlier this year after a decade of experience modelling other designers' underwear.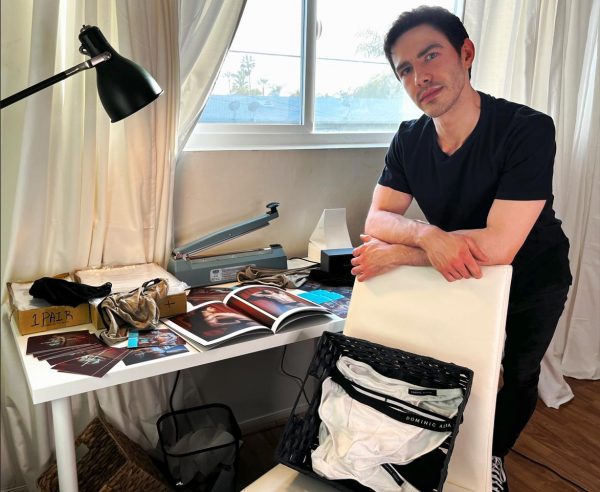 "I booked all the underwear jobs, because I'm a little too muscular and a little too short for runway or high fashion," Albano says. "I was working with all these brands and thinking if I were to make my own underwear, I would do it differently. It would be more classic and have better material," he says.
A decade into his modelling career, Albano finally decided he needed a change.
"I wasn't booking for a while, and I was like, this is bullshit. I wanna be busy all the time," he says.
Albano says he spent months researching how to get started and designing his first collection.
"I did my research. I found manufacturing companies and reviewed their portfolios. There were some I didn't vibe with. Then I found one that was very responsive, very informative, and wanted to help me," he says. "I got fabric swatches and I was just going by the feel and the touch and the weight."
Although Albano had no formal training in fashion design, he knew that he wanted simple designs, subdued colors, and sexy cuts.
"I did the drawings by hand here, taking pictures and sending them to the factory. I would say, whatever style you have in your head, make it skimpier, because this is for gay men," he says. "They got my vision, created samples, and then they would send them to me, and I would revise them."
Albano is clear-headed about where his thousands of followers come from and why they're buying his underwear. He's done plenty of fully nude photo shoots over his career and been featured in magazines and gay body blogs for years.
"I take it for what it is," he says. "I'm a deep thinker, but I don't talk about where I view things politically or my feelings. I try to stay very private because I know what they're there for. They want to keep that mystery. They don't want to know I have the same struggles as them. That's what I'm providing: A fantasy, an escape, things they might not be able to do."
And he's never shied away from building that community with his gay fans.
"Being gay, sexuality, and the images I make go hand in hand. A lot of gay men express their sexuality through their underwear or imagery," he says. "A lot of us are exhibitionists, we like to lounge around in our underwear."
THE ONLY FANS STAR
Boston-based OnlyFans creator Fabian Bonavento credits his background in marketing and his strong links to his local queer communities for helping him get his Fafabon underwear and clubwear line off the ground last summer.
"Working in queer spaces, you get exposed to a lot of talents, jobs, creatives. It gave me the opportunity to put together what I wanted to do," he says.
He had been reselling clothes before the pandemic, when he got the urge to start designing his own wares.
"I would go to brands and reach out, and I got a lot of rejections," he says. "I was talking to this person, all online during the pandemic, it became like hey, I saw that you make dresses, do you know someone who can make underwear? It was just pitching myself over and over again.
"Now I work with the manufacturers, some of the materials come from India, Portugal, China. So I had these contacts, but it was really just rolling with it and trying it."
Bonavento says he was motivated to go into underwear specifically because he felt there was a gap in the gay underwear market for comfortable, everyday undies that are built for all bodies.
"Many of the gay underwear brands, they have a certain niche to them. This is for a furry person, or codified for sexuality, and all that. I thought it would be cool to have a brand that doesn't just corner a person to a specific type," he says. "The plan is to create a lifestyle brand that is the go-to brand to feel comfortable and sexy, supported and risqué."
He says the brand focuses on comfort and quality, without sacrificing the sexiness that queer people want in their underwear.
"It's about the material and how we construct the products," he says. "The seams are double-seamed inside so there's no access to get your hair stuck. It's made to be very smooth and very comfortable. We have sizes up to XXXL and we're going to start XXXXL soon."
Speaking of very large, Bonavento's nearly 40,000 Twitter followers are likely attracted by the many pictures he shares of his, um, biggest asset.
But Bonavento is far from the first well-endowed man from the gay porn world to venture into the underwear industry. Porn star Rocco Steele launched his X7 Collection (supposedly named for his measurements) in 2016, although he decided to shut it down in February. Miami-based OnlyFans star Abel Pirela has his own eponymous underwear brand too.
Maybe it's the next logical step after gay fashion icon Andrew Christian spent the better part of two decades associating his underwear with gay porn stars.
"I've always had this strong social media presence, and I thought, how can I capitalize on this, instead of just posting pictures?" Bonavento says. "To have a good online presence, you should know how to be online. I live on the internet and also study the internet. I've gotten the chance to work with different brands in social media marketing. I enjoy doing it, but because it started with me, I have to go along with it because it translates into sales."
Like the other influencers' brands, Fafabon is still a one-man show, but Bonavento has a long-term goal of collaborating with other creators to serve the wider queer and trans community.
"The plan is to collaborate perhaps with trans designers who understand how this project should be made. I hope it's sooner than later," he says.
THE DISRUPTER
Chicago-based photographer and OnlyFans creator Alex King is a bit of an outlier with his Tie Dye Undies project, which he describes as less of a brand and more of a "disruption model."
"It all kind of came about because at my birthday party we had a tie-dye party and we had a bunch of white underwear and made them," he says. "I had one of my friends come over and model, and I posted the photos on Tumblr and people started asking, where can I get them?"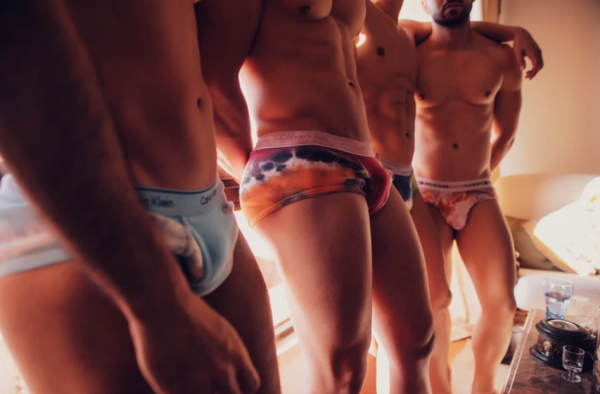 King now makes and releases batches of tie-dyed Calvin Kleins as a kind of personal art project.
"It was a way of adding some color to a stale menswear space. I was shooting some models, and I just noticed the clothes were boring and I just added some color, some zest,' he says. "I think it's a bummer how color is disappearing from the world. Even McDonald's is grey."
But while the King's art undies have their fans, he says it's never been his goal to make money from them.
"It's not like one of those things where I would tell people to make a brand because it's hard work, and it's a bit of a crapshoot," he says. "Mine's a disruption model, more fun, more whimsical. It gives me a little bit of happiness to know that those things are out there living their lives."
Moving product has gotten more difficult as social media channels crack down on posts they consider sexually explicit, especially posts featuring gay men, King says.
"A lot of the free ways of marketing are dwindling on Tumblr and Instagram," he says. "Even innocuous photos of men in underwear [on Instagram] are being flagged for being sexually explicit and ad tools are being taken away."
King says social media remains the main way he markets his undies, even though he tries to keep his underwear business separate from his burgeoning porn work.
"Sometimes there are models on my OnlyFans that are Tie Dye Undies models, but I try to keep that separate," he says. "People think [sex is] the next thing that happens in a photo shoot. It has happened, but I try to keep those boundaries."
With the sudden explosion of gay underwear brands launched by social media influencers, one could be forgiven for assuming that this was a business that was an easy cash grab. But it's clear that the men behind these brands are creating them out of a genuinely love for underwear and are putting in long hours of work to get them out in the world.
It's a good reminder that it takes passion, dedication, and talent to stand out in the crowd online, even when you're in your underwear.
Putting kibosh on spirited sashays: Drag law takes effect April 1
Anyone found in violation can be slapped with a Class A misdemeanor charge, face a $2,500 fine and/or up to a year behind bars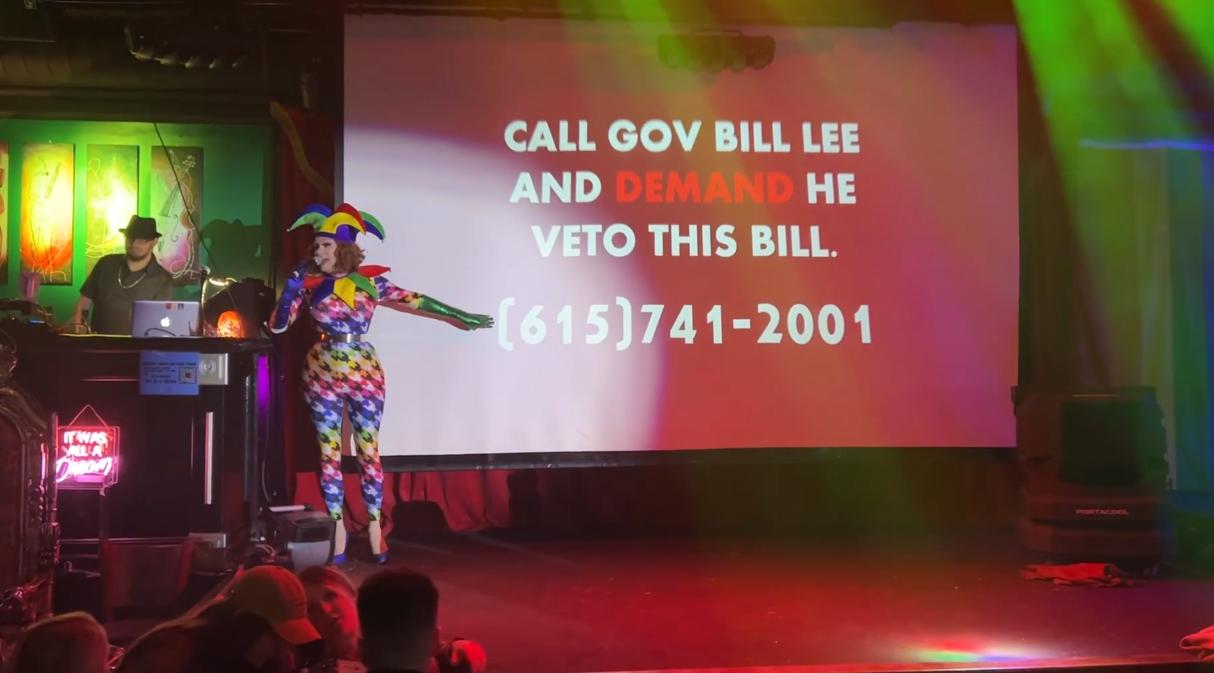 MEMPHIS – For the Tennessee legislators who laid down the law on drag queens earlier this month, March came in like a lion—a Smoky Mountain-dwelling, cis male lion who loves the ladies, shields his cubs from the scourge of adult cabaret performers, and—month of June be damned—never spells "pride" with anything other than a lower case "p."
If that bit of GOP Multiverse Mascot Fantasia reads as an inappropriately light prelude to ruminating about the shameful rollback of human rights in Tennessee, keep in mind that the state's drag community was responding to hateful legislation with defiant sass and sober purpose long before recent events put them in the national spotlight's foundation-melting glare.
"I've made it the butt of many jokes," says Memphis, TN-based drag queen Bella DuBalle, of the state's brazen assault on her profession. "Y'all having fun on this Rainbow Sunday?," DuBalle greets audiences as of late, noting, "It's just like gay church—except you don't have to worry about your kids getting groped here!" Elsewhere in the act, a time-tested joke about cashing in her dollar bill tips at the bank has a teller asking, "Honey, are you a stripper?" The standard retort, "No, I'm like a really glamorous panhandler" now plays as, "Well according to Tennessee Republicans, I am!"
As show director and host of Atomic Rose (a nightclub/grill in the historic Beale Street District), full-time professional drag queen DuBalle has been speaking about the legislation "for months—and in every single show, [unaware] people would gasp… I say, with similar legislation being proposed in 18 other states, look and make sure yours isn't one of them."
On December 7, 2022, just a few weeks after news of what was quickly dubbed the "anti-drag" legislation broke, DuBalle posted the first of many "call to action" videos, via her IG. "We exist" and "I am a person" are refrains from DuBalle and her drag kids, Miami Rose & Tiffany Minxx, as well as "dear friends" Zoey Adams and Hunny Blunt.
Appearing out of drag at the end of the video, Bella addresses the viewer, saying: "I urge you to find out more about the proposed SB003. Write your legislators. Get vocal online. Go out and tell people what they're trying to do to simple artists and queer people that are just trying to live our authentic lives. Go out and support drag shows. Support local queens. And just let queer folks in your family and circle know that you're in their corner."
As for what awaits drag performers in Tennessee, the stakes are high. House Bill 9—passed on March 2 by State Assemblymembers and signed by Governor Bill Lee (R) just hours later—effectively forbids drag performances from taking place on public property and anywhere those under 18 could potentially be present. It also puts the kibosh on spirited sashays occurring within 1,000 feet of schools, public parks, or places of worship.
The anti-drag legislation's careful, knowing language avoids the "d" word by restricting "adult cabaret performances" by the likes of "topless dancers, go-go dancers, exotic dancers, strippers, male or female impersonators who provide entertainment that appeals to a prurient interest, or similar entertainers."
Enforceable as of April 1—the traditional day to suffer fools—the new restrictions come with chilling consequences: Anyone found in violation can be slapped with a Class A misdemeanor charge upon their virgin transgression, facing a $2,500 fine and/or up to a year behind bars. Defiant queens who accrue a second offense face Class E felony charges and could be incarcerated for up to six years. (Do the math: That means turning 29 a half-dozen times before being released!)
"We knew when the legislature got back in session [Jan. 10, 2023] that we were going to be expecting bills like this," says Stella Yarbrough, Legal Director of the American Civil Liberties Union-Tennessee (ACLU-TN). "But did we expect it to pass the first week of March and be signed into law that quickly? No…I've been flabbergasted by how ravenous the appetite is to pass these kinds of laws." (Also signed into law was House Bill 1, which bans age-appropriate, medically necessary care to transgender youth under the age of 18.)
"I wanted to believe it would not pass," says DuBalle, of the Tennessee legislation. "But after Roe v Wad [was overturned on June 24, 2022]? I thought, 'All bets are off.' … The attacks we're seeing all over the country against women, against trans people, against drag queens, by the GOP? It works for them. It has to. You look at somebody who loves something in themselves that you hate in yourself, or if they are proud of the thing you hate, or you're ashamed of? Our existence is a threat to them. People fear what they don't understand."
DuBalle, who is 43 and identifies as non-binary, views the current "crazy backlash" as a particularly cynical response to "the monumental amount of progress I've seen in my lifetime. It's easy for us to be the scapegoat right now, because in Tennessee, we have a lot of real problems—education, health care. They don't know how to solve them, but it's easy to solve a problem that doesn't exist. This is a terrifyingly recurring talking point of the GOP."
Troy Masters, a Tennessee native and the publisher of the Los Angeles Blade noted:
"Tennessee's anti-trans laws of which the regulation of drag performers is only part belies a greater problem facing the state. The legislature is exploiting what they sense is a growing sentiment among native residents that the influx of people from New York and California are shifting the state's sociology in a liberal way. It's xenophobia on steroids and that always means finding a scapegoat. And so, they bash the queers as if queers have not always existed in Tennessee.
"Sponsors who have been introducing these bills are gay bashing pure and simple because in their eyes the queers are an unwelcome byproduct of liberal newcomers. What they didn't count on is the degree to which this attack has already tarnished the state for corporations and investors who are mindful of the political environments into which they invest and where they operate.
"News of these laws have already put many Fortune 500 companies in conflict with their corporate diversity statements and they will be forced to reconsider (witness Hard Rock Cafe and JW Marriot). It's already a place that is becoming too mean to live and people like Senator Marsha Blackburn and MAGA acolytes state Senator Jack Johnson have no idea what they are doing."
The contemporary conservative feeding frenzy is nothing new, notes comedian and historian Frank DeCaro, author of the comprehensive 2019 coffee table tome "Drag: Combing Through the Big Wigs of Show Business."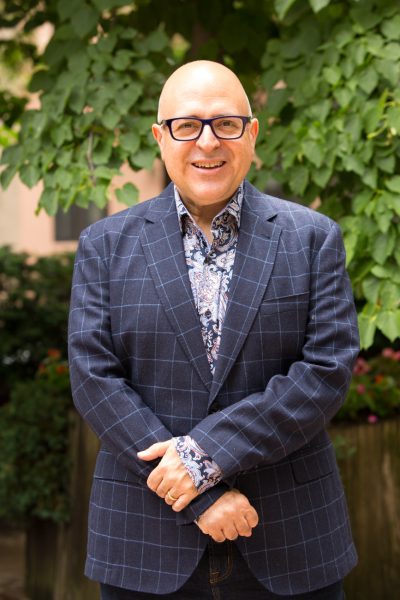 "The 'Pansy Craze' of the 1920s and 30s was short-lived," recalled DeCaro, "but it's really the same thing [culturally, as the TN situation]. Everyone decided queer entertainment was the thing to seek out and it became the thing to do—the [queer] nightclubs were full of straights. It lasted only a few years, and a conservative wave came." A few decades later, millions of Americans would spent years in front of the so-called "boob tube," eagerly welcoming dress-wearing sketch comedian Milton Berle into their living rooms, a drag stage show by the Turnabout Review proved wildly popular in the heart of seemingly inhospitable territory.
Recalling the research phase for his "Drag" book, DeCaro "found in a newspaper, a clipping for the Review that said, 'Held Over, Ninth Week.' And you think, 'It's gonna be San Francisco. No, it was Fort Worth [TX]. To me, that points to the hypocrisy of this… But people have always sought out drag entertainment. It's always been part of the mainstream. It wasn't only gay people who went to see "Tootsie" or "Mrs. Doubtfire" or "Some Like it Hot." So to paint drag as highly sexualized and inappropriate for children is just folly. It's lies. It has no bearing on the truth."
Strictly speaking, that may be so—and while it remains to be seen how these new laws hold up when challenged in court, getting there (or not) adds another dimension of tension and uncertainty to the working drag queen's daily concerns. Once the legislation passed on March 2 becomes law on April 1, notes Yarbrough, "It is enforced through local law enforcement [for arrest], while the local District Attorney would make the decision as to whether certain conduct meets the legal definition of actual criminal activity."

It is possible, noted Yarbrough, "that a DA says 'I don't agree with this law' or 'I'm not going to prosecute,' " Should that happen, the Attorney General of the state is empowered to notify the State Supreme Court, which may choose to appoint a special prosecutor. This end run around the DA is the result, says Yarbrough, "of a recent law passed largely in response to the more liberal DAs" throughout Tennessee. Thus far, noted Yarbrough, the special prosecutor option has never actually been invoked.
One District Attorney, at least, has stated publicly where the April 1 add-ons to the lawbook sit with him. In a March 3 online article, Memphis, TN-based Action News 5 ran the text from a statement sent by Shelby County District Attorney Steve Mulroy. Noting that SB 0841 "is unnecessary and unfairly targets drag shows," DA Mulroy specified it "only bars 'those which appeal to the prurient interest… a shameful or morbid interest in sex.' And even then, only if it's on public property or allows minors access. I anticipate that this will not prevent any drag show activity currently underway in Shelby County. It's important to understand the narrow scope of this law so that it doesn't have a chilling effect on constitutionally protected expression."
"They have a ton of discretion," notes Yarbrough—not of DAs and AGs, but of those at the City Hall or county clerk level. When the law takes effect, she says, "That will be at a time where people are going to be submitting permits and starting to plan for Pride events. And I wouldn't be surprised at all if we start seeing not necessarily direct enforcement [of the anti-drag laws], but park permits being denied under the theory that they can't allow for obscene performances. So somebody at the permit-issuing level might exercise an abundance of caution and decide not to issue a parade or street fair permit… And that's what's so dangerous sometimes about laws like this. They propose to regulate conduct in a way that hasn't been regulated before. And enforcement [and interpretation] can vary wildly, depending on where in the state of Tennessee you live."
Placed on the Senate State and Local Government Committee calendar for March 21, SB 841/HB 30 failed to advance and is, essentially, dead in the water for now. It would have, notes the ACLU-TN, required "drag performers to obtain a permit from the adult-oriented establishment board prior to performing for compensation and prohibit people under the age of 18 from attending performances that include male or female impersonators."
A permeating low-level tone of dread, says DuBalle, has contributed to the personal and professional "roller coaster we've been on ever since the legislation was signed into law early this month. There was a lot of fear. Many of us are non-binary or trans. Once the bill was signed, we had this moment—we had to gird our loins for battle. This is our livelihood." Over the past few weeks, says DuBalle, "We have become even more empowered in our resilience. Many audience members are coming out to simply show solidarity and offer us support and encouragement. We are still braced for the unknown impacts of this legislation, but now we do so as a phalanx—shoulder to shoulder, armed and ready to face our opposition head-on. We hear the rallying cries from our allies around the world, and we stand in their strength."
While DuBalle and her cast at Atomic Rose draw from the strength of their allies while girding for what's to come, the queens of "The Beauties on Beale" are coming out the other side of a weeks-long period spent seemingly abandoned by management at the Hard Rock Cafe-Memphis. That's where, until a recent scare, you'd find "Memphis' hottest drag brunch on world -famous Beale Street."
Led by show director and cast member Fendi LaFemme, the biweekly Sunday event brought new business to the Hard Rock, which LaFemme notes became a civil, celebratory gathering place for the queer community, their supporters, and anybody else who just happened to show up for brunch, only to happen upon what LaFemme and producer Jerred Price note has always been an all-ages, Rated G drag brunch where the songs, jokes, and costumes deliver the spirited edge you expect from drag, but none of the cutting, cussing comedy one might expect were the showtime to be 12 midnight instead of 12 noon.
Nonetheless, upon March 2 passage of the anti-drag legislation, LaFemme and company received written orders (via email) from local/regional management to discontinue promoting the brunch and put performances on hiatus. When the Los Angeles Blade spoke with LaFemme on March 20, The Beauties on Beale had just performed what they thought would be the series' final installment. (March 19 was to be the last show, as the Hard Rock planned to sit on the sidelines and see what the mood in town was, after April 1.)
"When it comes to the way this is being handled," said LaFemme at the time, "this is a corporate fiasco, plain and simple. Understandably, they don't want the bad publicity—but at a time like this, it's most imperative our allies come forth and use their voice and say, 'This is not right.' "
LaFemme says she's never heard a complaint from audience members. "It's an all-ages brunch," she noted, adding, "We make sure it's rated G. From Day One, we've operated on the idea that there's always potentially children in the audience."
When the Blade spoke with "Beauties" producer Jerred Price on March 21, he was about to take to Facebook Live, after receiving another communication from Hard Rock Cafe Memphis management, doubling down on the decision to discontinue performances. "My mindset was, 'Enough is enough'" recalled Price, on the firm and fiery Facebook Live posting that saw him speaking out against the decision and announcing his own (others encouraged as well) boycott of the Hard Rock brand, along with a statement that the Beauties on Beale would take their show title and audiences elsewhere, given the venue's lack of backbone.
As is the nature of social media postings, word travelled fast—apparently, all the way up the corporate chain. The next day, on March 22, Price told us, "Today, I received a call from the Senior Vice President of Hard Rock [Cafe division]. He said Hard Rock apologizes for the misunderstanding and the show should continue as it was. We will continue to look into the legal side of it, and if we have any concerns, we will contact him directly," said Price, who noted he now has the VP's personal cell phone number and won't be shy about contacting him in that manner, whether the news is good or bad. Meantime, Price returned to Facebook Live, noting that the show will go on, biweekly as planned, as of April 2.
"We definitely accomplished our mission to expose the things that were happening, by saying something and being vocal," said LaFemme, with Price extending the olive branch rather than reveling in his tough but fair public shaming. "Family, friends, everybody makes mistakes," said Price, noting, "It's how you own the mistake that matters. Hard Rock owned their mistake and I' glad they did."
Elsewhere in the area, on Front Street, the queens who preside over Drag Bingo haven't been as lucky when it comes to seeing corporate do an about-face. Moxy Memphis, a Marriott property, is putting the brakes on Drag Bingo as of its March 23 and 30 installments. The Los Angeles Blade spoke with drag queen (and day job Moxie employee) Krystal Karma, as she was behind the wheel, "Off today to prep for my last legal drag show at 7pm [3/23]."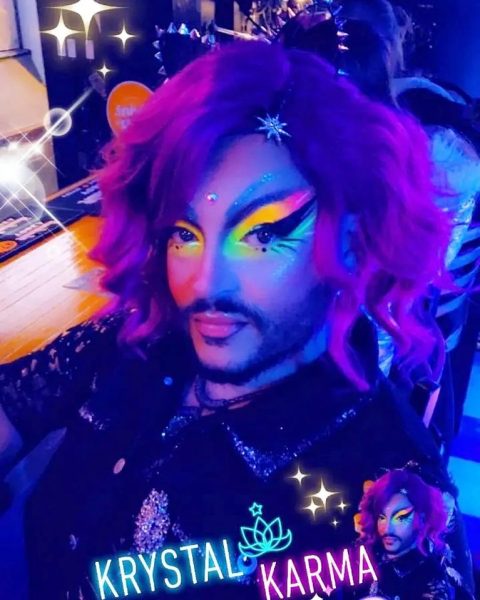 Karma said from what she's been told by district management, cries of "Bingo" may yet echo again at the Moxy. For now, "They're just trying to play it safe" and see how the new law unfurls come April 1. Despite the work stoppage, Karma said she feels "they have my back, in the long run. It's been life-changing and amazing to work there, and perform drag there, too. Not all properties [in this town] have drag shows, so I'm grateful for that." Karma says she and others feel frustrated at the "vague" nature of the legislation's language. Less of a mystery, she says, is its intent, which is "an underhanded dig at the trans community. Trans people exist every day in this form," she says, of the legislation's dog whistle reference to "male or female impersonators," which belittles and dishonors a trans person's daily outward appearance. "I am a native of Memphis," notes Karma, who says over time, growing up here "has been tough. We're a fairly large city, but we've never had a truly safe space." And now, with the language of these new laws, "They're using [the supposed need to protect children from drag] to make us seem like sex offenders. We need to tell people that drag, and art, comes in many forms and it's okay to talk to your kids about that instead [of shielding them from the sight of drag queens, trans and queer people]."
Even before Tennessee's laws take effect, observed DeCaro, "The real harm done is the message it sends to anyone who feels they're different. Maybe their goal is really to shut down Pride parades. They don't want people to be happy. Their popularity, their power, is based on fear. Their recruiting tactic is scaring people. Meanwhile, here you've got drag offering people of every gender, every age the chance to be a more glamorous, fun version of themselves, if only on a Saturday night. And it's as simple as that: Happy is the enemy."
Yarbrough, who says the ACLU-TN is ready and waiting to defend anyone who runs afoul of the new laws come April 1, also notes that the atmosphere created by the public debate generated from legislation proposed, discussed, and passed has its own corrosive power.
"Even if you were to win every lawsuit, and adjoin every law like this, the damage is done," says Yarbrough. "Because with these kinds of laws, there's always going to be that person who self-censors, that says. 'You know what? Maybe not this event. Or maybe not today… or even more damaging, 'Maybe I don't want to live in Tennessee anymore.' In between this bill and the trans healthcare ban and the total ban on abortion, we've created such a hostile state for people to live in… medical providers and performers and all kinds of valuable, wonderful people don't feel welcome here are going to leave the state and are leaving the state. And the loss to our culture is inestimable. We're losing trans kids…. We're creating a class of political refugees—and we all lose when beautiful people like that have to leave our state because they can't live here."
Related: