DeSantis escalates war on LGBTQ+ Floridians- expands law
Reacting to a question during the daily briefing, White House Press Secretary Karine Jean-Pierre decried the move by the Florida Governor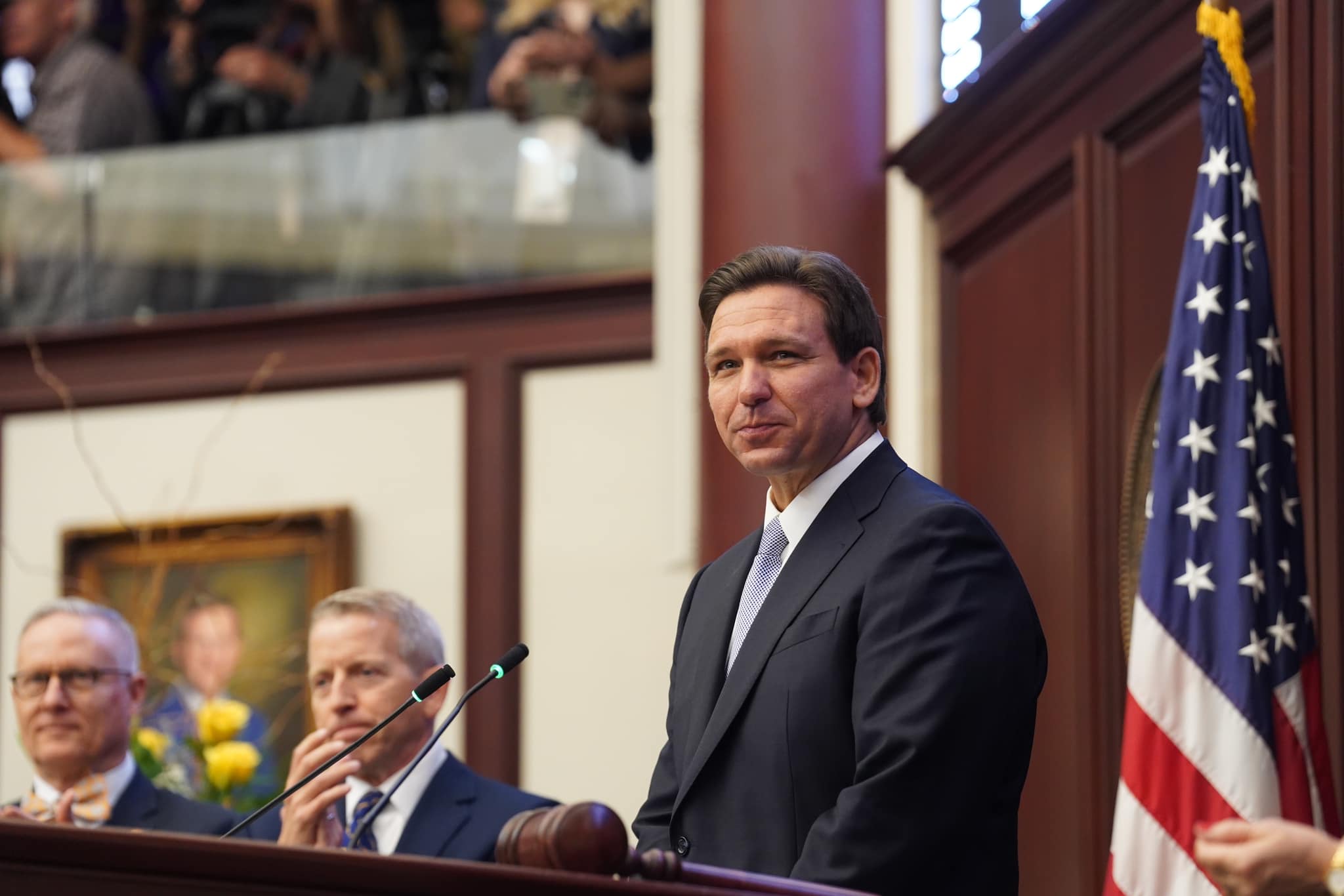 TALLAHASSE – Republican Governor Ron DeSantis is aiming to expand the state's controversial 'Don't Say Gay' law to now include all public education from pre-K through to grade 12.
First reported by the Orlando Sentinel, the Florida State Board of Education, headed by Commissioner of Education Manny Diaz Jr., a DeSantis appointee with a long anti-LGBTQ+ track record, has put forth a proposal expanding the "Parental Rights in Education," aka Don't Say Gay' law to include essentially all levels of education that would ban classroom instruction on sexual orientation and gender identity.
When first signed by the governor last Spring, the initial law affected kindergarten through the third grade. This proposal would add from grades 4 to 12, unless required by existing state standards or as part of reproductive health instruction that students can choose not to take or parents have opted their children out of.
Reacting to a question from a journalist during the daily press briefing, White House Press Secretary Karine Jean-Pierre decried the move by the Florida Governor.
She was asked: "Do you have any reaction on Florida Governor DeSantis expanding the rules that forbid classroom instruction on sexual orientation and gender identity?"
The Press Secretary: "Yeah. It's wrong. It's completely, utterly wrong. And — and we've been very cry- — crystal clear about that, when it comes to the "Don't Say Gay" bill and other — other actions that this governor has taken in the state of Florida.
But make no mistake: This is a part of a disturbing and dangerous trend that we're seeing across the country of legislations that are anti-LGBTQI+, anti-trans, anti the community in a way that we have not seen it in some time. And so — and it's not just the LGBTQI+ community. We're talking about students. We're talking about educators. We're talking about, just, individuals.
The President has been very clear, this administration has been very clear: We will continue to fight for the dignity of — of Americans, for the dignity and respect of the community, of opportunity that should be given to students and families in Florida and across the country.
So, again, this is just plain wrong, and we're going to continue to speak against — speak out against it."
Brandon Wolf, Press Secretary for Equality Florida, the largest state-wide LGBTQ+ equality rights and advocacy organization, released the following statement:
"After a year's worth of gaslighting and assurances that the Don't Say LGBTQ law was narrowly focused, the DeSantis Administration is now saying the quiet part out loud: they believe that it is never appropriate to acknowledge the existence of LGBTQ people, or our contributions to society, in schools. This time, the governor is placing the crosshairs squarely on individual educators, threatening their professional licenses for making mention of the LGBTQ community in any grade level.
The Board of Education's proposed rule would see more books with LGBTQ characters ripped from school shelves, more discussion of diverse families muzzled, and further character assassination of hardworking teachers in Florida. Free states don't ban books. Free states don't censor communities out of classrooms. Free states don't copy/paste their political agendas from the likes of Vladimir Putin.
This proposed rule is yet more government power being perverted to serve Ron DeSantis' desperation to run for President. And its consequences will weigh most heavily on those who have already been forced to bear the brunt of his insatiable lust for power."
Equality Florida also noted that while the DeSantis Administration has rejected requests to clarify the law's vague, unconstitutional language, its proposal would add legal liability for individual educators, threatening their professional licenses for violations. The proposed rule is scheduled for a vote by the State Board of Education at their meeting on April 19 in Tallahassee.
DeSantis is considering a run for the presidency and has made culture war issues the forefront of his administration's policies.
Former openly gay Florida Democratic State Rep. Carlos Guillermo Smith tweeted: "It was never, ever, ever, ever about kindergarten thru 3rd grade. It was always about demonizing us and censoring LGBTQ people out of existence in our schools."
Additional reporting by Brody Levesque
Trans teen no longer feels welcome in Florida- So she left
"It was just terror in my heart, like you could just feel that cold burst in my chest just going all throughout my body"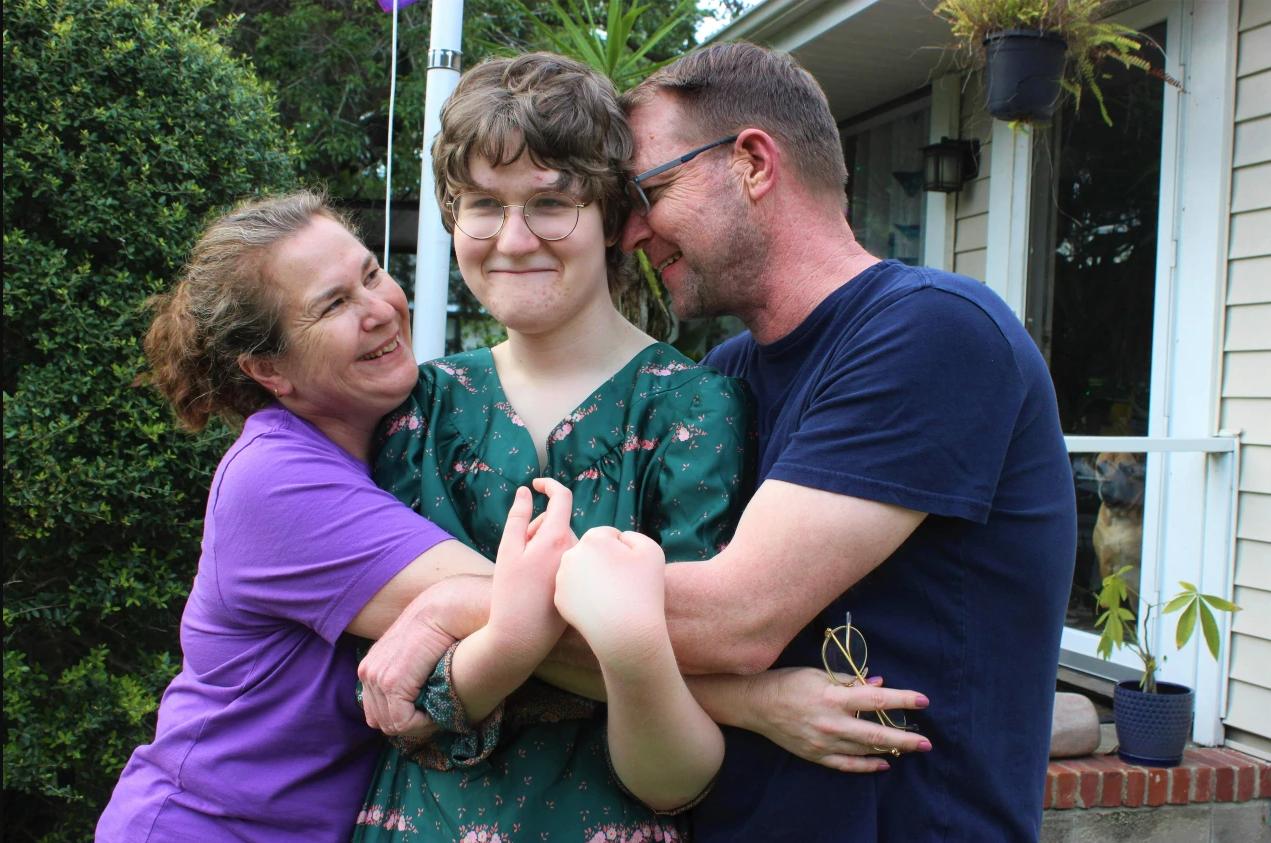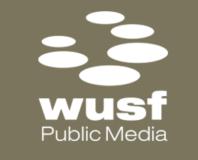 By Stephanie Colombini, WUSF | SAINT AUGUSTINE, Fla. – Josie had put off packing long enough. The high school sophomore in St. Augustine, Florida, sat on her bed while her mom, Sarah, pulled clothes from her closet.
It held a trove of good memories — like the red dress Josie wore to the winter homecoming dance and a pink cover-up she sported at a friend's pool party. Good times like these have felt scarce lately. Josie, who's transgender, no longer feels welcome in Florida.
Her family requested they be identified by their first names only, fearing retaliation in a state where Republican Gov. Ron DeSantis and other officials have proposed, politicized, and passed policies in health care and education that limit identity expression, access to certain school activities, and accommodations for trans people.
The ACLU is tracking bills it calls an "attack on LGBTQ rights, especially transgender youth." State legislation has forced some residents like Josie to rethink where they want to call home.
Josie moved more than a thousand miles from St. Augustine — and her parents — to start a new life in Rhode Island and stay with her aunt and uncle, who live outside Providence.
Preparing her for the move, Josie's mom held up outfits and asked, "Staying or going?"
The formal dress could stay behind. Cardigans and overalls went in the suitcase. At one point, the family dog, Reesie, crawled past the luggage to snuggle up to Josie.
"She has a sense when I'm sad, and just comes running in," said Josie, 16.
Moving to Rhode Island had been Plan B for some time, but Josie said she never thought it would happen. Much has changed in the past year.
Florida is one of more than a dozen states that have passed bans on gender-affirming medical treatments for minors, such as puberty blockers, hormone therapy, and certain surgeries.
Florida's medical boards began debating those bans last summer. For months, Josie was terrified she would lose access to hormones she takes to help her body align with her identity.
Board members argued gender-affirming treatments were "experimental" and, in March, barred doctors from prescribing them to minors. They allowed children who had already started care to continue. But Josie didn't trust that her access would last.
This spring, the legislature considered forcing all trans youth to stop treatment by Dec. 31, part of a bill to bolster restrictions on transgender care.
"I thought that they would realize what they've done wrong and repeal some things," Josie said. "But they just kept going. It just became, like, too real, too fast."
Lawmakers ended up stripping that provision just before the session ended this month, allowing young people like Josie to stay in treatment.
But she had already made her decision to move out of state. School has been challenging at times since Josie came out as trans in eighth grade. Some childhood friends rejected her.
Josie wanted to play on the girls tennis team, but Florida law bans trans girls and women from competing on school teams meant for athletes assigned female at birth.
She said living in Florida was also especially painful after the state passed the Parental Rights in Education law, which "prohibits classroom discussion about sexual orientation or gender identity in certain grade levels." Critics call it the "Don't Say Gay" law and said it has had a chilling effect on some teachers. Josie noticed stickers signifying that areas were "safe spaces" for LGBTQ+ people had been taken down at school.
"Which is just ridiculous, like you want your students to be comfortable and safe," she said.
The new laws and anti-trans rhetoric are hurting kids across Florida, said Jennifer Evans, a clinical psychologist at the University of Florida's Youth Gender Program in Gainesville.
"I'm seeing more anxiety, more depression," Evans said. "Things I hear patients say are, 'The government doesn't want me to exist.' They don't feel safe."
States are pushing measures on all sorts of gender-related issues — not just health care, but what schools can teach or which bathrooms people can use.
Bills don't have to pass to cause harm, said Evans, who is queer.
"It's a lot to feel like enough people in this country don't agree with your existence — which actually isn't affecting them — that people want to shut down other people's access to living complete and affirmed lives," she said. "It's painful to see that."
Four families who sought care at Evans' clinic have already left Florida, she said, while another 10 plan to move this year. Some older teens she treats also want to get out when they turn 18.
But moving isn't easy for many families.
"Just financially, it's difficult to uproot what we've set up," Josie's dad, Eric, said.
They've owned their home in St. Augustine for a long time. Eric recently started a new job. Josie's mom, Sarah, works at a private college that offers a benefit that allows Josie and her older sister to get reduced tuition at some colleges around the country.
So her parents decided that, at least for now, Josie would go live with her aunt and uncle and they would stay behind.
The choice was devastating.
"It was just terror in my heart, like you could just feel that cold burst in my chest just going all throughout my body," said Sarah. "Josie is part of everything I do."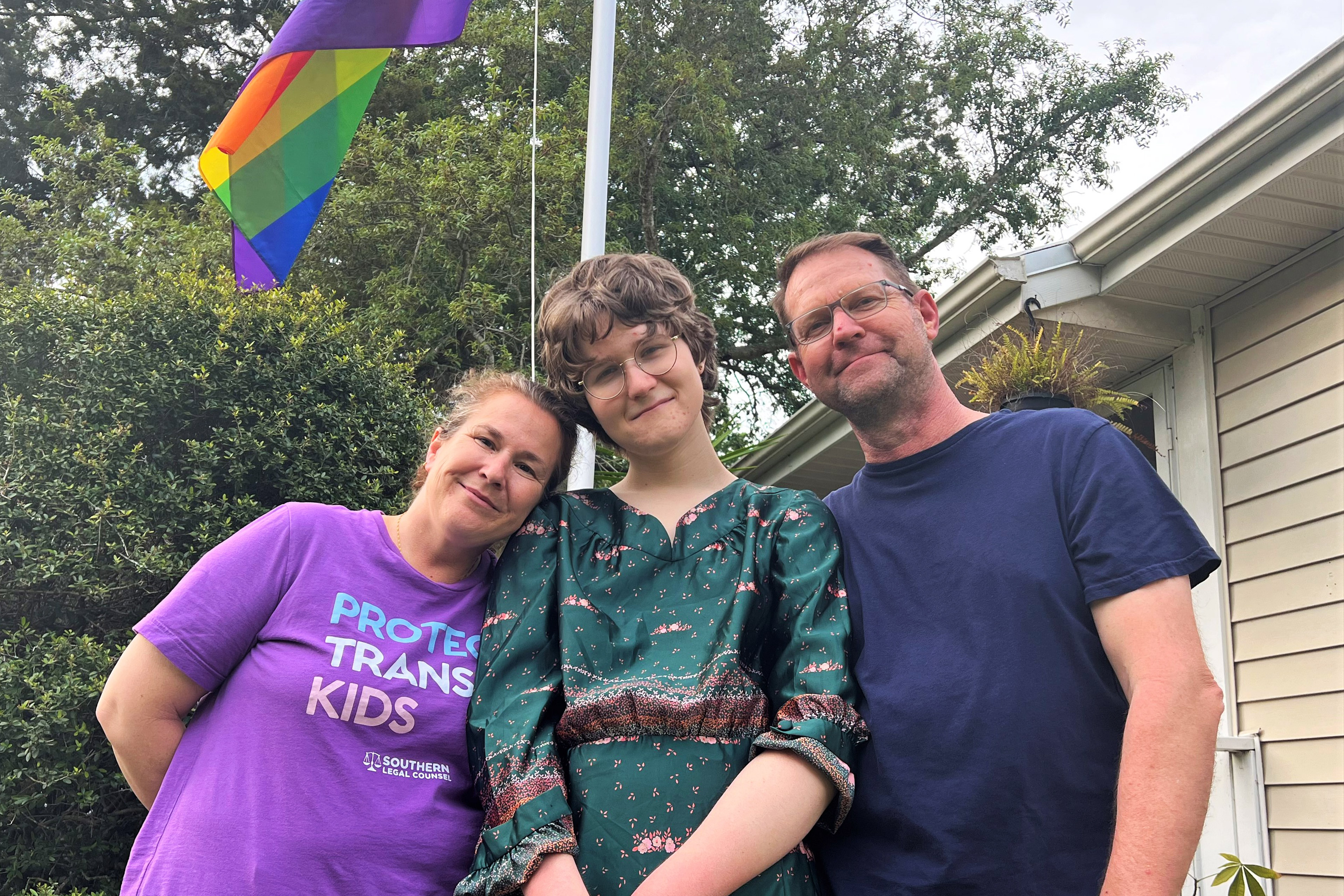 Josie will finish her sophomore year in Rhode Island before returning to St. Augustine for summer break. Her family sees it as a trial run for what could be years of separation.
One night before Josie left, she invited friends over for a going-away party. The teens played a dance video game, laughing as they performed a hip-hop routine.
Sarah brought out a Black Forest cake. "We love you Josie" was piped in frosting along the platter, framed by two hearts.
It was a simple but powerful send-off from the support system Josie has relied on in Florida. A few days later, she and her mom flew north to get Josie settled. Leaving her daughter in Rhode Island was "agony," Sarah said.
"I was a mess," she said. "I cried the whole way to the airport. I just felt I was going the wrong way."
Sarah is still adjusting to life without Josie at home, but they talk every day. And Josie is getting used to her new environment. Her aunt and uncle have been great, she said, and she's making friends at school.
Her new school is a little smaller than her old one and in a community that feels more liberal-minded, the family said. Josie said she loves seeing pride flags in the halls and plans to join the Gender and Sexuality Alliance Club. It all feels like a "bombardment of support."
"It was just, like, such a shock to me — like, not a bad shock, but, like, just shocked that this is how schools can be," Josie said. "It's just that Florida's choosing not to be like that."
DeSantis' office did not respond to several requests for comment to address concerns of families like Josie's.
Since Josie moved to Rhode Island in April, DeSantis has signed four bills that would curb health care and gender expression of trans people.
Josie's parents said they'll keep their pride flag waving in the front yard and advocate for equality while she's away.
Josie said she thinks about the trans kids who can't leave and urged them not to give up hope. But right now, she needs to move on.
******************************************************************************************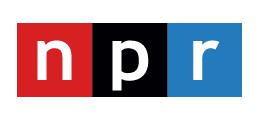 This article is from a partnership that includes WUSF, NPR, and KFF Health News. It can be republished for free.