Trans teacher targeted with bomb threat after Fox News coverage
Fox's fixation on one California high school teacher fits a pattern a right-wing antagonists publicly vilifying openly trans people


By Eric Kleefeld | WASHINGTON – Fox News' propaganda campaign to depict transgender people as public enemies just for existing is leading to harassment against private individuals. The Daily Dot writer Claire Goforth details how Fox News has built up an obsession targeting one transgender high school teacher in California, who goes by "Flint" on social media, resulting in a bomb threat and numerous hate mail.
Goforth reports:
Since September, Fox has published at least five stories about Flint (@justflintisfine), a transgender teacher in Orange County, California. The most recent was published on March 18.
Fox News has repeatedly written about Flint having books in their classroom that include content about LGBTQ sex—which they said were intended for a queer student group—honing in on passages that discuss group sex and BDSM. In its coverage, the right-wing network has not mentioned that the four titles it focused on are rated for the audience they are intended for: teens.
Flint said the district subsequently reviewed and removed the four titles out of hundreds in the library, which were intended for the queer student group. Yet Fox News' subsequent coverage of Flint elides that, making it seem as if the titles are still available.
In an exclusive interview with the Daily Dot last week, Flint described what it's like to be targeted by Fox News as part of the right-wing push against LGBTQ-affirming educators.
"It was hugely traumatic. I'd never been the focus of any kind of national attention, especially national attention that was homophobic," said Flint, who uses they/them pronouns and asked to withhold their last name for safety reasons.
Flint also provided The Daily Dot with emails the school received the same day Fox published its first article about them One example declared: "You should lose your job and face criminal prosecution for endangering a minor. You are a straight up groomer." That and another message also using the "groomer" slur echoed the relentless messaging from Fox News and other right-wing media outlets claiming without evidence that LGBTQ teachers are sexually abusing children.
Things got even more serious in December, when a threatening email falsely claimed that both Flint's individual classroom and the school district offices had been targeted with bombs:
Flint provided the Daily Dot with an expletive-laced bomb threat. The email used the same rhetoric that conservatives have taken to lobbing at LGBTQ individuals, educators, and advocates. It accused the school of encouraging "sexually deviant and degenerate behavior from its staff" and of being "child abusers."
"We won't tolerate this, we won't stand idly which is why we placed multiple pipe bombs in [Flint's] classroom, as well as in other locations in the high school," someone identifying themself as Zamina Tamaro wrote.
"The Capistrano Unified School District Education Center [has] also been rigged with explosives and will detonate shortly after receiving this email. The school district is equally as bad for ENCOURAGING this degeneracy. Fuck you all, we'll see you burn in hell."
Once again, Flint found themself in the gripped by terror.
"It was the kind of trauma that's not easy to recover from," they said last week.
The bomb threat turned out to be a hoax. The Capistrano Dispatch reports that local police and the FBI are investigating.
Fox News has not been deterred from its propaganda campaign against Flint, however, even in the wake of the December bomb scare. The network has continued to write up messages targeting the teacher, with the most recent one published on March 18. Goforth further reported: "The author of Flint's articles did not respond to a detailed inquiry sent via email on March 21. Her author profile is filled with stories covering people in the education system. Fox News did not respond to a general inquiry about the articles and bomb threat."
Fox has copied the playbook of online trolls, targeting individual LGTBQ people and demonizing them as a danger to society. Notably, the network has incited violence and further rage against LGBTQ people in the public education system, then minimized its coverage of anti-LGBTQ violence when it does occur. The network also responded to threats against children's hospitals by further amplifying its scare scare campaign against gender-affirming care.
The network's coverage fits into the larger right-wing media ecosystem, which has sought to dehumanize trans people as a "social contagion" and depict them as an active threat against the entire country.
***************************************************************************************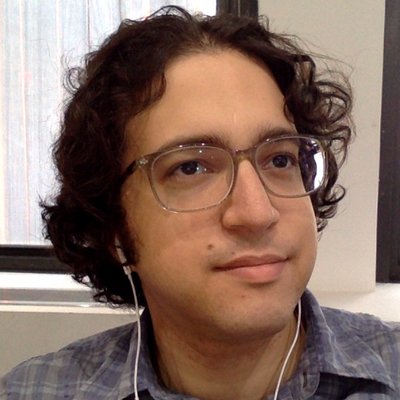 Eric Kleefeld is a senior writer on the Rapid Response Team for Media Matters for America
********************
The preceding piece was previously published by Media Matters for America and is republished with permission.
Since Florida banned most adult trans care: People are suffering
Today marks 15 days since Florida's legislature banned most adult trans care. People are unable to obtain their meds. People are suffering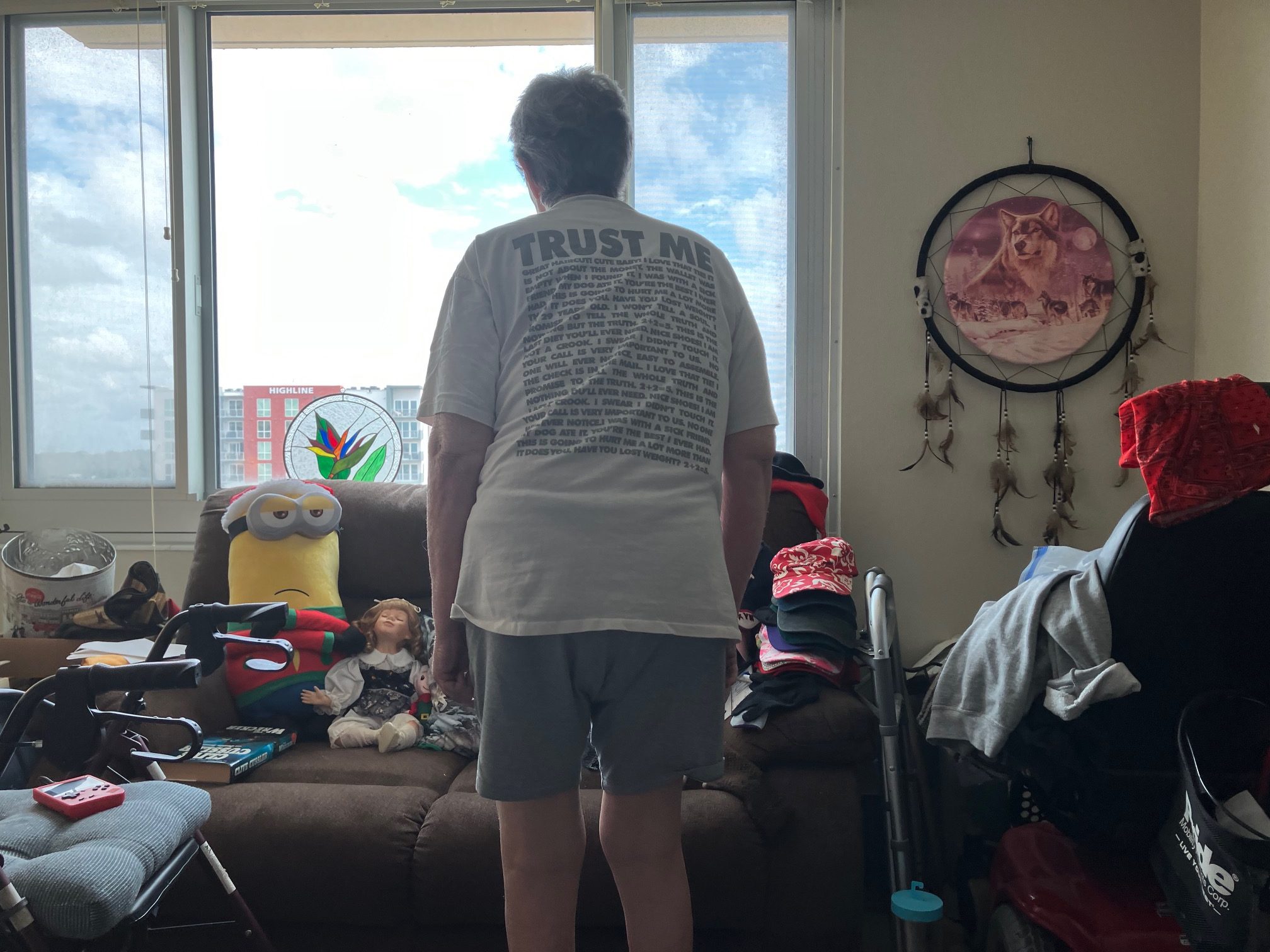 By Erin Reed | WASHINGTON – It's been 15 days since Florida Gov. Ron DeSantis put his signature on Senate Bill 254, putting a halt to 80% of trans adult care while leaving the remaining 20% stuck in limbo.
The repercussions are profound, with many transgender individuals throughout the state losing access to their medications, pushing a multitude into medical detransition. The situation grows ever more critical for transgender residents, with the majority unable to secure prescription refills or make new appointments.
A fortunate few, who either stockpiled their medication or found willing pharmacies, are living on a borrowed time. For the rest, Florida, bearing the second-largest population of adult transgender individuals, is experiencing a chilling experiment: a rapid and extensive removal of lifesaving medication, and people are suffering.
Up until this point, gender affirming care bans have mostly focused on transgender youth. Though there were murmurings of bans that could go up to 26 years old, these were quickly quashed in state legislatures. A few bills, such as a bill in Oklahoma, were amended to bans on gender affirming care under 18 years of age – these bills are extreme enough and represent a major step backwards in transgender rights.
The landscape shifted significantly in recent months, beginning in Missouri. Attorney General Andrew Bailey signed a decree prohibiting the majority of gender-affirming care for transgender adults. The instituted regulations echoed Targeted Regulation of Abortion Providers (TRAP) laws, which impose almost insurmountable requirements on abortion clinics. The policy advanced to a court hearing where it seemed to significantly falter under scrutiny. In a pre-emptive move, the Attorney General withdrew the policy before the judge could render a final verdict.
Several weeks later, DeSantis enacted Senate Bill 254, a law that uniquely targets the transgender community in Florida. Initial news reports characterized it as a ban on transgender youth, but its provisions concerning transgender adults have incited severe distress among this group within the state. The law blocks 80% of gender-affirming care for transgender adults by barring nurse practitioners from offering this care. Organizations like Planned Parenthood, one of the largest providers of this care, rely on nurse practitioners heavily.
For the remaining 20% who receive their care from MDs or DOs, they face significant challenges refilling prescriptions at pharmacies that are currently trying to interpret the implications of these regulations on their risk. Additionally, the bill stipulates that transgender adults, even those who have previously received care, must be given a medical disinformation and informed consent form sanctioned by the state's Board of Medicine. The Board, however, has yet to produce such forms, leading to an additional layer of difficulty.
Transgender researcher Zinnia Jones' website, Gender Analysis, has outlined the exact impact of this bill on the community in a flowchart, showing how no matter how you received your care as a transgender adult in Florida before, it is likely you are facing severe disruptions:
Speaking with Erin In The Morning, Mia, a 38 year old transgender woman, shared an email from Planned Parenthood stating that gender affirming care services were paused. Though Planned Parenthood sent an emergency refill to Publix that was valid before the law took effect, the pharmacy has refused to fill her prescriptions and she was told to return in 4 months once the impact of the law could be evaluated.
See the email she received:
When asked what would happen if she lost access, she said, "I'm scared to lose access completely, especially since moving isn't really an option right now. Losing access or not being able to refill would be possibly the worst thing. The last 9 months have been the best mental health wise, even with all of the fear from the law changes. I'll find refills through the gray market before being forcibly detransitioned."
She is still trying to find ways to fill her prescription legally.
She has stated that leaving the state may be an option after she finishes her bachelors in legal studies and can work long enough to afford to move, stating that it will take "about 6 months to a year to get out."
However, as Jones points out, "Leaving the state is also not a realistic or scalable option: Florida has the second-largest adult trans population in the country after California. 94,900-100,000 adult trans people are affected by this ban."
You can see the figures here:
Kameron, an 18 year old transgender man in the state, agrees that leaving would not be an easy option, stating that "it would uproot my entire life here."
Kameron also received his refills from Planned Parenthood and was told that he would be unable to refill his prescriptions. Though he has heard that some doctors might be able to prescribe medication, he knows that the informed consent form to receive care mandated by the state has not been developed yet. As a result, he has been forced to rely on his stockpile that he gathered in preparation for laws like this.
Lucina, a trans individual residing in Florida, received a notification from her healthcare provider stating her care would be discontinued due to her provider being a nurse practitioner. The correspondence indicated that the enactment of the bill prohibited the continuation of her care, and she should promptly seek a legally authorized physician. The letter suggested that she contact primary care providers as a desperate measure, even though these providers often lack training in gender-affirming care. Even if they agreed to provide such care, without the necessary informed consent form, which is yet to be produced by the Board of Medicine, these physicians would likely be unable to administer it.
Here is the letter she received: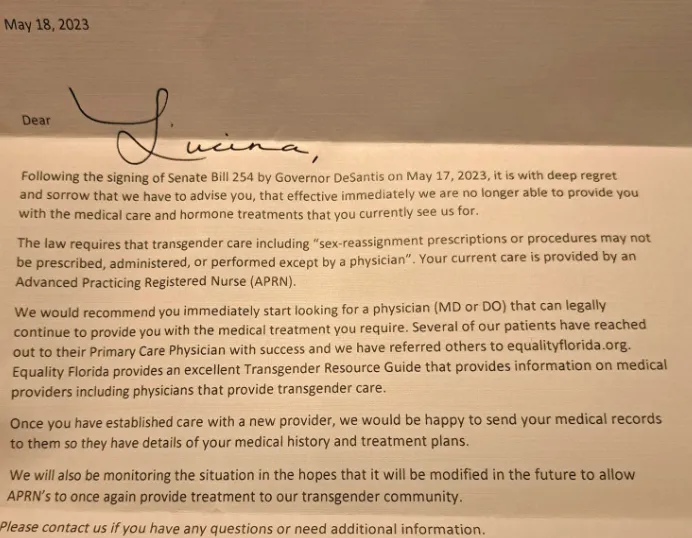 Gender-affirming care is lifesaving. Numerous studies have proven its positive effect on transgender individuals, including research that indicated a 73% reduction in suicidality and another study that reflected a 40% decrease in recent suicide attempts. Over 50 studies underscoring the advantages of gender-affirming care have been collected by the Cornell University Center for the Study of Inequality. Policies such as Senate Bill 254 not only deprive individuals of this essential care but also inflict trauma on transgender people by abruptly discontinuing their treatment.
The future of transgender people in Florida hangs in the balance. The contentious law is currently under legal scrutiny, with an imminent decision expected regarding a motion for a temporary restraining order to halt its enforcement. Concurrently, the Florida Board of Medicine is scheduled to convene on Thursday to deliberate on the law, possibly initiating the process to create state-required informed consent and disinformation forms. As each day passes, the situation becomes more precarious for many transgender individuals in the state who are being forced to discontinue their hormone therapy unsafely or turn to alternate methods.
****************************************************************************
Erin Reed is a transgender woman (she/her pronouns) and researcher who tracks anti-LGBTQ+ legislation around the world and helps people become better advocates for their queer family, friends, colleagues, and community. Reed also is a social media consultant and public speaker.
Follow her on Twitter (Link)
Website here: https://www.erininthemorning.com/
******************************************************************************************
The preceding article was first published at Erin In The Morning and is republished with permission.