Easter Drag march & rally in West Hollywood had all eyes upon it
2500+ people gathered for a rally & march to protest the national political tsunami brought on by Tennessee's criminalization of drag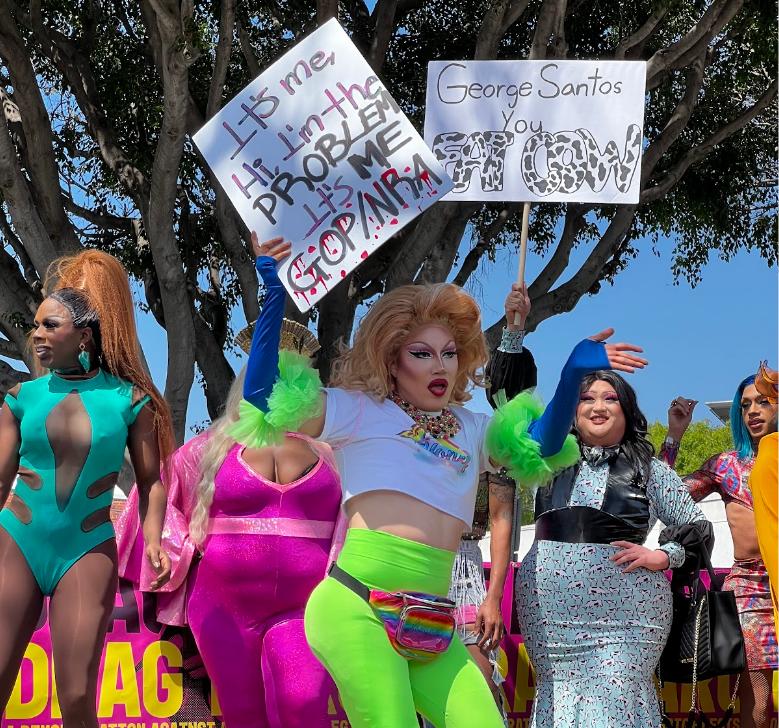 WEST HOLLYWOOD – It may have been Easter Sunday but in West Hollywood park today there was something akin to revolution in the air. The spirit of activism has awakened, bringing together a very diverse crowd of more than 2500 people for a rally and march to protest the national political tsunami brought on by Tennessee's laws restricting Drag performers (a law that was today delayed by a Federal judge), in opposition to laws prohibiting gender affirming care for trans youth in several states, and Florida's ever expanding "Don't Say Gay" bill.
"They are policing our right to exist! They're trying to define the contours of our freedoms, restrict our bodily autonomy. And guess what? They've tried this before and they lost," said Joe Hollendoner, CEO of the Los Angeles LGBT Center, setting the stage for the rally ahead of what organizers had billed as a Drag March.
"They are going to lose," he thundered. "Again! Because we are going to win."
"This year alone," he explained, "more than 400 pieces of anti-LGBTQ legislation has been introduced and passed throughout the United States. These bills directly target transgender people by denying them access to gender affirming care and criminalizing their free gender expression. They seek to ban books that include LGBTQ people, erase us from history lessons and want to force us back into the closet," he said.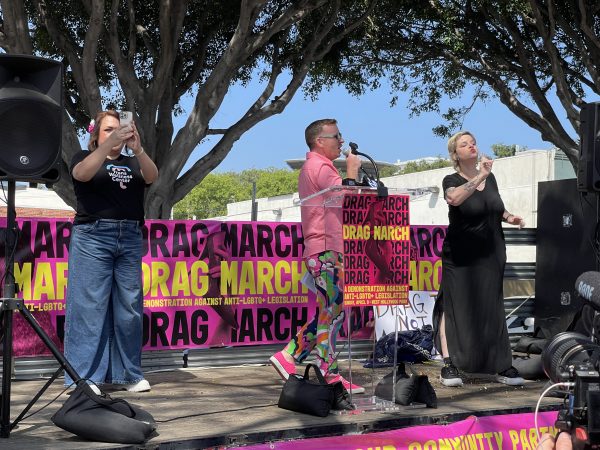 Hollendoner said the bills were part of a carefully orchestrated effort to label the LGBTQ community as a threat to the public.
"We will not allow it," he asserted and reminded the crowd that the tactic is not new.
"We've seen this tactic before. From its very beginning our movement has fought back from a society that used anti-crossdressing laws and accusations of public lewdness to justify police brutality and overreach. From Stonewall in New York, to Compton's Cafeteria in San Francisco and the Black Cat Tavern, anti-LGBTQ legislation has long been used by police to target queer spaces and violate our rights," Hollendoner proclaimed, adding that the fight was really about the next generation.
"We will raise our voices and we will fight and we will march forward side by side until we achieve the equality that we not only deserve but that we are entitled to," he declared.
Hollendoner said his team organized more than 40 community partners to host Drag March and rally and told the Los Angeles Blade that corporate partners must also be part of the solution.
The Blade asked Hollendoner, noting that some important LGBTQ allied corporations had canceled drag shows at their venues in Tennessee, what could be done to prevent supporters from walking away from the LGBTQ community at this time of great peril.
"We need our corporate partners by our side 365 and not just at Pride. They need to defend our rights and protect our rights and always stand up for what is right for our community," he responded.
Los Angeles County Supervisor Lindsey Horvath addressed what it means to be Christian:
"This community is about love. They try to tell us that we are an abomination, being here together in support of one another. Well, I am here to say that it is an abomination to allow young people to die by gun violence in our schools because they refused to take action," she declared and taking aim at Tennessee expulsion of two Black representatives who led protests over that state's inaction on gun control after a school shooting in Nashville killed 6.
"It is an abomination against our API community and against our Jewish community. It is an abomination to see how the LGBTQ community is constantly targeted."  "And they," she said of the legislative hate activists, "know they're wrong. We are the majority and we will continue to rise up."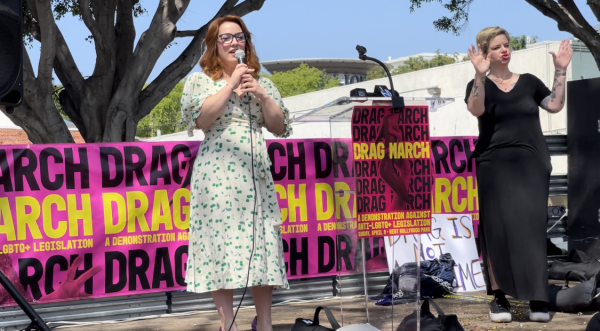 Tennessee has become the new front in the battle for the future of Democracy in the US after Republicans expelled two Black lawmakers from the state legislature for their part in a protest urging passage of common-sense gun controls in the open carry state. Their protest come after a school shooting resulted in the deaths of 3 ten-year olds and 4 adults, including the death of a shooter who may have identified as non-binary. The shooter's identity has been used in political discourse in the Tennessee blogosphere, some rightwing media and some legislators to further demonize the LGBTQ local community and buttress anti-lgbtq legislation, a strategy that at first diverted any discussion of a firearms crisis in the state until a protest on the floor of the Tennessee Assembly led to the expulsion of two Black legislators.
Before the rally, Horvath said the county "will stand strong and firm" on behalf of the LGBTQ community and when asked what the county might do in response to Tennessee's government, said "We have to do all that we can to communicate to the legislators in Tennessee and let them know that will not stand for hate no matter what. We need to let people know that there are a lot more of us who believe what they are doing is wrong," the supervisor responded.
My message to you, for all of us, is to "understand our power," TransLatin@ Coalition CEO Bamby Salcedo said to the crowd when taking the stage at a rally that preceded Drag March. "Do we have power?" she asked the colorful, drag-bedecked, crowd of more than 2,500 people gathered in WeHo Park. The crowd roared and responded "Yes" to which Salcedo exclaimed "Do we fucking have power?" and eliciting an ever more passionate response.
"We need to understand that we DO have power individually and collectively. And we need to understand that our power puts elected officials into office. And our power is the power that's going to get those mother fuckers out. They want to devalue and diminish our existence," she said.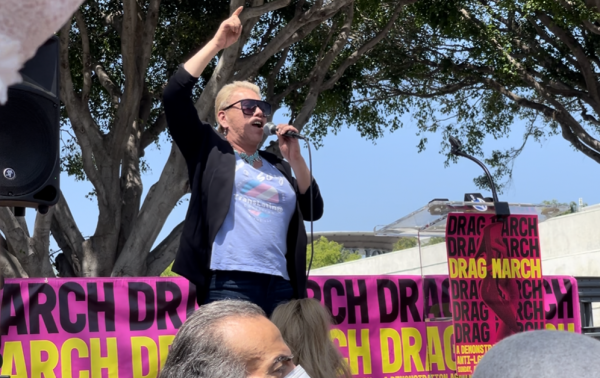 "So, I want to say, FUCK THEM. Let's say it together: FUCK THEM." And the crowd roared with a defiant, yet jubilant chorus of "FUCK THEM."
"To wear our colors is scary sometimes," said Mariana Marroquin, program manager of LA's Trans Wellness Center. Marroquin, who fled the murderous anti-LGBTQ brutality of Guatemala in 1998, worries where all this legislation is headed. "Just to walk out of my home and into the streets is scary sometimes, but I keep doing it. Because, I'm not going back. I am not going back," she said, admonishing the crowd to commit to the young people. "I keep doing my work and I'm going to think about all of you."
West Hollywood Mayor Sepi Shyne also addressed the rally: "We are facing the take away of our rights and our democracy. It's important that we uplift our rights and keep coming out and fighting because if we stop doing that they will win and we will lose our rights. We don't want to fall backwards. That also means fighting for all other intersectional communities that are under attack," she said.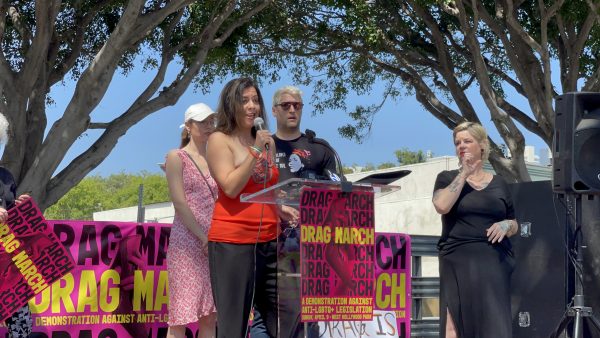 The Mayor also spoke passionately about the parallels to other communities and issues, saying "Women's rights and the rights of Black and Brown people and Asian Americans and all BIPOC folks- if we come together we will win."
"We're going to have to keep coming out and fighting," she added with emotion, "maybe for the rest of our lives. But they can never take away from us our authenticity."
Equality California Executive Director Tony Hoang said the we have to protect LGBTQ youth from the growing backlash, even in solid blue California.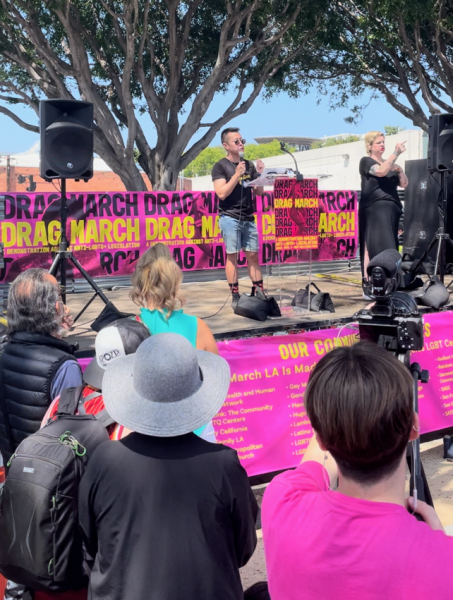 "We are tired of watching right-wing extremists attack our rights and our humanity — and attack trans folks and LGBTQ+ youth in particular," he said.
"Over 400 anti-LGBTQ+ bills have been introduced in Capitols across across state legislatures — with one of those being introduced here in California, AB 1314, a forced outing bill that would require school staff to notify parents within three days after learning a student is identifying as a gender that doesn't align with official records or their birth certificate."
Hoang said there have been reports of some schools enacting the tactic of the bill even though it is not likely to advance. "I promise you this," he said, "we will kill that bill!"
"And when we do," he added "we'll send a message to trans kids everywhere."
Lambda Legal Western Regional Director Los Angeles Shedrick O. Davis III and his partner Barry Ward were among the many notables attending the rally and likely the only ones donning beautiful blue Easter bonnets. Davis expressed concern that although Disney was fighting back in Florida against the "Don't Say Gay" bills;
"Our corporate allies are perhaps more skittish but we have to push back on that and give them the backbone and spine to continue to do what's right by their employees, their customers and our community as a whole. Because financial power can translate into political power. Many state's that could care less about our individual rights do care about the dollar," he said.
Davis gave the example of the corporate backlash in North Carolina to the bathroom bills. "Oddly enough, it was the right who wanted corporations to be considered individuals who should be able to contribute as much money (to politics and causes) as they want, they are people too, suggesting that if our allied corporations resist the bills it would present problems for politics. If they want to come out in support of the LGBTQ community, they certainly have the right to do that."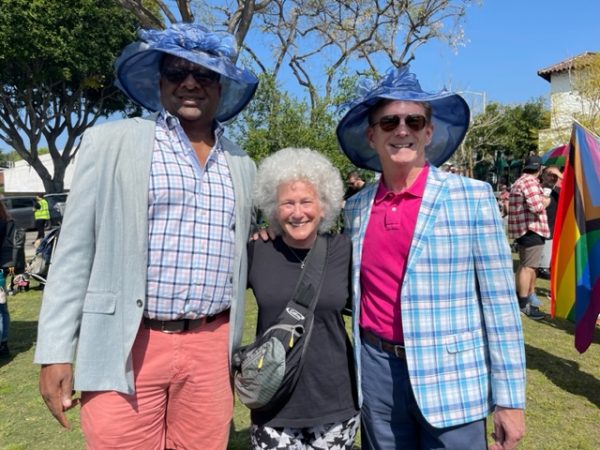 Barry Ward said his chief reason for attending today, aside from supporting his partner's work, is his concern that the right wants to make our community second class citizens. "What's happened in our politics in the last number years is that it's been ok to be intolerant. We have a younger generation who aren't going to go back into the closet," he said. "We have to make sure that LGBTQ kids in schools and the gay/straight alliances and tolerant churches are preserved to support them."
Jazzmun Nichcala Crayton, Associate Director of the Asian Pacific AIDS Intervention Team, focused on the spirituality of drag, reading a poem she wrote for today's event. Here's a portion:
"I am desiring radical change and curiosity in the hearts and minds of folks who don't believe in Drag Queen Magic.
"I am here to remind you to stay committed to practicing non-judgment, compassion, service, authenticity and kindness, ALL with the intention of blessing the world through your loving demonstration. This was told to me by the Inspire Spiritual Community.
"Drag Queen
Rejoice in knowing that every time and everywhere you show up, you bring a sense of humor, wonder and excitement. You remind us all of how important it is to be like a child at play.
"Drag Queen
You are the true representation of all that's Holy and good in this world.
Love is a religion, so let your performances be your ministry, your lip syncing be the anointing and stay baptized and fully immersed in all the glitter, rhinestones and feathers you can glue onto your costumes."
Kerri Colby, a prominent LA-based Ru Paul's Drag Race contestant, took to the stage to Beyoncé's 'Listen,' a song about asserting yourself when you are being pushed around.
Prior to the event, Colby told the Blade that anti-LGBTQ bills are simply "a bullying method to attack diversity because it opens minds, brings new perspectives, changes people," she said.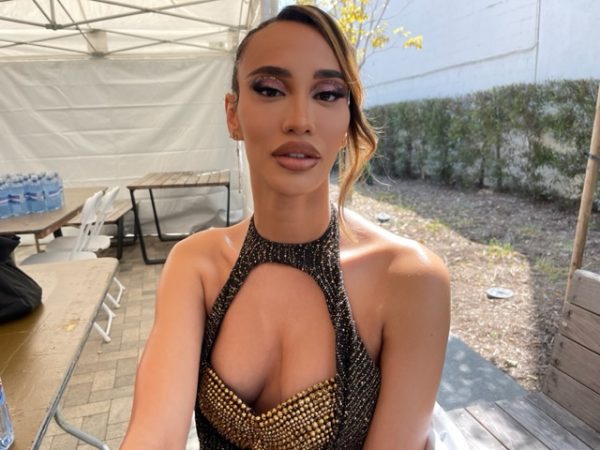 "This legislation is completely unconstitutional but I also feel that this is going to be the best and most important time for the community, every letter, every color, every creed, to let people know that we have a voice. We have a story and we deserve to be listened to. You can't mute us and drown us out. You can't ruin our businesses on which we have worked so hard, you can't take us off the runway or run us off the road," she said referring to the Blade's recent reporting on Marriott and Hard Rock cafe's initial decision to cancel drag shows at their Tennessee venues.
"We're never going to go down without a fight," she said, adding "This is definitely giving some Stonewall energy- in the name of Marsha P. Johnson."
Los Angeles broadcast outlets KTLA and KCAL also covered today's march & rally:
March held in WeHo to protest anti-LGBTQ legislation:
Thousands rally for LGBTQ rights during inaugural "Drag March" in West Hollywood:
WeHo Pride 2023 kicks off Friday, June 2
WeHo Pride Parade will Step-Off at 12 p.m. (Noon) on Sunday, June 4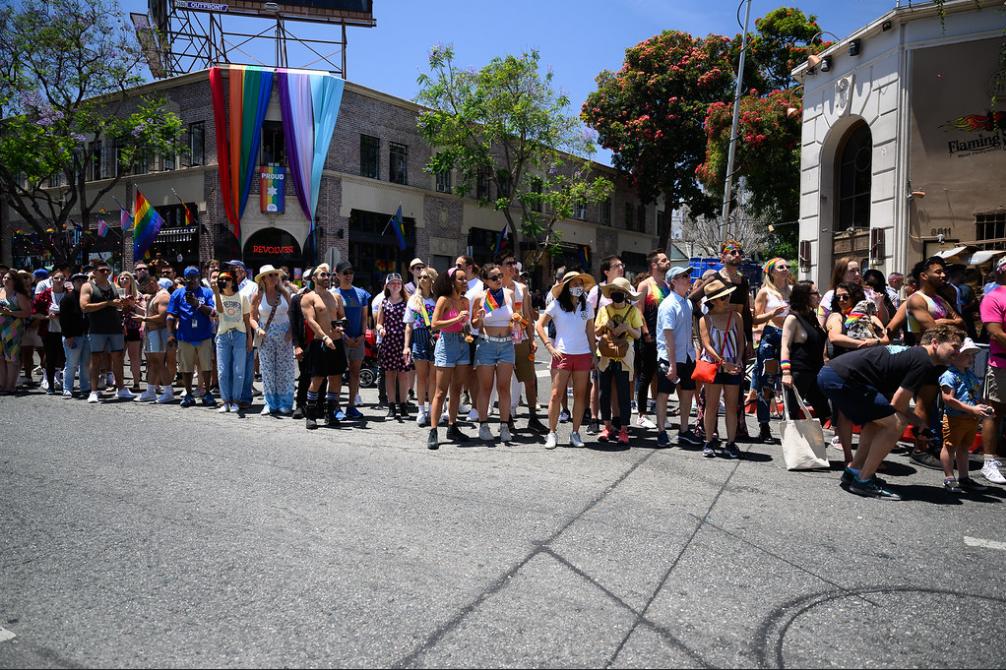 WEST HOLLYWOOD – This second year of the City of West Hollywood's own annual Pride celebration kicks off Pride month with music, arts, the parade, and a host of other activities. Starting off on Friday, June 2 to celebrate WeHo Pride Weekend, WeHo Pride presents Friday Night at OUTLOUD in a free show featuring Idina Menzel, Jessie Ware, Shangela, and Tinashe beginning at 6 p.m.
OUTLOUD at WeHo Pride presents the Ticketed Music Festival on Saturday, June 3 and Sunday, June 4. Produced by JJLA, the music series will feature headliners Grace Jones, Carly Rae Jepsen, Orville Peck, Passion Pit, and many more artists.
The Free WeHo Pride Street Fair and Women's Freedom Festival begins at 12 p.m. on Saturday, June 3 with the Annual Dyke March at 6 p.m.
Free WeHo Pride Arts Festival and Community Group Event Programming Continues through Thursday, June 30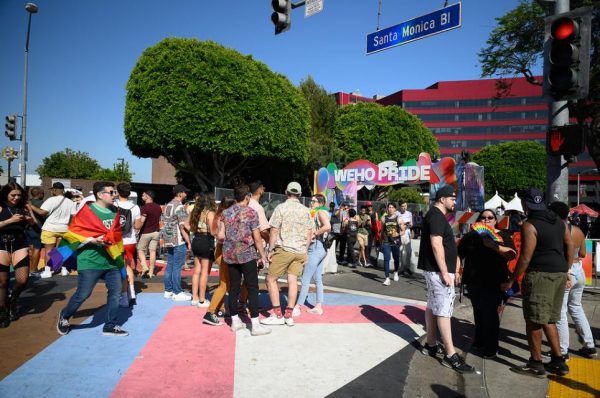 Information about WeHo Pride Weekend street and facility closures is available at www.wehopride.com/eventmap#closures.
Information about the City's Pride Ride free WeHo Pride Weekend shuttle service is available at https://go.wehopride.com/3qfnasc.
Additional information about #WeHoPride is posted at www.wehopride.com and @wehopride on Instagram and Facebook.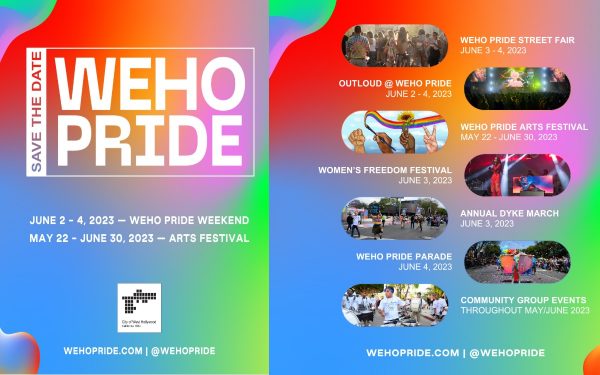 For nearly four decades, West Hollywood has been home to one of the largest Pride celebrations in the United States. Hundreds of thousands of LGBTQ+ people and allies from around the world traditionally make WeHo their annual destination during Pride season.
WeHo Pride Parade will Step-Off at 12 p.m. (Noon) on Sunday, June 4
The Icons for this year's WeHo Pride Weekend Pride Parade will be RuPaul's Drag Race, Laith Ashley, Niecy Nash-Betts & Jessica Betts, and Melissa McCarthy. WeHo Pride will honor these trailblazers and allies as this year's Icons for their work in bringing the LGBTQ community and social justice issues to the forefront, as well as expanding queer representation in mainstream pop culture.
The WeHo Pride Parade will step-off at 12 p.m. (noon) on Sunday, June 4, 2023 beginning at N. Crescent Heights Boulevard at Santa Monica Boulevard, and will travel westbound along Santa Monica Boulevard into the heart of City's Rainbow District to N. Robertson Boulevard.
Full of music, dancing, colorful floats, festive marching contingents, and creative flair, the WeHo Pride Parade is free and open to the public embracing LGBTQ representation, inclusion, and progress.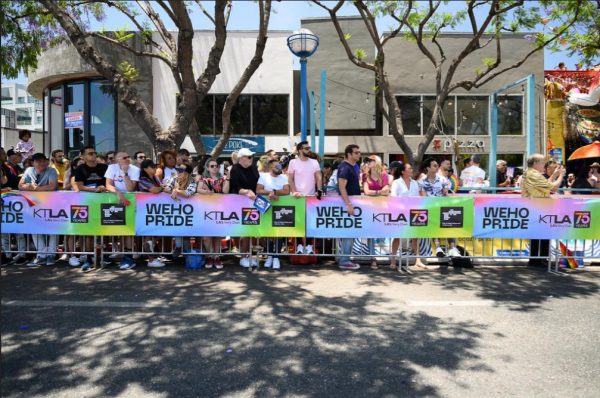 KTLA is the official broadcast partner of the 2023 WeHo Pride Parade. For those not able to attend in-person, tune-in for WeHo Pride Parade coverage on KTLA 5, KTLA + and KTLA.com featuring Cher Calvin, Pedro Rivera, the KTLA Family, and surprise special guests.
"The City of West Hollywood is pleased to kick off another WeHo Pride celebration filled with engaging activities and plenty of opportunities to celebrate the LGBTQ community," said City of West Hollywood Mayor Sepi Shyne. "Our WeHo Pride Parade Icons embody queer joy and fierce allyship by creating spaces where our community can be celebrated, whether that's on the red carpet or directly through their art and advocacy. We're thrilled to celebrate the impact our Icons have in creating a more evolved and accepting world."

RuPaul's Drag Race is being celebrated as this year's Drag Icon and will join the WeHo Pride Parade on a float accompanied by a number of fan favorites from the RuPaul's Drag Race franchise.
Long-time host and judge Michelle Visage will be receiving the Drag Icon award on behalf of the franchise. The illustrious Drag Race series has produced some of the most globally famous drag queens, and the City of West Hollywood is thrilled to include Drag Race participants in this year's parade including Angeria, Gigi Goode, Gottmik, June Jambalaya, Rock M. Sakura, Symone, and more.
Produced by MTV Entertainment Studios and World of Wonder (WOW), the franchise has reshaped international pop culture, earning 27 Emmys, and has created a global network. Fans can catch the current season of RuPaul's Drag Race All Stars 8 streaming exclusively on Paramount+.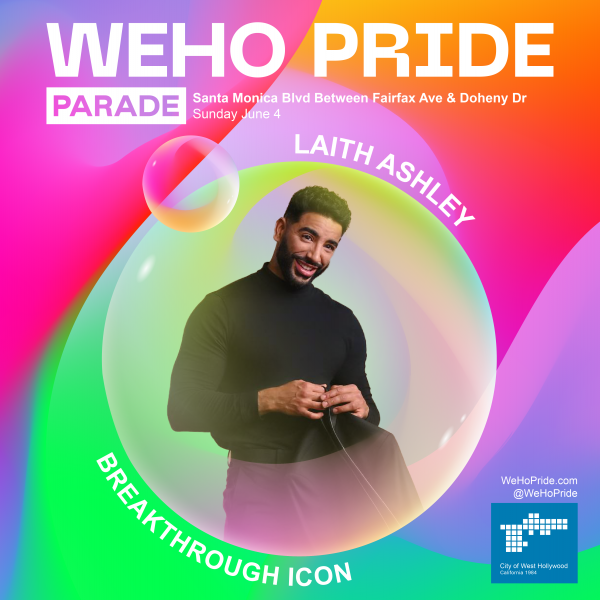 Receiving this year's Breakthrough Icon award is Laith Ashley, a model, actor, and activist who launched his career with a campaign for Barneys New York in February 2014. As of 2023, Ashley was the male lead in Taylor Swift's Lavender Haze music video, and in 2017, he was the first transgender man to be featured in an ad campaign for the Diesel brand.
Since then, he has volunteered with nonprofit organizations like FLUX and the transgender division of AIDS Healthcare Foundation (AHF). Before beginning his career in the entertainment industry, Ashley was a counselor for homeless youth in New York City and spearheaded trans sensitivity training in medical facilities and homeless shelters.
He now uses his platform to help inform others about the trans experience and other marginalized groups, as well as advocate for social justice in hopes of a more open, loving, and accepting world.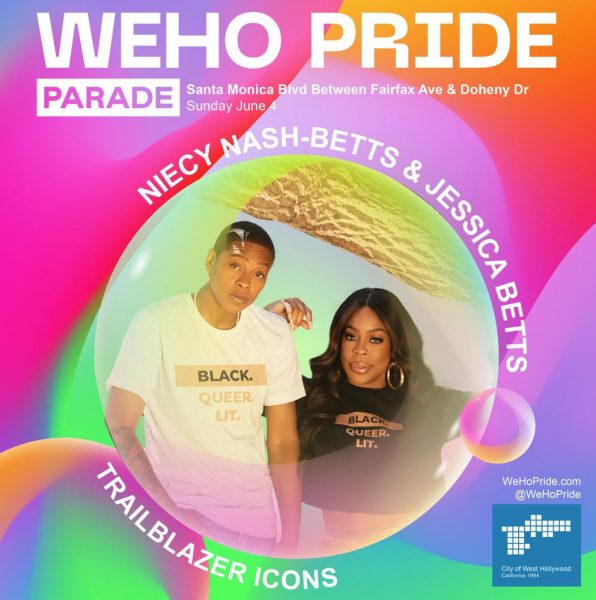 Actress Niecy Nash-Betts and singer-songwriter Jessica Betts will be honored with the title of Trailblazer Icons for blazing their own trail in Hollywood.
The married couple has made HERstory on their own terms by finding love and leaning in. In 2022, Niecy and Jessica became the first same-sex partners to appear on the cover of Essence magazine. The cover story received a nomination for a 2023 GLAAD Media Award in the category of "Outstanding Print Article."
Niecy has gained recognition as an Emmy Award®-winning producer and three-time Emmy-nominated actress best known for her roles on Comedy Central's RENO 911!, ABC's The Rookie: Feds and Netflix's Dahmer – Monster: The Jeffrey Dahmer Story. She is also the host of Don't Forget the Lyrics! on FOX.
Early in her career, Jessica was crowned the winner of Road to Stardom with Missy Elliott. She he has toured with numerous renowned artists and has been inducted into the BET Music Matters showcase.
In recent years Jessica has continued to release music and acted alongside her wife on Comedy Central's Reno 911!: It's a Wonderful Heist, TNT's Claws and ABC's The Rookie: Feds where she and Niecy played a same-sex couple.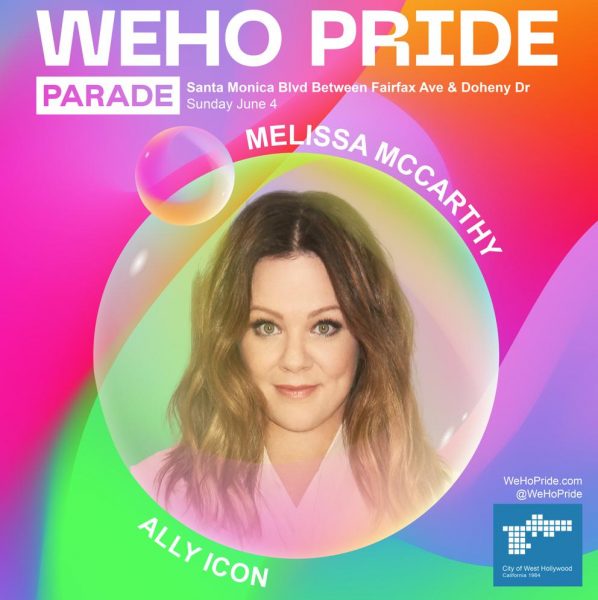 Melissa McCarthy has been named WeHo Pride's 2023 Ally Icon and is being recognized for her outspoken allyship and celebration of the LGBTQ+ community. Emmy winner and two-time Oscar nominee, McCarthy, known for her roles in Bridesmaids, Can You Ever Forgive Me, Tammy, Ghostbusters, Gilmore Girls, and much more, is a staunch advocate for the LGBTQ community and has recently been very outspoken against the anti-drag laws that are being introduced by state legislatures across the country.
West Hollywood and WeHo Pride
Pride Starts Here. For nearly four decades, the City of West Hollywood has been home to one of the largest Pride celebrations in the nation. Hundreds of thousands of LGBTQ people and allies from around the world traditionally make West Hollywood their regular destination during Pride season.
WeHo Pride Weekend (June 2 – 4) will include a free WeHo Pride Street Fair representing a diverse array of LGBTQ community groups as part of visibility, expression, and celebration; the Women's Freedom Festival; the annual Dyke March; Friday Night at OUTLOUD; OUTLOUD @ WeHo Pride music festival; and a wide range of community group programming throughout Pride month.
The 40-day WeHo Pride Arts Festival (May 22 – June 30) takes place at various locations throughout West Hollywood, along with selected online programming.
Additional information about #WeHoPride is posted at www.wehopride.com and @wehopride on Instagram and Facebook.
Since its incorporation in 1984, the City of West Hollywood has become one of the most influential cities in the nation for its outspoken advocacy on LGBTQ issues. No other city of its size has had a greater impact on the national public policy discourse on fairness and inclusiveness for LGBTQ people.
Home to the "Rainbow District" along Santa Monica Boulevard, which features a concentration of historic LGBTQ clubs, restaurants, and retail shops, the City consistently tops lists of "most LGBTQ friendly cities" in the nation.
More than 40 percent of residents in West Hollywood identify as LGBTQ and three of the five members of the West Hollywood City Council are openly gay. The City has advocated for nearly four decades for measures that support LGBTQ individuals and the City is in the vanguard on efforts to gain and protect equality for all people on a state, national, and international level. #WeHoPride @WeHoCity
For more information about WeHo Pride, please contact the City of West Hollywood's Event Services Division at [email protected].
For people who are Deaf or hard of hearing, please call TTY (323) 848-6496.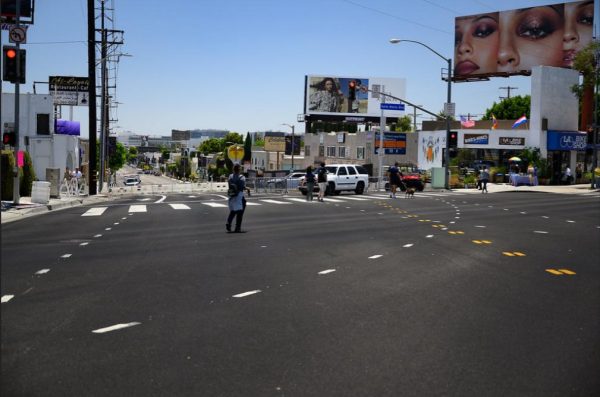 WeHo Pride Weekend Street and Facility Closures
Street and Facility Closure Information: https://www.wehopride.com/eventmap#closures
WeHo Pride reminds the local community and the greater LA region about WeHo Pride-related street and facility closures. Drivers and Metro riders can anticipate increased traffic and commute times; please plan to use alternate routes.
Street Closures:
N. San Vicente Boulevard closed from Melrose Avenue to Santa Monica Boulevard from Thursday, June 1, at 7 p.m. through Monday, June 5, at 10 a.m.
Santa Monica Blvd (Eastbound) closed from N. La Cienega Boulevard to N. Doheny Drive from Friday, June 2, at 12 p.m. (noon) through Monday, June 5, at 7 a.m.
N. Robertson Boulevard closed from Santa Monica Boulevard to Melrose Avenue from Friday, June 2, at 3 p.m. through Monday, June 5 at 7 a.m.
Santa Monica Boulevard (Westbound) closed from N. La Cienega Boulevard to N. Doheny Drive from Saturday, June 3, at 6 a.m. through Monday, June 5, at 7 a.m.
N. San Vicente Boulevard closed from Santa Monica Boulevard to Cynthia Street from Saturday, June 3, at 6 a.m. through Monday, June 5, at 10 a.m.
Santa Monica Boulevard closed from N. Fairfax Avenue to N. Doheny Drive (including side streets one block north and one block south of Santa Monica Boulevard) from Sunday, June 4 at 5 a.m. through Sunday, June 4, at 5 p.m. for the WeHo Pride Parade. Santa Monica Boulevard from N. La Cienega Boulevard to N. Doheny Drive will remain closed though Monday, June 5 at 7 a.m.
Facility Closures: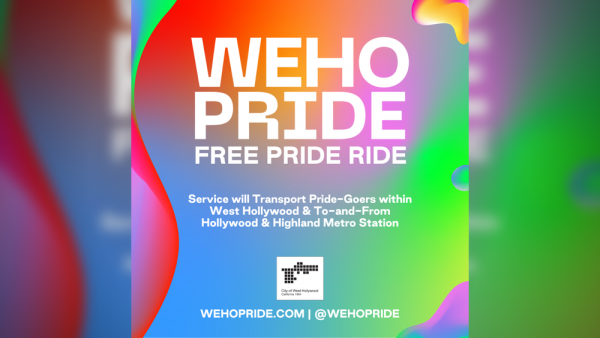 The City of West Hollywood will activate its annual Pride Ride free shuttle service during #WeHoPride Weekend.
More information is available at https://go.wehopride.com/3qfnasc.
Parking Information For WeHo Pride Weekend
Permit Parking Requirements are Suspended from 4 p.m. on Friday, June 2 through Monday, June 5 at 7 a.m.  >>> Parking Meters will be Enforced Throughout the Weekend <<<
 Permit parking requirements are lifted for WeHo Pride Weekend from Friday, June 2 at 4 p.m. through Monday, June 5 at 7 a.m., however parking meters will be enforced throughout the weekend. Drivers can anticipate increased traffic and commute times; please plan to use alternate routes based on street and facility closures.
Please note that Santa Monica Boulevard will be closed during the weekend in both directions of traffic and during closures for the WeHo Pride Parade on Sunday, June 4, 2023, there will be limited access to cross Santa Monica Boulevard for those seeking to drive around the City or access parking locations.
Attendees of WeHo Pride Weekend festivities are encouraged to observe the boundaries of the City of West Hollywood when parking; if parking occurs in the City of Los Angeles and/or the City of Beverly Hills, all parking restrictions for those cities must be observed.
Limited paid public parking near the WeHo Pride site in and around West Hollywood Park may be available on a first-come-first-served basis at the Pacific Design Center, located at 8687 Melrose Avenue; Kings Road Parking Structure, located at 8383 Santa Monica Boulevard; and Hancock Parking Structure, located at 901 Hancock Avenue.