Montana state Rep. Zephyr responds to GOP censure attempt 
Representative Zooey Zephyr gave an impassioned speech against an anti-trans gender-affirming care ban. Republicans want to censure her
By Erin Reed | WASHINGTON – Yesterday, Rep. Zooey Zephyr delivered a powerful speech against anti-trans legislation in Montana. She spoke vehemently against Senate Bill 99, which would force youth to medically detransition, emphasizing the suffering it would inflict.
In her closing remarks, Zephyr shamed lawmakers for even considering the damaging legislation. In response, the majority leader asserted that the body "would not be shamed." Rep. Zephyr answered sharply, "Then I hope the next time there's an invocation and you bow your head in prayer, you see the blood on your hands."
Later that evening, Republicans who belong to the Montana Freedom Caucus, a far-right group of legislators, released a letter calling for her resignation. They released the letter on twitter and misgendered her several times in both the tweet and the letter itself.
Our Caucus is calling for the immediate censure of transgender Rep. Zooey Zephyr after his threatening and deeply concerning comments on the House floor earlier today. #mtpol pic.twitter.com/fDggbLKsJS

— Montana Freedom Caucus (@MTFreedomCaucus) April 19, 2023
Advocates for transgender rights condemned the letter. Organizations like the Human Rights Campaign, PFLAG, and The LGBTQ+ Victory Fund rallied to Rep. Zephyr's side. PFLAG tweeted in response, "Misgendering her as you call for decorum? Do. Better."
Misgendering her as you call for decorum?

Do. Better.

— PFLAG National (@PFLAG) April 19, 2023
Here is the speech that scared the Freedom Caucus in Montana so much that they felt the need to call for censure:
Calls among the far right grew to censure her. Charlie Kirk, who was quoted as saying he wanted trans people to be dealt with "the way we dealt with it in the 50s and 60s," a clear call for lynching, replied in the Freedom Caucus' support. Fox News released a story with a fiery headline. Even Montana's congressperson representing Montana's 2nd district, Representative Matt Rosendale, came in support of the Freedom Caucus.
In response, Representative Zephyr released a statement where she does not back down and instead declares that she will never stop fighting for transgender youth. In it, she closes off with the signature line, "With Pride and Determination."
Here is her full letter: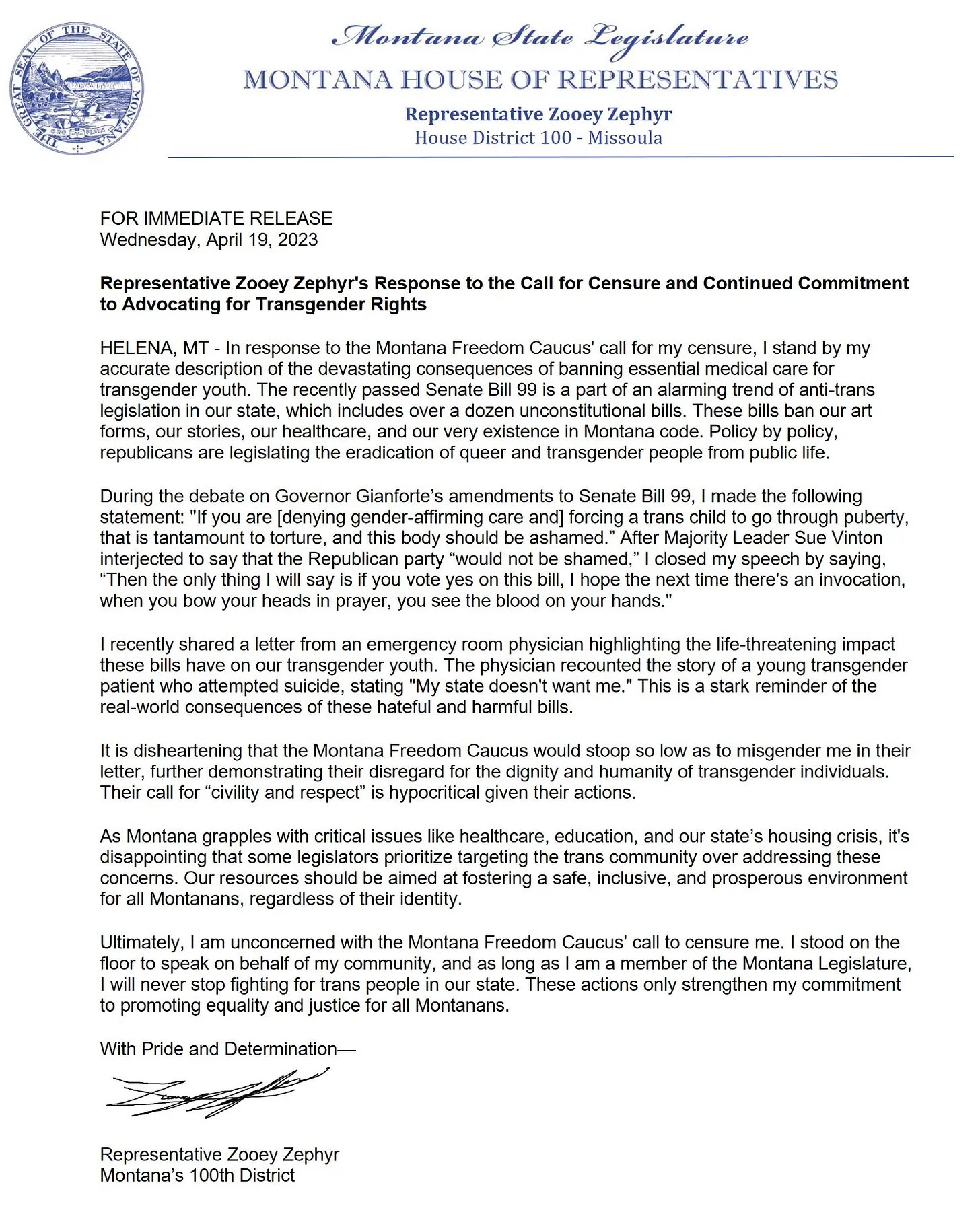 FOR IMMEDIATE RELEASE
Wednesday, April 19, 2023
Representative Zooey Zephyr's Response to the Call for Censure and Continued Commitment to Advocating for Transgender Rights
HELENA, MT – In response to the Montana Freedom Caucus' call for my censure, I stand by my accurate description of the devastating consequences of banning essential medical care for transgender youth. The recently passed Senate Bill 99 is a part of an alarming trend of anti-trans legislation in our state, which includes over a dozen unconstitutional bills. These bills ban our art forms, our stories, our healthcare, and our very existence in Montana code. Policy by policy, republicans are legislating the eradication of queer and transgender people from public life.
During the debate on Governor Gianforte's amendments to Senate Bill 99, I made the following statement: "If you are [denying gender-affirming care and] forcing a trans child to go through puberty, that is tantamount to torture, and this body should be ashamed." After Majority Leader Sue Vinton interjected to say that the Republican party "would not be shamed," I closed my speech by saying, "Then the only thing I will say is if you vote yes on this bill, I hope the next time there's an invocation, when you bow your heads in prayer, you see the blood on your hands."
I recently shared a letter from an emergency room physician highlighting the life-threatening impact these bills have on our transgender youth. The physician recounted the story of a young transgender patient who attempted suicide, stating "My state doesn't want me." This is a stark reminder of the real-world consequences of these hateful and harmful bills.
It is disheartening that the Montana Freedom Caucus would stoop so low as to misgender me in their letter, further demonstrating their disregard for the dignity and humanity of transgender individuals. Their call for "civility and respect" is hypocritical given their actions.
As Montana grapples with critical issues like healthcare, education, and our state's housing crisis, it's disappointing that some legislators prioritize targeting the trans community over addressing these concerns. Our resources should be aimed at fostering a safe, inclusive, and prosperous environment for all Montanans, regardless of their identity.
Ultimately, I am unconcerned with the Montana Freedom Caucus' call to censure me. I stood on the floor to speak on behalf of my community, and as long as I am a member of the Montana Legislature, I will never stop fighting for trans people in our state. These actions only strengthen my commitment to promoting equality and justice for all Montanans.
With Pride and Determination—
Representative Zooey Zephyr
Montana's 100th District
***************************************************************************************
Disclosure: Representative Zooey Zephyr is the author's romantic partner.
***************************************************************************************
Erin Reed is a transgender woman (she/her pronouns) and researcher who tracks anti-LGBTQ+ legislation around the world and helps people become better advocates for their queer family, friends, colleagues, and community. Reed also is a social media consultant and public speaker.
Follow her on Twitter (Link)
Website here: https://www.erininthemorning.com/
******************************************************************************************
The preceding article was first published at Erin In The Morning and is republished with permission.
Since Florida banned most adult trans care: People are suffering
Today marks 15 days since Florida's legislature banned most adult trans care. People are unable to obtain their meds. People are suffering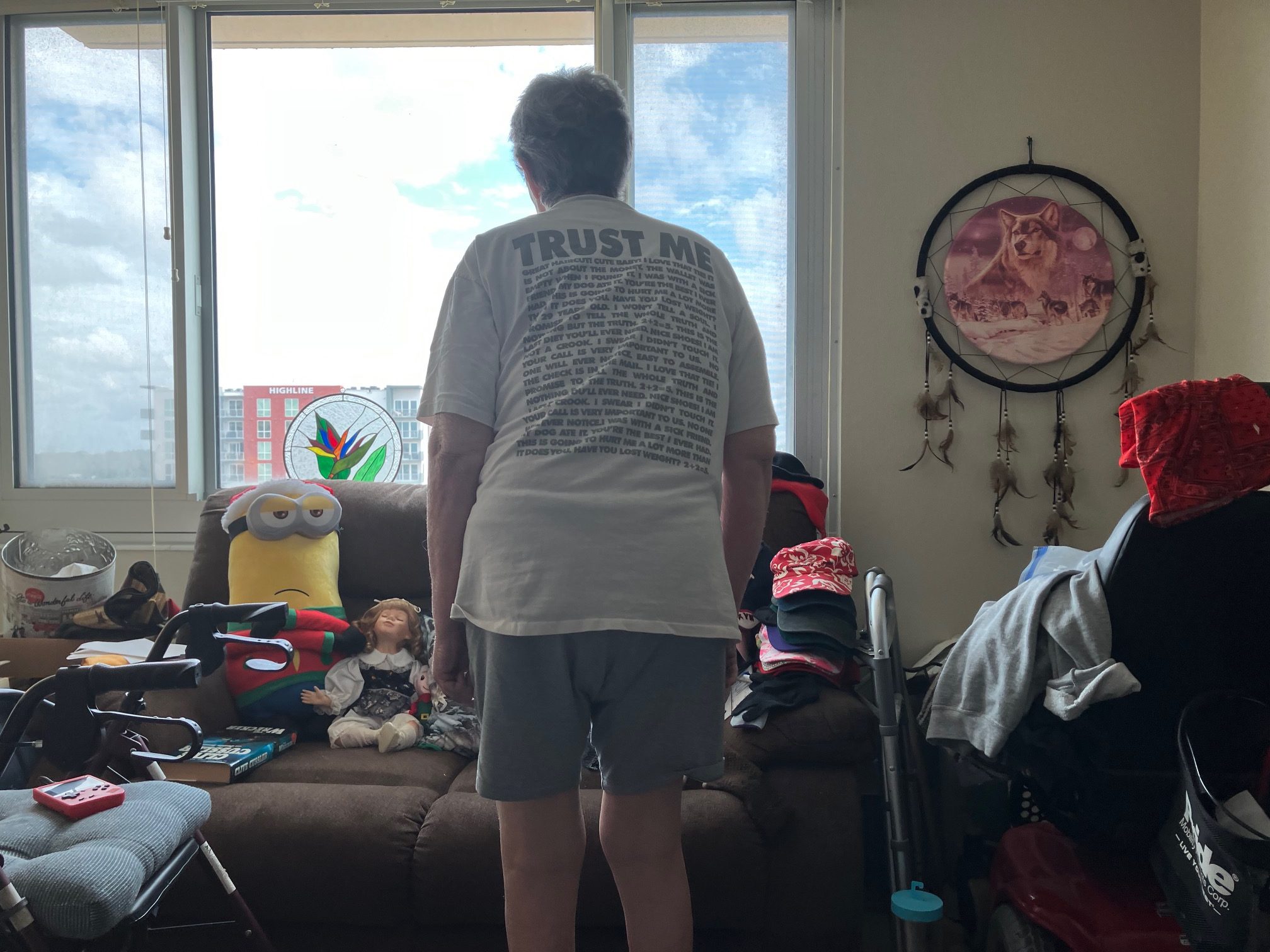 By Erin Reed | WASHINGTON – It's been 15 days since Florida Gov. Ron DeSantis put his signature on Senate Bill 254, putting a halt to 80% of trans adult care while leaving the remaining 20% stuck in limbo.
The repercussions are profound, with many transgender individuals throughout the state losing access to their medications, pushing a multitude into medical detransition. The situation grows ever more critical for transgender residents, with the majority unable to secure prescription refills or make new appointments.
A fortunate few, who either stockpiled their medication or found willing pharmacies, are living on a borrowed time. For the rest, Florida, bearing the second-largest population of adult transgender individuals, is experiencing a chilling experiment: a rapid and extensive removal of lifesaving medication, and people are suffering.
Up until this point, gender affirming care bans have mostly focused on transgender youth. Though there were murmurings of bans that could go up to 26 years old, these were quickly quashed in state legislatures. A few bills, such as a bill in Oklahoma, were amended to bans on gender affirming care under 18 years of age – these bills are extreme enough and represent a major step backwards in transgender rights.
The landscape shifted significantly in recent months, beginning in Missouri. Attorney General Andrew Bailey signed a decree prohibiting the majority of gender-affirming care for transgender adults. The instituted regulations echoed Targeted Regulation of Abortion Providers (TRAP) laws, which impose almost insurmountable requirements on abortion clinics. The policy advanced to a court hearing where it seemed to significantly falter under scrutiny. In a pre-emptive move, the Attorney General withdrew the policy before the judge could render a final verdict.
Several weeks later, DeSantis enacted Senate Bill 254, a law that uniquely targets the transgender community in Florida. Initial news reports characterized it as a ban on transgender youth, but its provisions concerning transgender adults have incited severe distress among this group within the state. The law blocks 80% of gender-affirming care for transgender adults by barring nurse practitioners from offering this care. Organizations like Planned Parenthood, one of the largest providers of this care, rely on nurse practitioners heavily.
For the remaining 20% who receive their care from MDs or DOs, they face significant challenges refilling prescriptions at pharmacies that are currently trying to interpret the implications of these regulations on their risk. Additionally, the bill stipulates that transgender adults, even those who have previously received care, must be given a medical disinformation and informed consent form sanctioned by the state's Board of Medicine. The Board, however, has yet to produce such forms, leading to an additional layer of difficulty.
Transgender researcher Zinnia Jones' website, Gender Analysis, has outlined the exact impact of this bill on the community in a flowchart, showing how no matter how you received your care as a transgender adult in Florida before, it is likely you are facing severe disruptions:
Speaking with Erin In The Morning, Mia, a 38 year old transgender woman, shared an email from Planned Parenthood stating that gender affirming care services were paused. Though Planned Parenthood sent an emergency refill to Publix that was valid before the law took effect, the pharmacy has refused to fill her prescriptions and she was told to return in 4 months once the impact of the law could be evaluated.
See the email she received:
When asked what would happen if she lost access, she said, "I'm scared to lose access completely, especially since moving isn't really an option right now. Losing access or not being able to refill would be possibly the worst thing. The last 9 months have been the best mental health wise, even with all of the fear from the law changes. I'll find refills through the gray market before being forcibly detransitioned."
She is still trying to find ways to fill her prescription legally.
She has stated that leaving the state may be an option after she finishes her bachelors in legal studies and can work long enough to afford to move, stating that it will take "about 6 months to a year to get out."
However, as Jones points out, "Leaving the state is also not a realistic or scalable option: Florida has the second-largest adult trans population in the country after California. 94,900-100,000 adult trans people are affected by this ban."
You can see the figures here:
Kameron, an 18 year old transgender man in the state, agrees that leaving would not be an easy option, stating that "it would uproot my entire life here."
Kameron also received his refills from Planned Parenthood and was told that he would be unable to refill his prescriptions. Though he has heard that some doctors might be able to prescribe medication, he knows that the informed consent form to receive care mandated by the state has not been developed yet. As a result, he has been forced to rely on his stockpile that he gathered in preparation for laws like this.
Lucina, a trans individual residing in Florida, received a notification from her healthcare provider stating her care would be discontinued due to her provider being a nurse practitioner. The correspondence indicated that the enactment of the bill prohibited the continuation of her care, and she should promptly seek a legally authorized physician. The letter suggested that she contact primary care providers as a desperate measure, even though these providers often lack training in gender-affirming care. Even if they agreed to provide such care, without the necessary informed consent form, which is yet to be produced by the Board of Medicine, these physicians would likely be unable to administer it.
Here is the letter she received: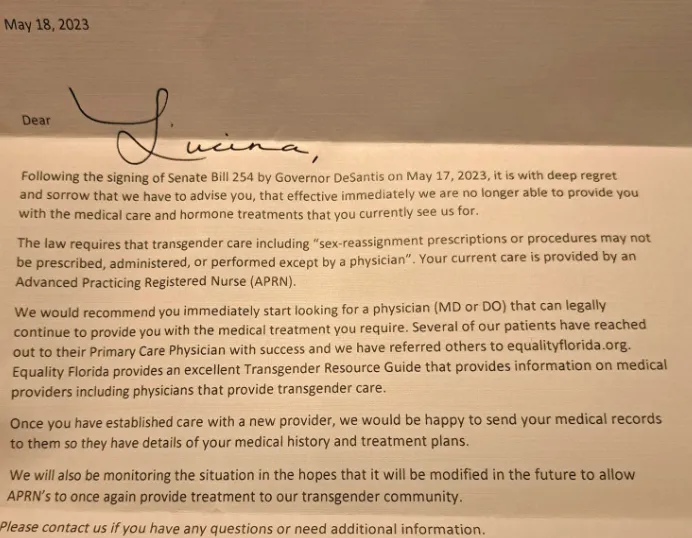 Gender-affirming care is lifesaving. Numerous studies have proven its positive effect on transgender individuals, including research that indicated a 73% reduction in suicidality and another study that reflected a 40% decrease in recent suicide attempts. Over 50 studies underscoring the advantages of gender-affirming care have been collected by the Cornell University Center for the Study of Inequality. Policies such as Senate Bill 254 not only deprive individuals of this essential care but also inflict trauma on transgender people by abruptly discontinuing their treatment.
The future of transgender people in Florida hangs in the balance. The contentious law is currently under legal scrutiny, with an imminent decision expected regarding a motion for a temporary restraining order to halt its enforcement. Concurrently, the Florida Board of Medicine is scheduled to convene on Thursday to deliberate on the law, possibly initiating the process to create state-required informed consent and disinformation forms. As each day passes, the situation becomes more precarious for many transgender individuals in the state who are being forced to discontinue their hormone therapy unsafely or turn to alternate methods.
****************************************************************************
Erin Reed is a transgender woman (she/her pronouns) and researcher who tracks anti-LGBTQ+ legislation around the world and helps people become better advocates for their queer family, friends, colleagues, and community. Reed also is a social media consultant and public speaker.
Follow her on Twitter (Link)
Website here: https://www.erininthemorning.com/
******************************************************************************************
The preceding article was first published at Erin In The Morning and is republished with permission.