The eyes of LGBTQ Texans are upon Dade Phelan and the House
The Texas Senate has passed all of Lt. Gov. Patrick's priority LGBTQ bills — What the House does next will impact queer Texans' lives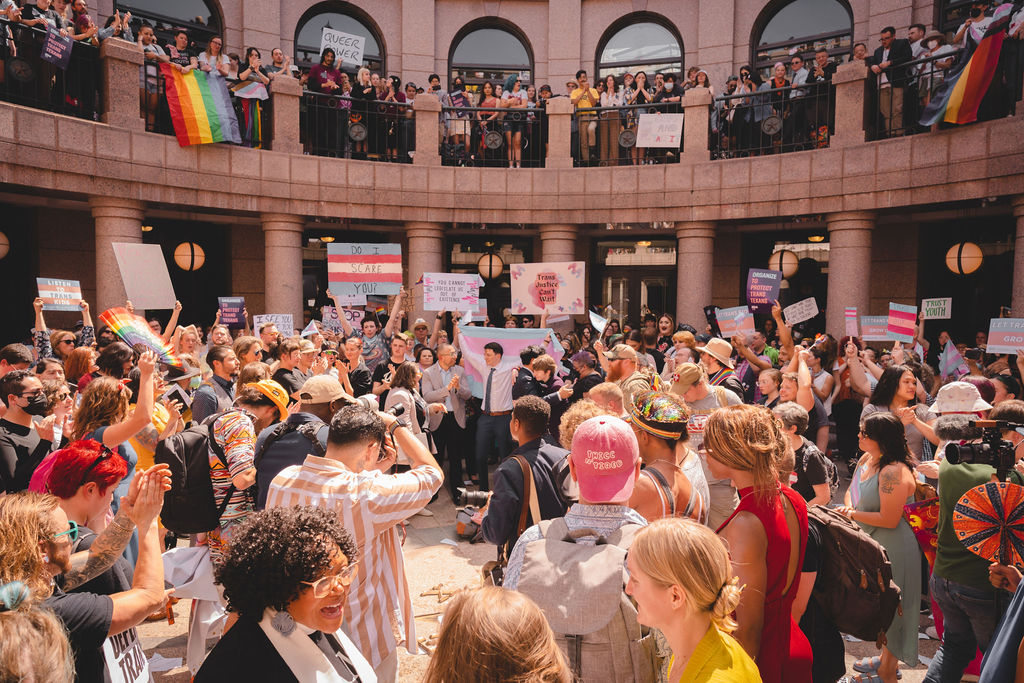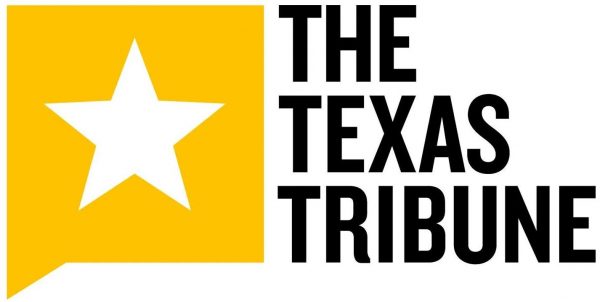 By William Melhado & Alex Nguyen | AUSTIN – The Texas Senate has wasted little time this year passing every bill focused on LGBTQ Texans that Lt. Gov. Dan Patrick prioritized. In fact, the Republican-controlled chamber has even gone further than its ambitious and influential leader asked.
With more than six weeks left in the legislative session, the Senate has advanced legislation that would restrict schools' role in discussing the existence of LGBTQ people, block transgender kids' access to treatments that major medical groups support, ban trans college athletes from joining the sports teams that align with their gender identity, and defund public libraries that let drag queens read to children.
That quick movement — and a flurry of other bills that could restrict how LGBTQ people live — has many Texans and parents of trans kids afraid that political winds fueling the Republican Party's intense focus is about to turn into a tornado that makes Texas completely inhospitable.
"It's feeling more and more like we're just in a pressure cooker and the temperature keeps rising," said Kay, the parent of a trans child who asked that her last name not be used because she fears being investigated for child abuse at the direction of state leaders. "Many of us are having to make really hard decisions."
RELATED STORY
But these bills were always expected to sail through the conservative Senate over which Patrick presides. They now face their first — and perhaps only — uncertainty before reaching the governor's desk: the Texas House.
Even though the GOP has also long controlled the lower chamber, it's also where some of Patrick's most socially conservative endeavors have met their demise in recent sessions. Yet a groundswell of anti-LGBTQ sentiment that's taken root within the GOP makes it anyone's guess whether the House will again act as the Senate's foil.
And Republican House Speaker Dade Phelan isn't offering many clues. Phelan declined to comment this month on his plans for the LGBTQ legislation, including plenty of bills originating in his chamber. That's a far different public tact than Phelan took four years ago, when he was chair of the powerful House State Affairs Committee.
"I'm kind of done talking about bashing on the gay community," Phelan told The Texas Tribune then. "It's completely unacceptable. This is 2019."
In the four years since, Texas' political and social shifts have taken such divergent paths that predicting what happens next proves difficult. And as the leader of a Republican-dominated chamber, the political stakes for Phelan are much higher than when he made that comment in 2019.
Texas is home to more than 1.8 million people who are lesbian, gay, bisexual or transgender, according to the Public Policy Institute of California. And 75% of Texans support anti-discrimination protections for LGBTQ people, according to a 2022 survey from the Public Religion Research Institute. LGBTQ people have seen dramatic gains in acceptance — and constitutionally protected rights — in the past 20 years.
Conservatives have sought to beat back that progress, painting LGBTQ people as "groomers" and pedophiles who want to "indoctrinate" children — which experts say are old anti-gay and anti-trans tropes. The Texas GOP platform declares "homosexuality is an abnormal lifestyle choice" and opposes "all efforts to validate transgender identity."
On Thursday, a coalition of more than 120 advocacy and faith groups publicly condemned the wave of bills targeting the LGBTQ community. Hours later, Democratic chairs of six House Caucuses, including the House LGBTQ Caucus, also released a joint statement denouncing the slate of legislation.
Queer Texans and advocates have said state leaders pushing these proposals are empowering people to target and stigmatize them.
"We do talk about it as a political shift but I do think it's more than that. … We've also seen just an increase in the severity and, now, harassment and bullying and attacks on LGBT people in daily life," said Rachel Hill, the government affairs director for Equality Texas.
Make no mistake: Phelan and the 149 other members of the House aren't afraid to buck the state party platform or thwart Patrick and the Senate. Already this year, the speaker has eagerly waded into a fight with his Senate counterpart over how best to provide property tax relief. And last week, the House used a budget amendment to rebuke the Senate's push to let parents use public money to subsidize private school tuition — a major priority for Patrick, Gov. Greg Abbott and the state party.
But Phelan in particular has to tread carefully, said Mark Jones, a political science professor at Rice University. Unlike the lieutenant governor, who is elected statewide by voters, the Speaker is elected by House members each legislative session. That means if Phelan thwarts a majority of representatives' attempts to craft new laws, he could imperil his own speakership.
"He has to pick and choose his battles on red-meat legislation that comes down from the Senate," Jones told the Tribune. "He can't block it all."
In 2017, buoyed by support from pastors and other social conservatives, Patrick led a crusade to restrict which public bathrooms transgender people could use. The so-called bathroom bill garnered national attention. Transgender Texans flooded the Capitol to testify against the legislation, and businesses vocally opposed it. Still, Patrick's effort ultimately died twice — once in the regular session and once in a special legislative session — after then-Speaker Joe Straus, also a Republican, largely refused to negotiate with him on the proposed restrictions.
"Texans rejected name-calling and scare tactics, and as a result, we avoided a major mistake that would've cost our economy greatly and divided us unnecessarily," Straus told business leaders in September 2017.
That was the fifth legislative term that Straus, a moderate Republican who was elected speaker with the help of Democrats, led the chamber. Shortly after the special session ended, Straus decided not to run again for his seat. But on his way out, the State Republican Executive Committee censured Straus for standing in the way of the group's priorities, including the bathroom bill.
In the next election cycle, Republicans maintained their grip on state government, winning every statewide office. But in key races, they won by some of the slimmest margins in years. And Democrats took 12 Texas House districts from Republicans, giving them more seats than they'd had in a decade. The following legislative session saw far fewer bills aimed at LGBTQ Texans. And it also saw the Texas Legislature's first LGBTQ Caucus, founded by five women in the House. It was in that climate that Phelan made his comments about not bashing the gay community.
Democrats went into the 2020 election confident that they'd gain even more ground. They needed just nine seats to wrest control of the House. But for all the hype, Democrats didn't make a single net gain.
With their power entrenched, Republican lawmakers pushed beyond the bathroom bill in 2021 by filing legislation that would make it harder for transgender kids to access puberty blockers and hormone therapy, which are health care treatments that major medical groups and LGBTQ advocates say are vital to reducing increased mental health issues and suicidal ideation. Republicans also tried to expand the definition of child abuse to explicitly include providing children access to transition-related health care.
Many of those measures didn't become law. But one did. In that year's third special session, the House joined the Senate in to ban K-12 transgender student athletes from participating in the sports teams that match their gender identities.
That same year, Republican lawmakers also redrew political maps that fortified the GOP's hold on state government for the next decade.
The new boundaries meant the vast majority of GOP lawmakers were practically guaranteed to win their general elections, and really faced potential threats to their power only in the primaries races where the most fervent party faithful decide who gets the nomination.
"You have a state Legislature that does not represent the population of the state, but instead has been drawn to explicitly favor members of one political party," said Cathryn Oakley, the state legislative director at the Human Rights Campaign.
According to Equality Texas, the Legislature has filed 140 bills that could harm LGBTQ Texans this session — almost double the number of similar legislation in all of 2021. But Texas is far from the only state where Republicans are pushing bills aimed at LGBTQ people. Restrictions and prohibitions on everything from drag shows to access to gender-affirming care for trans kids have been signed into law or are being considered in Republican-controlled states across the country. Legislation — and rhetoric — targeting trans individuals has particularly ramped up.
RELATED STORY
Joshua Blank, the director of research for the Texas Politics Project at the University of Texas, said the topic of gender identity and trans rights is still a "very new issue" for many Texas voters.
"When you have a new issue like this, it's often the case that the politics favor conservative positions because conservative positions traditionally emphasize maintaining or restoring or returning to the status quo," Blank said.
Last month, former President Donald Trump declared in Waco at his first official 2024 campaign rally that "we will defeat the cult of gender ideology to reassert that God created two genders, male and female."
Few of his campaign promises received the kind of vocal crowd approval as his vow "to cut federal funding for any school pushing critical race theory, transgender insanity and either racial, sexual or political content on our children."
During the Conservative Political Action Conference last month, Michael Knowles, a far-right commentator, called for the "eradication" of "transgenderism" from public life, a popular idea among the far right.
Conservatives have sold their proposals as child safety initiatives, acting on fears that kids are being exposed to medical treatment or sexual content too early. But for LGBTQ Texans, that rhetoric affirms their fears that there's another driving factor: bigotry.
Texas' House Bill 1952 and Senate Bill 162 would block transgender and nonbinary Texas youth from updating their birth certificates with their gender identity. That would prevent young trans Texans from obtaining other government documents — such as those required for identification for education, traveling and employment — that match their gender they present to the world.
"These bills are effectively saying that your identity does not exist, that a trans identity cannot exist in the United States," said Hill, the Equality Texas government affairs director.
LGBTQ advocates also worry that a key Senate bill would force Texas schools to ignore the community's existence. The Senate's sweeping education legislation, Senate Bill 8, is mainly aimed at allowing parents to use public money to subsidize private school tuition. Tucked inside, though, are severe restrictions on classroom lessons, campus activities and teacher guidance on sexual orientation and gender identity. It mirrors a Florida bill dubbed the "Don't Say Gay" law, but expands restrictions to 12th grade.
"Students deserve to be introduced to the beautiful diversity of our state," Equality Texas CEO Ricardo Martinez said last month. "Teaching young people about the lives of LGBTQ+ Texans prepares them for the real world by teaching them basic respect and kindness."
Earlier this year, there were a few glimmers of hope for LGBTQ activists when they looked toward the House.
At the start of the session, Phelan suggested some of the LGBTQ-related bills — particularly the proposed ban on gender-affirming care for kids — would be sent to a select committee that was led by Kingsville Republican Rep. J.M. Lozano at the time. Weeks after that statement, leadership of that committee was handed off to Democratic state Rep. Senfronia Thompson.
Chairs of the committees where bills are debated can heavily influence bills' fate. Committee chairs have wide latitude in deciding which bills to consider — and whether or not to bring them up for a vote to advance them to the full chamber or sit on them and let them die.
But Phelan has instead sent some of the most high-profile LGBTQ bills to committees headed by Republicans.
That includes House Bill 1686, which would block hormone therapy and other transition-related care for kids. The legislation was assigned to the House Public Health Committee chaired by Republican state Rep. Stephanie Klick.
Klick didn't sign on to the 2021 House legislation to ban puberty blockers and hormone treatments for trans kids. And during last year's Republican primary for the North Texas district, her challenger David Lowe gleefully pointed that out.
"Apparently, I am the only one in this race who believes that child gender modification is child abuse and wants to stop it," Lowe wrote in an April 2022 post on his campaign's Facebook page.
Klick was eventually reelected — but not before Lowe forced her into a runoff. When she returned to Austin this year, Klick signed on as a joint author of HB 1686.
When the bill received a committee hearing, more than 2,800 people registered their position on it — the third-highest number of formal stances on legislation in more than 15 years. Only 97 supported it.
After almost 12 hours of listening to testimony — which many LGBTQ people say included misinformation and attacks on trans people — Theo Adams-Hernandez, a lifelong Texan who is trans, left before having a chance to share their story. Klick cut off testimony at midnight and fewer than 50 people were able to speak.
"It's so isolating because how many other people have to go to the Capitol to testify for their life?" Adams-Hernandez told the Tribune. "It feels like forced vulnerability, forcing us to share our stories, forcing us to show that we're human."
Klick did not respond to questions from the Tribune.
When the upper chamber's companion Senate Bill 14 first came to the floor, Republican state Sen. Donna Campbell offered to amend the legislation so that children already receiving puberty blockers or hormone therapy could continue accessing such treatment. While children who identify as trans in the future would not have access to the treatments, those who have found the care to be lifesaving would continue receiving it.
Campbell's Senate colleagues approved the change. And she also received support from state Rep. Tom Oliverson, who authored the House's companion bill, for her effort to "follow the science."
RELATED STORY
But within days, the head of the Texas GOP blasted the move.
"With this amendment, Texas is abandoning every child currently being abused," tweeted Texas GOP chair Matt Rinaldi.
When the bill came back to the Senate for a final vote, Campbell abruptly abandoned the amendment — and in a party-line vote, her colleagues approved the broader version affecting all trans Texas kids.
With the exemption for some trans kids dropped, the state GOP praised the bill's passage.
"Thank you to the Texas Senate, Lt Gov [Dan Patrick], Sen. [Donna Campbell] and the rest of the [Texas Senate GOP] members for passing SB 14 a strong bill that will ban gender modification and mutilation of children!" Texas GOP said in a tweet following the vote.
For months, Campbell has declined to answer questions about SB 14.
On Friday, Klick's House committee advanced new versions of both HB 1686 and SB 14. The bills now require trans youth already receiving puberty blockers or hormone therapy to be "weaned off the prescription drug over a period of time and in a manner that is safe and medically appropriate." The bills would also ban surgeries, though they are rarely performed on kids.
Meanwhile, a majority of House members have expressed support for blocking trans college athletes from joining the sports teams that align with their gender identity and prohibiting puberty blockers and hormone therapy for trans kids. The early majority support for the proposals was striking given that lawmakers were slower to rally around them in 2021. The athlete ban has yet to receive a House committee hearing.
What happens next is hard to predict. The House has a little over a month to approve the Senate bills or pass its own versions of legislation.
State Rep. Jessica González, the vice-chair of the House LGBTQ Caucus, said the LGBTQ community — including everyday Texans, lawmakers and community allies — have been talking with the authors of the bills about the legslation's negative impacts in hopes of slowing down the legislation.
But at the same time, conservative activists are lobbying lawmakers to send the bills to Abbott's desk.
"I think that this is the right time, and we have the right people in place to make the protections happen for children and for women," said Jonathan Covey, policy director for social conservative group Texas Values.
And even though the 2024 primaries are more than 10 months away and the legislative session isn't over, grassroots Republicans are already talking about challenging GOP incumbents if they don't deliver on the party's priorities.
"The Texas Senate under Dan Patrick is getting it done, and the House will fumble under the leadership of Dade Phelan," Julie McCarty, CEO of right-wing group True Texas Project, previously known as the Northeast Tarrant Tea Party, said in a statement to the Tribune. "This all falls at the feet of the Republican State Representatives who knew Dade would screw it up but voted for him as Speaker anyway. We, as GOP voters, must hold those representatives accountable for such a major betrayal."
RELATED STORY
Caught in the crossfire are LGBTQ Texans and their loved ones, whose lives could be upended in any number of ways, depending on which bills pass.
"This is the reality some of us live in. We are not privileged enough to be able to just relax — we have to worry and it is just traumatizing," said Kay, the mother of a trans child.
If Phelan's 2019 declaration that he was tired of bashing the LGBTQ community was considered relatively candid for a lawmaker, Martinez is willing to be far more blunt to fill the Speaker's public silence four years later. Especially when talking about legislation that would block trans kids' access to health care treatments many consider lifesaving.
"If your reelection costs lives, is it really worth the price?"
Disclosure: Equality Texas, Human Rights Campaign and Rice University have been financial supporters of The Texas Tribune, a nonprofit, nonpartisan news organization that is funded in part by donations from members, foundations and corporate sponsors. Financial supporters play no role in the Tribune's journalism. Find a complete list of them here.
***************************************************************************************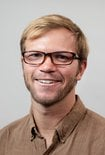 William Melhado, NIGHT GENERAL ASSIGNMENT REPORTER
***************************************************************************************
Alex Nguyen, REPORTING FELLOW
***************************************************************************************
The preceding article was previously published by The Texas Tribune and is republished by permission.
**********************
The Texas Tribune is a nonprofit, nonpartisan media organization that informs Texans — and engages with them — about public policy, politics, government and statewide issues.
Quality journalism doesn't come free
Perhaps it goes without saying — but producing quality journalism isn't cheap. At a time when newsroom resources and revenue across the country are declining, The Texas Tribune remains committed to sustaining our mission: creating a more engaged and informed Texas with every story we cover, every event we convene and every newsletter we send. As a nonprofit newsroom, we rely on members to help keep our stories free and our events open to the public. Do you value our journalism? Show us with your support.
Social media spreads homophobic bullying both online & in-person
A 17-year-old girl became a victim of constant- often violent harassment, resulting in 18 restraining orders & thoughts of suicide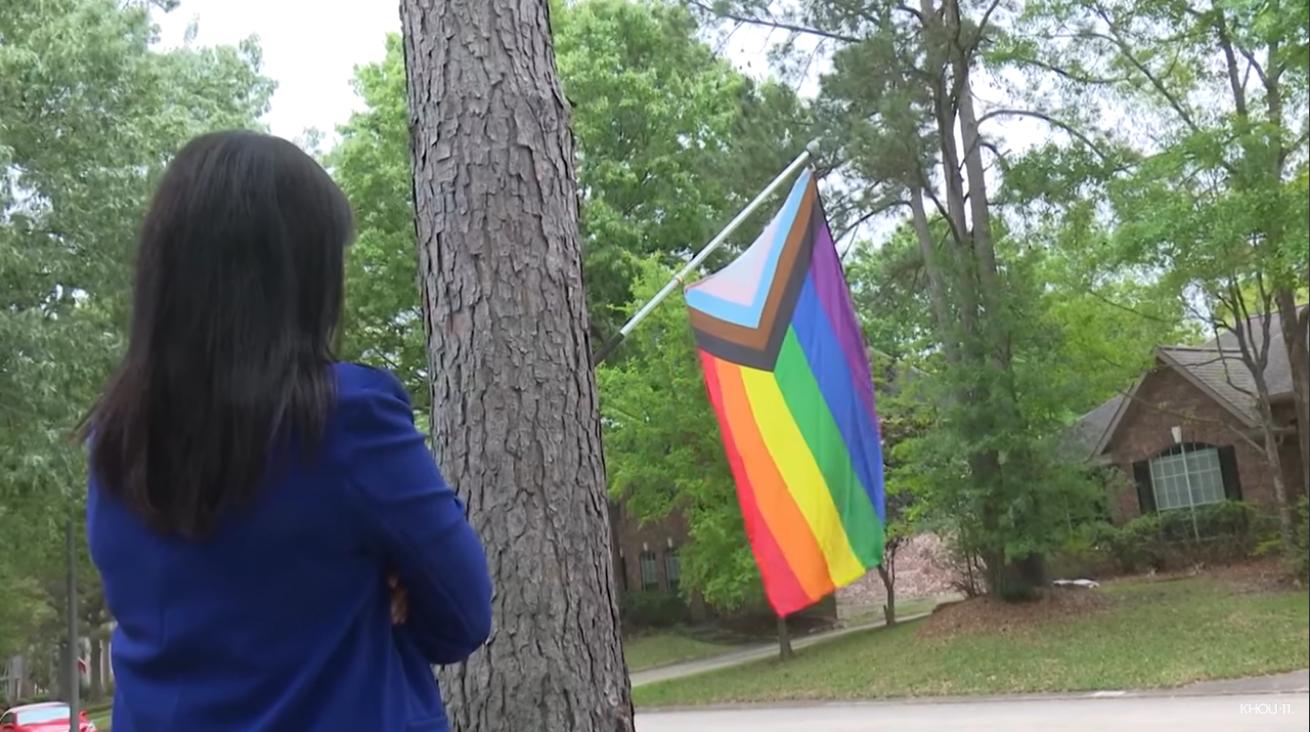 Editor's note: LA Blade journalist Simha Haddad details the ongoing oft times traumatic effects of social media's impact on LGBTQ+ kids, profiling a client of The Rainbow Youth Project a nonprofit based out of Indiana. At her and her family's request, the Blade is not identifying their exact city of residence nor their last name to protect their privacy and mitigate further homophobic hate-filled attacks.
LOS ANGELES – How did one seventeen-year-old child suddenly become the victim of constant and often violent harassment resulting in over 18 restraining orders, virtual home imprisonment, serious thoughts of suicide, and a forced move to a new town? Simple, she came out as a lesbian to her friends.
In another case, a suburban Houston family had put up the LGBTQ+ Progress Flag in October last year in a show of support for their trans and non-binary teens and immediately the harassment started and escalated to physical acts of violence.
CARRIE
Carrie is a self-proclaimed art nerd who loves making ceramics and painting in vivid and bright pastels. She lived at home with her loving mother, father, older brother, and baby sister. Prioritizing love and loyalty, Carrie kept her friend group small and intimate.
"My grandma used to tell me that if you can count your true friends on more than one hand, you need to recount," Carrie told the Blade.
One day, ready to open up to those closest to her, Carrie came out to her best friend. Supportive, the best friend accompanied Carrie to come out to her parents, who accepted their daughter's sexuality with openness and love.
Finally, armed with this love and support, Carrie was ready to broaden her circle of trust. She invited about six friends over for a sleepover, where she confided in them, asking for their support and discretion.
Moments later, as the teenagers lounged on the floor watching a movie, one of Carrie's so-called "friends" created a Facebook post that would alter the course of Carrie's life forever.
"I went from not being popular to being the most popular person but for the wrong reasons," said Carrie.
TOWN vs. GIRL
The Facebook post, outed Carrie as lesbian and mocked her sexuality, but worse, instantly went viral within Carrie's small town outside of Houston.
"It was hell," said Carrie. "I wasn't ready for how quickly it spread. Within 24 hours, it was literally all over town. People had posted it on everything from Instagram to Facebook to TikTok. They were making videos about my weight, saying how that was why I was a lesbian, because I could never get a guy because I was fat and ugly. It was things like that all the way to saying I was a dike who is going to die."
Carrie said that for months, there was no respite from the taunting and harassment.
"Every time I turned around, someone was tagging me and sending me videos or sending me posts that people had made about me."
"I became the target of the town," Carrie continued. "They put stuff in our mailboxes. They would put pictures of transgender surgeries in the mailbox. We even had somebody put female condoms in the mailbox. There was always something."
"Kids at school even sent my phone number through the school email system, saying, 'This is where you can harass her.'
While Carrie's school did step in to stop this unlawful use of the school email system, the damage had already been done. The harassment escalated to physical altercations, making Carrie feel unsafe whenever she stepped outside.
"One day, I was walking my dogs to the park," Carrie recounted emotionally, "and some kids were calling me a carpet-muncher and queer, and all these things. I was just trying to walk home. Then they actually went to the store to buy eggs. They came back and started throwing eggs at me and my dog."
While her peers made many attacks on Carrie, school parents, and other adults also began to join in making her life a living hell.
"Sometimes they would get physical. If I tried to build a shield around myself and ignore it, they would grab my arm and turn me around to make me talk to them," said Carrie.
"One time, a woman grabbed my arm and turned me around, and said that I needed to get right with God. I remember being so scared that I started laughing. It feels stupid to say now, but I was only laughing because I didn't know what else to do. I was so scared. That made her more angry. I don't know who she is to this day."
"I've even had people at Walmart go and buy me a Bible and come up to me and tell me I needed to read it because I'm going to hell," she said.
"One of the hardest things is to realize that these were all adults," Carrie lamented. "How could they walk up to a kid and say the things that they have said?"
Adding to her nightmarish experience, Carrie's harassers made a public game of harassing her, bragging about their encounters with Carrie on Facebook.
"After these things would happen, people would actually go on Facebook and write about the fact that they ran into 'that little lesbian' at Walmart and had to 'tell her all about herself.' I thought, why are you bragging about this? You are a grown person."
"Facebook became like a scoreboard. Every time somebody would do something to me, they would post about it like they were trying to win an award or something. Then somebody else would see it, and they would confront them, saying, 'Well, I can outdo that,' and then they would try. They were building up ideas of what to do to me together on Facebook."
Unsafe both in her home and outside of it, Carrie became more and more isolated, depressed, and afraid. Her parents insisted on going everywhere with their daughter, never wanting to leave her alone for fear of another attack.
"I was like a pet on a leash," recalled Carrie. "I had to rely on my parents for everything. If I wanted to go to the store or the library, they had to stop what they were doing and come with me."
Unable to find respite from the torrent of hate at school, Carrie left to instead use online learning courses to complete her high school education.
A FAMILY UNDER ATTACK
Carrie is grateful for her parents, brother, aunts, and other family members who continue to emotionally support her to this day.
"I'm so proud to have the people in my life support me," Carrie told the Blade. "Without them, I don't think I could've made it."
But, this support came at a price, especially at the height of the harassment over her coming out.
"When people found out that my family was supportive, they would drive by our house yelling things like queer and dyke and lesbo," said Carrie.
Carrie's brother, a popular jock, was harangued constantly by his peers.
"They started attacking him because he was standing up for me," Carrie explained. "He was playing on our football team and our baseball team. His teammates would test him and call me a dyke, and he would almost get into physical altercations. For example, he would be playing a scrimmage game, and if he struck out, they would yell things like, 'Your dyke sister could hit better than you.' They were always name-calling me to him to try to test him."
Carrie shared how the constant taunting almost made her brother give up sports altogether.
"It got to the point where he did not even want to go to practice anymore. But I told him he had to because that was his life. Now he is getting ready to go to college on a baseball scholarship, so that was important for him, but it was hard on him. I've never seen him cry, but he cried to me one night because he was so hurt that they were just constantly shaming it one way or the other."
As they did to Carrie, adults and children alike joined in to make her brother's school life almost unbearable. Carrie recalled one time when a teacher cornered her brother to make comments about the "shame" his sister must feel because of "who she is."
"I think the kids saying those things was one thing. But having a teacher saying that to him, I mean, that was really hard for him."
Carrie's parents also faced attacks by the community. Her father faced discrimination and aggression at work, and her mother was regularly on guard whenever she stepped out of their home.
"My mama almost got in a fight at Walmart," recalled Carrie. "We were in Walmart, and we walked by one of the girls from school was there with her mom, and I heard her tell her mom, 'She's a lesbian,' and the mother said to my mother, 'How can you let your kid be like that?' Well, my mother just blew up. My mother called her every name in the book and was ready to fight. That is not an exaggeration. She was literally ready to fight. At that point, she had seen what my brother and I were going through, and that was just a breaking point.
Carrie felt overwhelming guilt over what her family was going through.
"I felt like that was my fault, and even though my mama would tell me every day, and my daddy would tell me every day, that these people were just ignorant, it still didn't make it better because I saw how it affected them. They felt like they couldn't even leave the house because of me.
"My brother had to close his Facebook account. My mother had to close her Facebook account. She is one of those that used to stay on Facebook all the time. You know how they have all those little bingo games? She used to play those, and she loved it, but she had to close her Facebook account because anytime she posted something, somebody would leave a comment, and she would block them and then somebody else would leave a comment and she would block them. It literally got to the point where instead of playing games and having fun, she was just blocking people all the time."
When advised to file restraining orders against the adults who were targeting her, Carrie hesitated at first.
"I was scared to do that because I thought if I did something like that, what would they do to me then? Then I realized I was just one of the kids being harassed, and if it wasn't me, it was going to be somebody else one day. So, I decided I would try," she said.
"One of the lawyers came down and spent the whole day with me talking about how the trial would go. They said I couldn't use just the screenshots of the harassment because those could be fabricated. I would have to actually go in and tell the stories behind them."
Carrie said that the retelling of those stories is what terrified her the most.
"It wasn't reliving what they did that was the hardest. It was having to sit there and tell the stories to someone in front of everyone. The looks that the courtroom gave me were awful."
The judge sympathized with Carrie's traumatic experience and issued 18 restraining orders against the adults who terrorized her.
"I remember the judge looked at me, and he said, 'Young Lady, don't let these people destroy your heart or who you are. Always be who you are, and know that these people have no power over that unless you give it to them. Do not give it to them.'"
Carrie teared up as she related the judge's support. "That really meant a lot because I was not expecting that."
CARRIE NOW
Carrie now lives with her aunt in a different town closer-in to Houston. She explained that she felt that her new town is much more open, liberal- more accepting of LGBTQ+ people, than the small town she grew up in. When she saw two girls walking down a street holding hands, her jaw dropped and she had to sit down from the powerful feeling of being overwhelmed.
While she is happier and feels more relaxed in her new environment, Carrie is still traumatized by her recent past.
"I wish it was a situation where I don't have to worry about if someone is walking up to me as a friend or if they want to attack me because that's really how it was last year. Every person that approached me is an enemy."
Carrie, who last year often contemplated suicide, is working with a therapist from Rainbow Youth Project to open herself up again and she is no longer suicidal.
The Rainbow Youth Project a nonprofit based out of Indiana, serves as a godsend for many of these LGBTQ+ youth. The organization provides mental health, financial, housing, services, and counseling assistance to homeless LGBTQ+ youth under the age of eighteen across the nation. Without RYP, Carrie's medical needs would be unattainable.
Carrie also hopes to get back to a happier and brighter mental space so that she can start creating the vibrant pastel art that she so loves.
"My art took a turn last year. It started being more reflective. I used to love bright, abstract paintings and pastels, but after last year it took a dark turn. It was more reflective of my mood. It became much darker. I had never used grays or charcoals before that. But everything was all dark colors. Until I get that motivation back for the brightness, I don't want to do art right now."
Carrie is currently working while taking classes at community college. She hopes to eventually enroll in a 4-year college and to one day help other kids like herself.
"I don't know exactly how, but I would love to help other kids in my situation. I don't think I have it in me to be a counselor, but I know Rainbow Youth has an art therapy program. I'd maybe like to work in something like that. I would love to do something to let them know that they are not alone because that loneliness feeling is overpowering."
Finally, Carrie shared a message to those who might be going through something similar to what she had experienced in high school.
"If there is anybody out there who is going through what I did, I want you to reach out to somebody. There are people who will help. There are people who will not only help but will stay with you every step of the way. I thought I was all alone even though I was surrounded by love and support. But there are people out there who are good. It's going to get better. Just please, reach out to somebody."
KINGWOOD, TEXAS
On March 21, 2023, Houston CBS affiliate KHOU 11 reported on a suburban Houston family in Kingwood, Texas, that were being terrorized at their own home due to a flag they have flying outside their house. It's not the flag, in particular, that's causing them to be targeted, rather, it's what the flag represents.
They said they fly the LGBTQ flag to show support for their children, but it has instead led to attacks, vandalism and name-calling by a gaggle of teens.
Dr. Luisa Montoya, the mother of a 12-year-old trans boy and a 17-year-old who's non-binary, had put up the LGBTQ+ Progress Flag in October last year in a show of support for her kids. She told KHOU's Lauren Talarico and Cory McCord that instead it led to attacks, vandalism and name-calling by a group of teens. Dr. Montoya said that the harassment is consistent and has turned violent lately. Some of the acts have been caught on video.
WATCH: