Activists protest Uganda's Anti-Homosexuality Act outside country's D.C. embassy
Bill contains death penalty provision for 'aggravated homosexuality'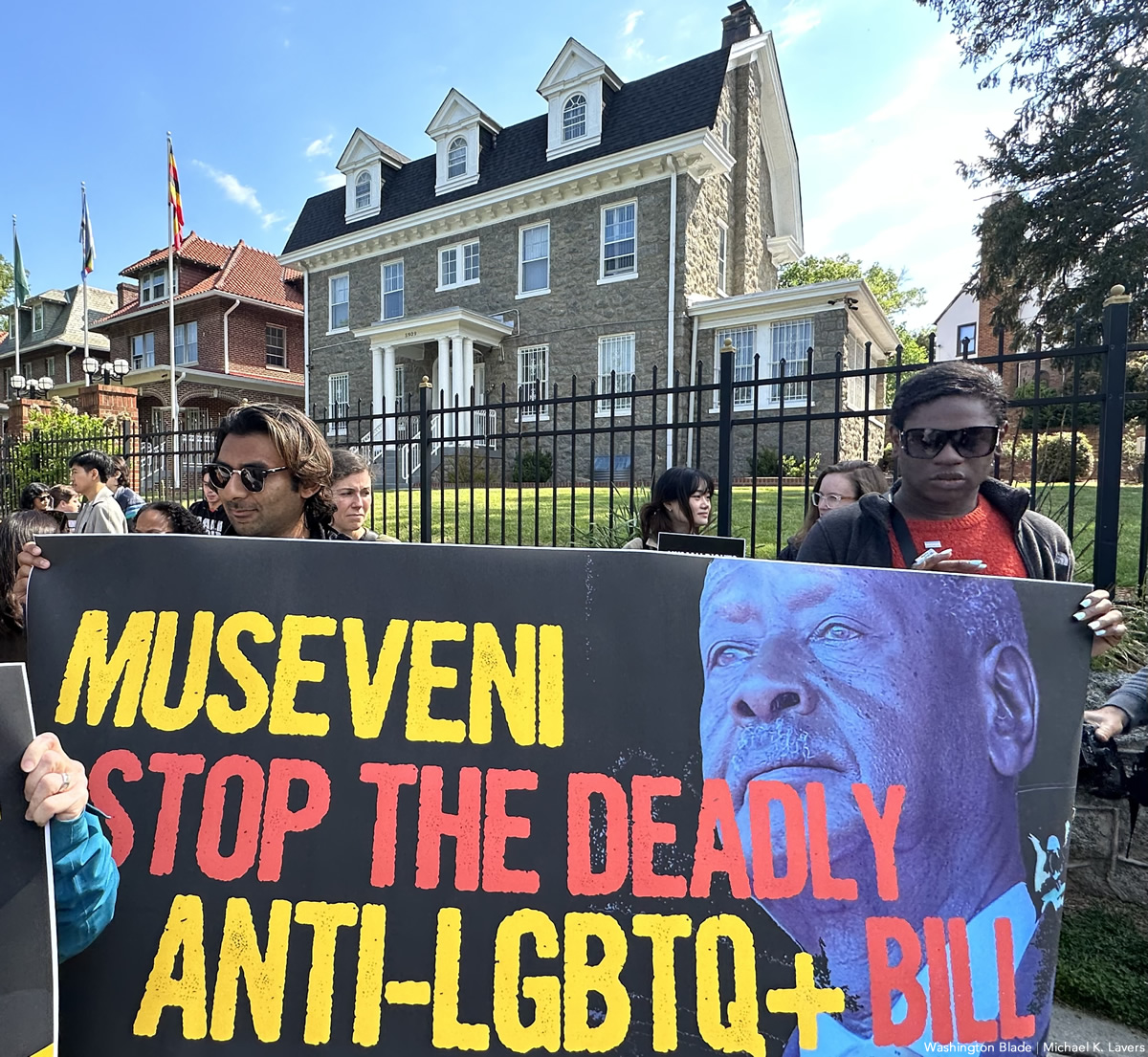 WASHINGTON — Dozens of LGBTQ+ and intersex rights activists gathered outside the Ugandan embassy in Northwest D.C. on Tuesday and demanded President Yoweri Museveni not sign his country's Anti-Homosexuality Act.
The protesters chanted "Museveni, hear us now, we are queer and trans and proud" and "human rights, not hate. Museveni kill the bill" as they stood in front of the embassy on 16th Street, N.W., near Military Road.
Health GAP (Global Access Project) Executive Director Asia Russell, Prevention Access Campaign Global Policy Advocacy Director Michael Ighodaro, Treatment Action Group Government Relations and Policy Associate Kendall Martinez-Wright and Green Leadership Trust Executive Director Emira Woods spoke. Human Rights Campaign Senior International Policy Associate Andrea Gillespie and RFK Human Rights Senior Vice President of Programs and Legal Strategy Wade McMullen, Council for Global Equality Policy Advocate Ian Lekus and Planned Parenthood Federation of America Senior Director of Global Communications Crister DelaCruz are among those who attended the protest.
"We are here today because there is a rising tide of hate that has come from the U.S., exported by religious fundamentalists to countries like Uganda and beyond," said Russell. "On March 21, Uganda's Parliament passed a hateful bill that was co-authored with fundamentalist evangelicals in the United States."
Russell specifically mentioned Family Watch International, an Arizona-based group the Southern Poverty Law Center has designated as a hate group.
"That hatred, which is profoundly un-Ugandan, profoundly un-African, is now threatening the lives of millions of people in Uganda and beyond: People who are queer, Trans, people who are defending basic freedoms and liberties, the people who queer people love, their families and essentially everybody who loves freedom in the country of Uganda," said Russell.
"LGBTQ, trans individuals in Uganda and various parts of Africa and also here in the United States of America are experiencing flat out hate. We come here today to take a stand and to denounce this death sentence. We take a stand for all African LGBTQIA+ individuals in Uganda, from the small villages to the big city of Kampala to tell President Museveni enough is enough."
Martinez-Wright noted the Anti-Homosexuality Act "will hamper the already struggling efforts in terms of eradicating HIV." Martinez-Wright also said "LGBTQ, trans individuals in Uganda and various parts of Africa and also here in the United States of America are experiencing flat out hate."
"We come here today to take a stand and to denounce this death sentence," said Martinez-Wright. "We take a stand for all African LGBTQIA+ individuals in Uganda, from the small villages to the big city of Kampala to tell President Museveni enough is enough."
Ighodaro and Woods echoed Martinez-Wright.
"We're here to say no to Uganda and Museveni," said Woods, who is from Liberia. "We're here today to say no to the forces that are running for office at local and national levels in the United States."
"We are here to say no to the U.K. and the U.S. foreign aid that has also propped up the very anti-homophobic groups that are behind and pushing this legislation in Uganda, in Kenya, in Liberia, in the United States," added Woods. "We say no to this global fight to turn back the clock."
Protests also took place in New York, London, New Delhi and other cities around the world as part of an "Emergency Day of Action" against the Anti-Homosexuality Act that, among other things, would impose the death penalty for "aggravated homosexuality" and require Ugandans to report LGBTQ+-specific activities to authorities.
"As an organization committed to strengthening and advancing sexual and reproductive health care rights and access around the world, Planned Parenthood Global stands in solidarity with the LGBTQI+ community in Uganda and human rights for all," said Lori Adelman, vice president of Planned Parenthood Global's Global Connect program, on Tuesday in a press release. "For over 50 years we have backed brave partners in the advancement of bold and courageous social justice movements and leaders, including Uganda."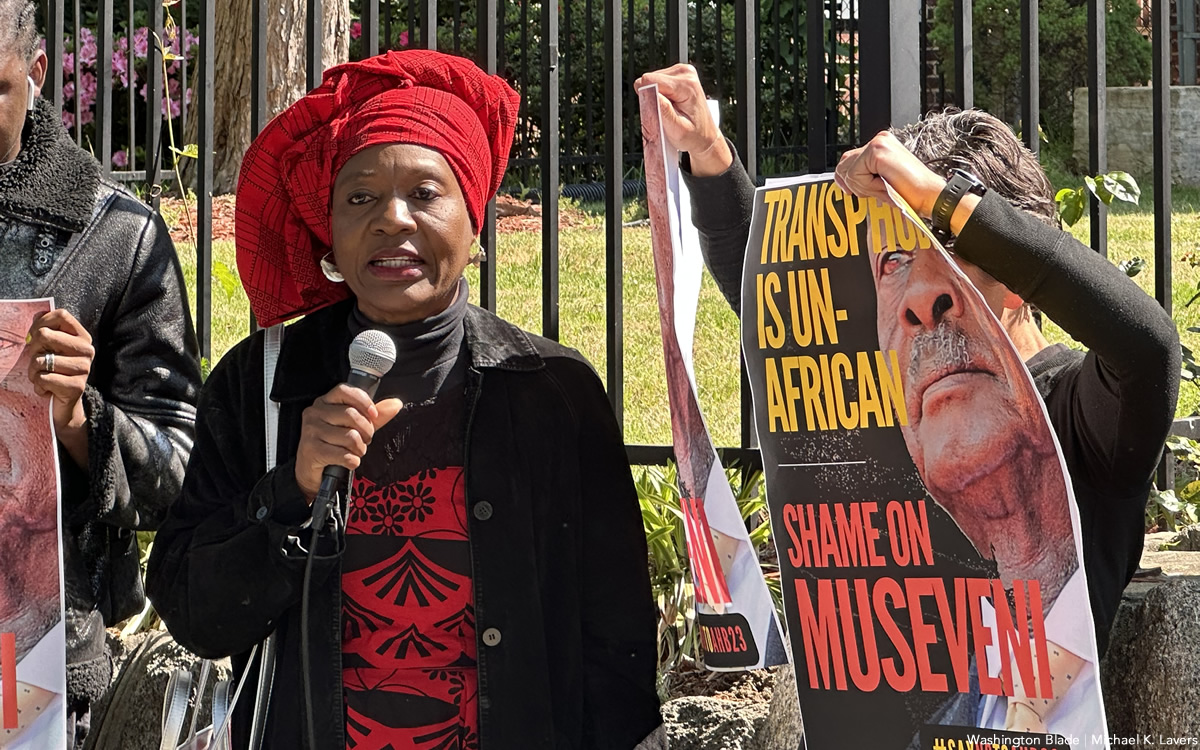 Museveni on April 20 sent the Anti-Homosexuality Act back to Parliament for additional consideration before he signs it.
White House Press Secretary Karine Jean-Pierre and Victor Madrigal-Borloz, the independent U.N. expert on LGBTQ+ and intersex issues, are among those who have sharply criticized the measure. Jessica Stern, the special U.S. envoy for the promotion of LGBTQ+ and intersex rights abroad, earlier this month during a panel with four Ugandan activists the Center for Strategic and International Studies hosted said the Biden-Harris administration is "investing the potential impact of the Anti-Homosexuality Act on U.S. foreign assistance."
"If this bill is signed into law, it will be an action-forcing event," said Stern.
State Department Vedant Patel on Tuesday during a press briefing declined to comment on whether the U.S. will cut aid to Uganda if Museveni signs the Anti-Homosexuality Act. Patel, however, did note to the Blade the State Department has "spoken quite clearly about the legislation broadly."
"We have been clear that we believe that any legislation that reduces or retracts the basic human rights for those of the LGBTQI+ community is something that we certainly would take issue on," said Patel.
Indian government makes case against marriage equality
Landmark Supreme Court oral arguments to end on May 10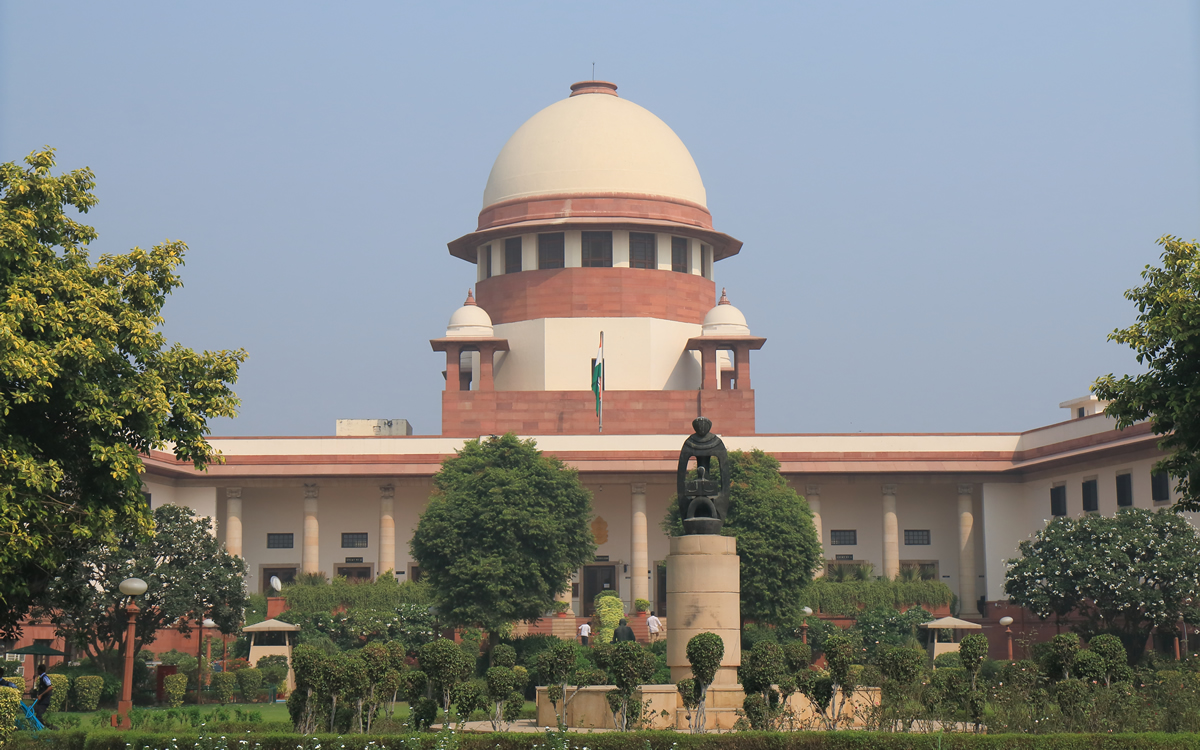 NEW DELHI — While India's national capital, New Delhi, was facing a heat wave on April 26, oral arguments in a case that could extend marriage rights to same-sex couples resumed in the country's Supreme Court.
Solicitor General Tushar Mehta argued on behalf of the Indian government.
"This court is dealing with a very complex subject having a profound social impact," said Mehta, who is the country's second-highest legal official. "All the questions in this case must be left to the Parliament."
Mehta, while arguing before a 5-judge panel headed by Chief Justice Dhananjaya Yeshwant Chandrachud, said the court in Navtej Singh Johar v. Union of India recognized the right to one's sexual orientation. Mehta further said the real question is who will determine what constitutes marriage and between who.
Navtej Singh Johar v. Union of India was the historic Supreme Court ruling that decriminalized homosexuality in the country in 2018.
Mehta, while arguing for the government, said there would be several unintended consequences for several laws is the Supreme Court rules in favor of marriage equality. He argued Parliament and civil society groups would need to debate the issue.
Mehta said that there is no stigma and legislative policy is clear in the Transgenders Act, where it is widely defined to include all genders. Mehta appealed to the Supreme Court to leave the matter of marriage equality to Parliament and argued the court may not be in a position to address the multiple situations that will arise because of adjudication.
"If they (LGBTQ) have a right how will it be regulated?," asked Mehta. There are several shades of the spectrum. It is not just gays, lesbians, etc."
Mehta also spoke about different genders.
He argued that if LGBTQ+ people are given recognition, that is unidentified, it may not correspond with Indian laws and it would be impossible to reconcile through a judgment. Mehta also referenced the Dobbs v. Jackson Women's Health Organization ruling in the U.S. that struck down the Roe v. Wade decision, but Chandrachud said the American Supreme Court ruling that determined a woman has no autonomy over her own body was the wrong judgment.
"We credit ourselves that we have gone far ahead than these, especially Dobbs v. Jackson Women's Health Organization," said Chandrachud. "For socially complex issues, leave it to the legislature, that point is well taken."
Mehta argued India's Special Marriage Act is for regulating interfaith and inter-caste marriages, but the law was always intended for heterosexual couples and not for same sex couples.
Justice Shripathi Ravindra Bhat immediately intervened and asked Mehta whether there was a marriage equality law anywhere in the world. He further said that perhaps there was no foundation for such a marriage to be recognized by law in 1956.
Mehta replied there was neither permissive nor prohibitive operation of law in India until 1956. Mehta on the hearing's sixth day gave a bizarre example to support his argument.
He asked the court to imagine a situation of incest. Chandrachud argued the example is far-fetched and sexual orientation, and autonomy cannot be exercised in all aspects of marriage.
"It cannot be argued that sexual orientation is so strong that incest be allowed," said Chandrachud.
Mehta also argued that extending marriage rights to same-sex couples would impact other laws that specifically address heterosexual marriages. He said that issues would arise across the country, and further highlighted it would be difficult to determine who the wife would be in a lesbian marriage and how she would receive rights — spousal support if she has no financial means to support herself and alimony in the case of divorce.
Justice Pamidighantam Sri Narasimha agreed and said it would be an impossible thing to do.
Chandrachud, while hearing Mehta's argument, noted three points that Mehta was trying to highlight: Adjudication would require substantial rewriting of Indian law, judicial interference in public policy and interference in personal law. The court cannot avoid the interplay between the Special Marriage Act and personal law.
Personal laws in India regulate marriage, divorce and child adoption for different religions. Hindus under personal laws have the Hindus Marriage Act of 1955, Muslims have the Muslim Personal Law (Shariat) Application Act of 1937, and Christians have the Indian Christian Marriage Act of 1872.
The Supreme Court also noted that extending marriage rights to same-sex couples falls under Parliament's domain, but the court's goal is to ensure ways to grant legal rights, social and other benefits to same sex couples without the label of marriage.
Mehta during Wednesday's hearing shocked the country when he said the government is ready to address marriage rights for same-sex couples by forming a committee that a Cabinet secretary will head.
"(The) issue was some genuine human concerns, and discussion was if something can be done administratively," said Mehta.
Chandrachud quickly suggested that Attorney General R. Venkataraman and Mehta should meet with the plaintiffs' lawyers to frame the issue.
"The conceptual domain requires legislative changes, and it is completely beyond our domain," said Chandrachud. "So we have to see how we frame the conceptual doctrine. Somethings can be done administratively, something can be changed by subordinate legislation, and the third is recognition for the same sex marriage. So we are saying we will decide this issue as a concept, but the govt taking one step forward will be to recognize the cohabitation of same sex couples, which will be a big step."
Venkataramani began his arguments before the Supreme Court once Mehta concluded.
Venkataramani said that Special Marriage Act is only a law about the institution of marriage and does not create the institution of marriage itself, and that is why it is not discriminatory legislation. Lawyer Rakesh Dwivedi argued on behalf of one of the litigants who opposes marriage equality, and questioned whether there is a fundamental right to marriage in India.
"Is there fundamental right to recognition of marriage?," asked Dwivedi, while arguing against marriage equality. "Is there a fundamental right to equality in the marriage of heterosexuals? can this be made permissible by the variety of amendments?"
Bhat asked Dwivedi whether the word spouse diminishes the meaning of husband and wife.
"We say I take you as a husband and take you as a wife," said Dwivedi. "How can we say I take you as my spouse."
Dwivedi also argued that the case requires social accommodation, and Parliament is in the position to decide how to take the step, when to take it and what lays ahead. He argued that India's social fabric would break apart if the Supreme Court rules in favor of marriage equality.
Homosexuality is 'offensive' to Indian values
A group of former judges, former Indian Police Services officers, and former bureaucrats wrote an open letter to Indian President Droupadi Murmu. They asked her to intervene in order to "save" Indian cultural traditions, religious tenets and social values.
"If we revise the law to make same-sex union rational, acceptable, or moral, it will open the doors to same-sex culture. Our society and culture do not accept same-sex behavioral institution because it is offensive to our values, besides being irrational and unnatural," the letter reads. "It is widely appreciated that same-sex relationship cannot create long-term or stable institutions; and if they are allowed to adopt children, they cannot maintain stable and long-lasting relationships with their families, parents, relatives and partners. The health and future of such children will be severely compromised."
The Supreme Court Bar Association in an April 28 resolution said it was highly inappropriate of the Bar Council of India to oppose the marriage equality hearing, because the Supreme Court has the right to decide whether it should adjudicate the issue or leave it to Parliament.
The Washington Blade on April 24 reported that the Bar Council of India, a statutory body that regulates legal practices and education in the country, held a joint meeting with all of the country's state Bar Councils and passed a resolution concerning marriage equality. The Bar Council of India has requested the Supreme Court leave the issue of marriage equality for legislative consideration.
The Supreme Court will resume hearing on May 10 for final arguments from Mehta and additional considerations from the plaintiffs.
Ankush Kumar is a reporter who has covered many stories for Washington and Los Angeles Blades from Iran, India and Singapore. He recently reported for the Daily Beast. He can be reached at [email protected]. He is on Twitter at @mohitkopinion.