Virginia trans lawmaker condemns Montana Rep. Zephyr censure
"There is no justification for depriving the people of [MT] District 100 their equal representation in the state House," Roem told the Blade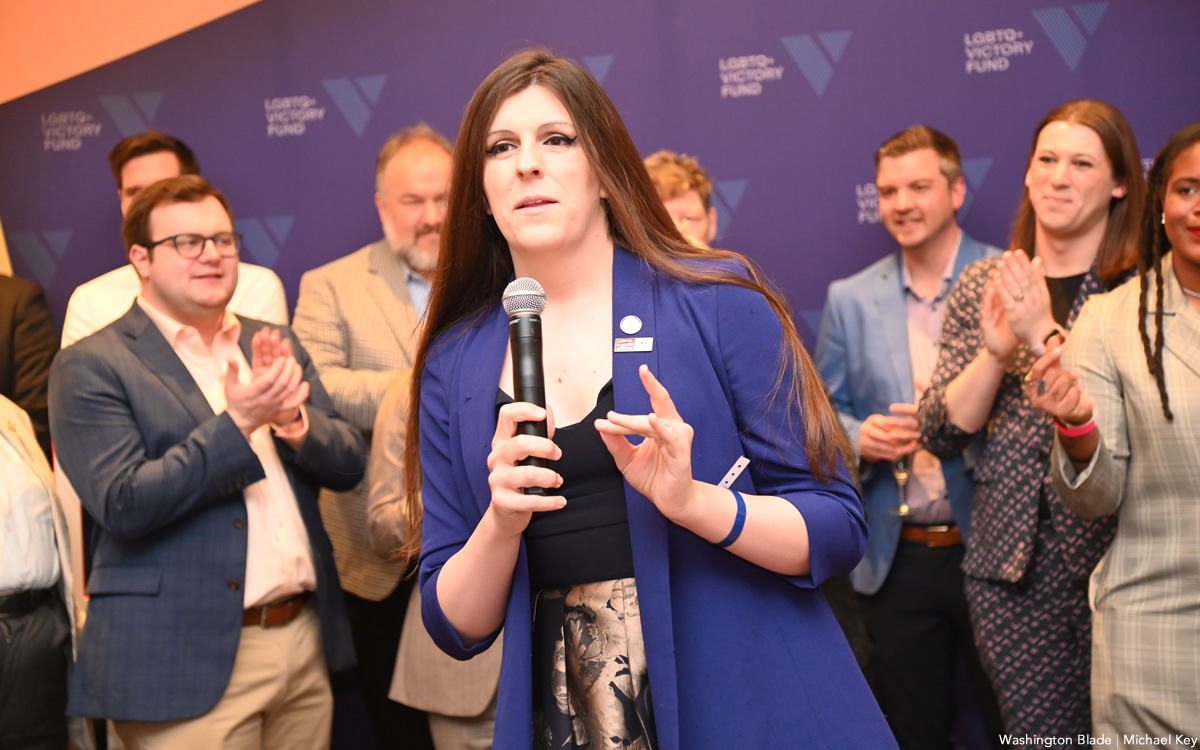 RICHMOND – Virginia state Del. Danica Roem (D-Manassas) on Monday condemned the censure of Montana state Rep. Zooey Zephyr after she criticized her fellow lawmakers over their support of an anti-transgender bill.
"Censuring Rep. Zephyr is by all evidence an arbitrary and capricious abuse of power by a Republican supermajority whose 'Freedom Caucus' members on April 18 — without condemnation or censure for breaking decorum — also insisted on disrespecting her by 'deliberately' (as noted by the AP on April 19) misgendering her because they refuse to acknowledge the identities of their trans constituents, let alone their colleague," Roem told the Washington Blade in a statement.
Roem in 2018 became the first openly transgender person seated in a state legislature in the U.S. Roem the following year became the first out trans state legislator to win re-election in the country.
Montana Republicans last week banned Zephyr, a trans woman who represents House District in the Montana House of Representatives, from the chamber floor after she criticized them over their support of a bill that bans gender-affirming health care for children.
Republican Montana Gov. Greg Gianforte on April 28 signed the measure, even though his nonbinary child had urged him to veto it. Zephyr on Monday filed a lawsuit that challenges her censure.
"Given the precedent established and repeatedly re-established, there is no justification for depriving the people of District 100 their equal representation in the state House," Roem told the Blade. "Their representative's full rights and privileges of the floor should be reinstated immediately."
Manassas Democrat running for state Senate
Roem last May announced she is running to represent Senate District 30, which includes western Prince William County and the cities of Manassas and Manassas Park.
Robert Ruffolo, one of the Republicans who hopes to challenge Roem, has made a series of anti-trans comments on his Twitter account. These include asking a Twitter user who said "trans women are natural women" and "trans women are biological women" whether they are saying "God made a mistake by creating you as a male?"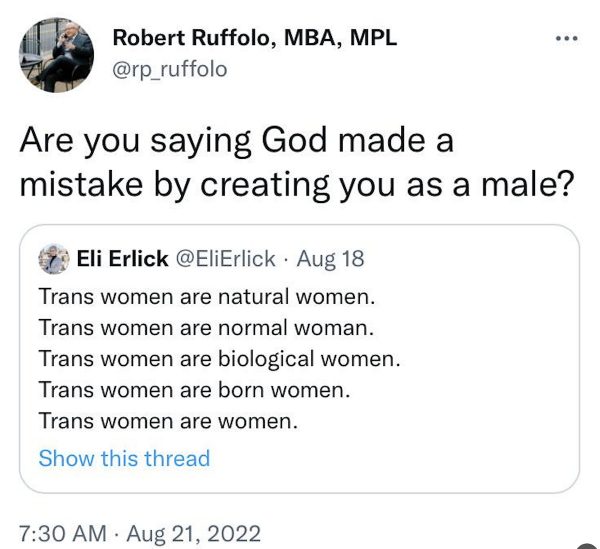 "We know what we're up against in this race," Roem told the Blade on April 23 during an interview before the LGBTQ+ Victory Fund's National Champagne Brunch that took place at the JW Marriott Hotel in D.C. "We know it is absolutely going to get personal, as well as its going to get on policy. We know that there's going to be a lot at stake."
Democrats currently have a 22-18 majority in the Virginia Senate, and they blocked the 12 anti-LGBTQ bills introduced during the 2023 legislative session.
"That is the only thing keeping Virginia from being in the same league as West Virginia, as Kentucky, as you're about to see in North Carolina now that they got their supermajority, as you're seeing in South Carolina, Georgia, Florida, Mississippi, Alabama, Louisiana, Texas, Oklahoma," said Roem. "It gets worse, right? Arkansas, another one. Missouri, geez their attorney general is now trying to block trans care for adults."
"The only thing that's keeping us from that is that four seat majority," she added.
Lieutenant Gov. Winsome Earle-Sears, who presides over the state Senate, and Gov. Glenn Youngkin are both Republicans. Roem told the Blade the governor this cycle is going to try and flip the "state legislature of a Democratic-voting state."
The Senate Health Subcommittee earlier this year killed state Sen. Amanda Chase (R-Colonial Heights)'s bill that would have banned transition-related health care for trans youth.
Roem in 2020 introduced a bill that bans Virginia health care providers from discriminating against their patients based on their gender identity. Then-Gov. Ralph Northam, a Democrat, signed the measure into law. Roem noted to the Blade that Chase's measure would have repealed the statute.
"I'm not saying that we were in imminent danger of that bill," said Roem, referring to Chase's bill. "If they (Republicans) have majorities in both chambers and they have this governor, that bill passes. That bill might be introduced by a different member, but that bill passes."
Anti-LGBTQ conservative Christian activist Pat Robertson dies
When a gunman killed 60 people and wounded hundreds more in Las Vegas in 2017, Robertson blamed "disrespect" for then-President Donald Trump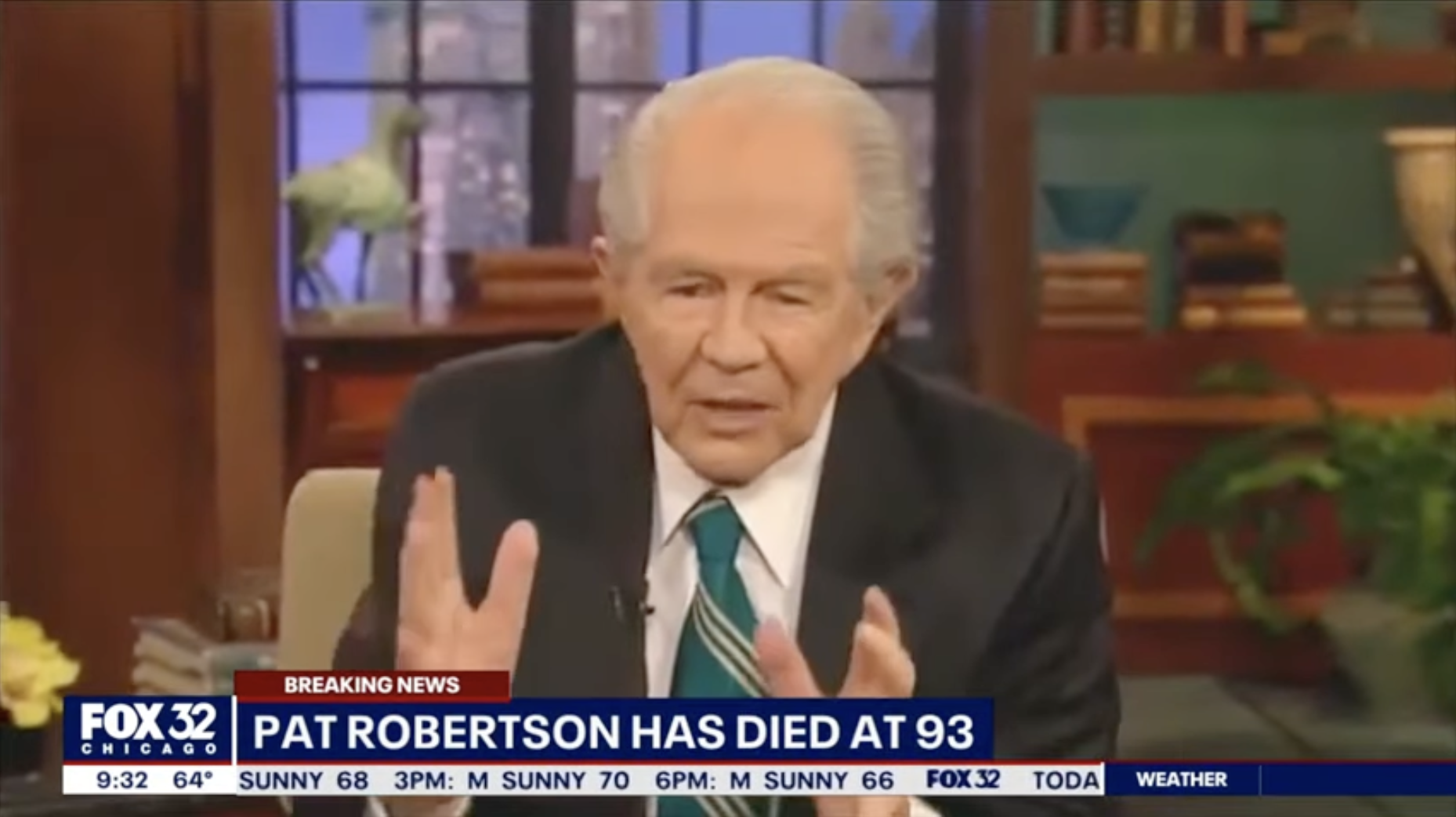 VIRGINIA BEACH, Va. – Anti-LGBTQ Christian-media mogul, televangelist, conservative political activist, and evangelical Southern Baptist minister Pat Robertson died at 93, representatives from his Christian Broadcasting Network confirmed on Thursday.
A public figure who was active in American politics since the 1960s, Robertson became as known for making Christianity central to the Republican Party as he was for his outrageously offensive comments targeting LGBTQ people as well as Haitians, Black People, Muslims, Jewish people, Buddhists, and many others.
When fellow anti-LGBTQ evangelical televangelist and erstwhile rival Jerry Falwell appeared on his flagship television program The 700 Club on the week of September 11, 2001, Robertson replied "I totally concur" when Falwell laid blame for the terror attacks on "the ACLU" along with "the pagans and the abortionists, and the feminists, and the gays, and the lesbians."
In 2020, Robertson falsely predicted that "without question Trump is going to win the election," going on to support efforts to keep Trump in office and vowing that "God himself would intervene" on the former president's behalf.
"These people are crazed fanatics," Robertson said on the 700 Club, talking about Muslims, "and I want to say it now: I believe it's motivated by demonic power. It is Satanic and it's time we recognize what we're dealing with."
Three years later, in 2009, he said, "Islam is a violent – I was going to say, 'religion', but it's not a religion; it's a political system. It's a violent political system bent on the overthrow of the governments of the world, and world domination."
Feminism, Robertson famously wrote in a 1992 fundraising letter, "is about a socialist, anti-family political movement that encourages women to leave their husbands, kill their children, practice witchcraft, destroy capitalism and become lesbians."
After the U.S. Supreme Court's 2015 ruling in Obergefell v. Hodges, which established the constitutional right to same-sex marriage, Robertson warned Christian business that gay customers will "make you conform to them": "You're gonna say that you like anal sex, you like oral sex, you like bestiality," he said. "Sooner or later, you're going to have to conform your religious beliefs to the group of some abhorrent thing. It won't stop at homosexuality."
In 1998, Robertson said divine retribution would soon ensnare the city of Orlando as punishment for Disney World's Gay Days, in the form of "earthquakes, tornadoes and possibly a meteor."
"This is a devastating blow to religious freedom and to the sanctity of America," he said in 2019 in response to the U.S. House's passage of the Equality Act, which would codify nondiscrimination protections for LGBTQ people. He continued, "If you want to bring the judgment of God on this nation, you just keep this stuff up. You know, I was reading in Leviticus where it said, 'Because of these things, the land will vomit you out.' Vomit you out. I think God will say, 'I've had it with America, if you do this kind of stuff, I'm going to get rid of you as a nation.'" Robertson then warned of "the potential of atomic war" and the possibility of an attack on the country's electric grid.
In 2006, on his website Robertson began claiming that he could leg-press 2,000 pounds through training and an "Age-Defying energy shake."
The following year, commenting on people who have had too much plastic surgery, Robertson said "they got the eyes like they're Oriental" and manually stretched his eyelids.
Another of his more infamous rants came in 2010, when Robertson claimed on The 700 Club that the earthquake in Haiti that year — which killed hundreds of thousands and impacted millions — was caused because Haitians made a deal with the devil when the country won independence from French colonial rule in 1791.
When a viewer called in to The 700 Club in 2012 to request advice, complaining that his wife did not respect him, Robertson said the caller could move to Saudi Arabia and become a Muslim so he could beat her.
Discussing AIDS in 2013, Robertson said, "You know what they do in San Francisco, some in the gay community there they want to get people so if they got the stuff they'll have a ring, you shake hands, and the ring's got a little thing where you cut your finger," Robertson said. "Really. It's that kind of vicious stuff, which would be the equivalent of murder."
In 2021, Robertson said critical race theory will give people of color "the whip handle" over white people.
When a gunman killed 60 people and wounded hundreds more in Las Vegas in 2017, Robertson blamed "disrespect" for then-President Donald Trump and the practice among professional football players and others of taking the knee during the national anthem to protest racial injustice.
In February of 2022, Robertson said Russian President Vladimir Putin was "compelled by God" to invade Ukraine to fulfill the "end times prophecy" in Israel.
Likely one of the ugliest hate-mongering statements he made, and which especial condemnation was leveled at him, occurred in the aftermath of the June 12, 2016, massacre when 49 LGBTQ+ people were killed at Pulse, an LGBTQ+ nightclub in Orlando, Florida, by a shooter who'd pledged allegiance to a radical form of Islam.
Robertson told viewers on his religious 700 Club broadcast the following day that Americans should just let LGBTQ+ people and Muslims kill each other:
"The left is having a dilemma of major proportions, and I think for those of us who disagree with some of their policies, the best thing to do is to sit on the sidelines and let them kill themselves," he said.